Shopping Cart
Your Cart is Empty
There was an error with PayPal
Click here to try again
Thank you for your business!
You should be receiving an order confirmation from Paypal shortly.
Exit Shopping Cart
Guided Fly and Spey Fishing Trips for Steelhead and Brown Trout with
Spent yesterday and today out on Cattaraugus Creek. Still beautiful, still very low. Yesterday, again I started below Gowanda. Spent the first few hours working over a really good pool with an intermediate tip and a variety of streamers. My only tug came around ten in the morning on a white woolly bugger, but like last time it was quick and non-committal. The low water has the fish really finicky right now, and if you're out to swing, stay small.
After that, I changed up to a dry line and a ska-opper. Spent the rest of the day yesterday and all of this morning skating and popping the ska-opper and an orange bomber across pools. Yesterday after leaving lower Gowanda, I jumped way upstream, above the valley. The runs up there are beautiful and the trees right now are on fire with fall colors! But where few fish have made it up to Gowanda, even fewer have made it up there. The tradeoff for solitude this time of year is fish.
Today, however, I fished the reservation. It's not my favorite place by a long shot, but this fall is shaping up to be a good year to try to get a few on the surface, and I wanted to fish to more concentrated numbers. When I got there at daybreak, the waterflow was 85 CFS and water temp was 58 degrees. Low and clear but perfect temps for surface techniques. Spent the morning working the ska-opper through shallow runs, around downed trees, and casting to the high banks and popping it out. Had a small fish roll near my fly but I'm pretty sure it was only a coincidence and was not showing interest in my offering. As the sun got higher, again I switched to the bomber for a more buggy presentation. But came away empty handed.
The other anglers I spoke to this morning seemed to be doing pretty well, and I saw about a dozen fish caught ranging from 12 to 28 or so inches. There are good numbers of fish in the lower four or five miles of the Catt, but there are people. By about nine, every nook and cranny had at least one if not more anglers fishing it. So if you do come out to fish, find a good pool and get there early. And don't count on there being many open spots by mid-morning.
While I was walking out, I stopped and talked to some centerpinners. They couldn't seem to get over the fact that I haven't caught a fish yet this season, despite about four days of fishing. Most of that is due to the locations I've been fishing and the techniques I've been using. I've been hitting the mid and upper river. I know there aren't a ton of fish up that high, but at least I have space. And, with the exception of fishing one pool in the morning a few days with an intermediate tip, I've been concentrating on skating dries. I've logged about 10 or 11 hours now fishing either the ska-opper or the bomber. If this fall is like seasons past, that means I'm about halfway to a good take. Over the years that I've kept track, it seems like I get one take for every 20-24 hours of fishing the surface. The key is staying dedicated. Today watching the pinners and indicator guys catching quite a few fish was hard. Knowing how easy it would be to put on a bead and pull a fish or three from a falled tree, or even swing a streamer on a sink tip through some of the runs makes it that much more so. But it's been a couple years since I last touched a fish on top, and this year I'm going to keep fishing dries until the weather turns, or I catch a fish or two. After all, catching a steelhead is supposed to be memorable. The image of the last fall fish that ate my dry is still vividly burned onto my soul. I don't think any of those fish caught by the centerpinners leaves such a lasting mark.
So, like last time and until next time, enjoy a scenic shot (who ever said dry fly fishing for steelhead was easy! ;))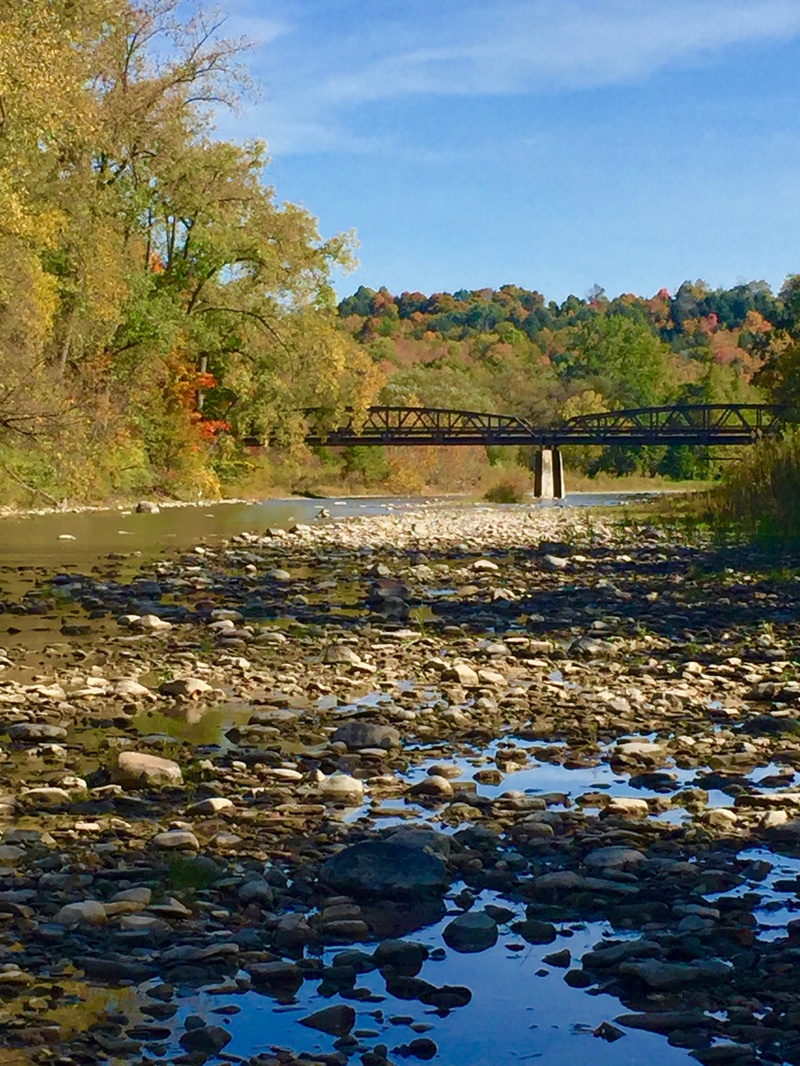 Spent the last few days on the Catt and the surrounding area creeks. What a beautiful time to be on the rivers! It's no secret that the water is super low right now, and that makes fishing challenging. But there are fish in every creek if you put in the time to find them. Currently the Catt is at base flow of around 90 CFS, but the water temps are good and even in low flow she is glowing green! Most of the fish are holding low on the reservation. Because the lower reservation is often crowded, especially early on, I normally don't spend too much time on it. I'd rather fish where I have some space and risk not bumping into one, than have to stand shoulder to shoulder with guys fishing the lower reservation holding pools.
I started below Gowanda, and was the only car parked in the lot. While working over a few of my favorite pools just after first light, I saw a few fish roll before the sun hit the water. There are definitely steelhead up that high, just not in any great numbers yet. Missed one really good yank, but the fish never turned on the fly. Ended up landing a couple good resident smallmouth in the 12-14 inch range, and that was a pleasant surprise.
Also checked out a few of the smaller area creeks. New York has been putting some effort into habitat restoration such as stream bank stabilization and helping with fish passage, which is really cool. One of the smaller creeks just had another fish passage project completed over the summer. While walking down the smaller creeks, I spotted a handful of fish in every creek. Definitely not great numbers yet, but a pleasant surprise due to just how low the water is right not. Also found some pink salmon spawning in one of the little creeks. Over the summer a couple charter boats out on the big lake were getting into surprisingly high numbers of pink salmon and even a few kings and cohos on Lake Erie. Looks like there are going to be a few in the creeks this year. If there is a message to this post it's just how badly we need rain. This is the lowest I've seen the Catt at this time of year in a long time. Checking the USGS website, you have to go all the way back to 2007 to find the Catt below 100 CFS at any point in October. 
But there is good news. The fish that I spotted looked healthy. I didn't really fish to them. They were really spooky in the clear water- so much so that a dry fly on a 14 foot leader tapered to 8 lb fluoro was enough to scatter a group of four. I didn't see a ton of smaller fish that normally make up a good portion of the first trickle of fish, which means a couple of things. The warm winter last year was good for the size of the fish- I expect to see good numbers up to around 12 pounds this year and some legit bigger ones. The smaller fish have probably already made it further up the creeks, so taking a peek around the middle stretches can mean fishing to a few fish without the crowds. But if you're thinking about making a trip up to the area in the next couple weeks, it might be a good idea to reschedule unless you don't mind fishing in a crowd. The spots that are holding fish are no secret, so if you do come up expect company. It's going to take quite a bit of rain to get things really kicked off up here. And it will need to be days of rain that refills the aquifers and doesn't immediately run off. At this point, I don't see that in the cards for the next week or two.
Check out a couple pics: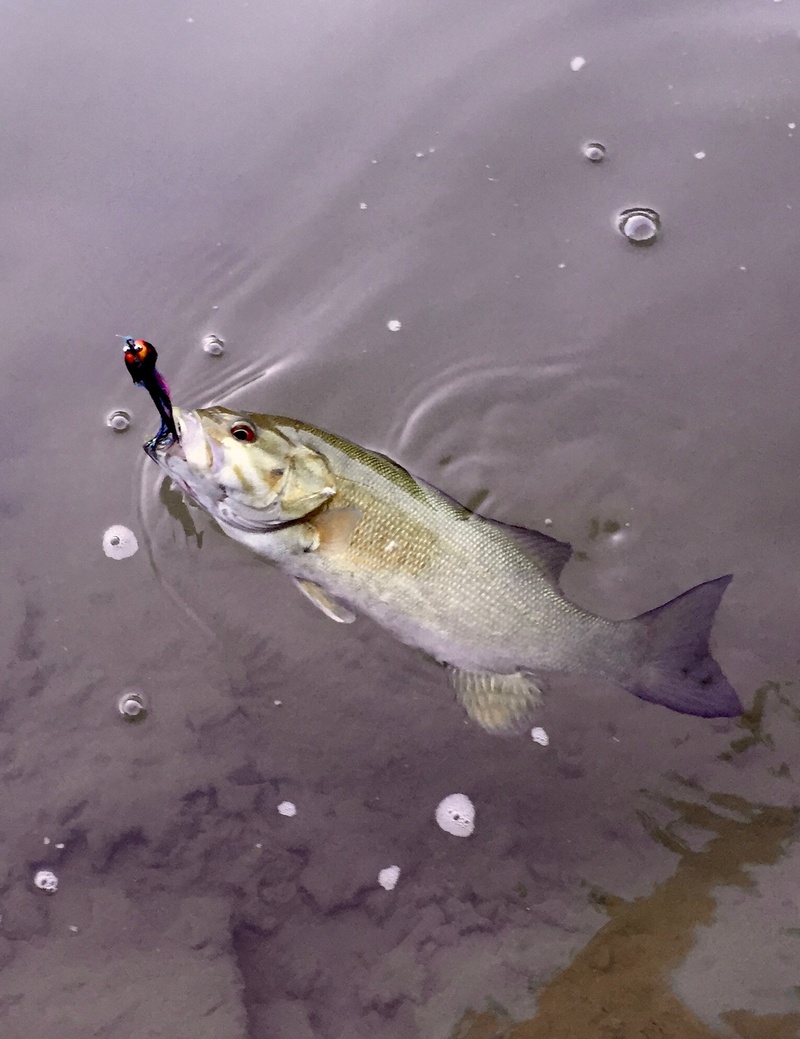 Catt Smallmouth (And yes, it did take the whiskey hangover!)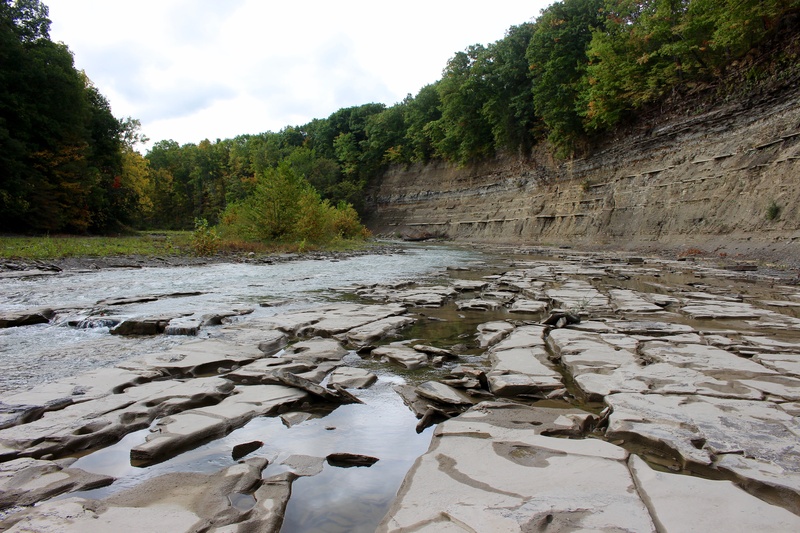 Full flow below Gowanda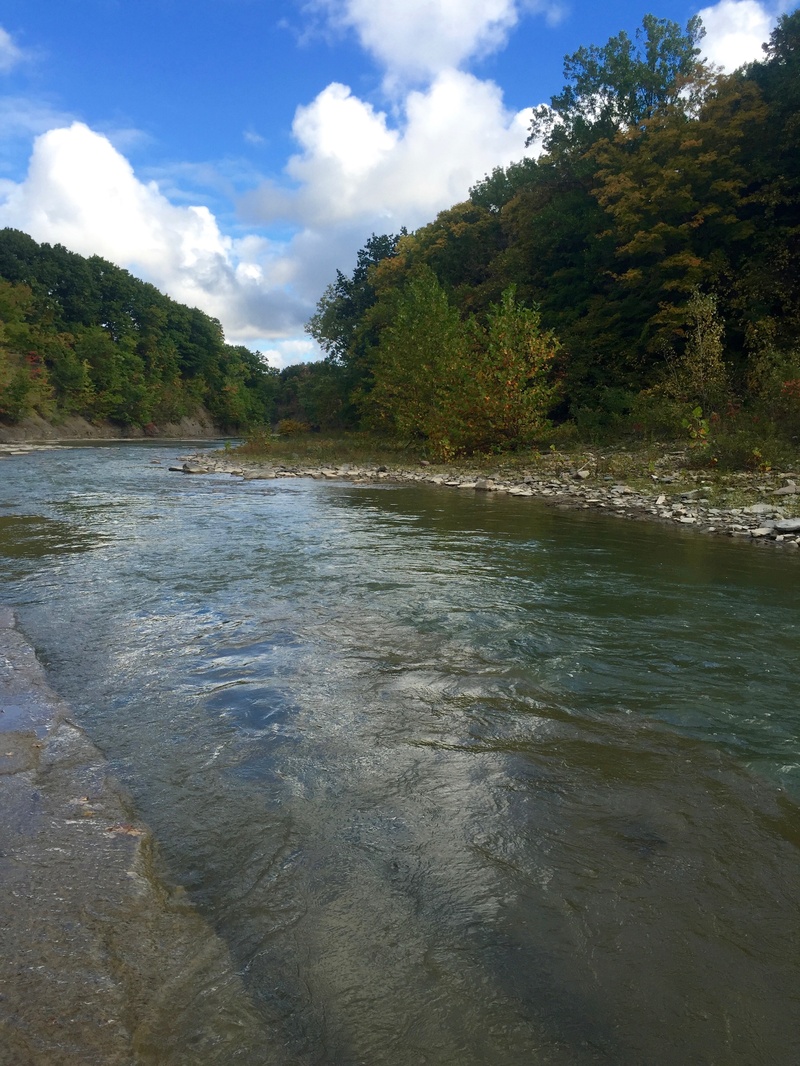 Scenic shot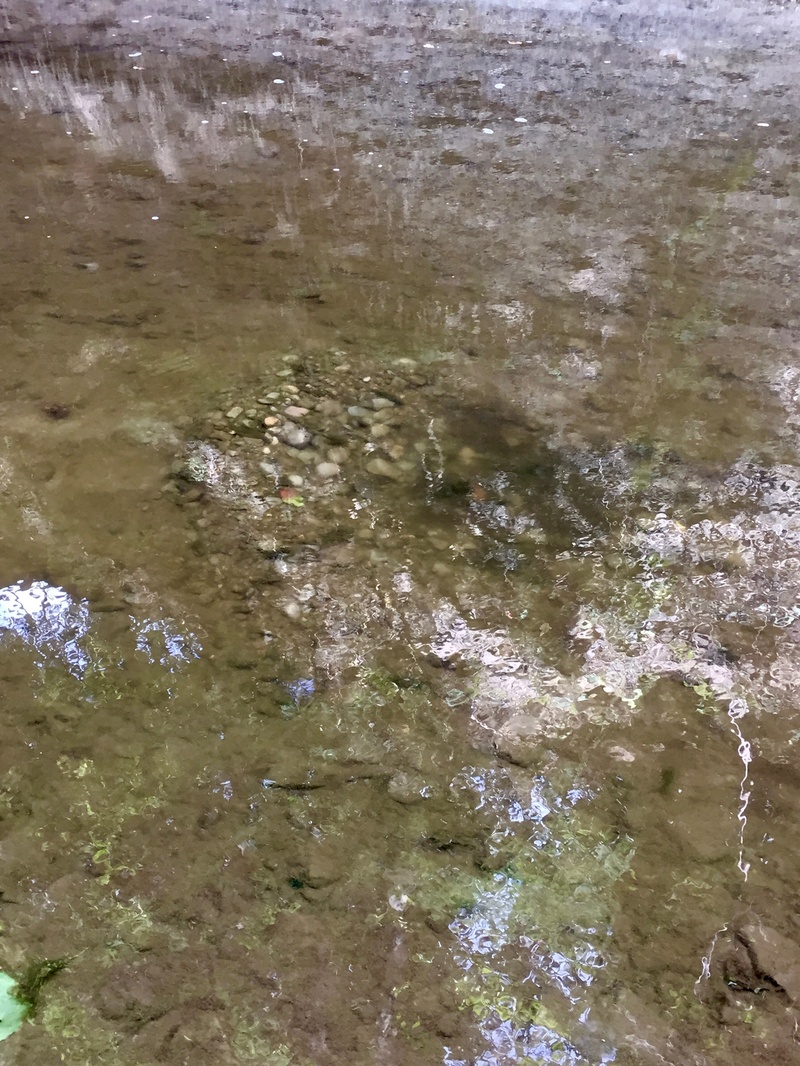 Recent salmon redd in a small creek
Tight lines guys
Hit the Catt this morning for a few hours. Yesterday a front moved through and temps fell from the low 80's to the upper 40's. Today the highs are in the 60's. Water temp was 64 and falling. Figured I'd get out and look around. I wanted to hit the first riffle up from the lake, but when I got there at about 7:45, there were already 5 or 6 cars in the parking area. So I jumped upstream a bit to about river mile 6. It was a beautiful morning, and the river was flowing around 150 cfs with some color to it. I didn't think I'd find one up that high yet and my suspicion proved correct. Spent the morning popping ska-opper through the head of some runs, and just really enjoyed being out for a couple hours. It won't be long now...
Hey guys, come check us out at the Greater Philadelphia Outdoor Sportshow from February 25-28! We will be offering discounted fishing trips for spring and fall steelhead, and first opportunities to book all inclusive fall hosted spey fishing trips in western New York! Along with booking trips, we will be putting on fly tying demos, equipment rigging expos, and be there to answer any fly fishing questions you might have. So if you just want to shoot the shit, have some questions about fly fishing for steelhead or trout, or are looking to book a trip, come check us out!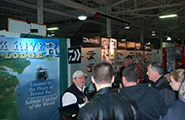 Hoping to see you guys there!
Well today was a day for the record books. I had the time to take my dad out for a day of raft fishing for steelhead on the Catt, and boy it was on fire to say the least. I'll keep this one short. At the first place we stopped, my dad was into his first fish on the spey rod within ten minutes or less. Unfortunately we lost that one. But not to worry, he hooked up again in another five minutes or so and this one stuck. We slid the chrome bright 10 pounder into the net, grabbed the camera, and took some shots.
Then we started to float fish. Within ten minutes we were into our first from the raft, but lost it. No need to worry because a few minutes later we hit the next one and landed the dark male of about 6-7 pounds. The rest of the day shaped up the same. My dad went 4 for 11 with 3 hookups on the spey rod, including one swinging from the raft, and 8 on the nymphing rigs. And I got out and swung a little guy up on a familiar run. 5 for 12 on the Catt. Epic day.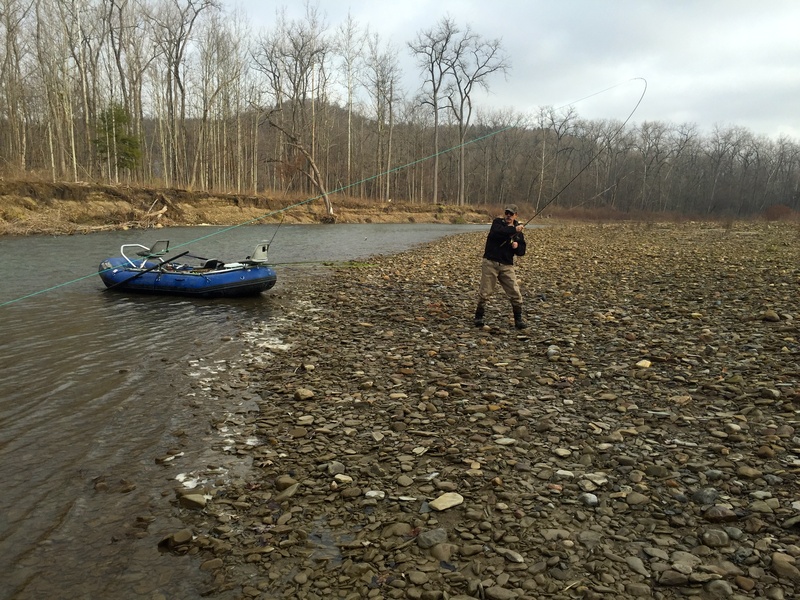 Dad fighting his second on the spey rod!!!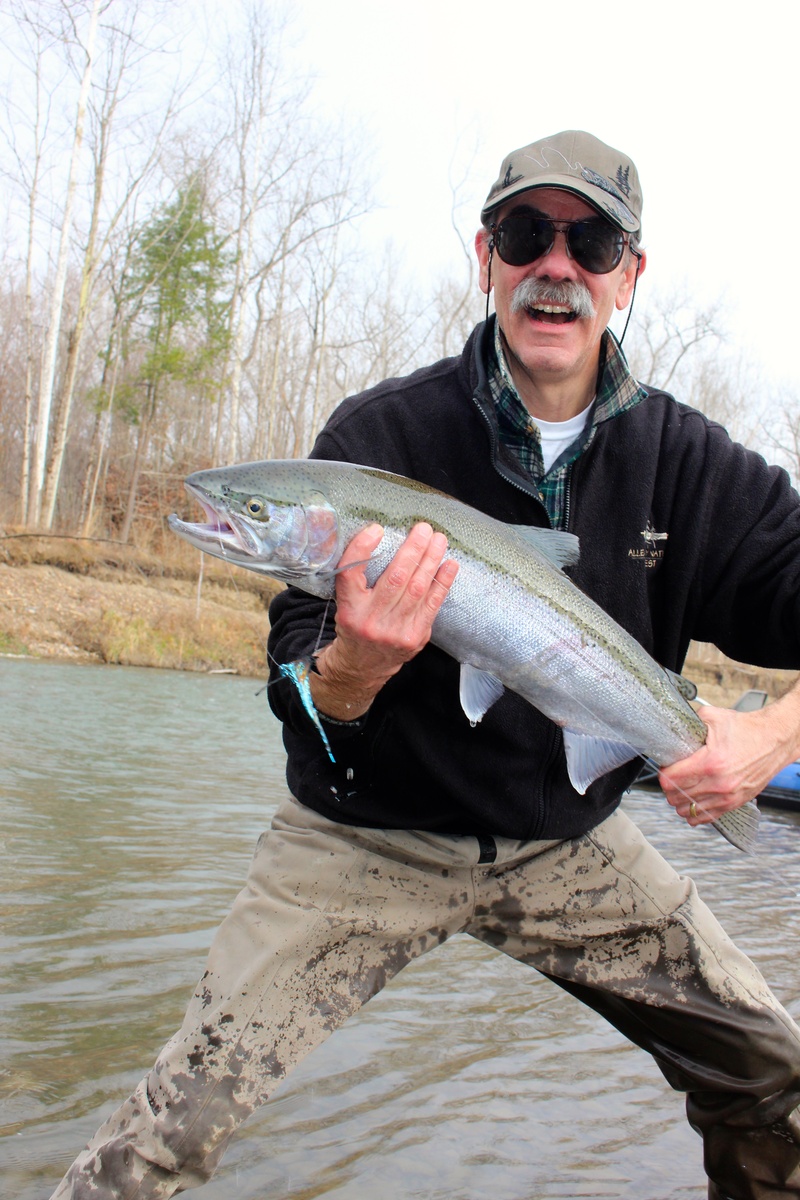 Chromer!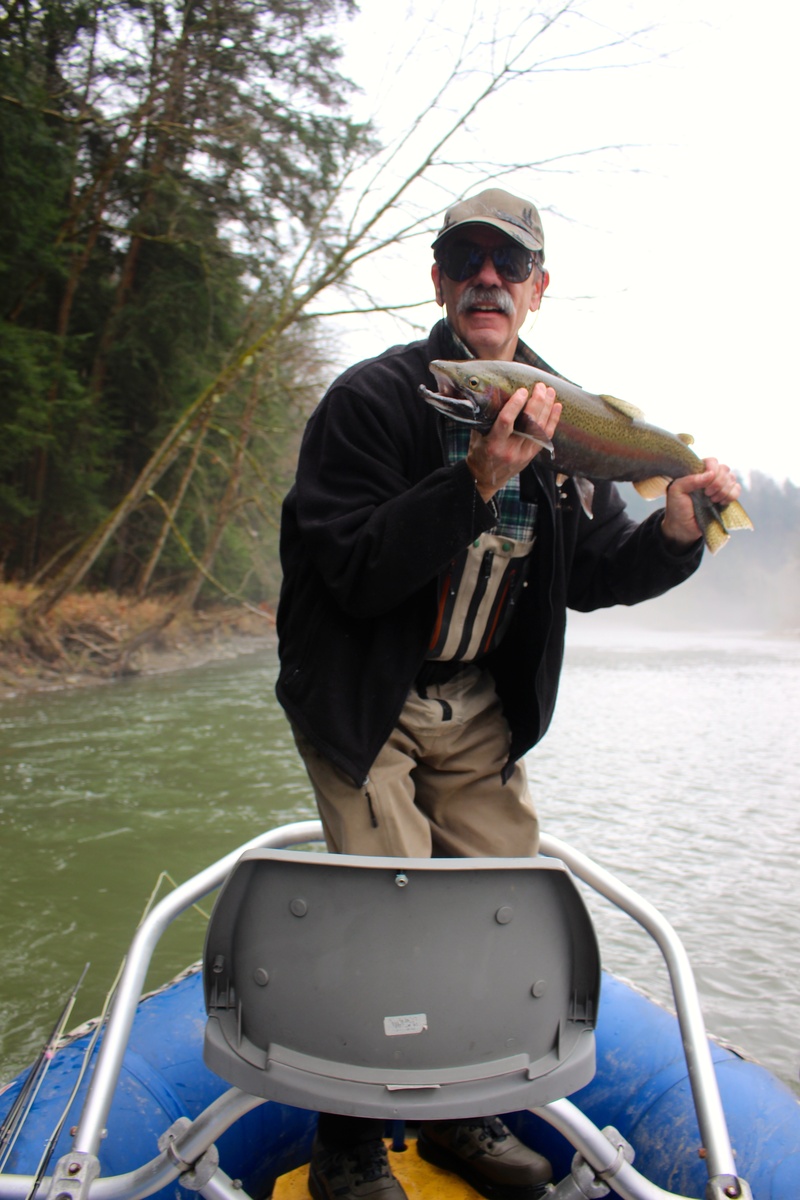 The colored up buck from the raft!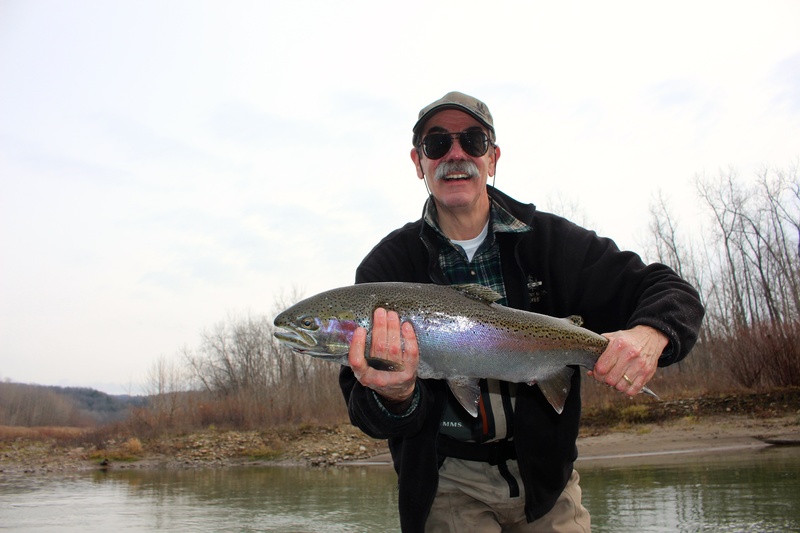 My dad's last fish, a stocky hen!
Noel and I had the pleasure of fishing with two long-time friends, Matt and Brian, yesterday and the day before. On Tuesday, the Catt was flowing at under 300 cfs and with what has to be the clearest visibility I have ever seen her. She was glowing green and blue, but you could see the bottom of pools four feet deep. The Catt reminded me more of a clean New Zealand trout river or Pacific river than a New York steelhead river. It has been no secret this year that all over the Great Lakes, steelhead and salmon runs have been down. And the key to overcome that is to cover lots of water well. With the above average temperatures this fall, fish are still up in fast water runs typical of early season fish, as well as spread out through to the tailouts of large pools. Long story short, they can be anywhere in the river.
Matt and Brian covered water well, and were rewarded for their efforts. Brian was the first to hook a fish, and Noel did a great job with the net. Not to be outdone, Matt jumped into the bucket where Brian caught his, and not more than ten minutes later, Matt had his first fish on. Where as Brian's fish was chrome with a light pink stripe, Matt's had darked with time in the river. A little further upstream, Matt hooked up again but the hook pulled shortly into the fight. Matt had one final hookup in the last pool we fished, but couldn't come tight to the fish. Two for four on the Catt is not bad.
Yesterday was another story. The rains from the day and night before blew all but the smallest creeks out. And even they only had about 8-10 inches of visibility. Barely fishable. I offered to cancel the trip due to the conditions, but we compromised on only fishing until around noon unless we started hitting them hard. We didn't. So around noon we pulled into a little diner where Matt, Brian, Noel, and I ate lunch and talked fishing. Not a bad day of tough fishing conditions.
Here are some pics.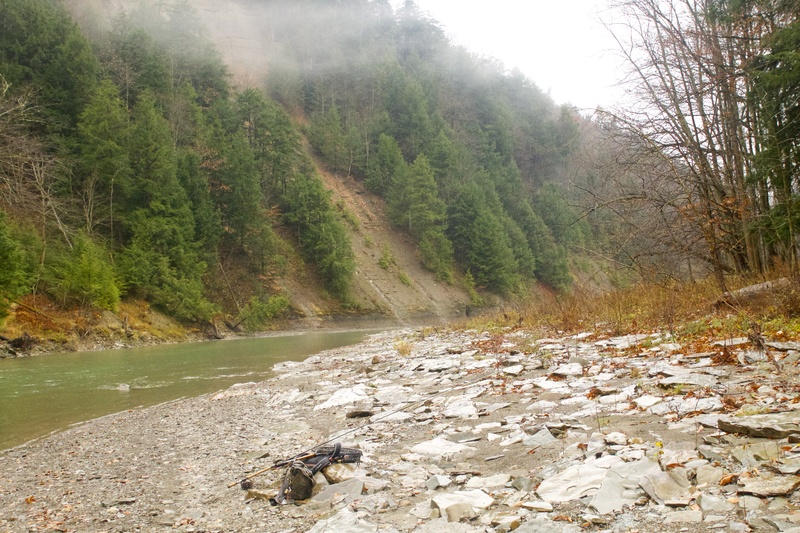 Almost like a western steelhead river.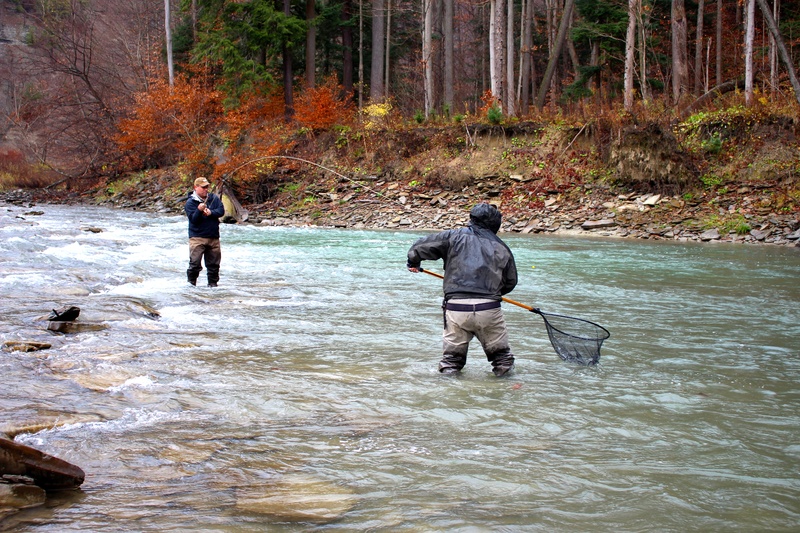 Noel manning the net.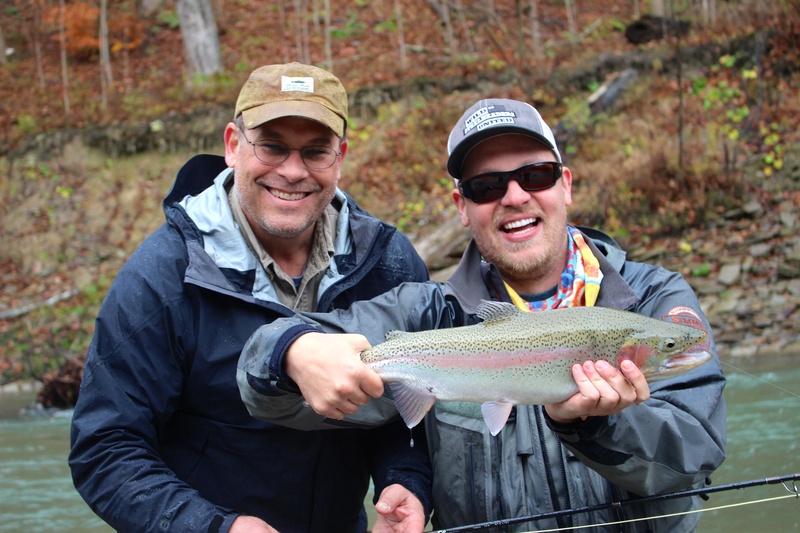 Brian and I.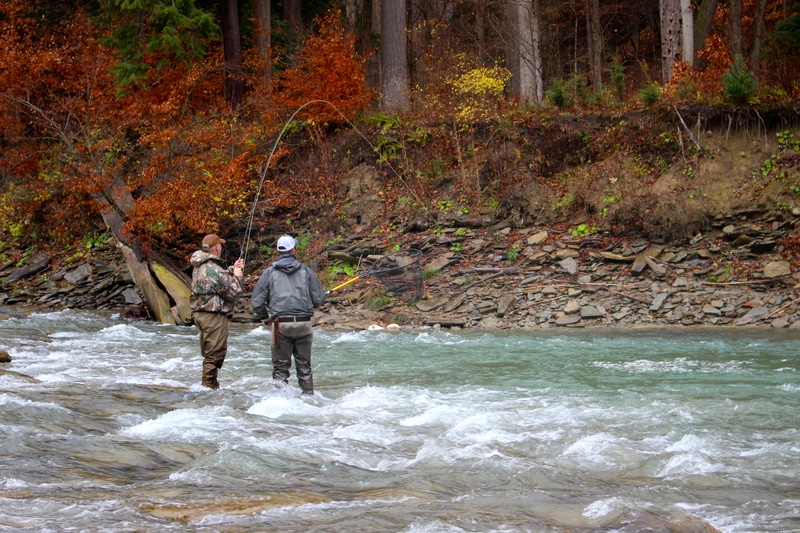 Matt locked on.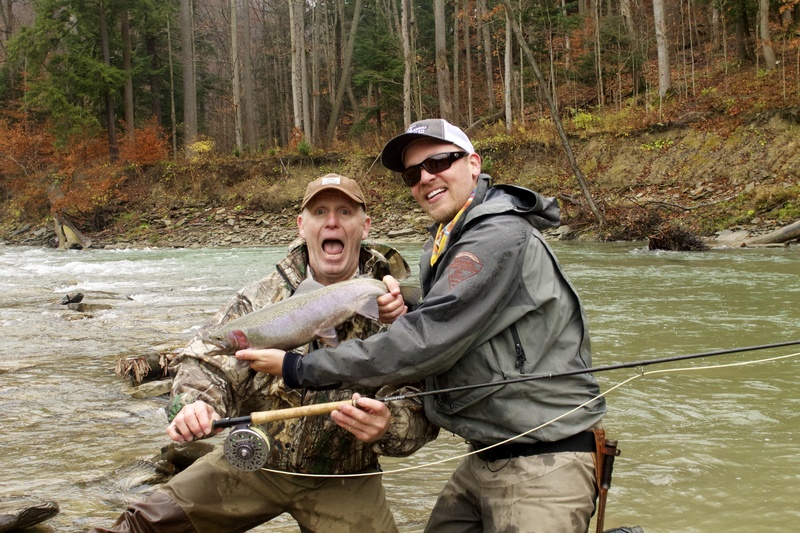 Matt and I.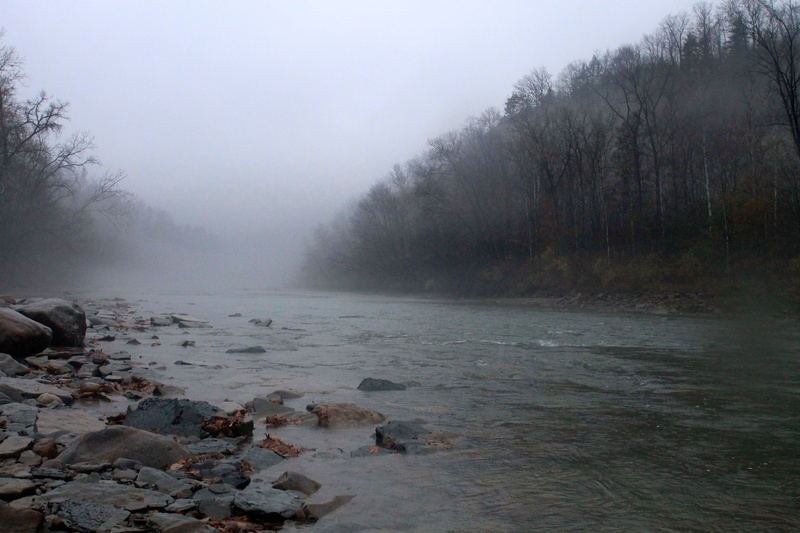 A steelhead run.
After a great few days on the Catt, a weather front moved in on Friday with high winds, and temps plummeting Friday night. We rafted again on Friday but the gusts made it difficult to run any good lines and get good drifts. The weather change also played a factor. Yesterday we decided to fish Zoar Valley by hiking in. It was a beautiful trip with spectacular scenery, but the fish weren't very cooperative. I hooked one and had a few more grabs but did not bring any into hand. The buddies I was fishing with had similar results.
Today we decided to check out the smaller creeks to see if the percipitation that fell pushed any fresh fish into the systems. There are fish in, but not the numbers you'd expect this time of year. Fish are spread out, but you can pick them up if you're willing to walk and cover water. I hooked and lost a nice steelhead, and landed my first brown trout of the year. Overall though fishing was on the slower side. The smaller creeks need water. The Catt should start to fish well again here this afternoon or tomorrow morning as it looks like we're getting into a consistent weather pattern. And fish don't like change.
Some pics.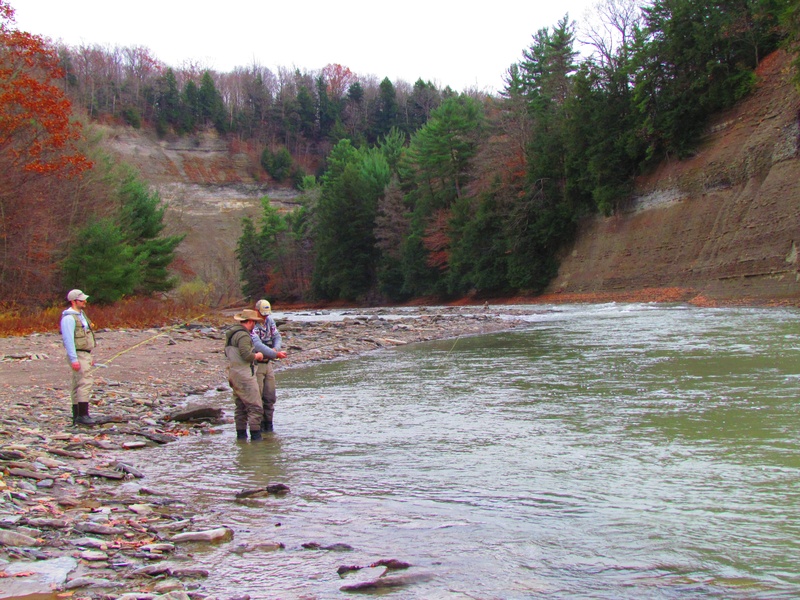 Beautiful scenery in the valley.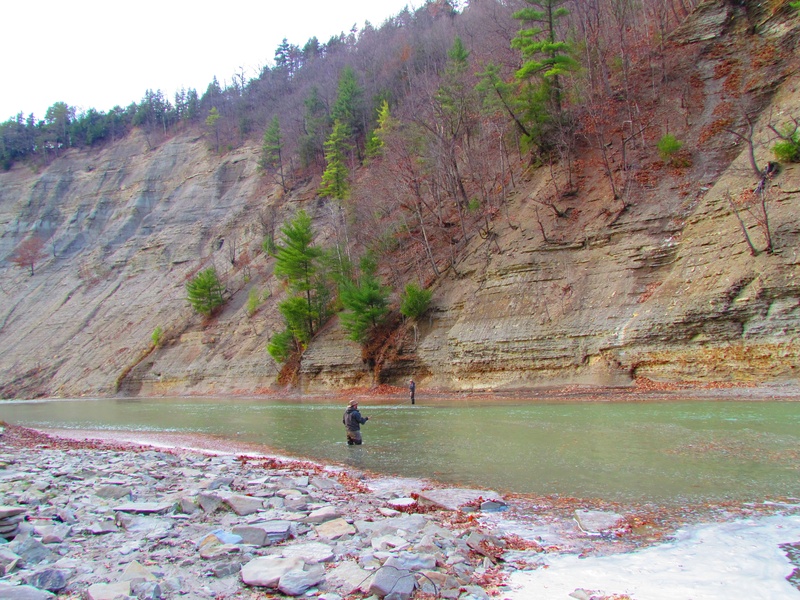 Steelhead green.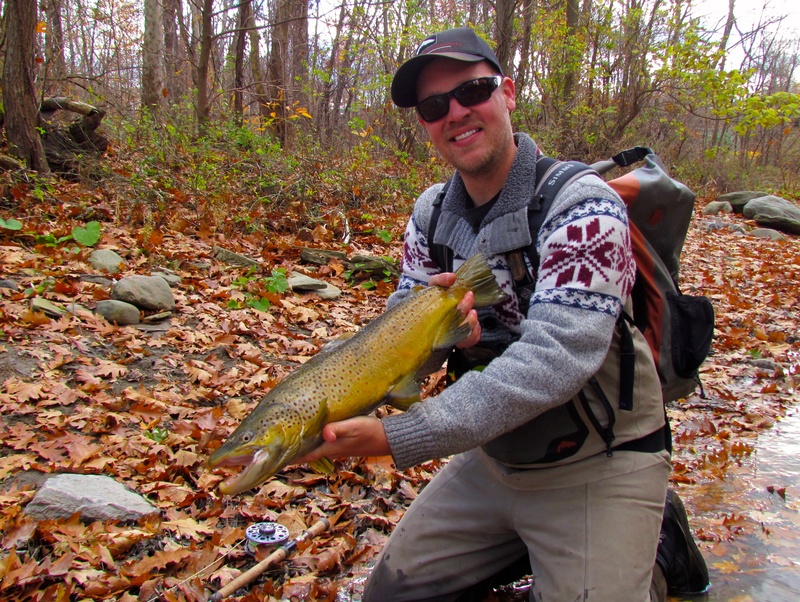 First brown of the year.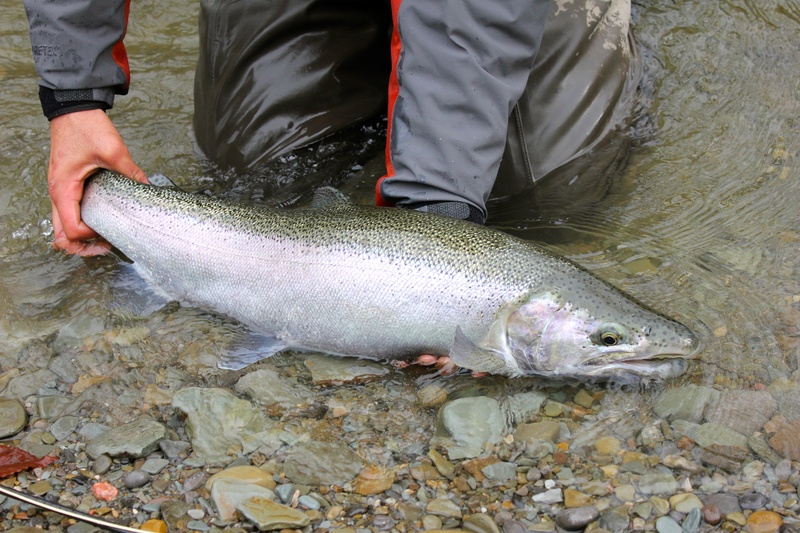 Admiring my catch.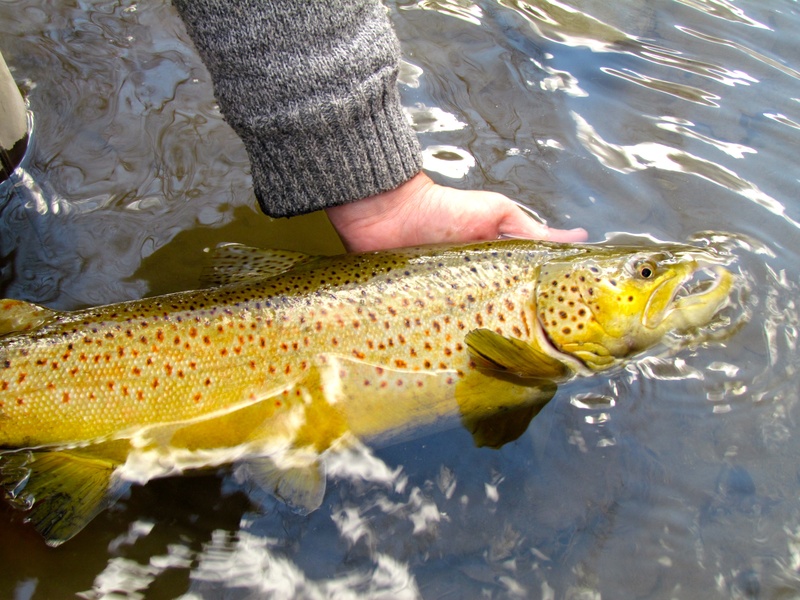 Close up.
I'll keep this one short. Last few days have been fun. With the warmer temps, the smaller creeks are hit and miss. So I've been focusing on fishing the Catt. Yesterday and today we took the raft out for some Zoar Valley drifts. We found fish that were willing to eat as we floated the river, which is always a lot of fun. When a steelhead takes while fishing from a drift boat or raft, it is often right off the side or bow of the boat. Their first instinct is to blow up on the surface after they feel the point of the hook. And yesterday was no different. The first one Noel hooked, jumped up to eye level immediately. It was as if the fish was judging our worth. Then it took off upstream. When fishing from a moving boat, that kind of run is simply insane. She tore up almost to the backing before we turned her down, then finally netted the beautiful chrome bullet. 
We hooked up a fair amount from the raft, and even found a sweet spot to get out and swing up a fish. Check out the pics.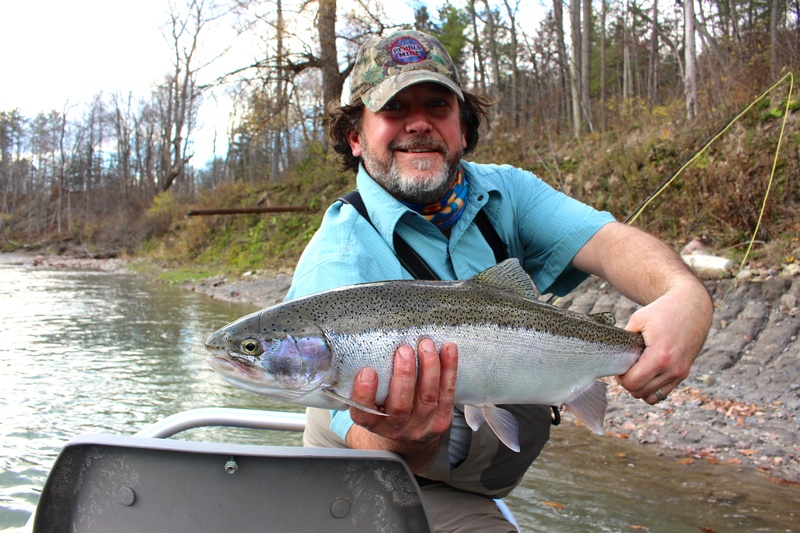 Noel's chrome bullet.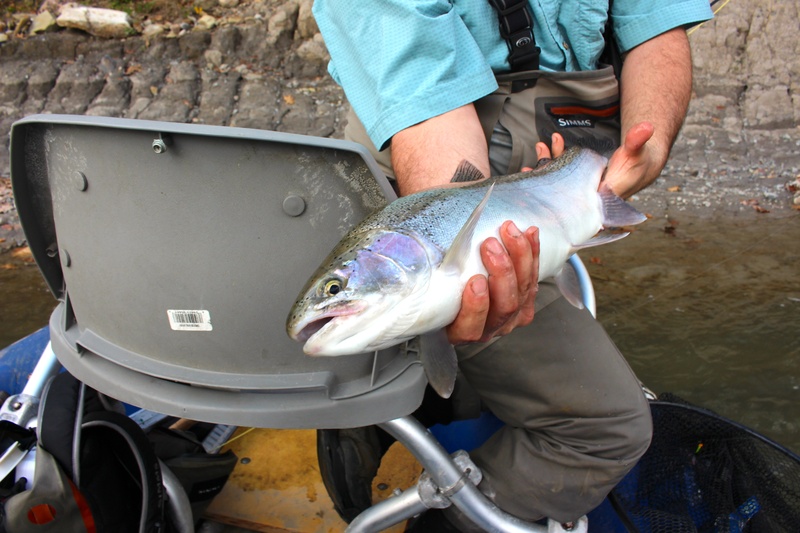 Another angle.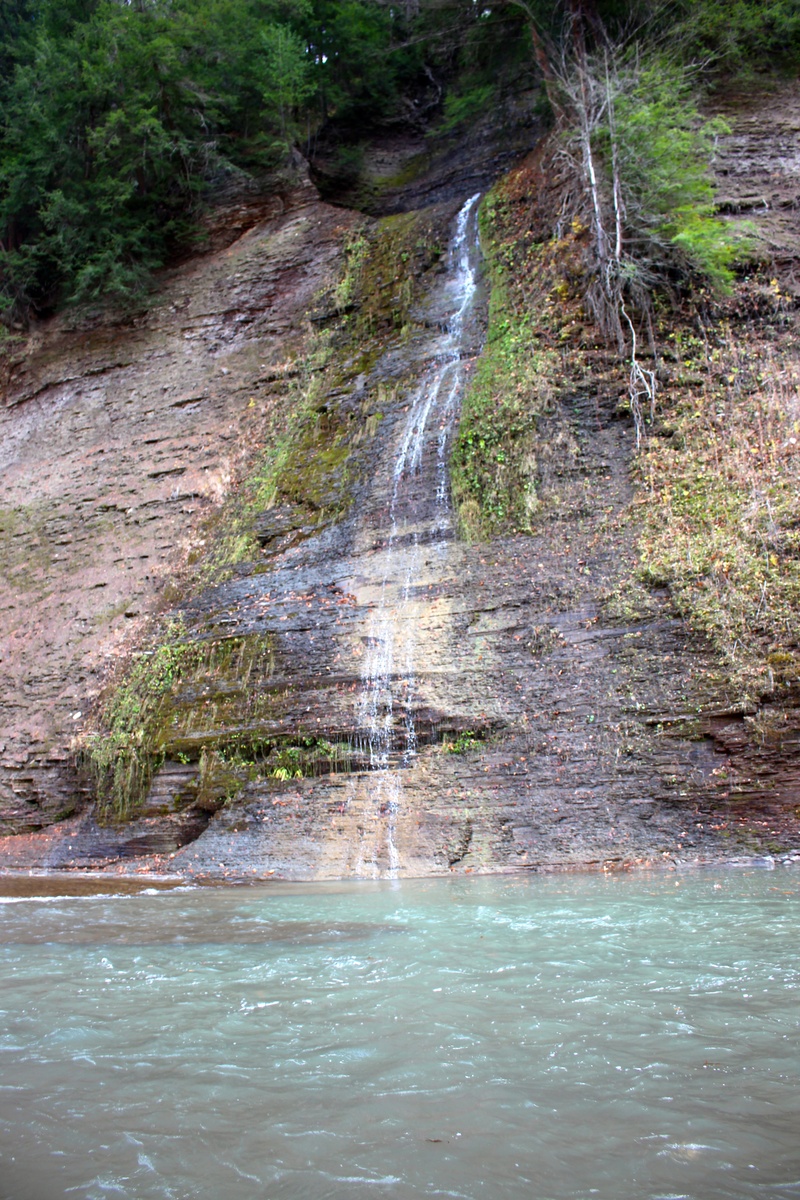 Beautiful waterfall.
Beautiful cliffs.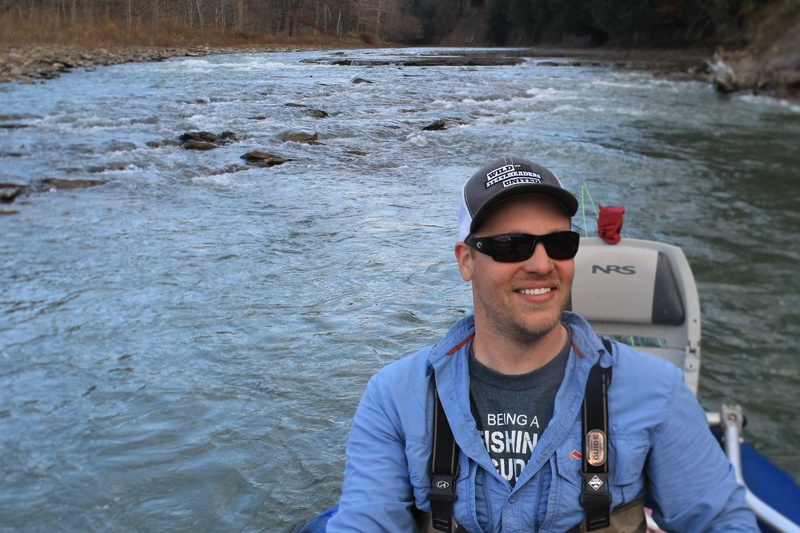 On the sticks.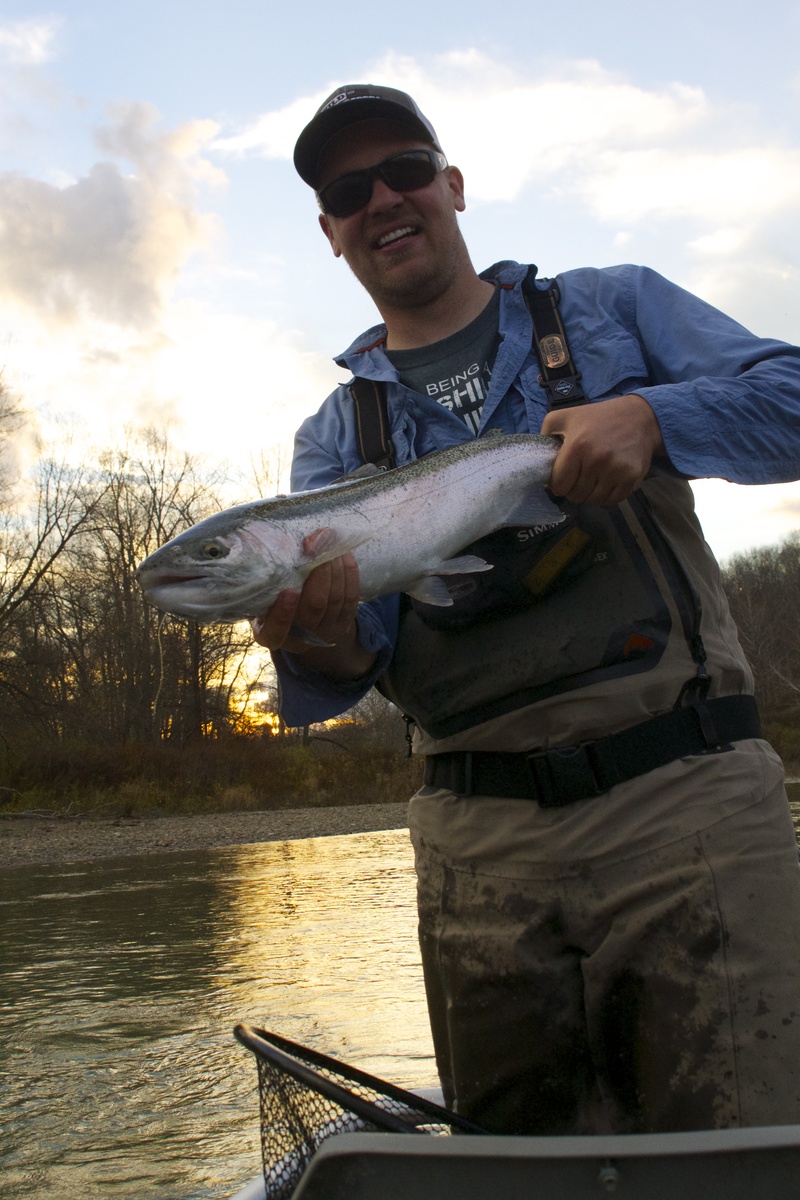 Noel even rowed me into a nice fish.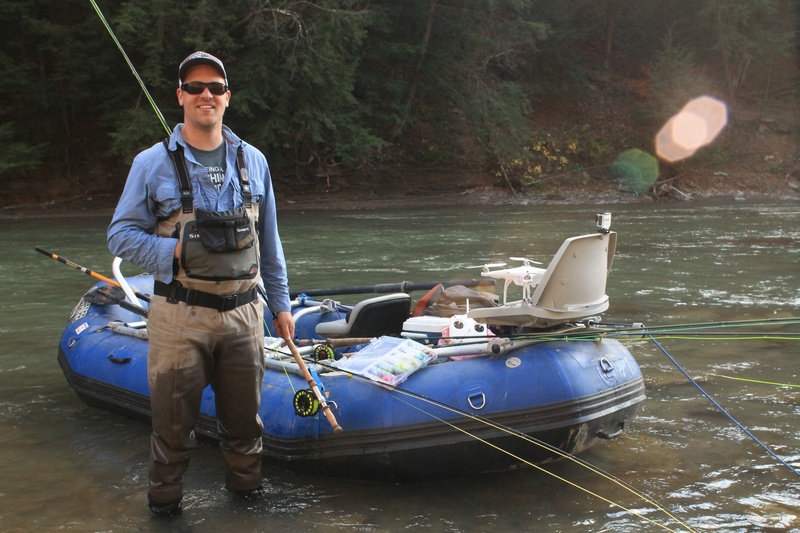 Parked to swing.
Yesterday proved to be a memorable day on the Catt. She was dropping and clearing. Noel and I got there around nine in the morning and were pleased to find no one fishing the tailout of one of my favorite pools. There was only one float fisher fishing near the head. Noel fished the low part of the tailout with a slower sink-tip, while I fished more of the gut with a faster tip. Almost immediately, Noel put us on the board with a beautiful six pound chrome hen. It was amazing that as I was still getting set up and casting my shooting head, I looked over at Noel and saw he had a bent rod. Fish? I asked, and he just smiled and nodded. I ran down and netted the beautiful hen.
After pics, high fives, and some celebration, I headed back up to the gut and started casting. About twenty minutes later, I felt the whomp-whomp of a solid take. Set. And the fight was nuts, and the fish rolled and thrashed but then came in. He was a small fish of about four pounds with a right-pectoral fin clip. After that, I started casting again in the gut. Working down a few steps, I felt the fimiliar double tug. I drove the hook home, and felt solid weight. Unlike my first fish, this fish stayed down, pulling hard and methodically. When she finally rolled on the surface, she flashed a chrome slab, then dived down again. After a little bit of a tug-of-war, her head slid into the net, and Noel scooped her up. She was a beautiful nine pound hen.
A few steps down, I had another hard pull but the fish didn't turn onto the hook. By now, Noel had hopped above me and was working his way down. He had few more grabs. The spin fisherman at the head of the pool decided he had enough and packed out, so I jumped up higher. Working my way into the bucket, I got lit up again. Another heavy take and solid fish. Like the second, this one fought down and dirty before flashing up around the end of my rod. It was another chromer, this time a buck. We netted him, astonished by the flurry of action we had. After a moment, I started working again, and a bit later, I felt another sharp take but no weight. That was my last tug of the day. We worked up a ways admiring the beautiful weather and water. But neither Noel or I hooked another. And it was fine, because it was already one of the best days with the best company I've had swinging the big guns on the Catt. 
Enjoy the pics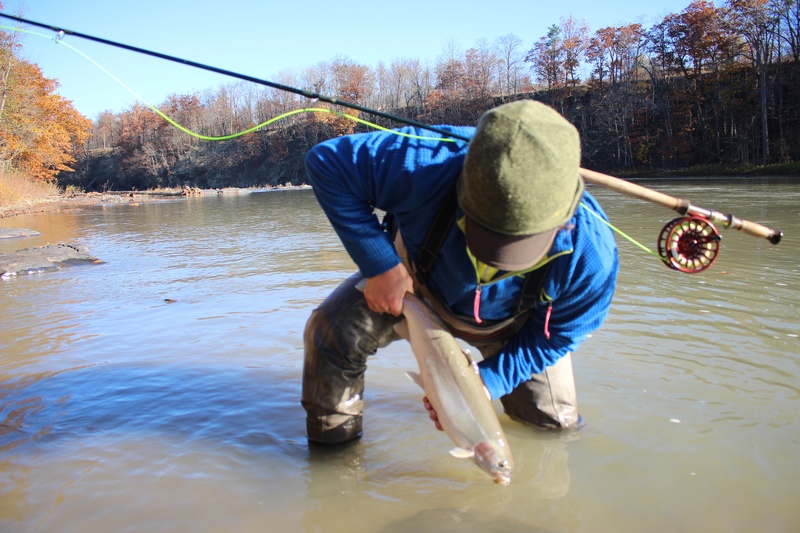 Noel tailing his fish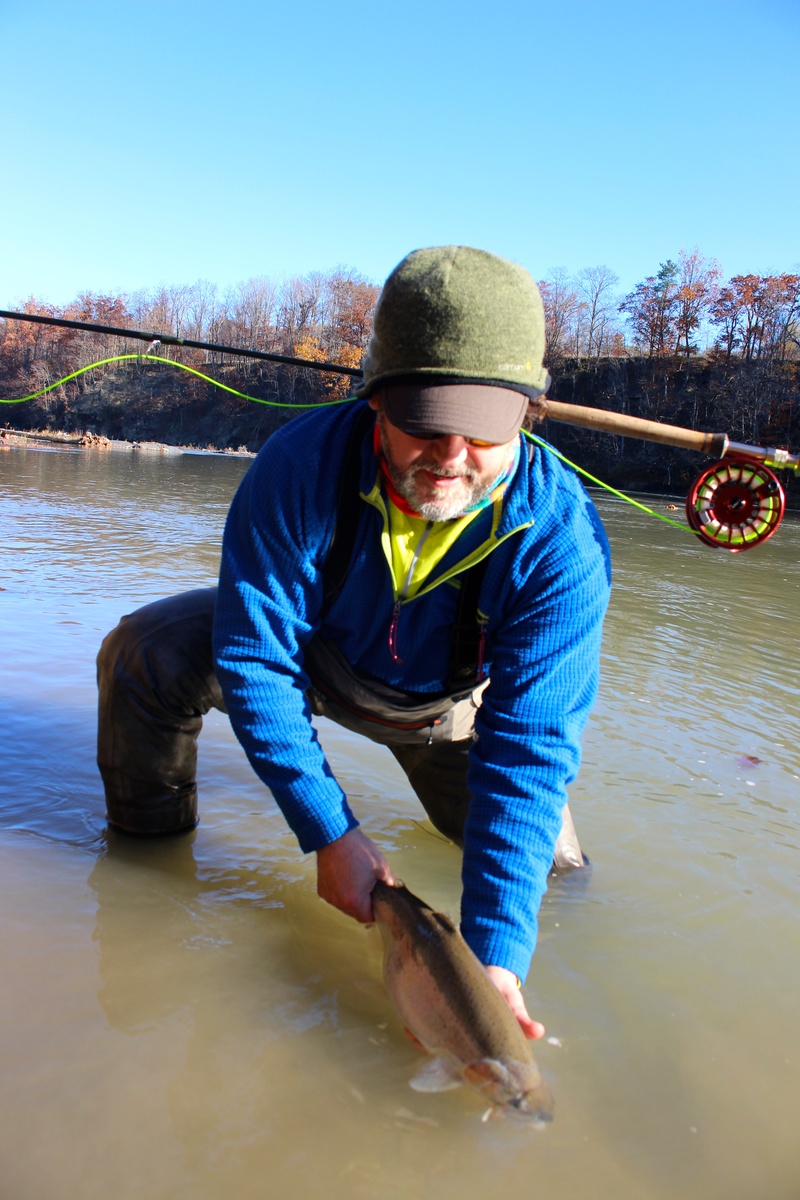 Wet-shot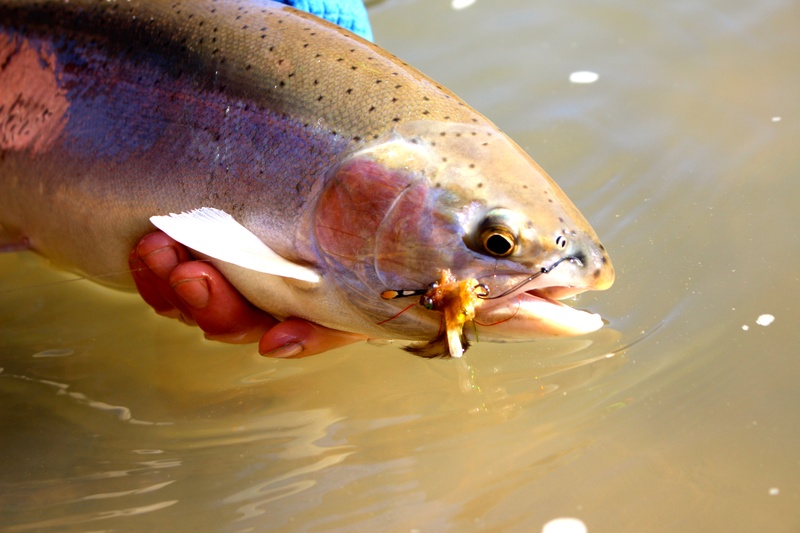 I'm ready for my close-up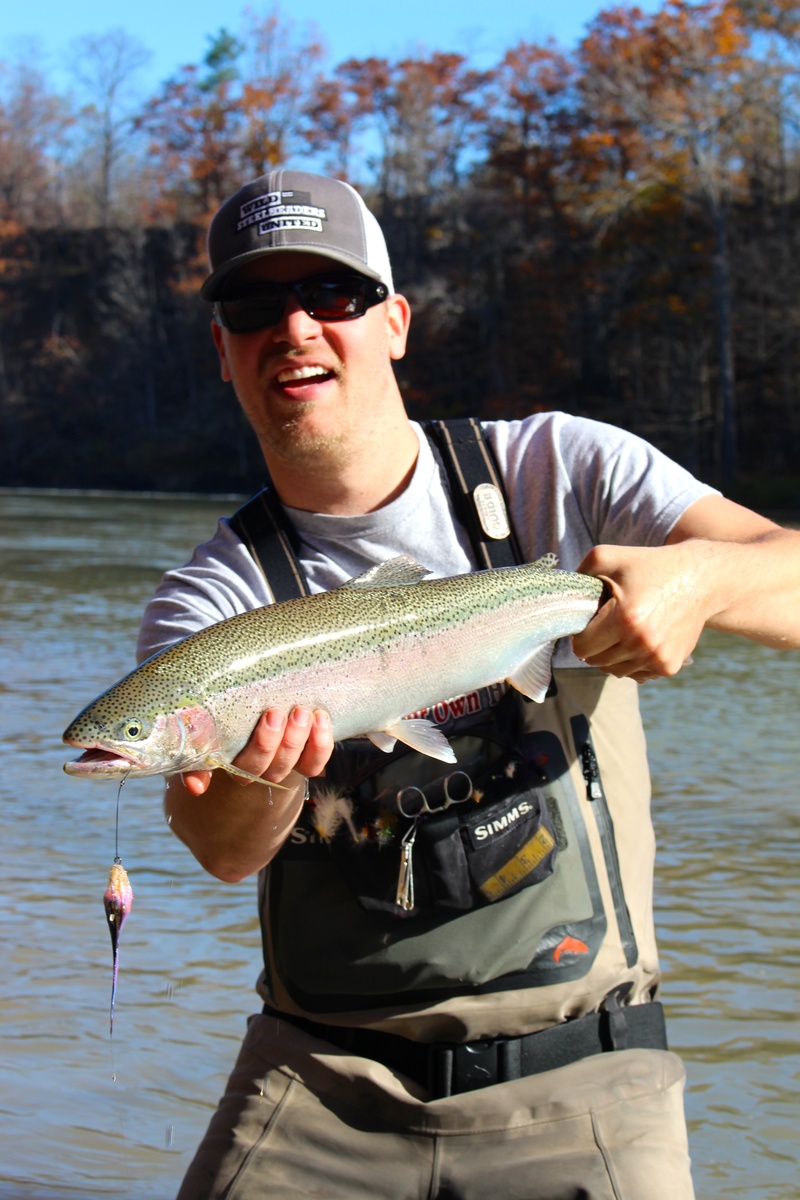 My first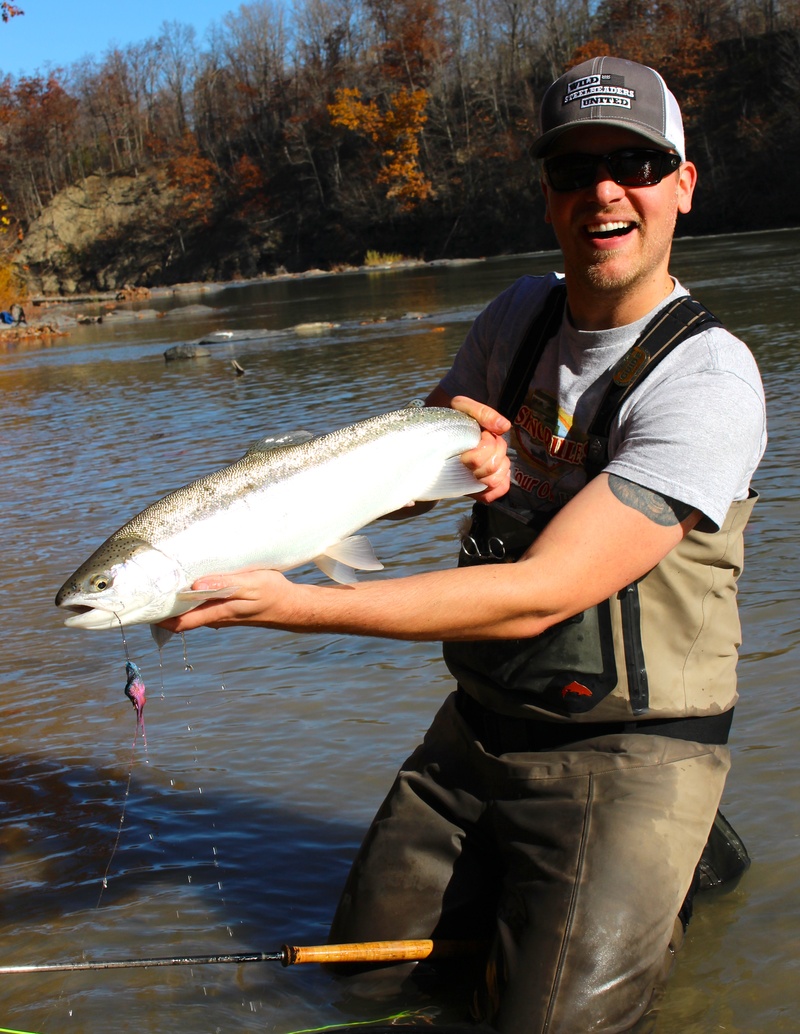 Chrome bright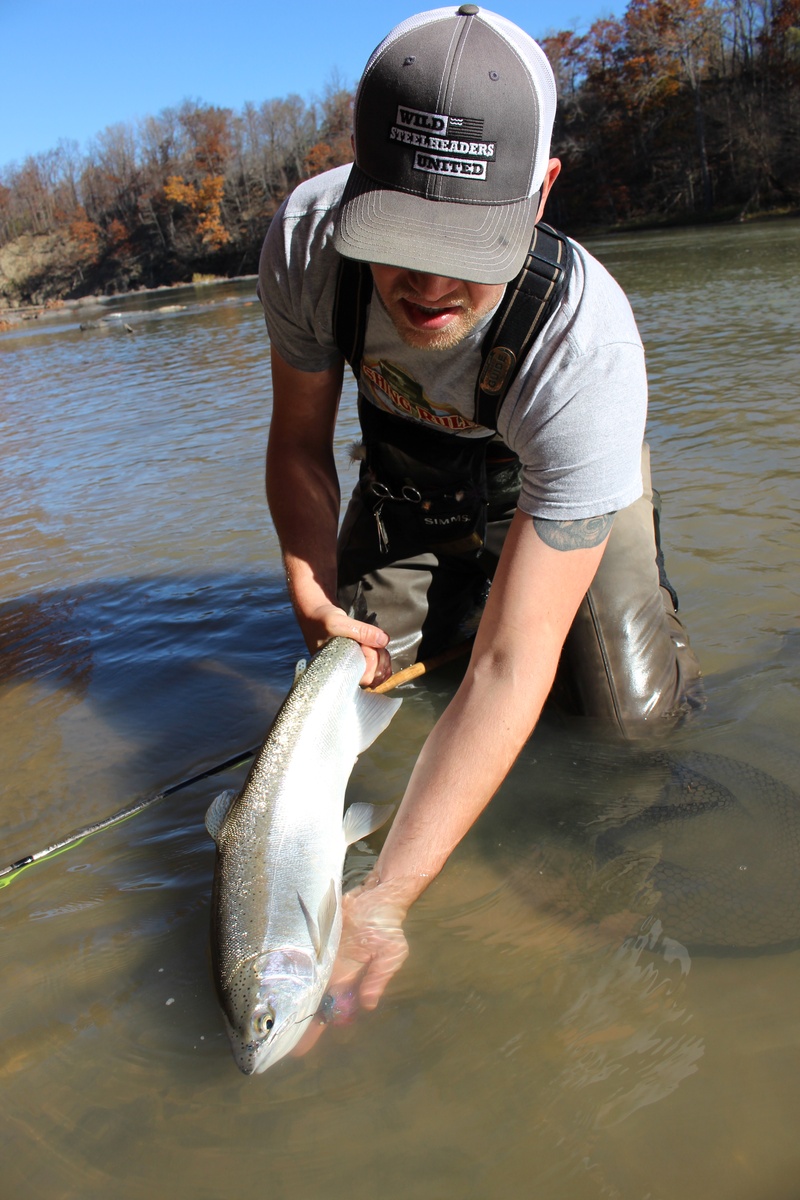 Keep-em-wet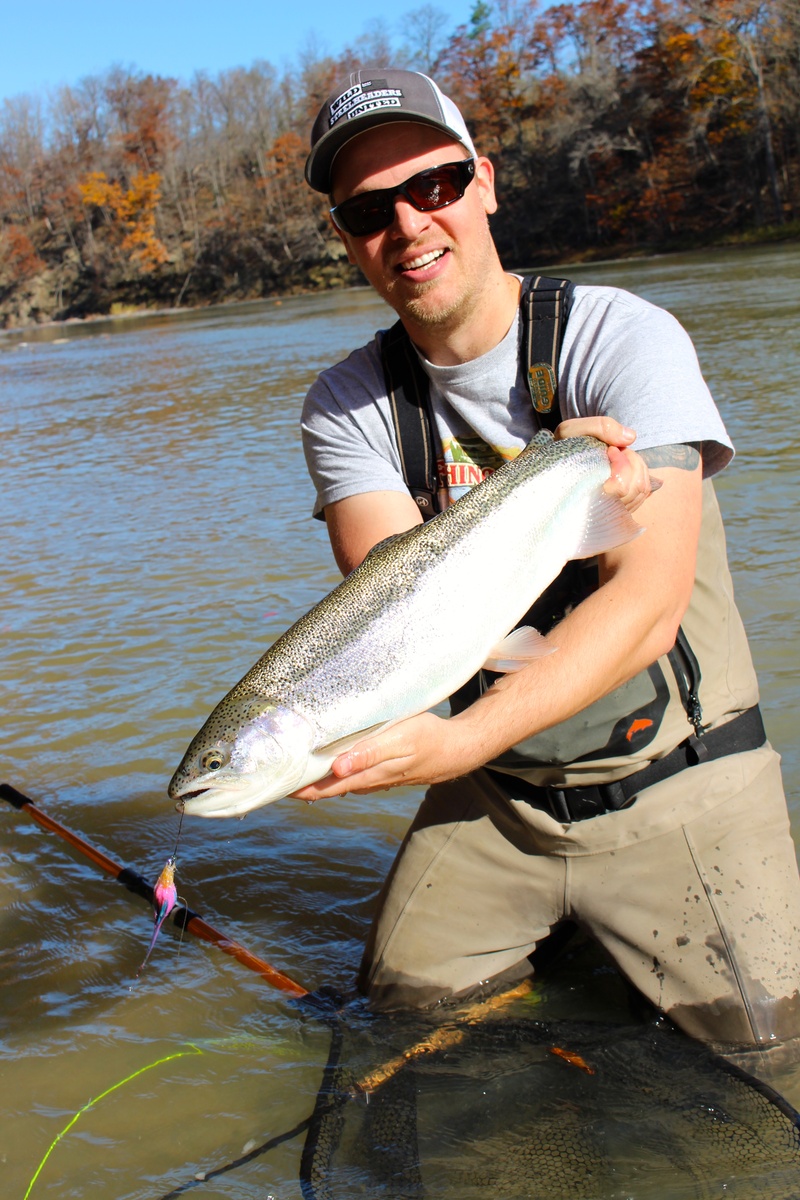 My last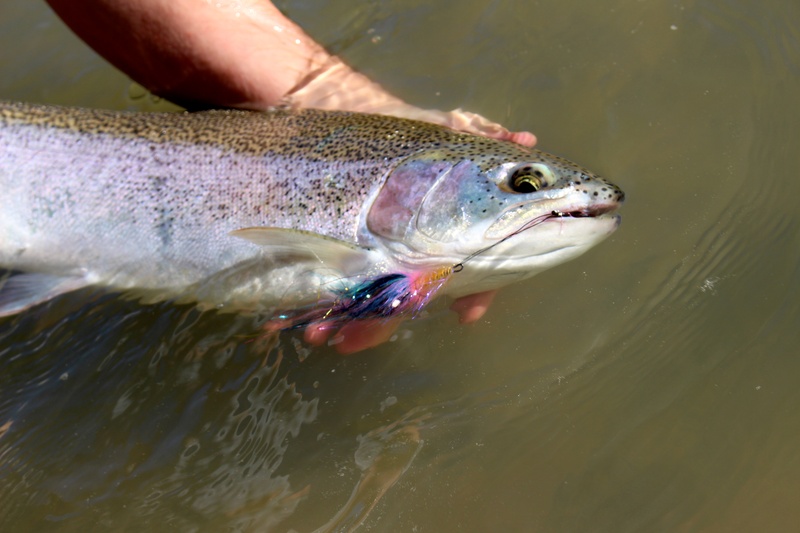 Ate the big stuff
Well my good friends Art and Jess Sandler have made their annual fall pilgrimage up here to fish three days with me. Because they got in late last night, we opted for a later departure this morning. I picked them up at 8 and we headed down to a smaller area creek right away. When we got to a decent spot, we found anglers in the tailout but no one up fishing the fast water head, and it was stacked. Within the first three casts we were locked on with a big chromer. After a long and spirited fight we netted the 8-9 pound hen, admiring her beauty. We spent the rest of the morning catching fish after fish, each prettier than the last.
When the sun rose higher into the sky, the fish doured. After the short hike out, we drove over to the Catt to fish. Many cars lined the parking area, so it was clear we were not the first anglers to work this water. The milky green flow glowed with the promise of success, but perhaps it was the other anglers that reaped rewards. The scenery ablaze with autumns fire, however, proved in itself to be more than consolation for the hike. And fishing such a beautiful stretch well, despite having lost our only hookup, is never a disappointment.
Until tomorrow.
Enjoy the pics!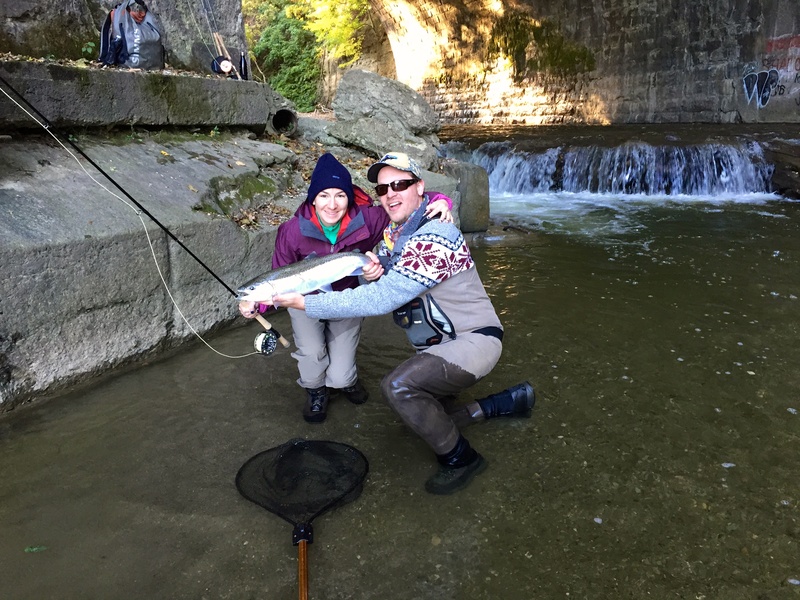 Success!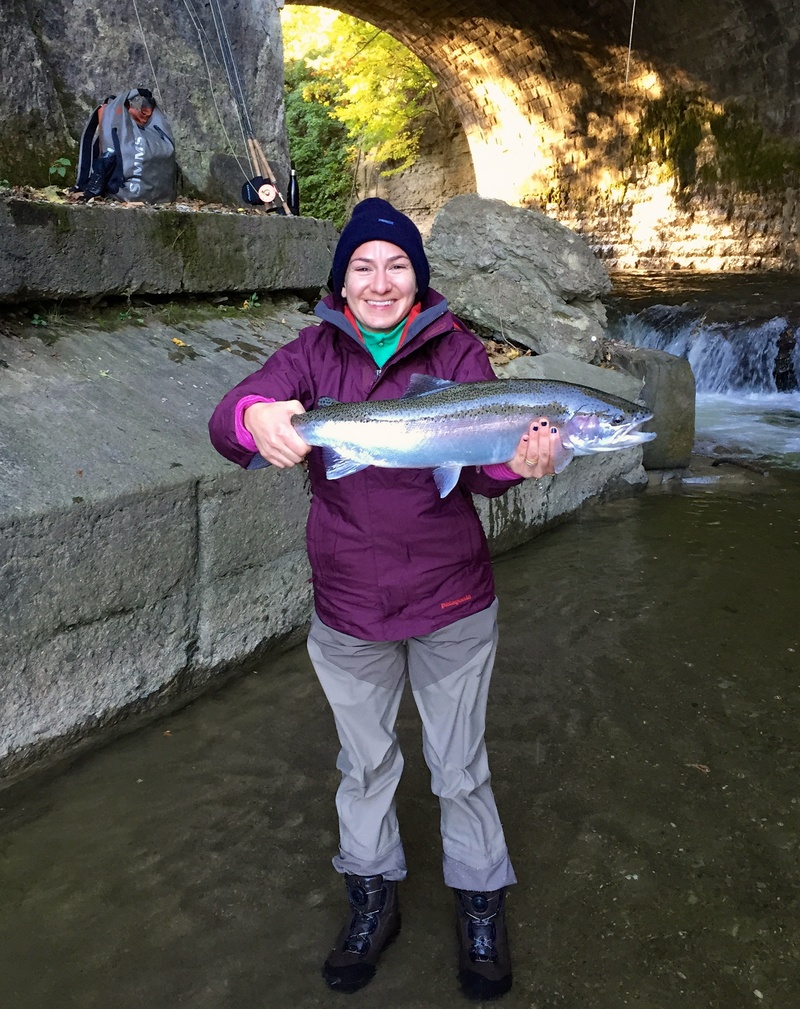 10 pounds of steel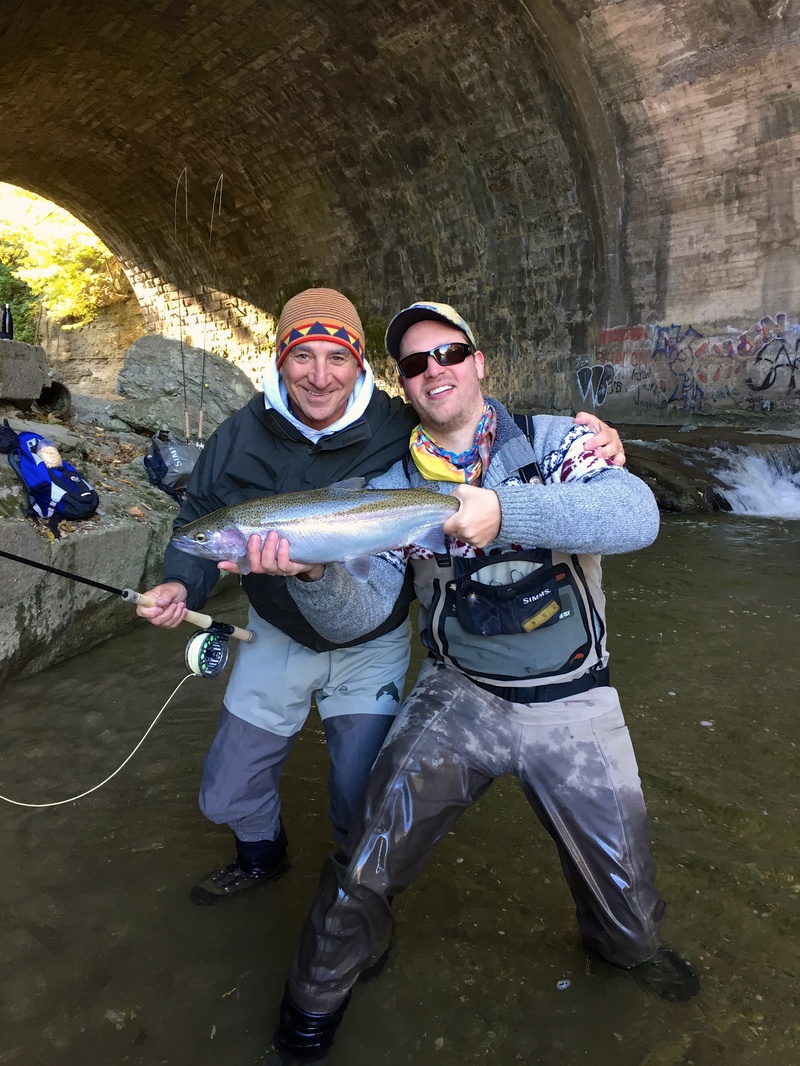 Me and Art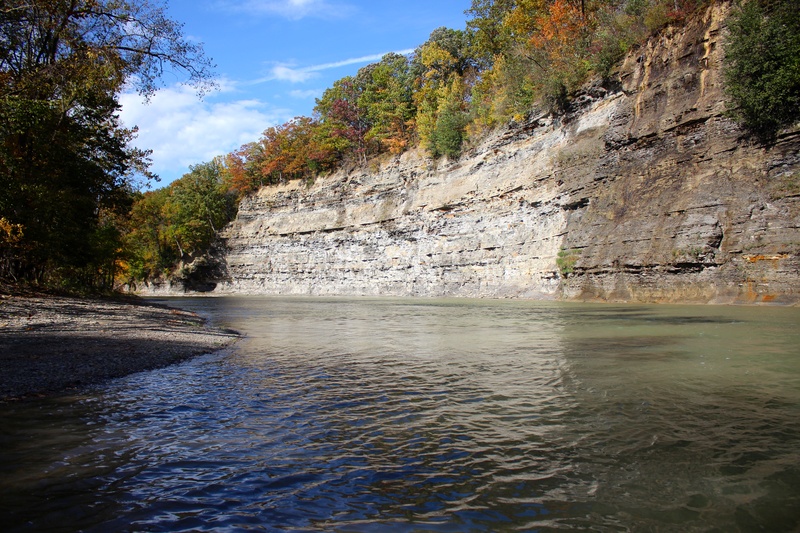 Beauty on the Catt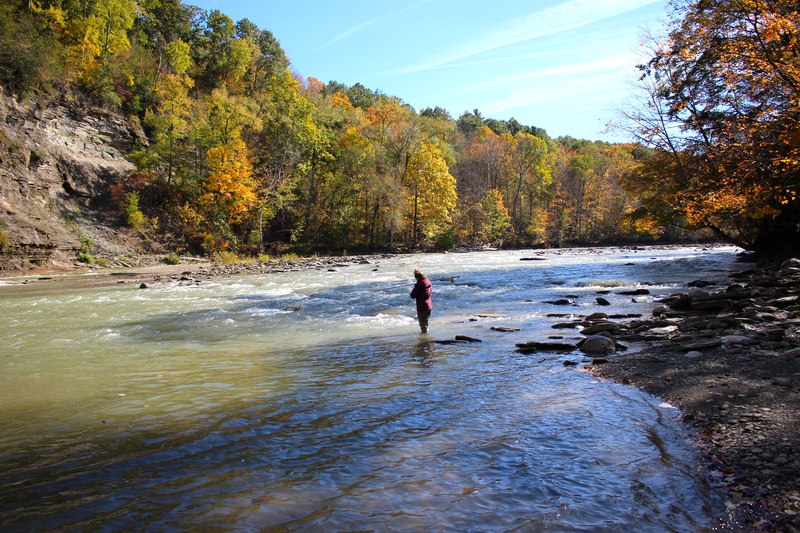 The mess after the breakoff
/