Shopping Cart
Your Cart is Empty
There was an error with PayPal
Click here to try again
Thank you for your business!
You should be receiving an order confirmation from Paypal shortly.
Exit Shopping Cart
Guided Fly and Spey Fishing Trips for Steelhead and Brown Trout with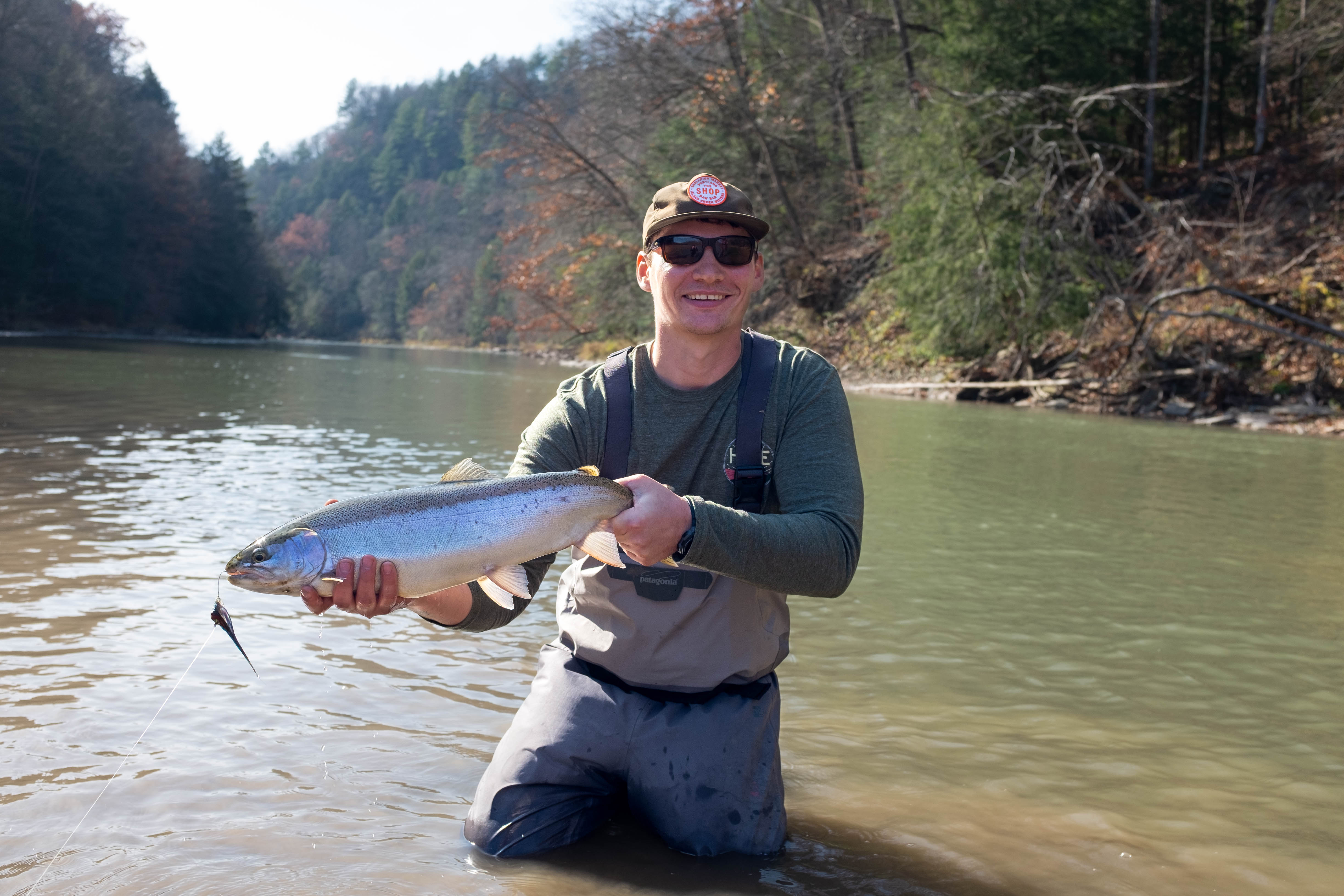 Tom with a great fish his first day spey fishing with guide Matt Rysak!
I'm going to keep this one short. Things are fishing very well. We had a bit of an unseasonably warm and dry spell for a minute that made fishing a little tough on sunny days. But other than that there are good amounts of fish around. We've had some water of the past two weeks which got things moving even more. The Erie fish, bucks in particular are running large. We've lost a couple I'd say were well over 12 pounds. And from the reports I'm getting up on the Lake O tribs, there are some monster browns around. Watch for a full report on that next time. All in all, great fishing.
Tight Lines,
 - D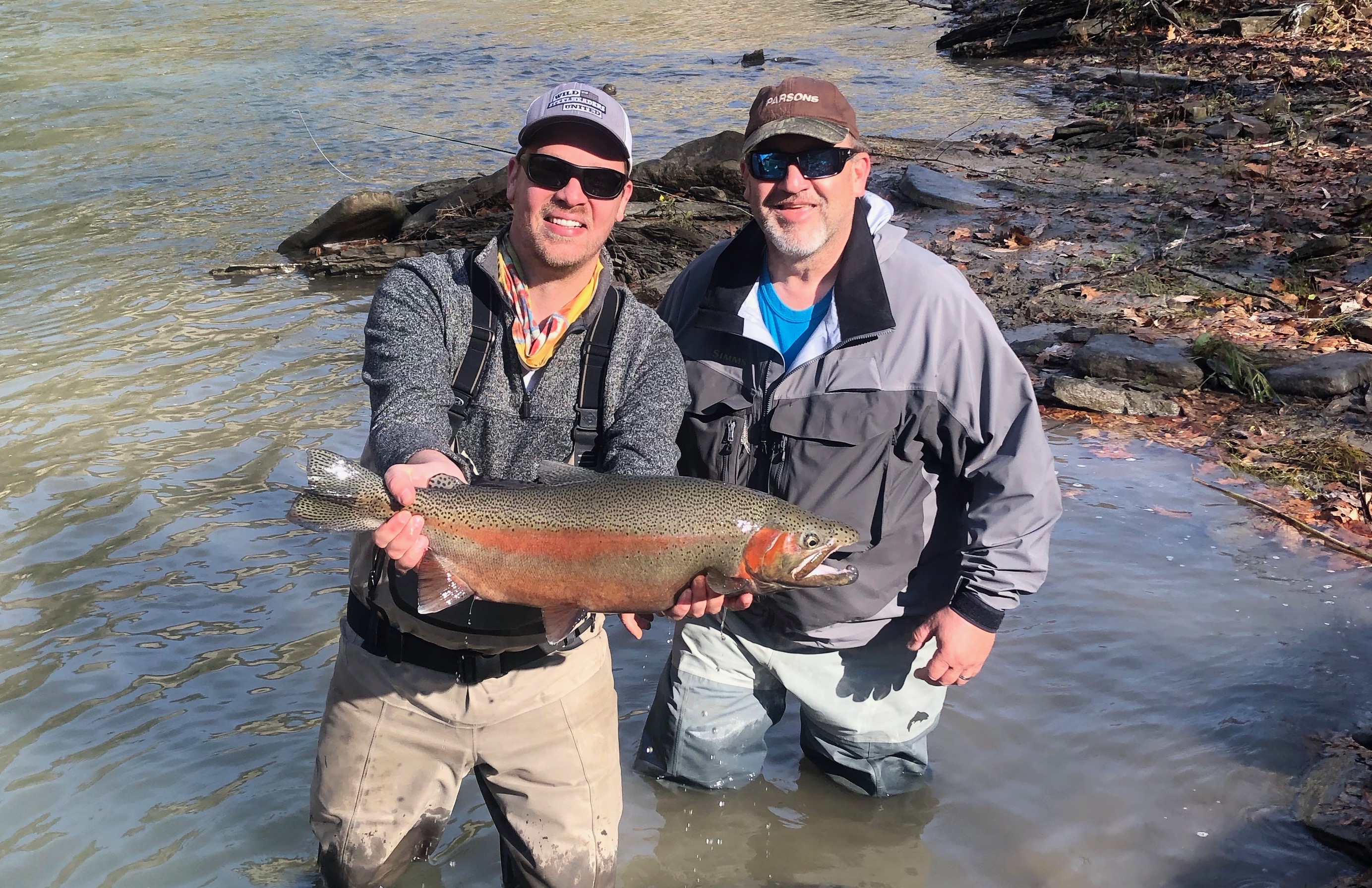 Greg with a FAT colored up buck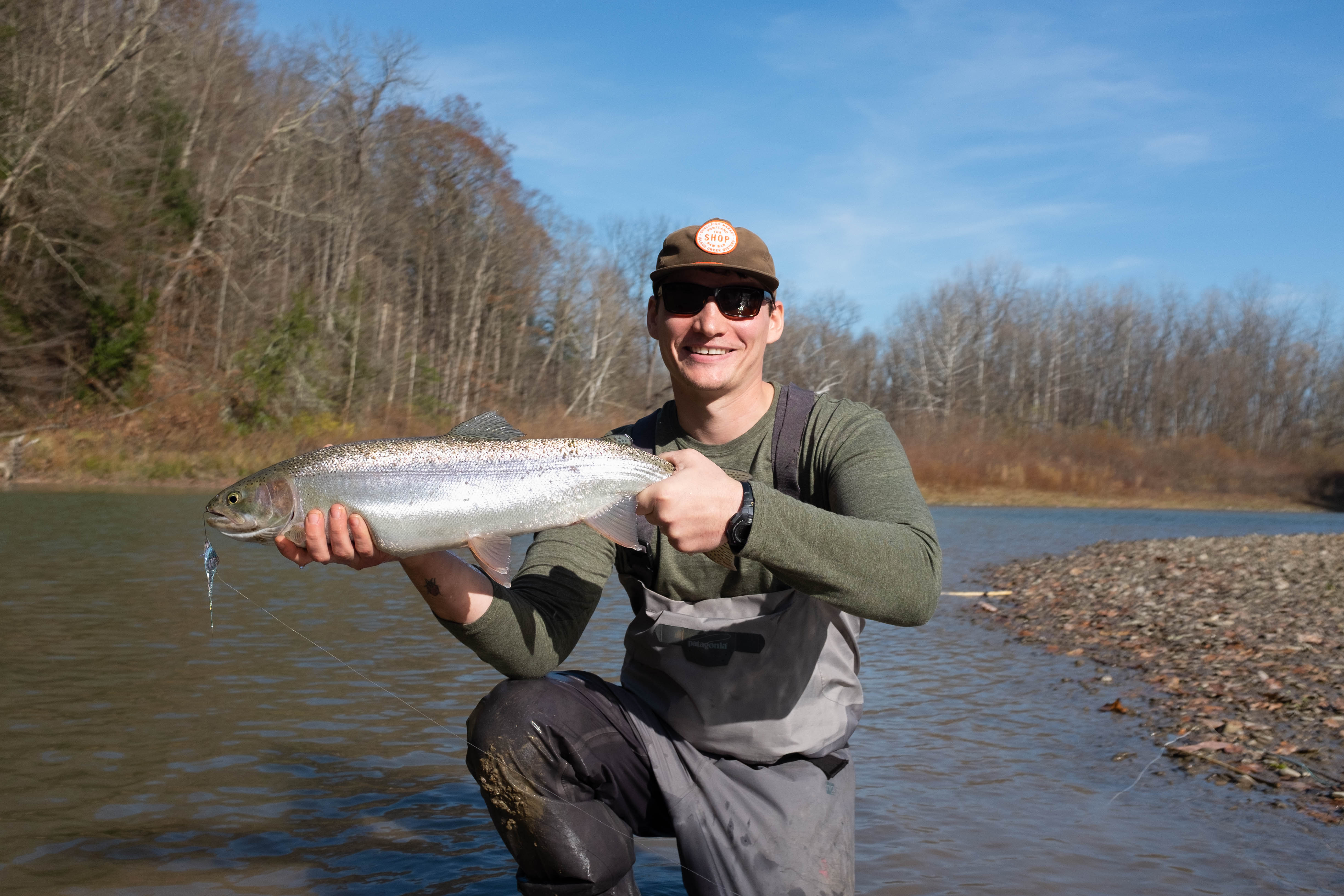 They don't get much nicer than this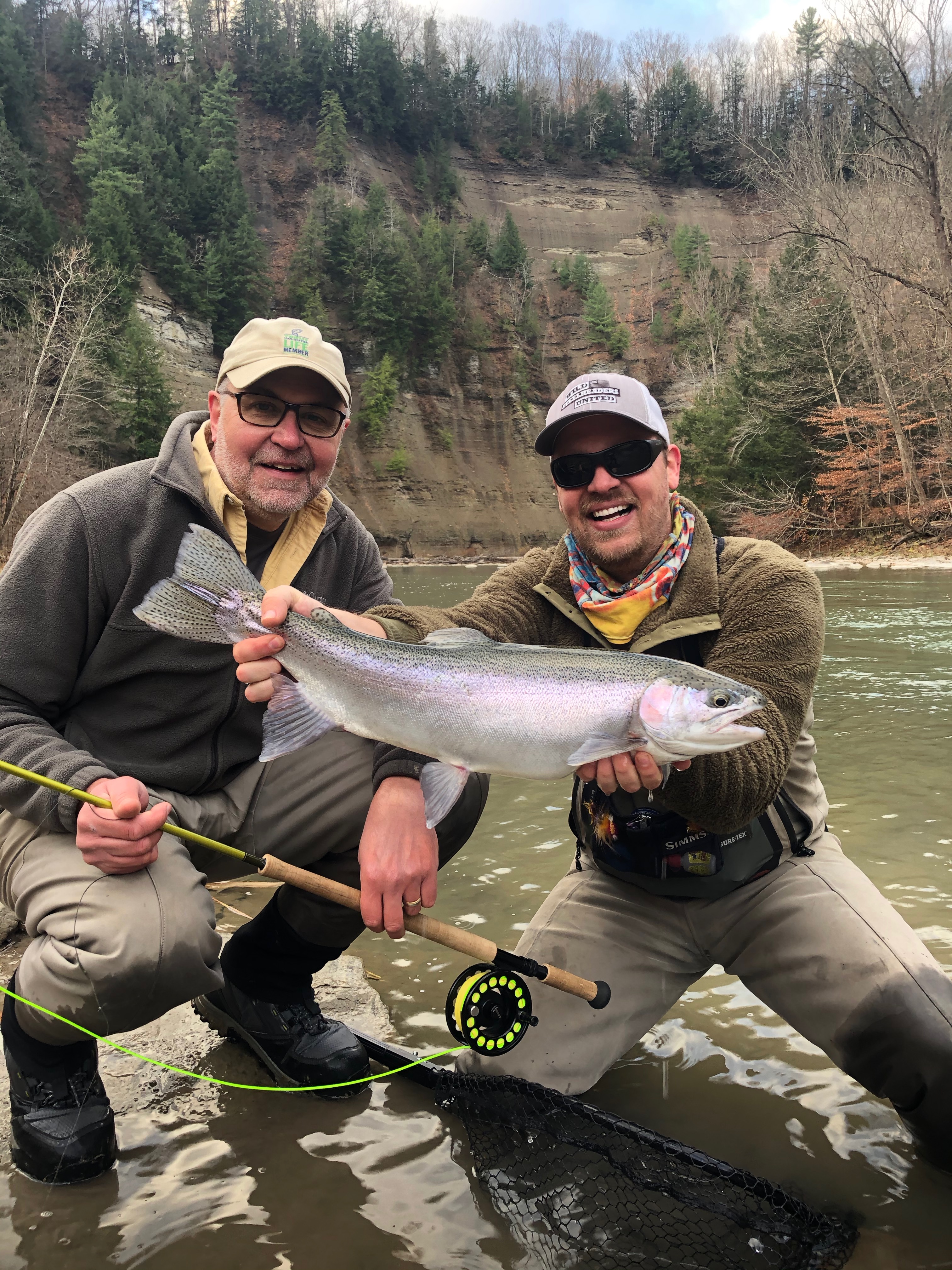 Dough with his first fish (of 3) his first day ever spey fishing with fishing buddy John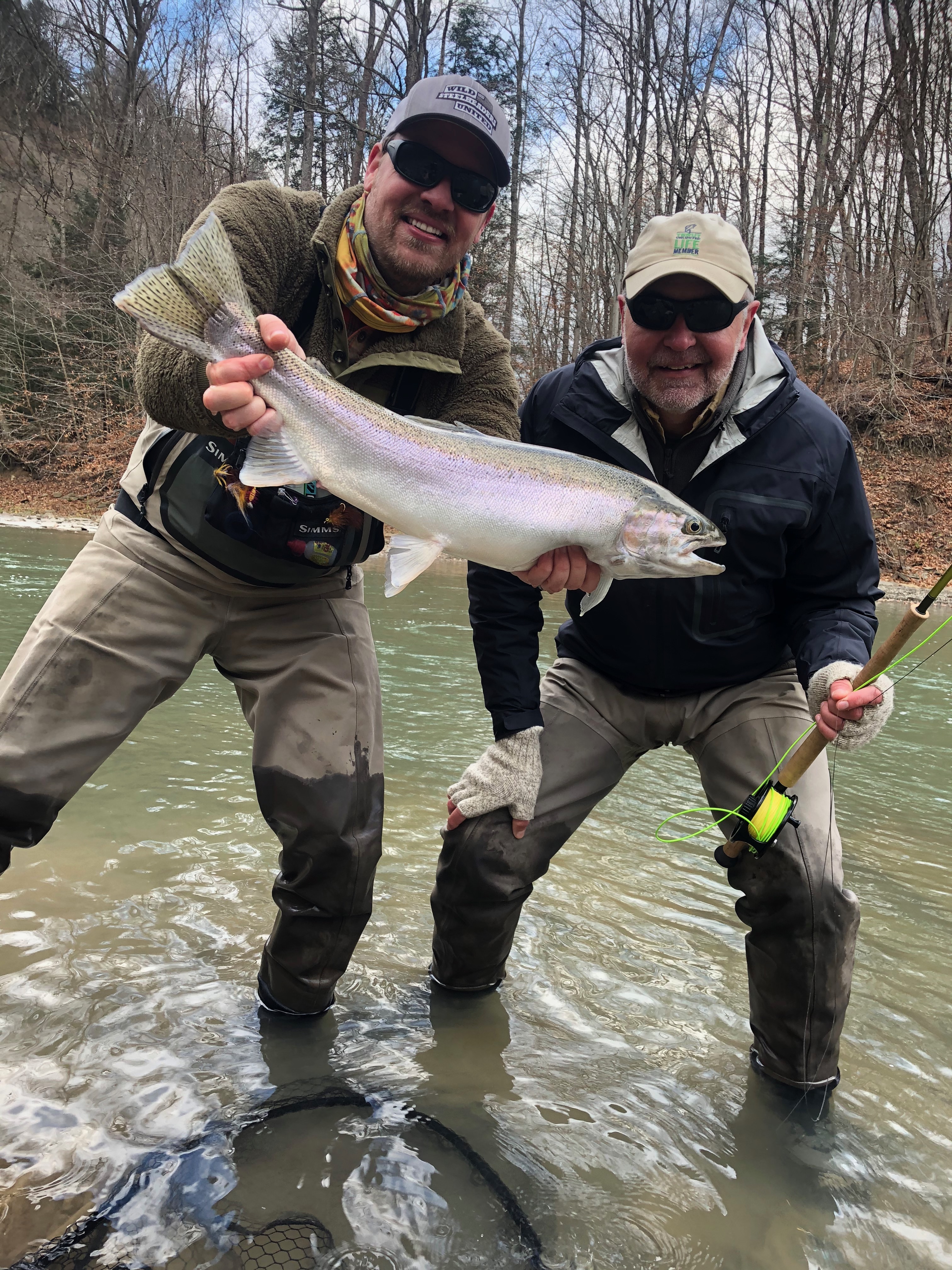 Another one of Doug's first day fish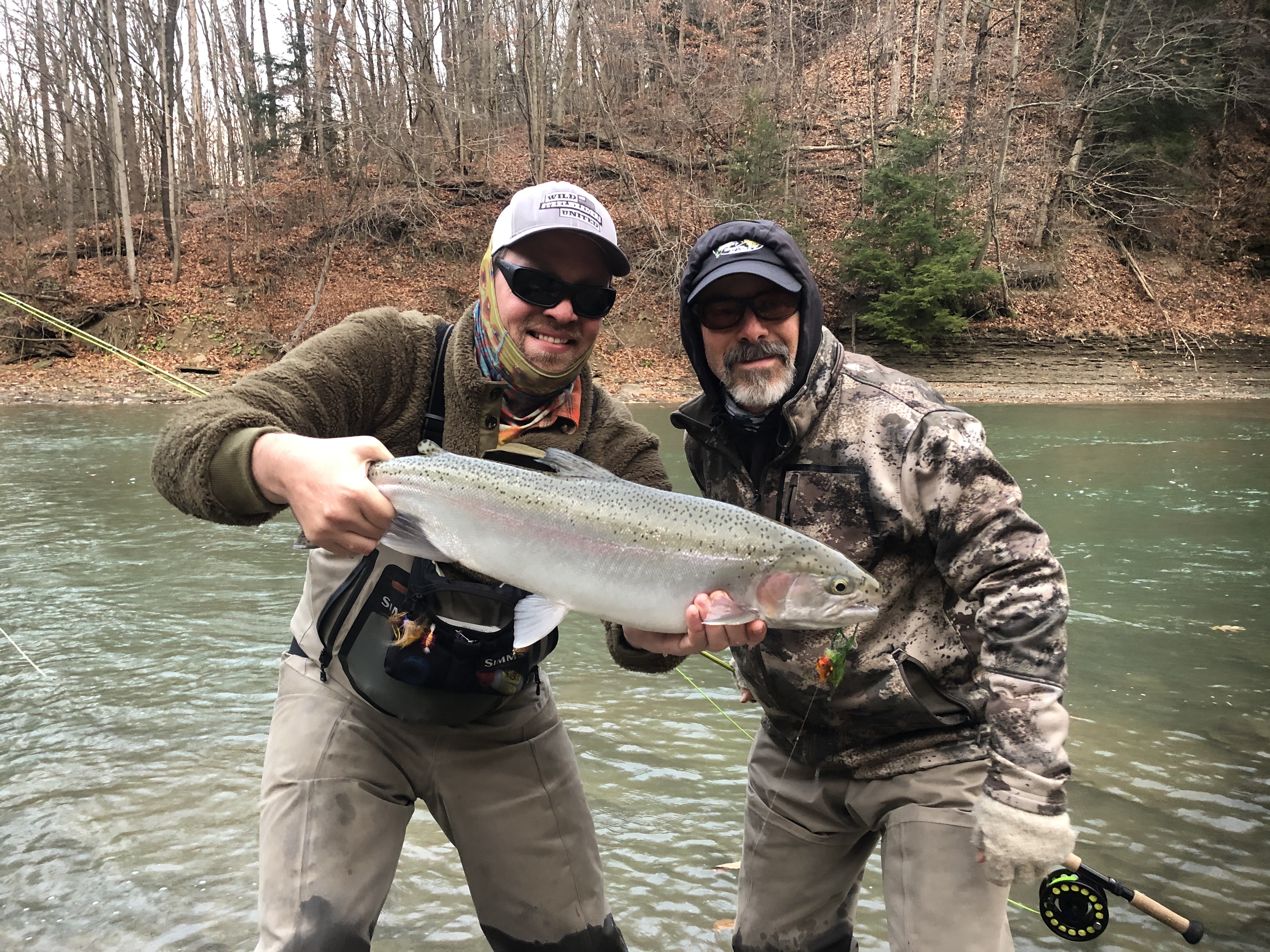 John getting it done on the Firestarter second morning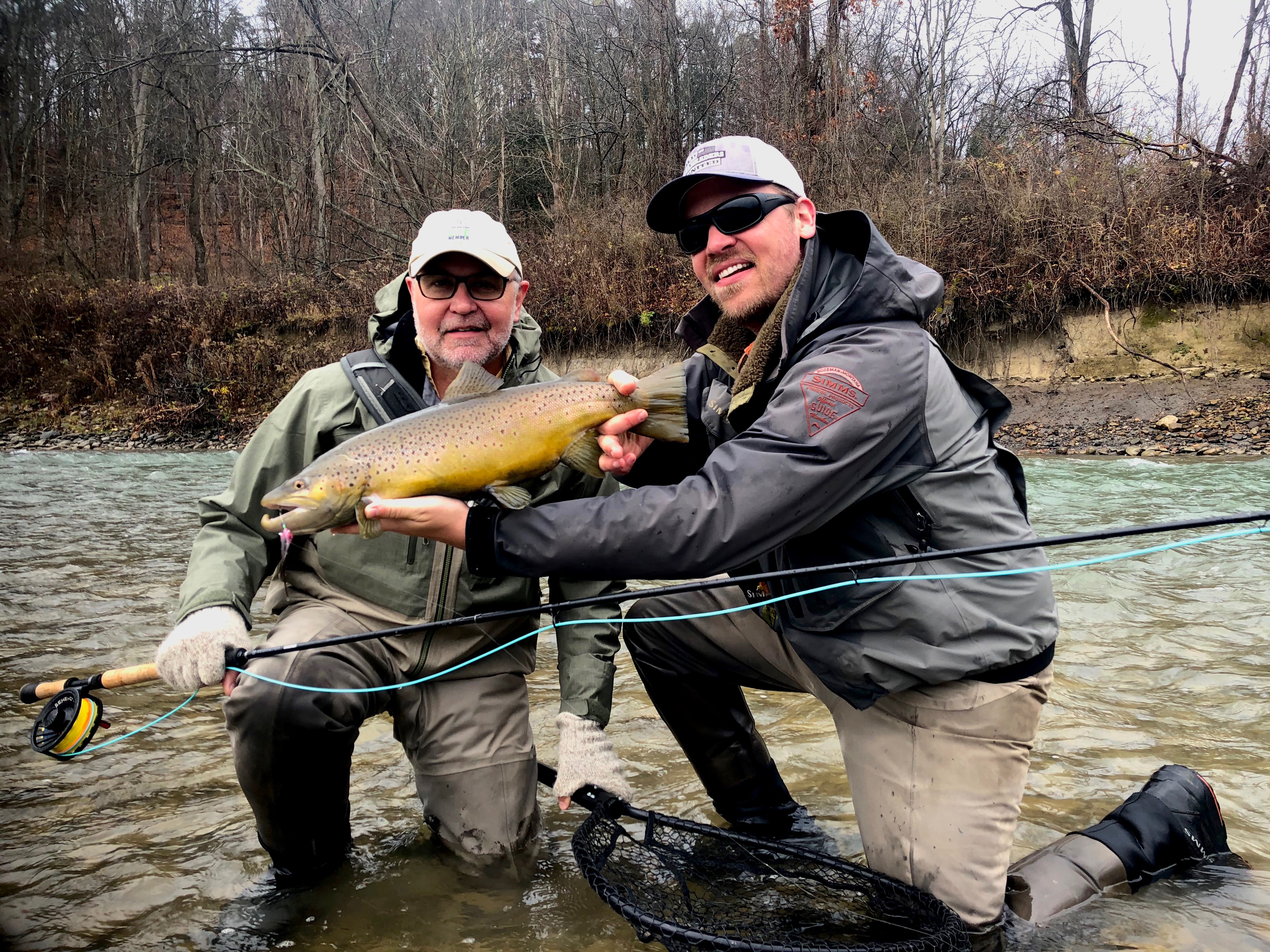 Doug even swung up an elusive Cattaraugus lake run brown way up there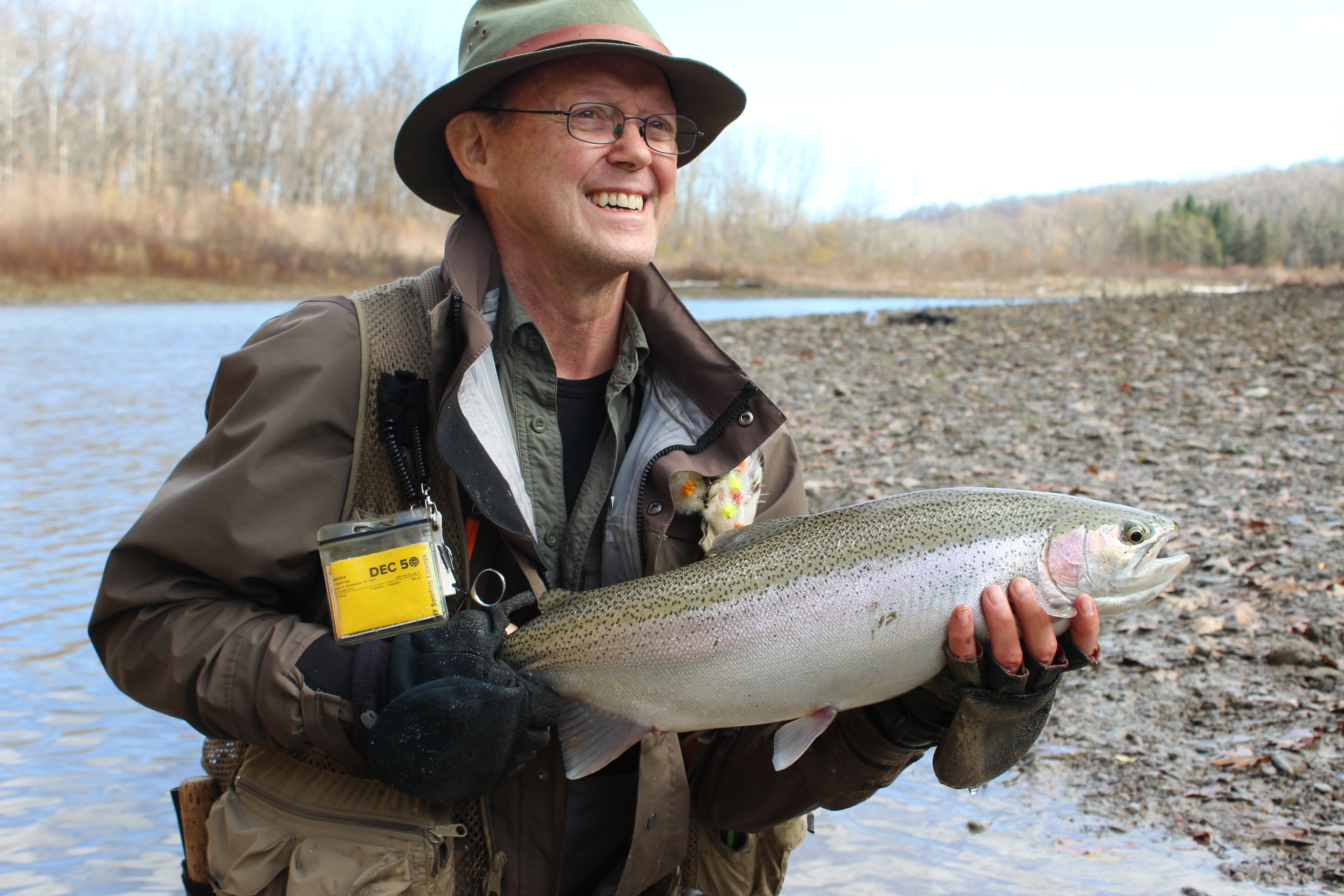 The Lee Party striking silver with Guide Matt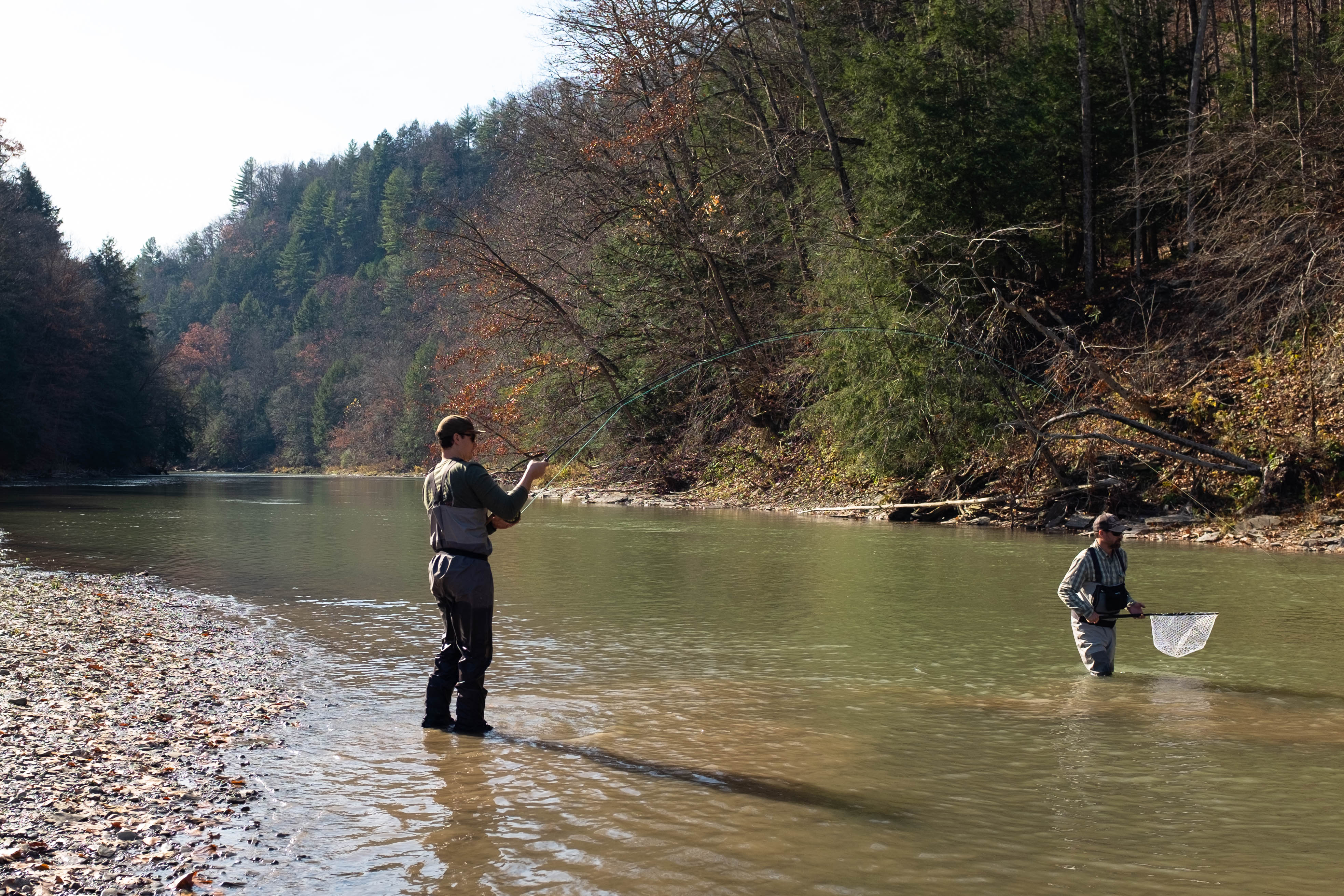 Matt getting ready to put one in the net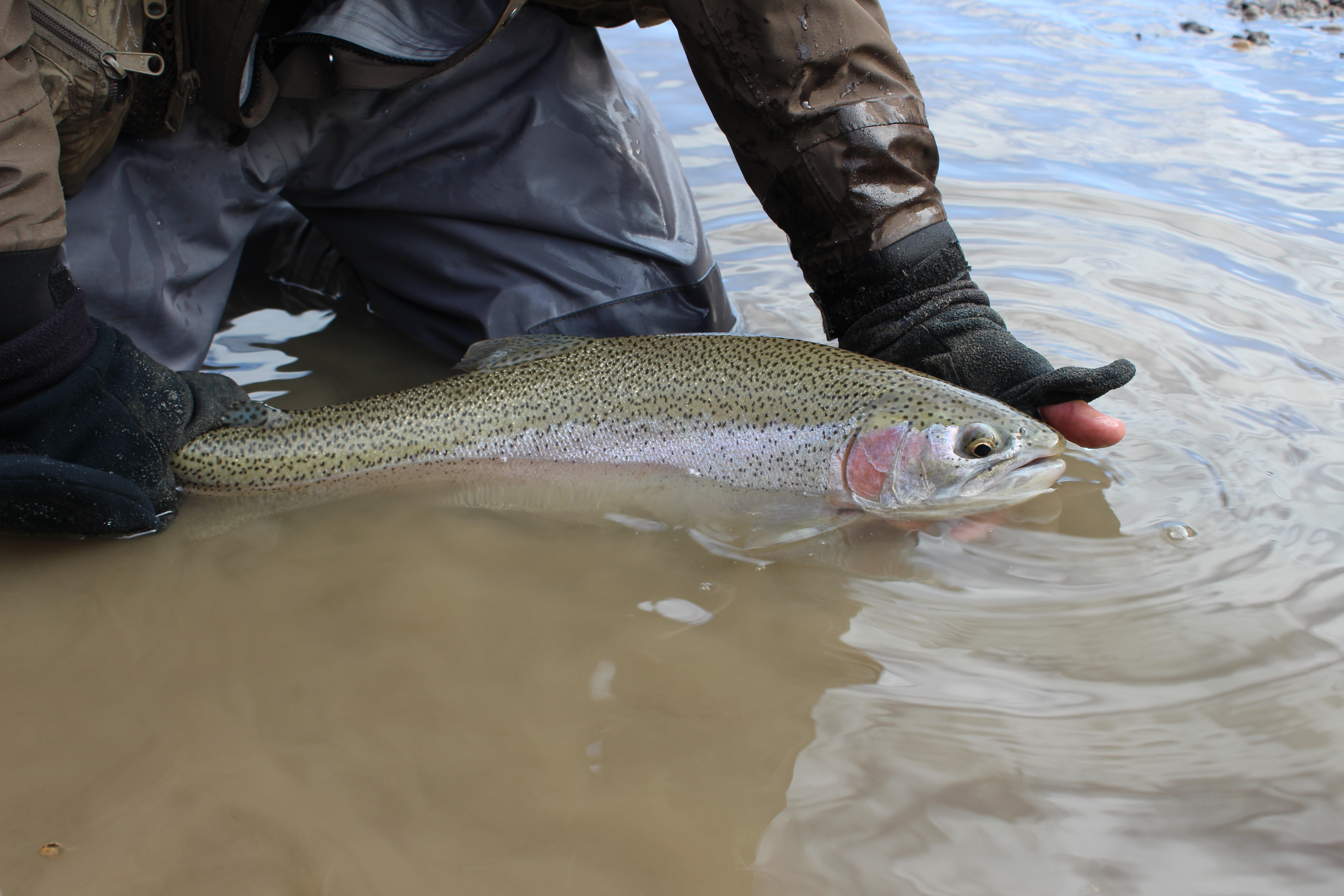 Now's the time folks.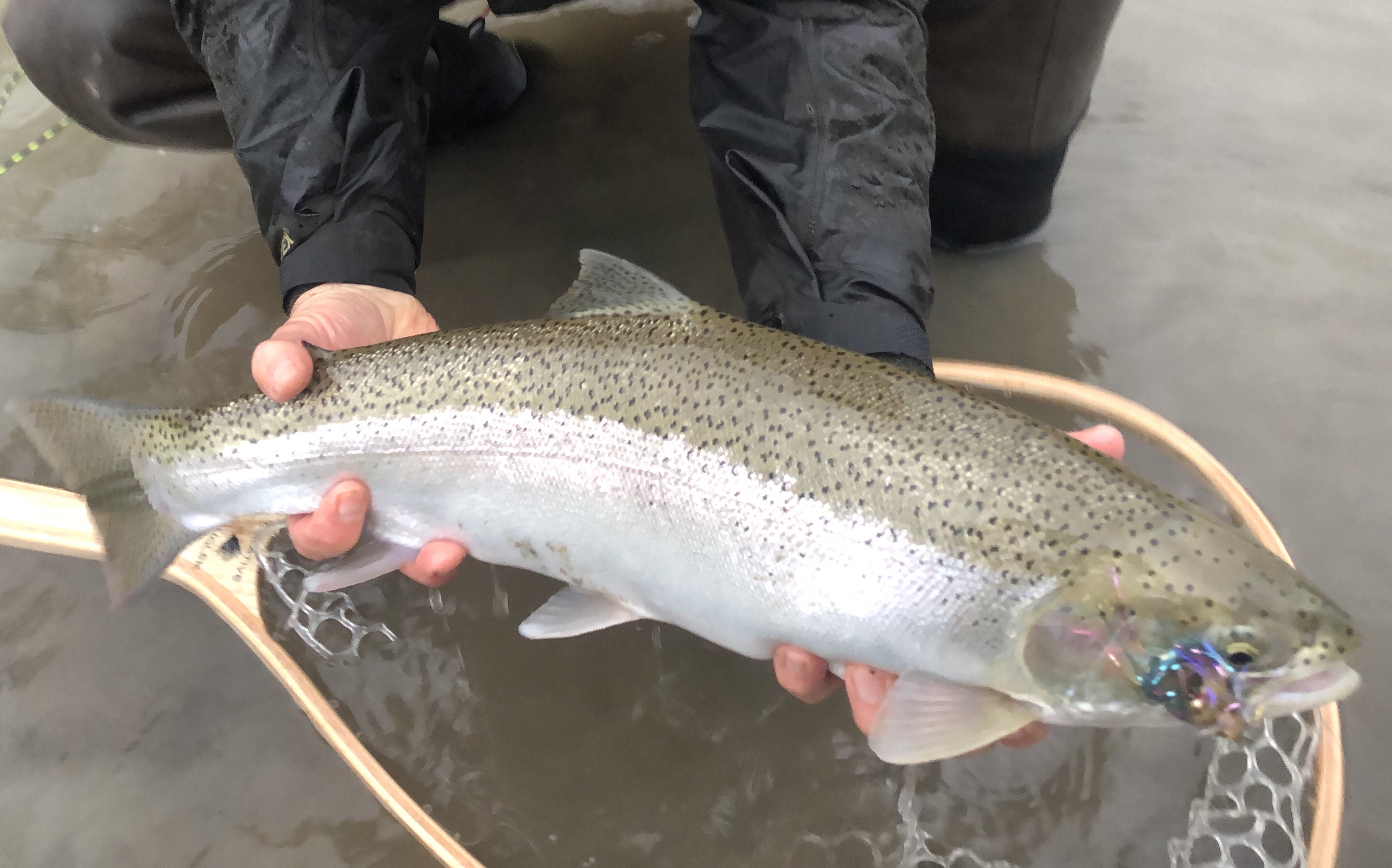 Solid fish on the hangover
Well we're marching along into fall. The fishing continues to be productive if you can adjust and know how to fish low, clear water. Over the past week, we've had ideal water temperatures for very active fish, along with the persistent low flows. In that time we've hooked fish skating dries, swinging clear floating or clear intermediate polys, and even a tip here and there. Despite the low flows, there are good numbers of fish in the river.
The game is stealth mode. If you're going to swing a sinking tip, do it early before the sun gets on the water (if it's a sunny day). Once the sun gets up, back down to clear tips, and long leaders. Natural colored speys are working well. Don't be afraid to skate a dry in choppy pockets. Now's the time to get surprised. Case in point, Jeff was fishing around us. He came to a pool that had been worked through by indicator fishermen and spey fishermen and hooked and lost one on a skated dry. That fish had seen pressure. Yet it still ate off the top. And not just once. The fish ate it twice in the same swing before he hooked it the second time. Unfortunately, like a lot of dry eaters, it threw the hook early. I don't know what it is about fishing that way but you land a lot less than you hook and you hook a lot less than you rise. Props to Jeff for at least sticking his first on the dry.
Looking ahead, we got weather coming through. Hopefully it will really get things rolling, though I don't mind the conditions as they are if you just adjust a bit. But more water will help bring more fish in and get the ones already in moving up higher. That will help the fishing.
Tight Lines,
 - D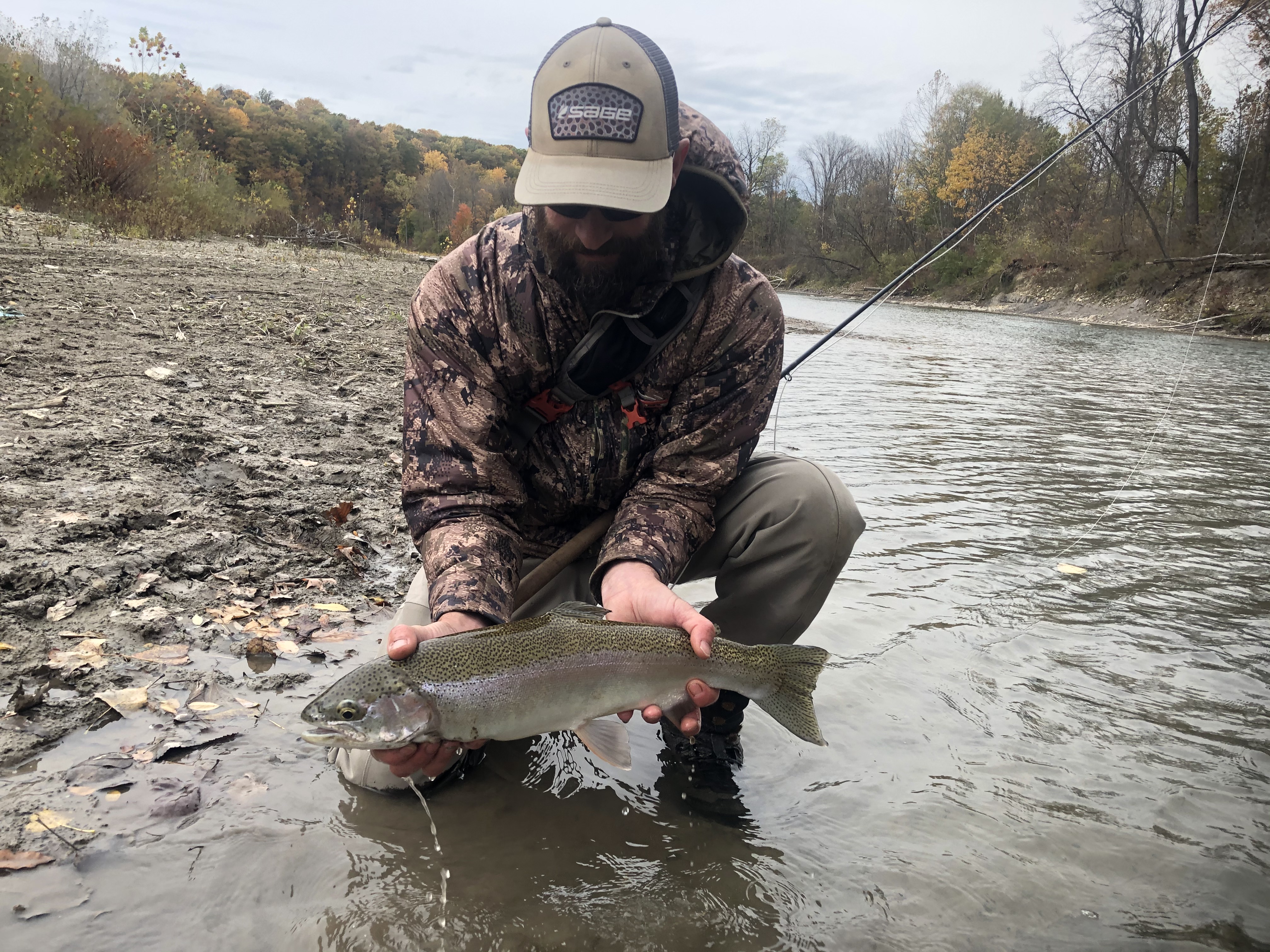 Jeff with his first of the year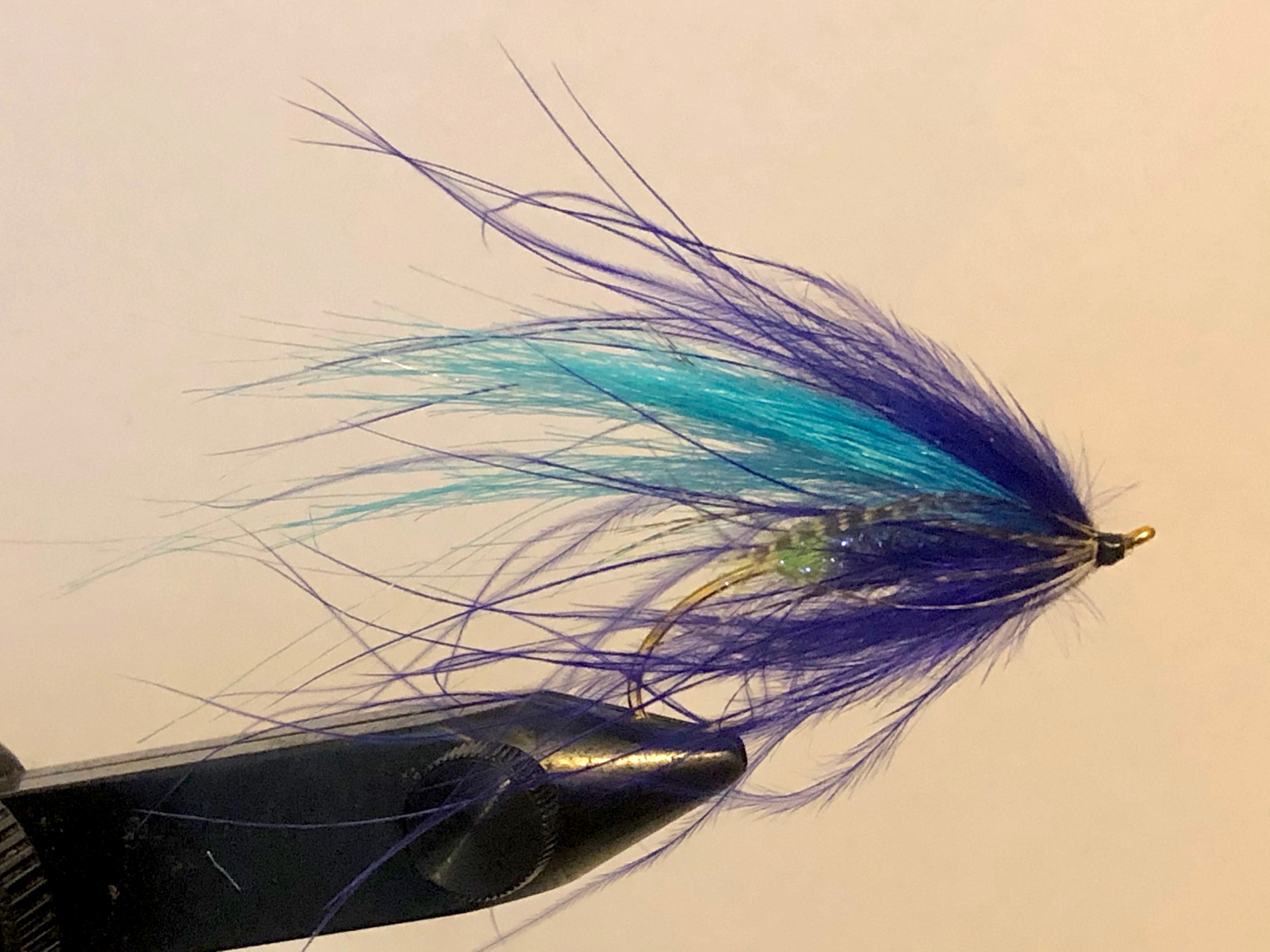 The Concord Grape is a quick tie that catches fish.
Check out the video to learn how to tie and fish this productive pattern: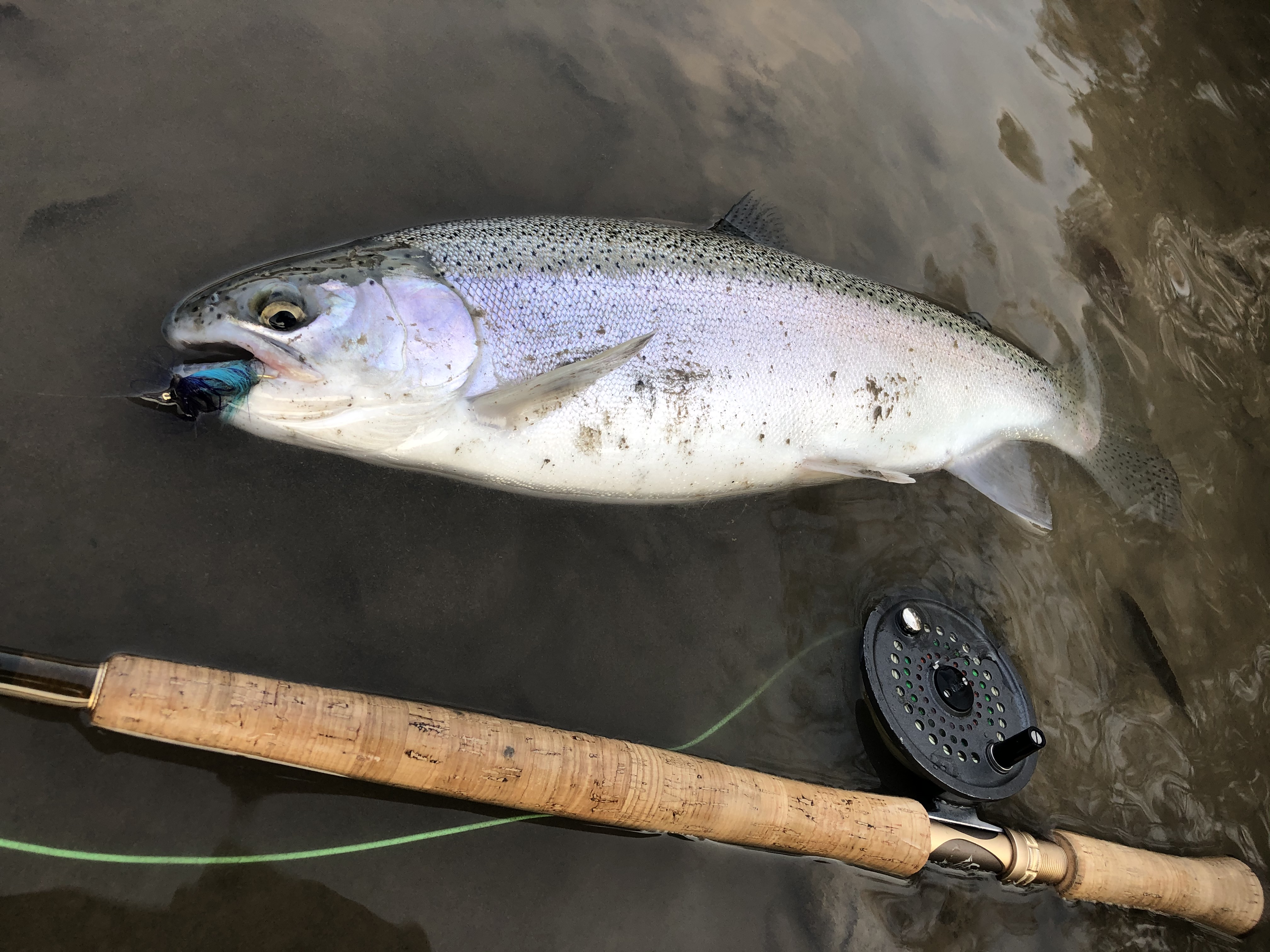 Perfect fall steelhead on a blue and purple spey
Despite the very low and clear water, there are decent numbers of fish. With flows this morning hovering just north of 100 cfs, I figured early would be the game. Started a nice mid-river stretch of pocket water, good early season floating line water, with a traditional blue and purple spey pattern on a size 4 Alec Jackson. I started out with a 14' clear floating poly with about four feet of 1X, but after a while I decided to shorten up to a 10' floating poly but lengthen the leader out to about 7 feet tapered down to 3x. I liked the initial length I was fishing, but I was afraid that with the shorter leader, the poly would be right on top of the fly and the fish might still see it despite being clear. So I switched it up and started working again.
After I made about ten casts, I looked down and saw the head of a big, usually moderately fished run was open and with the sun cresting over the trees, it was still in the shade. My plan was always to work down through all the pocket water and riffles and fish that run, but I started thinking that people usually fish that run and I don't see people fish the choppy water I was casting to. So why not book down there, fish the run first, then come back up and fish all the water through again. Made sense to me.
So I got down in position and started fishing high on the head of the run. The run is set up on a gradual river-left turn with a riffle up top and a trough that forms against the right bank on the other side. It's not a crazy deep trough in the head, particularly in the flows we had this morning. But about four feet off the right bank puts you somewhere around mid-thigh deep. And there are a couple boulders right near the bank on the other side. It's good water. 
As I was fishing through, I was making a conscious effort to not hold the running line against the cork. I wanted any fish that took to be able to pull line from the reel if it needed it. 3x is 3x after all, and I've had many fish break off on the take alone. Lesson learned. When fishing a floating line and super light tippet on the swing, let them take it from the reel. Right as I got into that trough and the current evened out, the fish absolutely annihilated it. It was somehow thrashing on the surface while screaming line off the reel at the same time, even before I lifted the rod. People ask me why I fish the way I do. That's why. You will not find a harder hit than light line on a floating tip on a scandi or long belly. None of the energy is absorbed by a weighted tip so it all goes to the rod. 
The fish fought the way you hope an early fall fish does- long, fast runs with a few jumps thrown in for good measure, and it even briefly got around a mid-river snag as I did my best to lose it. But the hook stayed buttoned, my line held, and I was able to bring it in. Not huge, perhaps four or five pounds, but as pretty and clean as can be with perfect fins. Sometimes you can just tell. 
After that I spent the rest of the morning jumping around to spots and switching it up between a riffle hitched muddler and a foam waker, but none wanted to play all the way up top. But that didn't matter. I got my fish. I could go another year if I have to, but a sink tip won't be on my line anytime soon. 
Check out a few extra pics.
Tight Lines,
 - D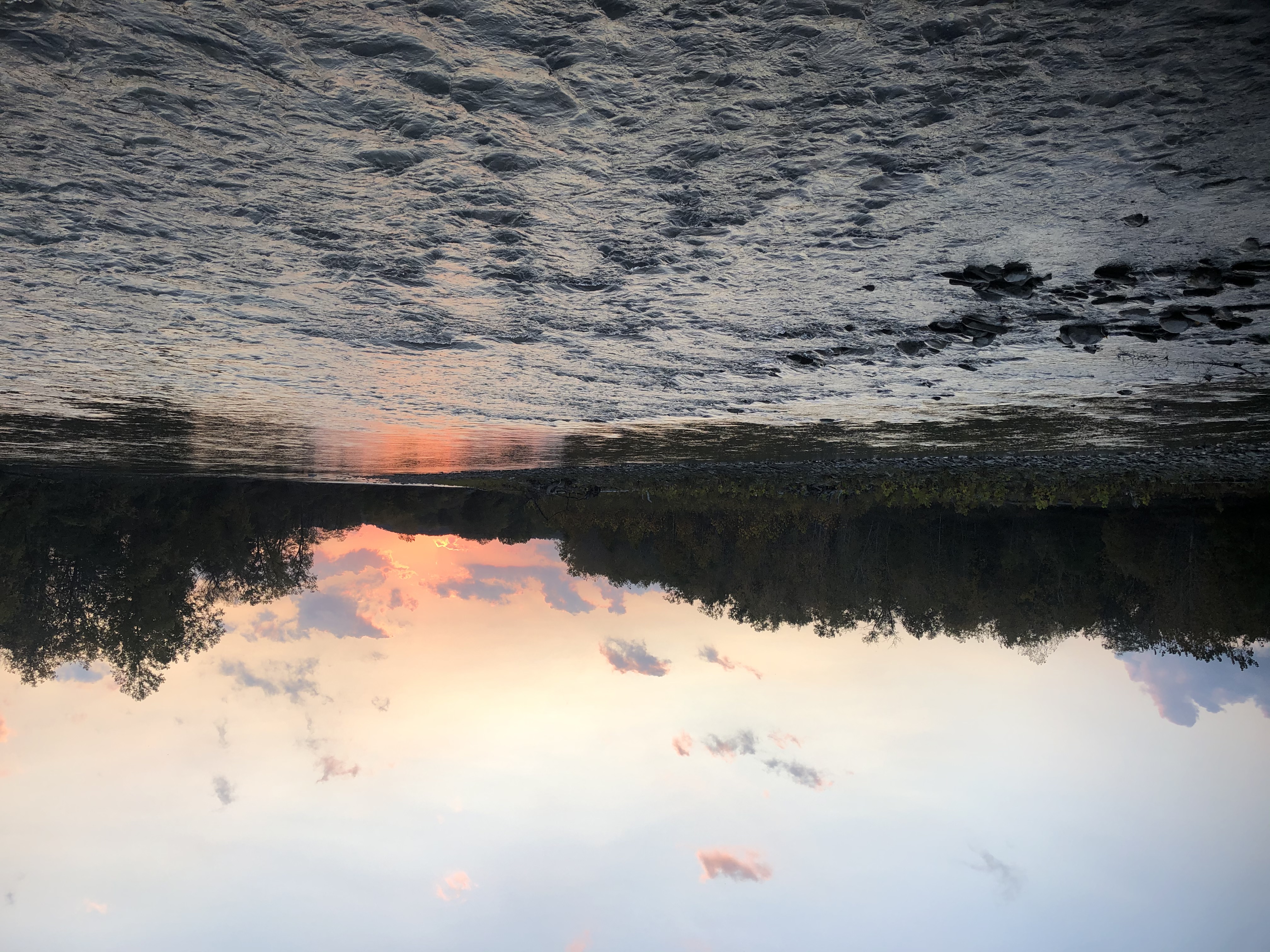 Gorgeous Sunrise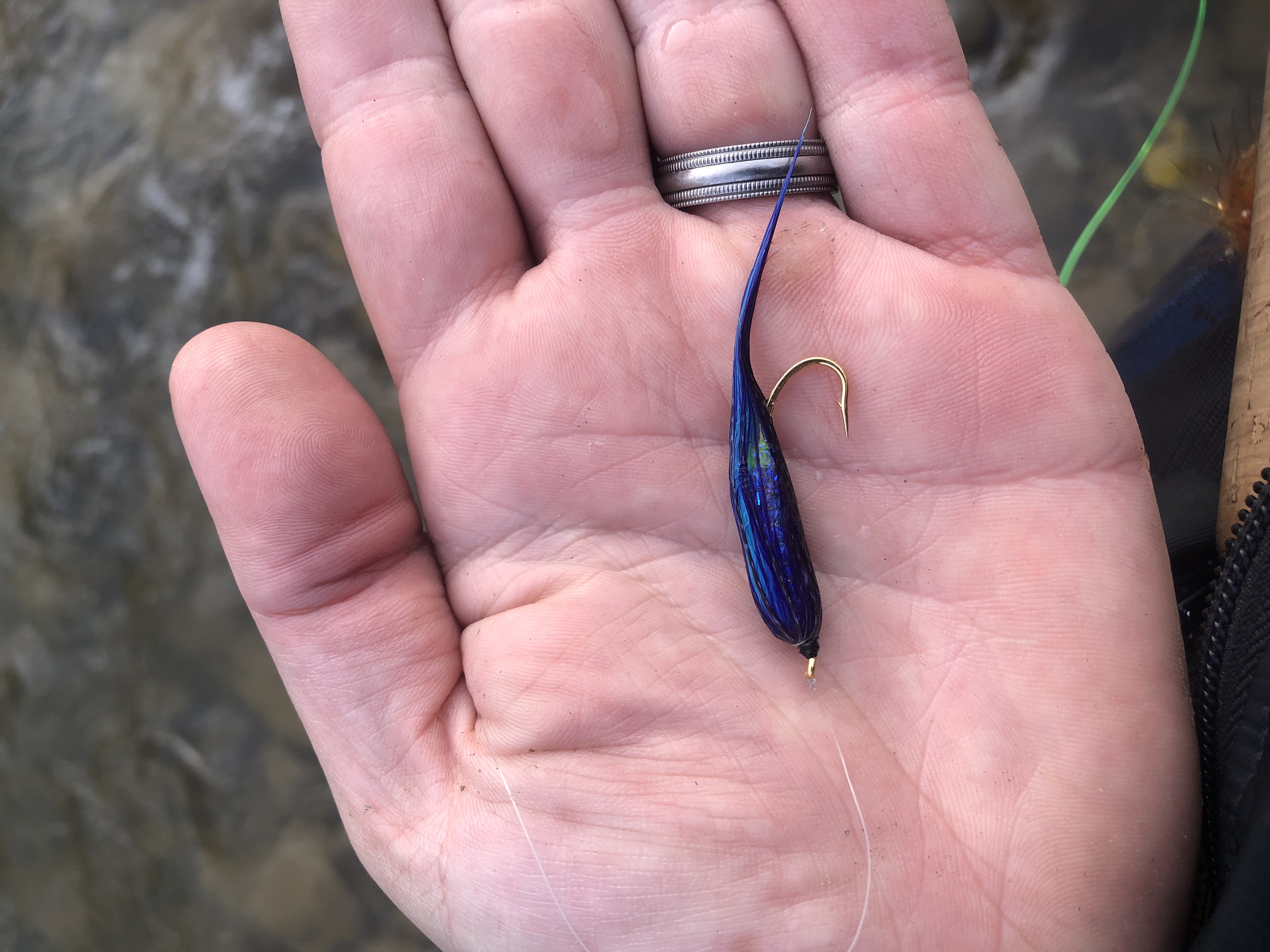 The fly that did the damage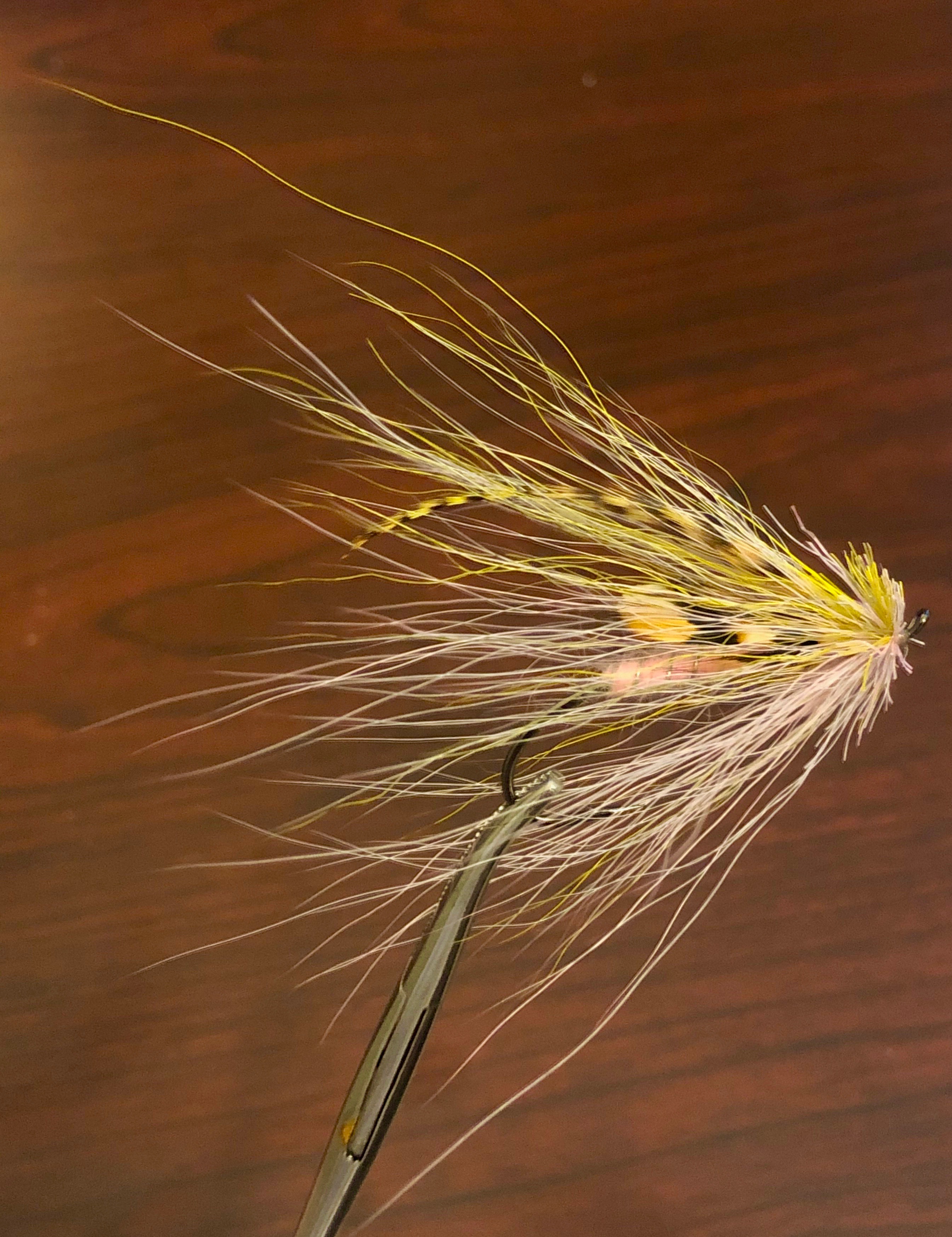 Bucktail Muddler
One of the coolest things I find about steelhead fishing is the absolute variability in flies that one can catch them on. Sure, it's fun to have old standbys. Finding a confidence pattern is like finding a twenty on the sidewalk- money in the bank. Those are the patterns to tie on your line when you need to feel like you're still a somewhat capable steelheader. Whether that's fishing in slightly off conditions, trying to break a dry spell (we all have those), or simply fishing a new stretch of water where you're looking for feedback as quickly as possible- confidence patterns have a crucial place in a fly box. 
But as fun as it is to catch a steelhead in general, I think if it's possible, it might be even more fun catching one on a new pattern or profile scheme or color. Part of the reason behind that is until a fly pattern is proven, you just don't know if it will catch a fish. I've tied lots of flies I thought looked great. But it's not me those flies have to catch, and sometimes the fish don't share my opinions. Maybe that's due more to confidence- again until a fly is proven you don't know how a fish will react, and the longer you fish it without a fish the more you can second guess whether it's a good pattern or not. It is often right about then that I find myself switching out to a proven pattern and relegating the previous to my infamous drawer of misfit flies.This coming fall, however, I've set out to add as much variety to my steelhead game as possible. So of the flies I've been tying, while many are old standbys, perhaps even more are new patterns. 
To accomplish variety, in the leadup to fall steelhead, I've put quite a lot of emphasis on tying different patterns with different materials. And one material I've recently rediscovered is bucktail. While I've always had a few hanging around in my fly tying supplies, I haven't really used them for tying steelhead flies. That changed recently. I've gone on a bit of a bucktail kick, tying everything from templedog style patterns to muddlers and I have to say, I'm really impressed with the results. But more importantly, though I've only got out once so far, I had a nice fish eat a natural bucktail bugger. Now I can't wait to go through my bucktail lineup. 
Tight Lines,
 - D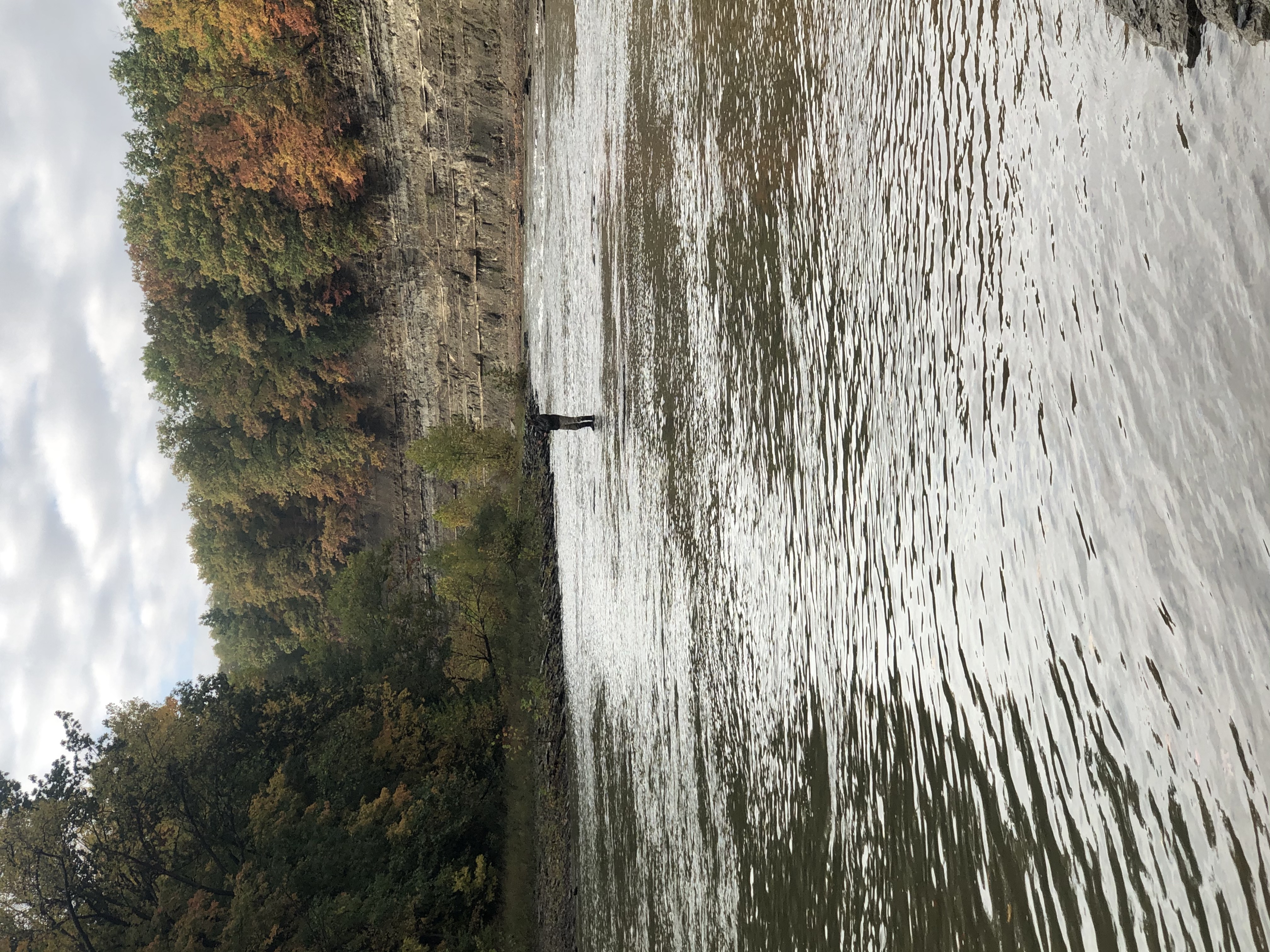 My dad working the head of a familiar run
Well made it out for the first time this year, if only for a few hours in the morning with my dad. With drought conditions towards the second half of September, while I thought there'd be a fish or two somewhere, wasn't sure how many fish would be in. And overnight before getting out we got much needed rain, but it dirtied up the river quite a bit, while not adding excessive volume to the flows. But my dad doesn't get as much time to fish as either of us would like, so you have to make the best of it.
Went to an old standard for me, and we worked it over. With visibility somewhere around 14", it wasn't prime, but it is a spot that holds fish. My dad worked it through with a light tip and bigger fly and didn't get so much as a bump in the money spot. Then a good fish rolled a couple times. I fished through with a long belly, floating poly, and a smaller wet in blue and black but didn't get bumped either. Then I put on a natural colored bucktail minnow. The fish rolled a couple more times in the bucket. I swung out there and got a grab. I didn't set on it because I didn't feel weight on the line, but then he was still on there and trashing the surface with rolls so that when I finally did set it was too late.
Trouble with fishing light lines in slow water is sometimes without good water current pushing your line, a fish can grab and still be on the line but all you feel is the sharp pluck, especially from a good distance away. My casts were out there, so there was a lot of line between me and that fish. I can sit here and armchair quarterback what I did wrong. But getting a nice grab on the floating line is fun, and having a fish take in off conditions that way is even better. Seems like every year I feel more confident fishing that way. To be sure, the fly was lightly weighted, but it would still have been in the top half and not scaping bottom. Then a bit later I got the consolation prize of a smallmouth. And right after that my dad hooked and lost a fish at the head of the run.
We checked out a couple other places. Cast a bit, but we only had a few hours and had to call it before noon. But still, was a great time. Glad to see some fish have made it well upriver even before the rains came. Should only pick up from here.
Tight Lines,
 - D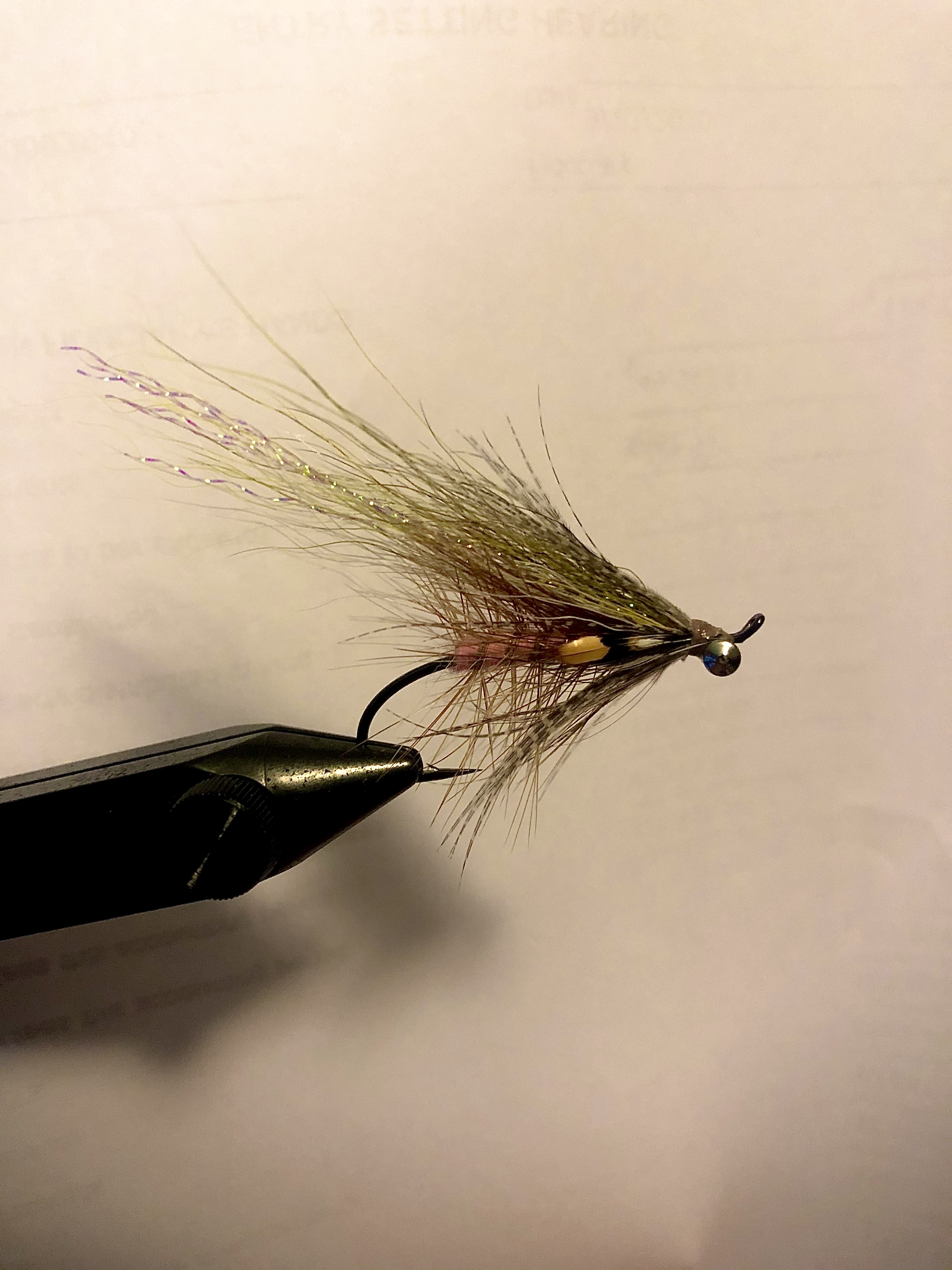 My natural bucktail minnow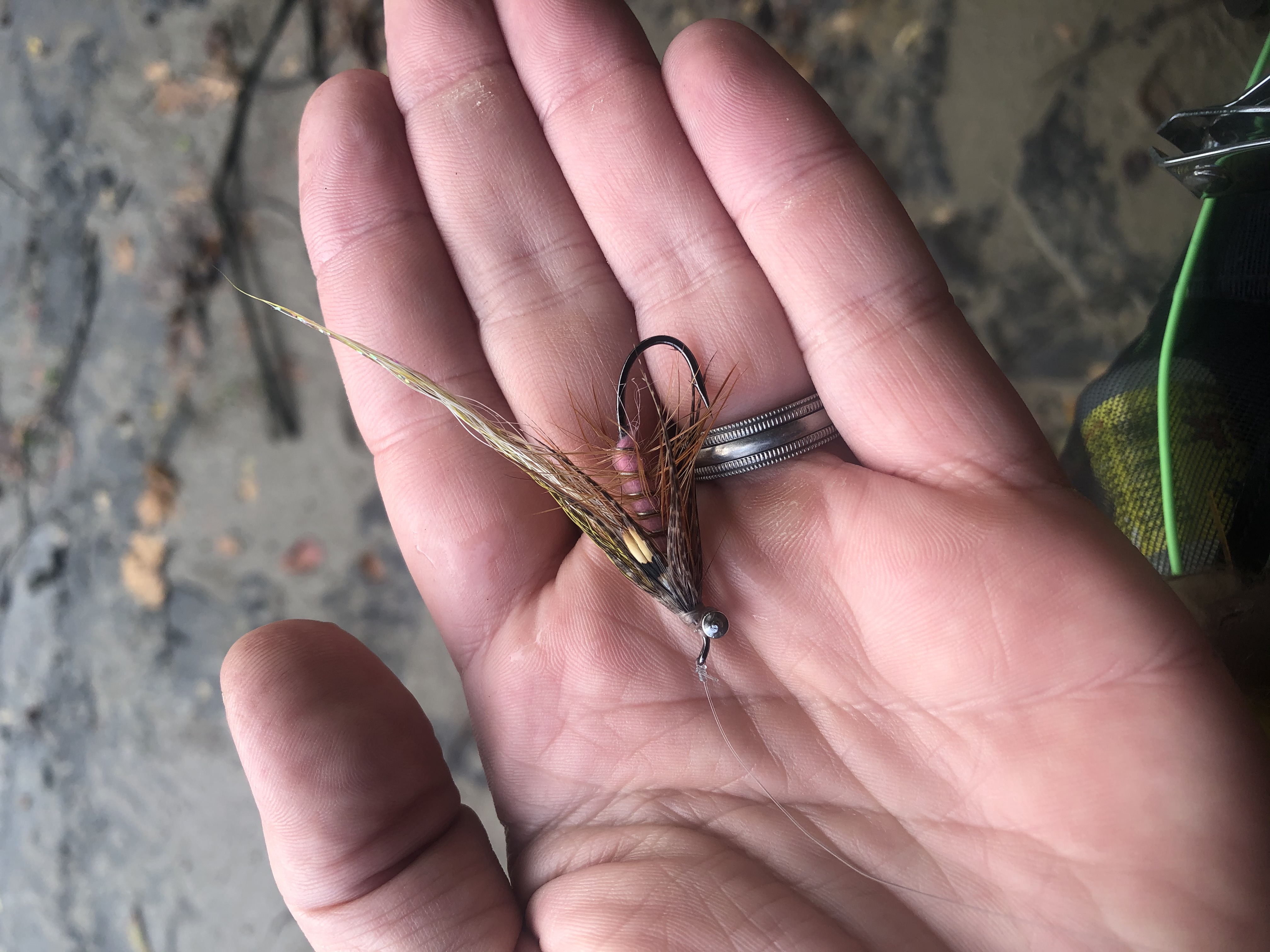 After the take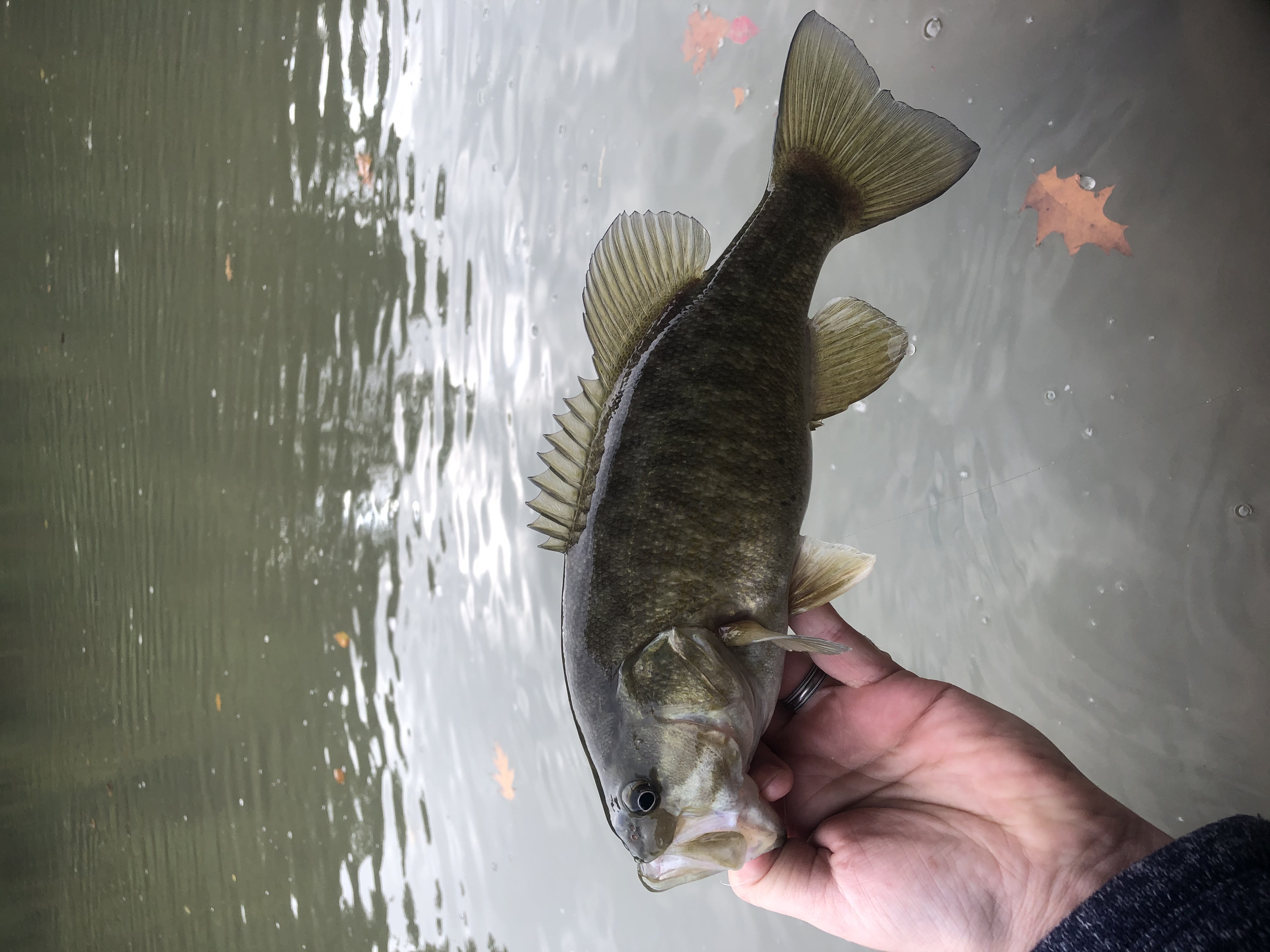 Decent smallmouth from 90 feet away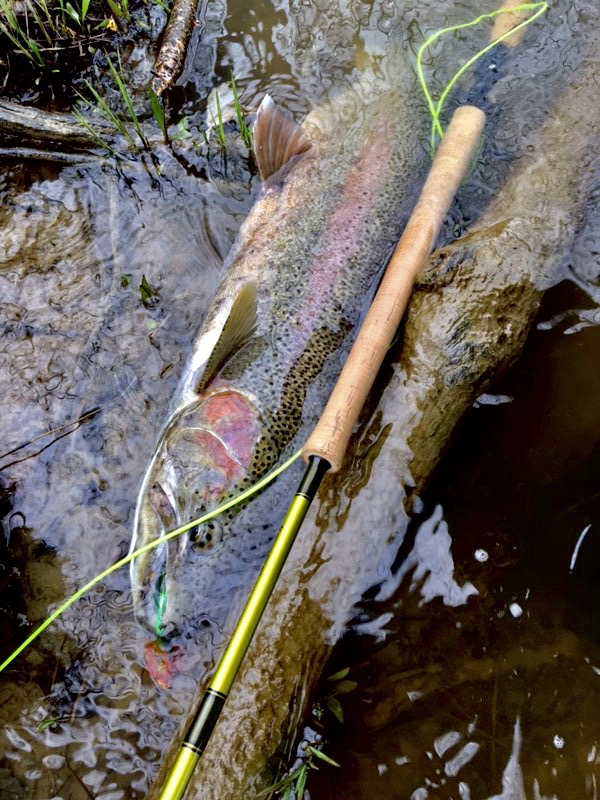 Old man from the sea
It's hard to believe that it's April 30 and we have another season in the books. Like every year, this past season had its highlights and challenges, it's peaks and low points. So like we do, as we reach the end of steelhead season, we like to look back and offer a critical analysis of what we saw, our observations both on and off the water. On the whole, '19-'20 was what we expect fishing-wise. There were not any significant anomalies we saw in fish trends or numbers across the board.
Early in the fall, the Catt fished decently. The flows throughout the month of October were very stable, if a tad low at times. Fish numbers built throughout the month, being sparse in the beginning and growing to numbers I'd say were on the lower side of average, but not alarmingly so. Most days by the second half of October and through November we were finding between a couple and a handful of fish swinging streamers. As usually, the whiskey hangover took most our fish. I don't recall any lights out days where our hookups approached double digits on the swung fly, but it seemed like working water well lead to consistent success.
Honestly I'll take that every time. Those years where we seem to see a handful of crazy days spey fishing in the fall also seem to have more days where we work hard to scratch out a single fish, and maybe not even that. I think this is because to have those crazy fishing days means a higher percentage of the run is entering the system at once. When you find that ball of fish, it's a blast. But they move on, and perhaps there are fewer fish following them up over the next few days or week. A slow and steady stream of fresh fish pushing in seems to lead to more consistency in the long view. All in all, and comparing to how the Catt fished (or didn't fish for that matter) for almost the entire 2018 fall season, 2019 was a blessing.
Whereas fall 2018 was the year of the lake run brown, 2019 was the general mixed bag. Like always, we spent a portion of our time up on the Ontario creeks. Brown numbers were nowhere near what they were in 2018, but the fish were there. It seems like every 5-7 years we just get a mega run of browns. Before 2018, the last year I can remember with a comparable run was 2011, though 2011 if I remember correctly even exceeded it. 2019 was the same steady flow and consistent fishing, most days hooking around a handful of lake runs between two people with steelhead and domestic rainbows in the mix as well.
One thing I did notice on the Ontario creeks was the lower numbers of Pacific Salmon but the higher numbers of Atlantics. Though I don't often fish the Oak, the boys made it over there a few times in late October and early November. Some days they had multiple Atlantic hookups, and I saw a handful on the other creeks throughout the fall as well. I really hope that program continues to develop. The lakes are changing. The forage base is shifting and likely will have a disparaging and disproportionate effect on king salmon. Atlantics and trout are more adaptable than kings, which are nearly solely reliant on alewife as a food source.
Over the winter, we had good fishing. The rivers never really froze up, and many times in January and February there were pleasant days of above average temperatures, great flows, and good fishing. By late February, the bulk of the spring run started. Before then we were finding late fall and winter fish, fish darkened from time in the river. By the end of February we started seeing more chrome, fresh run spring fish. Then the virus hit, almost exactly coinciding with the start of peak spring steelhead. And it was a shame. We had a beautiful spring with very consistent conditions and great numbers of fish. Particularly in the second half of April, I was seeing fish between about 28 and 32 inches fairly consistently in the mix on the big river. Most of the large fish were fresh run hens, a bit of a trend that I've noticed over seasons past- a final push of large female fish.
So here it is the last day of April, and we're turning our focus away from steelhead. I do the first trout trip this weekend to the cabin to scout things out. We will be running trips in May and June, and probably throw some smallmouth in the mix too. Here's hoping that the worst is past us now and we have nothing but good fishing ahead.
Tight Lines,
 - D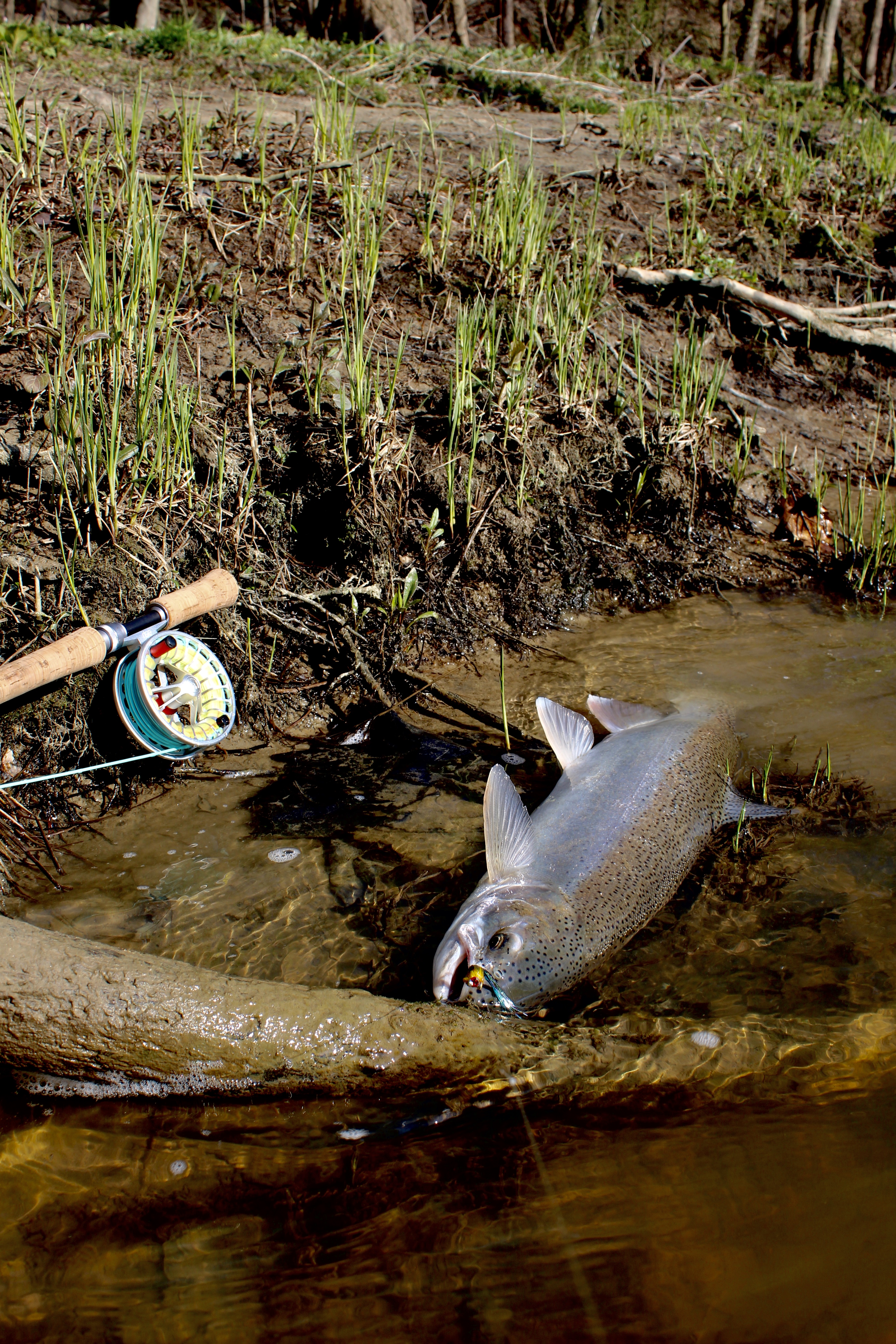 Still some beautiful chrome, pre-spawn fish around
Hard to believe it's gonna be May in a few days. Seems like each year the season passes by quicker and quicker. I might sneak out one more day sometime in the next week or two for steelhead, but we're mostly geared up to do PA trout trips now. For anglers still wanting to catch steelhead, there are still quite a few around. The cold temps recently and decent water flows have kept them in the rivers. By now most fish are spawning or downriver fish. If you're looking for pre-spawn fish, look in the upper half of rivers. Most fish down low are downriver fish. 
Was out a couple days ago. Swung up four, of which two were dime bright, prespawn fish, including one that went 31". Was nice to see some larger fish around, as is usual this time of year. Two of the others were between 27-29". Both fresh, prespawn fish were does. Seems like a trend I've noticed that signals the end of the season is quickly approaching- a last shot of larger female fish that push quickly upriver. The two bucks were colored up and battle scarred. I was about 28 miles upriver. Also swung up a big smallmouth, somewhere around 5 pounds. By the size I'd say was a lake run fish, but usually they don't make it up that far.
I still think my projection last week will hold up. We probably have a couple weeks of decent-good steelheading, and it looks like water levels and temps aren't gonna be an issue. If we start seeing 70's soon, keep an eye out. If the first half of May is like the second half of April, with days fluctuating between the 40's and 60's and intermittent rain, there may even be a decent number of fish around by the third week of the month, though I doubt very many will be fresh, and tired fish and warm water aren't the greatest combination.
Check out some more pics.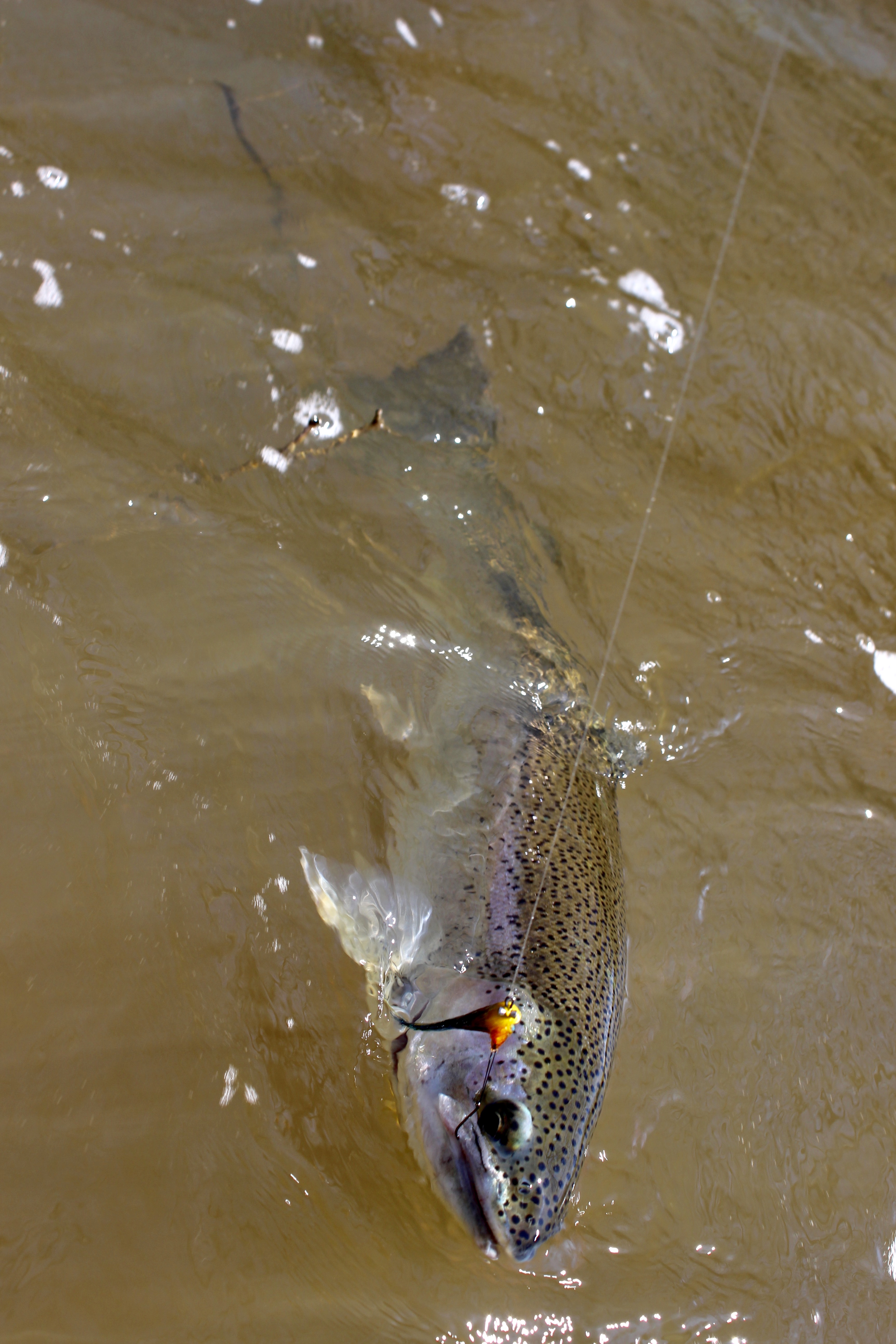 This bright upriver fish was too hot to touch. Easily cleared the water half a dozen times! I just reached down with the hemos and unbuttoned her.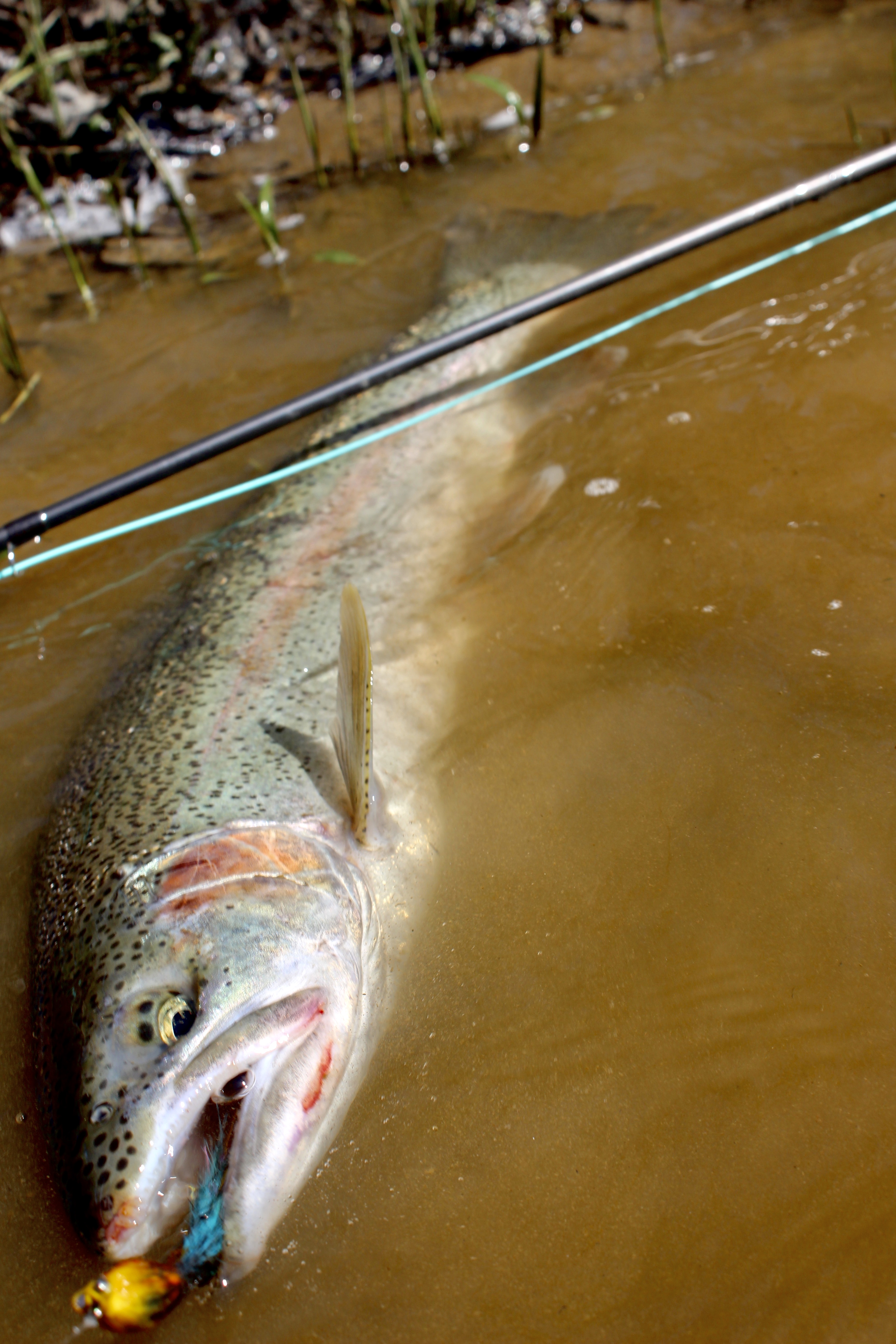 Colored up warhorse of a buck that went airborne with the take. Super cool!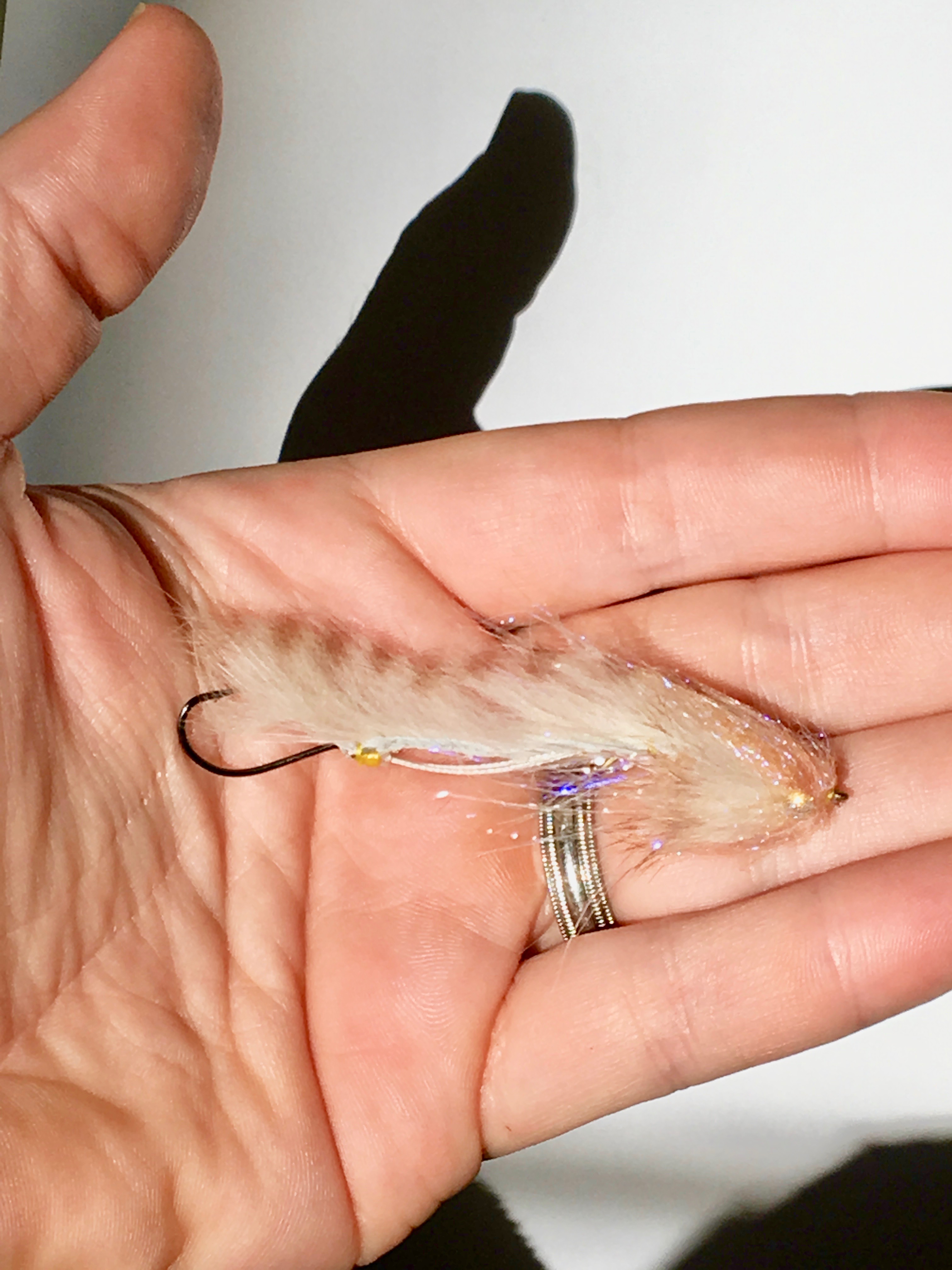 Finished product
We simply call this pattern the Destroyer. And for good reason. It catches everything. It is my go-to lake run brown pattern, a great clear water steelhead pattern, catches the shit out of the lake run smallmouth, loved by stream trout here in the lower 48, and is an excellent AK trout pattern fished either on the swing during the smolt emigration or dead-drifted during the flesh hatch due to the tan and peachy color scheme. That's why we call it the Destroyer. It destroys.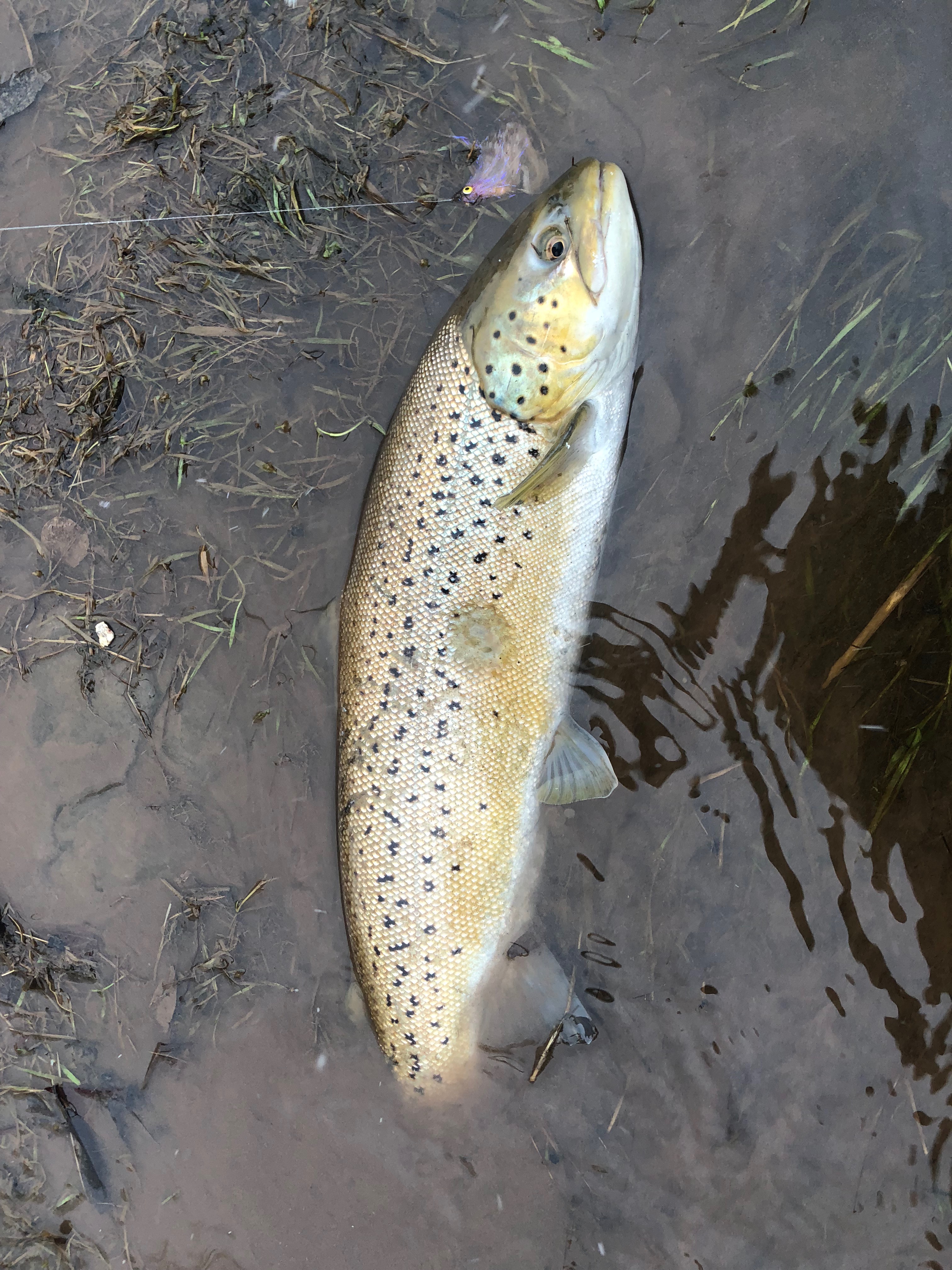 Check out what's hanging out of this lake run brown's mouth. Yep, you guessed it. Same fly tied with a bit heavier eyes.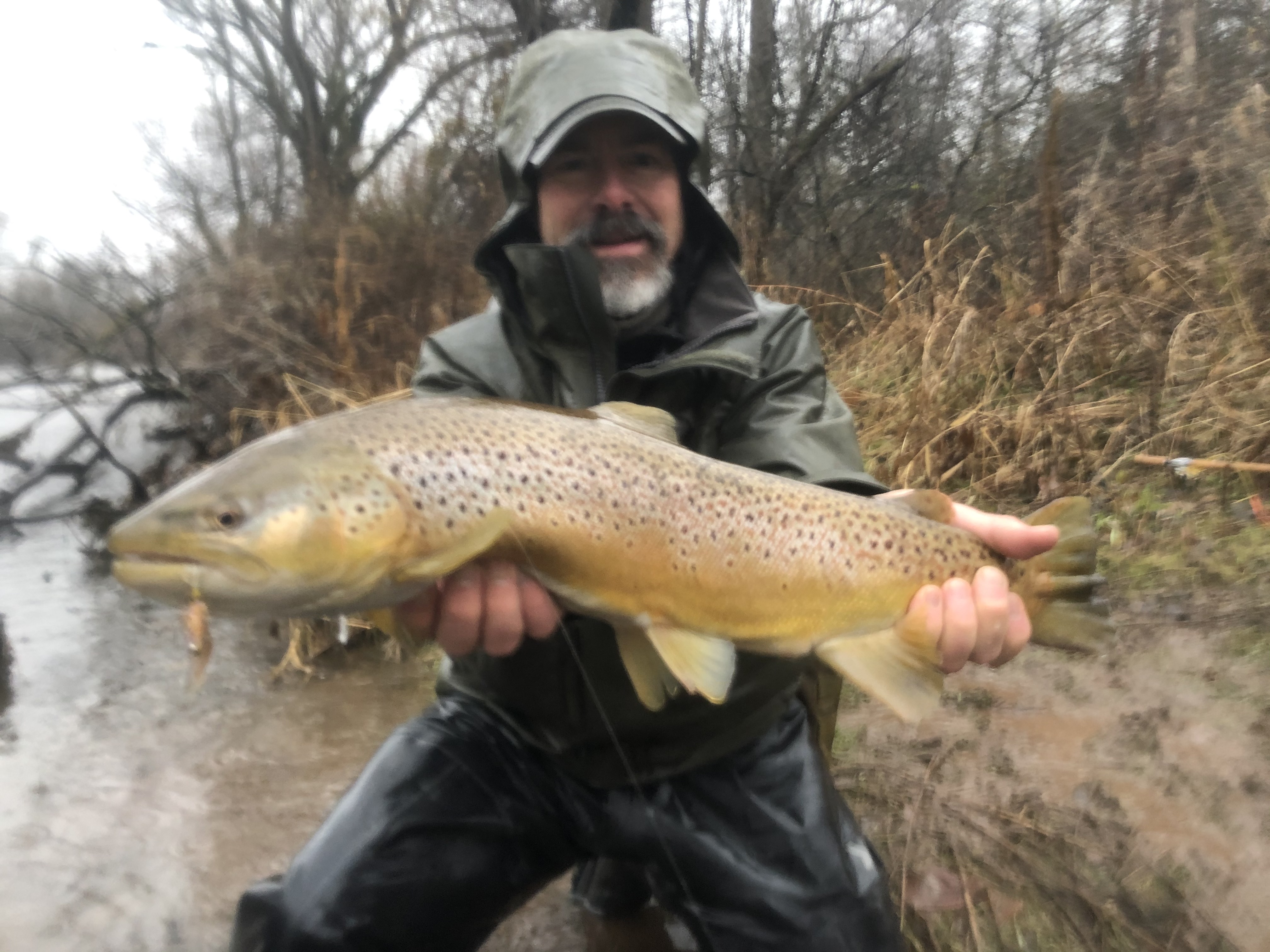 And this one.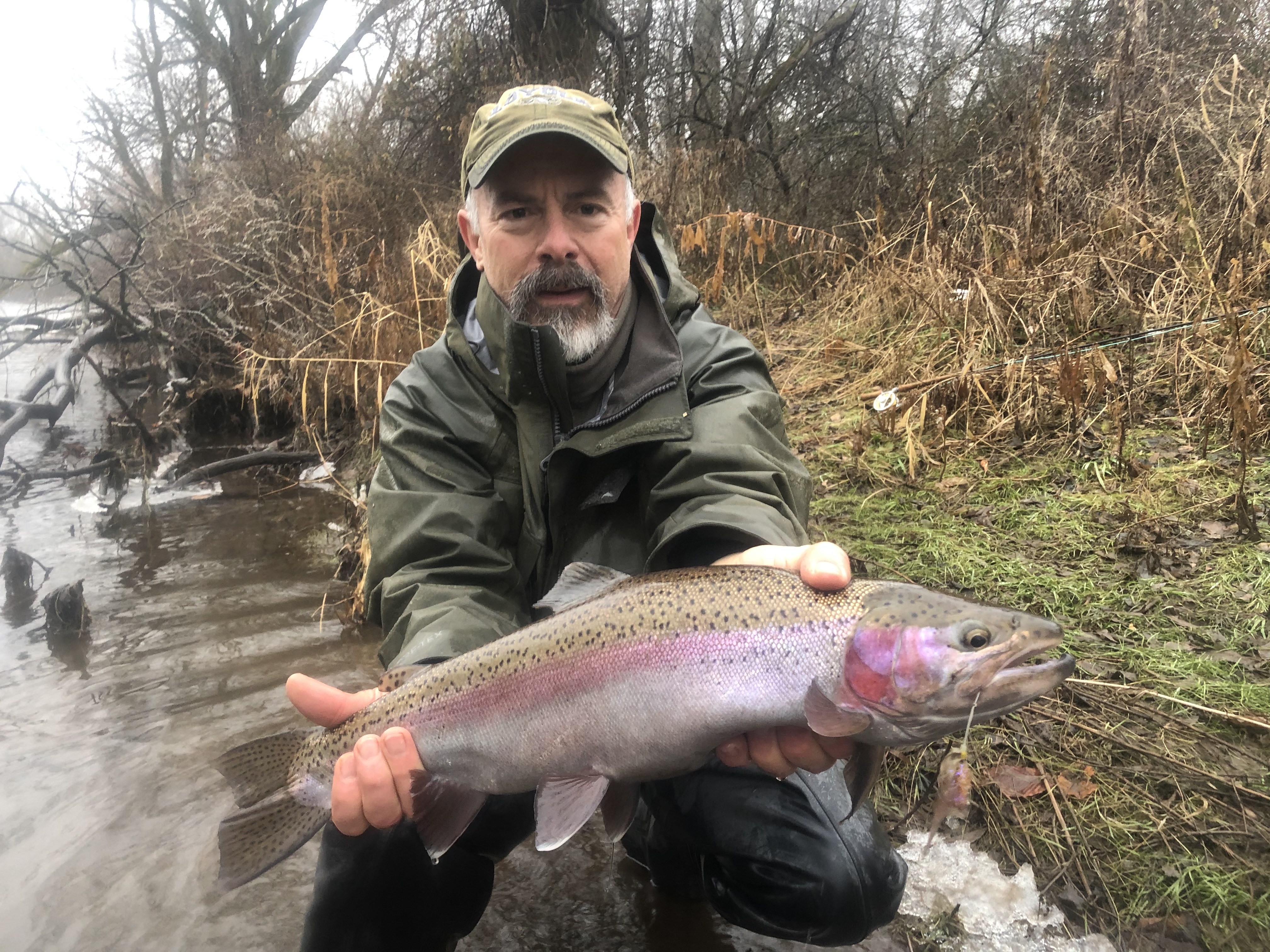 Need I say more?
This pattern is tied out of a string leech template. However I've made some tweaks to the system that really shine. Most string leeches tied with rabbit strips tie the stinger hook directly to the end of the rabbit strip. This creates great movement in the water, but means that you can't change out the hook when it gets bent out or dull. The fly is done. How can this be overcome? You want the movement, but also the ability to trade the hook out. When I tie string leeches, I tie about 1/8" of tubing on the back of the bunny strip and pass the dacron loop through it. I can change out the stinger and still have the weight of the stinger hook adding movement to the bunny strip. Check out the fly tying instructions for the Destroyer below.
Step 1:
Start with about a 3" strip of barred tan and olive or tan and brown bunny strip. Tie in a small piece of junction tubing all the way at the back.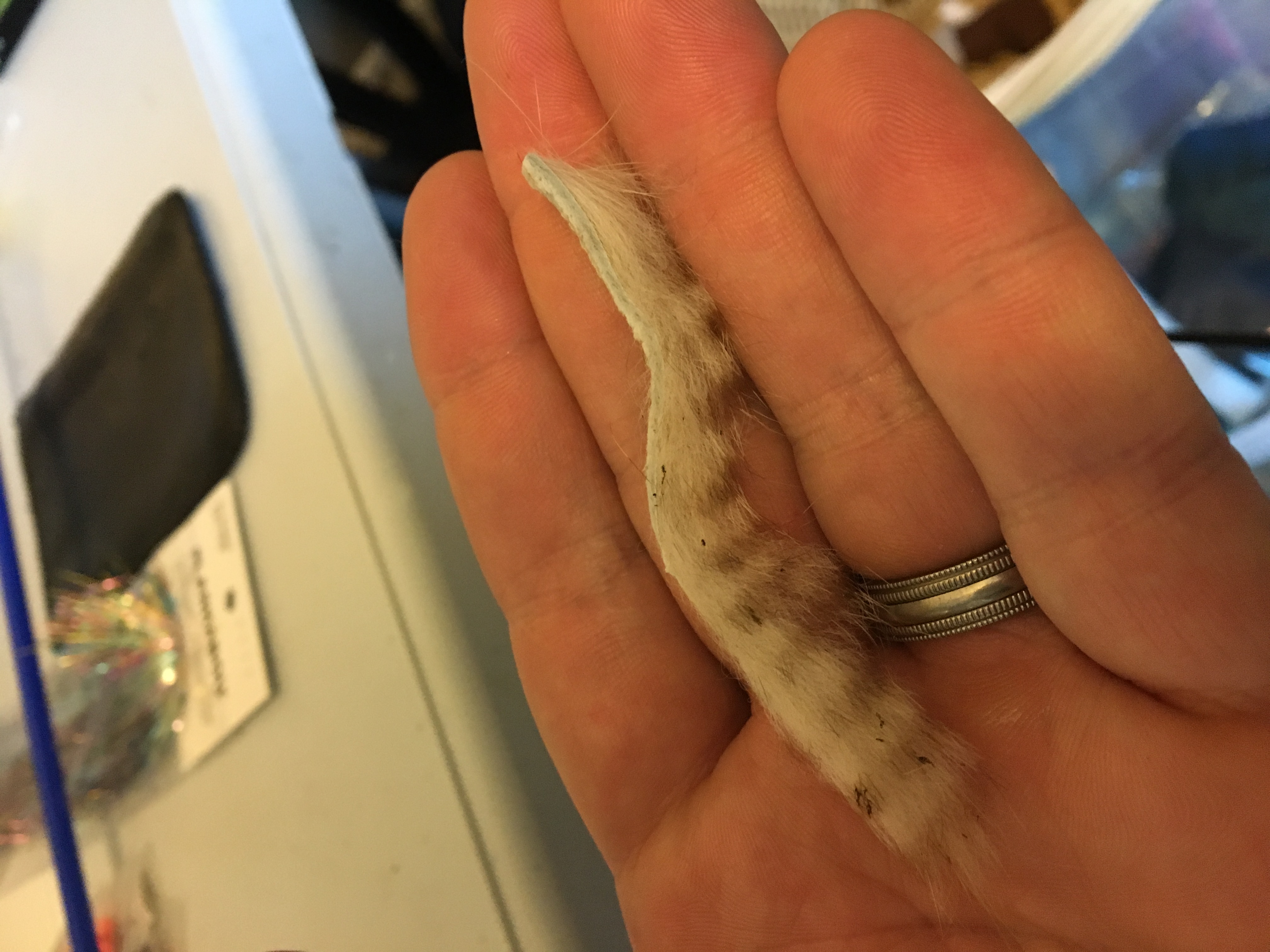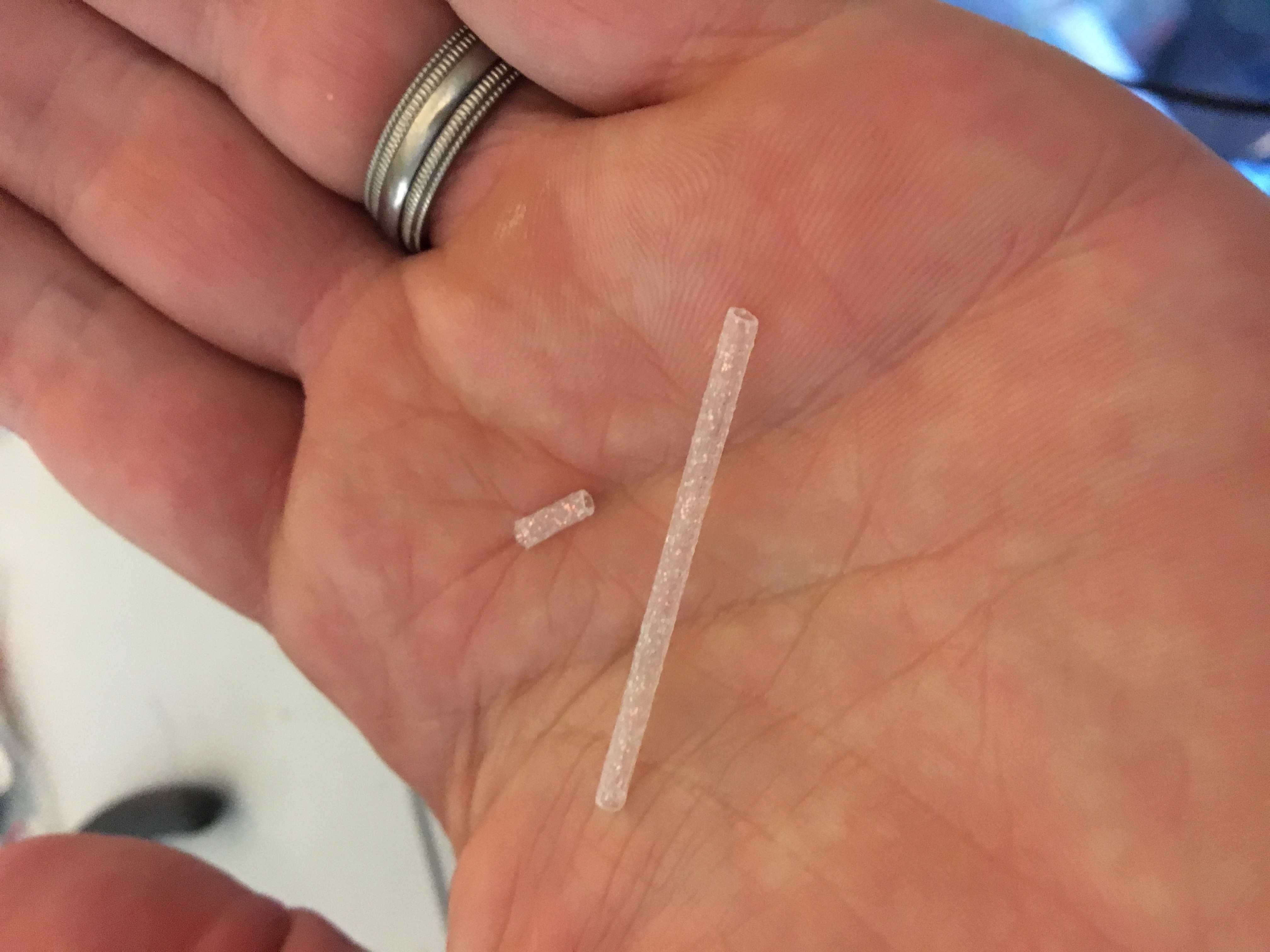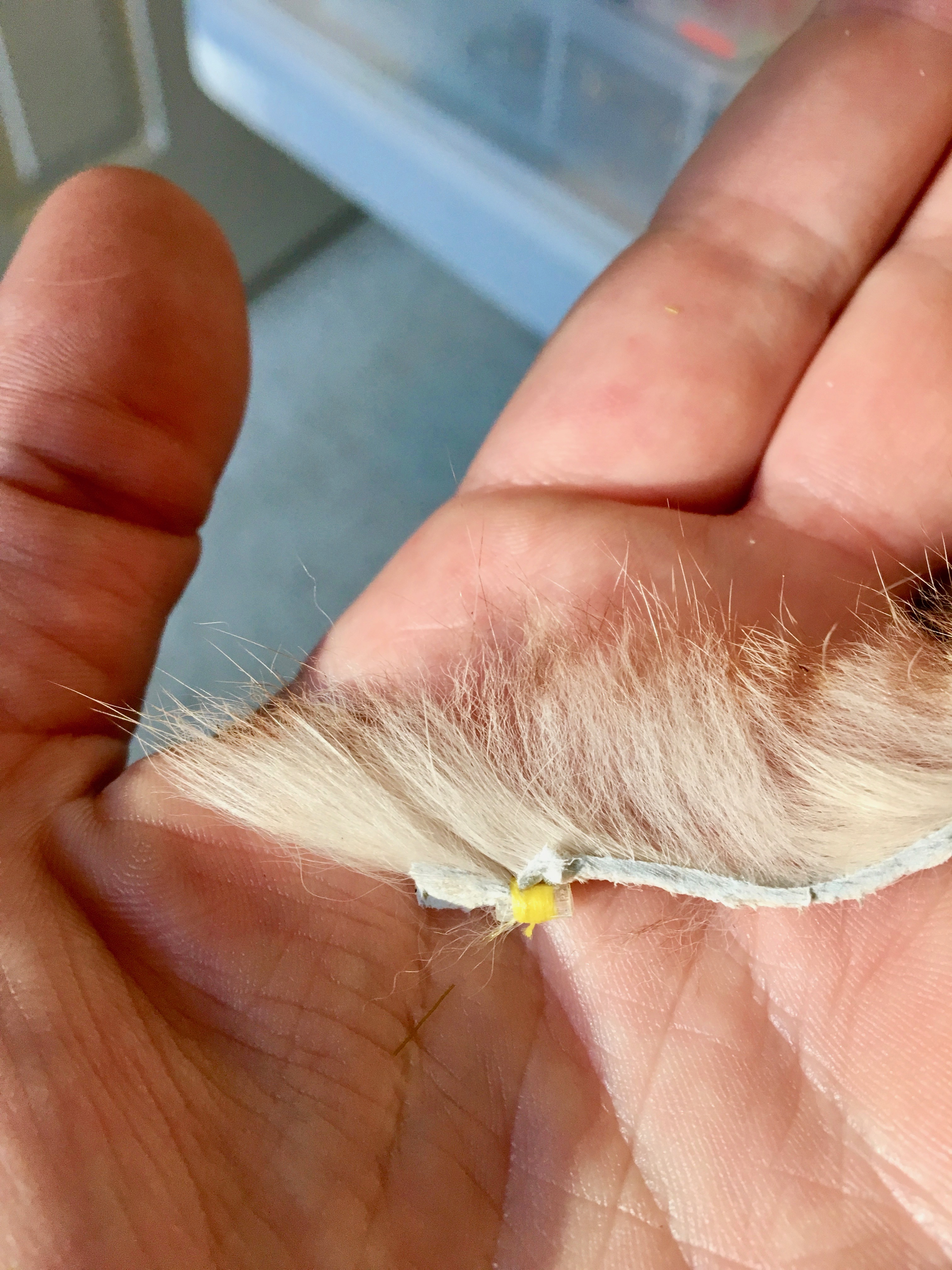 Step 2:
Set up your hook. Tie a dacron loop onto a cutter hook (one that you will cut just above the bend when the fly is done). Tie in your weighted eyes.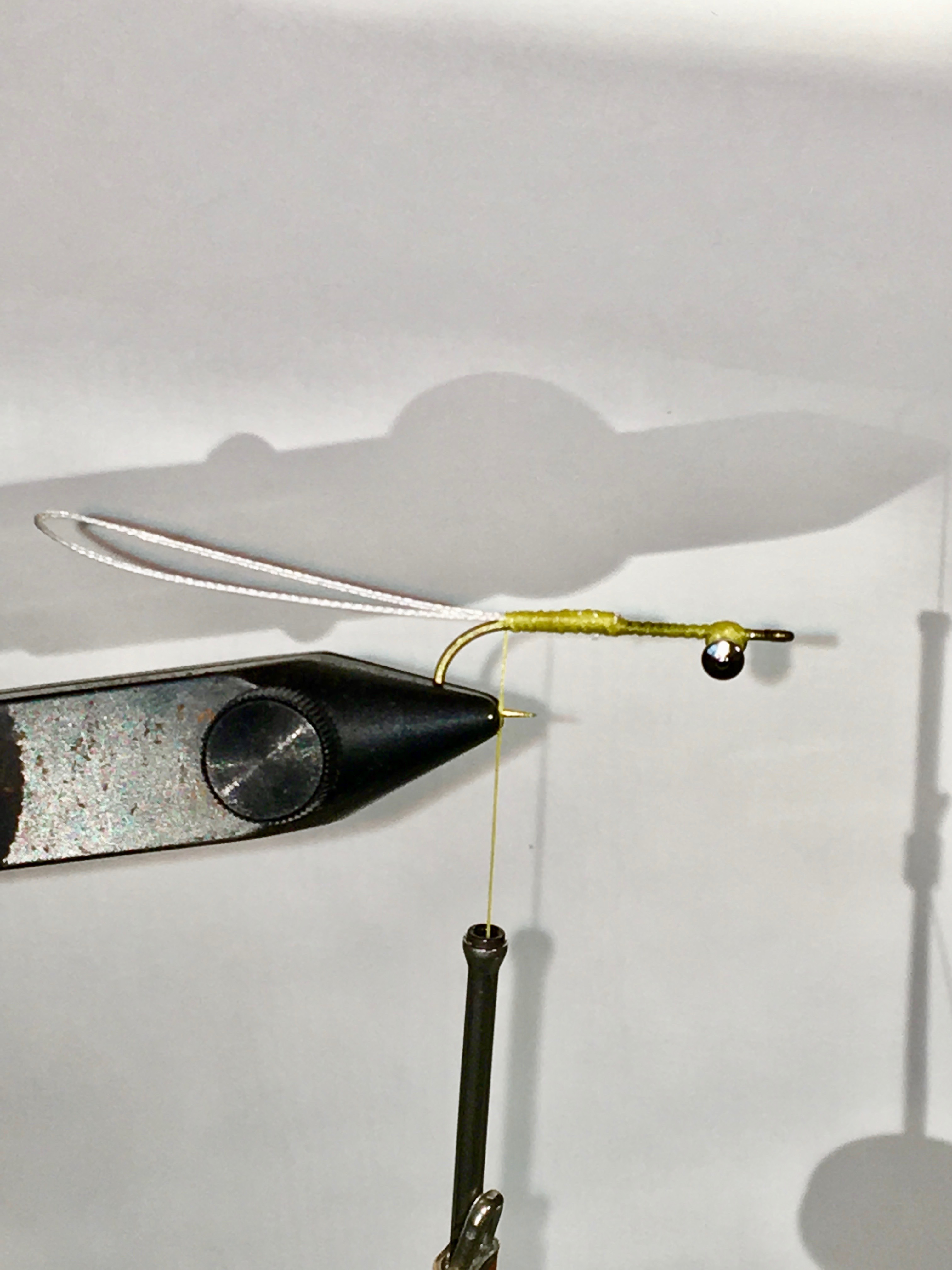 Step 3:
Tie your bunny strip in just above the bend.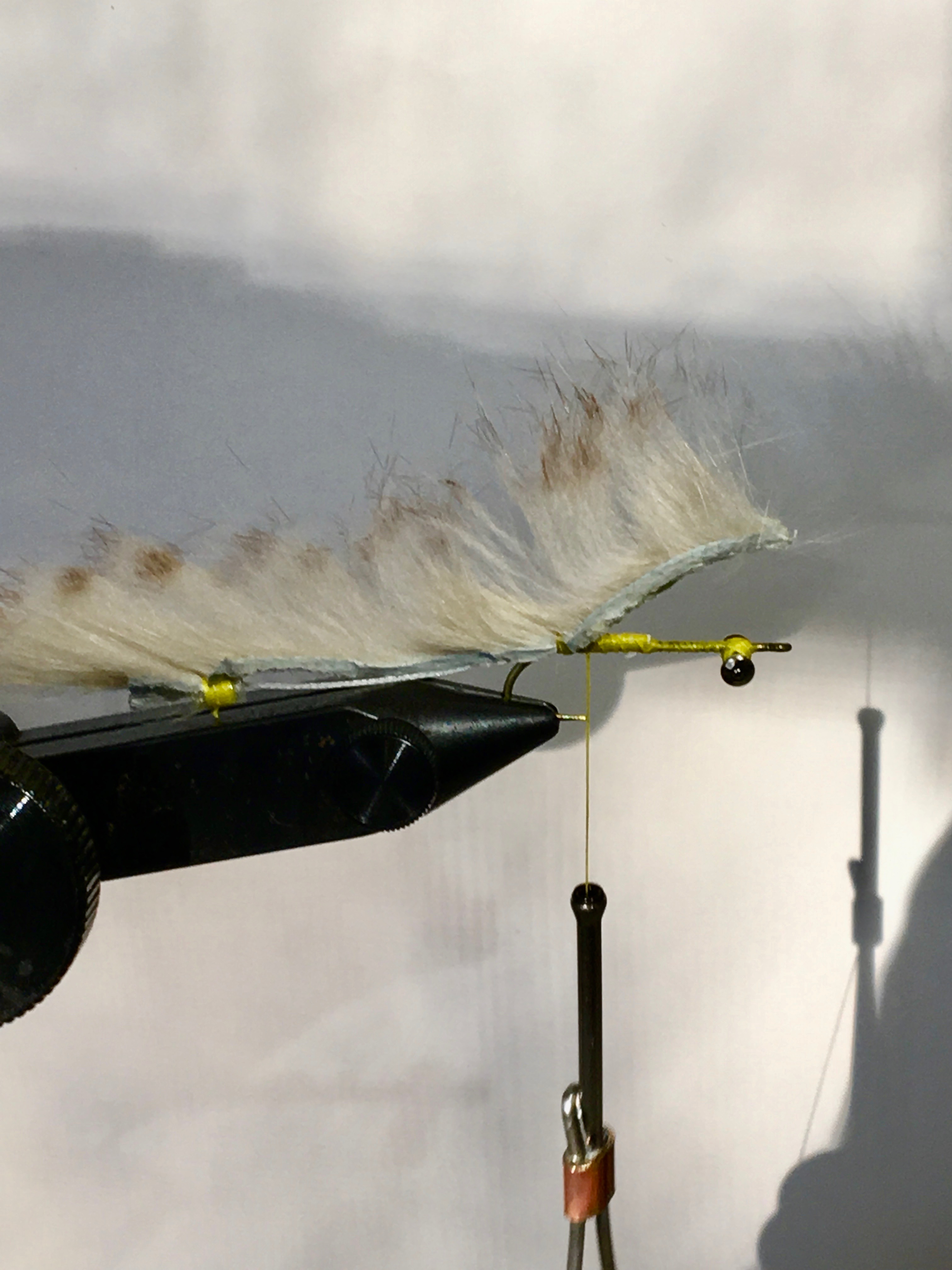 Step 4:
Tie in a 4" strip of polar chenille and 4" strip of peach cactus chenille.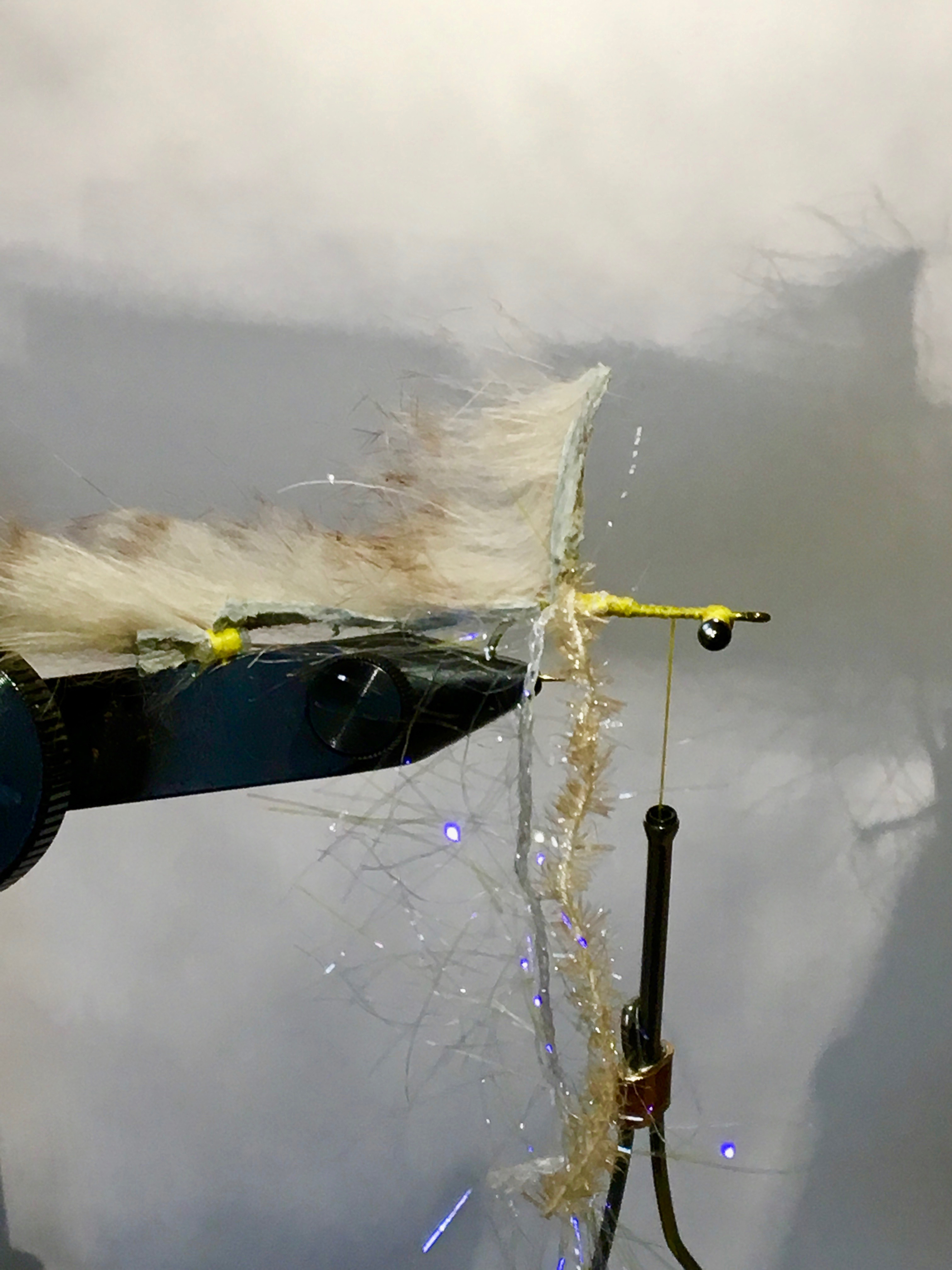 Step 5:
Wrap the peach cactus chenille up to the weighted eyes, tie off and clip any extra. Palmer the polar chenille up to the weighted eyes, tie off and clip any extra.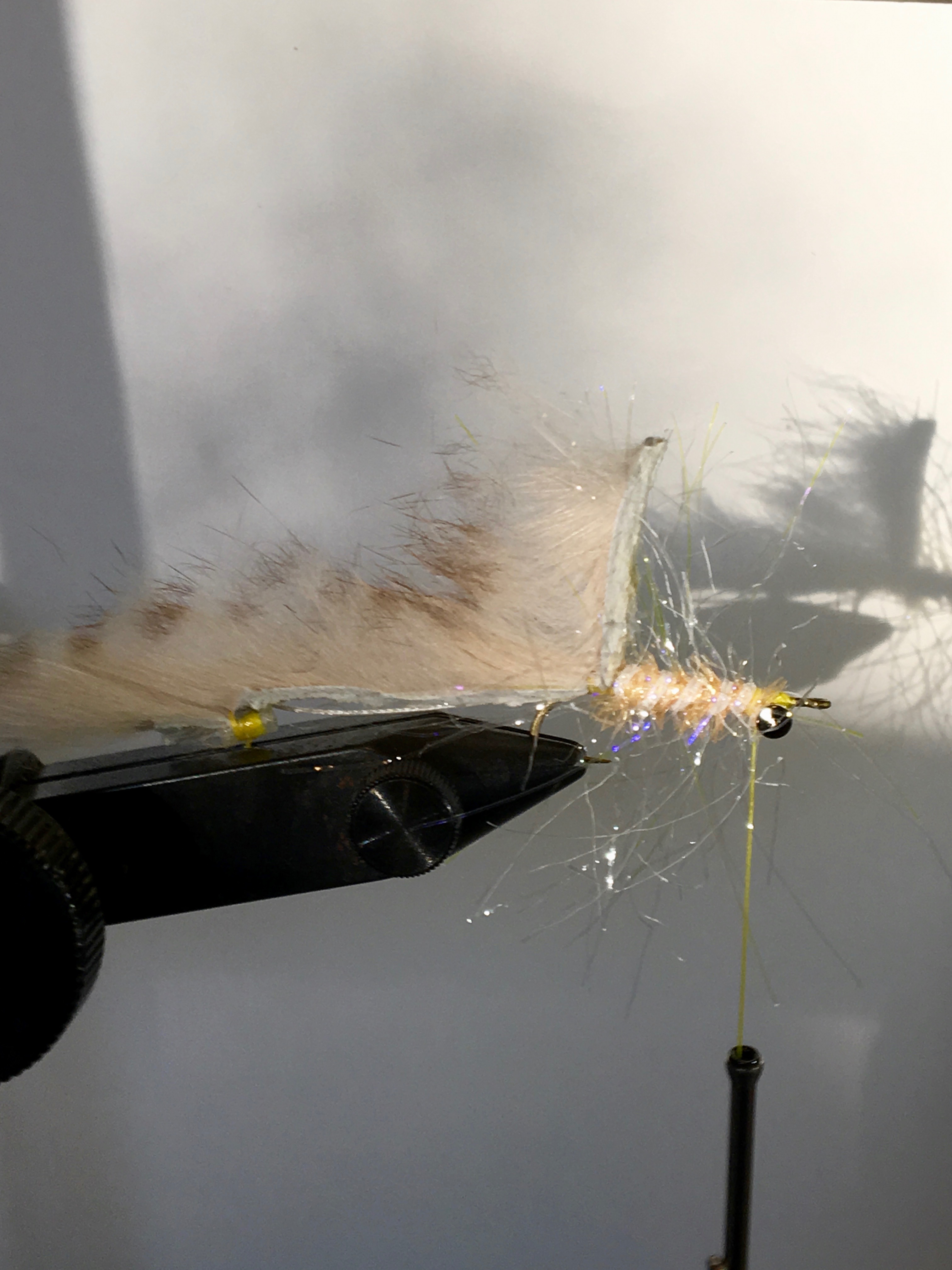 Step 6:
Fold the bunny strip forward over top of the chenille, tie off just behind the eyes and clip off any extra.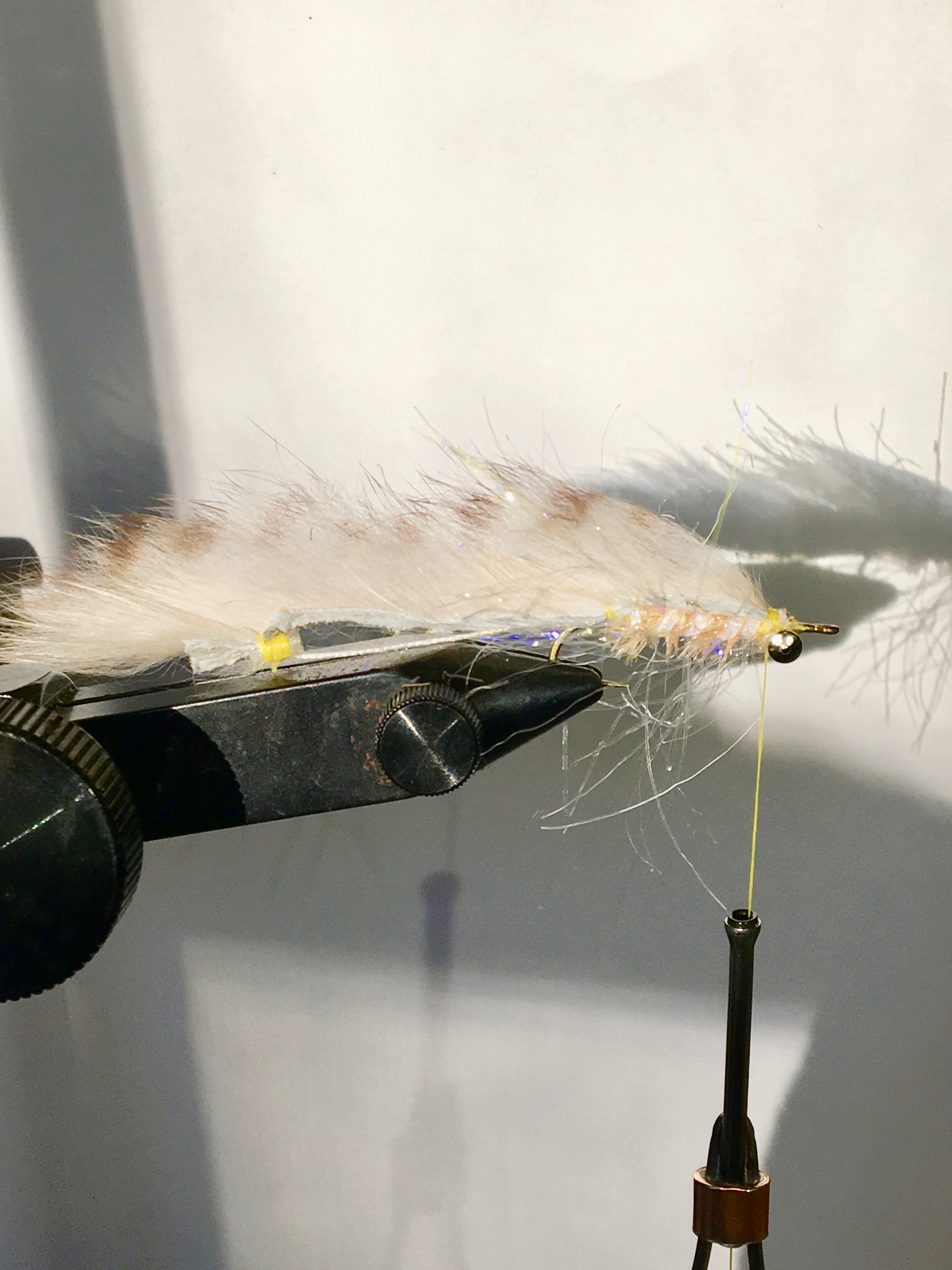 Step 7:
Wrap a collar just behind the weighted eyes of bunny fur spun in a dubbing loop in the same color as the strip and tie off.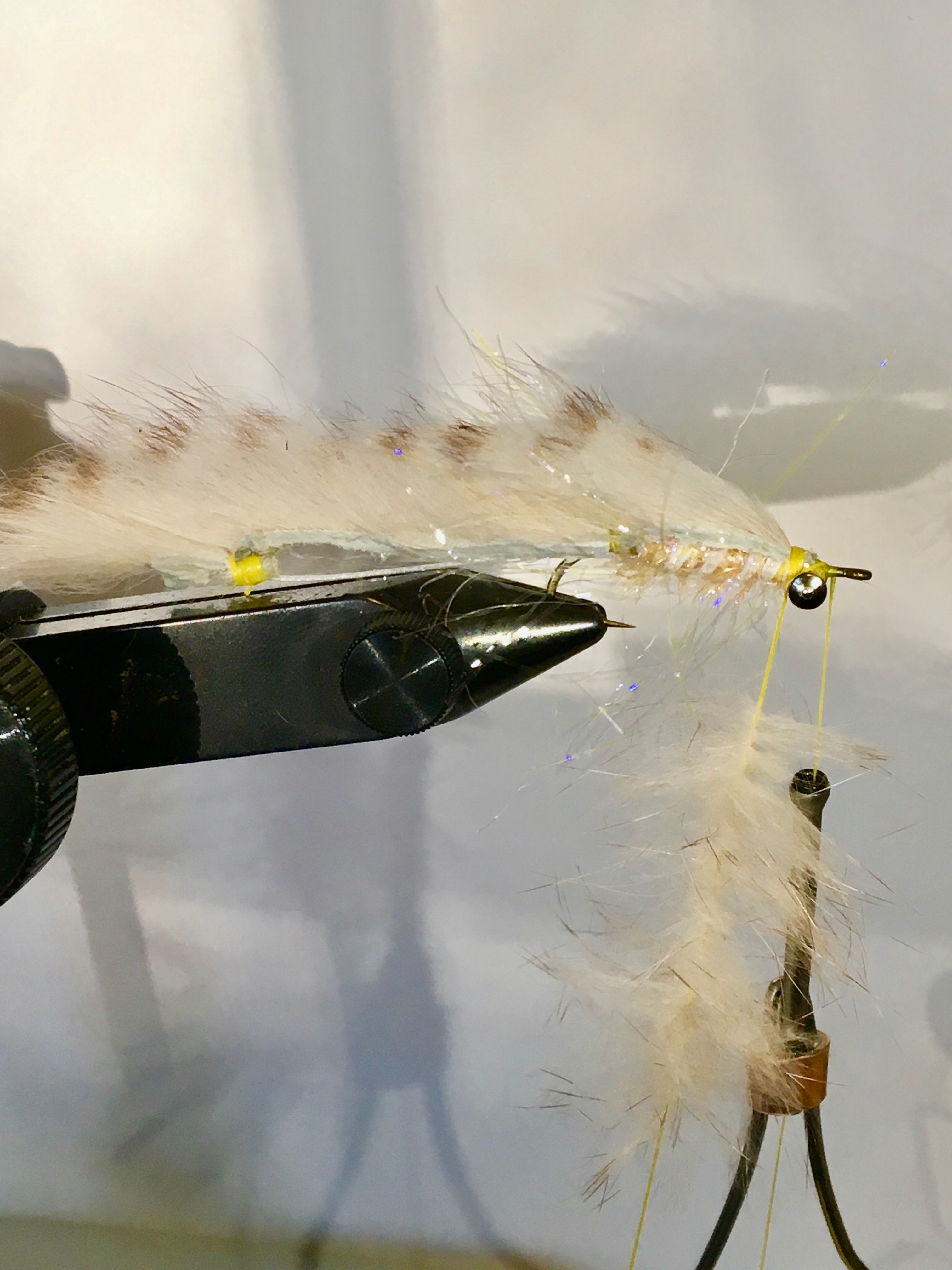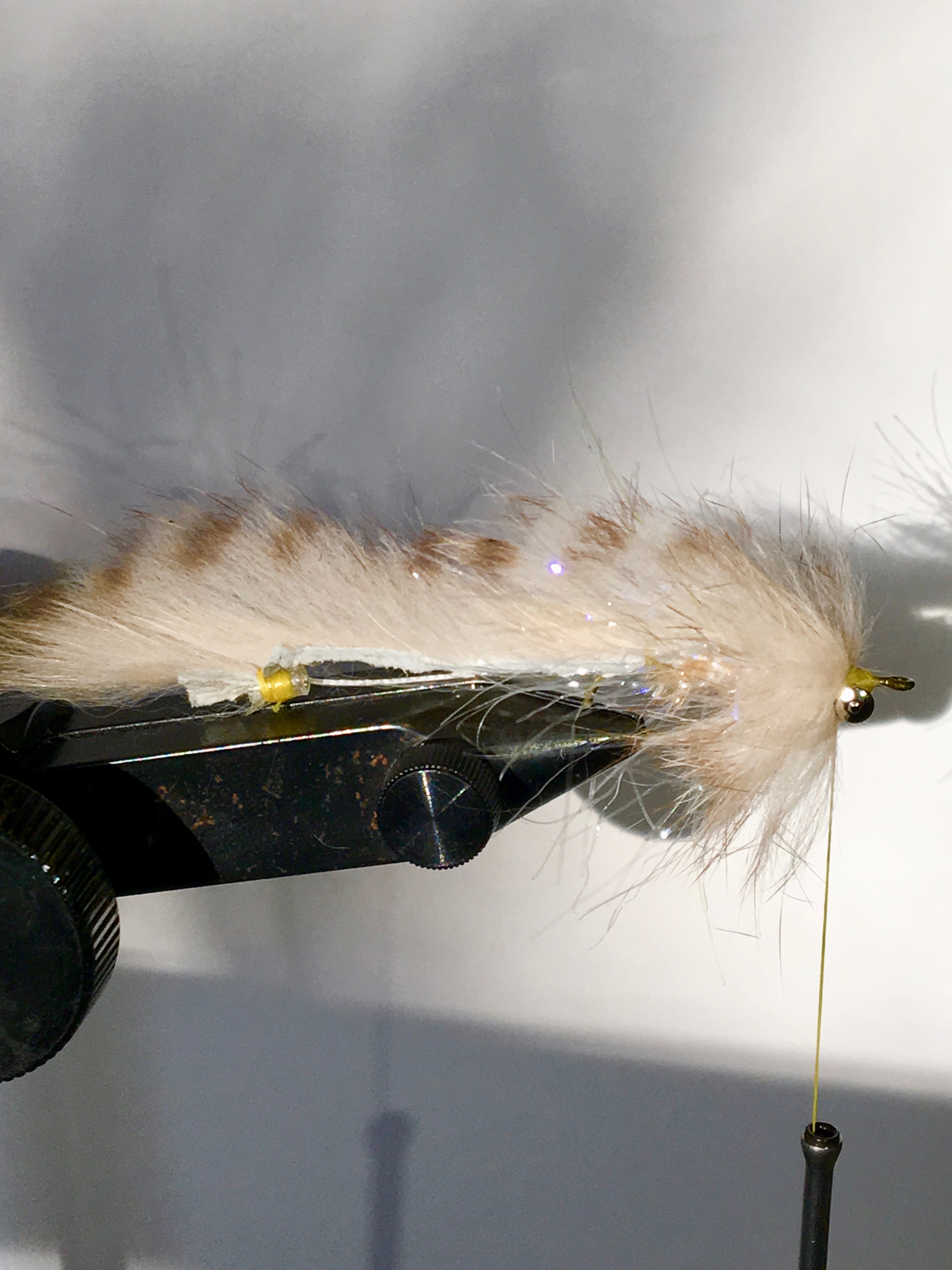 Step 8:
Tie in a head of tan UV ice dubbing and tie the fly off.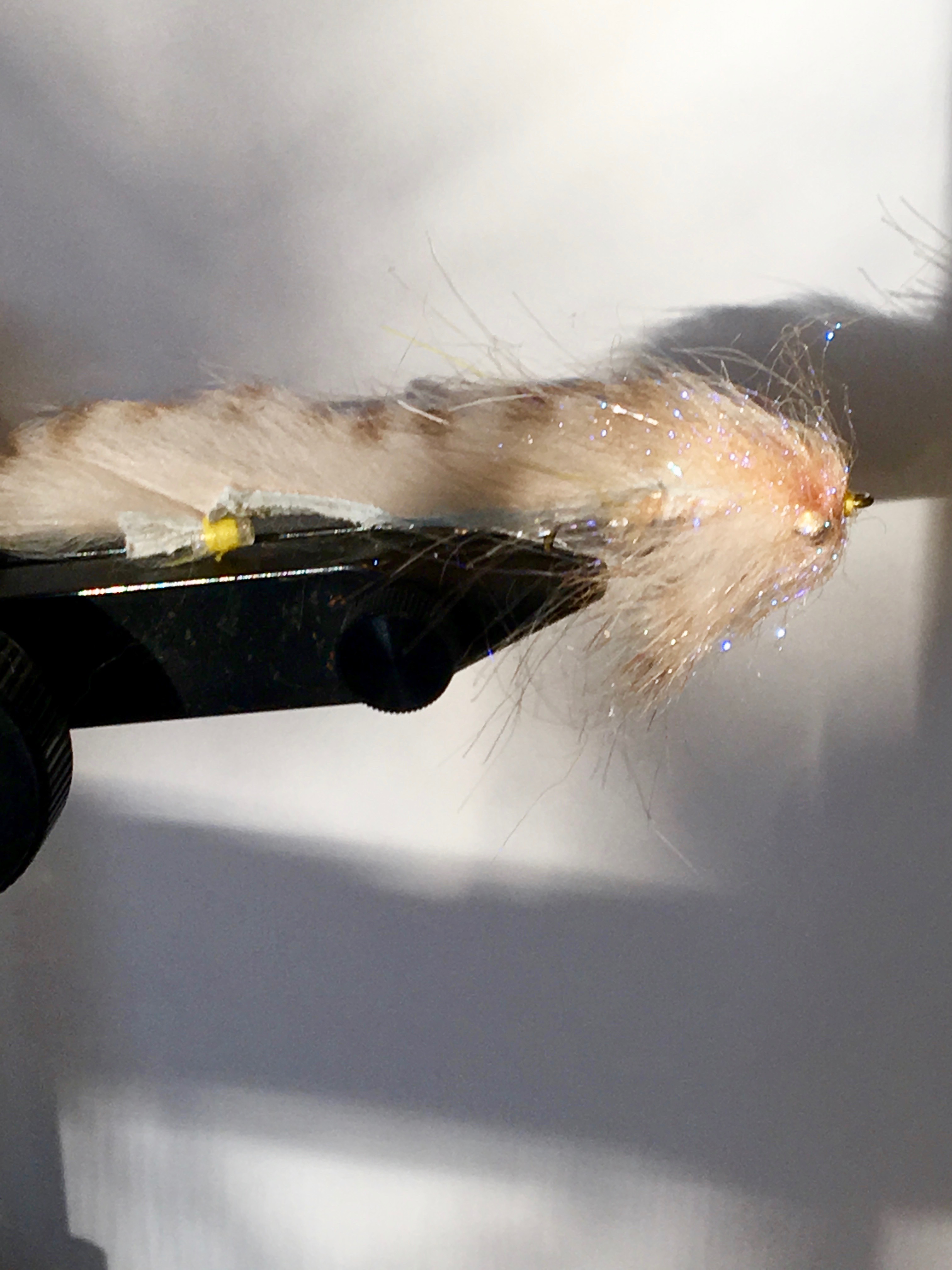 Step 9:
Pass the dacron loop through the tubing at the end and pass through the eye of the stinger hook, snug the eye of the stinger hook into place inside the tubing to hold it and clip the cutter hook off just above the bend.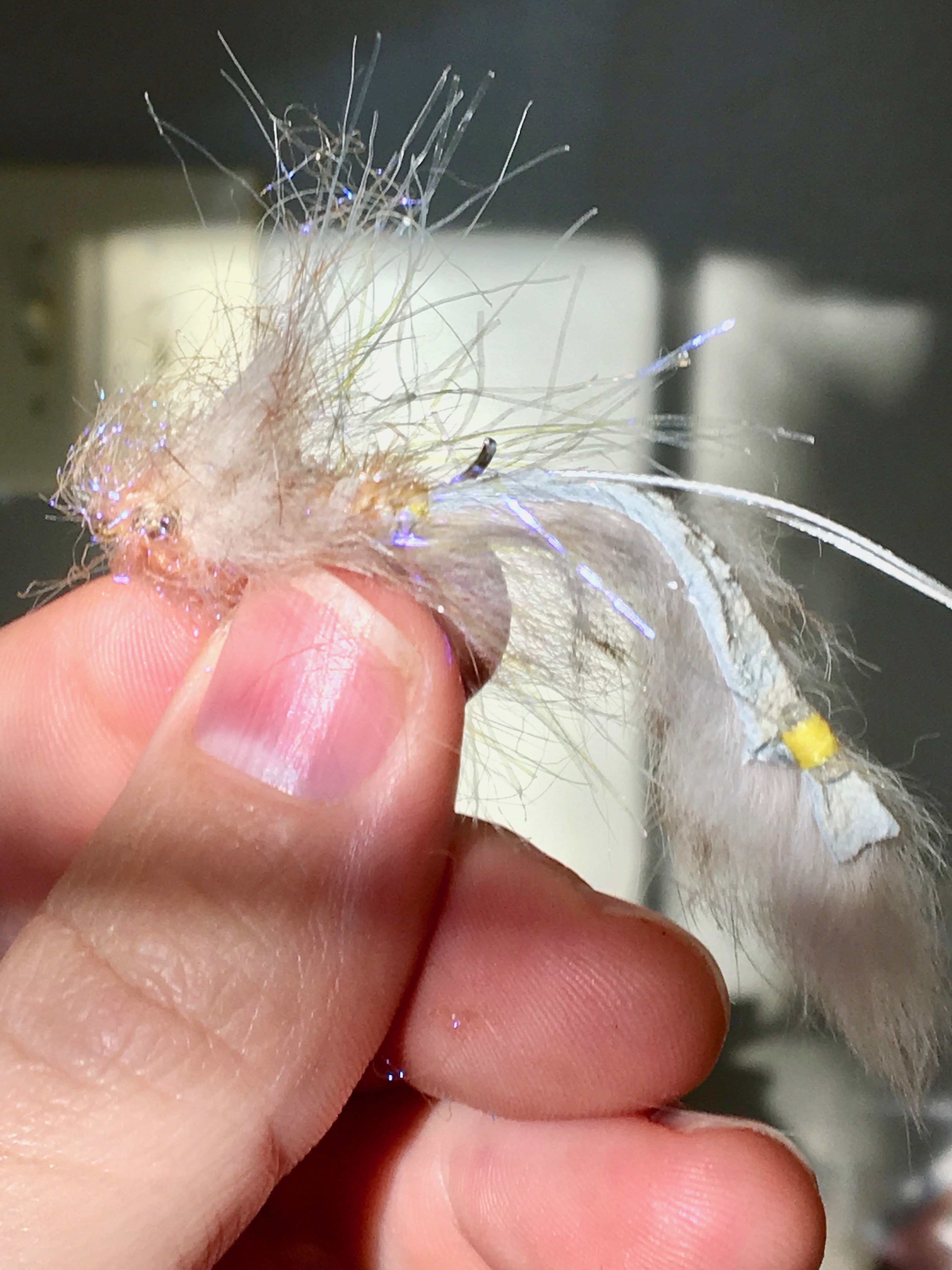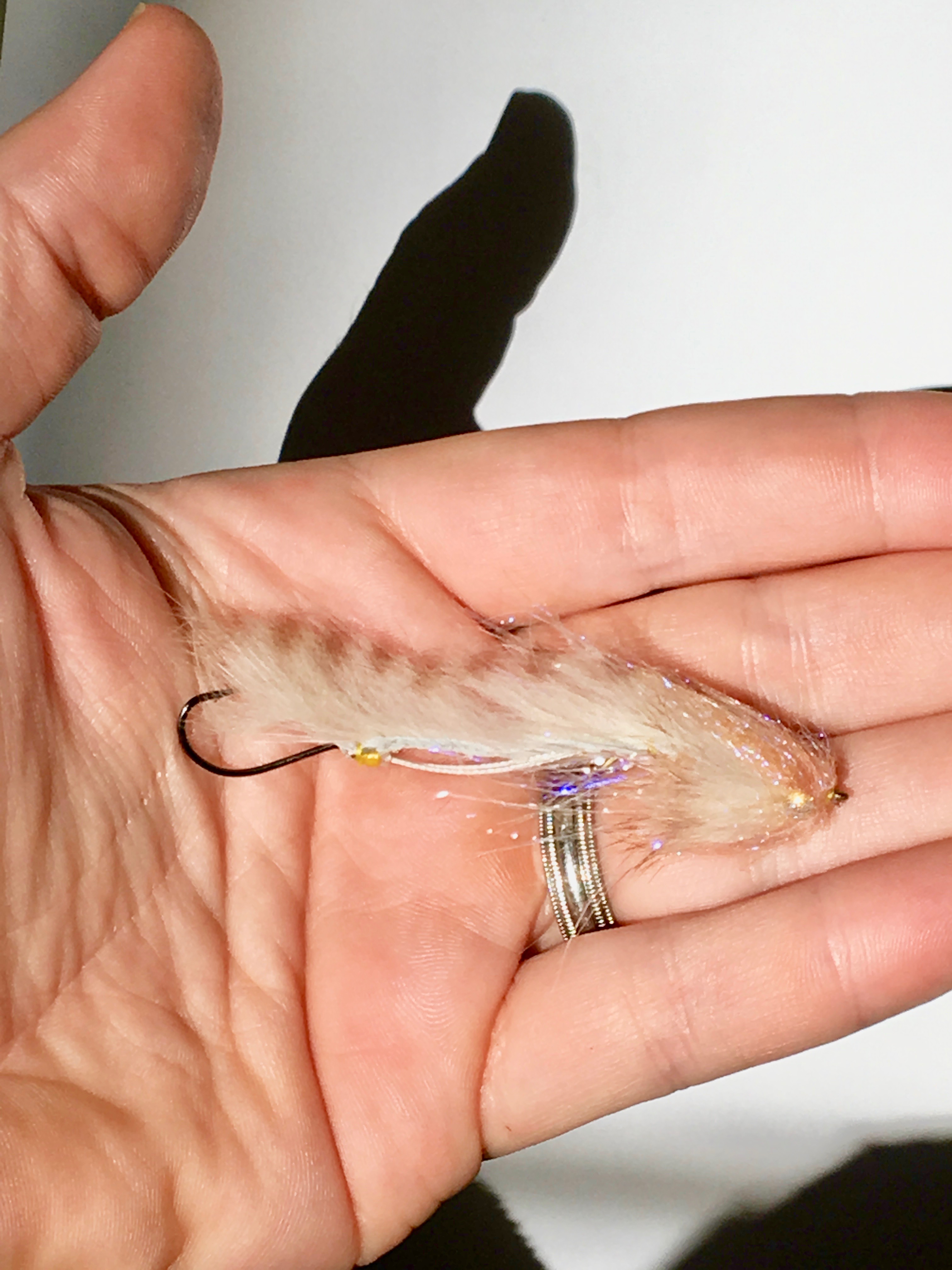 Step 10:
Catch all the fish anywhere.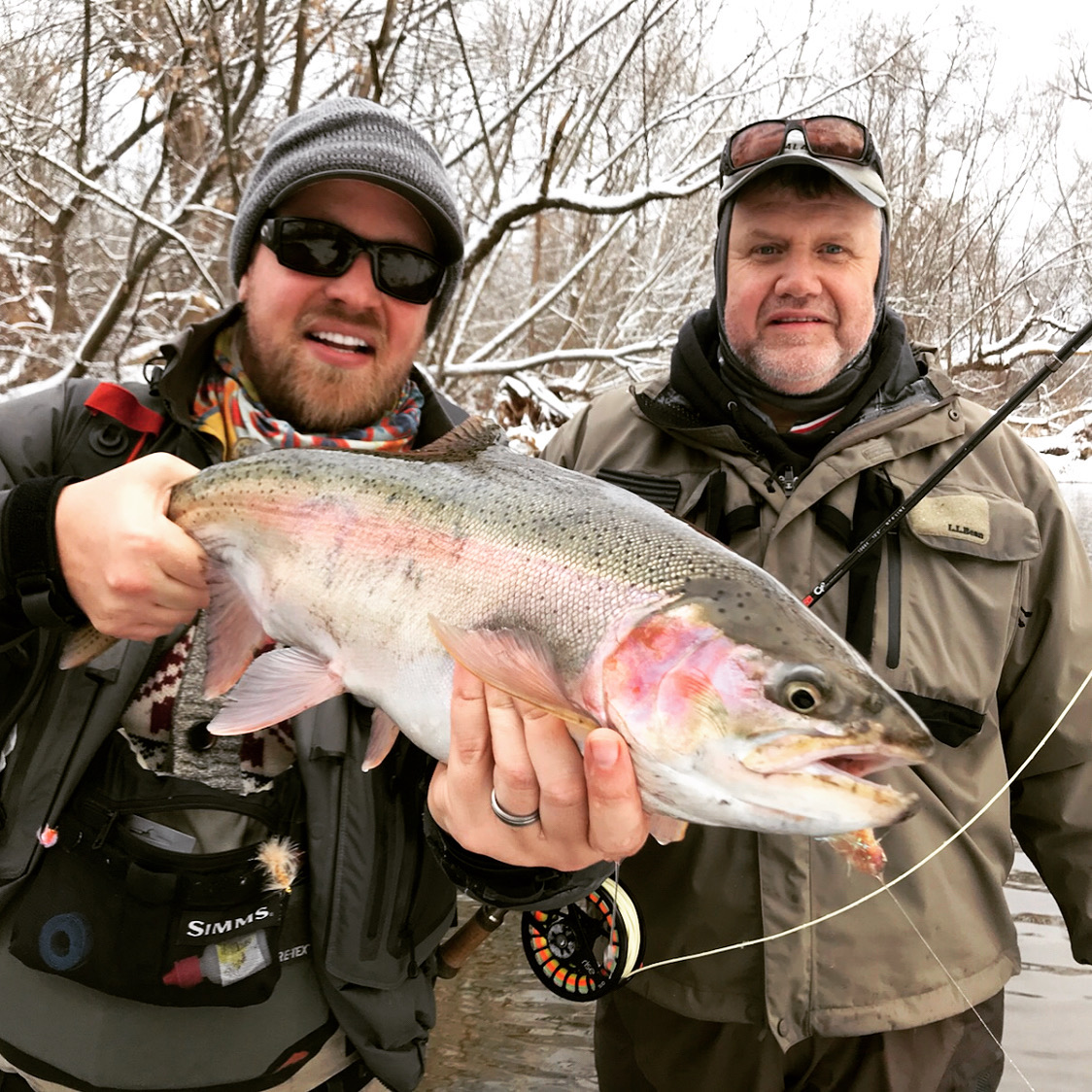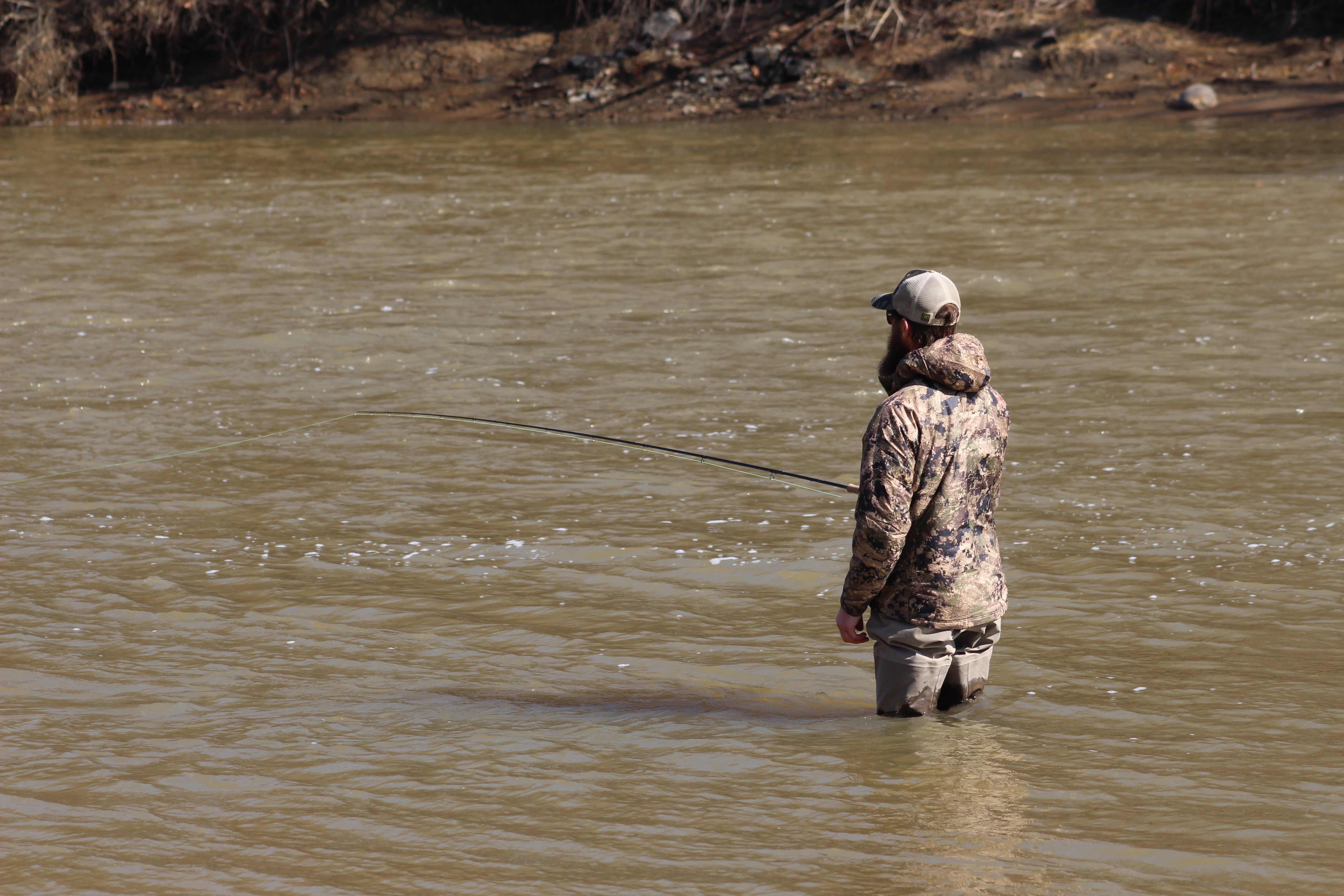 Jeff swings to highly stained water
Everybody has "those days." You walk to a river that glistens that perfect color, and flowing with ideal temperature. Your passes through the runs are rewarded, sometimes heavily. It seems that you can do no wrong, and you catch fish seemingly at will. Those are the days you talk about, the ones you tell your buddies about over beers or glasses of whiskey. If you haven't yet experienced a day like that swinging, you just haven't been at the game long enough. It will happen. But most of the time the fish gods aren't quite so generous, and just as often as not you walk down to a river with the simple goal of determining whether or not the color falls within your own range of fishability.
The steelhead in our rivers here are present through the seasons that also coincide with some of the worst weather of the year, and rain, sleet and snow can all spike and stain the flows. For the lucky few of us, a day or two of dirty water is just that- something to wait out and hit as it's dropping and clearing. But for most of us, time is a valuable resource, so the game becomes making the best of the time you have. So before you walk back up from a muddy river, dejected at the sight of chocolate stained and cold water, here are some things that can help you overcome the obstacles and maybe even put a fish on the board.
FIND YOUR OWN CUT OFF. My cut-off for fishability might be different from yours. Determining your bottomline should be the first thing you do, and it can even be done for specific rivers. What I like to do is try to remember what the approximate visibility for the fish I caught out of the system at the dirtiest flows and then subtract an inch or two. This usually leads me to making a cut-off of between 8 and 10 inches. Why I like to fish water dirtier than what I've ever caught a fish in? Two reasons. It keeps me learning, and I have the genuine belief that fish really do see much better, even in highly stained water, than we give them credit for.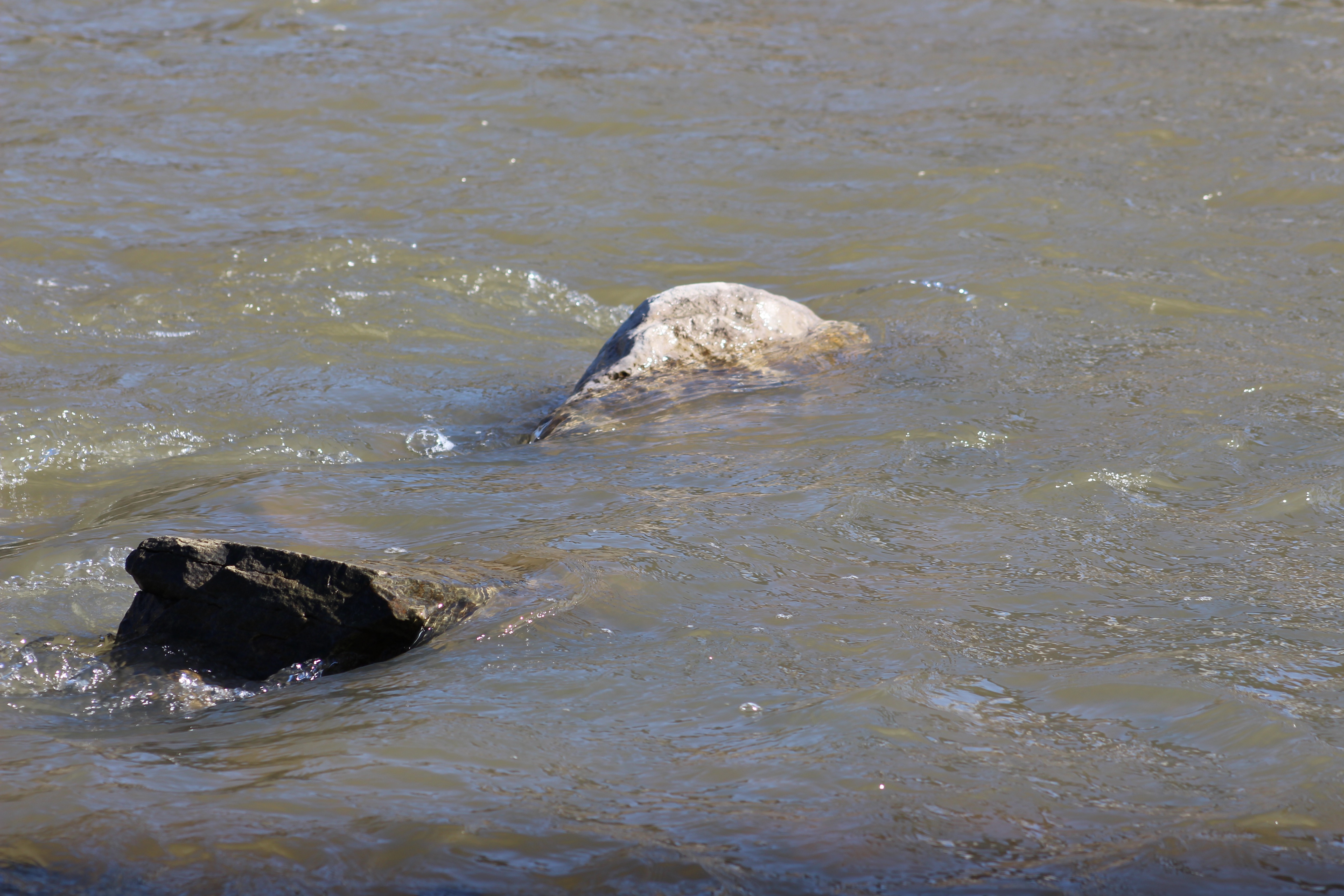 THESE BOULDERS DEMONSTRATE WHAT AN ACTUAL 10 INCHES OF VISIBILITY IS (I MEASURED)
Remember, steelhead will be near the bottom looking up through the water towards a light background. This means that our perspective of standing looking down into the river is obviously not the perspective the fish get. Water with 10-12 inches of visibility can fish surprisingly well when fish are present.
CONTRASTING COLORS. Everybody has their own thoughts on color schemes to match the day's conditions- bright colors for bright days, dark colors for dark water, natural colors for clear water, the list goes on. I don't know of a single rule in steelhead fishing that never fails, fly schemes included. But there are certainly some trends that have proven productive over the long term. In cold and heavily stained water, I like big profile with contrasting colors. For anyone who has ever pulled plugs for salmon, a fire-tiger in heavy sediment is a producer. Translate that to steelhead on the swung fly. Color schemes of black, chartreuse, and orange are some of my most productive flies in heavily stained water.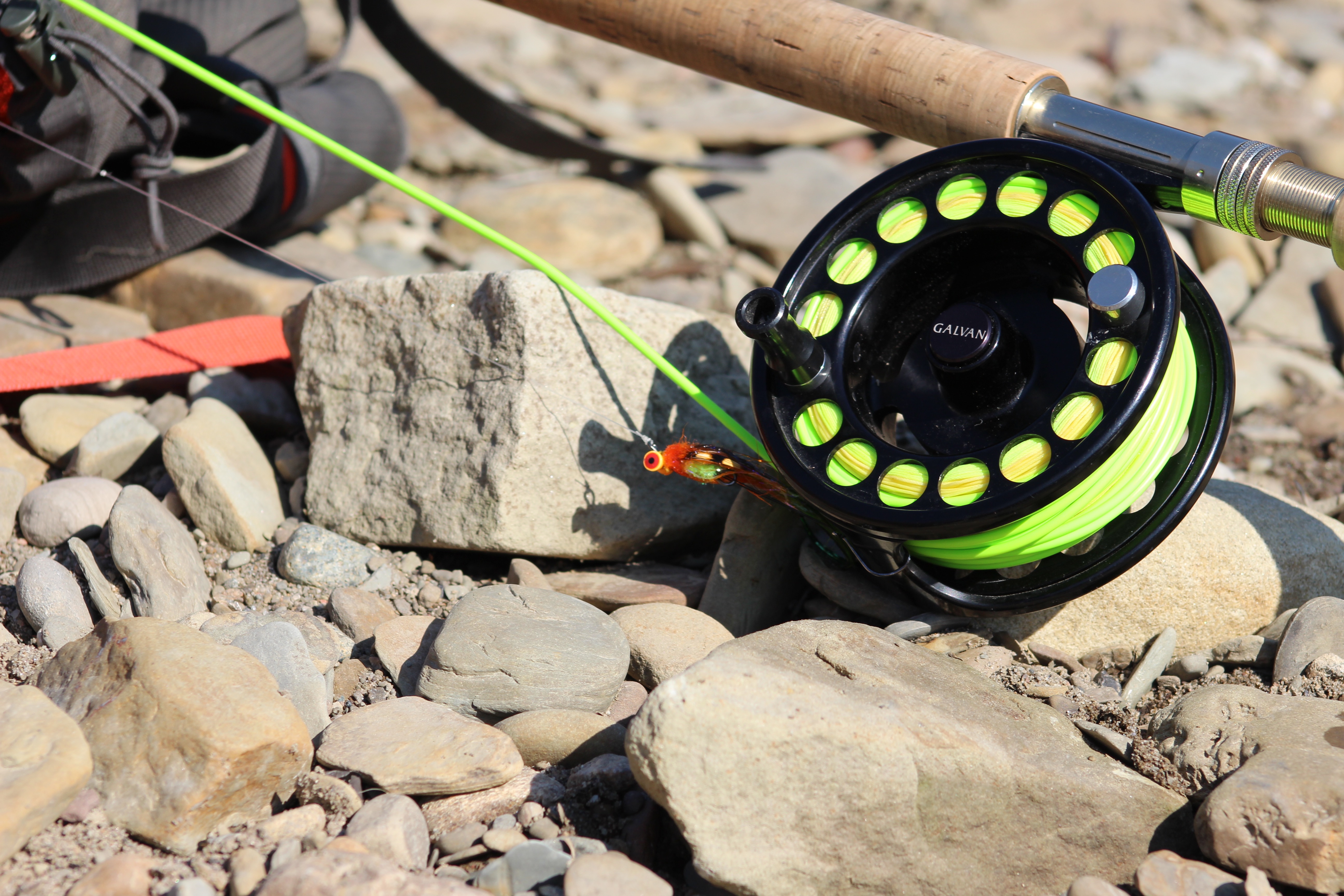 MY DIRTY WATER RIG
A good indication that a fly is a hunter is when you drop it in the water near your feet and it just glows. I don't know how else to put it other than that, but when you see it you'll know. Start messing around with heavily contrasting colors with brights and darks, keep the profiles big but the fly sparse enough that it sinks well. I like reverse tied craft fur with the under fibers stripped out. It cuts through the water but the reverse tie puffs it out and makes it pulsate in the water.
FISH WHERE THE FISH ARE. It's cool as hell to send bombs across the river and touch a fish way out there. As spey anglers, the casting is very much a large part of the process. But casts don't catch fish. Proper presentation matched to the right water does. K.I.S.S. Keep it simple stupid? Well kind of. Keep inside and short. Don't overthink it. If there's ten inches of visibility, then any depth more than that is adequate to cover and conceal a fish, plus shallower water offers better light penetration. Fish see better.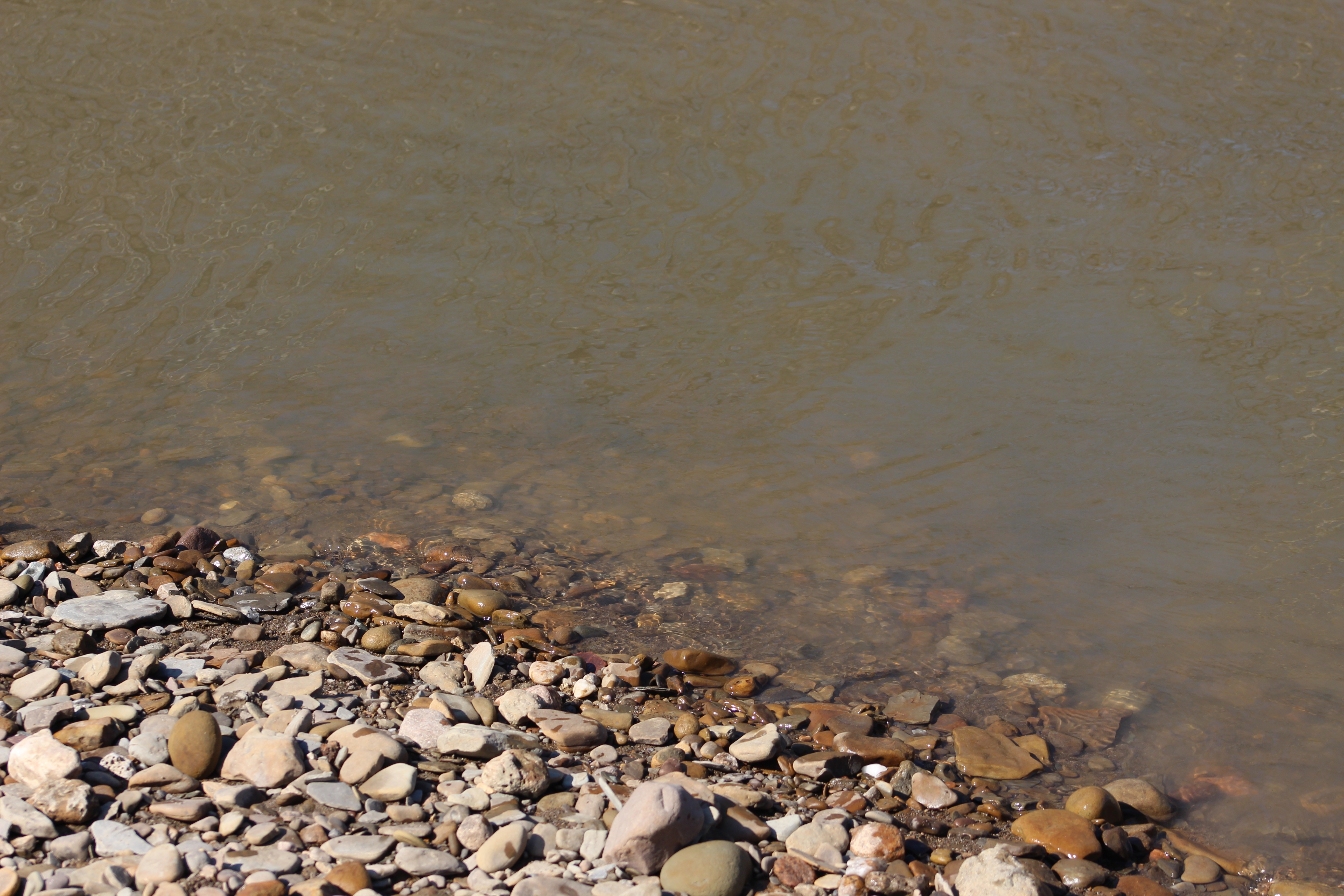 WE LITERALLY HOOKED FISH WITHIN FIVE FEET OF WHERE THE GRAVEL BECOMES UN-VISIBLE IN THIS SPOT
If there's one piece of information that I think is key, it is concentrate hard on the inside. When I fish dirty water like over the weekend, I find the casts I make are roughly half the distance as those I'd make if I were fishing the same water in clearer conditions, and we hook good numbers in water between 1.5 and 2.5 feet of depth.The inside of runs, the soft water shoulders, the casts that might only put you out the distance of the shooting head or less are the money spots. Fish them well.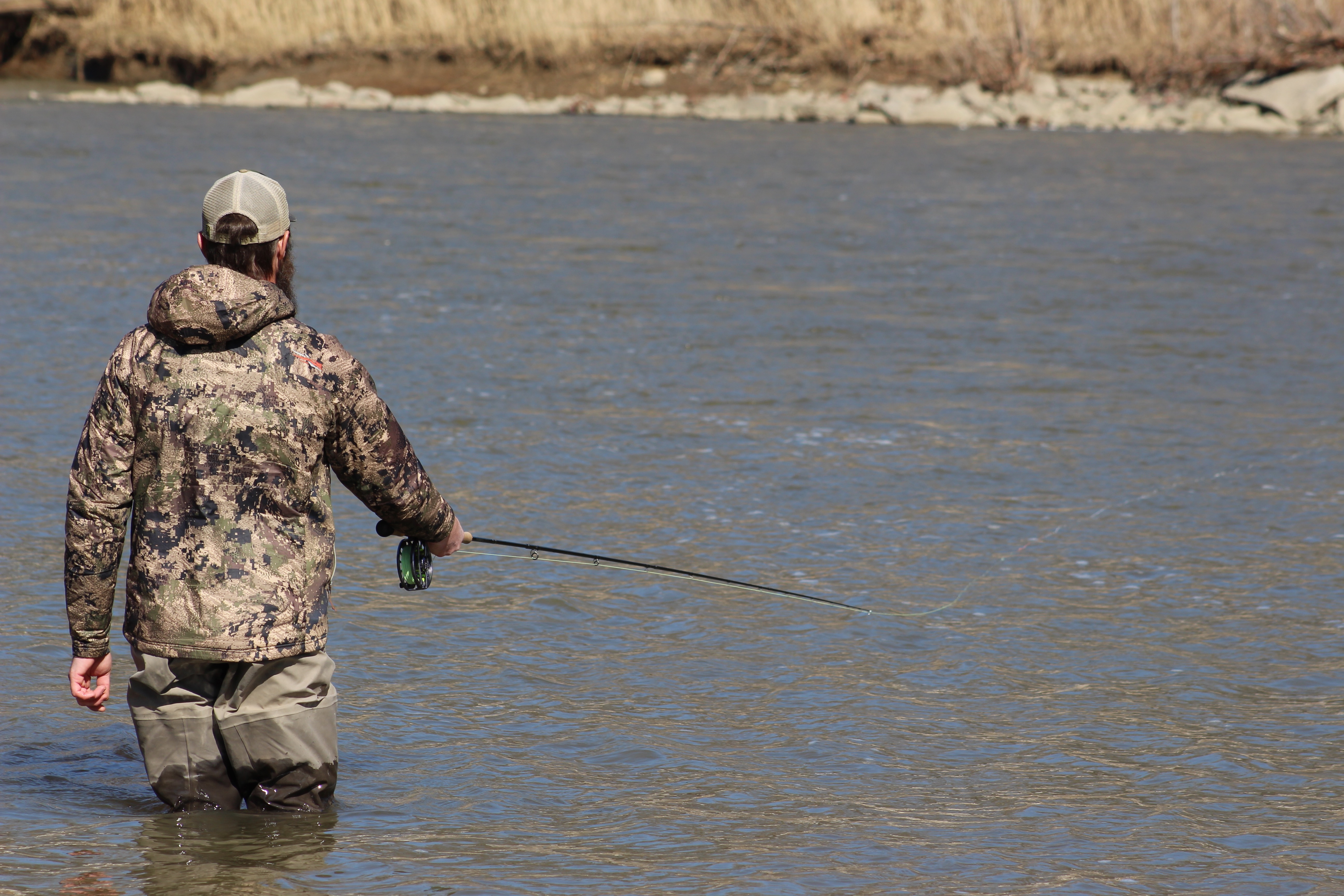 JEFF SWINGING SHORT ON THE INSIDE
Fish use these softer water places. In dirty water, they pull off to the side, plus these are the running lanes. If someone forced me to swim up a river, particularly in cold and dirty flows you can bet your boots I'm going to be swimming up it as close to shore as I possibly can. It saves energy. Fish do the same thing, and stained water is migrating water. If you're casting to those mid-river buckets that fish well in ideal conditions then you probably are casting, and fishing, beyond the fish.
DREDGE THE SHIT OUT OF IT. Steelhead hug near the bottom under most conditions, and in clearer high water fishing a light tip on the inside is effective. But in cold, dirty water, the fish might as well be in contact with it and you should be bumping it a little more frequently too. How do I know this? The grabs we get when swinging in those conditions. Over the past couple days, most of our takes came after we found somewhat regular contact with the bottom. And this is normal for high, dirty and cold flows. If you aren't hanging up on the bottom with more regularity than when you're fishing that inside seam in better clarity, you might not be fishing right.
Why does it matter if you know that your tip gets the fly to just above the rocks? It is not that the flies are necessarily fishing different depths. It's that they're fishing at vastly different speeds during the swing. Having your sink tip roll along the bottom during that second half of the swing in cold, dirty water gives you the slowest presentation through the best water. The ticks and taps on the bottom will grind your swing to almost a hault. Throw those big, inside mends and even pull it along with the rod tip if you have to to get it moving again, but just know that your dog's out there hunting. Control your swing. Find the bottom, then get it moving again. Lift the rod tip slowly after an inside mend. Fish it well.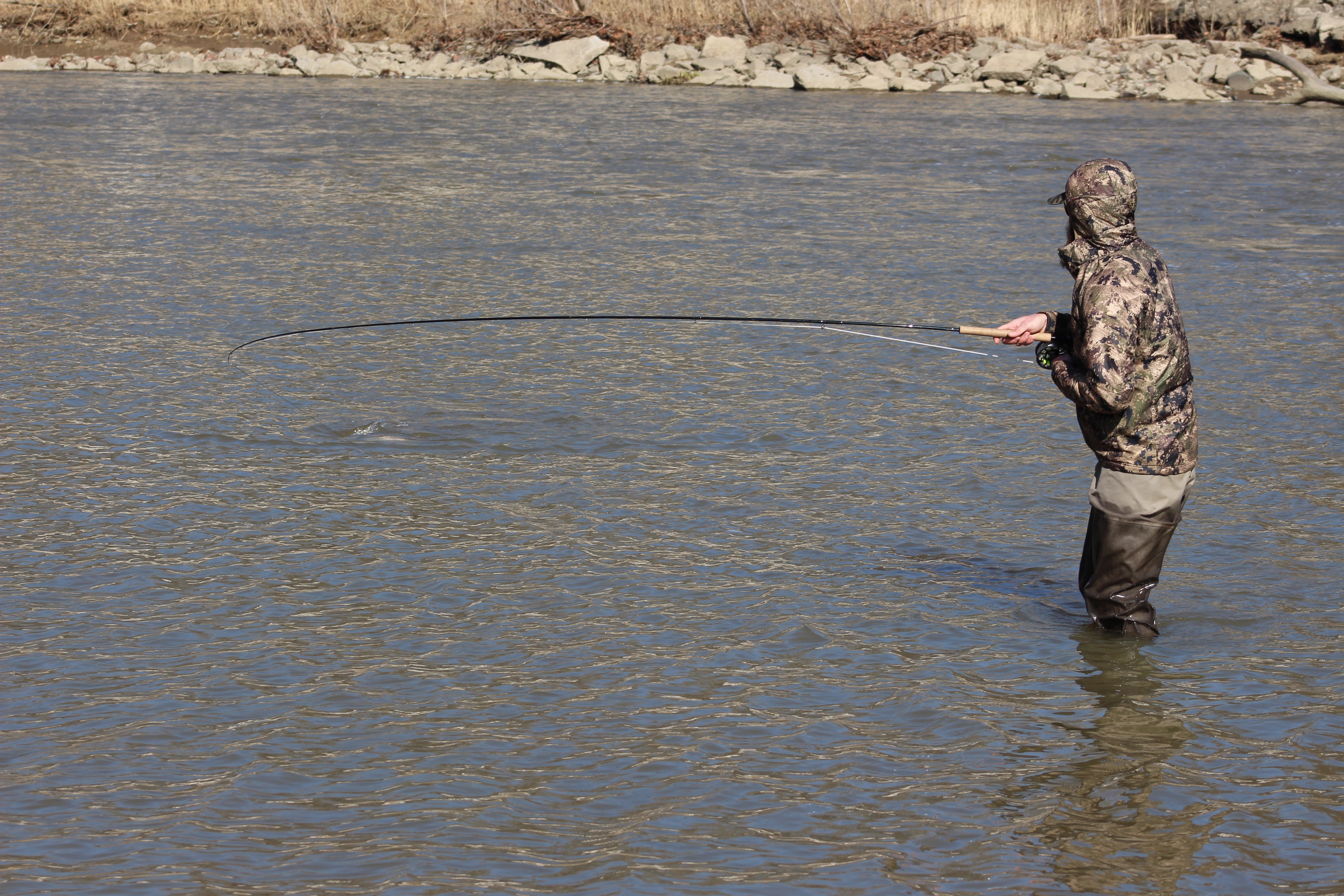 SUCCESS
So get out there. Don't be afraid to swing, even when you think the water's a bit dirty. Remember, the worst you can do is not catch a fish. And even that's not so bad, especially if you're spending the day with a good buddy or two. But keep these pointers in mind, and hopefully you can put a fish or two on the board on a tougher day.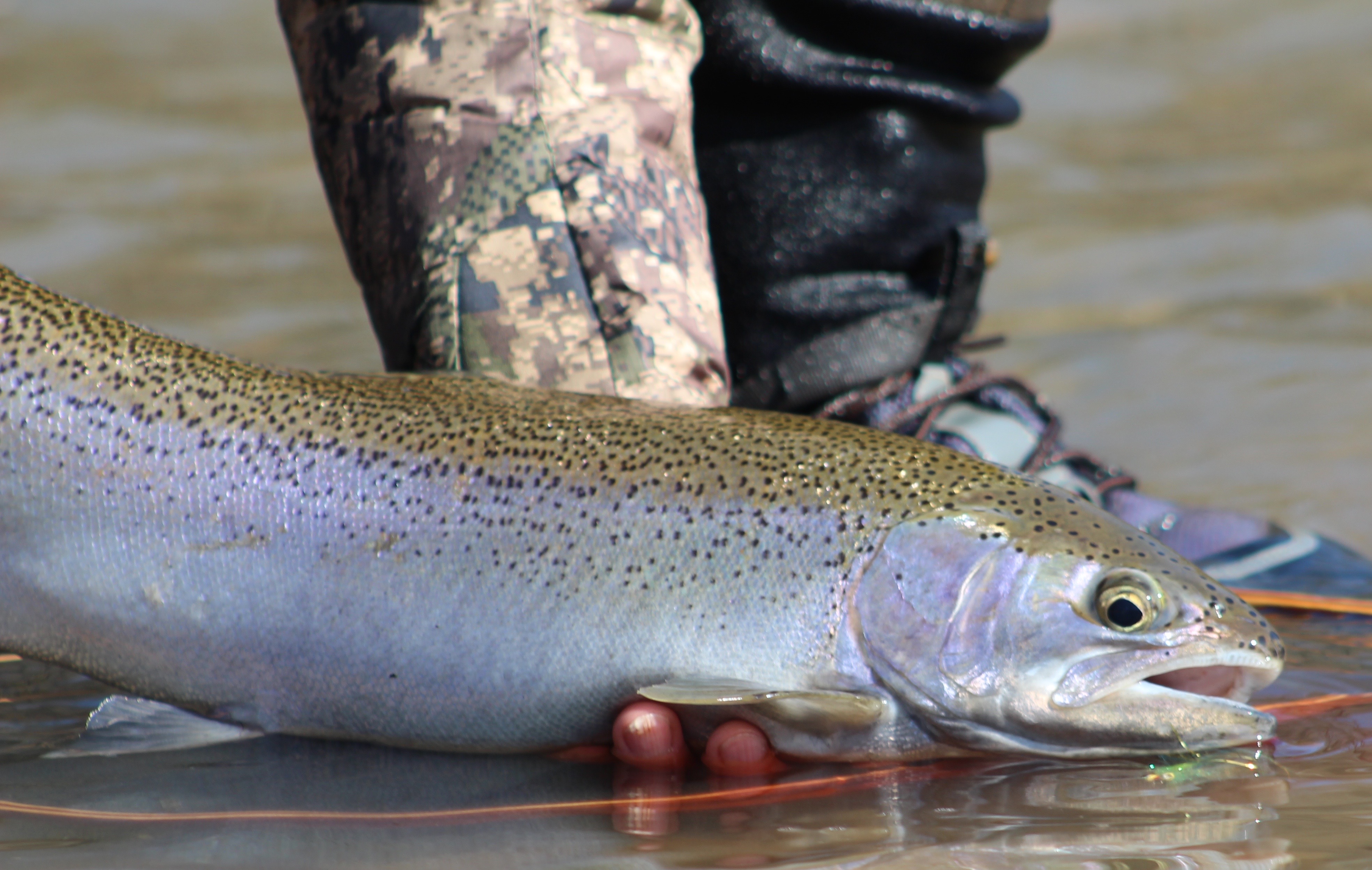 THESE GUYS ARE STILL OUT THERE
Tight Lines,
 - D  
/