Shopping Cart
Your Cart is Empty
There was an error with PayPal
Click here to try again
Thank you for your business!
You should be receiving an order confirmation from Paypal shortly.
Exit Shopping Cart
Guided Fly and Spey Fishing Trips for Steelhead and Brown Trout with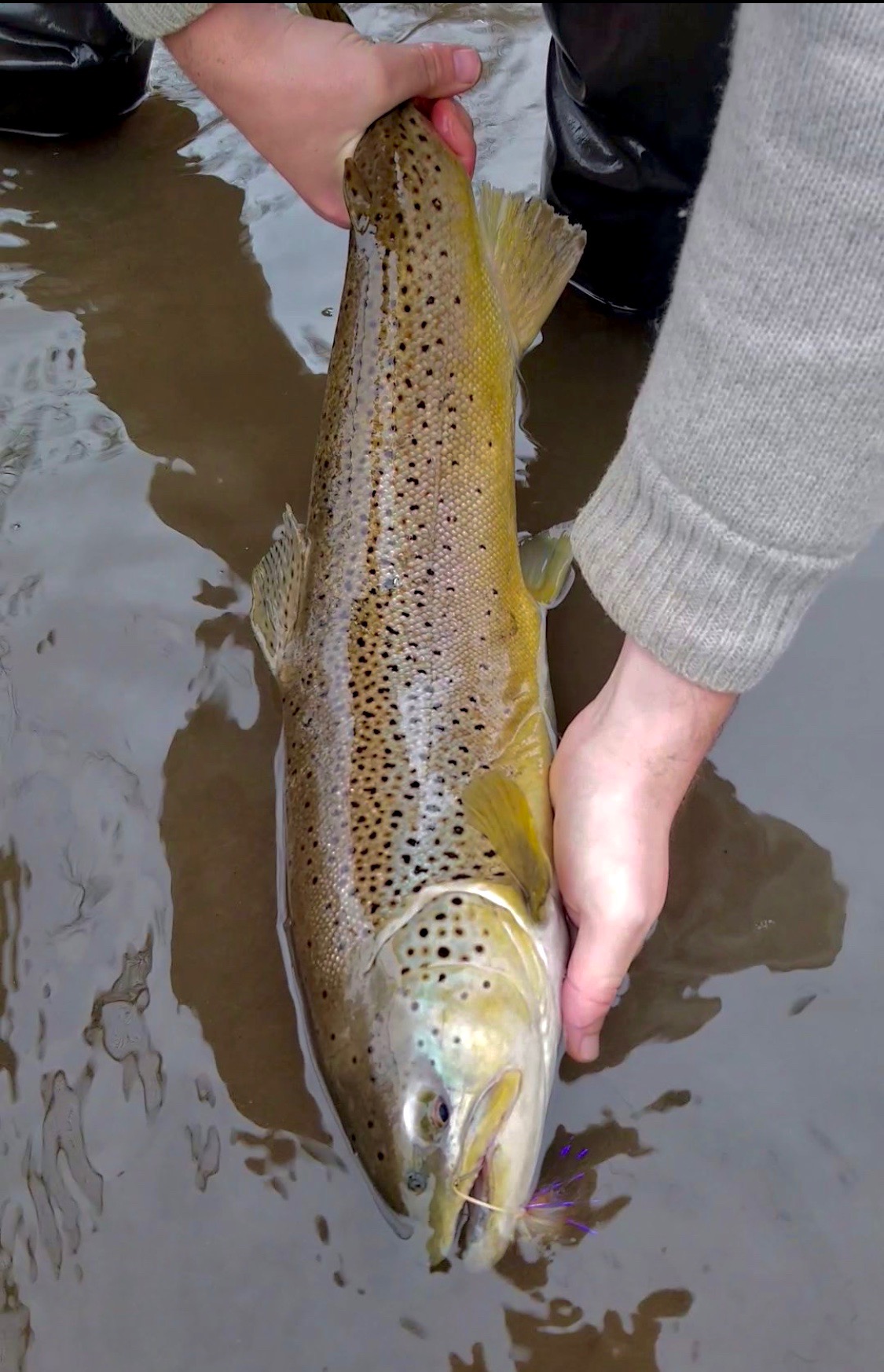 Great brown on the swing!
The fishing is still great! There are lots of browns still in the rivers and creeks and steelhead are in the mix too! Look for browns to slowly work their way back out over the next couple weeks, though many will remain in the systems over winter. As most of the spawning has finished, watch for a transition from egg patterns to nymphs or streamers. Baitfish patterns will be very effective.
Tight Lines,
 - D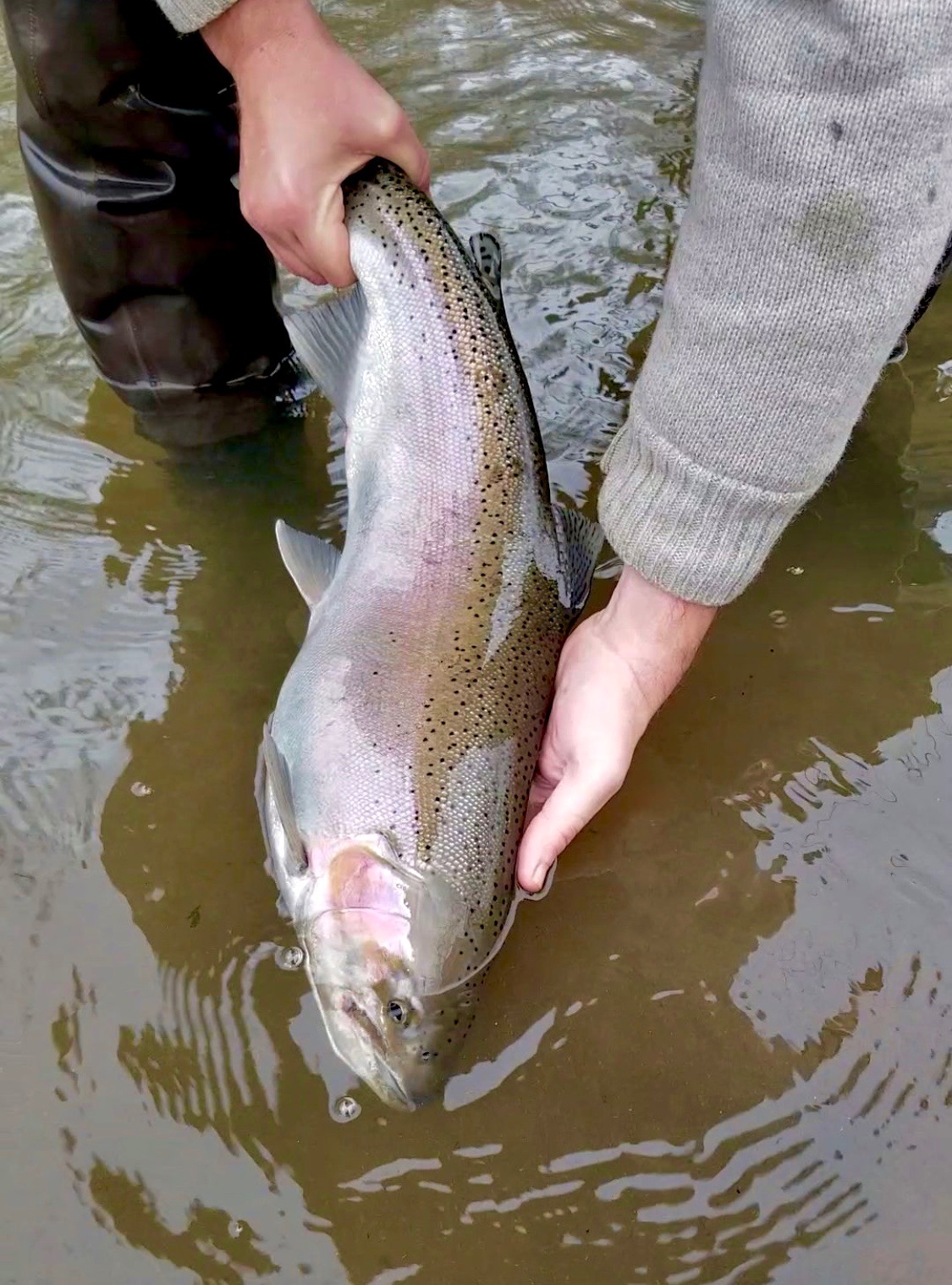 Awesome steelhead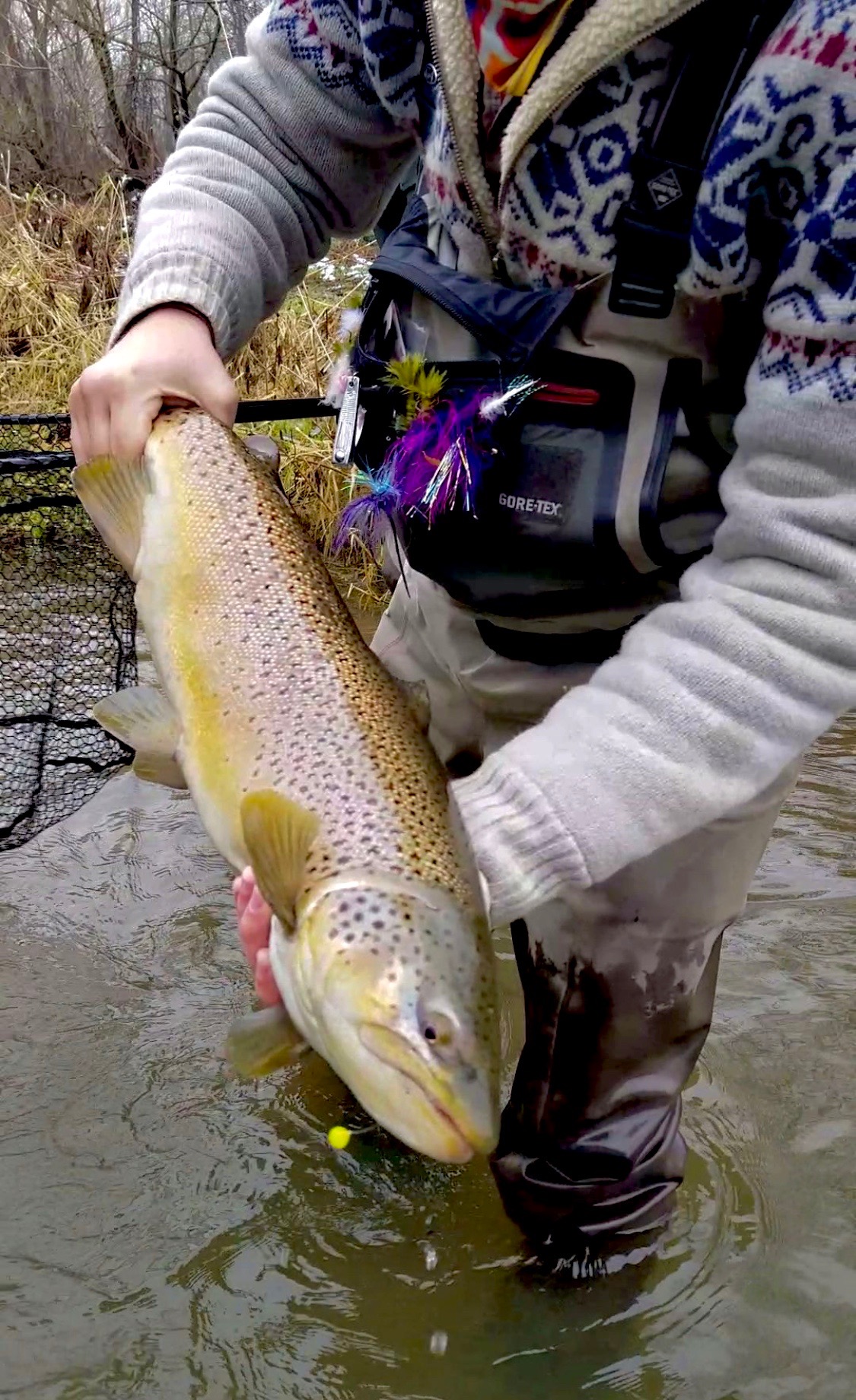 Plenty of these guys still around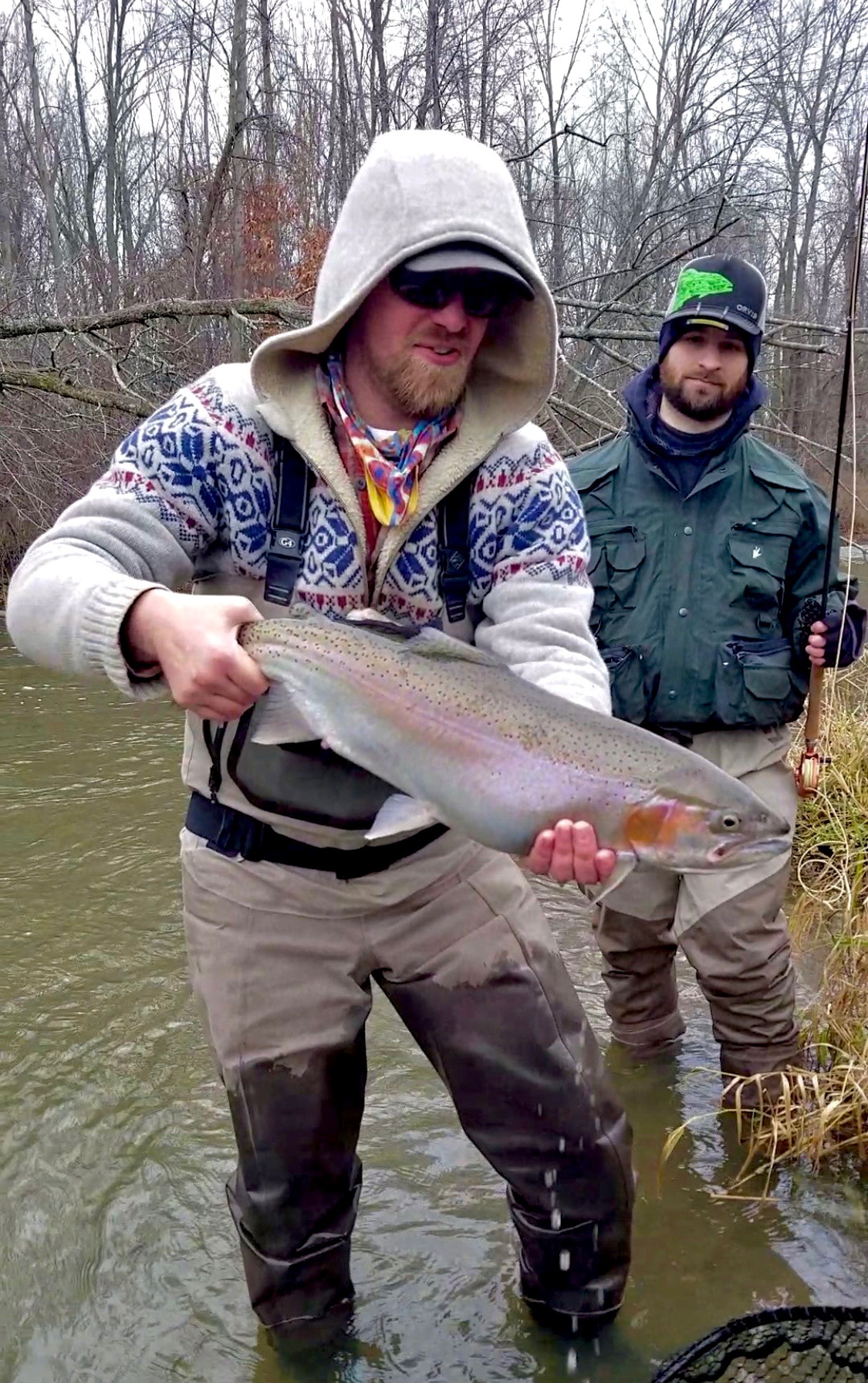 Chunker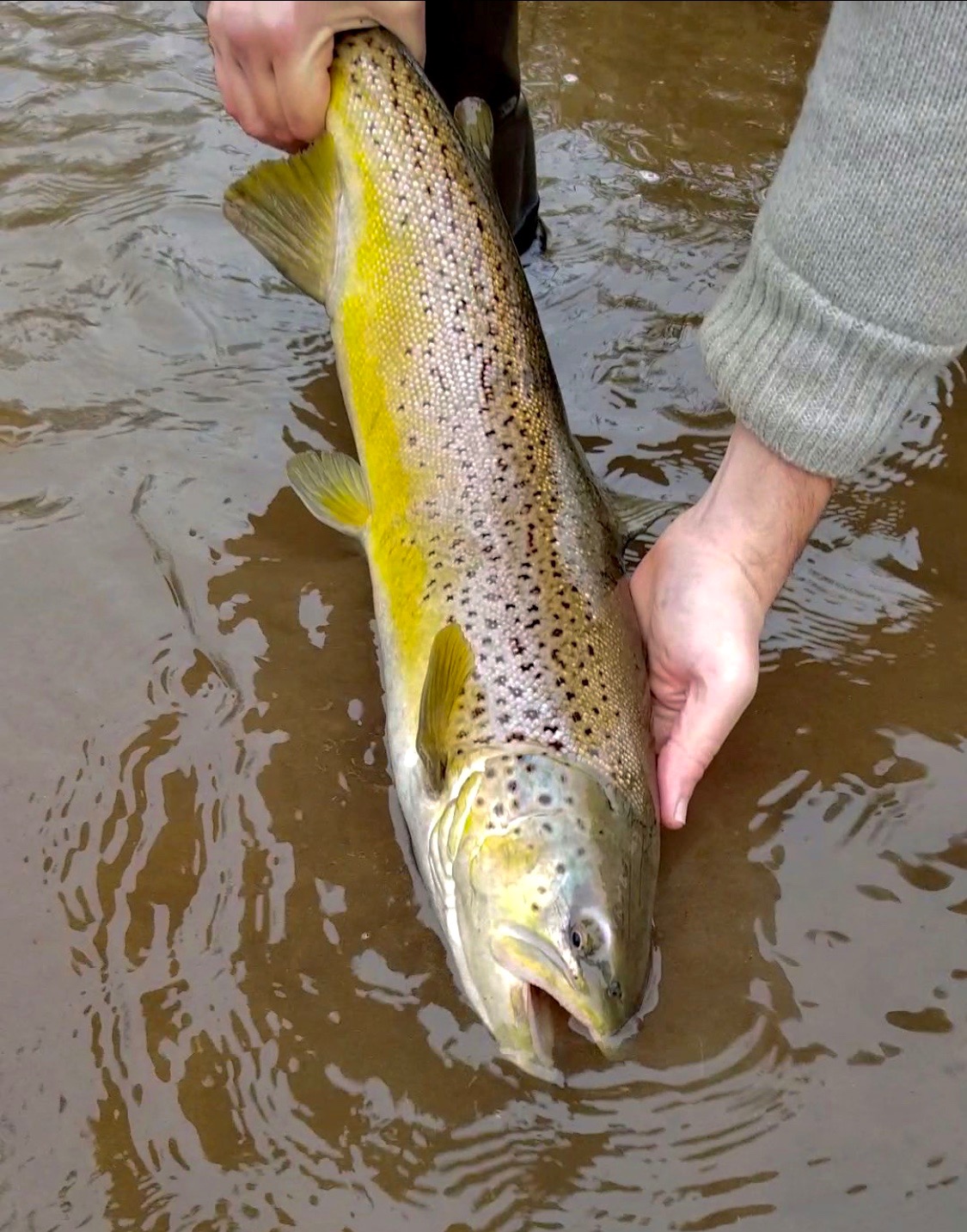 Those colors though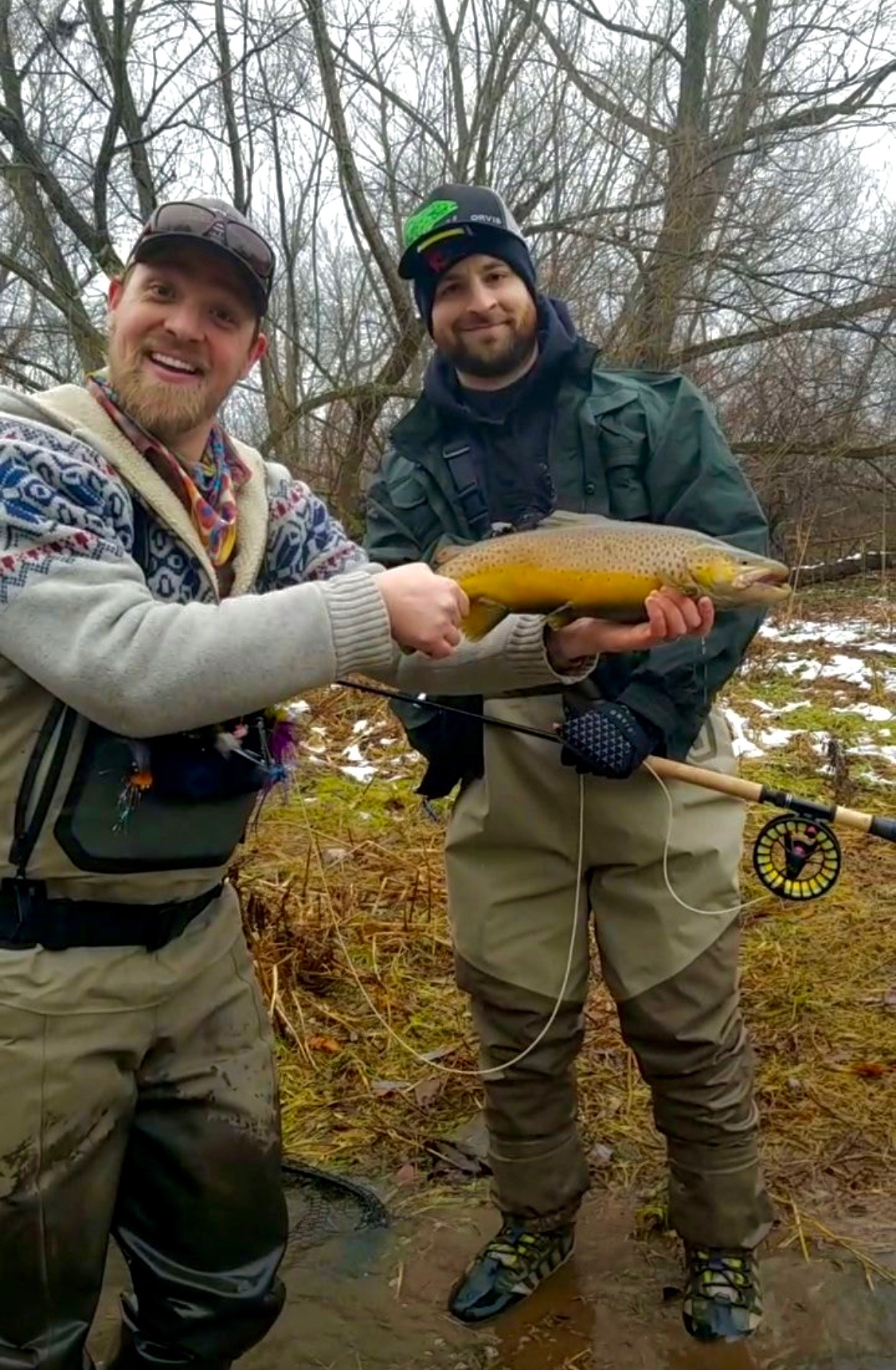 Stout little trout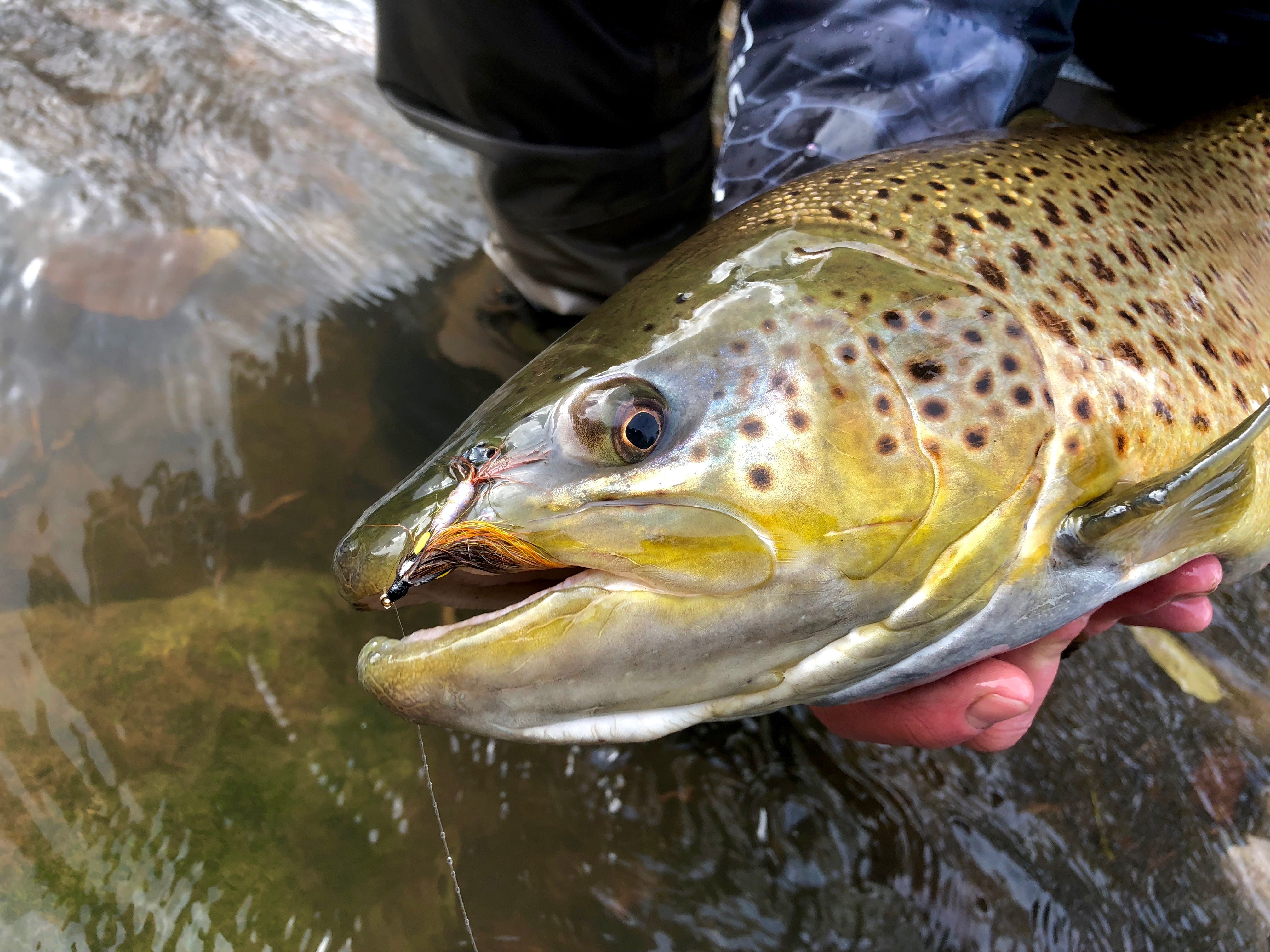 Catching a brown such as this on the swing is a reward many anglers desire
Catching a brown trout over 30 inches. That is many fly anglers' answer to the question of "if they had one wish to be granted during their fly fishing career, what would it be?" Catching a brown trout over 30 inches. And to a select few of the anglers that answered that question that way, it may even be qualifed to "catching a brown trout over 30 inches on the swing." Swinging for browns approaching or easily exceeding the double-digit pound mark is truly an experience that leaves us weak in the knees. It is at times incredibly frustrating, outright overwhelming, and just every once in a while so god damn good that it both haunts your memories and completely and totally ensares you into lifelong obsession.
This year we've been spending a lot of time chasing lake run browns. The steelhead run has been less consistent as it has in years past. But fishing for lake runs has been very good. Though many consider lake runs caught on the swung fly as by-catches for anglers targeting steelhead- and indeed many are- lake run browns can be specifically targeted with spey rods and the swung fly by knowing a few habits of the fish and making small adjustments to technique. We are not talking about complete overhall of the system here. We are talking about tweeks. 
First thing to know is a bit about the brown cycle. For steelhead in general, and fall steelhead especially, spawning can be months away. The fish adjust to their river habitats. Many have not fully sexually matured to the point that spawning is an urgent matter, and in the tiime between arriving to natal rivers and actually spawning, steelhead maintain curiosity towards their surroundings, including things such as flies swimming around in the currents. For this reason, steelhead are the usual targets of anglers wielding two-handers looking to swing.
Browns on the other hand are fall spawners. Many fish are sexually mature enough to spawn the very day they enter the river, should they arrive at suitable habitat. For this reason, the predator instict in even fresh run browns is often diminished. As a result, most of my success for fresh arrivals has been with smaller, drabber flies such as olive, brown, or black woolly buggers or brown hairwings such as brown trout fry.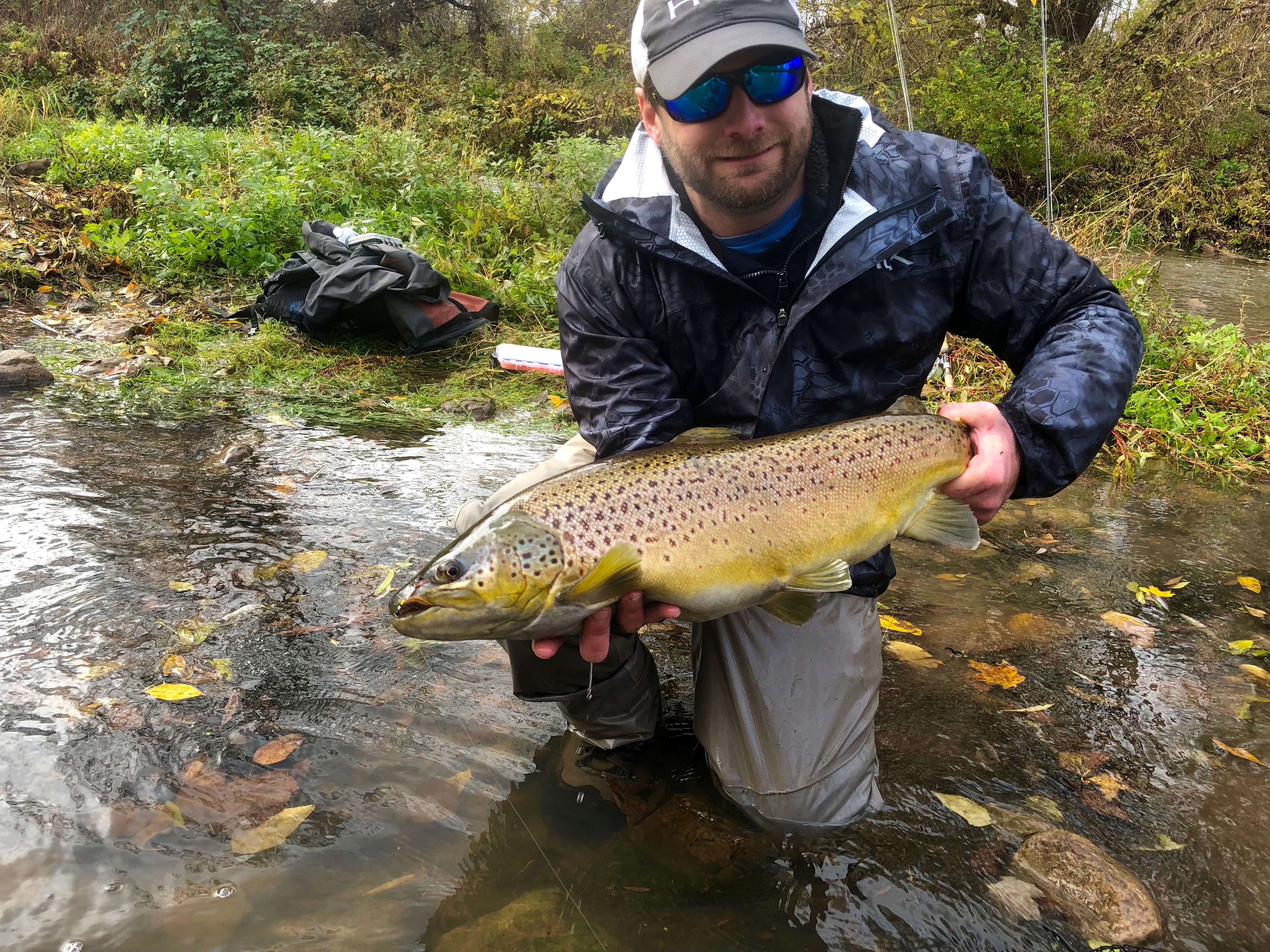 A fresh 27" hen taken on a brown trout fry hairwing  
To browns actively spawning, males especially can remain responsive to those same small flies, though the ethics of fishing to spawning fish must be determined by each individual angler. Locating spawning fish in the riffles, and fishing below in gravel drop-offs or in the first main pool downstream is usually the better option anyways. Both pre-spawn and newly finished post-spawn fish will usually hang out around the spawners in the first available holding water, and are better targets in terms of receptiveness and in the fight of the fish.
In these deeper pools and runs where pre or post-spawn browns congregate below spawning fish, concentrate specifically hard in the slowest water available. Browns generally hold in slower water than steelhead. When swinging for steelhead, even in colder temperatures, many fish are found "falling into the bucket"- meaning as you transition from the head of the run into what would be considered the gut. Brown trout are usually found "falling out of the bucket"- meaning as you transition from the slowest part of the gut of a run into the tailout. On small creeks, this might only be a matter of a few feet difference, but on larger rivers this can be a difference of fifty feet or more. Though it is obviously a good idea to swing the entire run, as trout are first and foremost unpredictable, pay specific attention to the point where the current slows dramatically in the gut before dispersing over the tailout.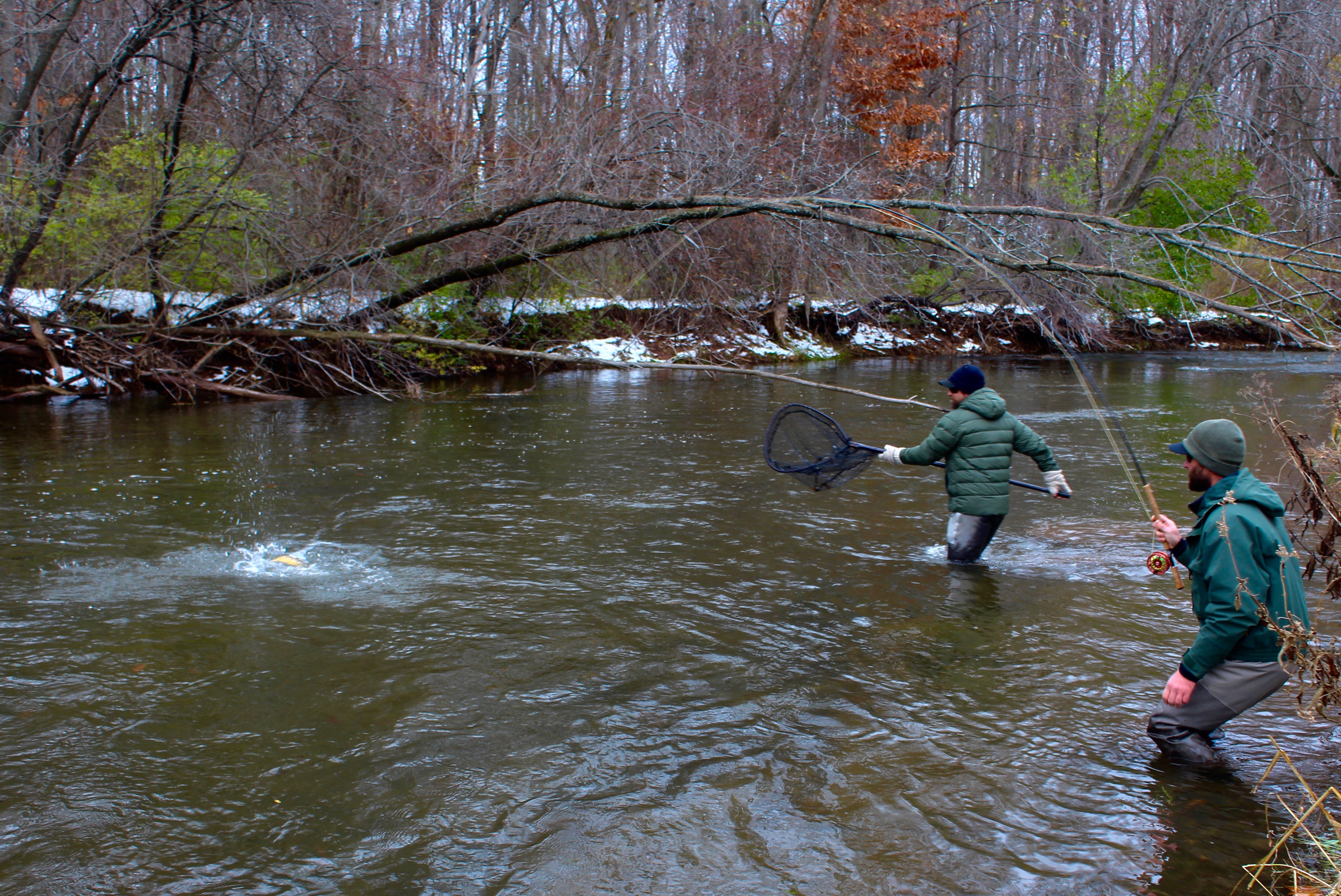 Jeff fighting a good lake run brown taken on the swing from the slow gut of a run
As more fish finish the spawning process, and the numbers of spawned out browns grows, baitfish and attractor streamers become the most effective flies to swing. Spawned out browns are eating machines. Lying in the slower pools and runs, they await to ambush anything small enough to fish in their large mouths. When I'm swinging to high numbers of spawned out fish, again in the slower water, I like to fish a floating line, leader down to 8 or 10 pound fluoro and a weighted fly. The cast isn't usually as pretty as fishing a weighted fly on that lighter tippet doesn't turn over great, but the swing is nice. In the slow water, any sink tip will usually ground out. Fishing without a tip and using a weighted fly usually does not. And at times, even in very cold water, browns can just go on a tear and be willing to eat anywhere from just below the surface to substrate of the pool. Most times, however, browns will be caught fishing a streamer weighted heavily enough to keep it near the bottom.
Pump the rod. I'll say it again. Pump the rod the entire time during the swing. Use the kind of pump that most steelhead anglers do on the hangdown and pump it throughout the swing. This will cause a jigging action, and the fly to drop back towards the bottom before it starts to swing again. Browns absolutely love to eat a streamer on the drop. And the take will be noticeably different. It will happen after one pump and as you pump again. There will just be weight there. That is a brown eat. It is not a turn on the fly the way a steelhead normally does. It is a brown that followed the jigging streamer, caught up to it, and, as the streamer drops toward the river bottom from a pump, inhaled it without turning. That is the way that most browns eat during the swing. They swim up and inhale it without turning back. If you were not pumping the rod, the fish might still take it. But that is a fish that can easily be missed in the slow water because the swing is slow, therefore the bite transfer to the rod is slow. By the time you notice something has happened, that fish could have spit you already. So I will say it one more time. Pump the rod the entire time from the start of the swing until the hangdown. If you feel any resistance, set low and to the downstream bank.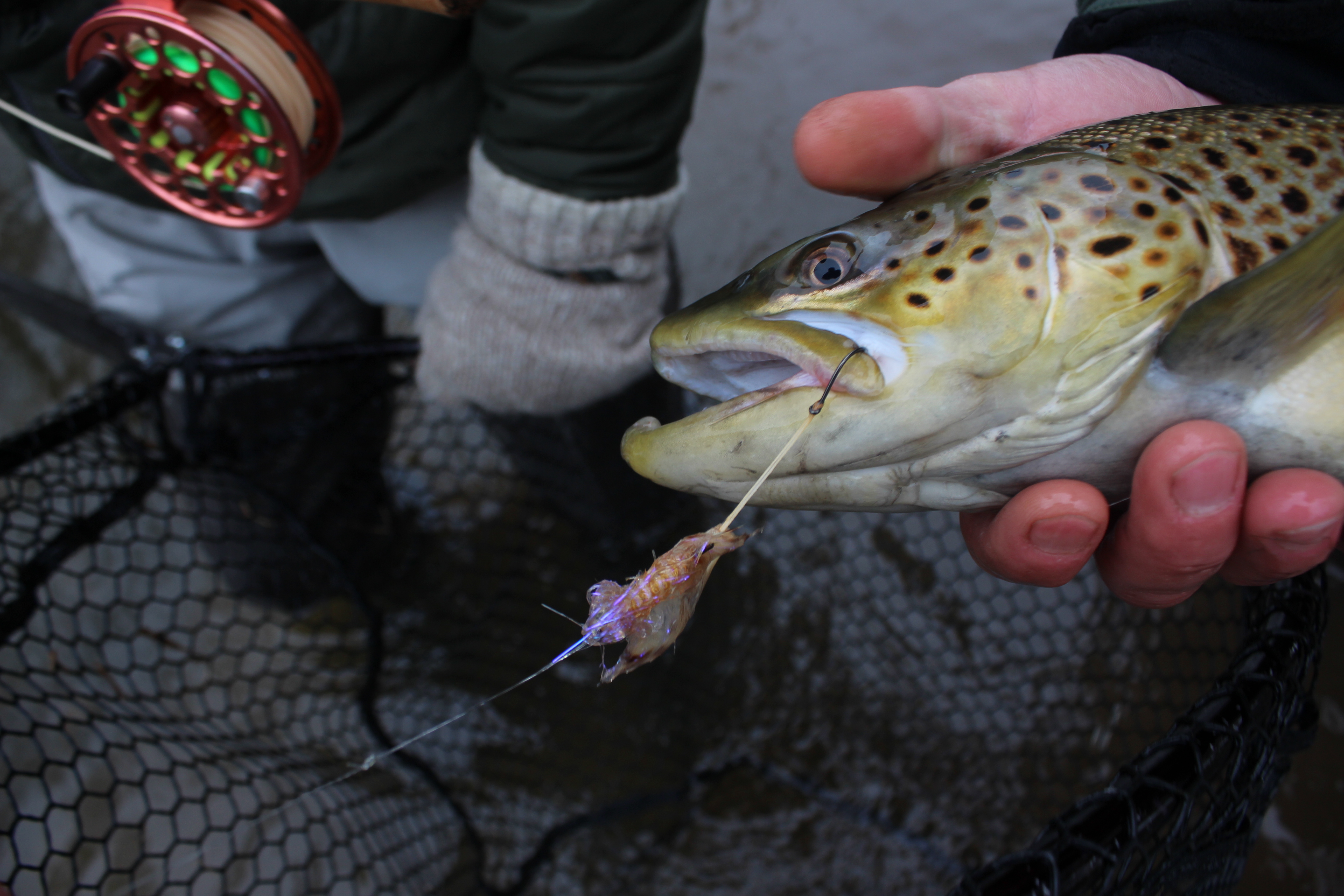 Smaller lake run taken on a bait fish streamer pumped through the slow water
So if you guys and gals have your eyes set on a trophy lake run brown trout on the swing, using these tips can be the difference between a successful day and spending an afternoon flogging the water. Browns are a beautiful species to target with spey rods and the swung streamer. Many remain in the rivers and creeks all winter long, and swinging or stripping streamers in the slower "estuary" sections in the cattails can help fire up even the coldest winter day. Browns put up determined battles when hooked, full of headshaking fury and sometimes acrobatics that will cause you to question whether the fish mistakenly thinks it's a steelhead. In short, lake runs are a ton of fun. And they readily eat a swung fly.
Tight Lines,
 - D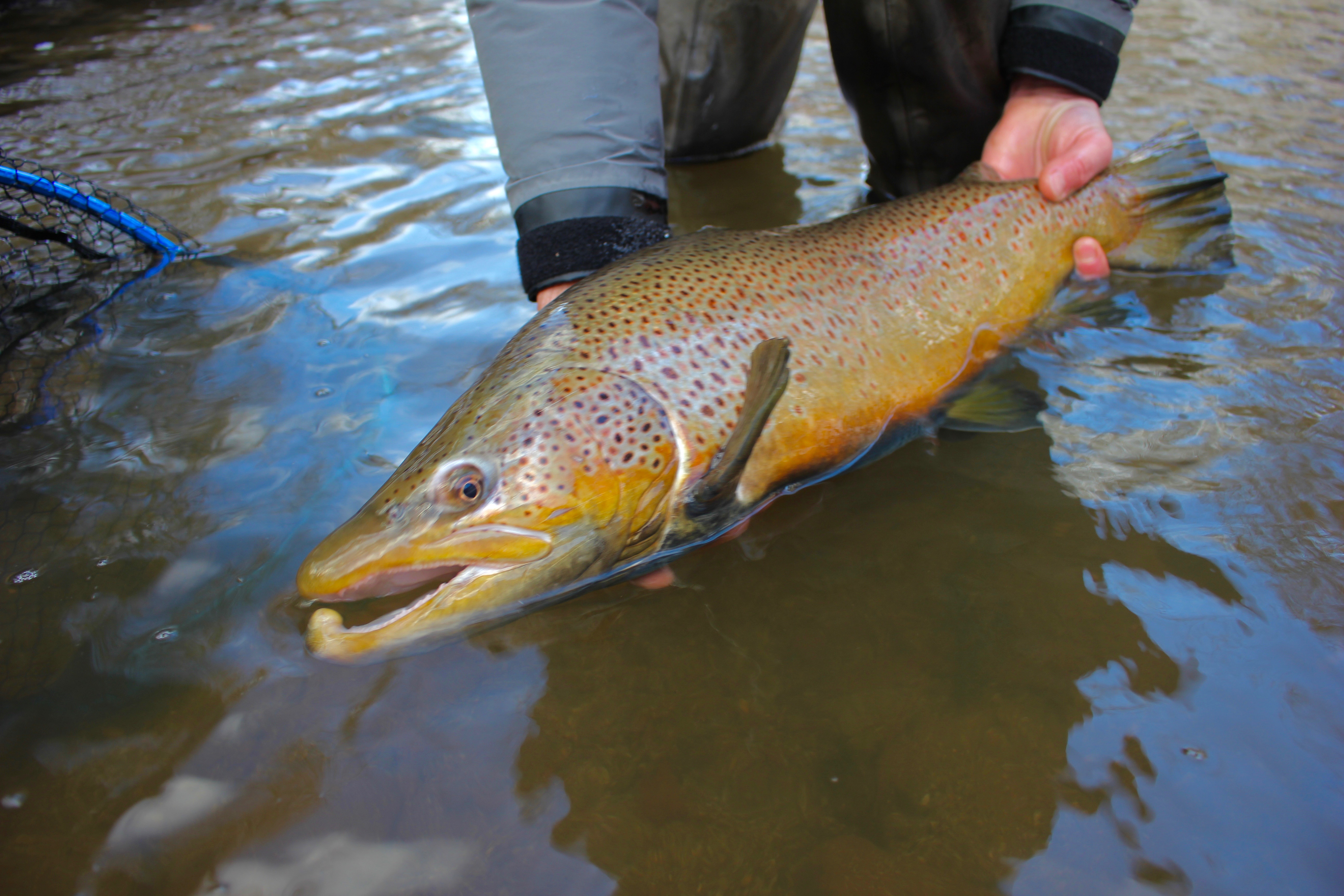 An absolute stunner brown
Just got the photos from the past few weeks from Matt and wanted to get some of them up on the site! The fishing remains good, though conditions can be challenging at times. The Erie creeks are more hit or miss and continue to see some pretty wild fluctuations in flows. The Ontario creeks are fishing very well, with good numbers and size of the lake run brown trout. This week we have snow and rain in the forecast. Will probably muddy some things up a bit. Next week it looks like the bottom drops out of the temperature, with nightly lows into the low 20's. This will likely start the ice up process on the smaller creeks over the next week and a half.
Tight Lines
 - D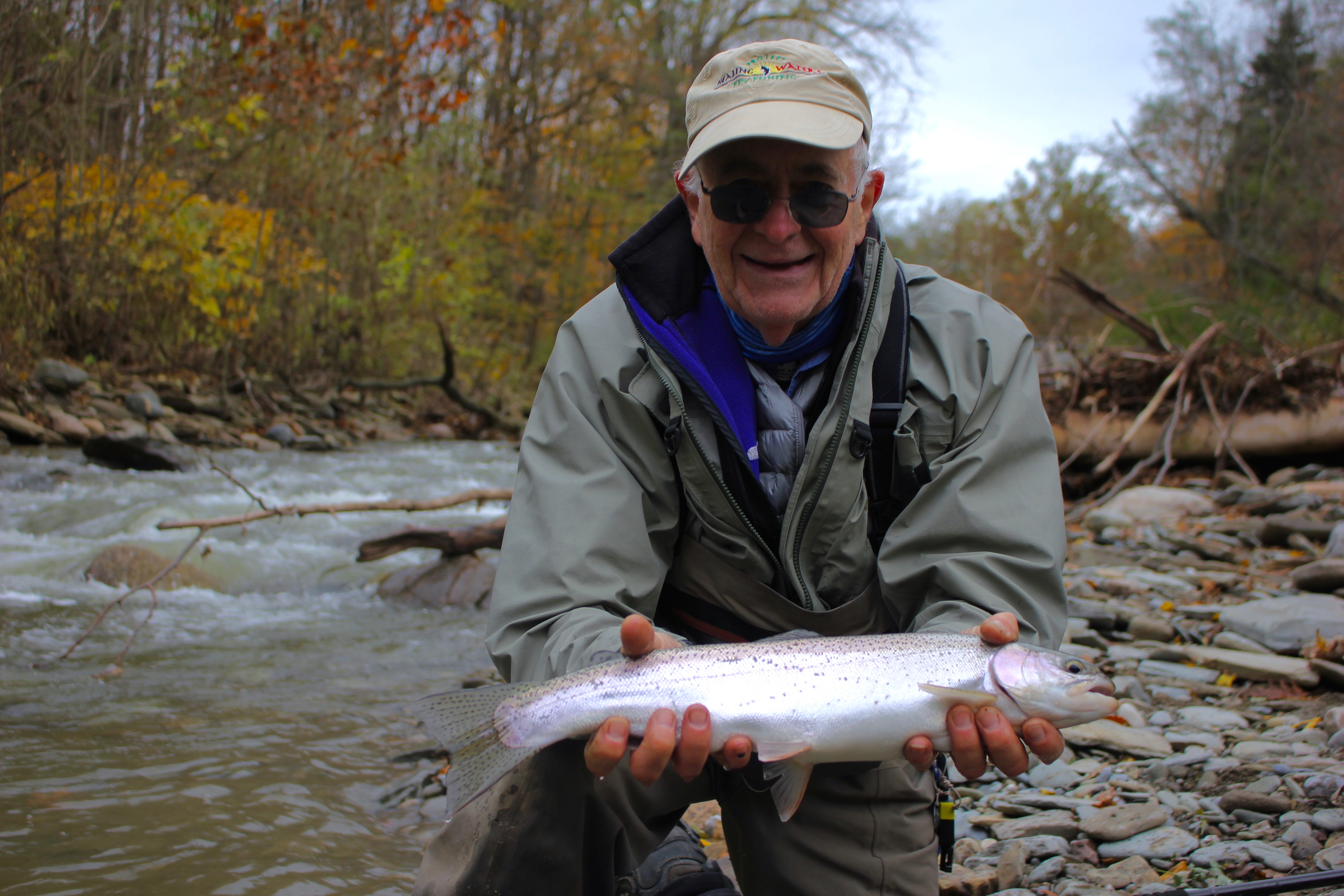 Sleek steelhead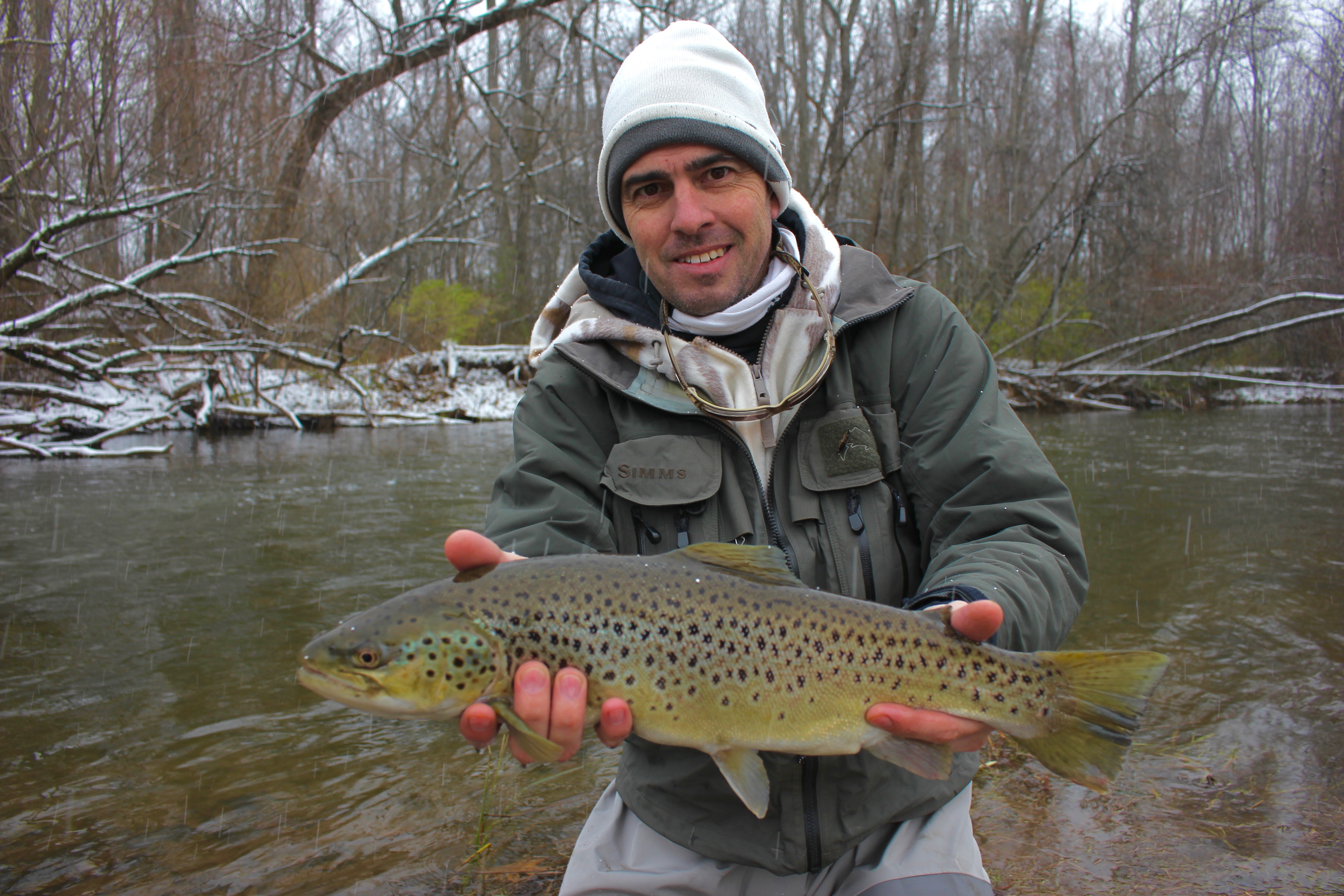 Nice brown on the swing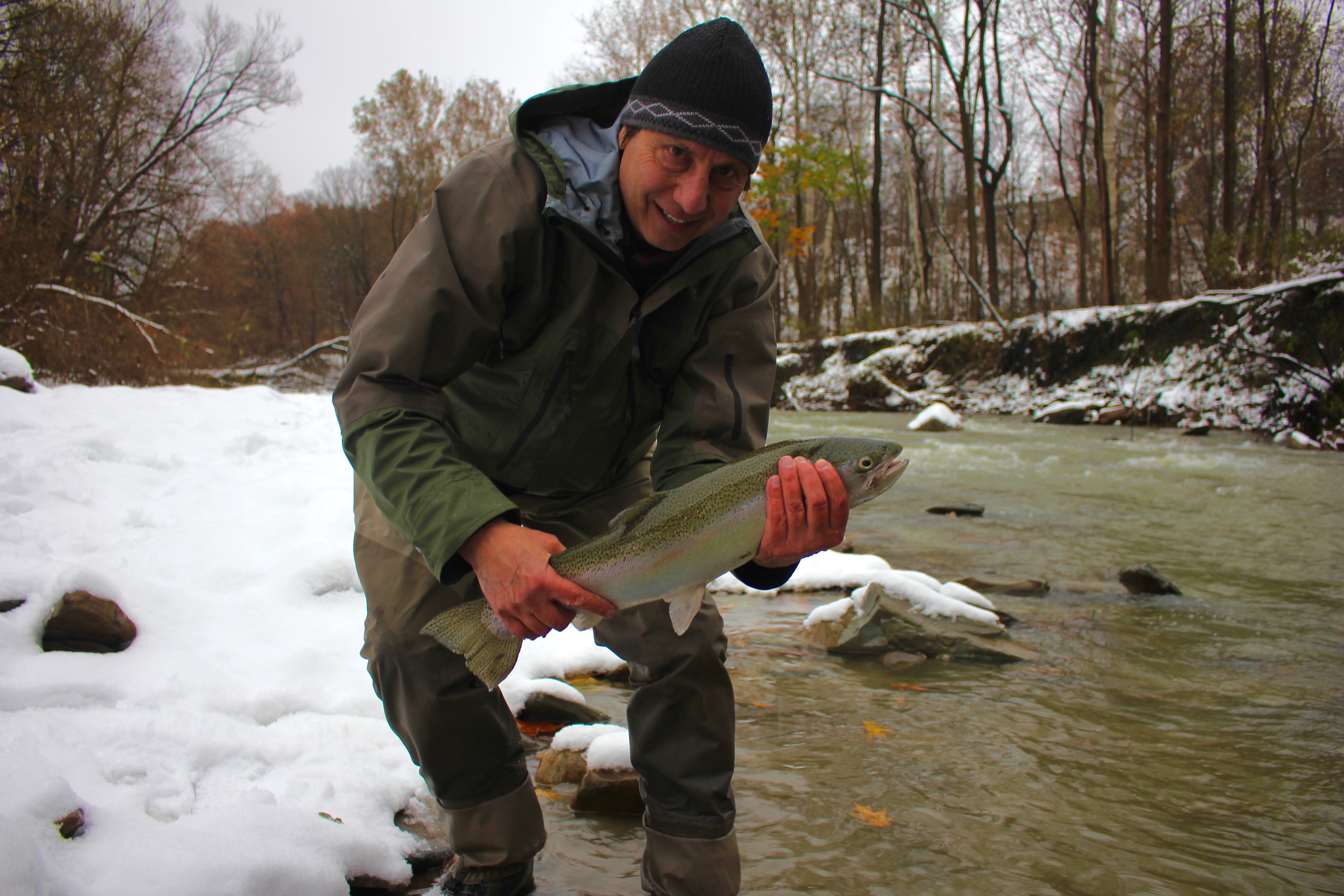 We've been seeing a lot in this size range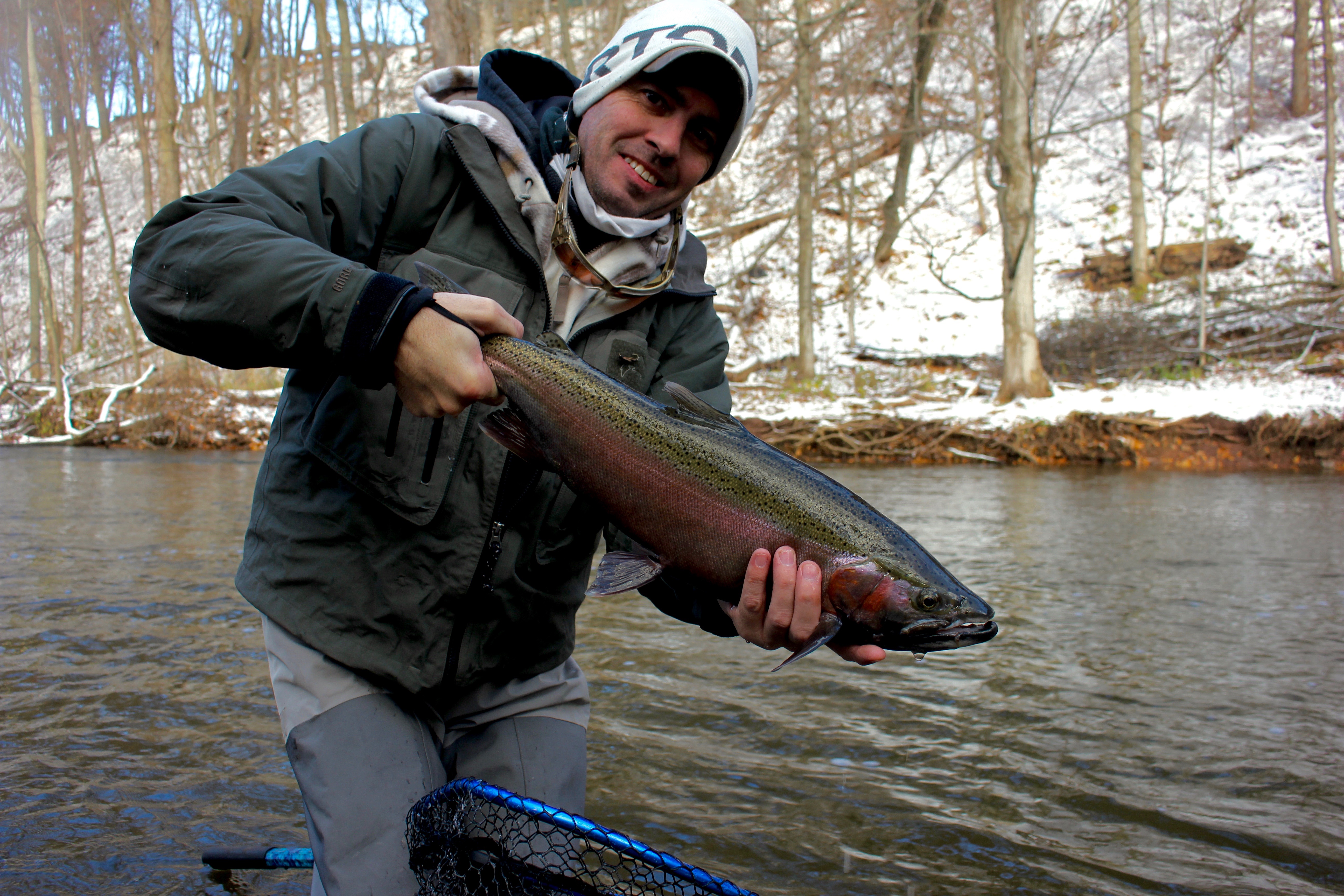 First trip out our way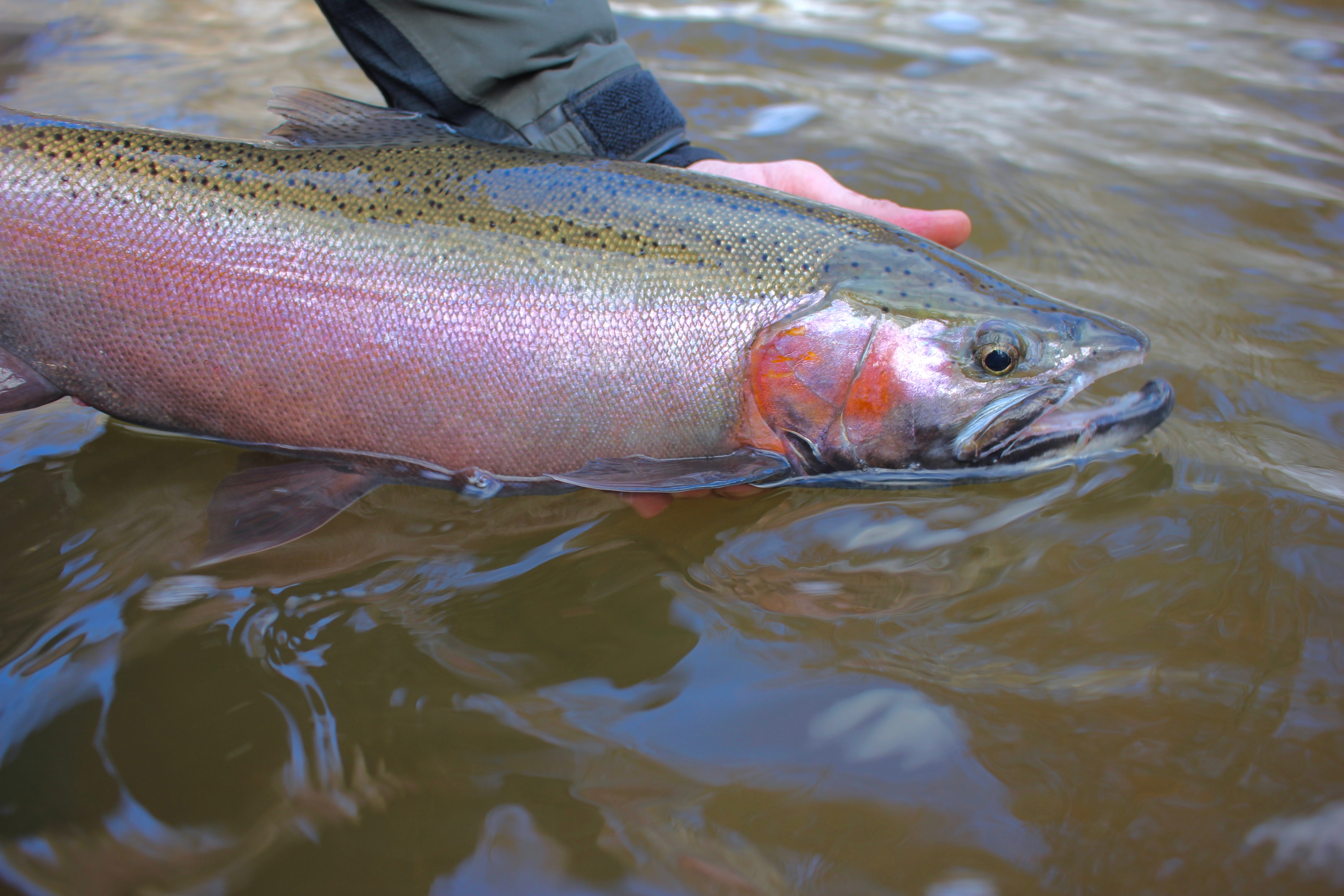 Close up
Jeff with a good fish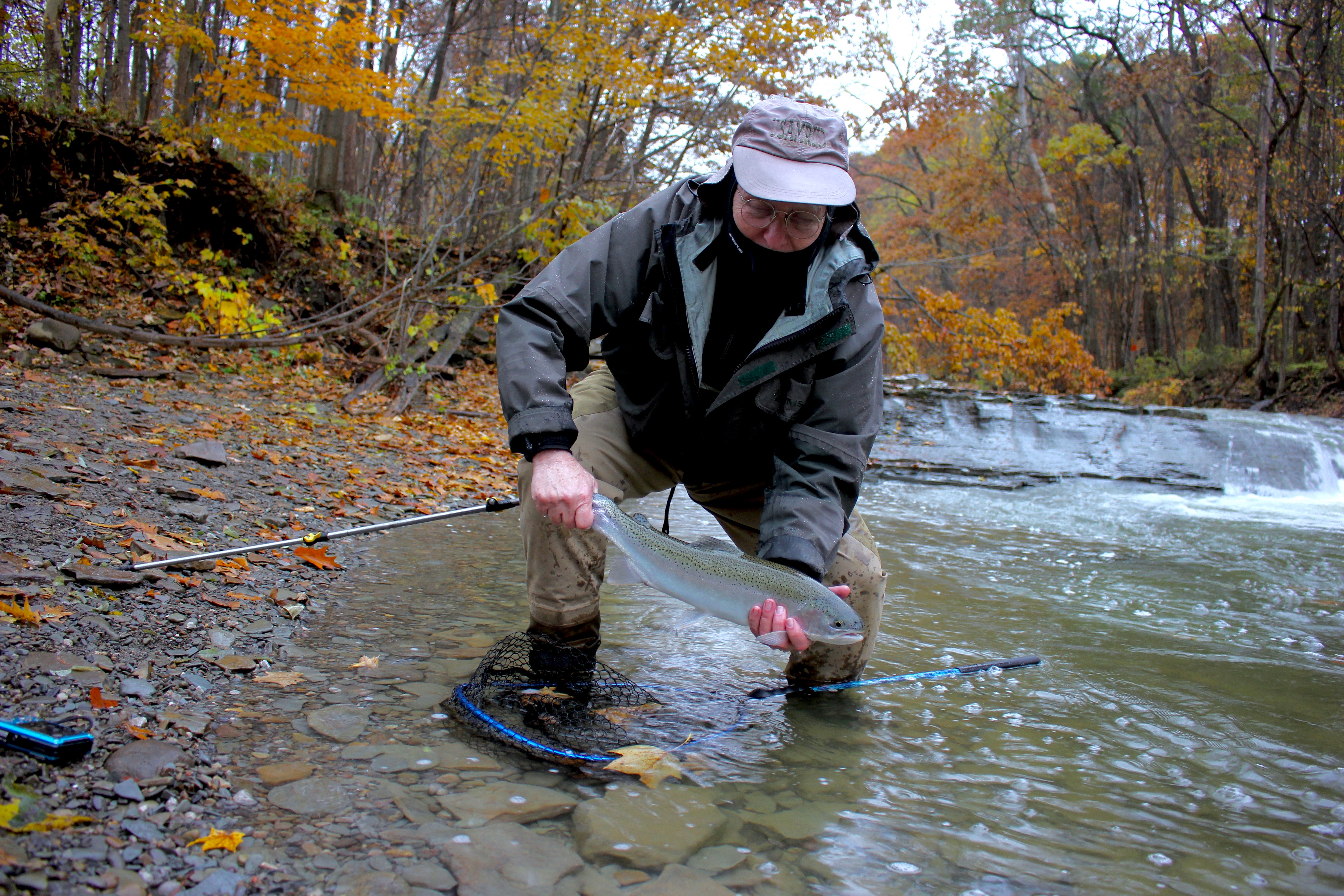 Nice steelhead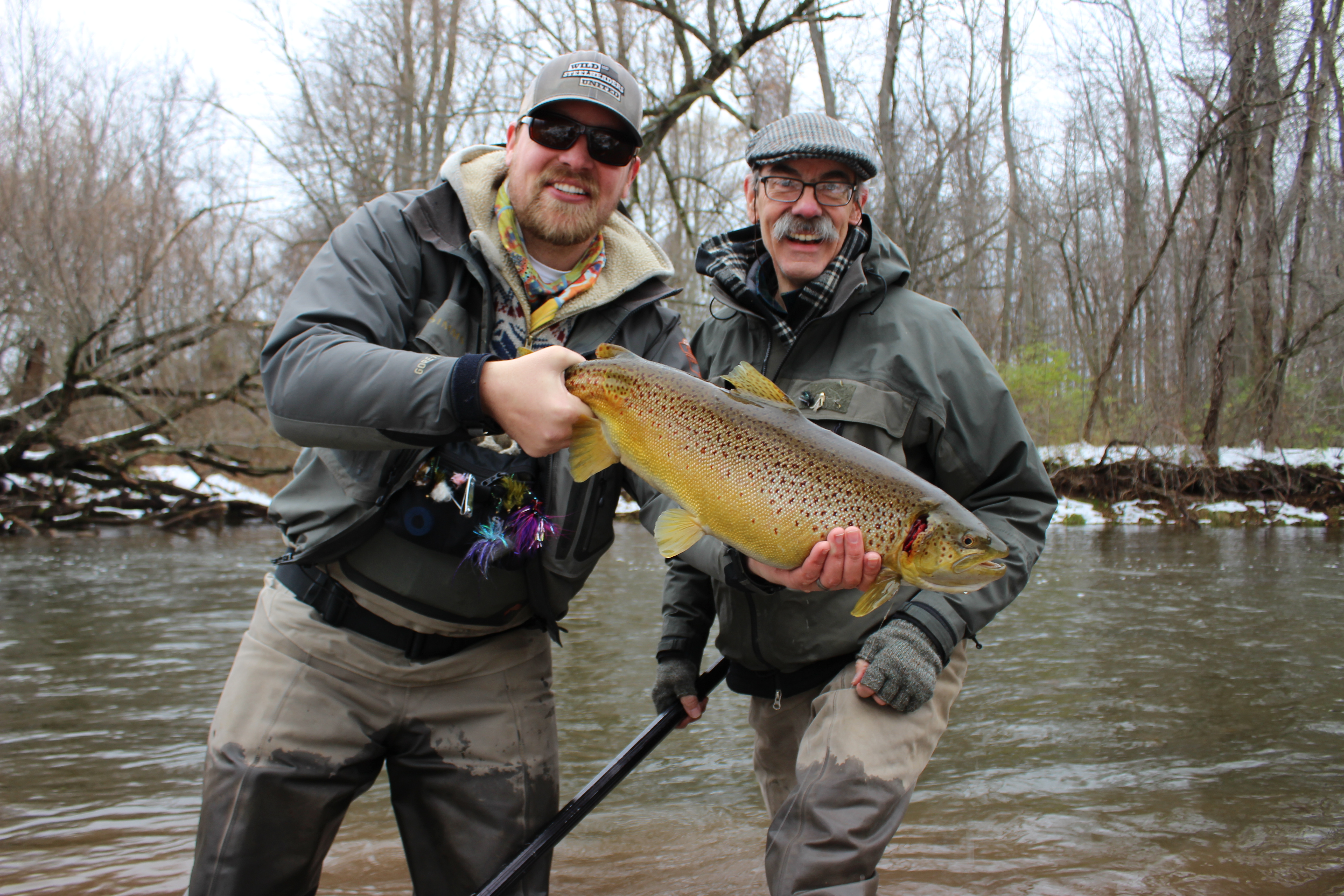 Me and Dad with a good one
Well, I had a couple cancellations, but it all ended up working out alright. I got to take my Dad up to chase lake run browns! Matt came with and his buddy Jeff, and between the four of us we lit them up. In a half day fishing, we netted 12, including a double with an 8 pounder and a 10 pounder in the net at the same time! Of the fish we landed, we even swung 4 up on the big stuff (the hangover strikes again!), with the rest coming under indicators. And I got to break in my 3 wt. trout spey on a couple of really nice fish (they were small- only about 6 pounds each, which was a good thing as they were all I could handle on a 3 haha). 
Tight Lines,
 - D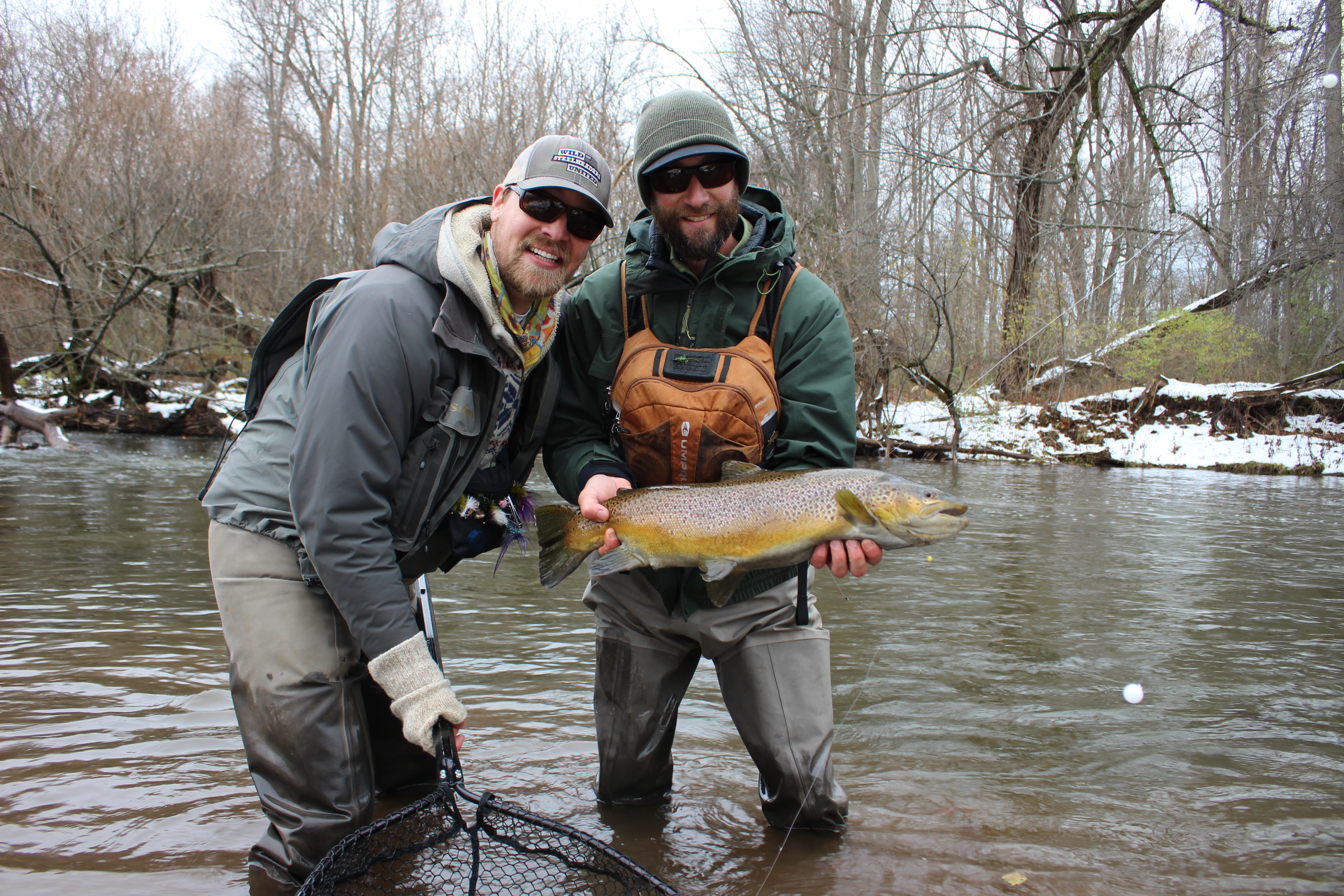 Jeff with a toad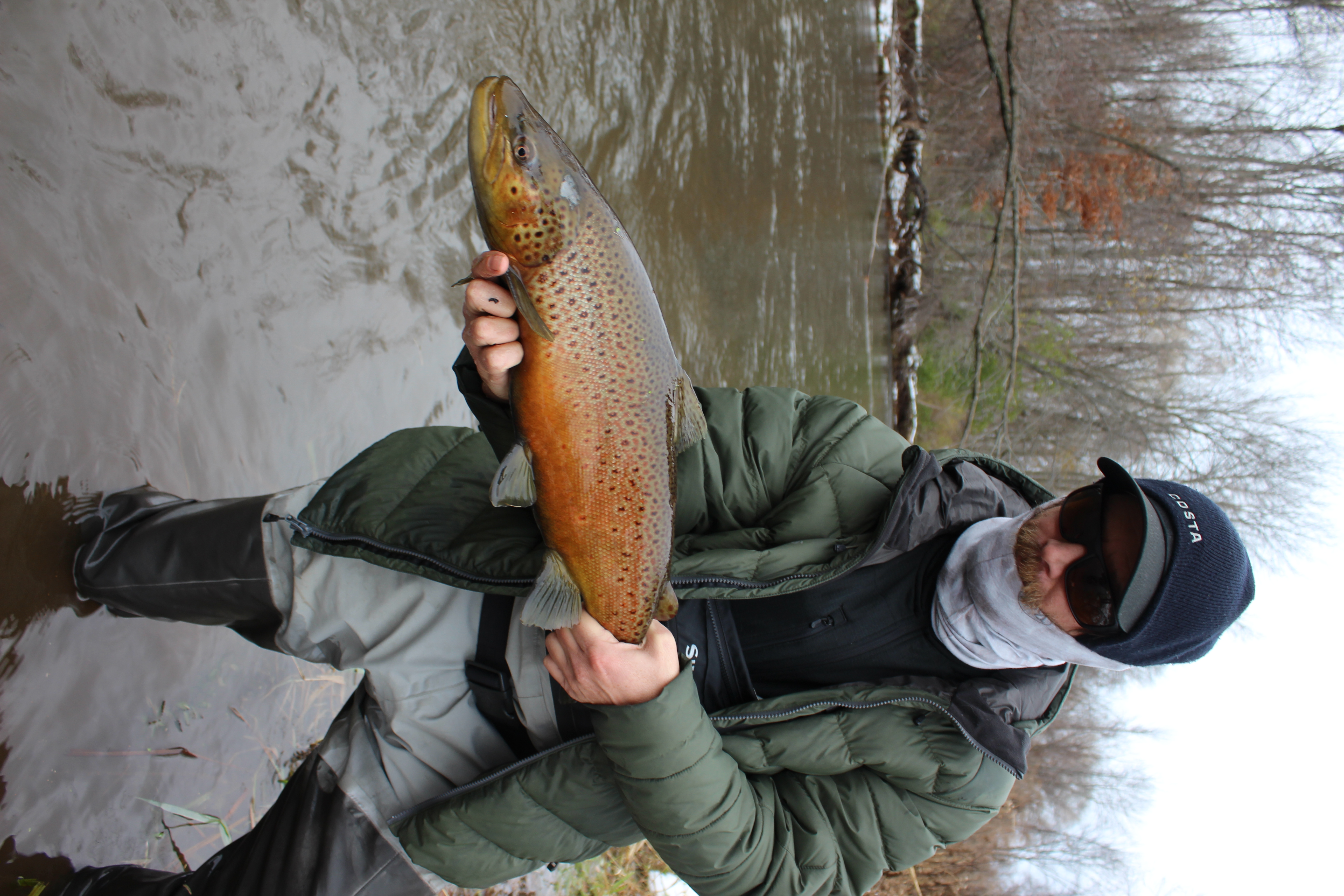 Matt with a really beautiful buck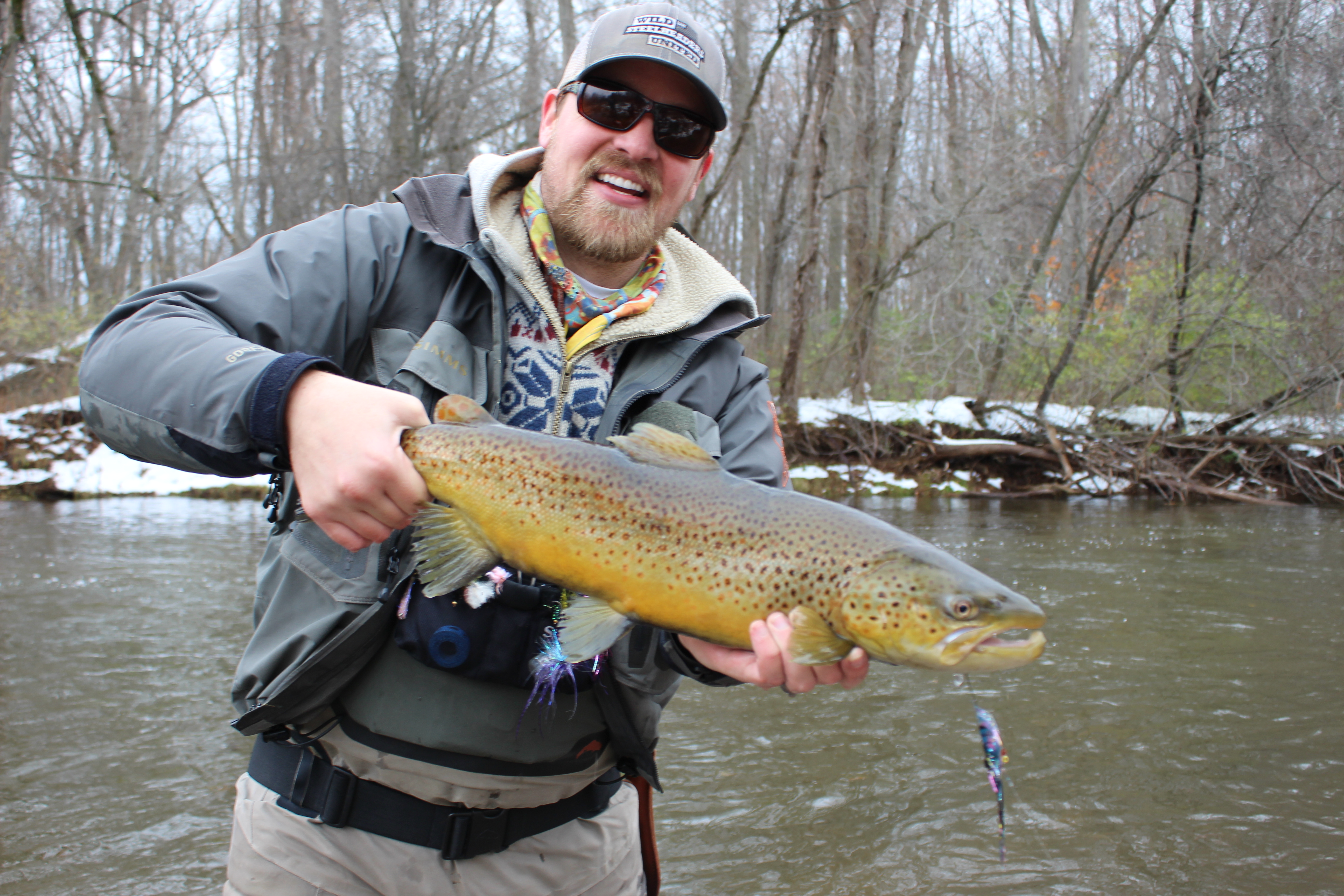 Hangover victim!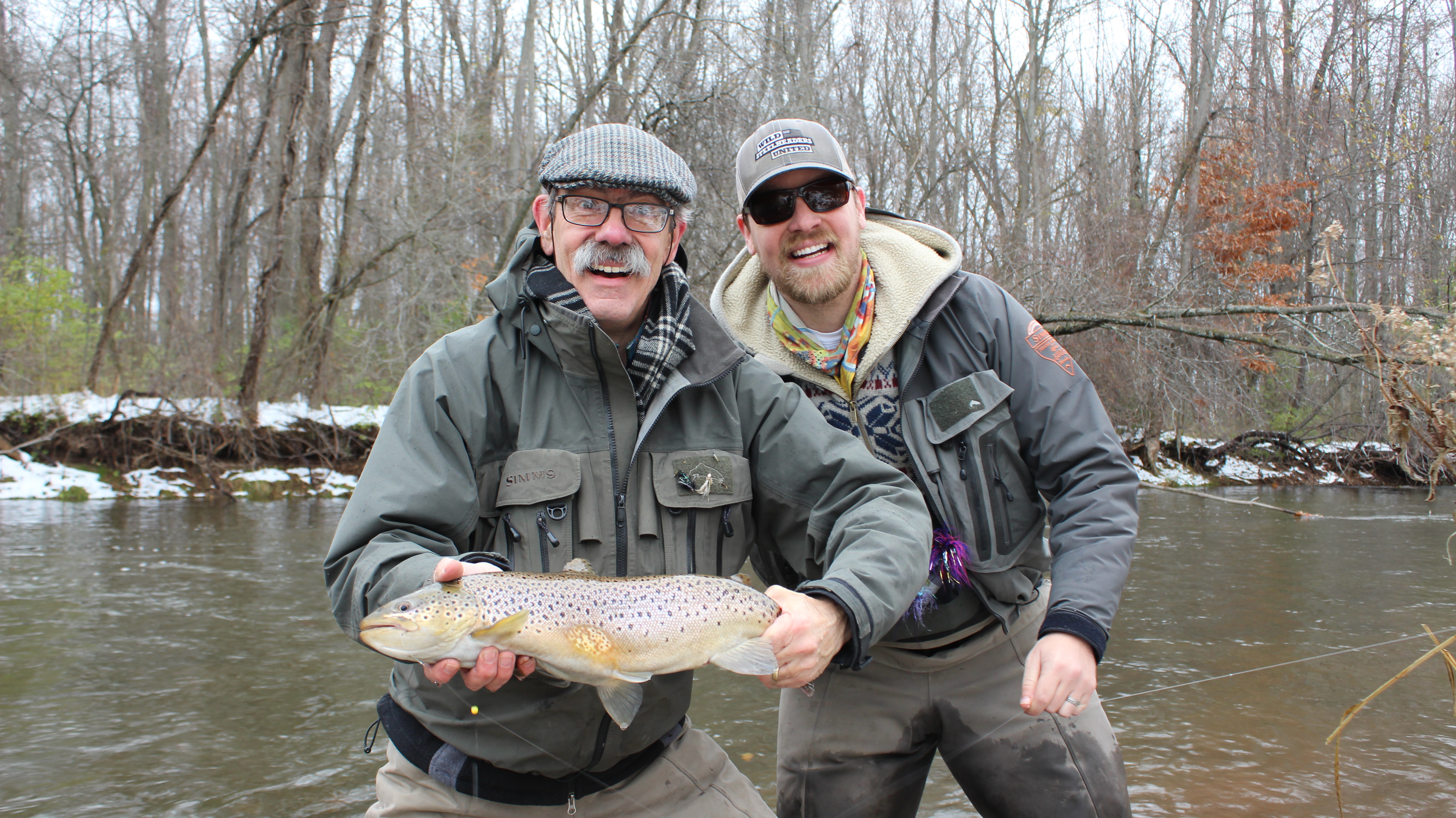 Another nice fish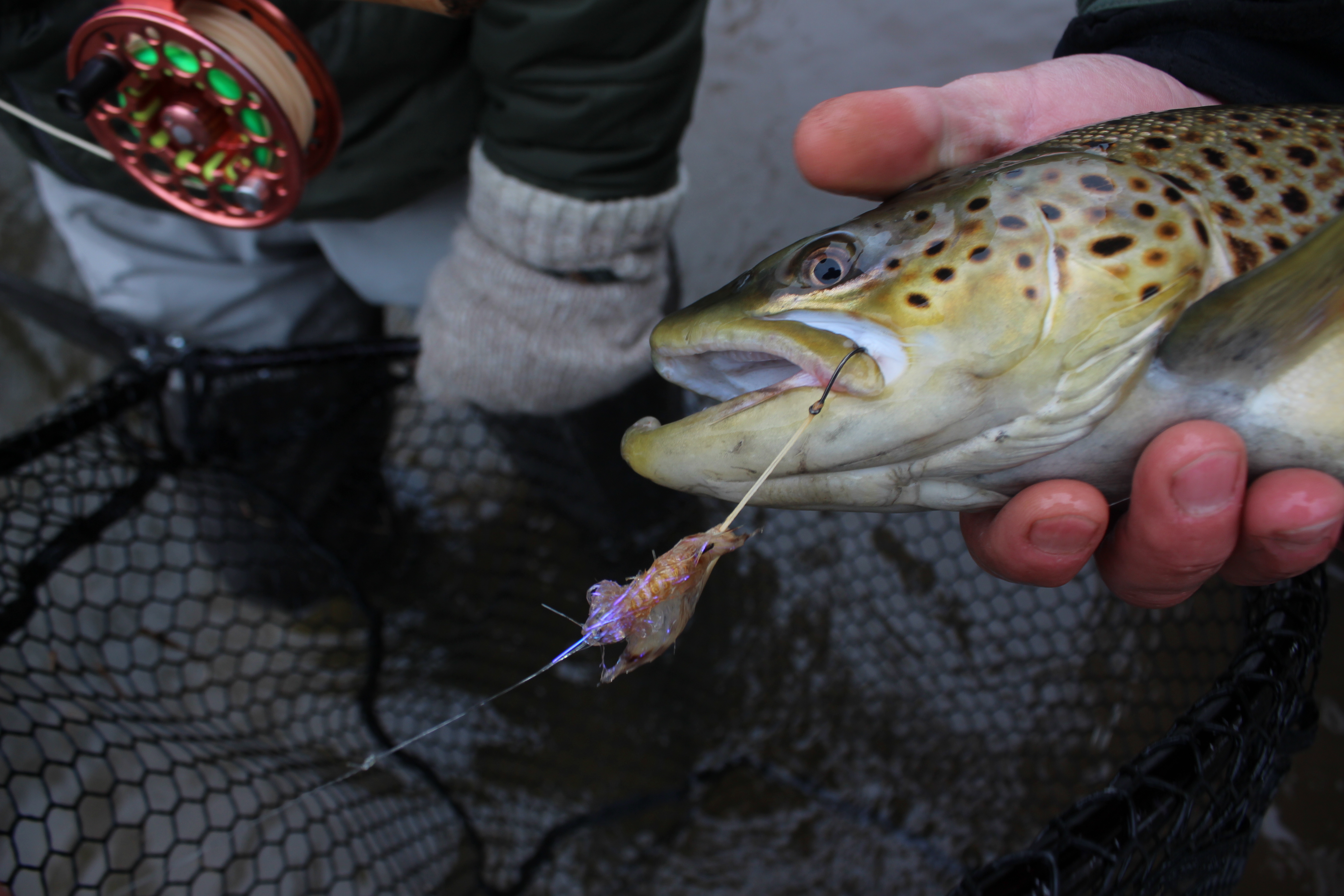 Another on the swing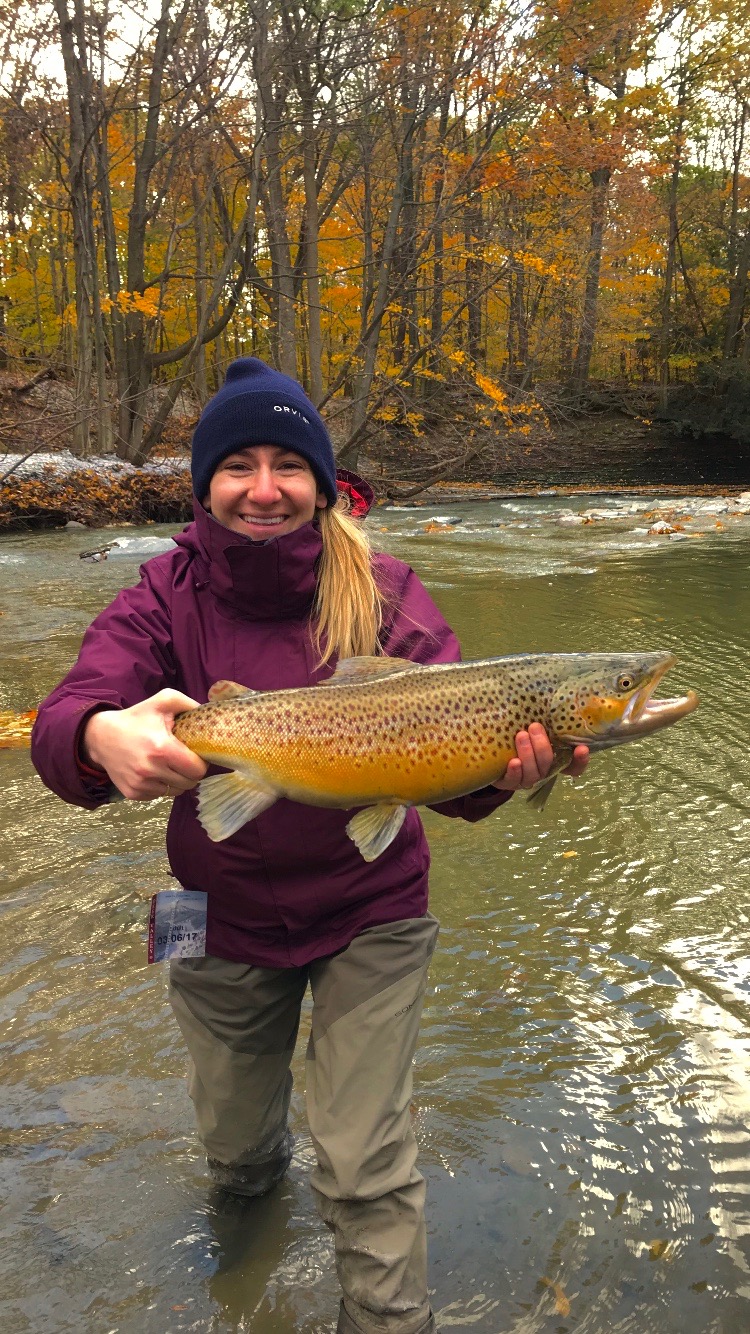 Jess with a nice brown in 20 degree temps 
Well we had a ton of water a week ago Sunday. Many of the creeks changed around quite a bit. Then the bottom fell out of the temperature. On Friday it was 18 degrees at 3 pm. But we were still finding fish. Art and Jess joined me for three days and we caught a nice mix of steelhead and browns. Some bigger fish are in mix as well. Looks like we should have good fishing through the rest of the year, weather permitting. On a seperate note, I apologize for the upcoming radio silence that will last a few weeks. My wife and I bought a house and are right in the middle of moving everything, so that's gonna be eating up quite a bit of my time. But get out there, the fishing is good!
Tight Lines,
 - D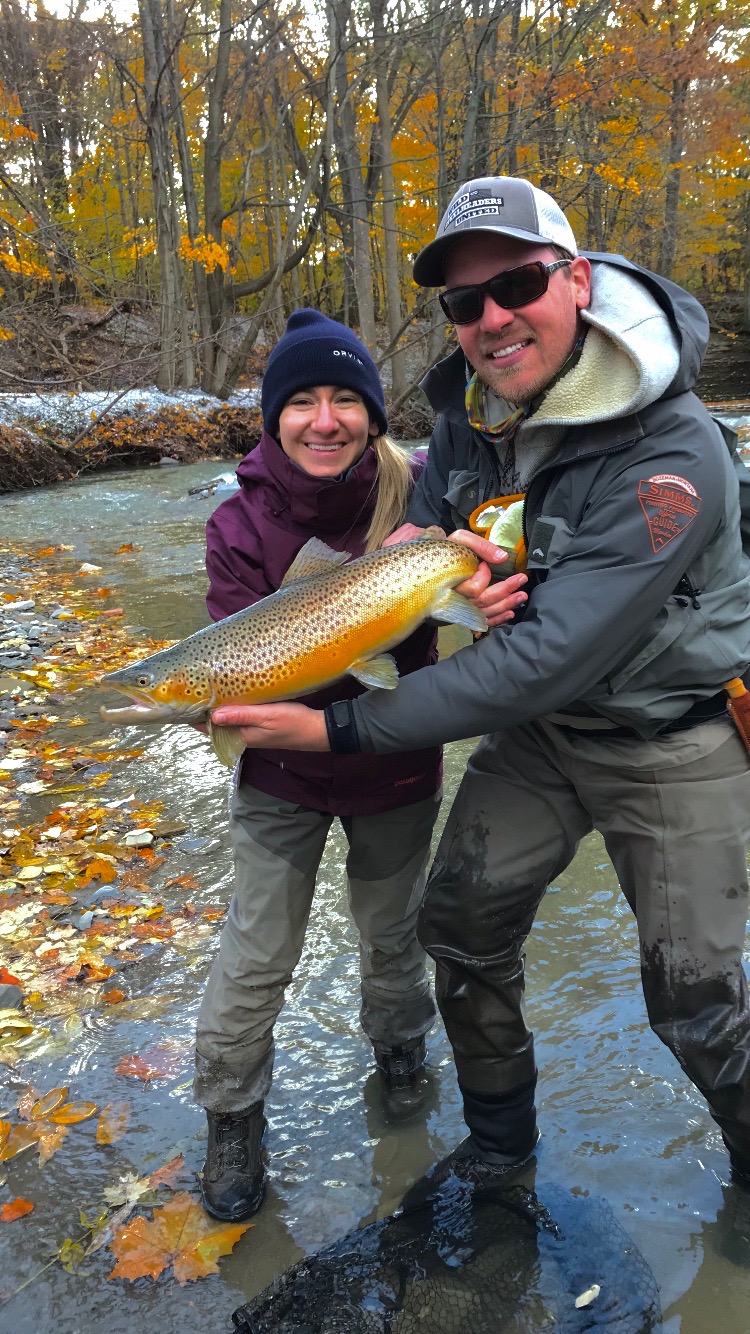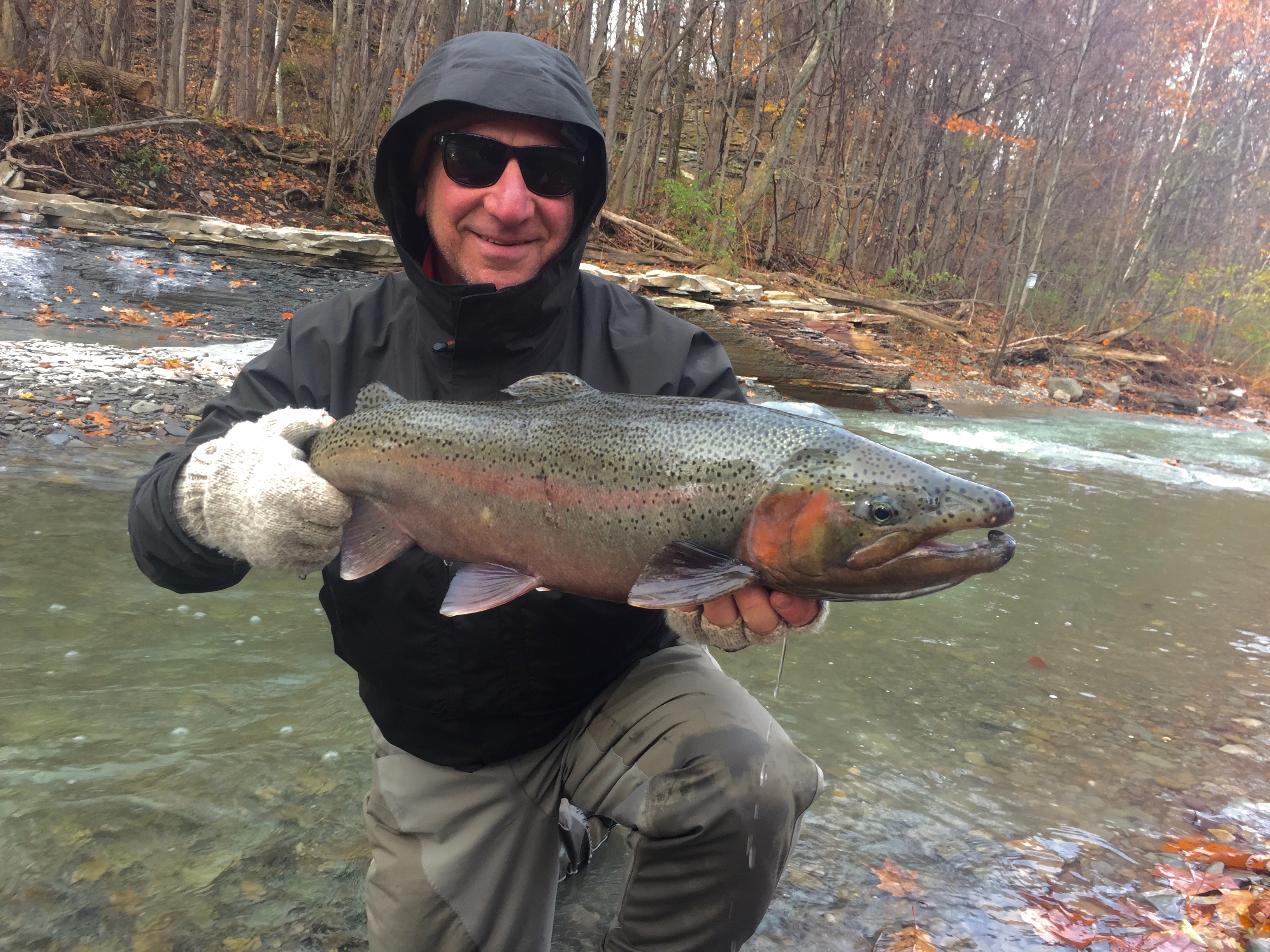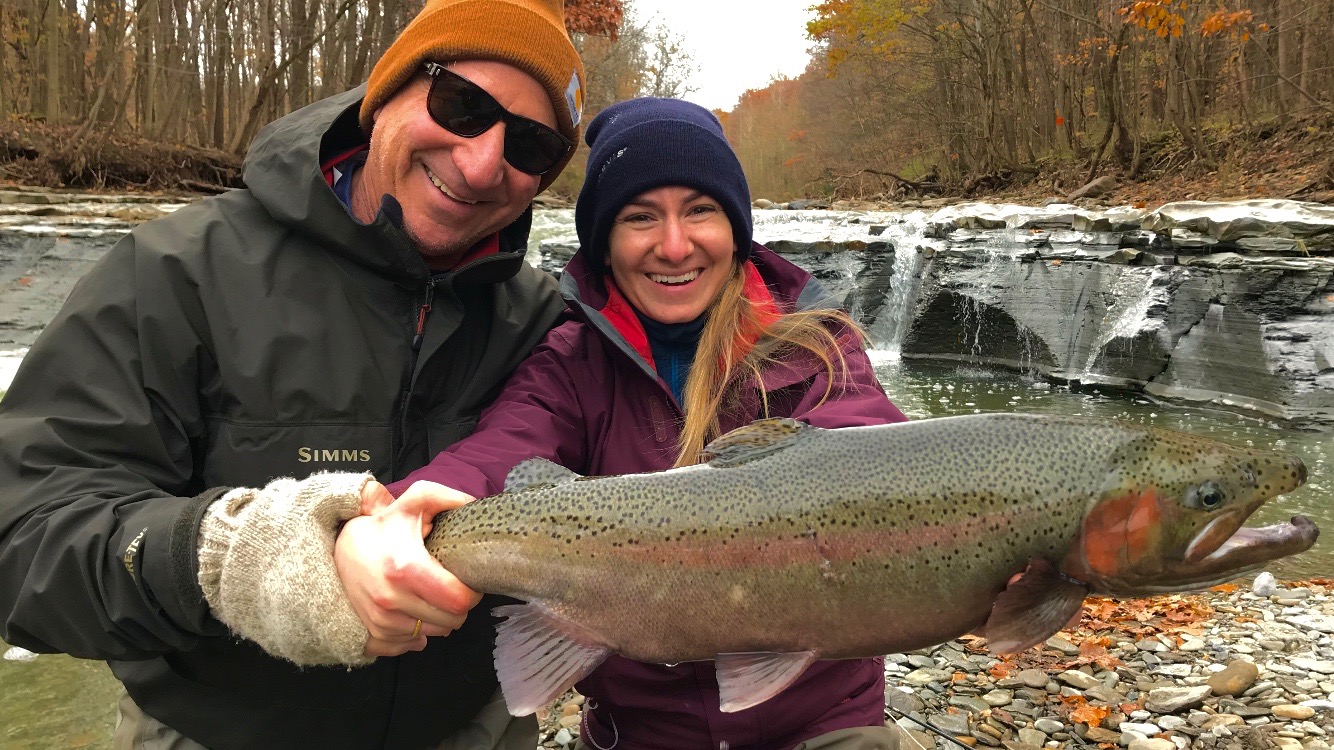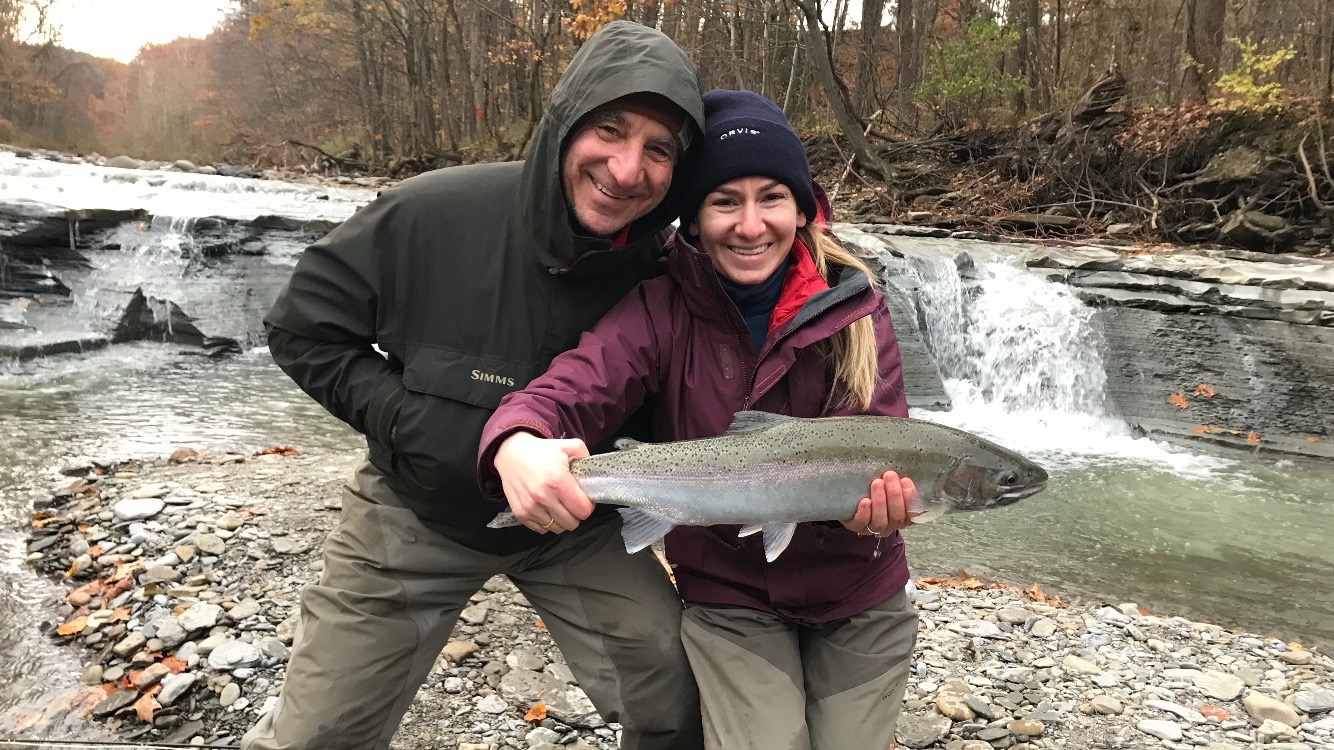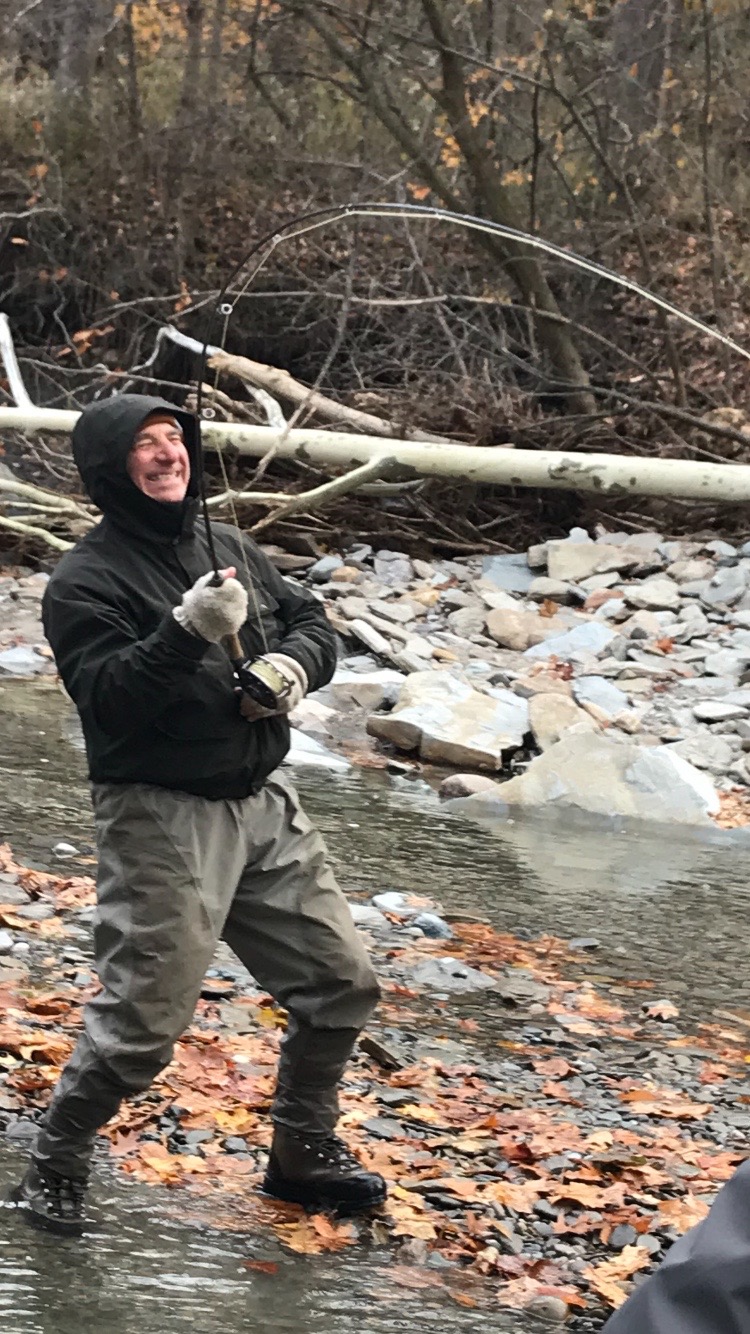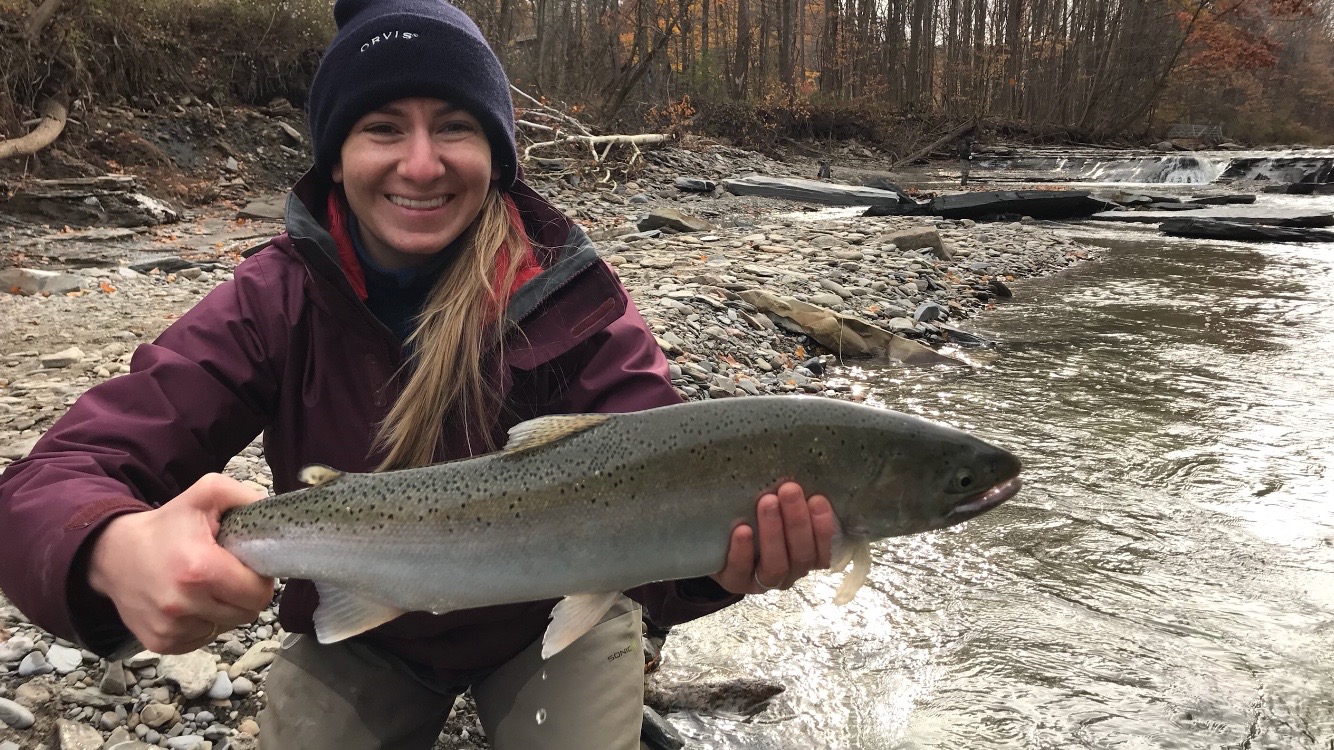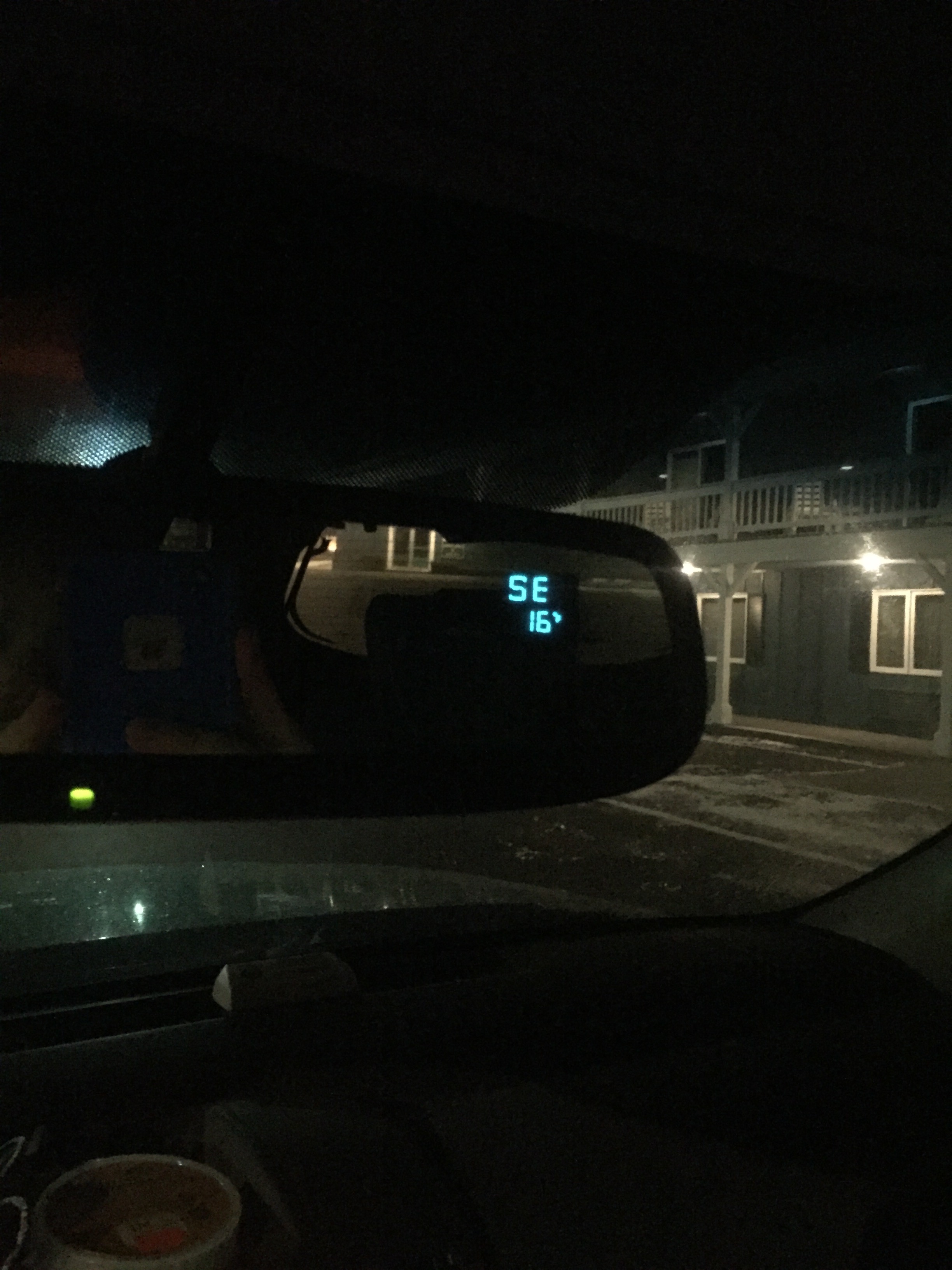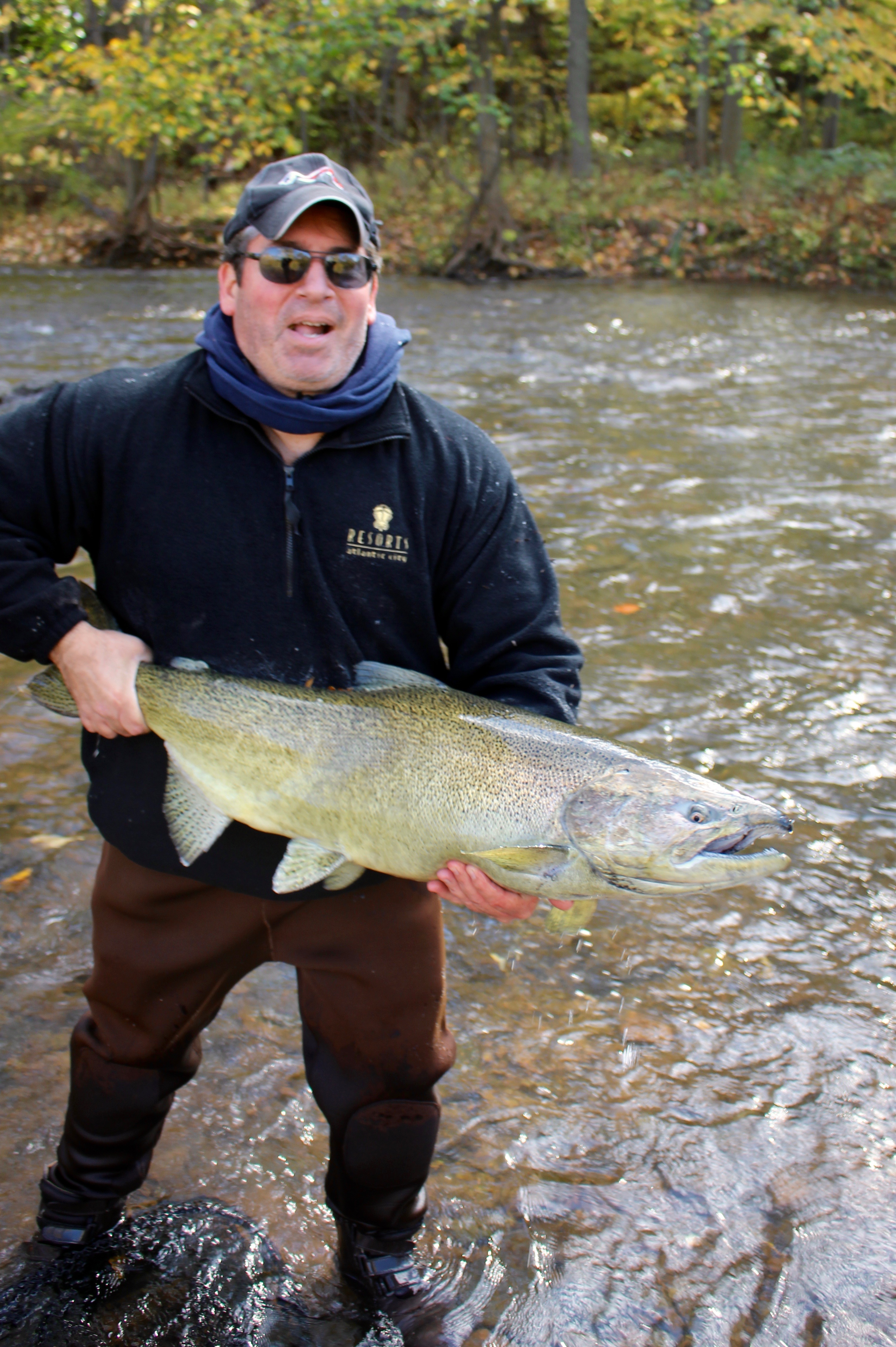 Still lots of big, fresh salmon in the Western New York creeks
Just finished a few days on the Ontario tribs. Fishing was hot. Tons of nice fresh kings still moving in, fishable numbers of browns, and though not actually steelhead, a good amount of lake run domestic rainbows too. Domestics are pretty easy to tell from steelhead in that when they enter the creeks from the lake, they have the traditional red cheek and stripe like a red band rainbow does, and are not chrome like the washington steelhead strains that are used. Plus domestics usually spawn from late October through early January, and we definitely saw females digging. If I remember correctly the domestics New York uses originated from upper Columbia river stock so there may be anadromy in the genes, but it's tough to tell for certain.
Anyways, fished with father and son team Mo and Jim and though we were really trying to find browns, there were just a lot of fresh kings pushing in so we spent a good amount of time with them. We did get some really nice browns too, but the run is really just starting with how dry the beginning of the month was. Then Justin came back up to fish with me, again targeting browns. First day he caught the grand slam of king, coho, rainbows, and browns. Justin did well on the trout, even landing a 30" fat hen brown that probably went 12-13 pounds or so from her girth. So in all, great fishing. 
Check out the pics and tight lines,
 - D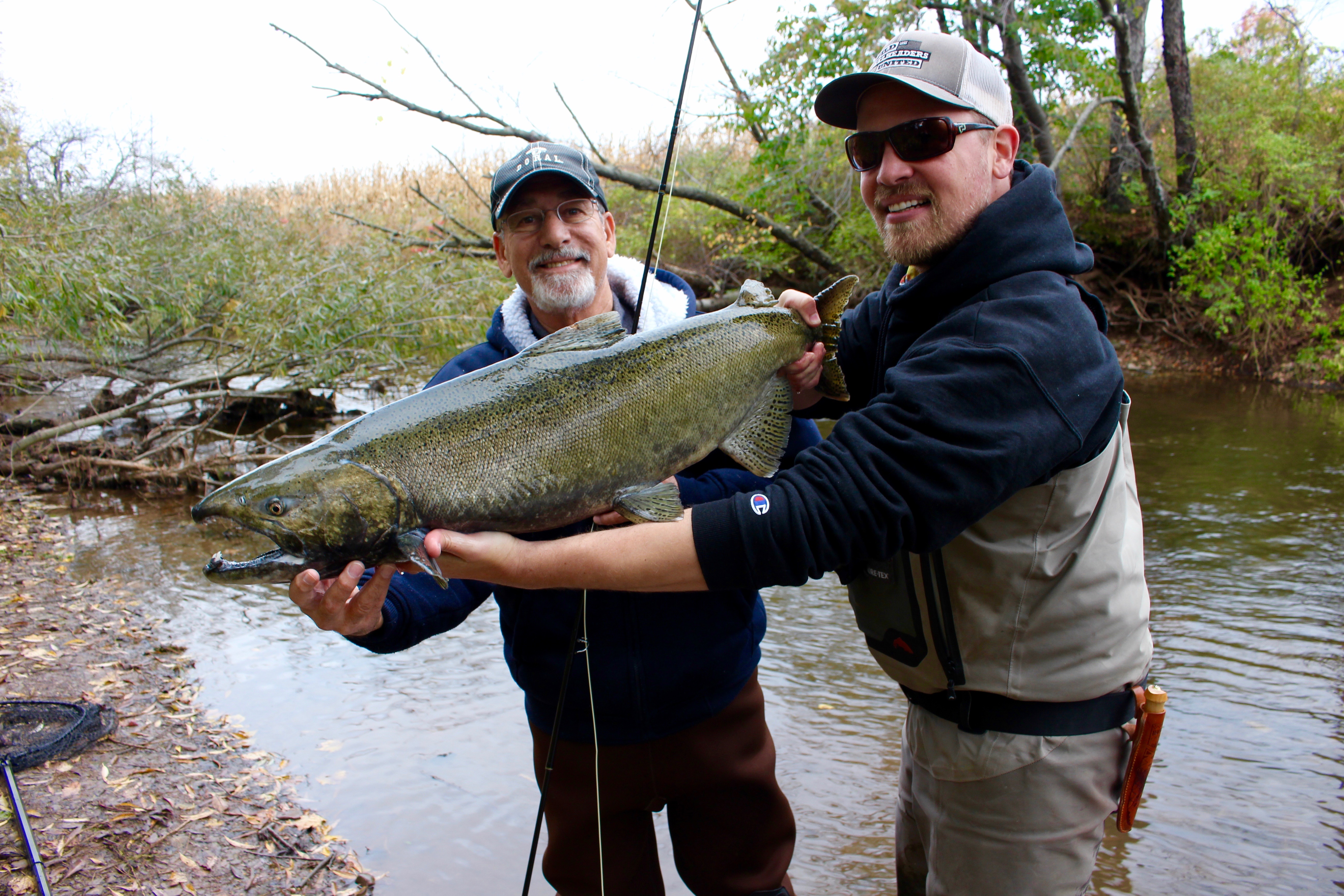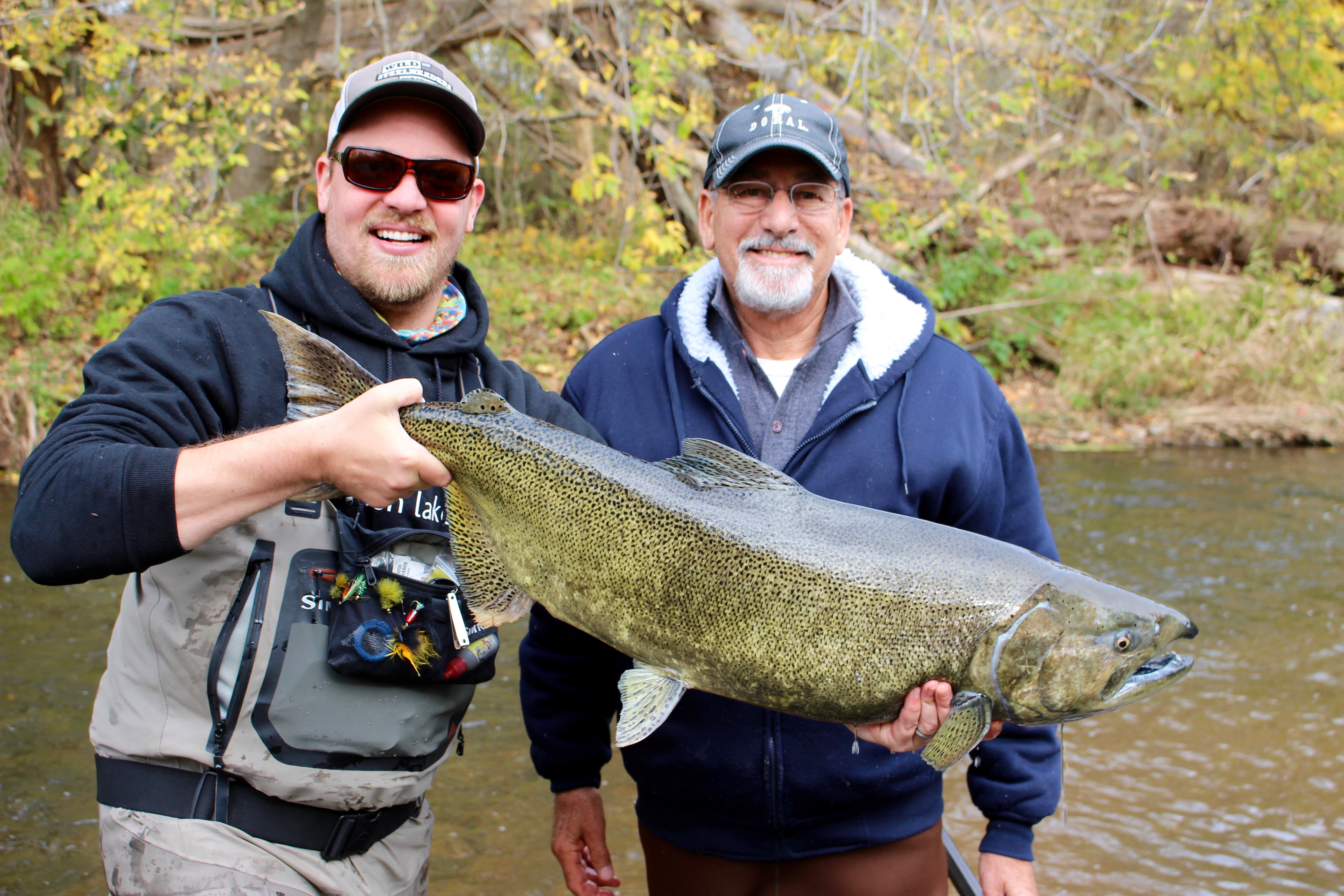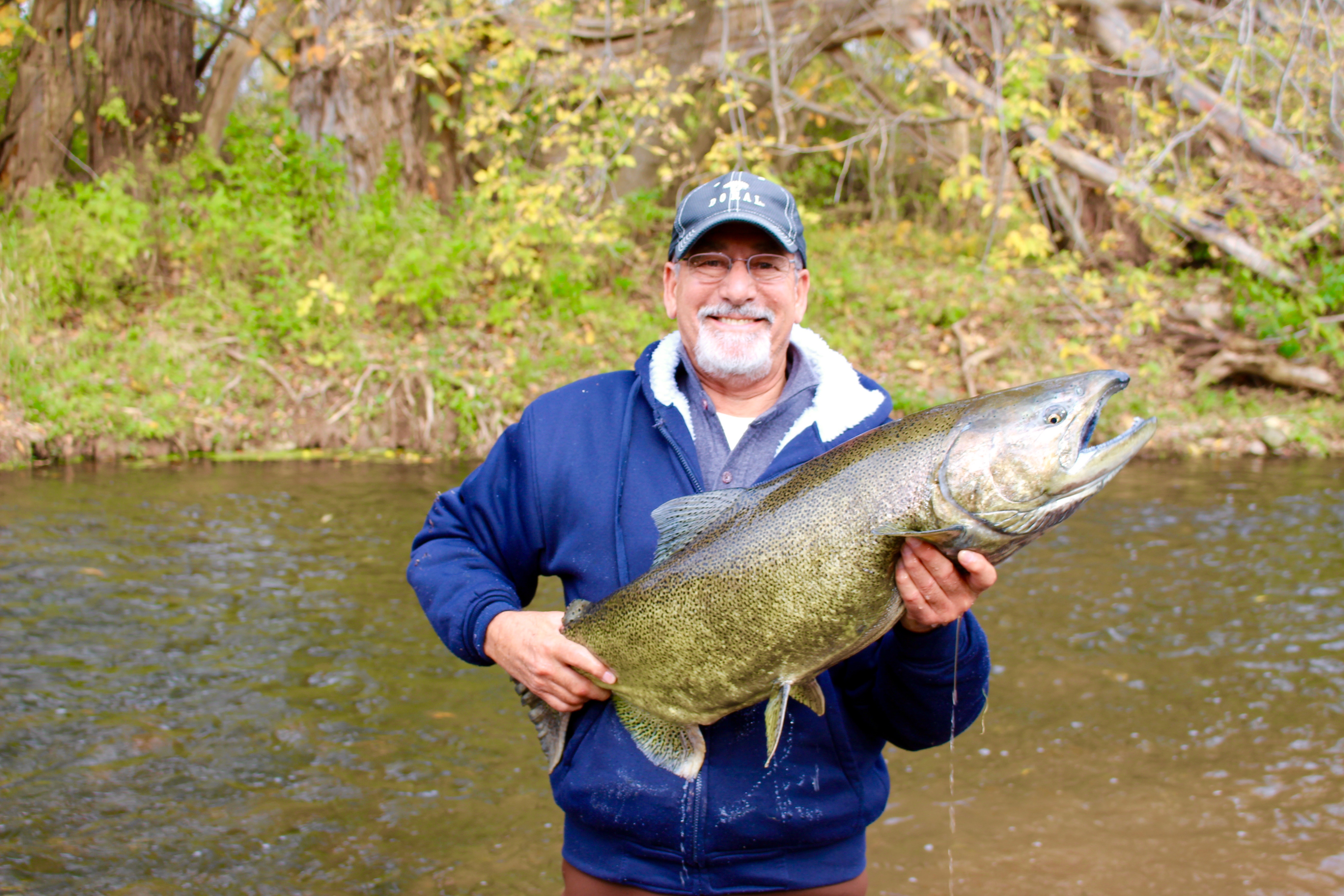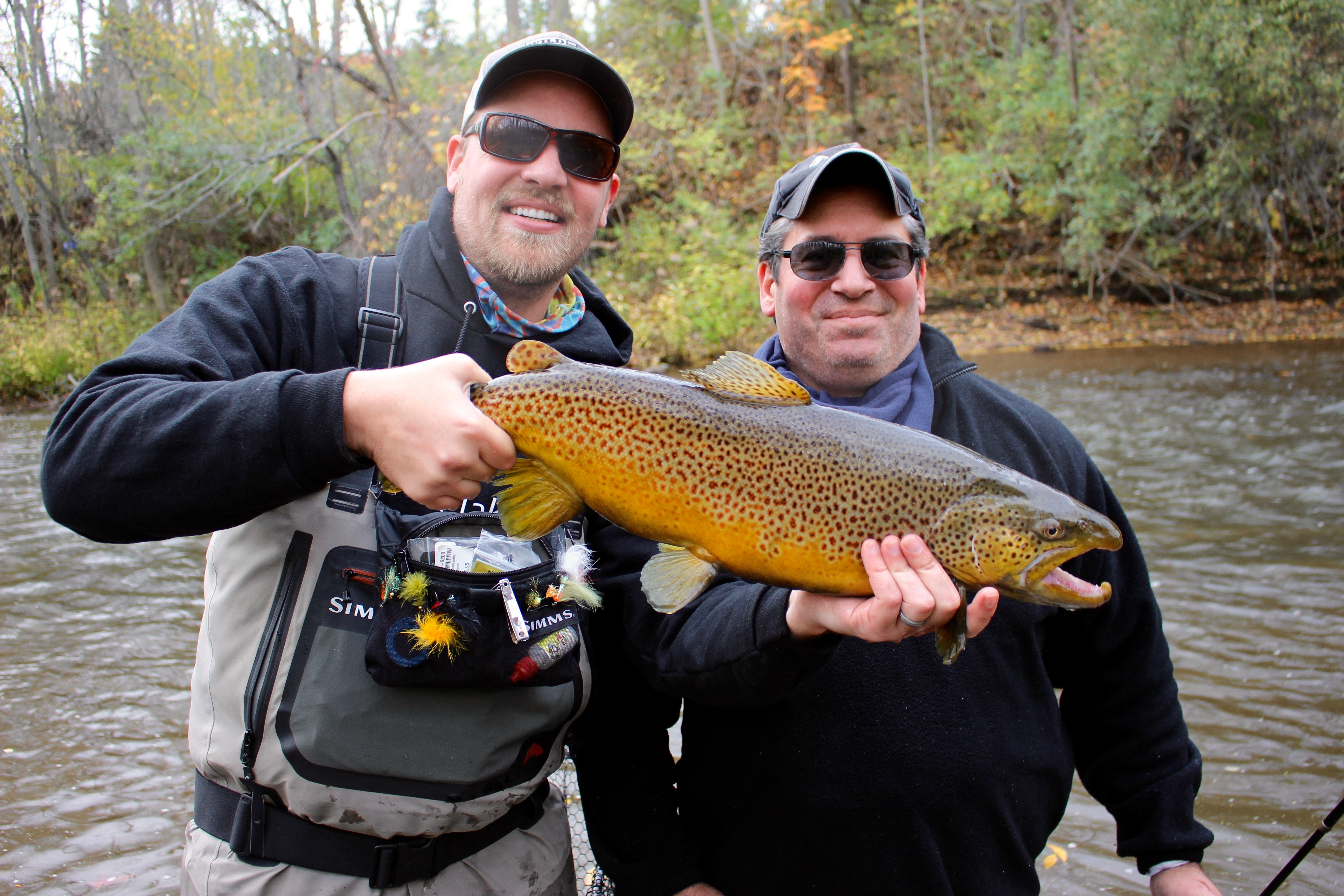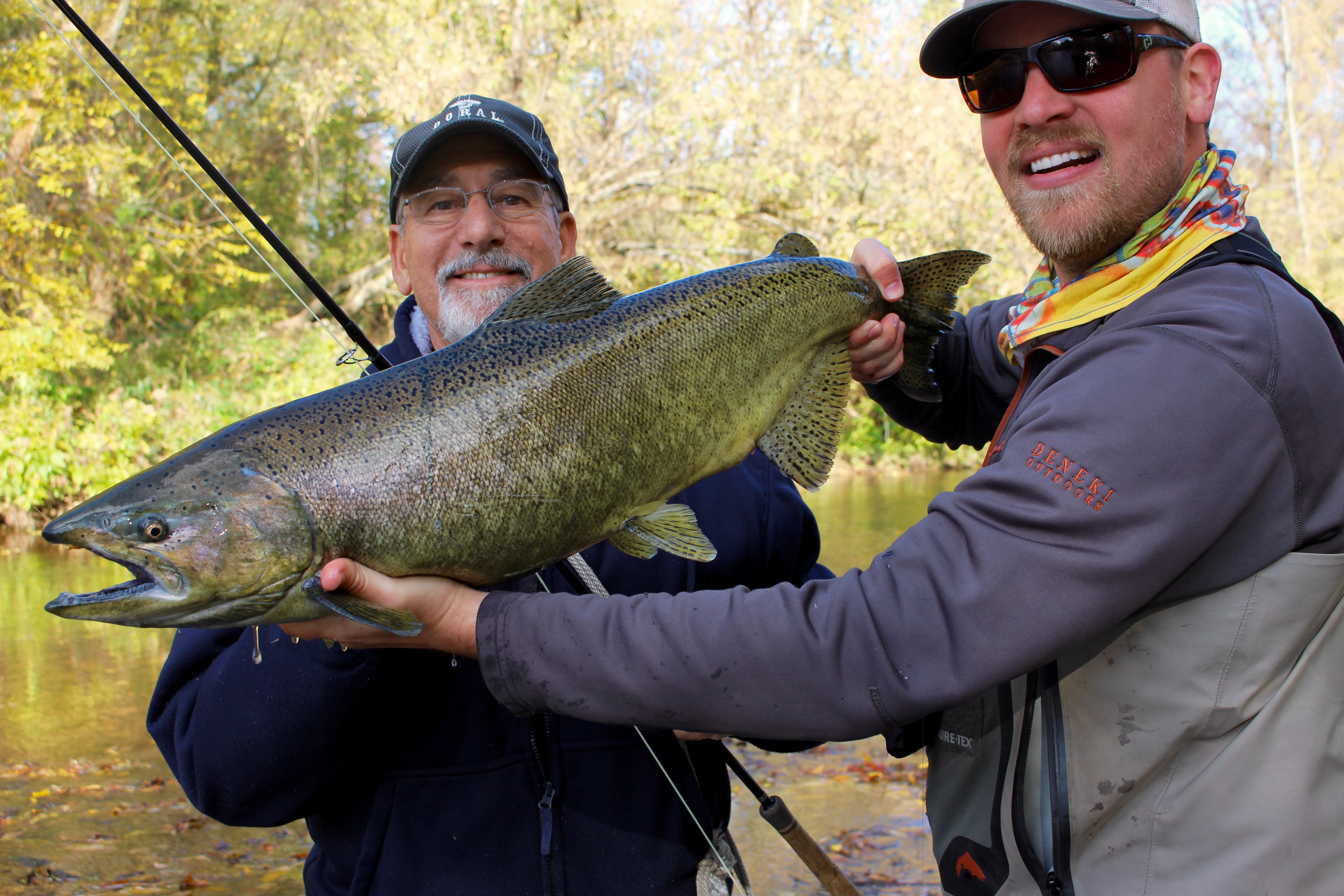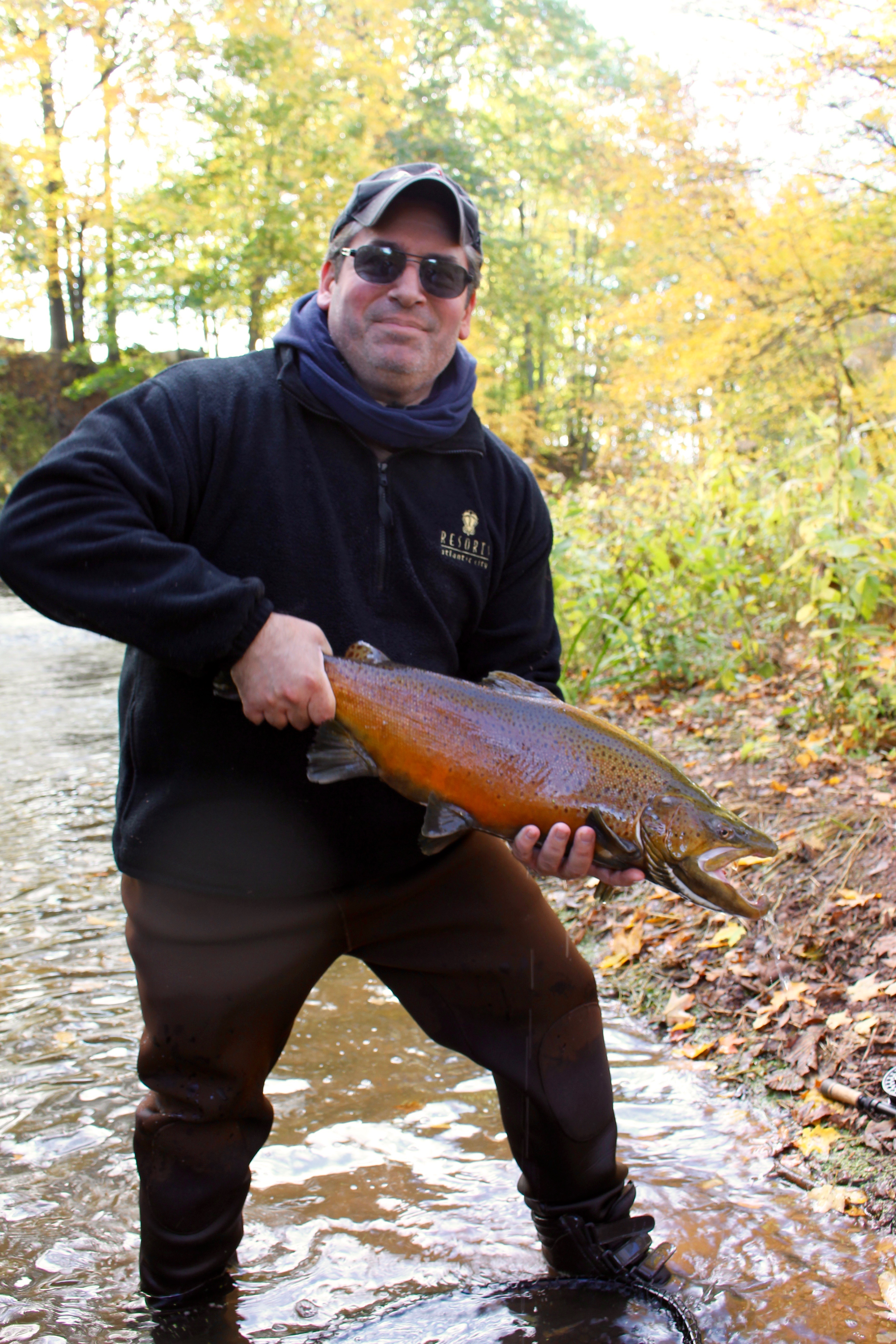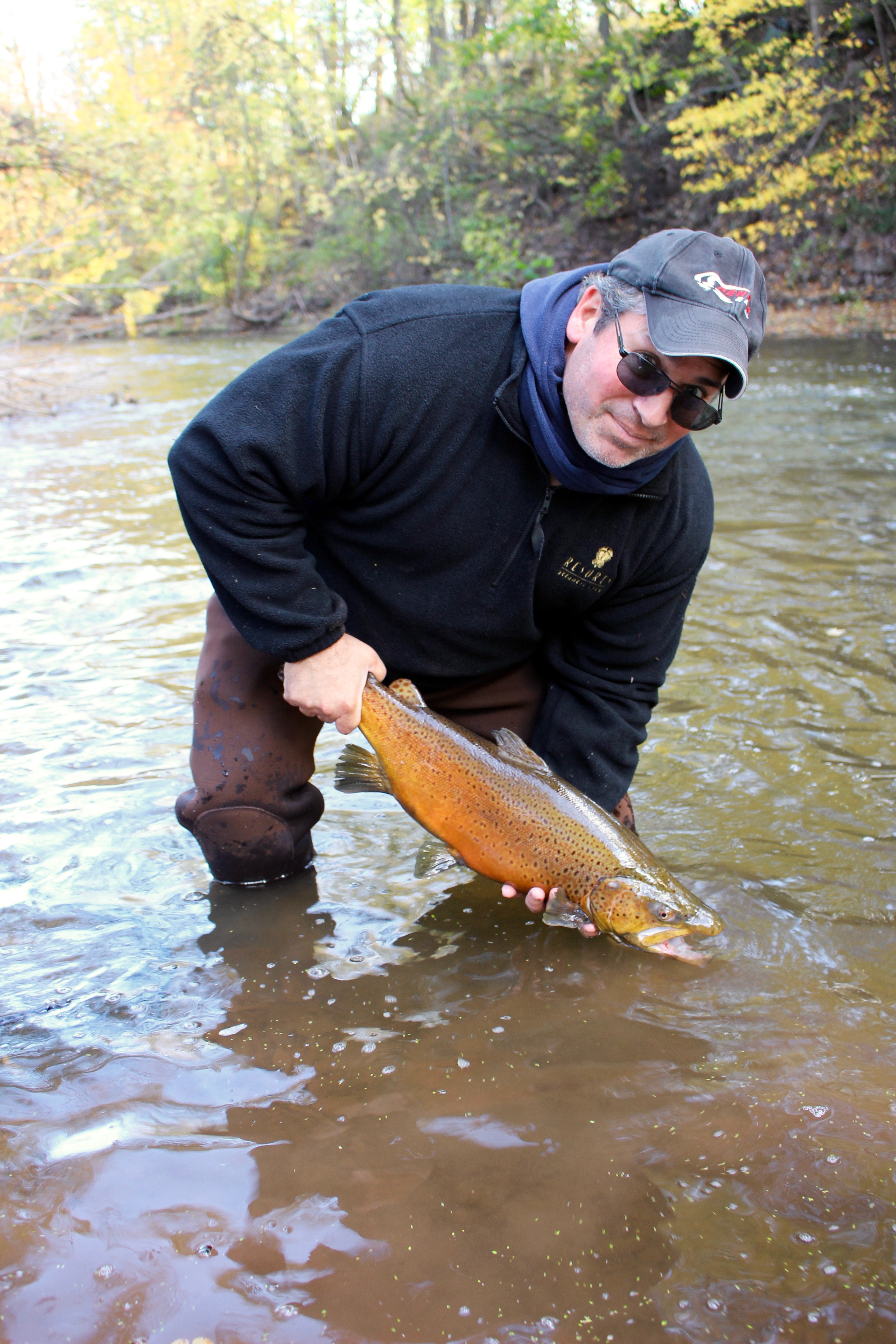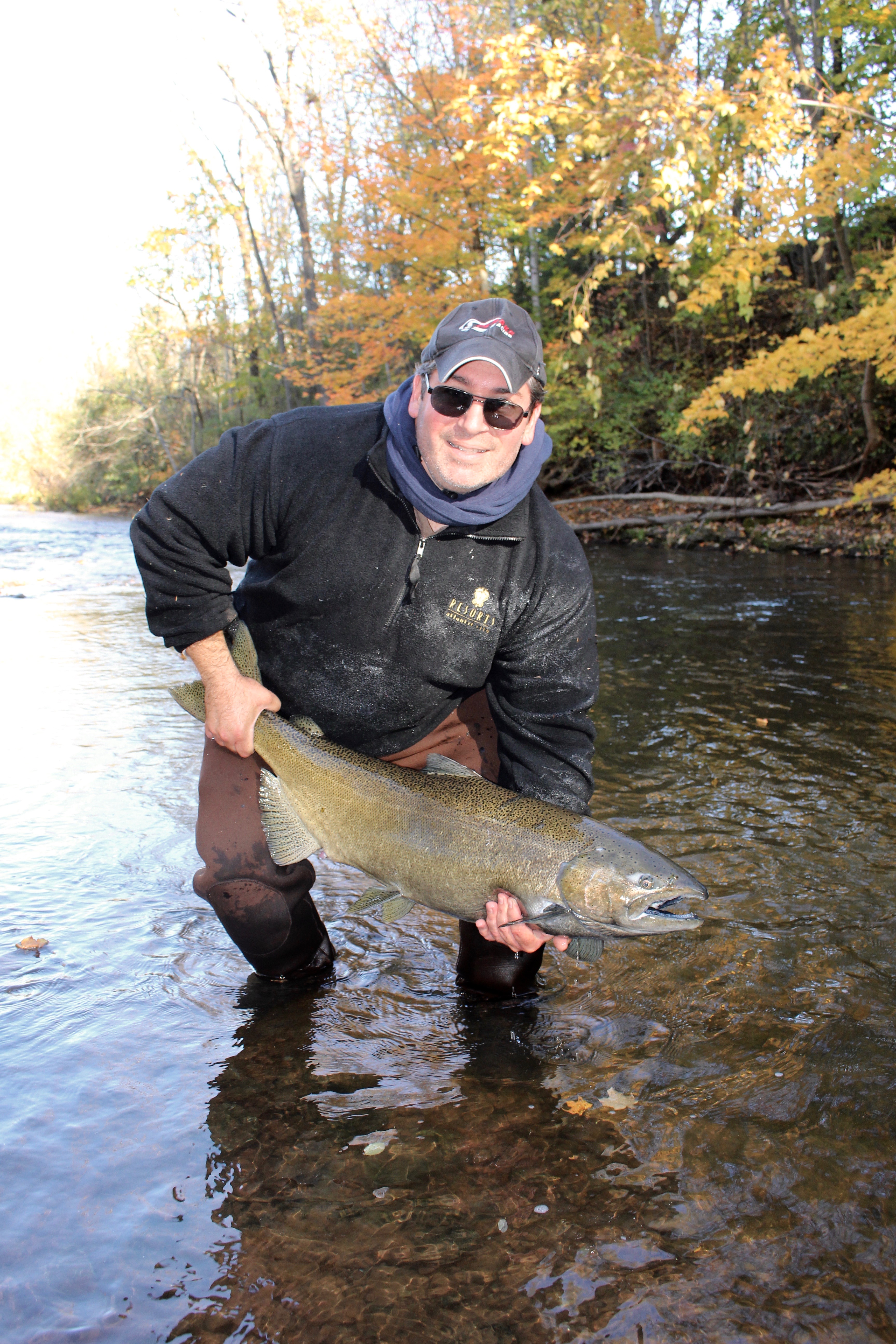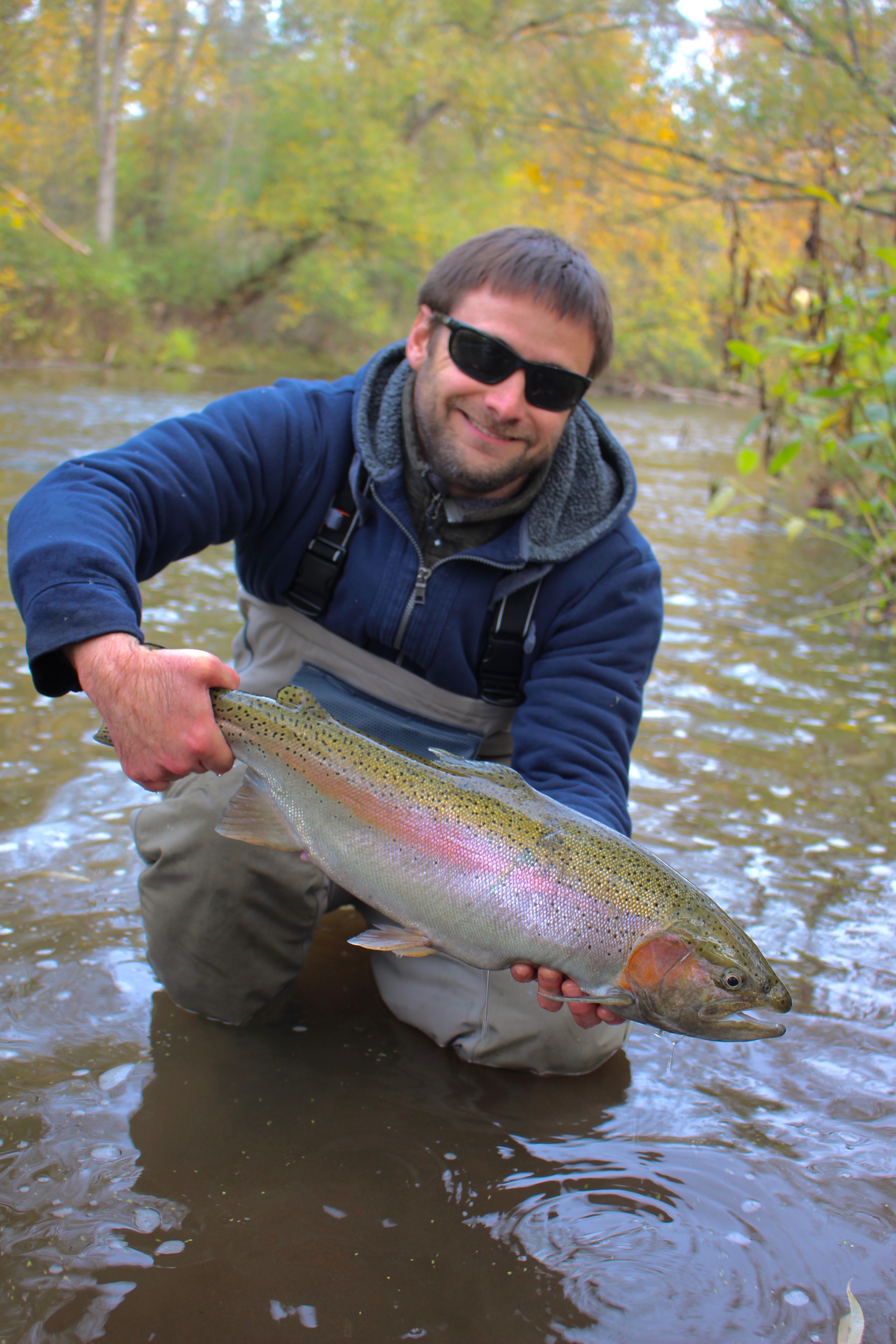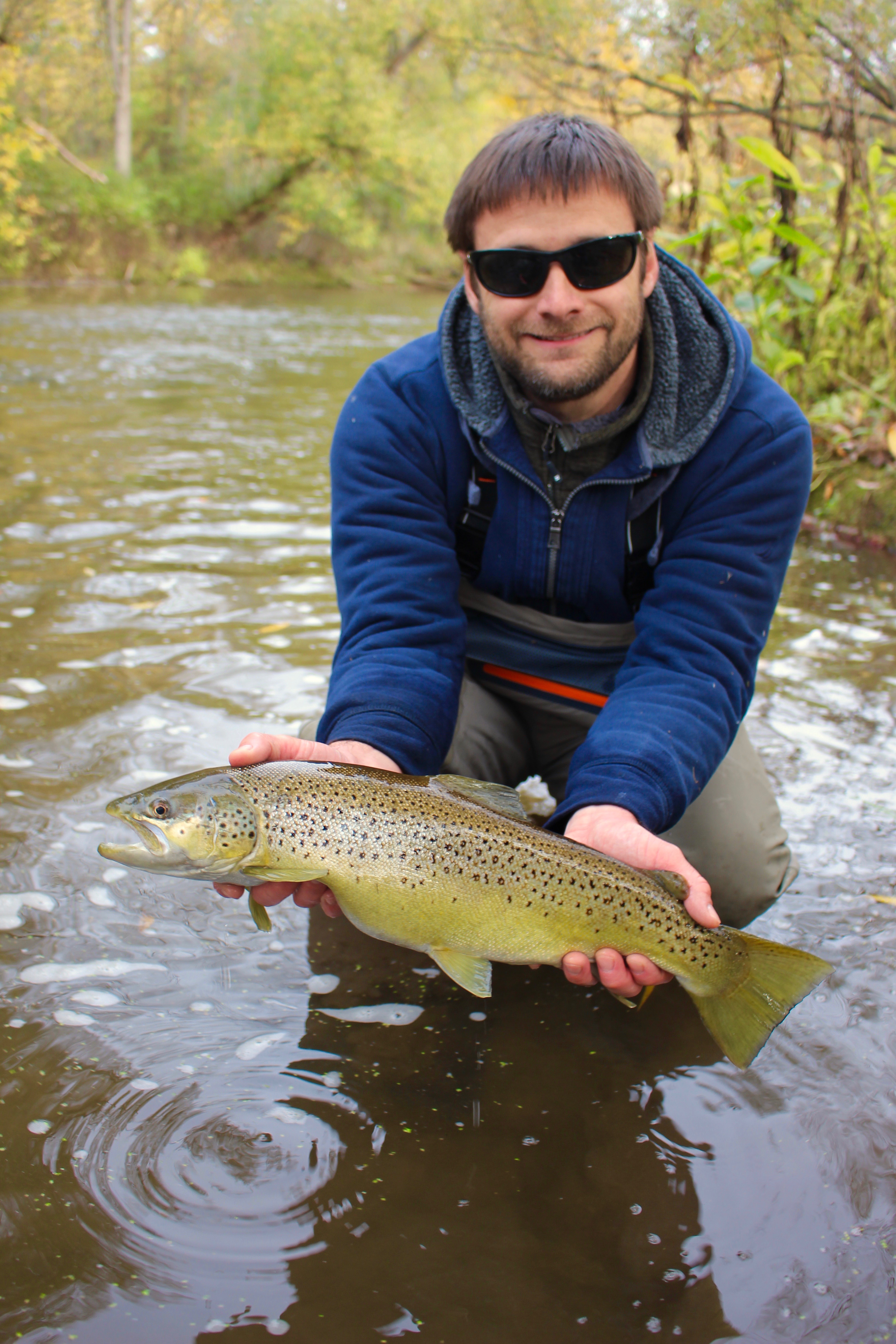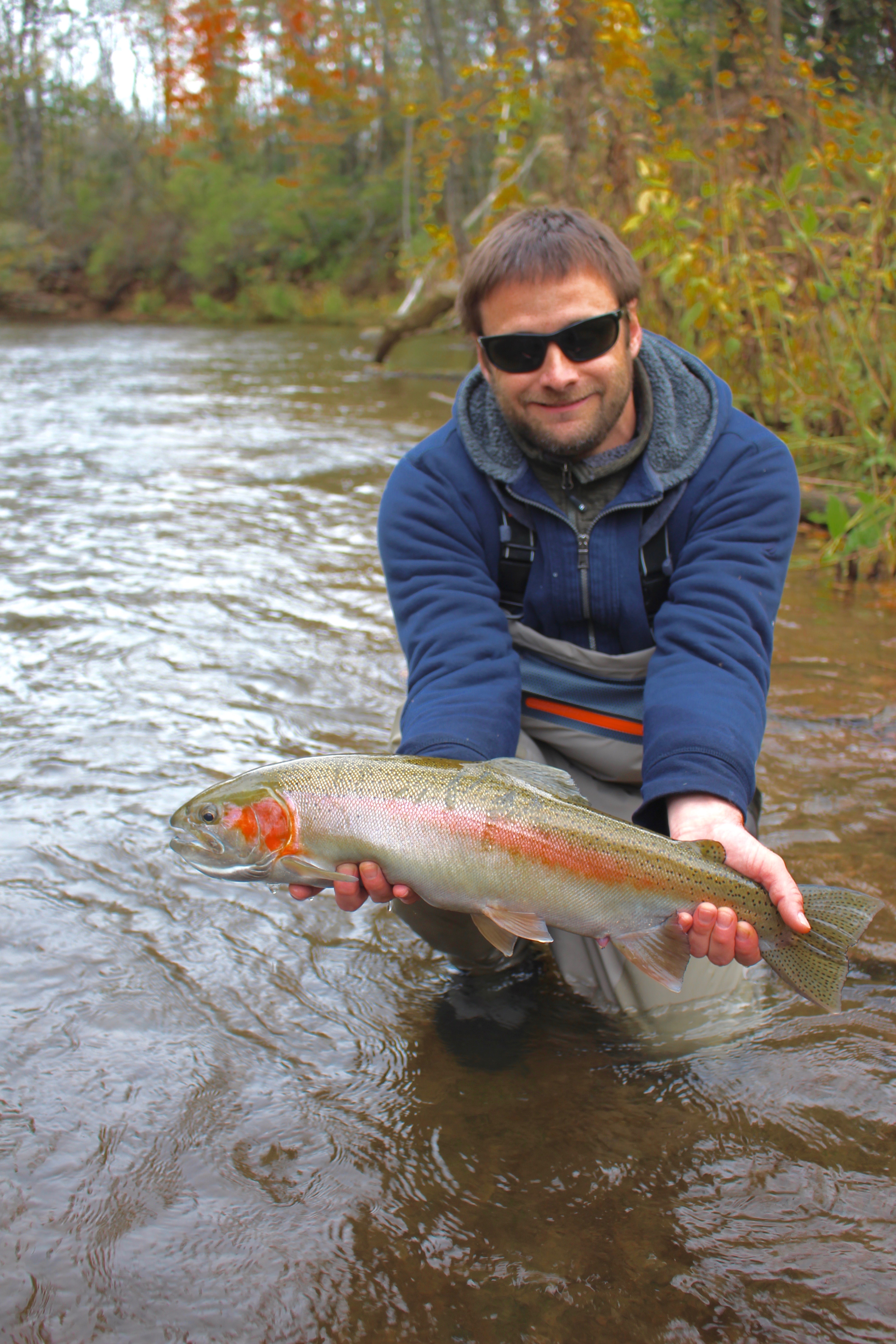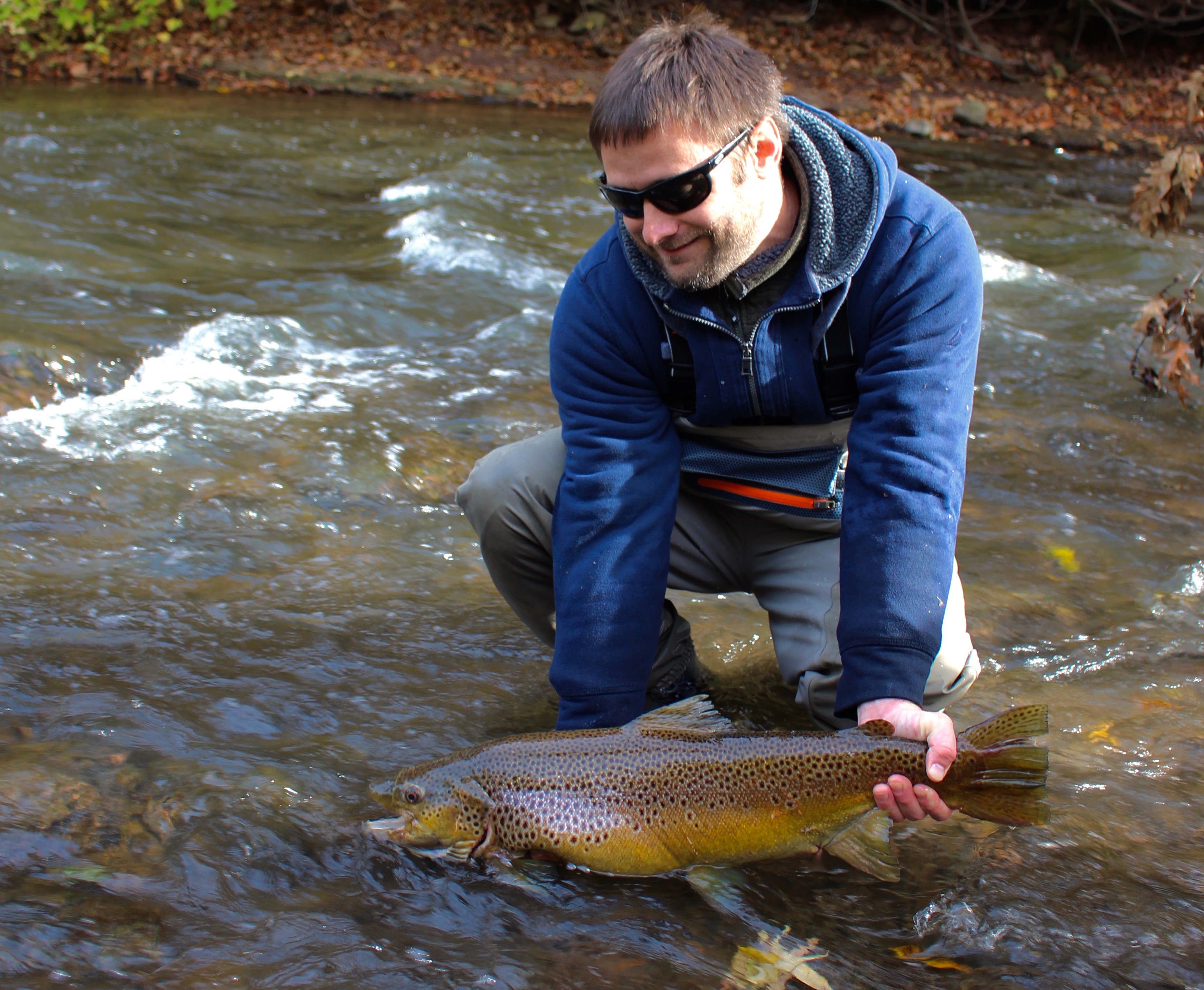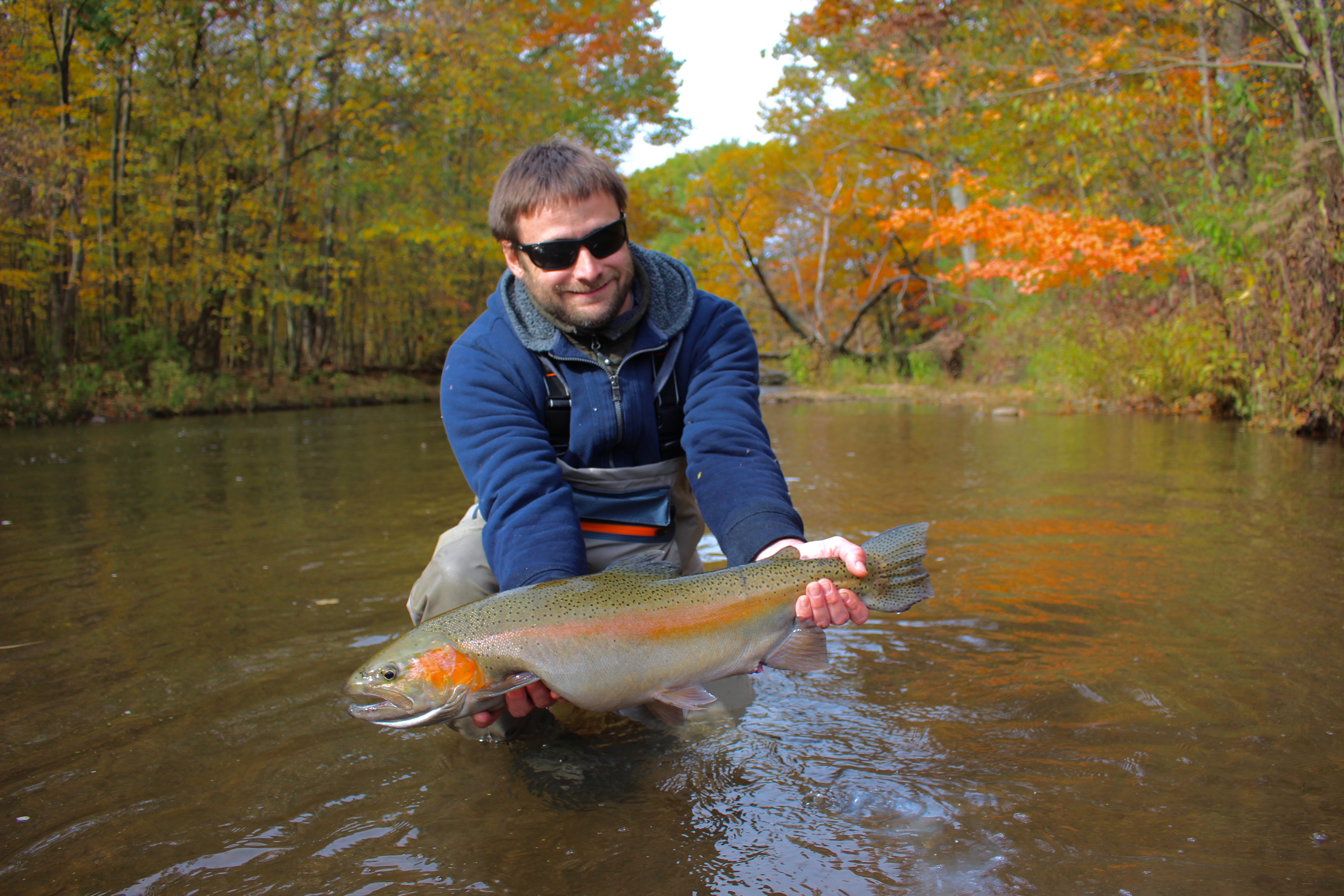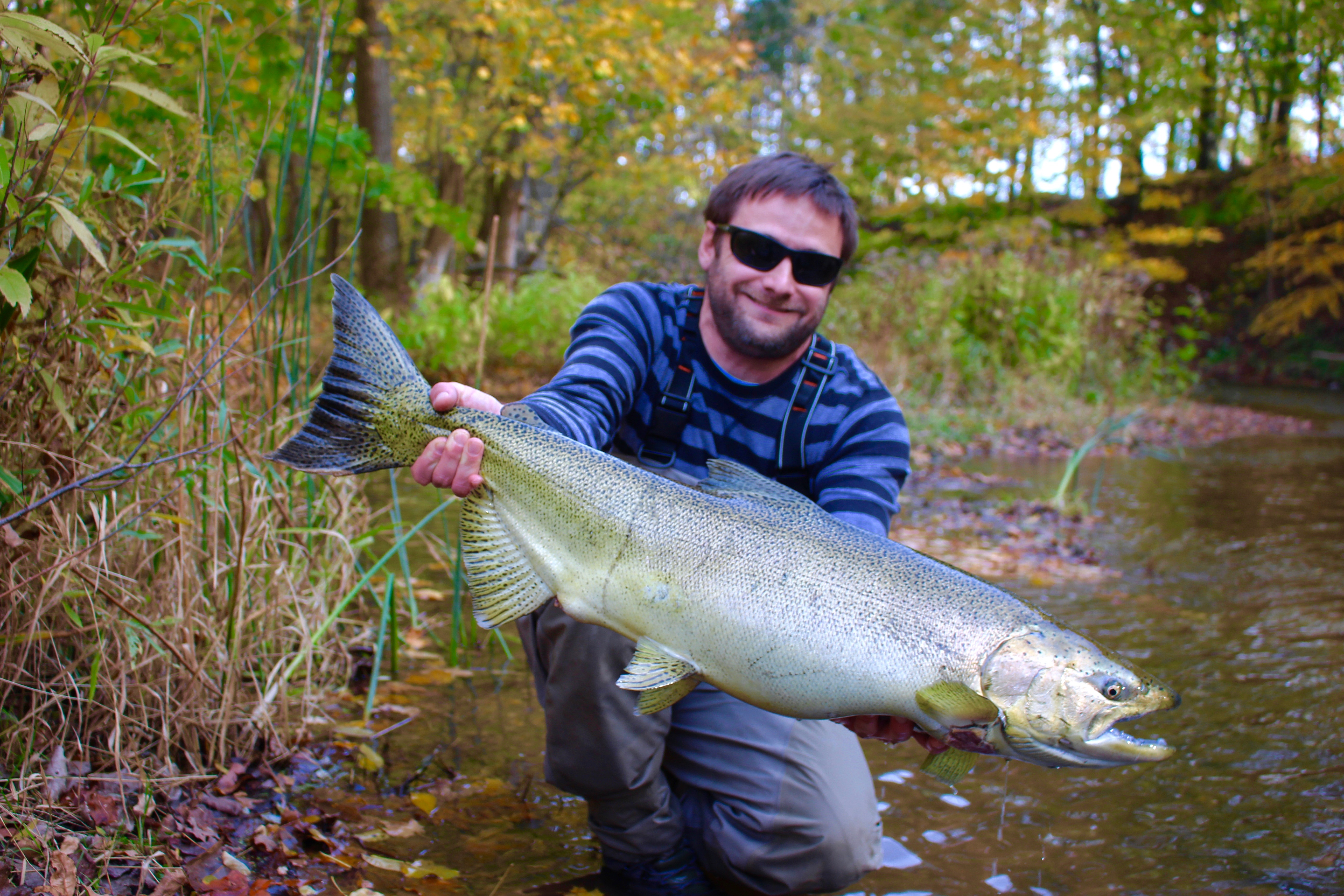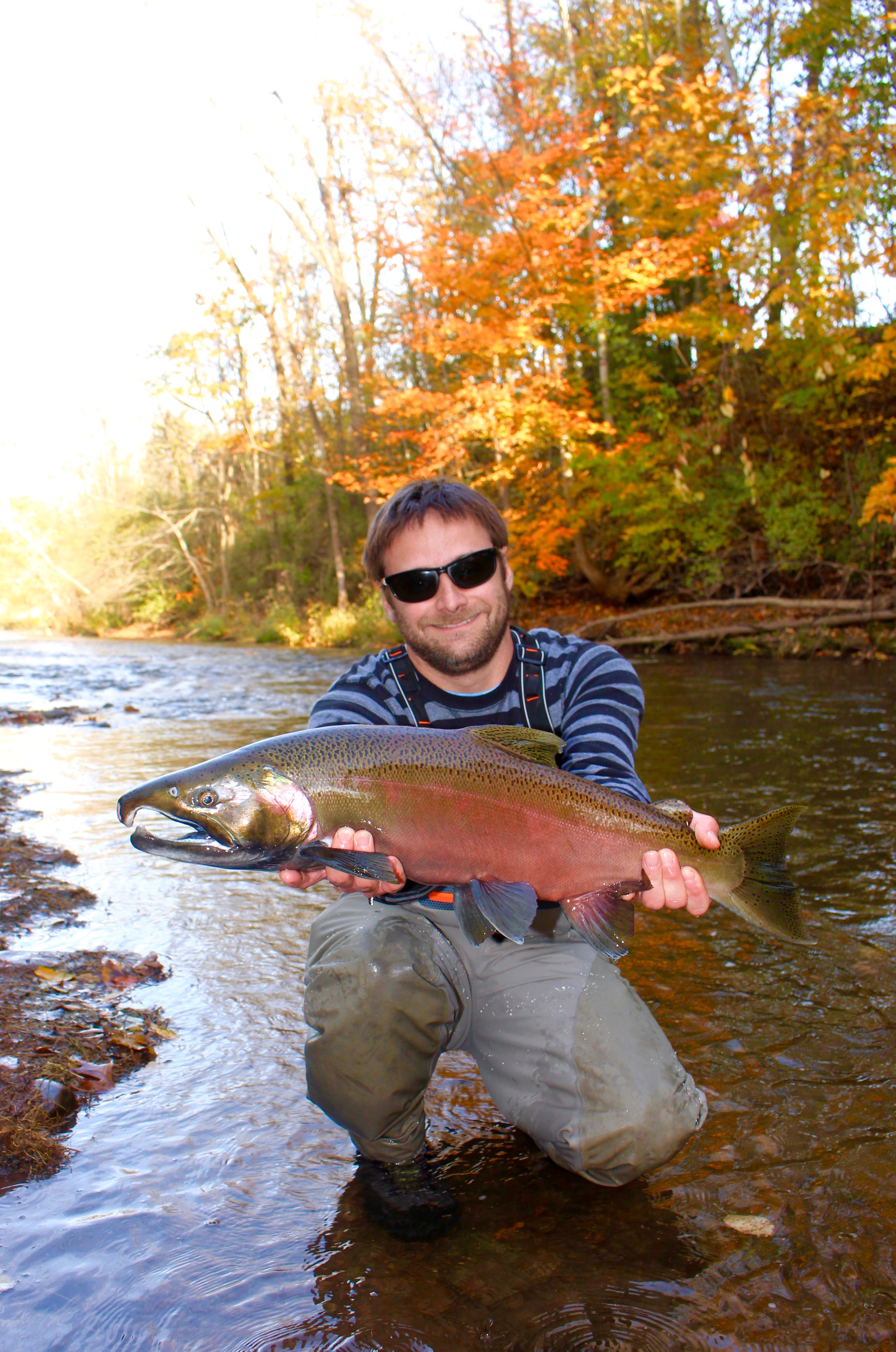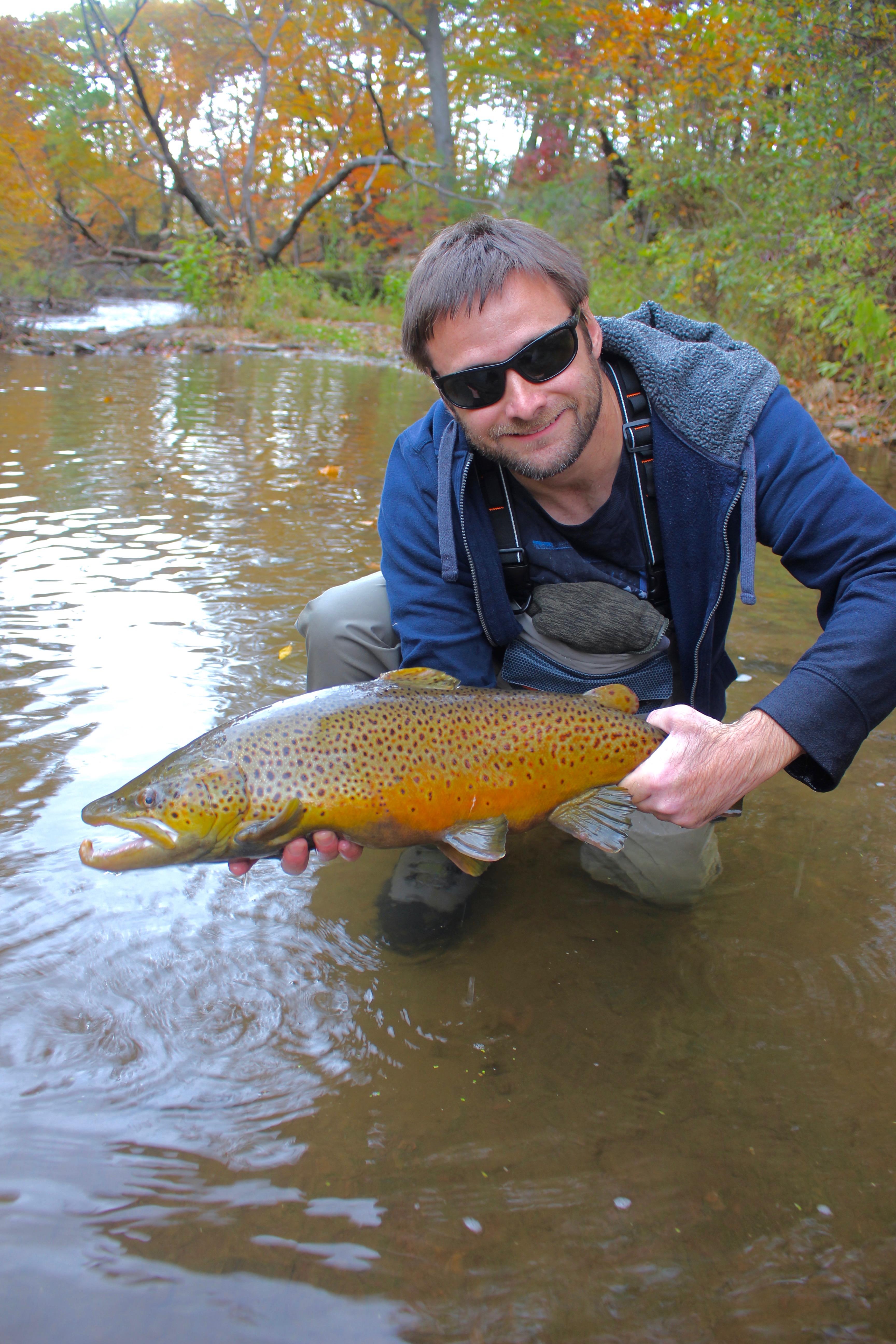 While we really like fishing the swung fly, and try to focus on spey techniques when possible, there are simply sometimes when conditions or the preferences of people fishing with us mean fishing an indicator rig. When we do fish an indy rig, more often than not at the end of the line you might see a little thing we refer to as "the item"- a colorful plastic bead pegged in place above a hook. I first started fishing a bead in Alaska in 2008 and quickly saw just how useful it would be back on my home streams. Over the years, I've tweaked my rig a bit so I can change things out (the hook or bead) without cutting my line. Here's my bead rig:
Step 1: What you need is your bead, tippet (already tied onto your leader), a hook ( for steelhead or lake run browns I prefer size 2 or 4 octopus hooks- bigger for beads 12mm or more, smaller for smaller beads, while if I'm fishing stream trout a 4 or 6) and a toothpick.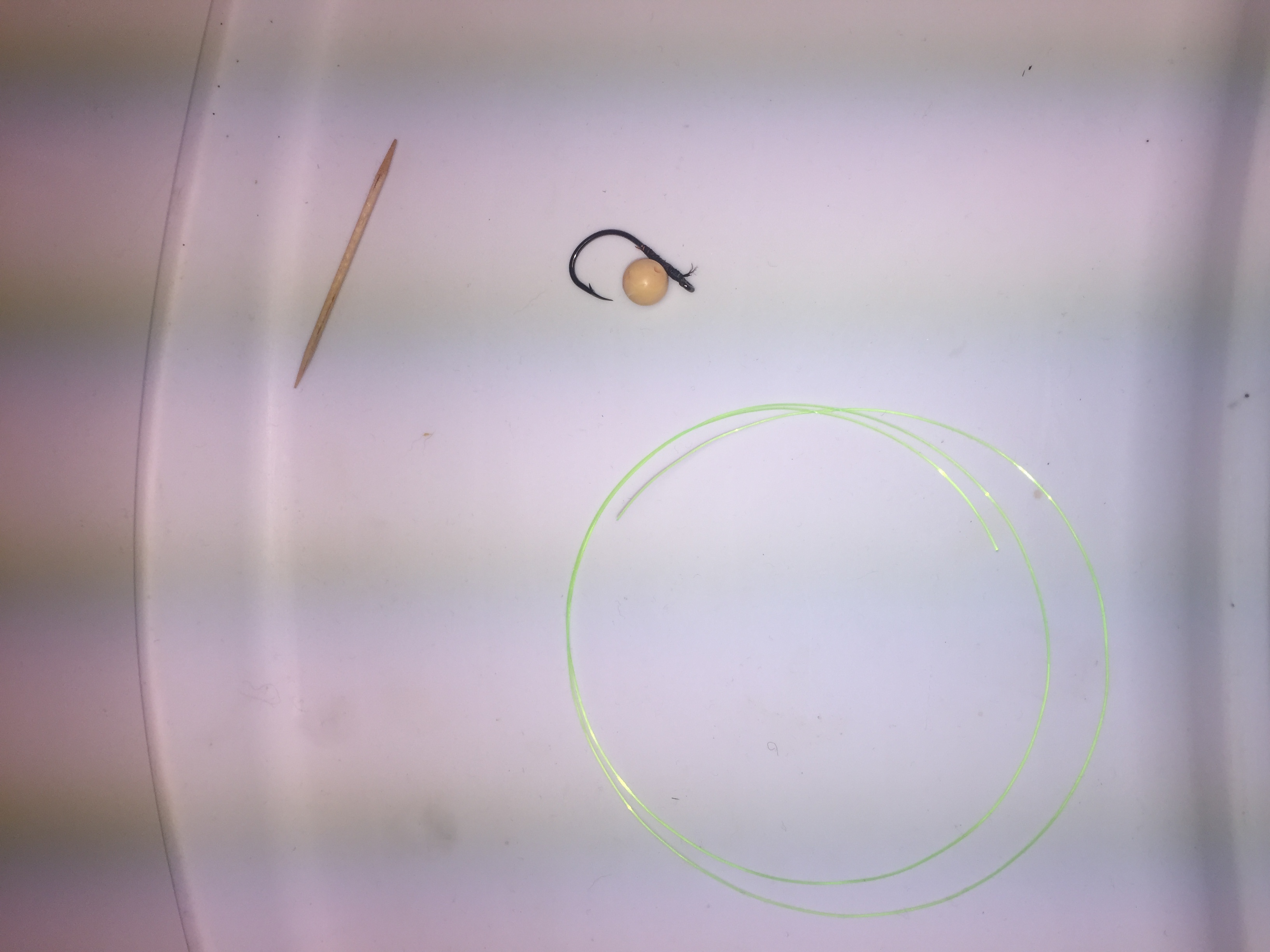 Step 2: Slide the bead onto your tippet, then tie a figure 8 loop in the end of your tippet. The loop will be what holds the hook on the end and should be about 1 1/2 - 2 inches. Why I like a loop is because I can then trade out hooks and even beads without cutting the line. Simply unloop the hook and pull the toothpick stopper from the bead and it will slide over the knot.Here is how to tie a figure 8 loop:
Make a loop in the tippet first: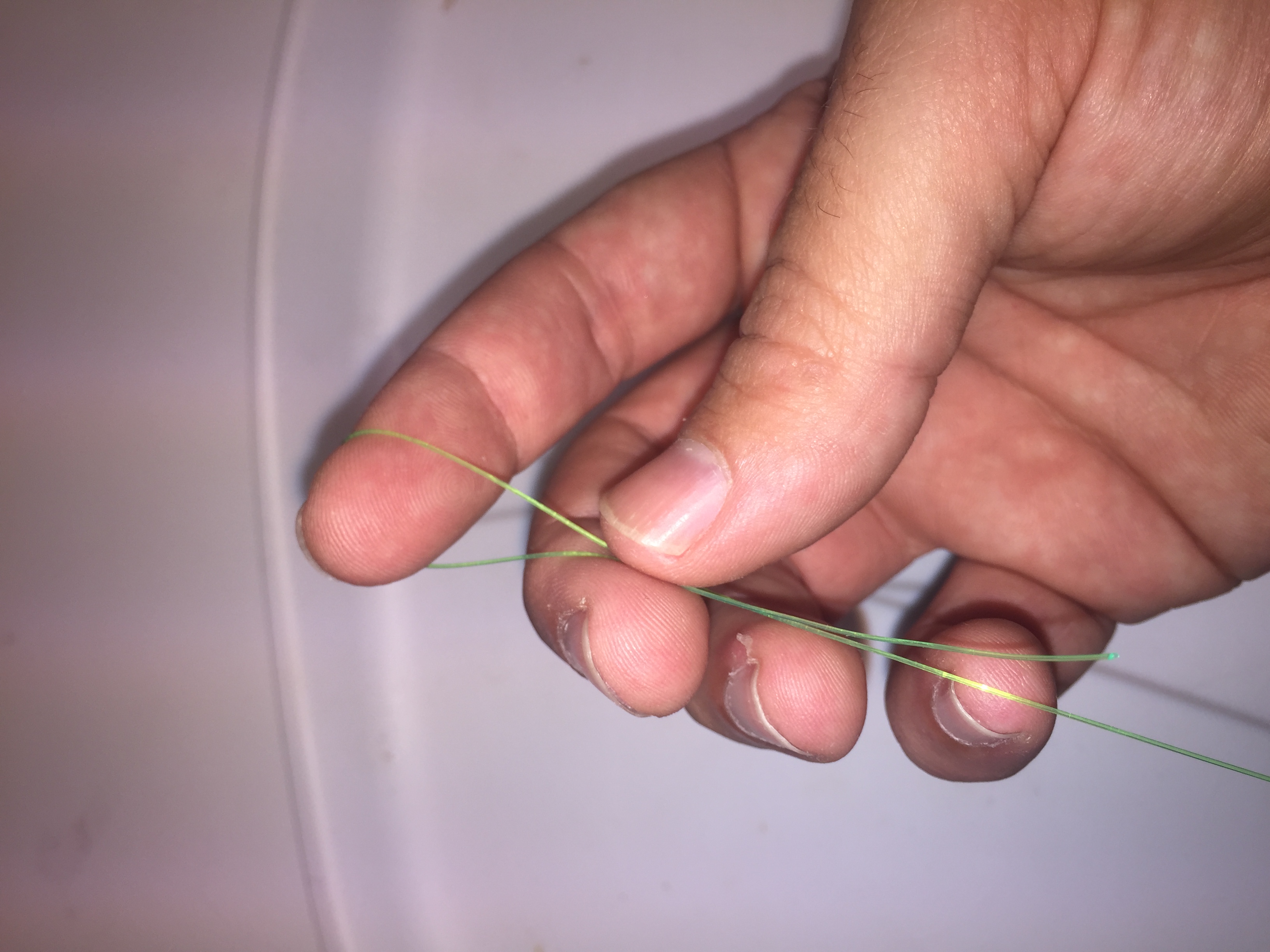 Wrap the loop around both the tag end and main part of the tippet twice: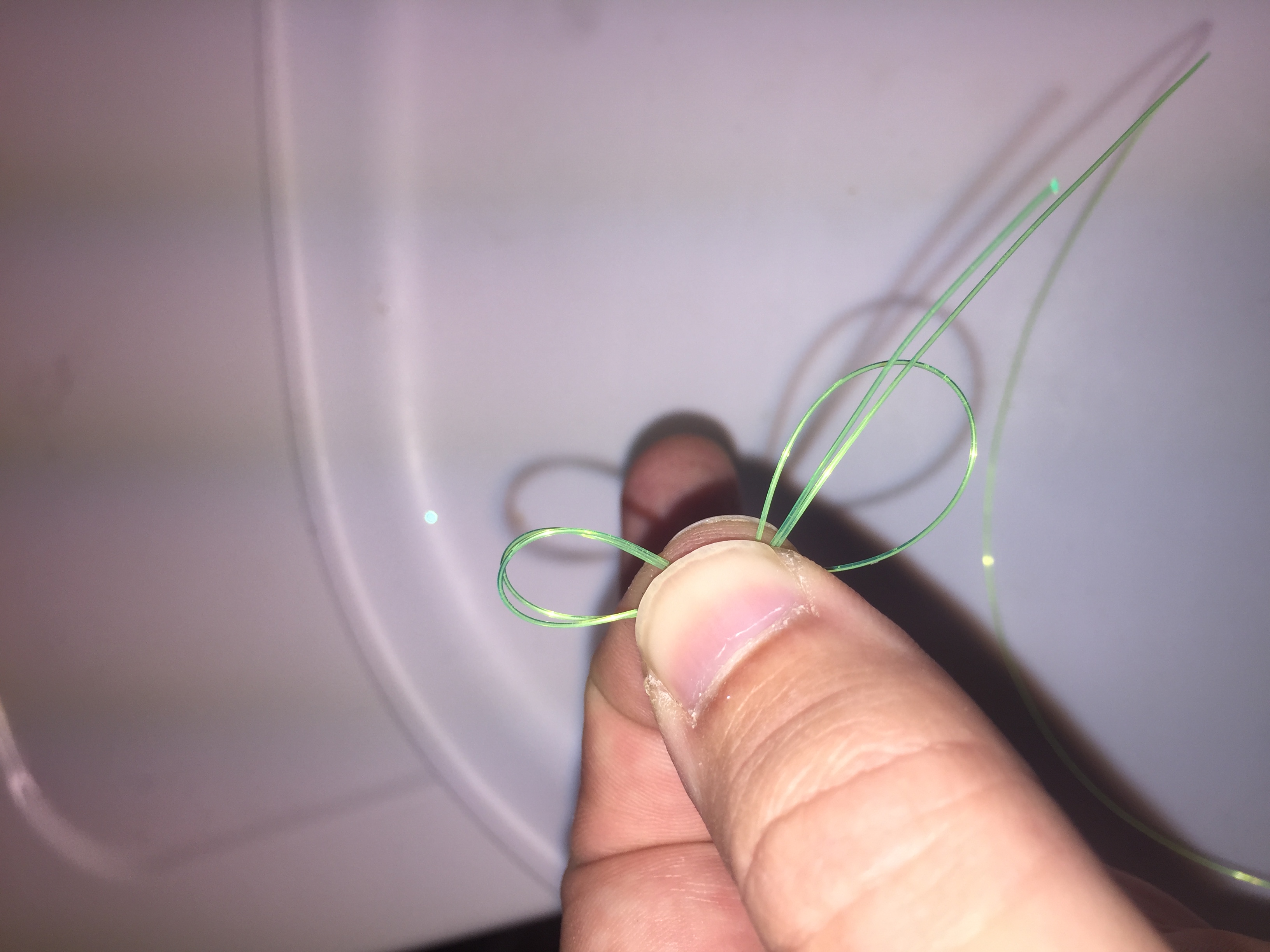 Pull the single loop through the double loop formed in the line: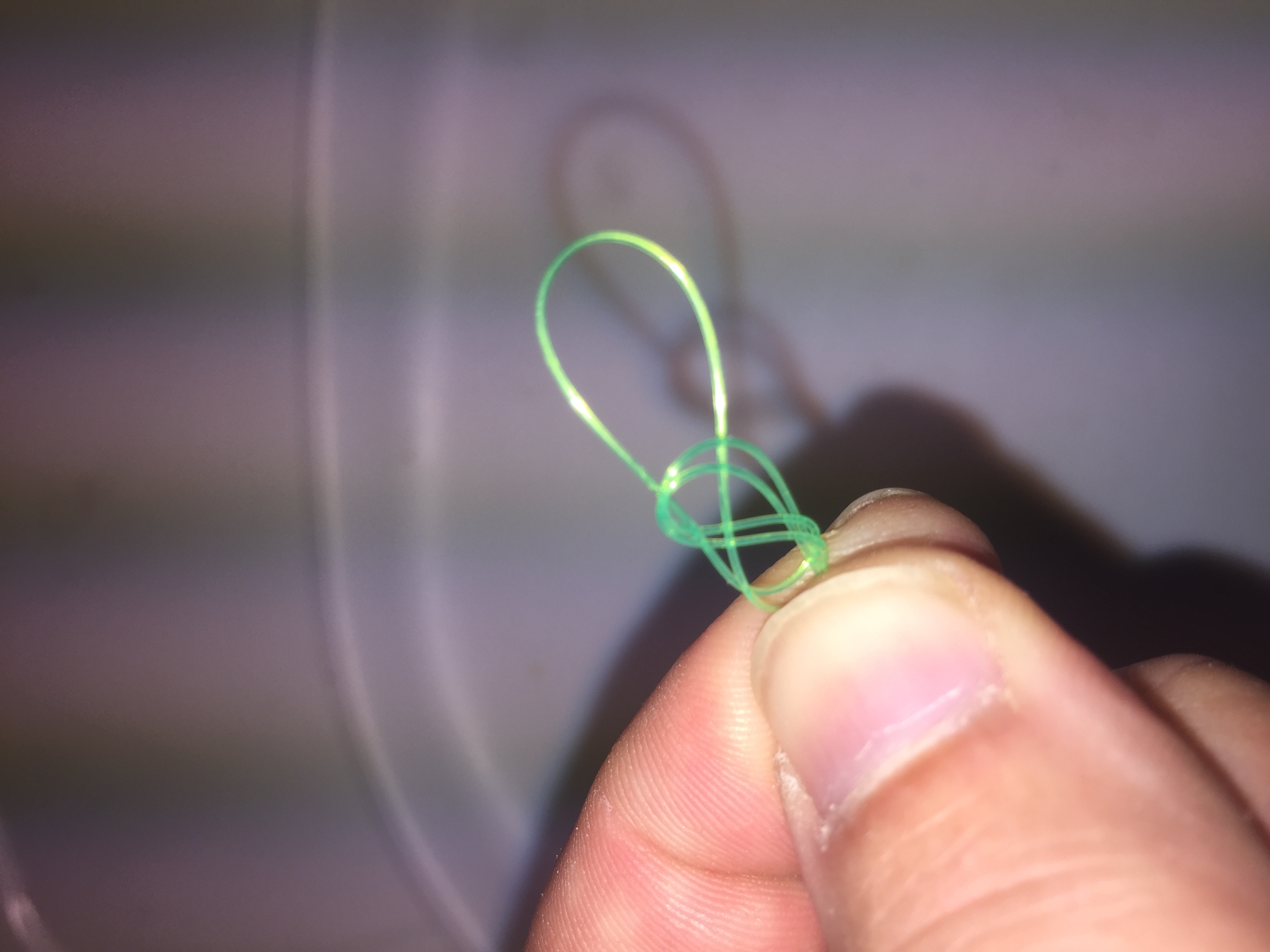 Pull the knot tight: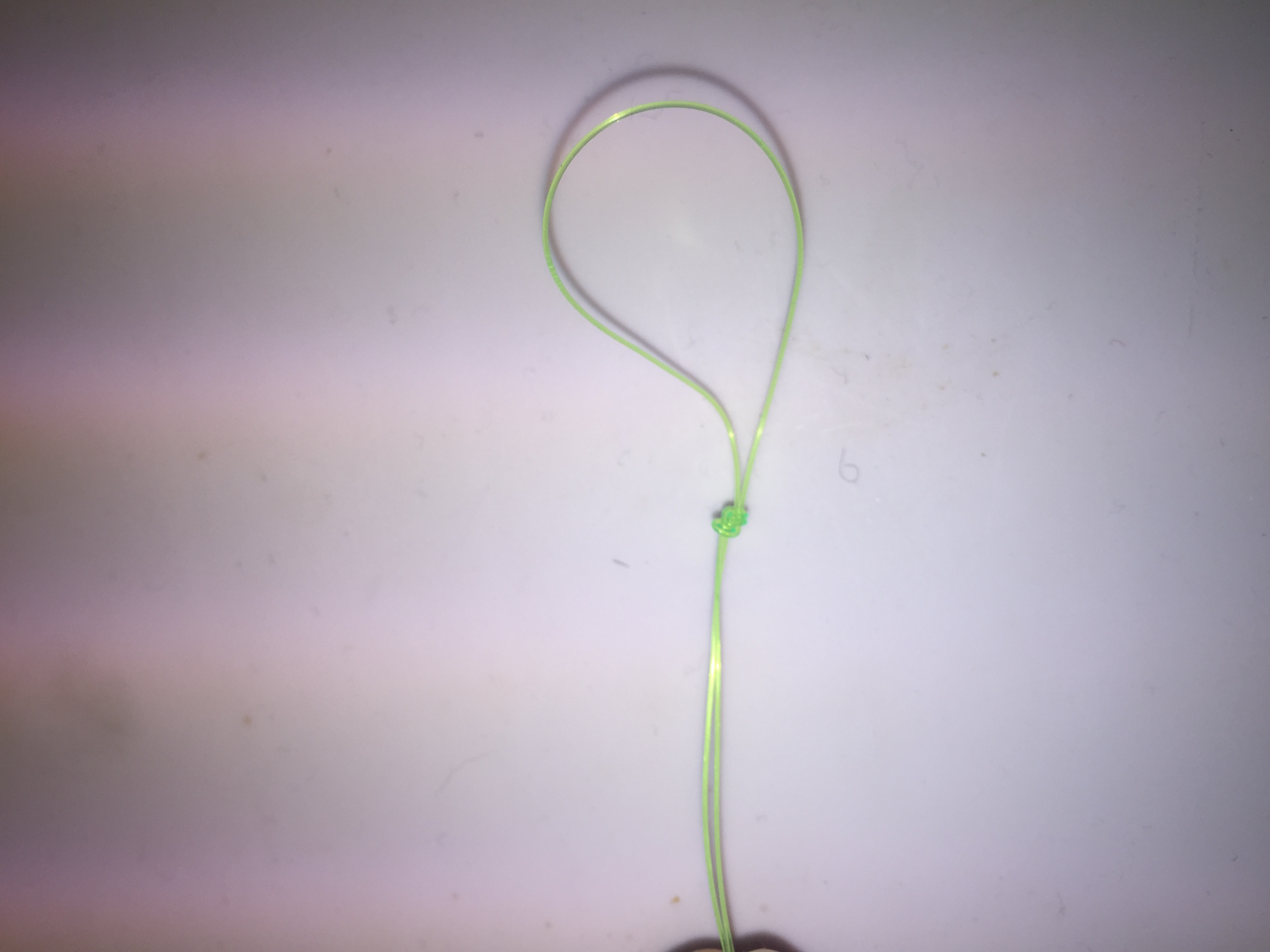 Step 3: Use the toothpick to "peg" the bead. Push it in then snap off the sharp point. This will keep the bead from slipping down below the figure 8 knot. Later if you need to change the bead, poke the sharp end of a toothpick down the other side of the bead to push out the little piece of the toothpick that is broken off and it will pass over the figure 8 knot.
Peg the bead: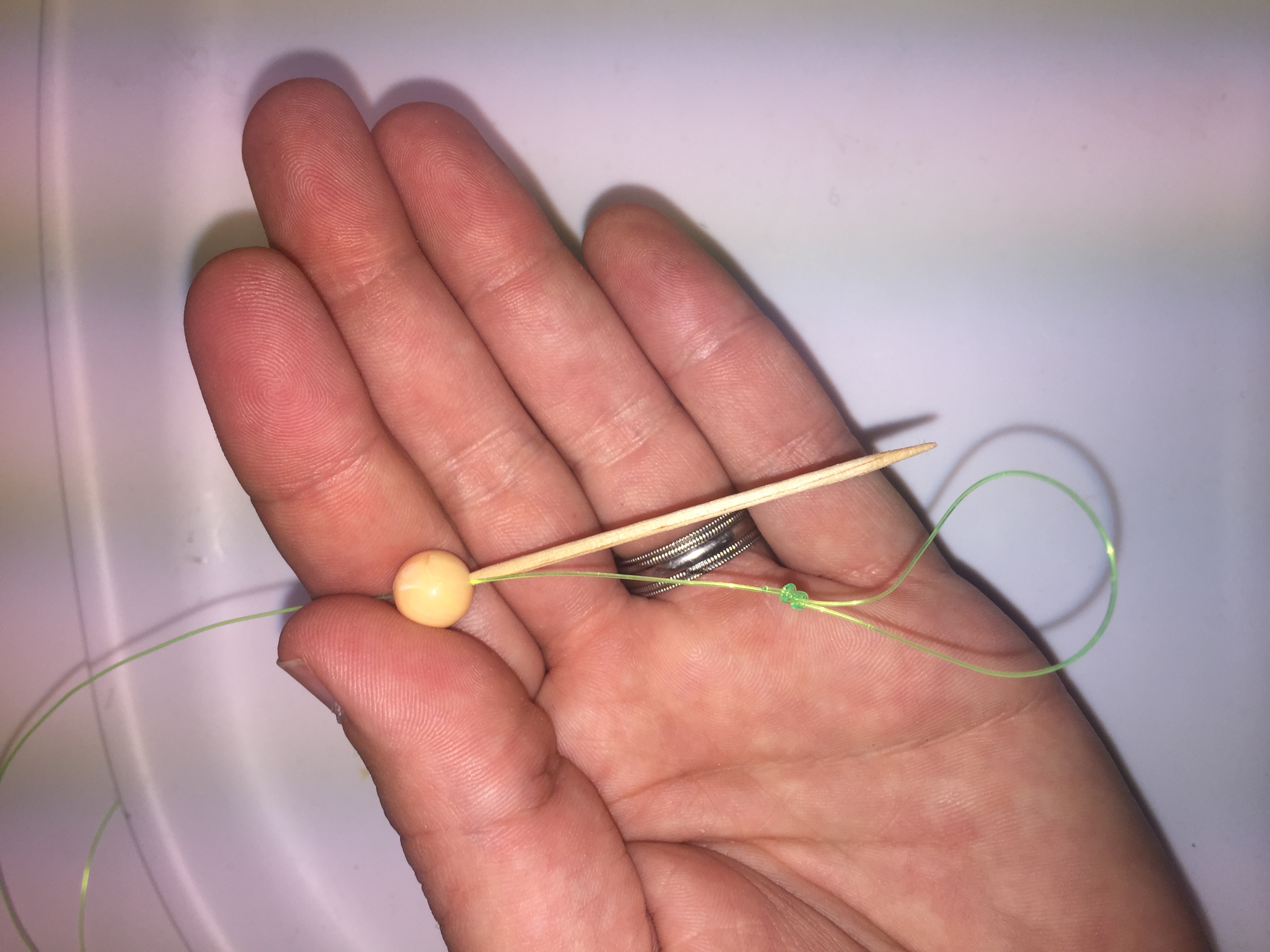 Snap off the toothpick: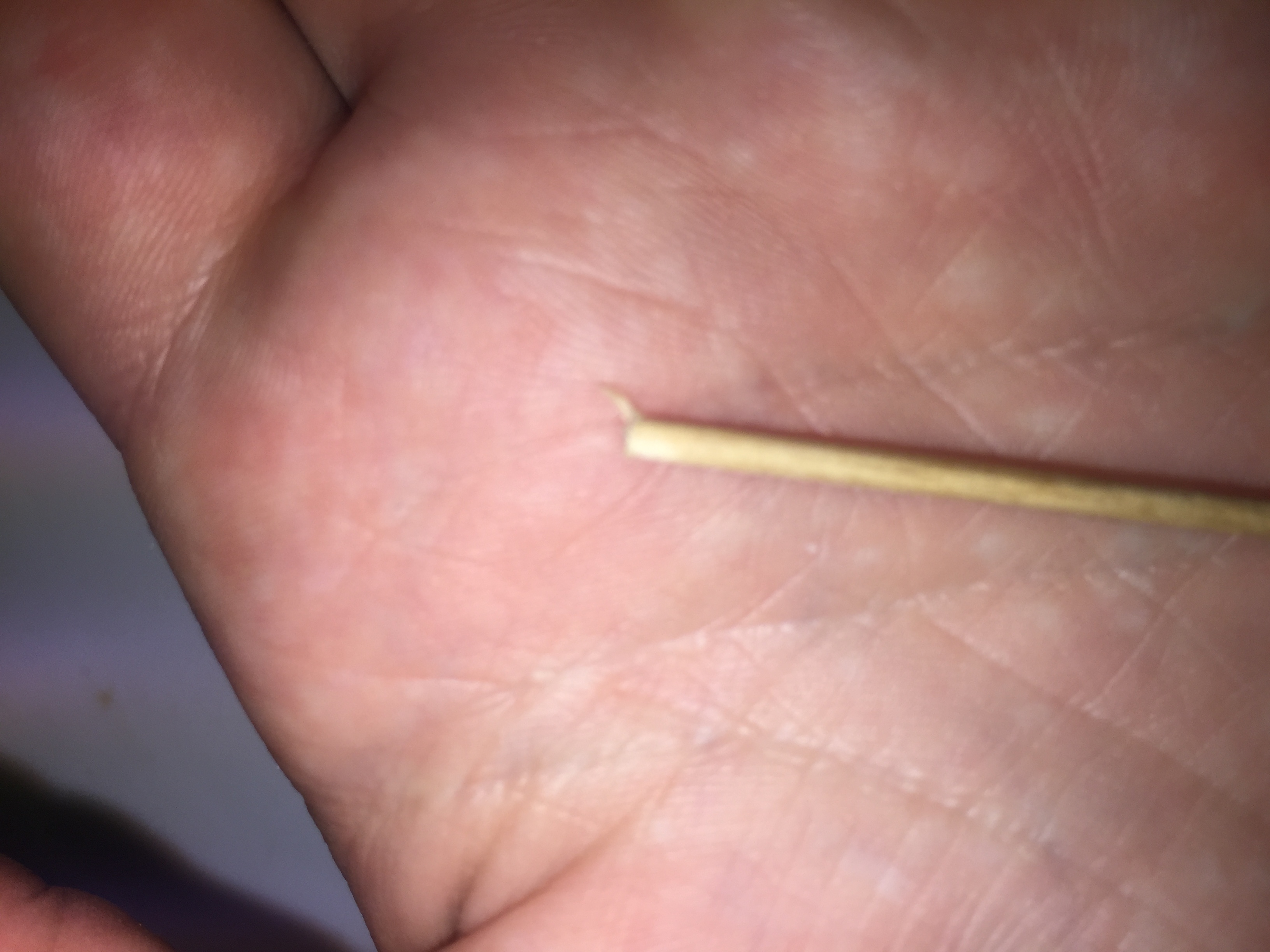 There will be a piece stuck in the bead that holds it in place: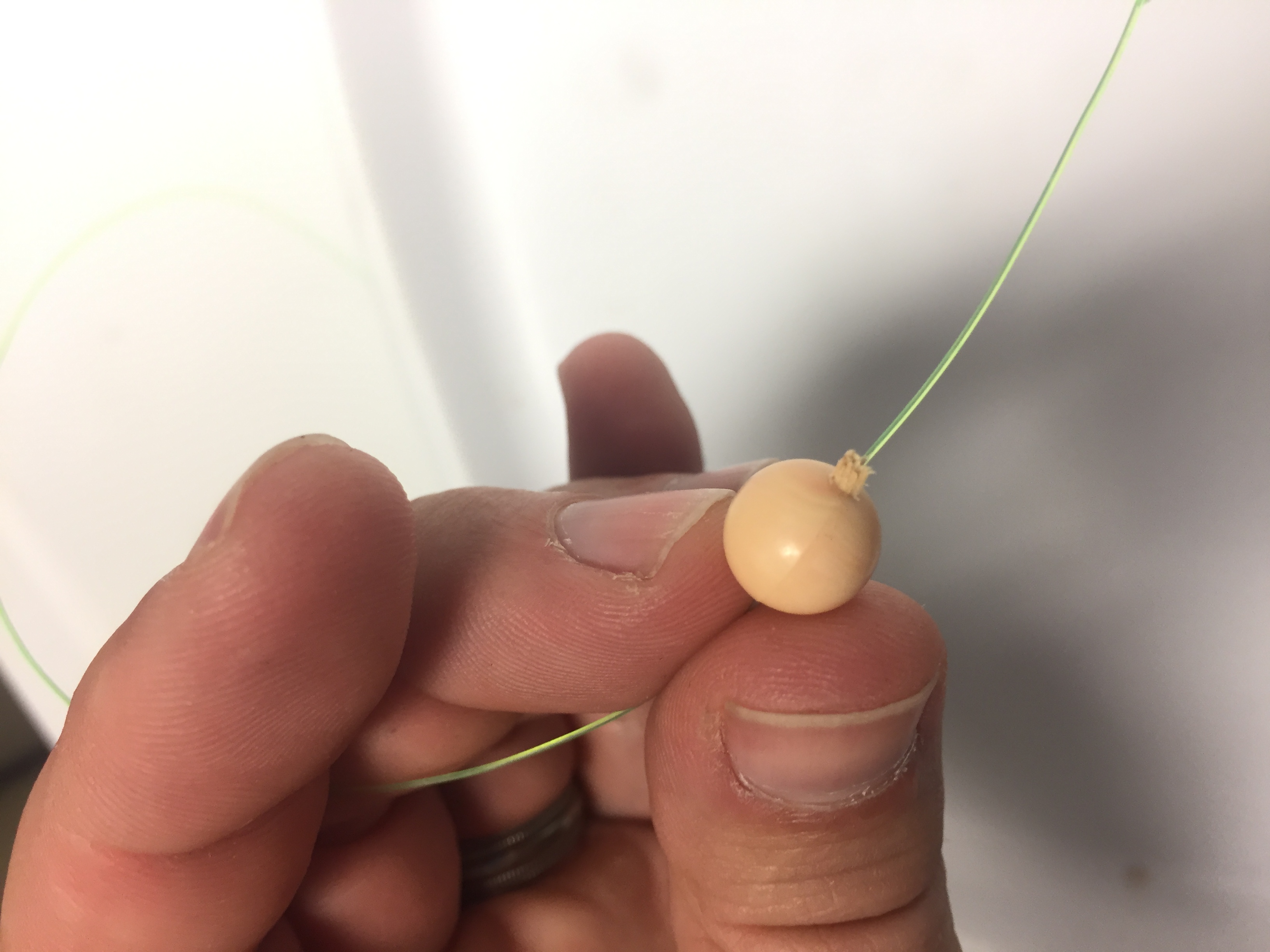 Slide the pegged bead down to the figure 8 knot to hold it in place: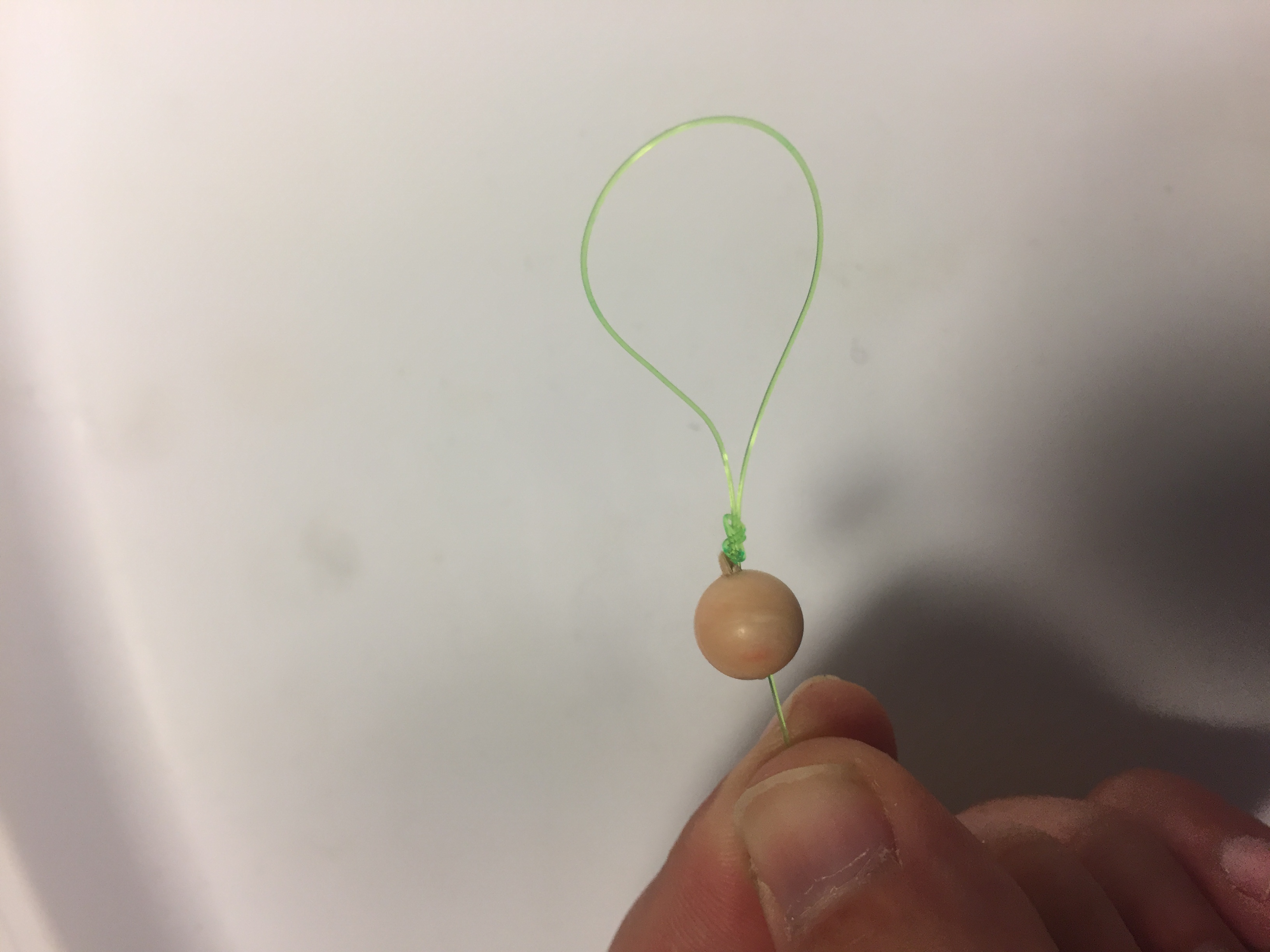 Step 4: Pass the loop through the eye of a hook, wrap it over the shank, and secure it to the tippet: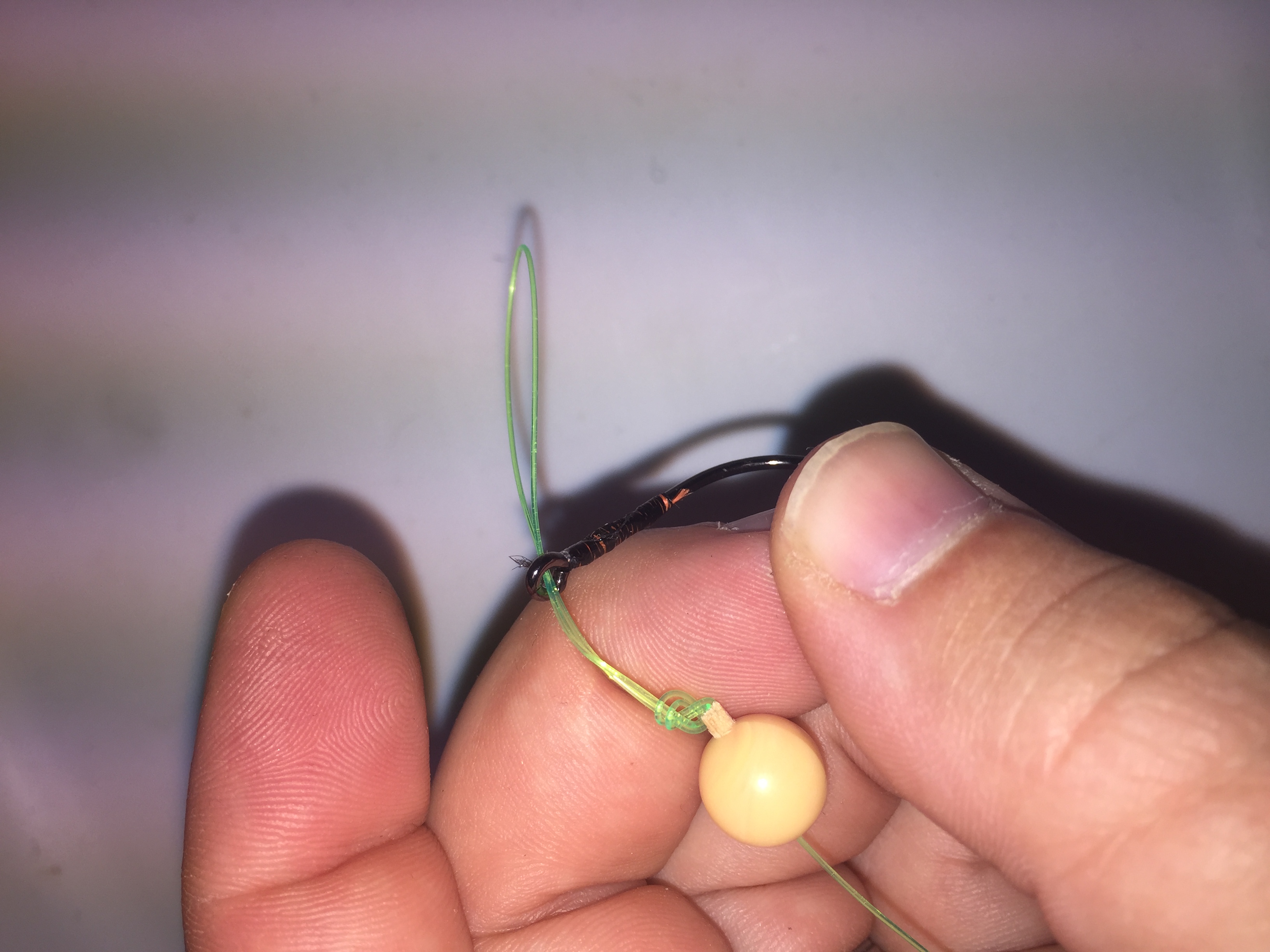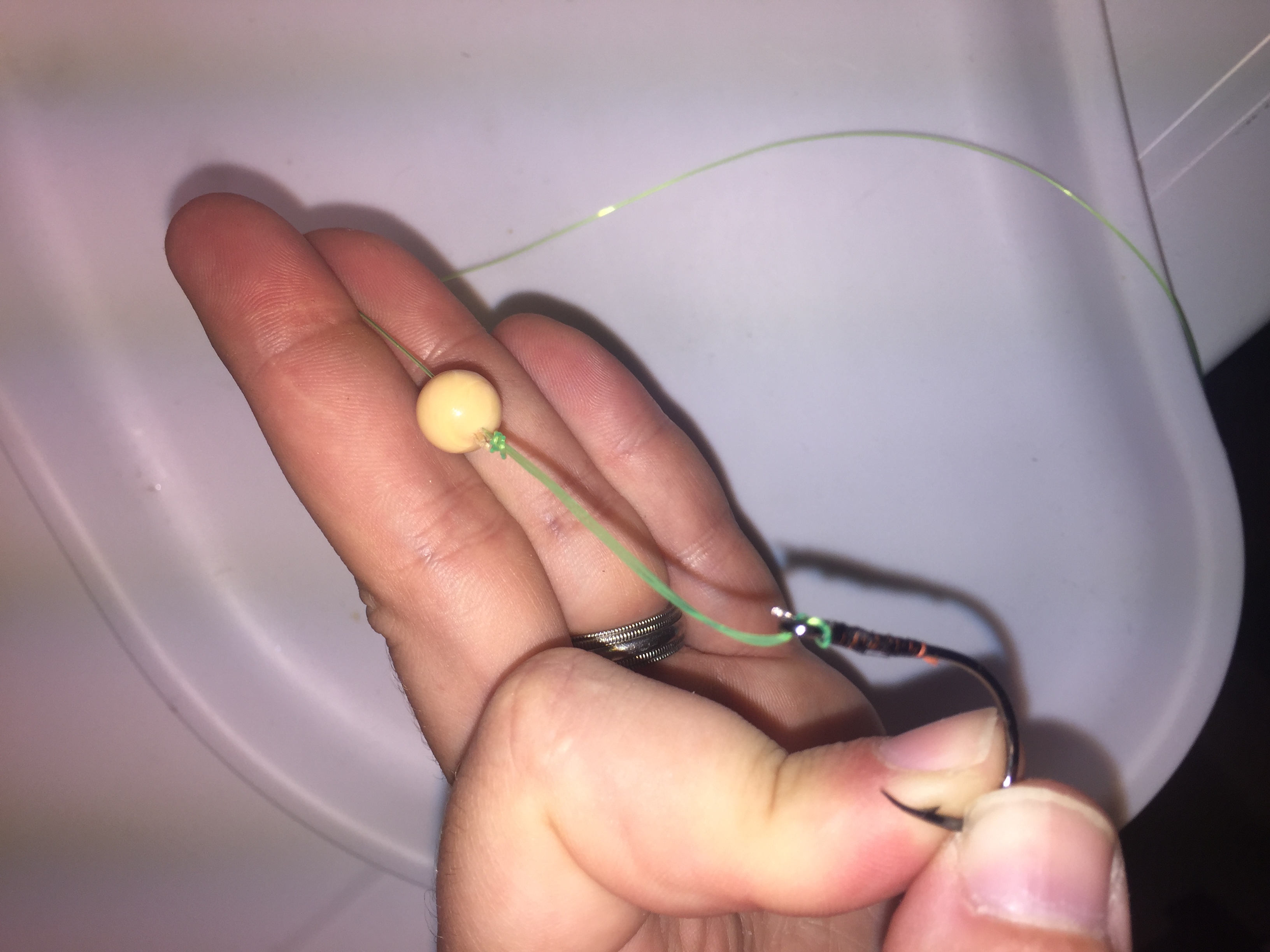 Step 5: Bead up fish: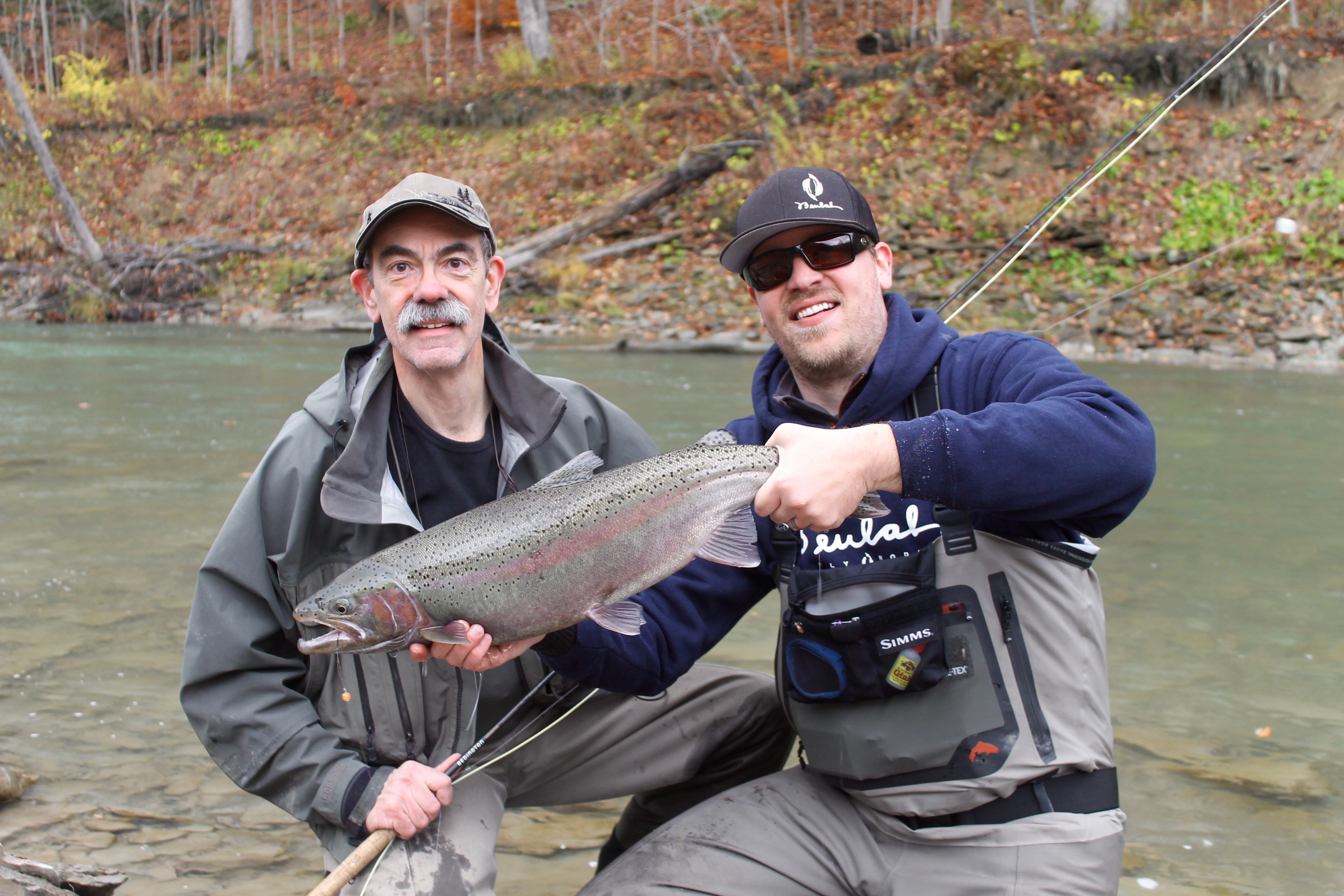 Notes: The rig above is tied with an ungodly large hook and 30 pound high viz big game leader. That is not my normal setup but was done so it would show up better in pics. I usually use 8-10 pound clear fluoro and a size 4 hook. Please do not fish a 3/0 saltwater hook with a bead.    
Though again, not our preferred way of fishing, but an incredibly effective method that has its uses as conditions or the preferences of others dictate.
Tight Lines,
 - D
Happy Holidays! We're still fishing over here on our Western New York creeks. The last few weeks have been kinda all over the place. About the second week of December, we started getting some really heavy lake effect snow. Parts of the upper Catt above the dam saw snowfall in excess of 40 inches over about a week and a half. During the third week, a blast of artic air that kept daytime highs in the teens and twenties for over a week locked up most of our smaller creeks, meaning we had to work a bit to find open water. Then toward the end of last week, we got a few days of rain and daytime highs in the 40's. 
Currently everything is flowing high from predominantly snowmelt. But it means that all our creeks are still open. Before ice up we were still getting into really good steelhead and browns, so when the creeks drop back to fishable conditions it should be great fishing. Look for the Catt to be out of the picture for the foreseeable future, as there is still tons of snow on the upper river. But don't be afraid to take a look at her when she's flowing a little higher- snowmelt runs clearer than rainfall runoff. We were there three days ago and she was fishable at over 800 cfs.
Yesterday the smaller creeks were peaking and should be dropping today and tomorrow. Even in the dirty water we had fun, but didn't find any Christmas Eve steelhead. Still, here are a few pics.
 - D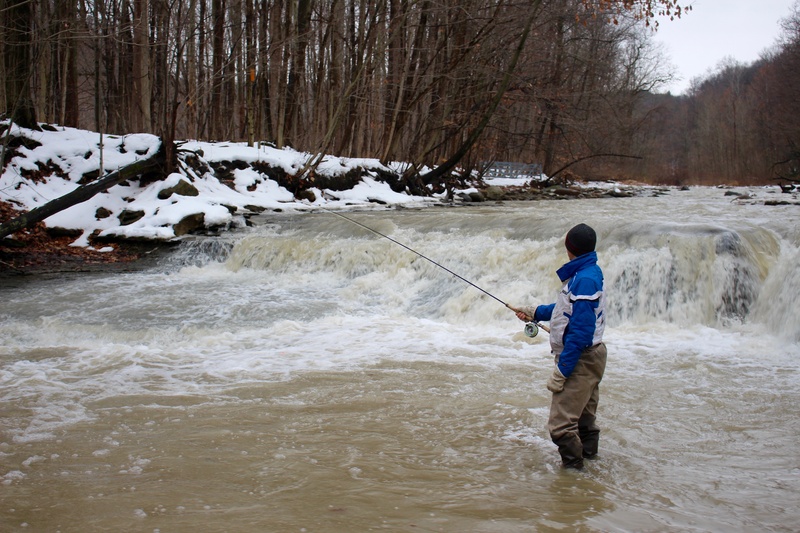 When fishing dirty water, look for slow water out of the main current. Here Eliot Alpert targets a slow seam below a slate cascade.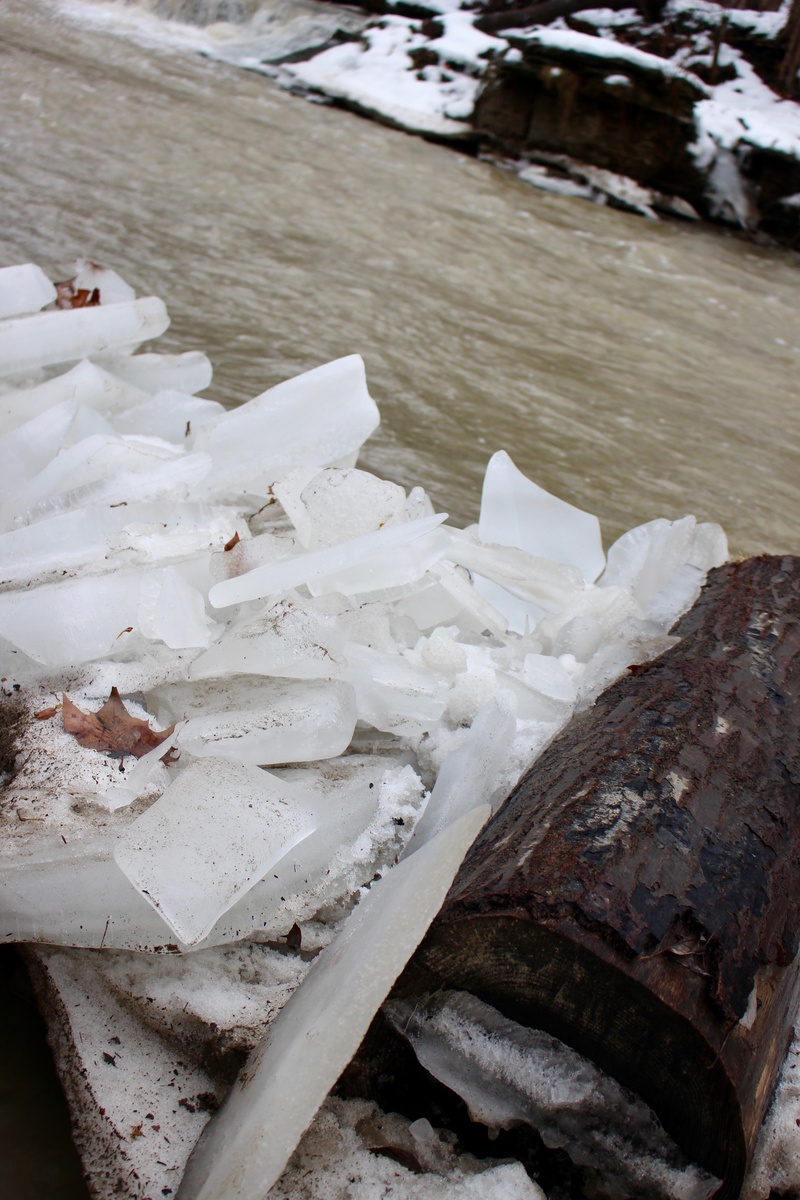 Though unpleasant for the minute, the high water opened our creeks again from ice.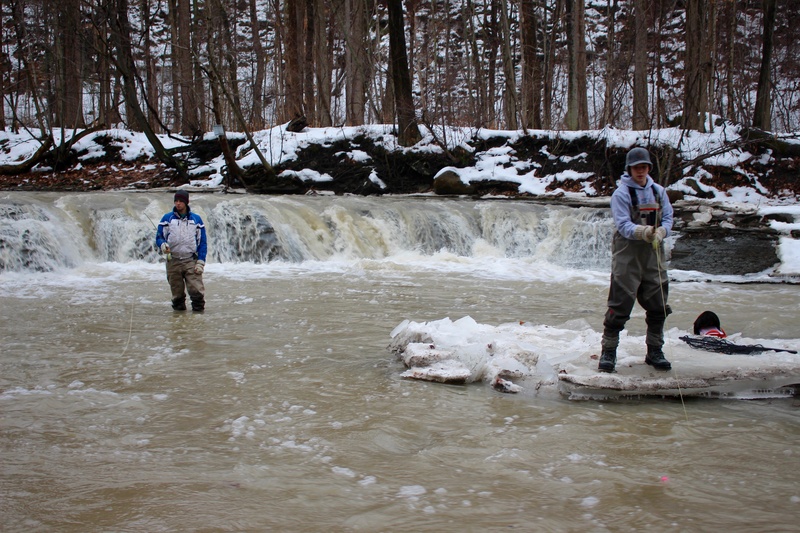 During high flows, fish will often tuck away in places that are too shallow for them in normal or low flows. Here Eliot and Benny Alpert fish a broken slate run that only flows inches deep during normal flows.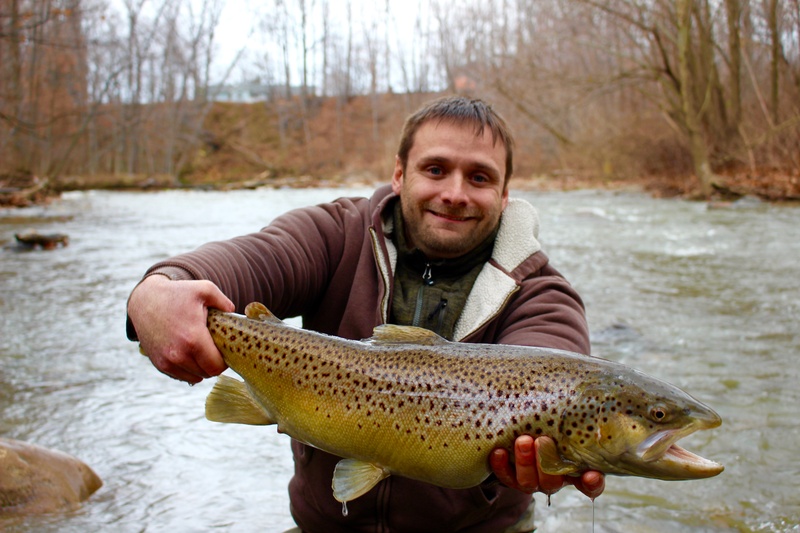 Check out Justin with a toad Lake Erie brown!
Well we are still finding a bunch of quality fish! The Catt is out of the picture for a while, but the other area creeks have good flows and decent amounts of fish. Just got back from spending a few days fishing with Justin from Jersey. The first day, the water visibility on the smaller creeks was between 8 and 10 inches. Not great, but if you know where the fish hold in high colored water you can still do pretty well. I'll give you a hint- look for slow water out of the main current, and often times right next to the shore. We bounced around a few creeks and ended up going 3 for 7 on some quality steelhead, including hooking some fish up to around 12 pounds! Always a lot of fun in higher flow.
Next day we again started at the same spot and hooked up a few more steelhead, putting a couple half pounders in the net. After a while, I walked over to Justin to talk over our options. The spot we had been fishing gets hit pretty good, and it seemed to be going off the bite. The whole trip, Justin was talking about browns, so though Lake Erie creeks don't have as reliable a brown run as Lake Ontario creeks do, we decided to check out the lower end of a creek that will get some browns every year. As Justin had to be heading back to Jersey that afternoon, we only planned to fish until between noon and 1. We got to the lower spot at about eleven o'clock and saw there were a couple cars, but by no means super busy, and we burned some water until we had a whole stretch to ourselves.
The water visibility was about a foot and a half, getting right into that prime range, but still colored up enough that to be successful you have to really work the water well. And Justin did just that. As we were getting down to the wire in terms of fishing time, we started to work a boulder lined tailout of a long run. In front of the first boulder, Justin set the hook and a slab brown, somewhere between 7 and 8 pounds, flashed in the murky water. As quickly as we were hooked up, the line slackened and the fish disappeared into the eddies.
Fearing that I had blown my chance at putting a quality lake run brown in the net for Justin, I stood there. Justin asked if there was anything he could have done differently, but truth is there really wasnt. It's just all part of the game. Sometimes you win, sometimes you lose. But I told him where there are one, there are more. And we kept fishing the boiling water. As we got further and further down, my dismay that I had truly lost my shot at showing him just what quality fish we have grew. Until we reached the last few boulders... where he set the hook and the water exploded. Bigger than the one we lost, a thick fish rolled and fought near the top, boiling the water. After a few minutes that felt like days, Justin turned her head into the net. There lying at the bottom of my rubber mesh lay a beautiful 28" hen brown, thick with eggs and pushing 10 pounds. The time was 12:13. Down to the wire for sure. After pictures and watching his personal best brown swim back into the murk, Justin turned to me and said "I think that's a good one to call it a day on." Mission accomplished.
Tight lines, and enjoy the other pics!
 - D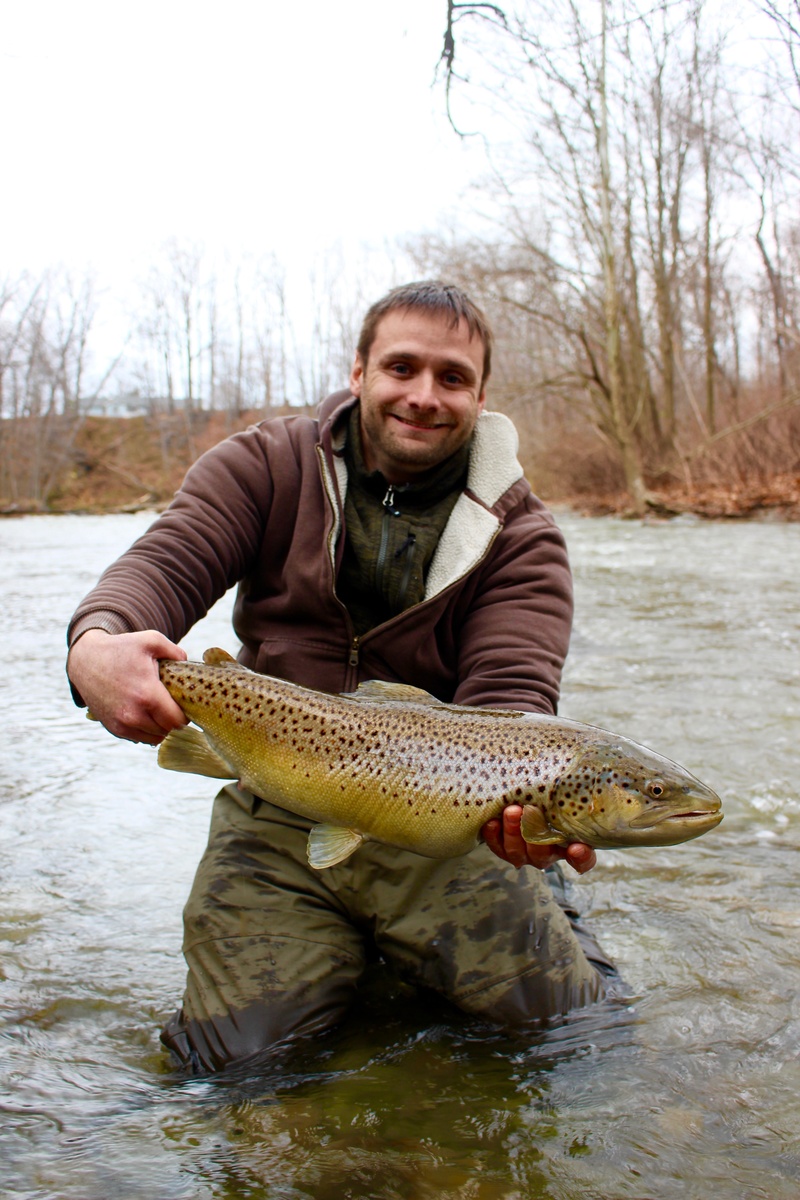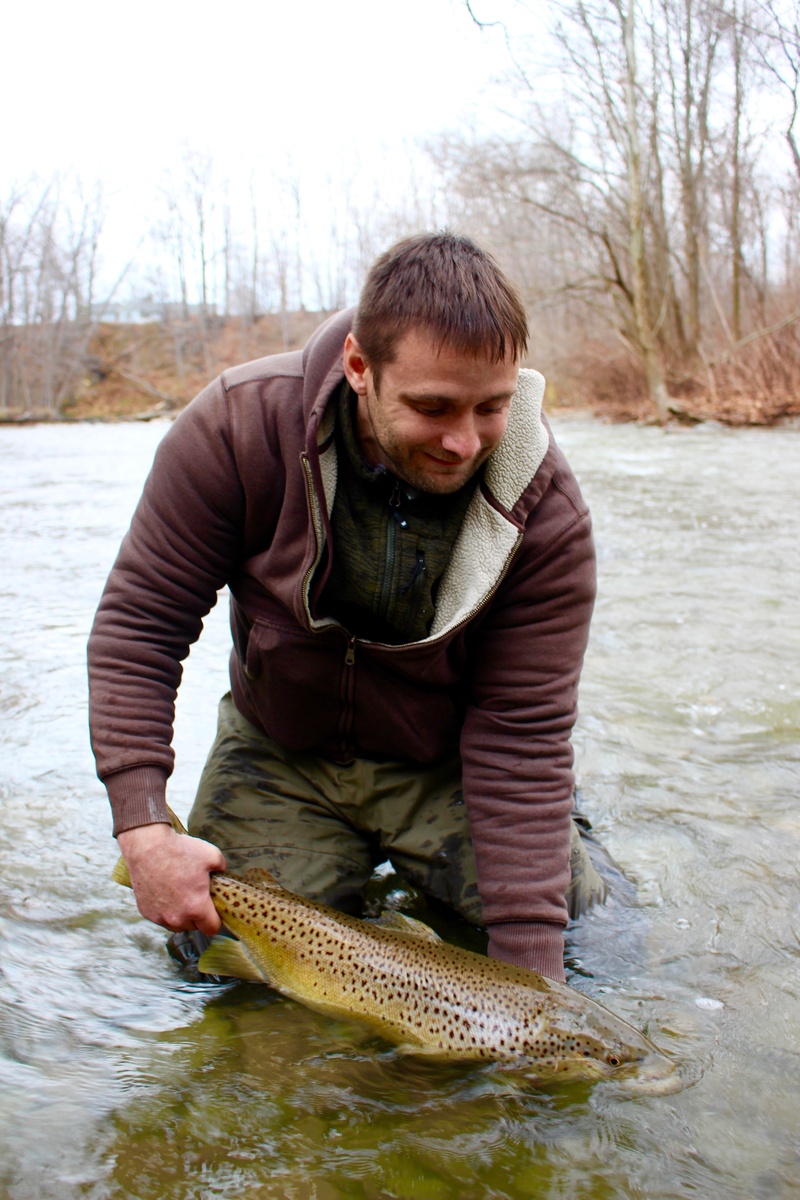 Another couple of the brown!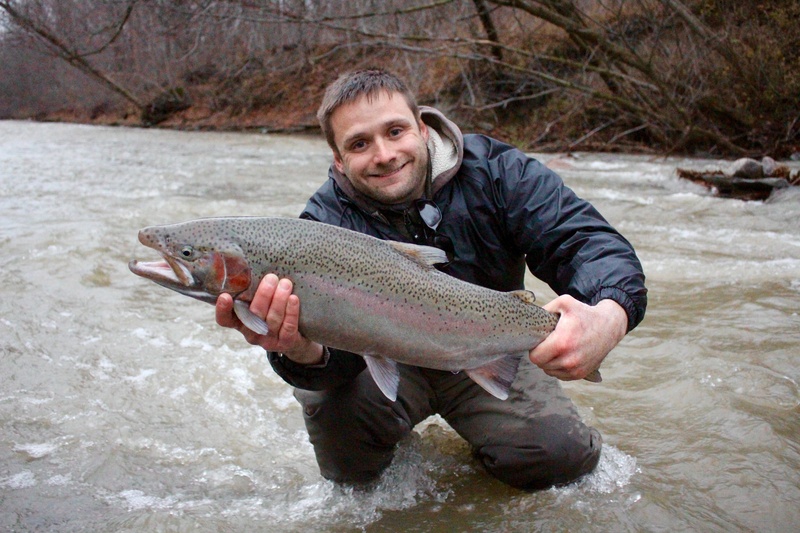 Justin's first steelhead!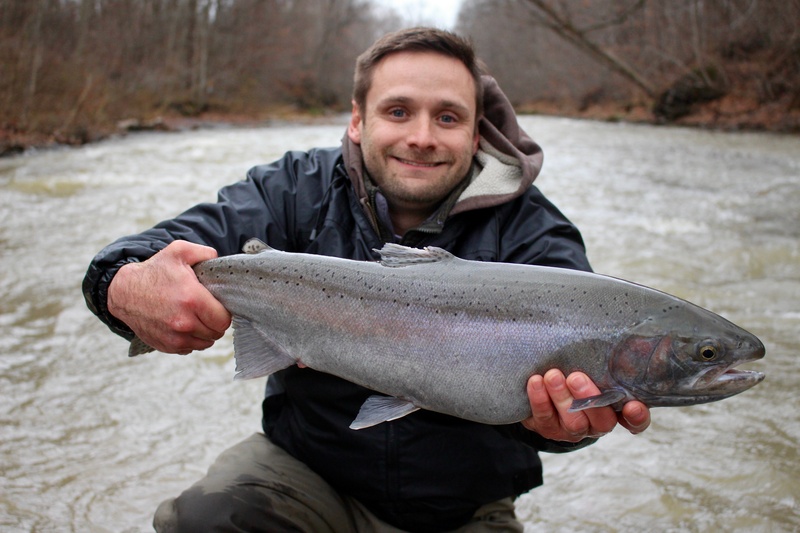 Chrome bullet!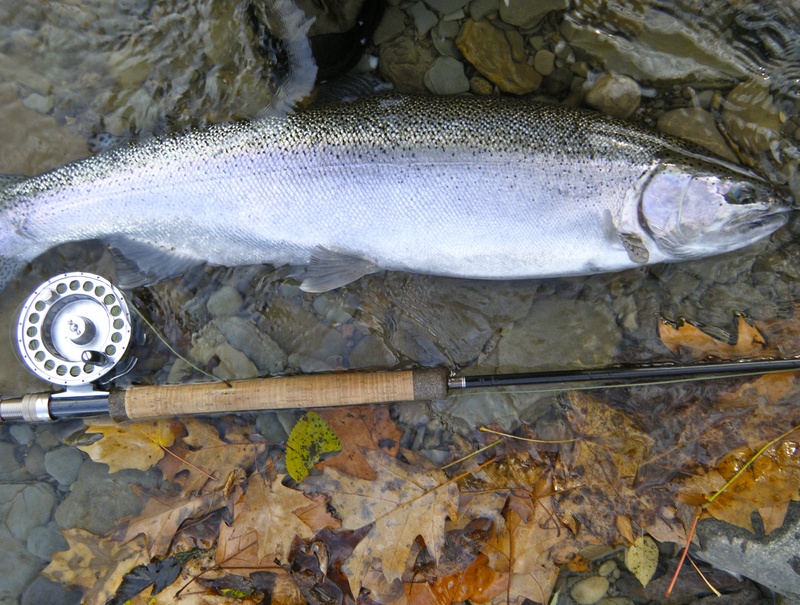 Fresh Lake Erie Chrome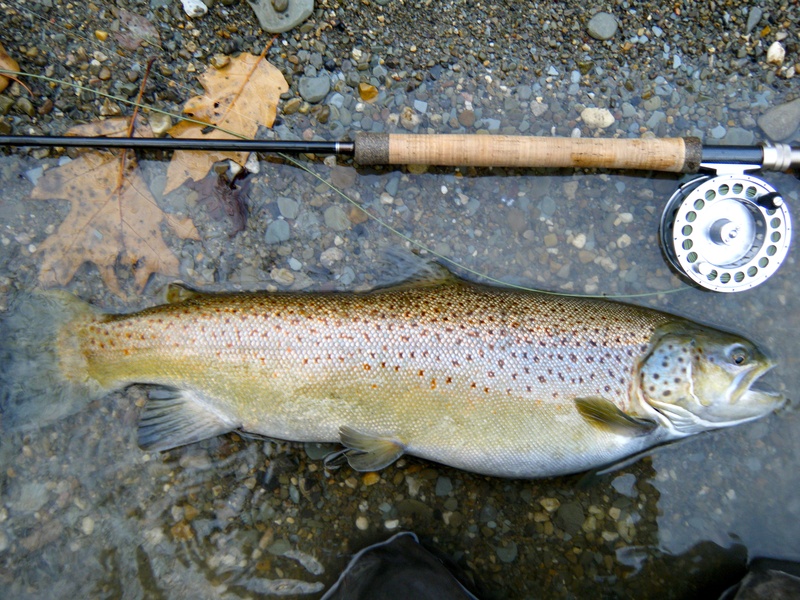 Nice Egg-Wagon Brown
We have a good run!!!
Well like promised, the blast of water we had at the end of the week triggered a good push of fresh steelhead and a smattering of lake run browns. In the smaller Erie creeks, both in Pennsylvania and New York, dropping water conditions yesterday afternoon and all day today produced some fantastic fishing. Visibility ranging from two to four feet depending on the individual creek or even the stretch being fished all fell within prime steelhead ranges. Stripping weighted woolly buggers or bunny leaches in white and cream colors through the guts of ledge pools produced arm jolting take after take. The bigger creeks are still too colored to fish well. The Catt is still out of the picture but should come back online here in the next day or two. The Grand will be out of shape until the middle of the week.
In Lake Ontario creeks, look for good numbers of lake run browns, along with a fresh run of salmon to have pushed in with the weather. All fish this year have been running on the larger size due to the mild winter, but reports coming back from Lake Ontario over the summer, along with the major river salmon fisheries have shown kings running up to 35 pounds this year. The Salmon River is also in the middle of the best Atlantic Salmon run since 2010, again with good sized fish (see below for a 20 +/- pounder).
So despite the adverse low water conditions that stuck around longer than we hoped, the main run has started. For the last two weeks, I've been calling some of my repeat clients who like to book trips earlier in the season and rescheduling. Looks like it's time to tell them the good news. For anyone else wanting to get in on the action, the next few weeks should be on fire.
Giant Salmon River Atlantic: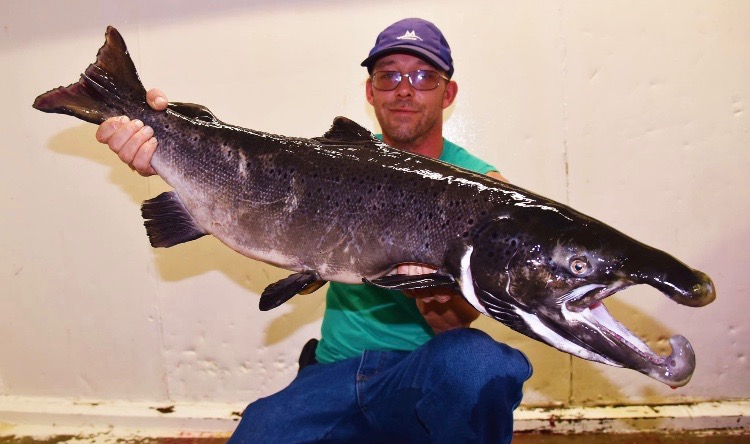 Photo from Salmon River Fishing Reports: https://www.facebook.com/SteelHead101/
Tight Lines
 - D
/