Shopping Cart
Your Cart is Empty
There was an error with PayPal
Click here to try again
Thank you for your business!
You should be receiving an order confirmation from Paypal shortly.
Exit Shopping Cart
Guided Fly and Spey Fishing Trips for Steelhead and Brown Trout with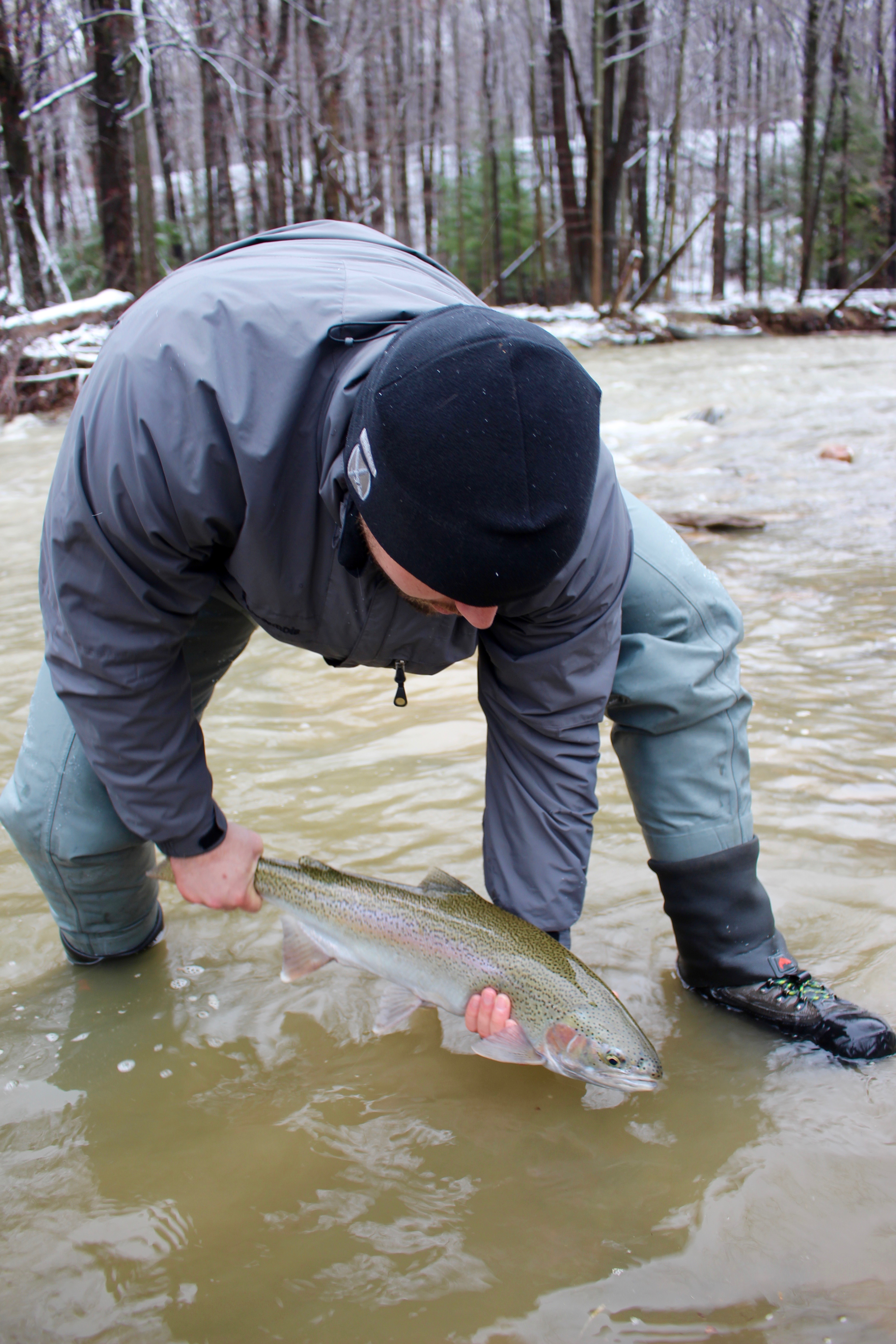 Blaine with a chrome beauty
Well it has definitely been an interesting last couple days. To start off, on Thursday night my client fishing the weekend called and said their flights were grounded in the severe weather that was hitting the east coast. There wouldn't be a flight out here until miday Saturday which would leave only Sunday for fishing. Just didn't make sense.
To make things more interesting, we had our own weather system move through so my dude fishing Friday was out there in high dirty water and snow. Sure felt like winter steelheading still! All the major systems are offline, and will continue to be so until possibly midweek next week. That leaves the small tributaries to the Grand, the Cuyahoga, and the Chagrin, along with some smaller creeks to Lake Erie here in Ohio that are currently the best options.
Took Sergeant Blaine Henry out for some steelheading, and we stopped at a tributary to the Grand. There were a few cars out in the lot, but most people obviously stayed home. The creek was flowing somewhere between 8 and 10 inches of visibility- very challenging fishing and means that to be successful you really need to pick your spots well and know how to read water. In that clarity, steelhead will prefer to sit in one to two feet of water so they can see some of their surroundings, and slower moving currents than normal. The first spot we hit was drifting right next to a fallen tree. Within fifteen minutes, Blaine hooked up on a bruiser dark buck of about 10 pounds that jumped right as us from our feet. Unfortunately we lost him at the net.
Next spot we fished, we rolled a good size chrome fish, lifting her up to thrash on the surface before she threw the hook. Bummer, but a few casts later, Blaine got a about a four or five pounder in the net. Success in the dirty water! A little while later, he quickly hooked and lost another fish that we never saw. But then he set the hook on a sleek, fresh fish from the lake. The good sized chrome hen took off downstream for a logjam but Blaine turned her away. After a few more minutes of tug of war, we put the 28-29 inch beauty in the net! Smiles and high fives all around!
We checked out a couple more spots, but other than one last quick hookup we didn't find any more bitters. White woolly buggers and chartreuse or orange egg patterns were the ticket. Of all the other anglers out there, we did not see anyone else even hookup. Most were fishing the classic runs or pools where fish hold in good water conditions. But in off color water conditions, seek out shallow, out of the way spots with a steady, not overwhelming current. Deep pools mean that where the fish sit on the bottom has very little visibility, and it has been my experience that this is not the best place to target them. Fish in tight on shallow runs, or on the soft side of logs. Using this technique, we were successful on a really tough day of fishing.
But then things got even more interesting. As we made it back to the car, I started to notice my stomach was beginning to act up. The forty-five minute drive home was brutal. It ended up being appendicitis, and today I had my appendex out. So though I'm always bummed when trips don't come together for one reason or another, it ended up being a good thing. Good news, though, doctors said I'll be ready to go in time for my next outing! So there is light at the end of the tunnel.
Enjoy the rest of the pics.
  - D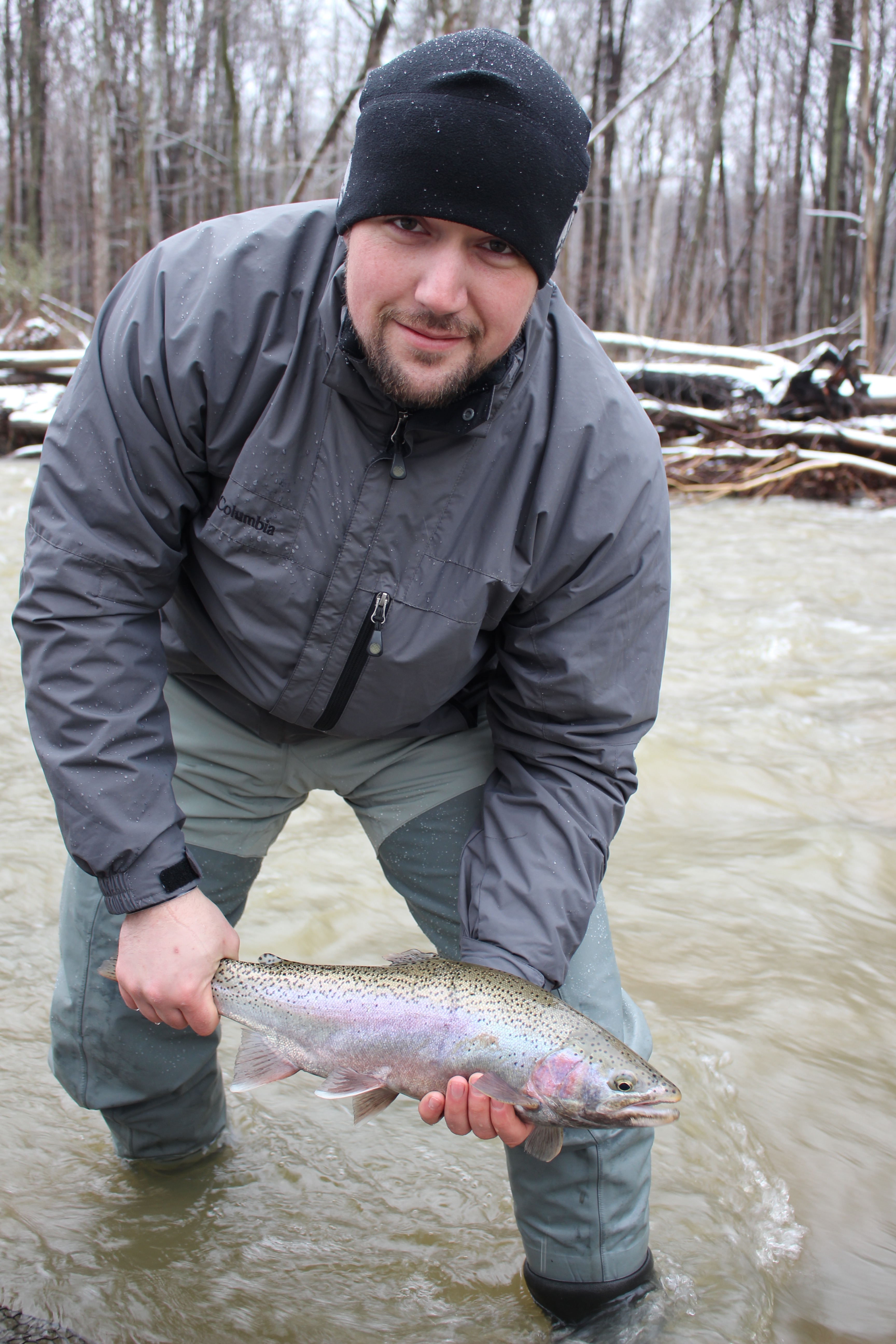 Blaine's first steelhead ever!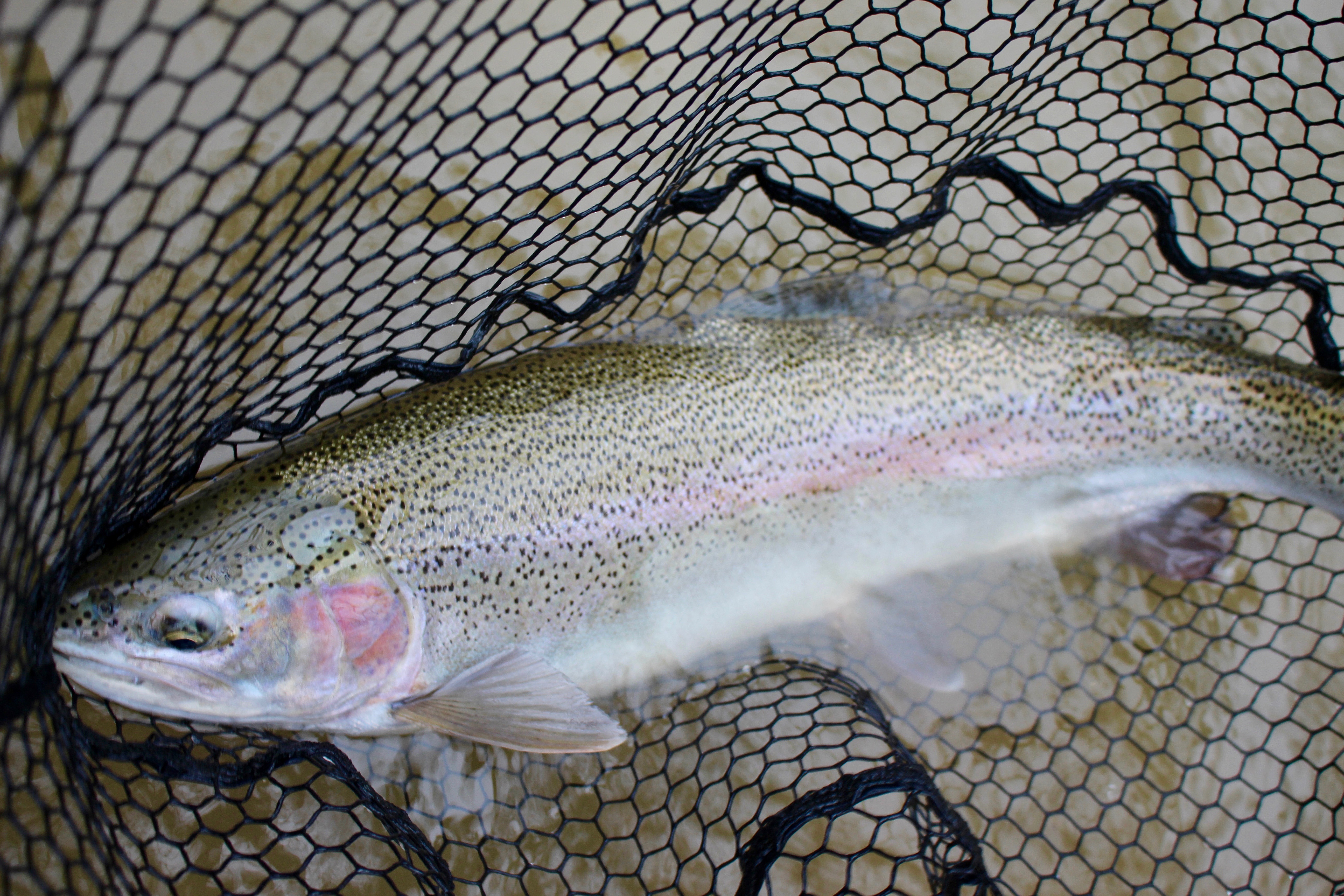 Blaine's big chrome hen in the net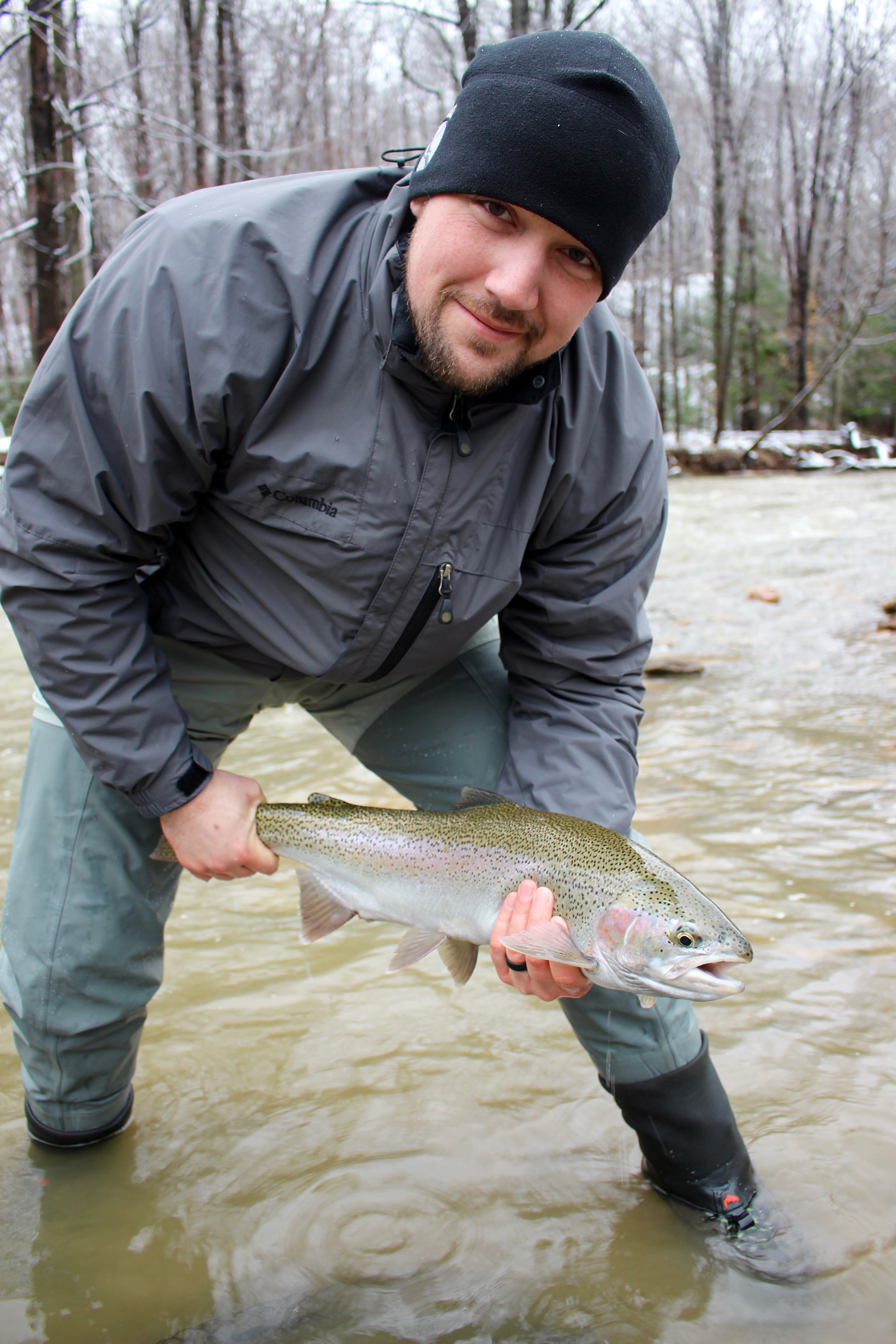 Another shot of Blaine's best fish ever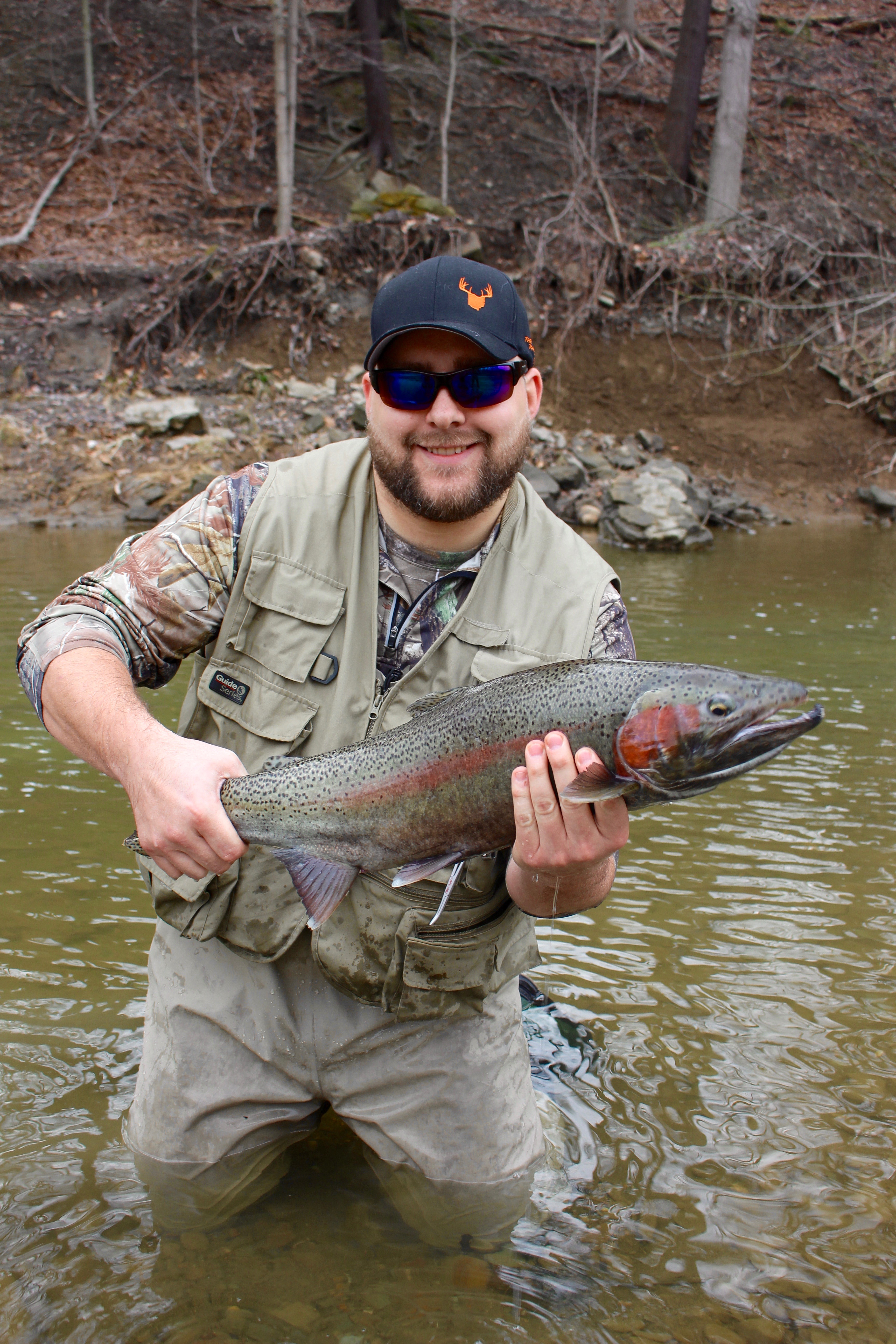 Ryan with an colored up buck!
Well for the second straight week, we hammered em pretty good. Fished with longtime friends Brent and Ryan and we lit them up. Caught 11 steelhead and lost about as many, including a mid teens fish that is easily the biggest Ohio fish I've seen in years. Just like last week there's not a lot to say. We have great fishing if you know where to go and how to fish. Everything seems to be running two to three weeks ahead of schedule. Look for the next three weeks to be on fire.
  - D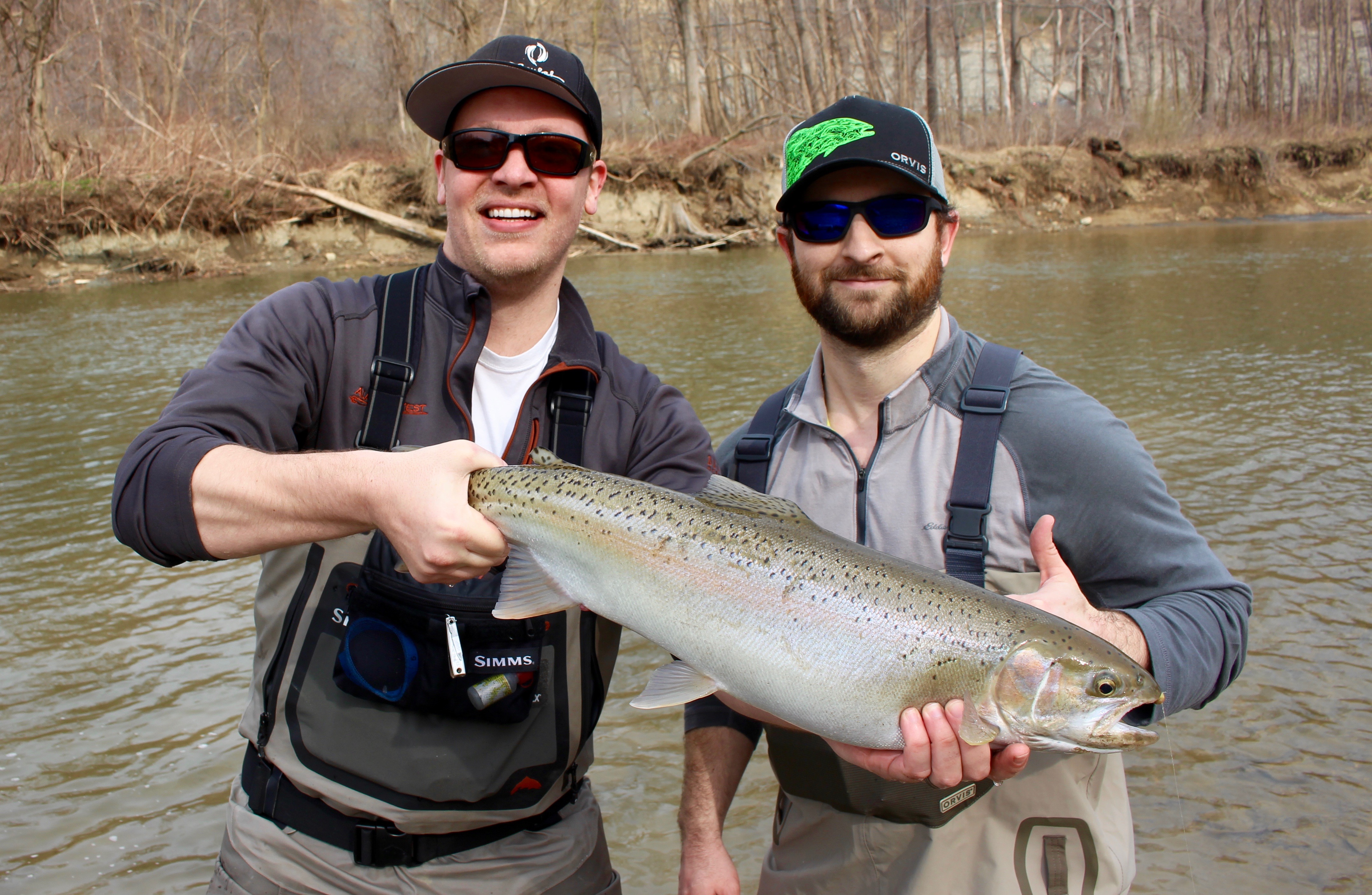 Brent and I with the big fish of the day- a fat hen pushing 11-12 pounds!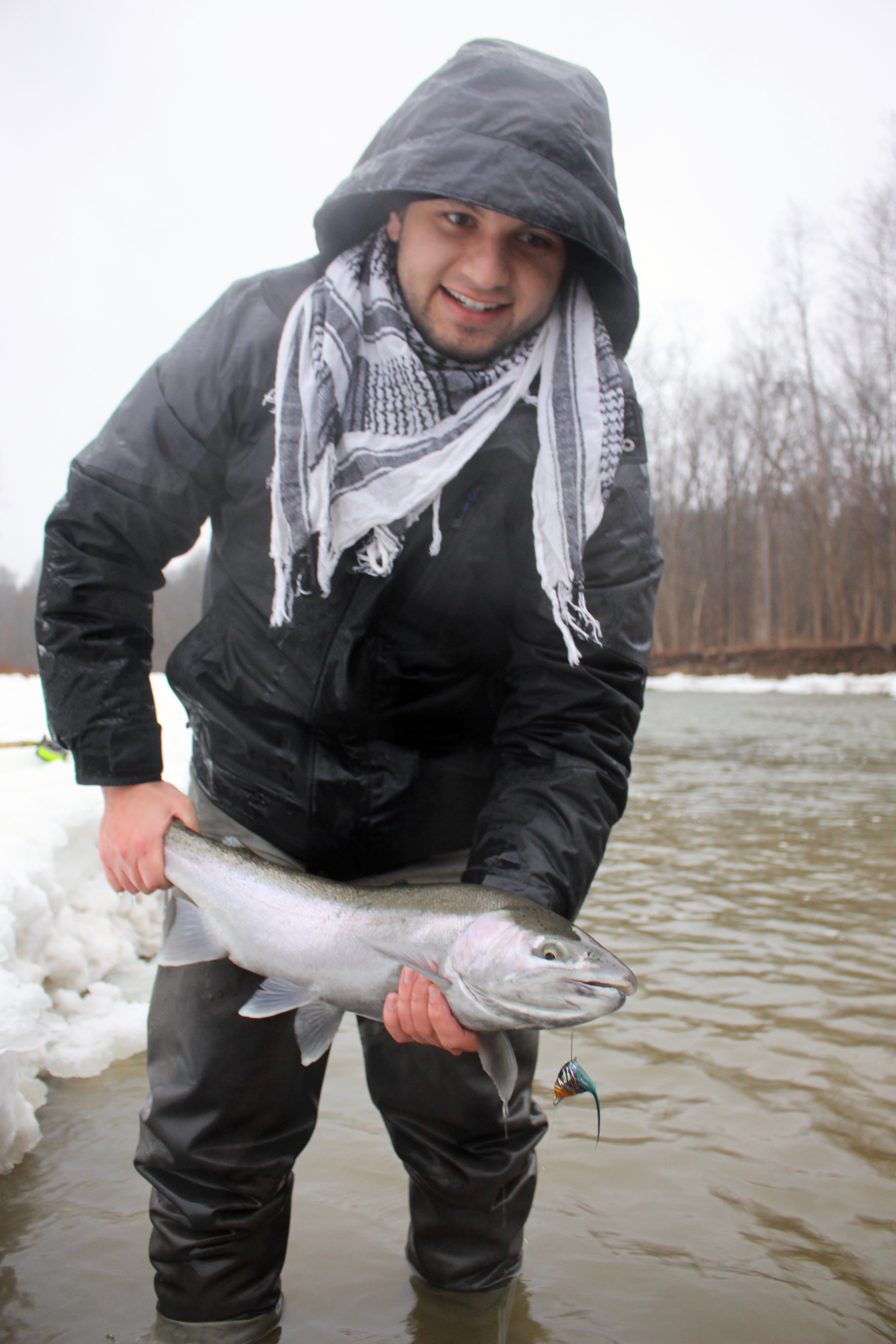 Mike with one of 13 fish to the net before noon
The pics tell it all. Fished with Mike today. First time really fly fishing for steelhead or any other fish for that matter. Put 13 in the net. 3 swinging the hangover on spey rods and the rest nymphing. Now's the time to catch some serious fish people. Not much else to say. Check out the pics.
  - D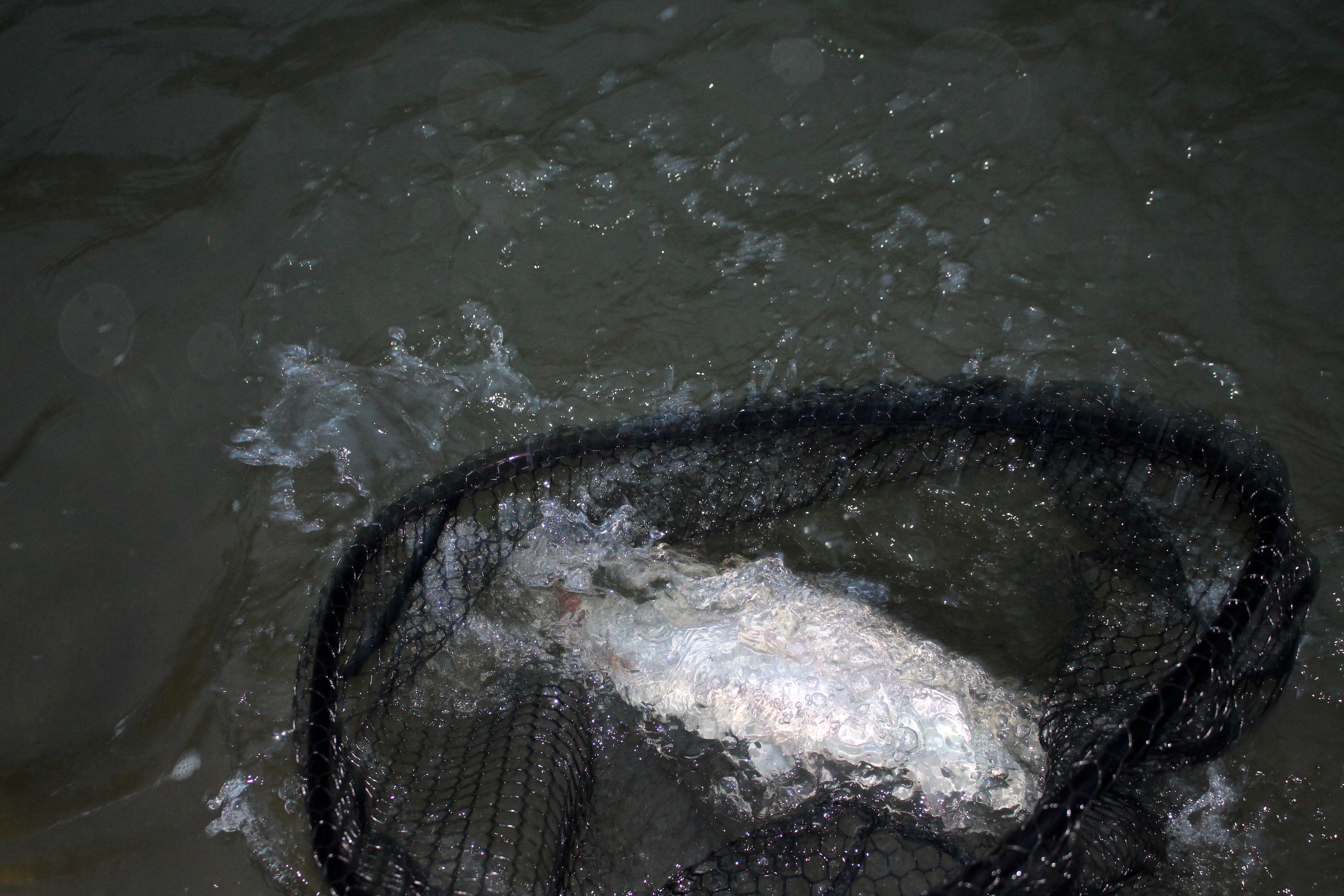 Cool shot in the net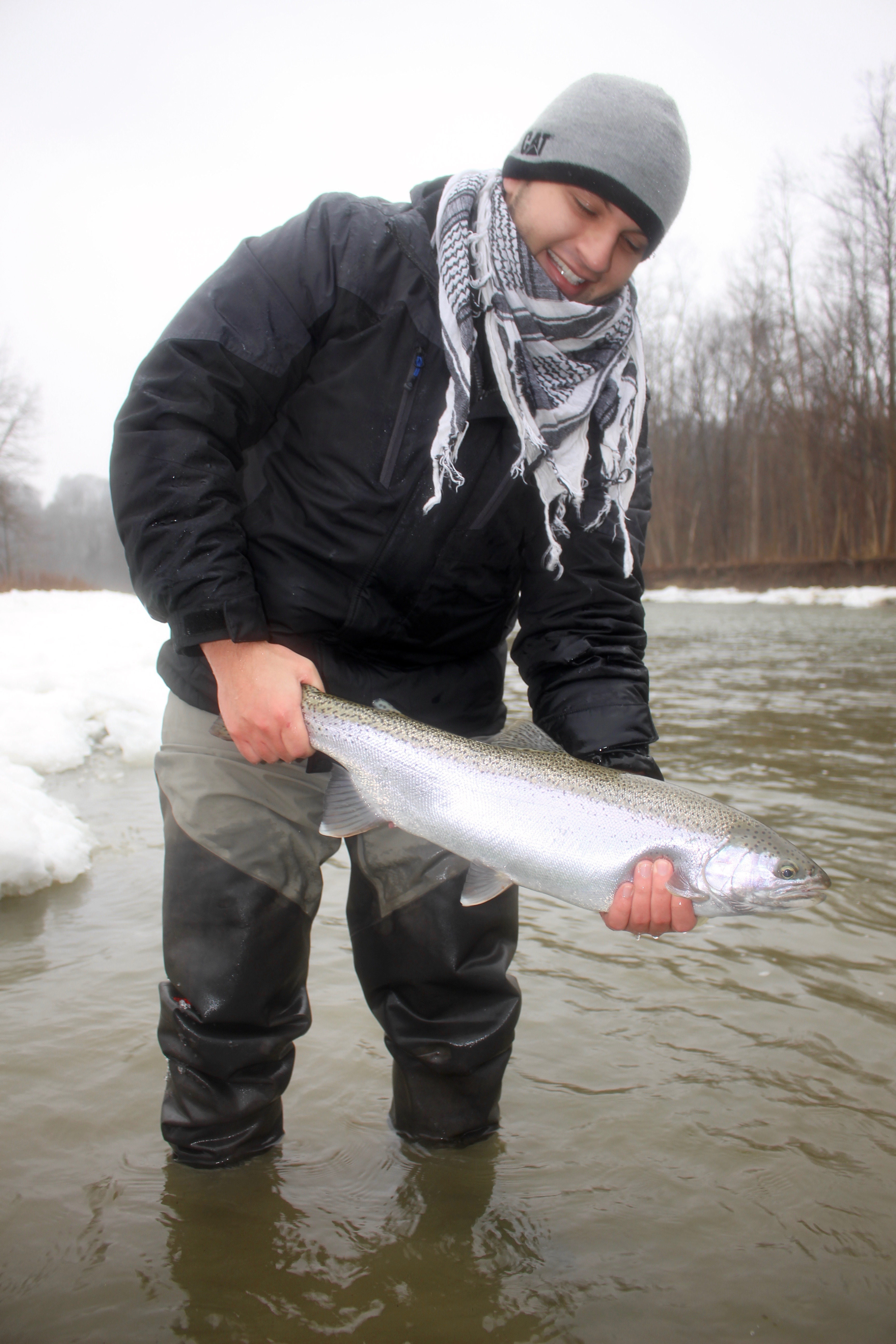 Chrome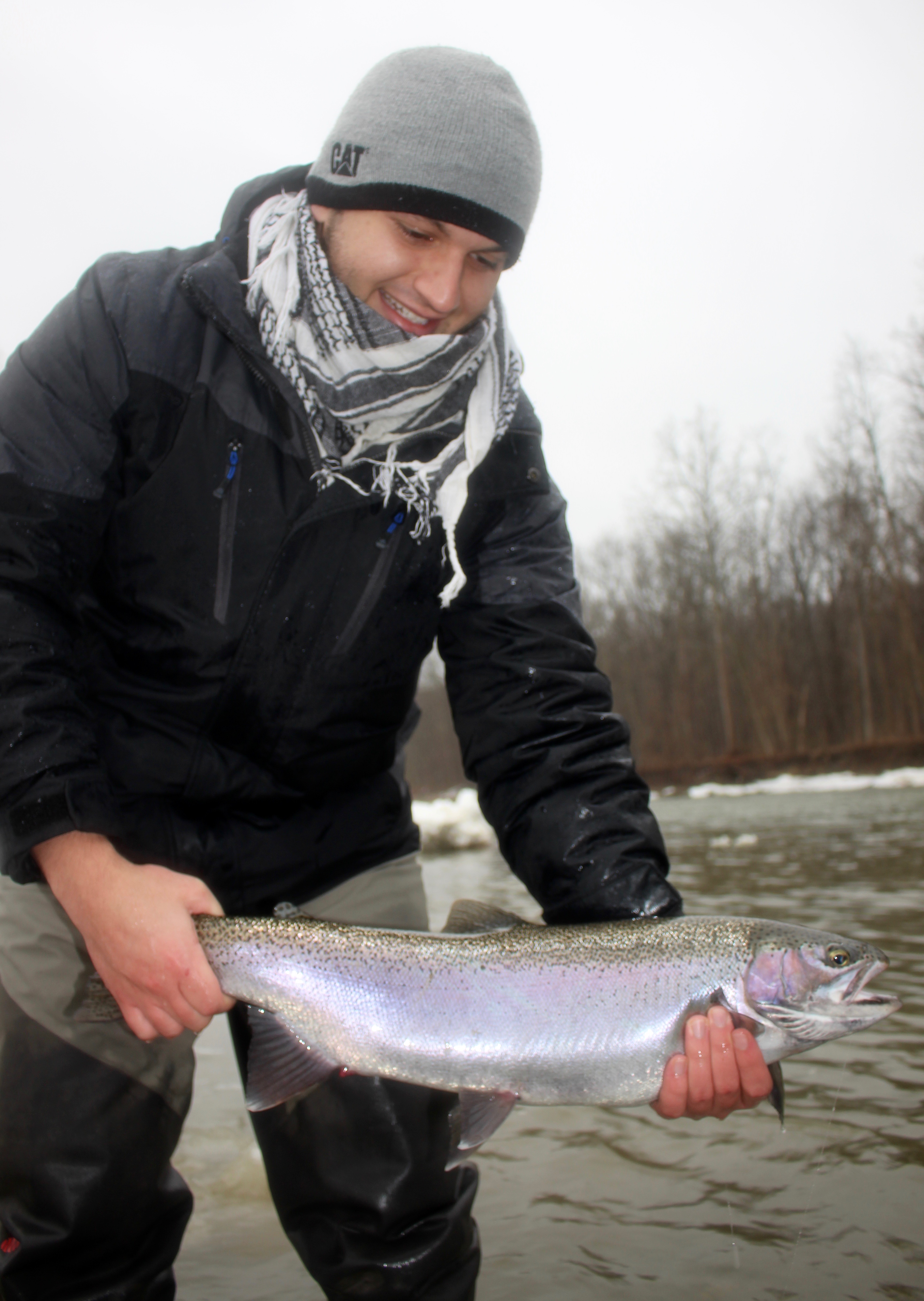 Fatty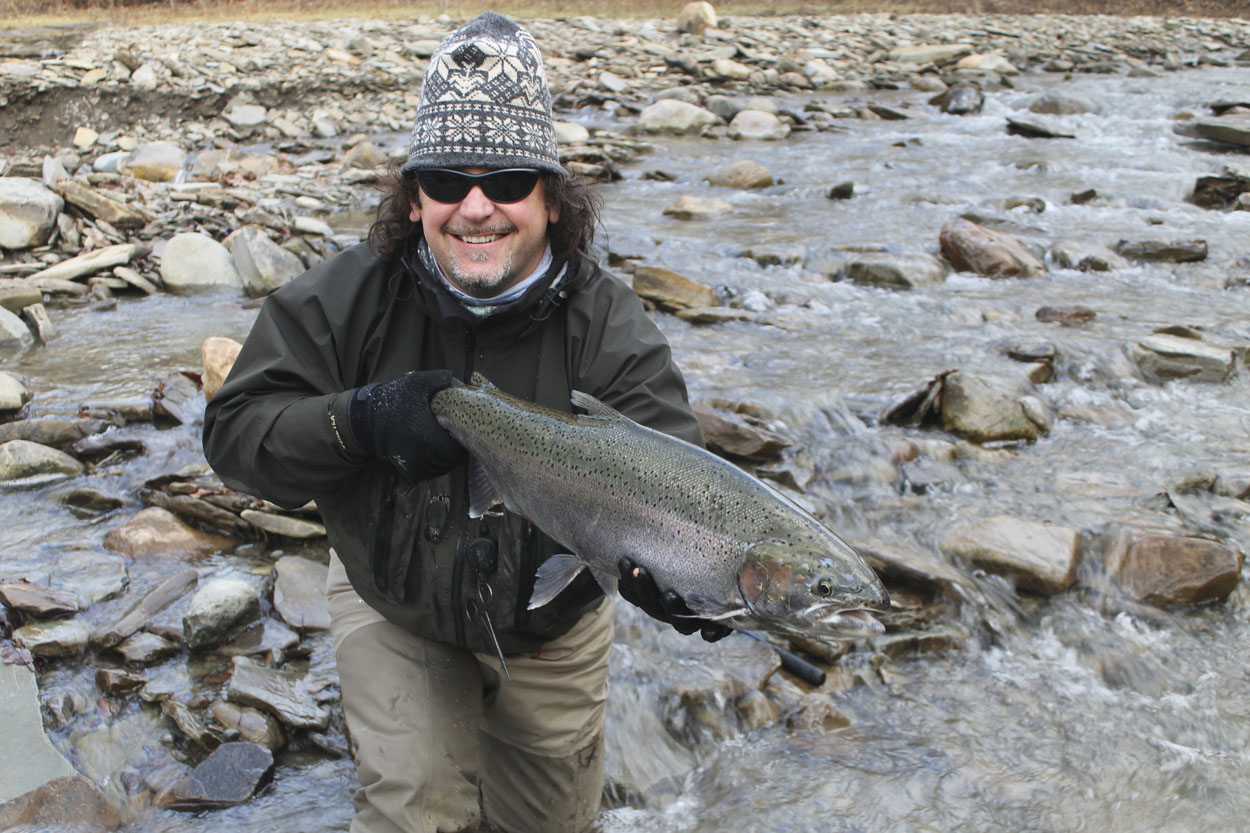 Noel with a beauty
Well, we definitely have a ton of fish in the rivers now. But we also have a ton of water. As I'm writing this, the Chagrin is spiking up over 3000 cfs, and the Grand is well on it's way to 5000 and beyond. We've been pummeled with rain over the past 24 hours, and it look like more to come. But before everything went to shit, we were hitting them pretty good. The usual spots on the Chagrin are loaded. The Grand has been out of the picture for the last week and a half, and just when it was looking to fish again, we got hit with 2 inches of rain. 
We've been hitting the Chagrin pretty hard, and the average day is double digit hookups. Look for this to continue once the water drops. It'll be the end of the week before the Chagrin will fish, assuming we don't get hit again. The Grand will be out of the picture for quite some time. We've also been seeing a number of fish between 9 and 12 pounds, which is always nice. The bad news is that the next few days are gonna be blown out. The good news is that when the water drops, I expect there to be another push of fresh chrome. I guess that evens it out.
Check out the pictures of our recent catches.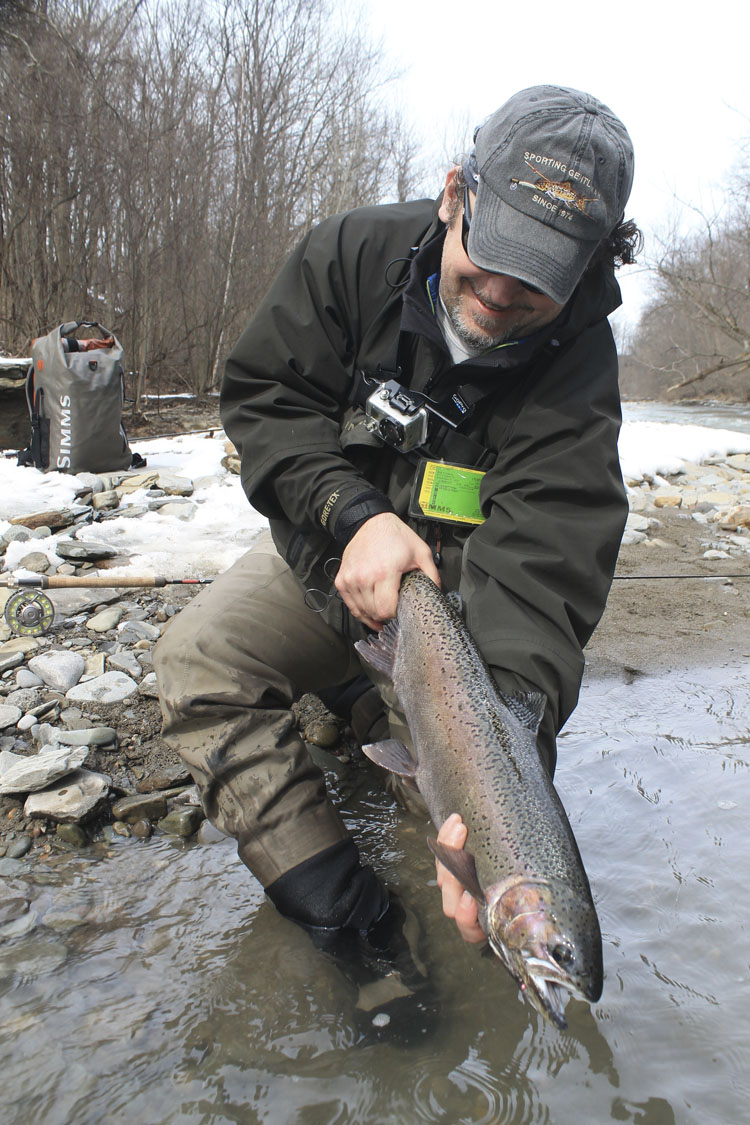 Colored Fish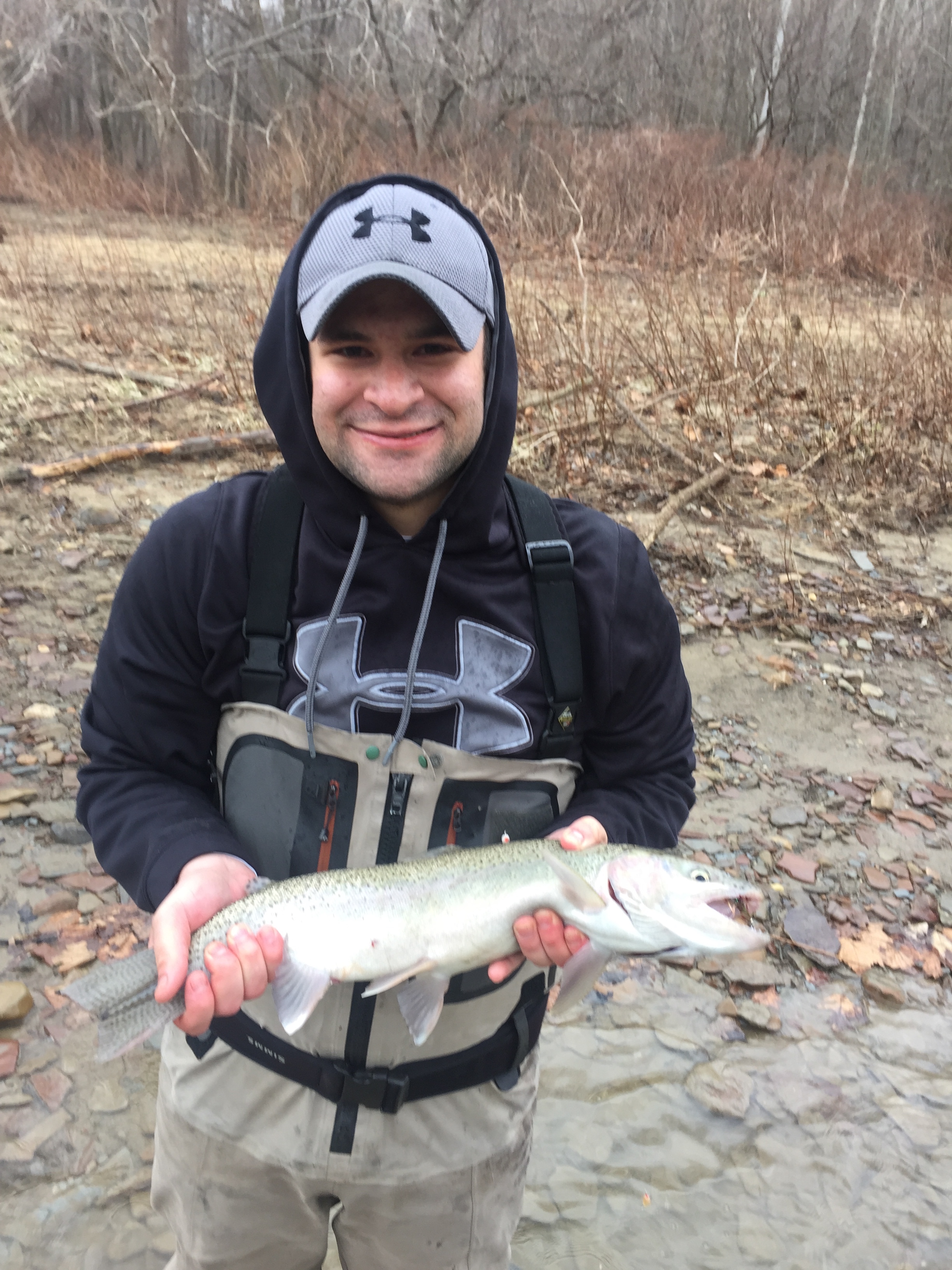 Tony with a bright little guy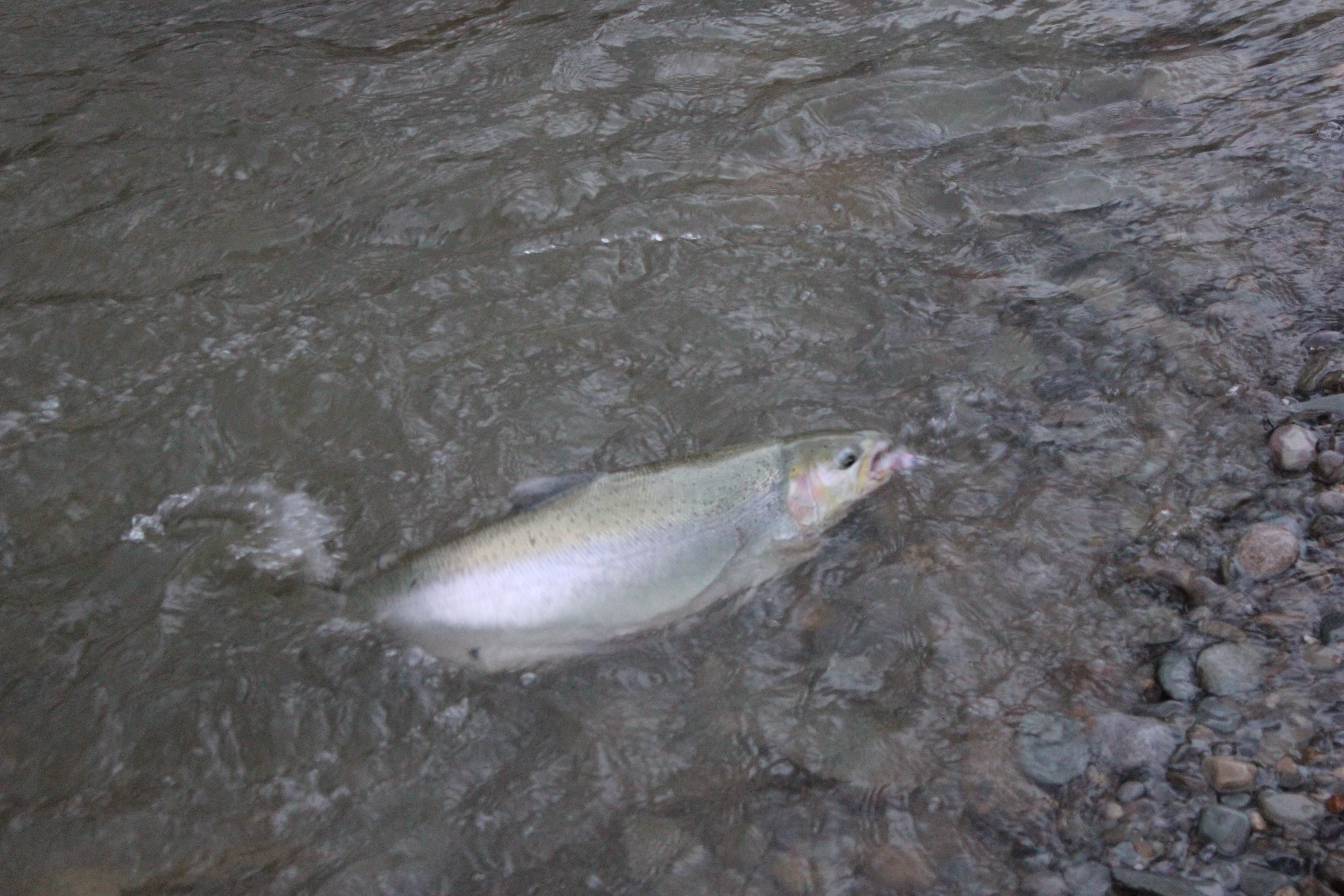 Landing an average fish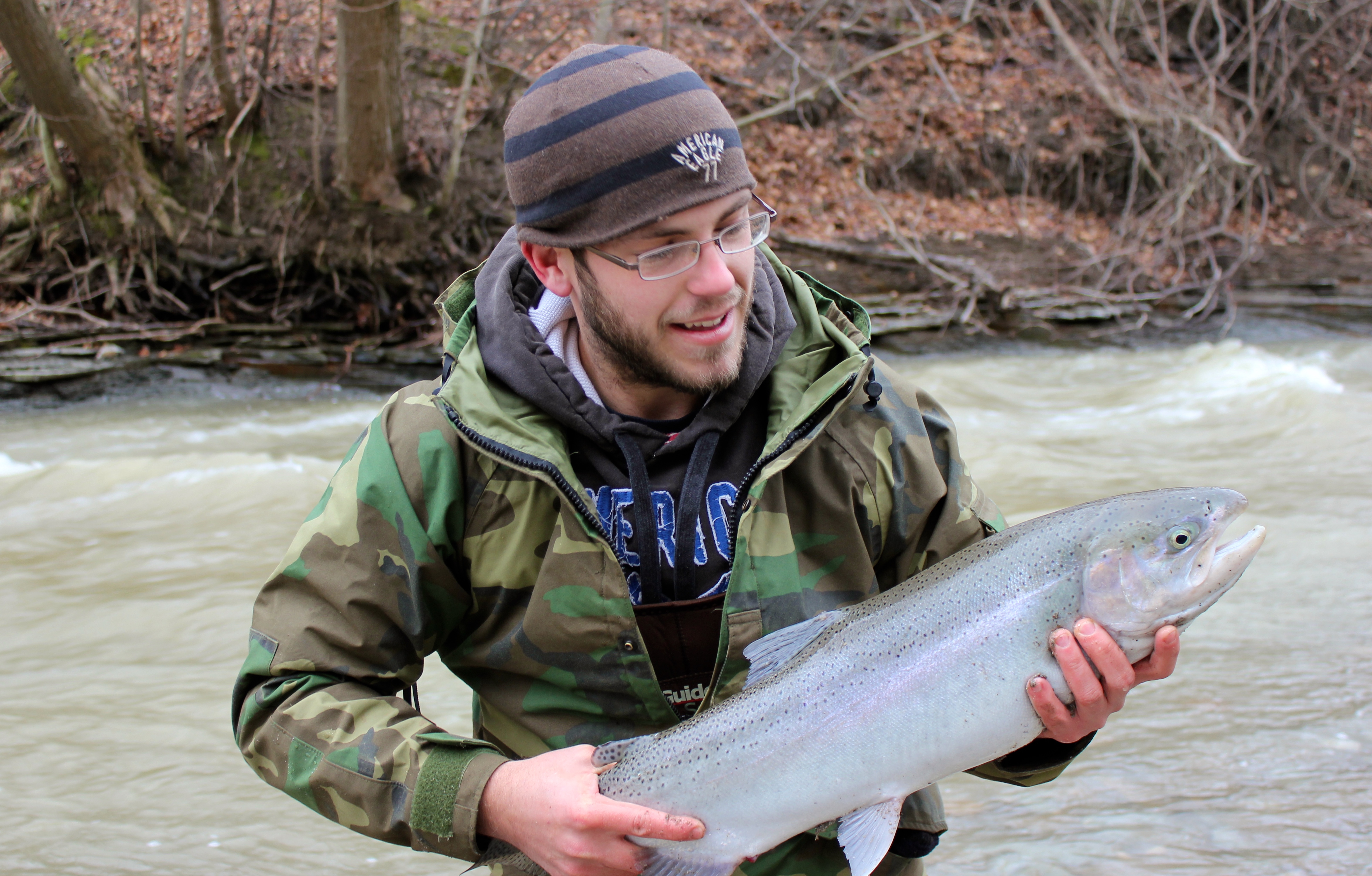 Good fish from dirty water
   - D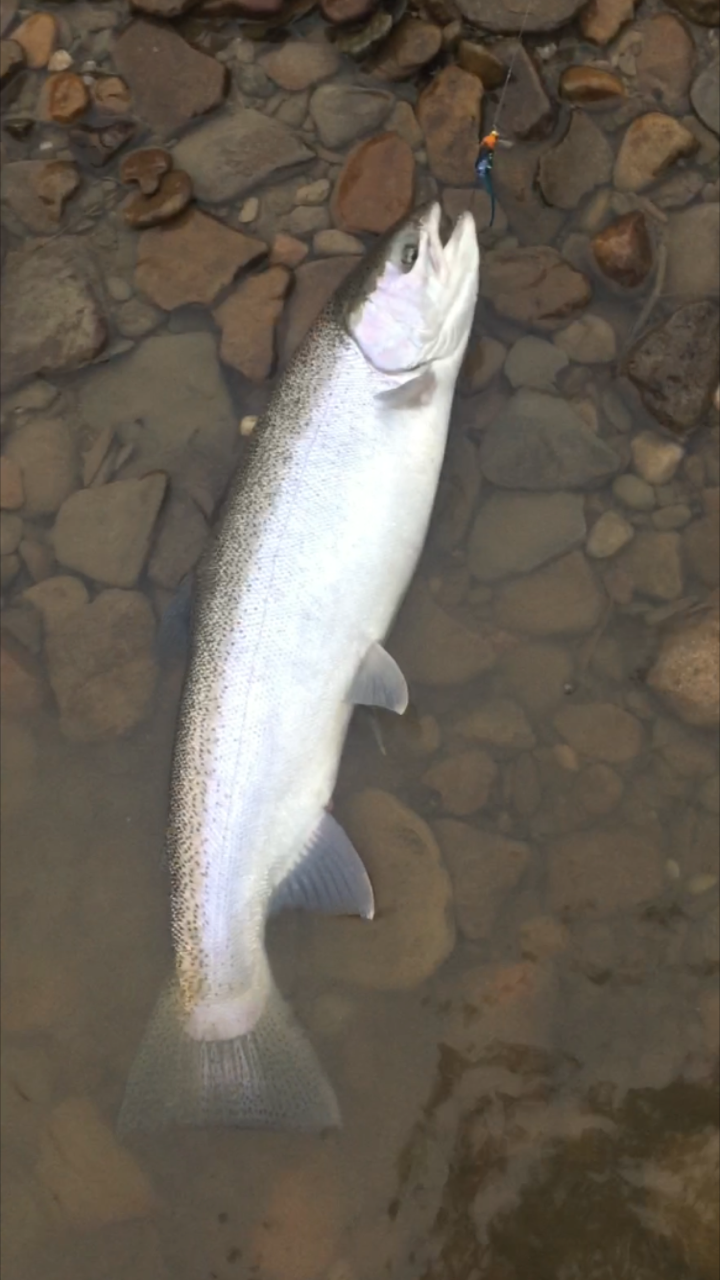 32" Hen from the Grand fresh from the lake! (For reference, that fly is 4" long)
Well, it's still February here but both the temperature and the fishing is unseasonably hot! Last week, the Grand dropped into shape for the first time this year (something we generally don't see until at least the end of March!) and I was able to sneak out for a few hours in the morning. Went 1 for 3 and had a handful of other quick grabs that didn't get the point. The hen I landed took me about fifty yards down river. She was a dime piece for sure, and must have come up from the lake within the last day or two. She still even had a little shine on her tail fin- something that usually disappears within two days or so of being in the creeks. 
The other creeks and rivers have been fishing pretty consistently over the past month or so as we have had the mildest winter I can remember. Because the creeks never really froze up, look for a longer season this year with the run more evenly spread between now and the end of Apri, rather than a motherload run all at once. That is somethine we generally see with hard winters and late thaws- literally all the spring run is condensed into a short time rather than drawn out over a longer period. What I expect to see is decent fishing over the next two and a half months.
In other news, we attended the Philadelphia Sports Show for the second year. With the first two days being so nice outside attendance was down. But Saturday and Sunday evened it out. All in all was a good time. Check out a pic from the show below.
 - D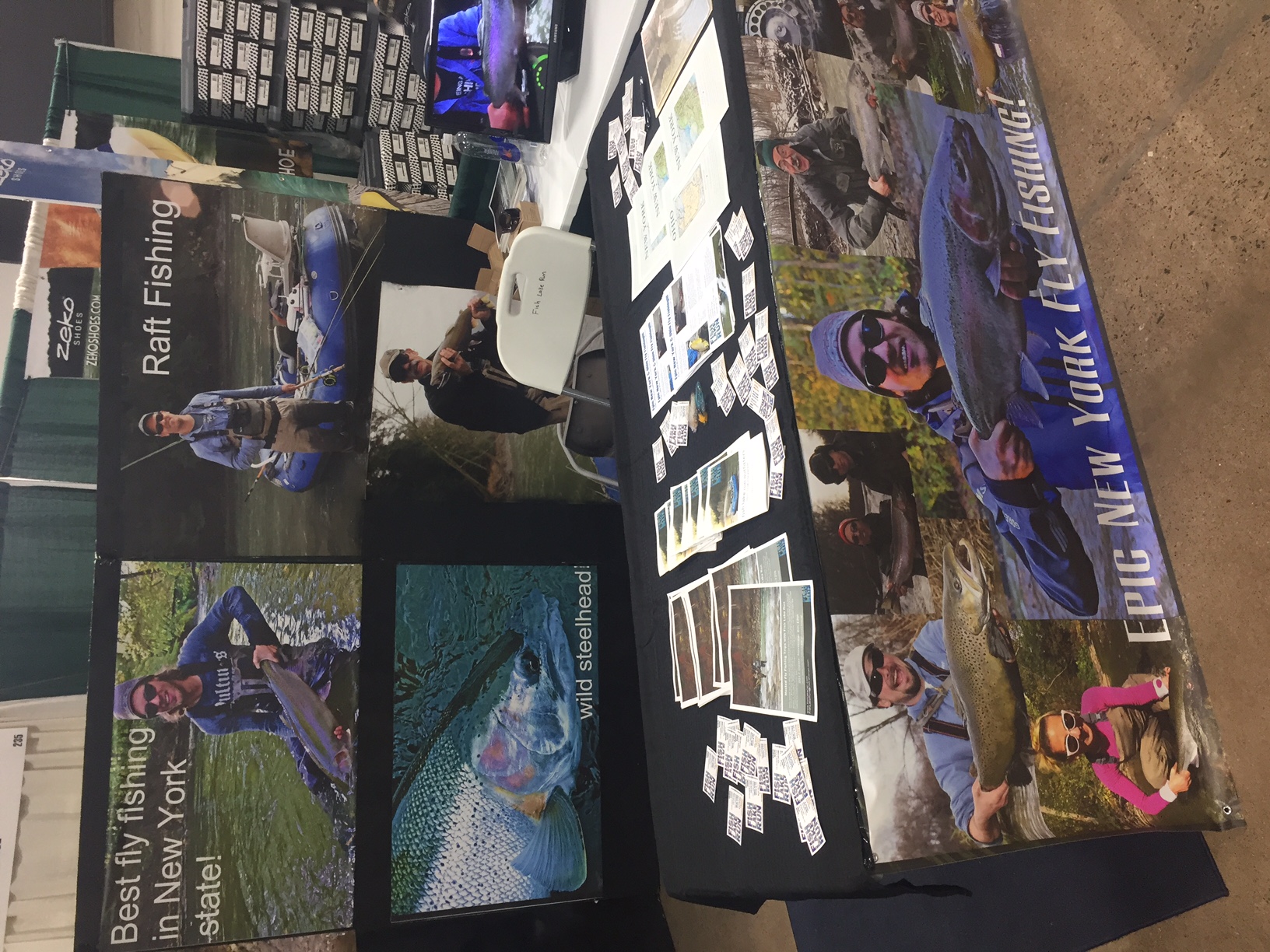 Took the driftboat out this weekend with Tony and Mike from Cleveland on the Grand River. It was a blast! The boat handled great, and was a breeze to row. Tony and Mike are pretty new to fishing, so we fished a variety of methods. Though at Fish Lake Run we specialize in fly fishing with swinging streamers on spey rods our forte, we are proficient anglers in all methods of fishing. Case in point- all of our action came running large plugs! When a steelhead takes a plug, it is very similar to the aggressive nature that they eat streamers. The big difference is when plug fishing the rods are in a rod holder, sticking out to the sides of the boat, so the take is very visual and the rod buckles under the weight and power of a fish. It is one of the most exciting takes in steelhead fishing.
Right off the bat, Mike had a good takedown on his plug rod and we fought the fish for quite some time before losing it next to the boat. Then we fished quite some time without another strike, and I began to wonder if the fish we hit was the only one that was willing to bite the plugs we were running. But then we found the motherload. As we fished through the upper part of a very fishy looking run, we dropped into the bucket and a GIANT steelhead took a rod down. The fish was heavy and it was angry. As Mike fought to get the rod out of the holder, the fish snapped our 15lb leader and stole the plug, then jumped two or three times out of anger! It was nuts!
After losing the giant, I rowed us back up to the top to try again. Another takedown! This one didn't stick. A little further down, the other rod got blasted but also failed to hookup. Then in the tailout we got a final non-commital take. I rowed up one more time to see if we could get one to stick, but no more hits on the third pass.
We burned some water to a juicy looking pool, and ran out the rods. Within minutes we got a take. I powerset the shit out of it on the oars, and Mike had a fish on! We fought it to the boat and netted a nice 16" smallmouth! First fish in the new boat!!!! Next Tony jumped in the hot seat. Again within minutes of running out the rods, we got slammed. Again I powerset, and again FISH ON!!!! This time a nice five pound steelhead! The fish fought and jumped like mad, and Tony did everything possible to lose it, including opening the bail when I asked him to simply flip the rod over. But we netted the fish. First steelhead in the new boat!!!!
Mike jumped back into the front seat. A little while passed and we were working down a good run when fish on! This time a small steelhead erupted from the water! It must have jumped five or six times! After a while we slid the net under the fish. It was Mike's first steelhead, though a little guy.
As I said in the beginning part of this report, we are generally fly anglers. People might ask why fish any other way? It's simple- there are benefits to changing tactics and methods. The stretch we floated was new water, a stretch I hadn't devoted much time to learning. Pulling plugs is an effective way to cover LOTS of water and find what pools hold the fish. Fish are sometimes unpredicable. Take any stetch of water. There may be ten good looking pools in that particular stretch, of which possibly only a couple consistently hold fish. It could be something as small as a submerged tree root from a cut bank, or something as invisible as a spring seep, or simply because the fish like to hold there. Next time I'll know which pools are money, and can devote the time they deserve. We as anglers can't become so high and mighty, or so completely devoted to a single method, if we still hope to progress and learn as much as can be learnt about the nature of our quarry. Otherwise we become static.
Sure, if I had my choice I'd be knee deep swinging streamers. But that doesn't me I didn't have a hell of a good time pulling plugs with Mike and Tony. And in the end, I know a little more about a fish I care so much about.
Check out the pics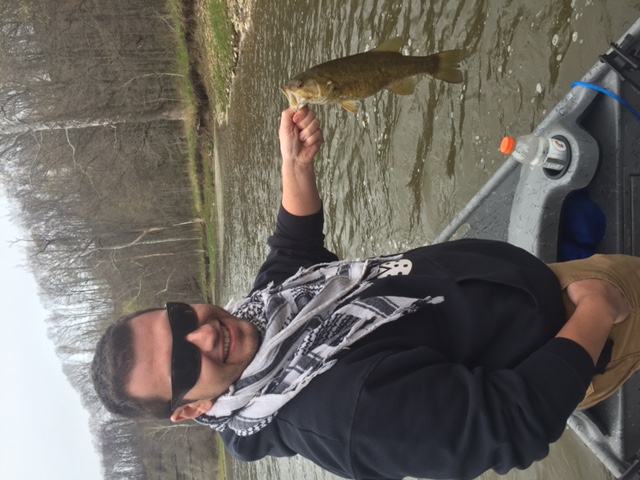 Mike and his smallmouth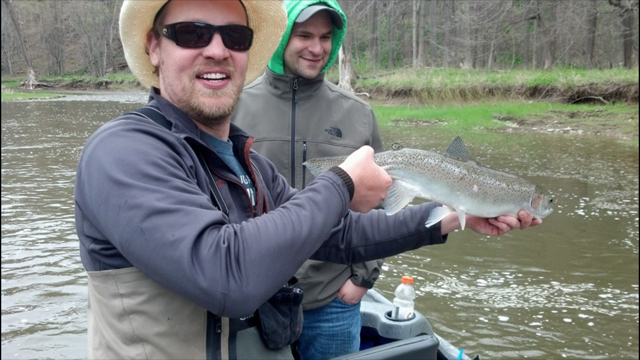 Tony and his steelhead!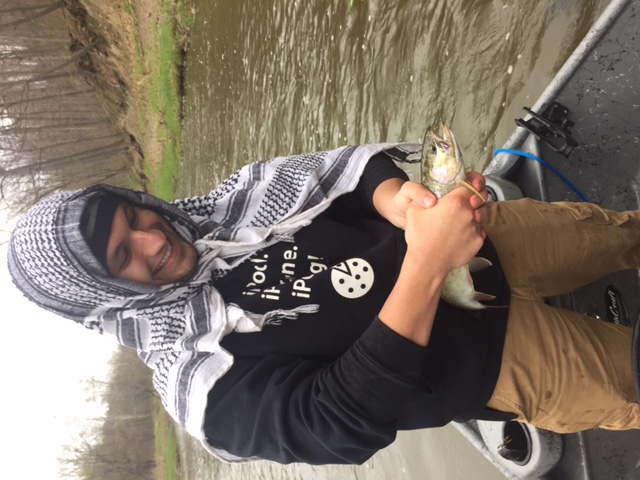 Mike's little guy!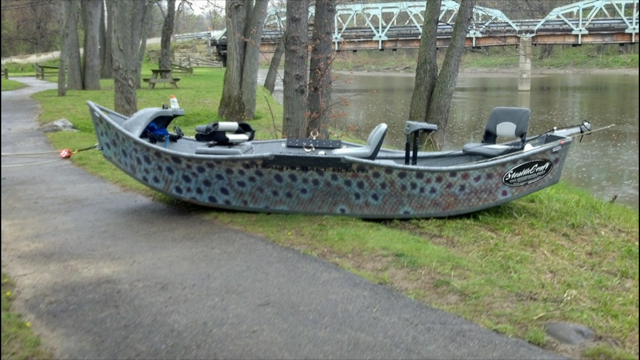 Taking the boat out
/