Shopping Cart
Your Cart is Empty
There was an error with PayPal
Click here to try again
Thank you for your business!
You should be receiving an order confirmation from Paypal shortly.
Exit Shopping Cart
Guided Fly and Spey Fishing Trips for Steelhead and Brown Trout with
| | |
| --- | --- |
| Posted on August 13, 2015 at 8:55 PM | |
With the nights starting to get a little longer and the temperatures dipping into the low 50s overnight, I'm starting to feel the itch of fall steelheading on the Catt. Early fall can present a number of both opportunities and challenges. Generally the season kicks off with low and clear water, and it looks like this up coming late summer-early fall is no different.
One productive way to pass the time waiting for the first push of chrome or for conditions to improve is to sit down at the vice and tie some up some proven weapons or to experiment with new materials or designs. In anticipation of a busy fall, I've been putting a lot of time in on the vice to whip out a ton of guide patterns. These patterns are the old standbys, generally the first on in the morning and the last off at night.
One proven pattern is the pumking (named after a beer):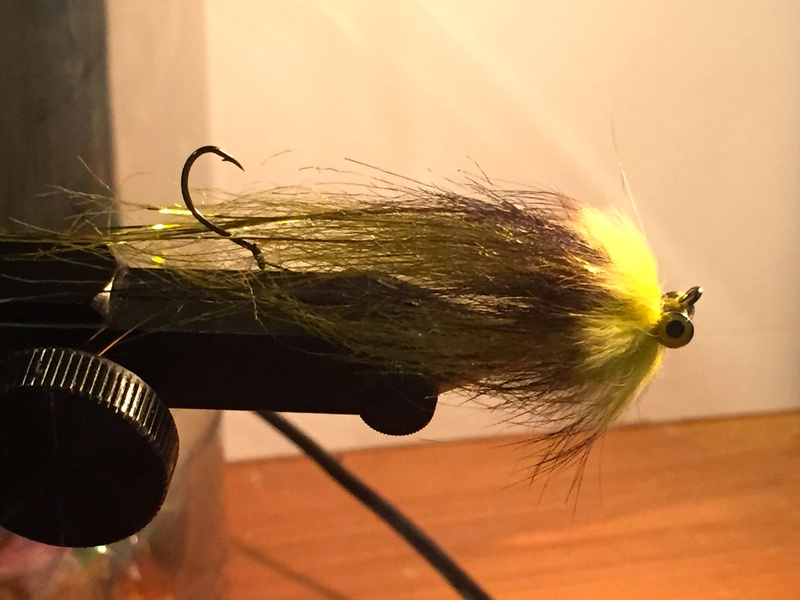 This pattern is a great all around fall pattern. It's a pretty simple pattern to tie, doesn't take long to finish, and catches fish. Pretty much why it's a guide pattern. The pattern combines olive and black (two favorite steelhead colors) while a brighter head catches fish's attention. These are crucial elements to creating any successful steelhead or lake run brown pattern. 
Finally, any successful pattern has to have a good profile. When fishing the swing, you want to show the biggest part (profile) of the fly to the fish. One way to form a good profile without overloading the fly with material is to tie materials in backwards, then fold it over the fly. I tie almost all my streamers in this fashion, and it can be done with just about every material. The pumking uses predominantly craftfur for the body, and reverse tying works awesome. 
Finally, when tying in weighted eyes, tie them in on the underside of the hookshank. That way your fly will swim right side up. And place your stinger hook in point up. You'll get much fewer snags that way.
Tie em up guys!
Daren
Categories: Fly tying, Tips and tricks, Steelhead
/