Shopping Cart
Your Cart is Empty
There was an error with PayPal
Click here to try again
Thank you for your business!
You should be receiving an order confirmation from Paypal shortly.
Exit Shopping Cart
Guided Fly and Spey Fishing Trips for Steelhead and Brown Trout with
| | |
| --- | --- |
| Posted on October 17, 2015 at 5:45 PM | |
Over the past few days, we've had a weather system move through dumping rain and even snow at times. The water is both a blessing and a curse for our creeks and rivers. On larger systems like the Catt, it seems like a heavy dew will blow her out. So a half inch of rain definitely will. On Friday, I headed out early to fish. Even the little creeks were high and dirty, so I knew the mainstem of the Catt would be. But I headed up anyways. When I got there, no surprise, she was flowing a chalky milk, with only a few inches of visibility. But it was a beautiful day and I checked out some spots.
Low and behold, some of her main feeder tributaries were running clear and with decent flow! These smaller fingers attract fish when flows are right, and the flow was right so I wanted to check it out. I started at the pull off and fished my way down. It seems the more I fish larger water, the more I forget just how fun swinging streamers on a small creek can be. As I worked the water, I came to familiar runs where I have pulled fish out from log jams and cut banks. As I reached an hard turn with a cut bank on the other side I paused and watched the sun break through the clouds. This particular stretch has been good to me. I swung my streamer through anticipating the solid pull of a stout fish, only to be rewarded by my line coming through to a stop. No takes on this swing. Or so I thought. As I positioned my anchor for a small snap t cast, I watched a decent resident brown in full spawning colors come out and eat it, the streamer shaking in his mouth as he darted back to the deep. With so much slack in my line I could not get a set on him and my streamer pulled to the surface to be cast again. A few feet down below, I noticed a redd in the tailout, maybe 15 inches across. Looks like he had a mate. You just never know what you'll find when you explore.
When I reached the mouth, where the feeder dumps into the main stem. The clear water extended down the river right bank for several hundred yards. The strip, maybe only 15 feet wide made a beautiful seam between the heavy silt flow and the spring feed water. In these conditions fish will sit right near the bank in that seam, and finding these places can often save what would otherwise be a skunk. Because I often fish this stretch of river, I knew that the creek mouth formed a slot maybe a few feet deep down the river right, while the middle was a large gravel riffle only calf deep for quite some time before forming a deep pool. Despite the visibility, I waded out to the center, casting to the right bank and swinging into the dirty. Each step down, I knew the slot deepened. There had to be a fish somewhere along that line. Before I knew it I was a couple hundred yards down from where I started, standing in near waist deep water. My consciousness began to warn me, and I had reached the point where I was no longer confident wading further. I wanted to keep fishing. I know there are fish somewhere along that seam. But I turned back. As anglers our best asset is ourselves. Our instincts and intuitions. It helps us pick the right fly. It helps us fish the right water. It helps us catch fish. And it tells us when to turn back. And now was that time for me. To continue would not be safe. Though I took a risk fishing as far down as I had, I only did so because I was confident in my abilities and knew the terrain. Without that confidence, we second guess and make mistakes. And no fish is worth the greatest mistake of all. Though the contrary is often said as epitaphs to the fishing partners we lose in life, there really are no steelhead in heaven.
 Some pics of scenery.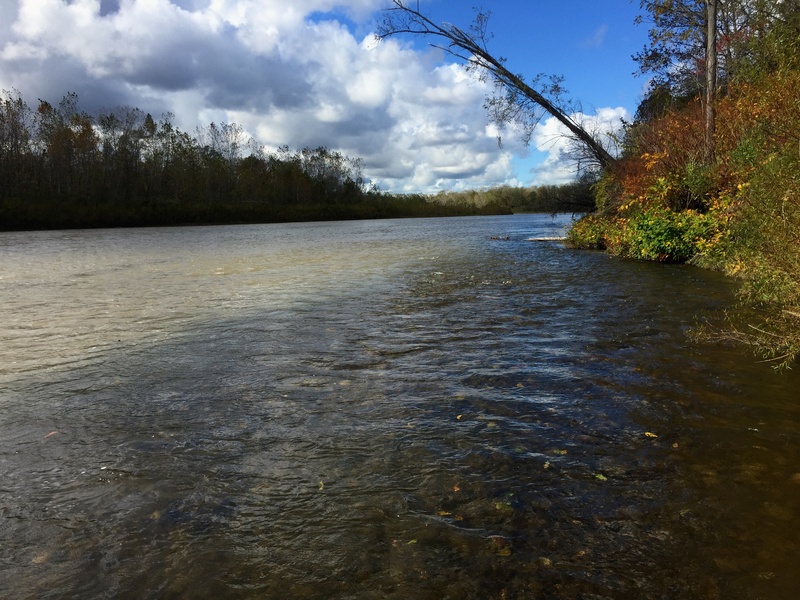 The seam between the the spring and the mainstem.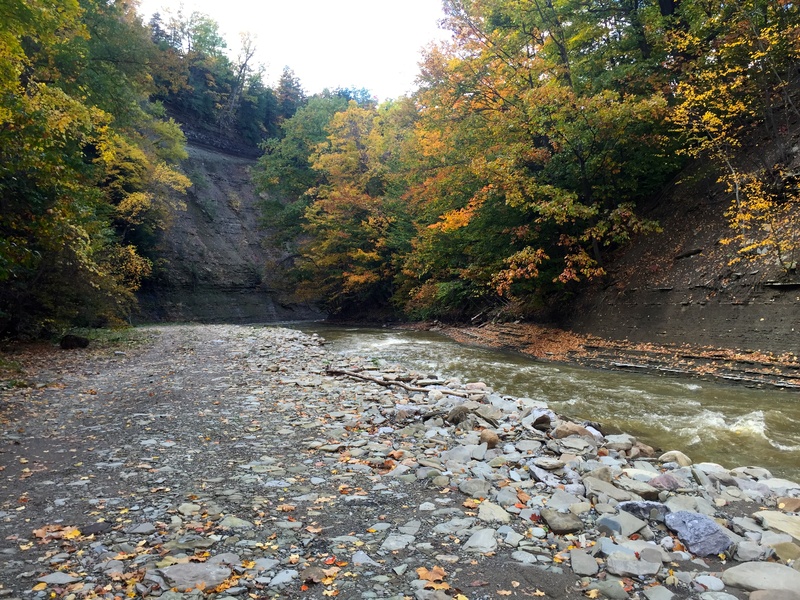 Beautiful scenery
Categories: Fishing reports, Steelhead, Personal thoughts
/