Shopping Cart
Your Cart is Empty
There was an error with PayPal
Click here to try again
Thank you for your business!
You should be receiving an order confirmation from Paypal shortly.
Exit Shopping Cart
Guided Fly and Spey Fishing Trips for Steelhead and Brown Trout with
| | |
| --- | --- |
| Posted on May 4, 2016 at 9:45 AM | |
Took the driftboat out this weekend with Tony and Mike from Cleveland on the Grand River. It was a blast! The boat handled great, and was a breeze to row. Tony and Mike are pretty new to fishing, so we fished a variety of methods. Though at Fish Lake Run we specialize in fly fishing with swinging streamers on spey rods our forte, we are proficient anglers in all methods of fishing. Case in point- all of our action came running large plugs! When a steelhead takes a plug, it is very similar to the aggressive nature that they eat streamers. The big difference is when plug fishing the rods are in a rod holder, sticking out to the sides of the boat, so the take is very visual and the rod buckles under the weight and power of a fish. It is one of the most exciting takes in steelhead fishing.
Right off the bat, Mike had a good takedown on his plug rod and we fought the fish for quite some time before losing it next to the boat. Then we fished quite some time without another strike, and I began to wonder if the fish we hit was the only one that was willing to bite the plugs we were running. But then we found the motherload. As we fished through the upper part of a very fishy looking run, we dropped into the bucket and a GIANT steelhead took a rod down. The fish was heavy and it was angry. As Mike fought to get the rod out of the holder, the fish snapped our 15lb leader and stole the plug, then jumped two or three times out of anger! It was nuts!
After losing the giant, I rowed us back up to the top to try again. Another takedown! This one didn't stick. A little further down, the other rod got blasted but also failed to hookup. Then in the tailout we got a final non-commital take. I rowed up one more time to see if we could get one to stick, but no more hits on the third pass.
We burned some water to a juicy looking pool, and ran out the rods. Within minutes we got a take. I powerset the shit out of it on the oars, and Mike had a fish on! We fought it to the boat and netted a nice 16" smallmouth! First fish in the new boat!!!! Next Tony jumped in the hot seat. Again within minutes of running out the rods, we got slammed. Again I powerset, and again FISH ON!!!! This time a nice five pound steelhead! The fish fought and jumped like mad, and Tony did everything possible to lose it, including opening the bail when I asked him to simply flip the rod over. But we netted the fish. First steelhead in the new boat!!!!
Mike jumped back into the front seat. A little while passed and we were working down a good run when fish on! This time a small steelhead erupted from the water! It must have jumped five or six times! After a while we slid the net under the fish. It was Mike's first steelhead, though a little guy.
As I said in the beginning part of this report, we are generally fly anglers. People might ask why fish any other way? It's simple- there are benefits to changing tactics and methods. The stretch we floated was new water, a stretch I hadn't devoted much time to learning. Pulling plugs is an effective way to cover LOTS of water and find what pools hold the fish. Fish are sometimes unpredicable. Take any stetch of water. There may be ten good looking pools in that particular stretch, of which possibly only a couple consistently hold fish. It could be something as small as a submerged tree root from a cut bank, or something as invisible as a spring seep, or simply because the fish like to hold there. Next time I'll know which pools are money, and can devote the time they deserve. We as anglers can't become so high and mighty, or so completely devoted to a single method, if we still hope to progress and learn as much as can be learnt about the nature of our quarry. Otherwise we become static.
Sure, if I had my choice I'd be knee deep swinging streamers. But that doesn't me I didn't have a hell of a good time pulling plugs with Mike and Tony. And in the end, I know a little more about a fish I care so much about.
Check out the pics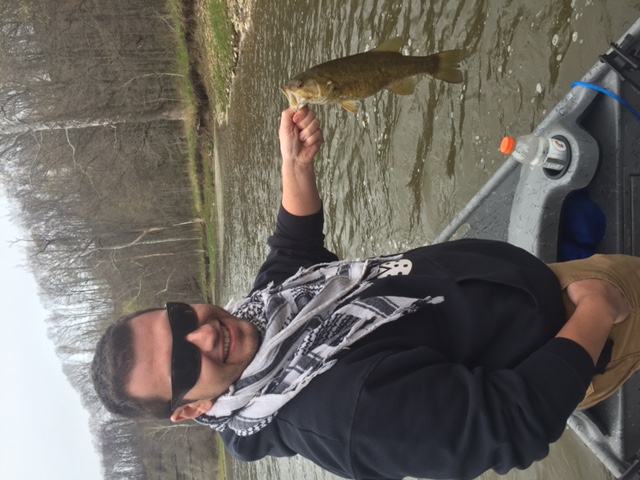 Mike and his smallmouth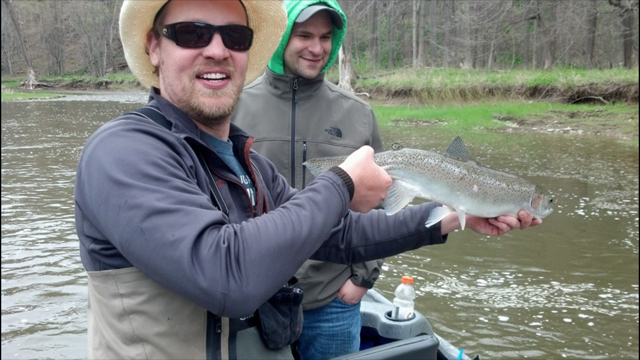 Tony and his steelhead!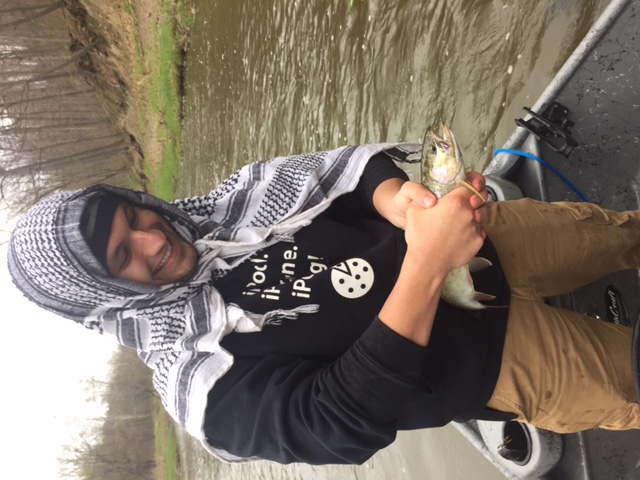 Mike's little guy!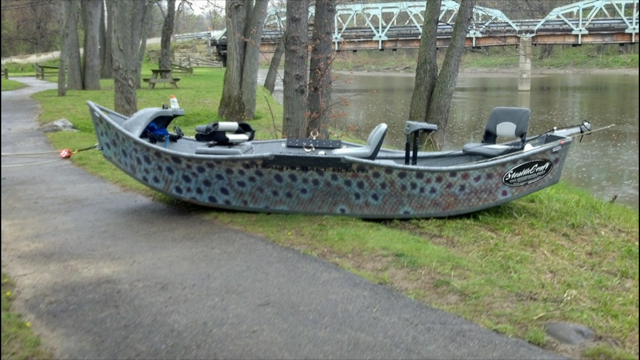 Taking the boat out
Categories: Steelhead, Driftboat/Raft Fishing, Ohio
/