Shopping Cart
Your Cart is Empty
There was an error with PayPal
Click here to try again
Thank you for your business!
You should be receiving an order confirmation from Paypal shortly.
Exit Shopping Cart
Guided Fly and Spey Fishing Trips for Steelhead and Brown Trout with
| | |
| --- | --- |
| Posted on October 16, 2016 at 1:40 PM | |
Spent yesterday and today out on Cattaraugus Creek. Still beautiful, still very low. Yesterday, again I started below Gowanda. Spent the first few hours working over a really good pool with an intermediate tip and a variety of streamers. My only tug came around ten in the morning on a white woolly bugger, but like last time it was quick and non-committal. The low water has the fish really finicky right now, and if you're out to swing, stay small.
After that, I changed up to a dry line and a ska-opper. Spent the rest of the day yesterday and all of this morning skating and popping the ska-opper and an orange bomber across pools. Yesterday after leaving lower Gowanda, I jumped way upstream, above the valley. The runs up there are beautiful and the trees right now are on fire with fall colors! But where few fish have made it up to Gowanda, even fewer have made it up there. The tradeoff for solitude this time of year is fish.
Today, however, I fished the reservation. It's not my favorite place by a long shot, but this fall is shaping up to be a good year to try to get a few on the surface, and I wanted to fish to more concentrated numbers. When I got there at daybreak, the waterflow was 85 CFS and water temp was 58 degrees. Low and clear but perfect temps for surface techniques. Spent the morning working the ska-opper through shallow runs, around downed trees, and casting to the high banks and popping it out. Had a small fish roll near my fly but I'm pretty sure it was only a coincidence and was not showing interest in my offering. As the sun got higher, again I switched to the bomber for a more buggy presentation. But came away empty handed.
The other anglers I spoke to this morning seemed to be doing pretty well, and I saw about a dozen fish caught ranging from 12 to 28 or so inches. There are good numbers of fish in the lower four or five miles of the Catt, but there are people. By about nine, every nook and cranny had at least one if not more anglers fishing it. So if you do come out to fish, find a good pool and get there early. And don't count on there being many open spots by mid-morning.
While I was walking out, I stopped and talked to some centerpinners. They couldn't seem to get over the fact that I haven't caught a fish yet this season, despite about four days of fishing. Most of that is due to the locations I've been fishing and the techniques I've been using. I've been hitting the mid and upper river. I know there aren't a ton of fish up that high, but at least I have space. And, with the exception of fishing one pool in the morning a few days with an intermediate tip, I've been concentrating on skating dries. I've logged about 10 or 11 hours now fishing either the ska-opper or the bomber. If this fall is like seasons past, that means I'm about halfway to a good take. Over the years that I've kept track, it seems like I get one take for every 20-24 hours of fishing the surface. The key is staying dedicated. Today watching the pinners and indicator guys catching quite a few fish was hard. Knowing how easy it would be to put on a bead and pull a fish or three from a falled tree, or even swing a streamer on a sink tip through some of the runs makes it that much more so. But it's been a couple years since I last touched a fish on top, and this year I'm going to keep fishing dries until the weather turns, or I catch a fish or two. After all, catching a steelhead is supposed to be memorable. The image of the last fall fish that ate my dry is still vividly burned onto my soul. I don't think any of those fish caught by the centerpinners leaves such a lasting mark.
So, like last time and until next time, enjoy a scenic shot (who ever said dry fly fishing for steelhead was easy! ;))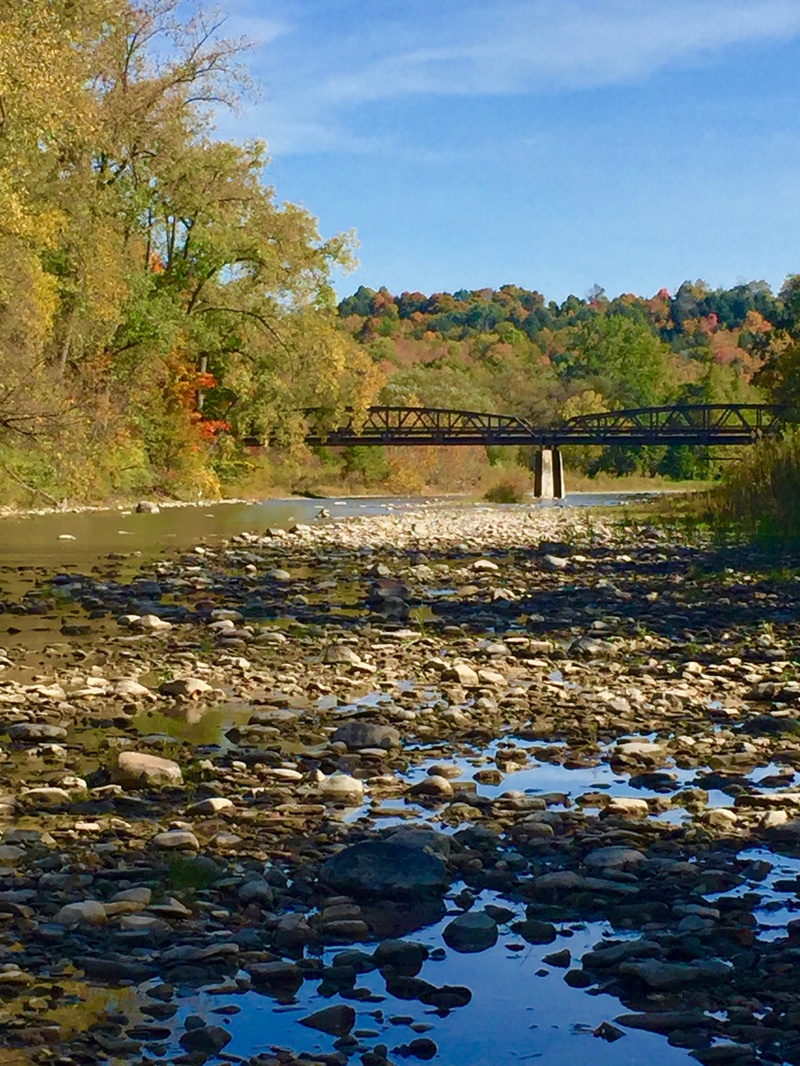 Categories: Cattaraugus Creek fishing , Fishing reports, Dry fly fishing
/