Shopping Cart
Your Cart is Empty
There was an error with PayPal
Click here to try again
Thank you for your business!
You should be receiving an order confirmation from Paypal shortly.
Exit Shopping Cart
Guided Fly and Spey Fishing Trips for Steelhead and Brown Trout with
| | |
| --- | --- |
| Posted on October 20, 2016 at 12:40 AM | |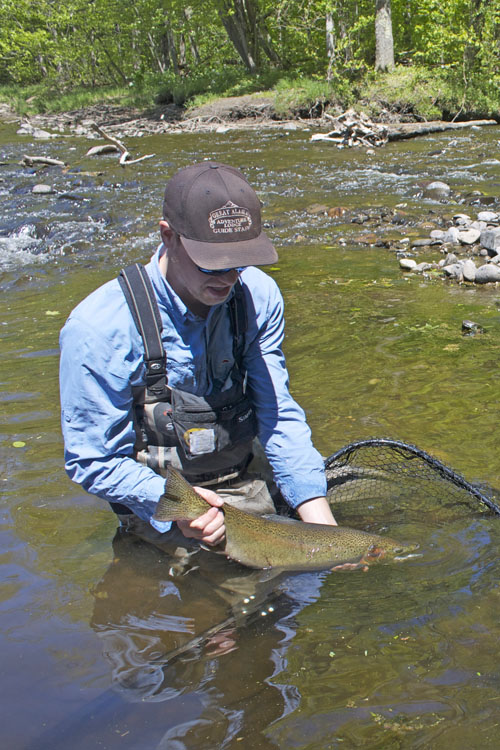 This steelhead crushed a muddler fished on top through a heavy riffle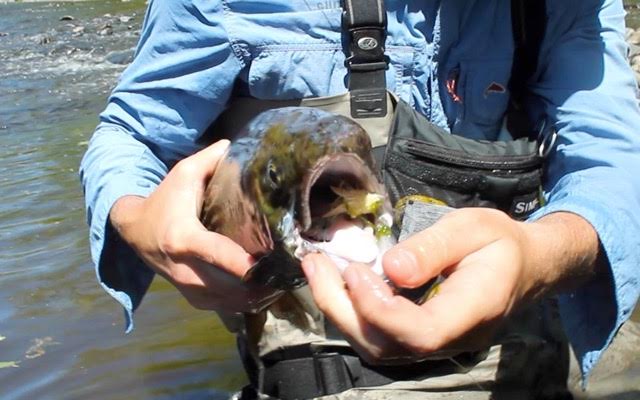 Down the hatch! (Not to worry, the point was on the roof of the mouth away from the gills :))
In western New York, we are blessed with some of the best fall fishing for steelhead in the country. Each year while the weather is still pleasant, and water temps are good for active fish, fly anglers hit the creeks and rivers. Most are armed with indicators and egg patterns or nymphs, and some with sink tips and streamers. But one technique I don't often encounter is someone fishing a floating line and long leader.
It occurred to me that I've been writing a lot lately of chasing steelhead on the Catt with a floating line. But I haven't really posted any tips or tactics for anglers looking to get out there and fish without slinging shot or heavy sink tips. So sit back, enjoy the ride, and learn all that you need to know to properly fish the surface. But be forewarned. Fishing a floating line is not a numbers game. It is a quality game. You have to be dedicated enough to forego changing to a much more productive method after a few hours without action. If you think you can, keep reading!
First and foremost, there are three main methods I use for fishing a floating line on the surface. They are:
2.)
Dead Drifting or Indicator Fishing with Dries
3.)
Fishing Muddlers through the riffles
To be successful on a floating line, you need to know where, when, and how to use each technique. But even before you begin to select technique, you must know water temperature. When I fish a floating line, I am looking for water temperatures at least in the low 50's. Though it is not impossible to rise a fish in colder water- and I've seen fish come up in water as cold as the low to mid 40'-  the colder the water, the less metabolic activity the fish will have. Therefore the fish will be less inclined to move for a fly. But also be mindful of the other end of the temperature spectrum. Water temps of 65 and over are getting close to the maximum temperature threshold of an adult steelhead, and with sustained energy exertion (such as fighting a fish), mortality rates drastically increases. So just be mindful. Now onto the techniques.
Skating a dry fly is one of the coolest ways to fish for steelhead. Like all surface methods, you must be very specific in the locations you apply this techniqe. Our steelhead in the Great Lakes are generally less likely to move a great distance for a fly. So a good rule of thumb is take the dry fly to the fish by fishing in a location that places the fly as close to a holding fish as possible. I look for three main locations: choppy runs between 1 and 3 feet deep; the extreme heads of pools well above the bucket; and the extreme tailouts of pools just above the lip. These locations are generally shallow enough that even fishing a dry puts the fly within a foot or two of a holding fish. Start out by fishing from a position well above the area you want to cover. Use short casts at first, keeping the rod tip high. The goal is to fish the fly first like a skittering caddis across the chop. Then after each cast, lengthen up and drop your tip a little. By the end you should be getting a smooth and even wake as the surface chop calms. The pattern you fish will determine just how heavy of water you can fish- the bushier the pattern or patterns tied with foam the heavier the surface chop they can be fished in. I tend to fish leaders between 12 and 15 feet tapered down to 8 pound, but sometimes 6 pound fluoro. If you are lucky enough to rise a fish, the most important thing is to wait for the fish to turn on the fly before you set, or you'll likely pull the fly out of the fishes mouth. After a second or two, the line will begin to tighten up, signalling that the fish has turned away. Now is the time to set hard and downstream at a low angle. Good patterns are large october caddis flies with orange abdomens, yellow or orange stimulators, humpys, bombers, and ska-oppers. I look for flies from size 6-12, depending on the size of the creek I'm fishing and the water clarity.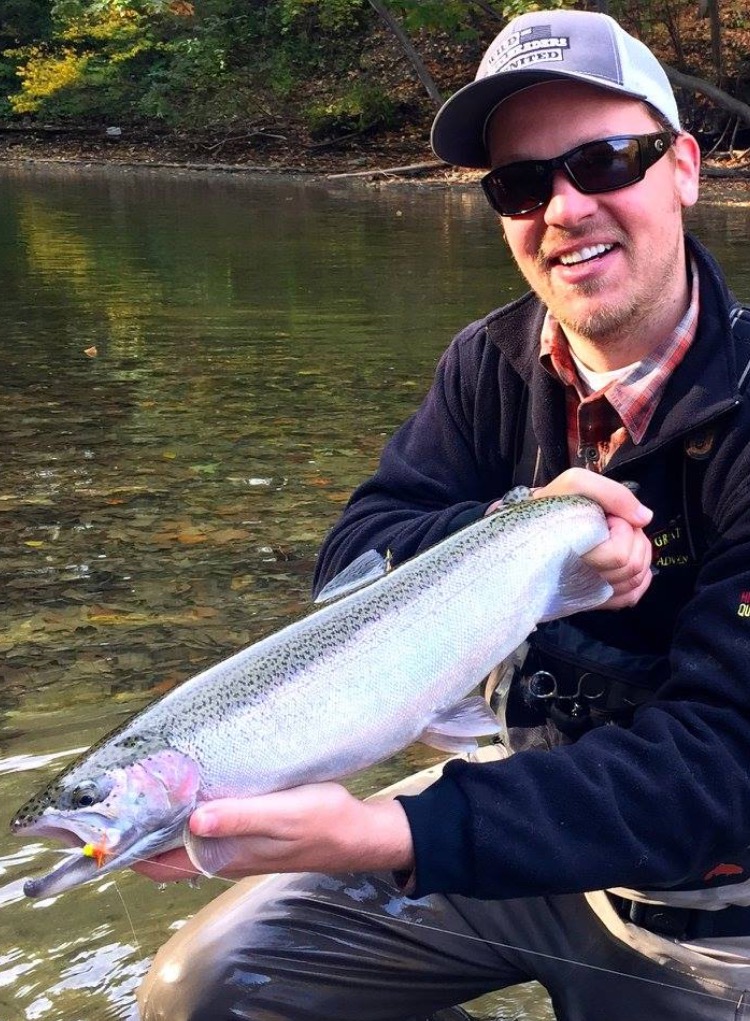 Last year, good friend and longtime client Art Sandler took this beautiful fall steelhead on the dry fly indicator


Next is indicator fishing or dead drifting dries. This is pretty straight forward. Look for glassy pools with water between two and four feet. Often fish will be visible in this situation. A good indicator that the pool is a good candidate is fish suspending off the bottom. The higher off the bottom, the better your chances. Fish your fly like you would dry fly fishing for trout, or indicator fishing for steelhead. Approach from the extreme downstream of the pool, keep a low profile and cast up to the fish you want to fish. Cast so your fly will drift over the fish, but your line won't, as fish are going to be very spooky in these conditions. One thing you can do is to add a clear floating polyleader between your leader and the fly line. This will add an additional 10 feet or so of clear line that is less likely to spook the fish. As you work your way upstream, begin letting the fly drift down below you and swing out. Often a fish will show interest in the fly by following it. If this happens, target that fish specifically and downsize your pattern after each drift. I use leaders between 10 and 12 feet, and good fly patterns are caddis flies, stimulators, humpys, and the indicator fly (a chartreuse and orange deer hair bodied dry fly).
Finally, one of my favorite methods is to swing muddlers on a floating line through heavy riffles. The fish at the beginning of this article took a 3 inch long white deer hair muddler fished on the surface and I can tell you it was the hardest take I've ever felt. Good muddlers to use are white, olive, black, or purple, and between 2 and 3 inches long. When fishing heavy riffles, start well above the area you want to target and fish at an extreme downstream angle, well below quartered down. You will feel the muddler pop across the surface in the riffle, diving down and rising back up. That's exactly the way it should fish, and you can even add a little extra action by twitching your rod tip on the swing or the hangdown. The good thing about fishing heavier riffles is that fish are well oxygenated and likely to be active. Plus most anglers focus on pools so a steelhead in a riffle has likely seen minimal pressure. And don't worry if you lose sight of your fly during the presentation. A steelhead take on a muddler in the riffles is not a light take by any means. It will feel as if the rod is exploding in your hand.
So if you are looking for a challenge this fall, with lower water and warmer temps, get out and explore the riffles and choppy runs with a floating line. Though it may not be the most productive way to fish for steelhead, fishing a floating line is just too much fun. They are a joy to cast, and just when you least expect it, the nose of an 8 pound fish might poke through the surface. Not many anglers in this part of the country give any serious thought to fishing a floating line on the surface, and if you are lucky enough to see that beautiful sight, count youself amoung the select few. Bragging rights bestowed.
Tight lines
- D 
Categories: Tips and tricks, Dry fly fishing, Steelhead
/