Shopping Cart
Your Cart is Empty
There was an error with PayPal
Click here to try again
Thank you for your business!
You should be receiving an order confirmation from Paypal shortly.
Exit Shopping Cart
Guided Fly and Spey Fishing Trips for Steelhead and Brown Trout with
| | |
| --- | --- |
| Posted on October 7, 2017 at 6:55 PM | |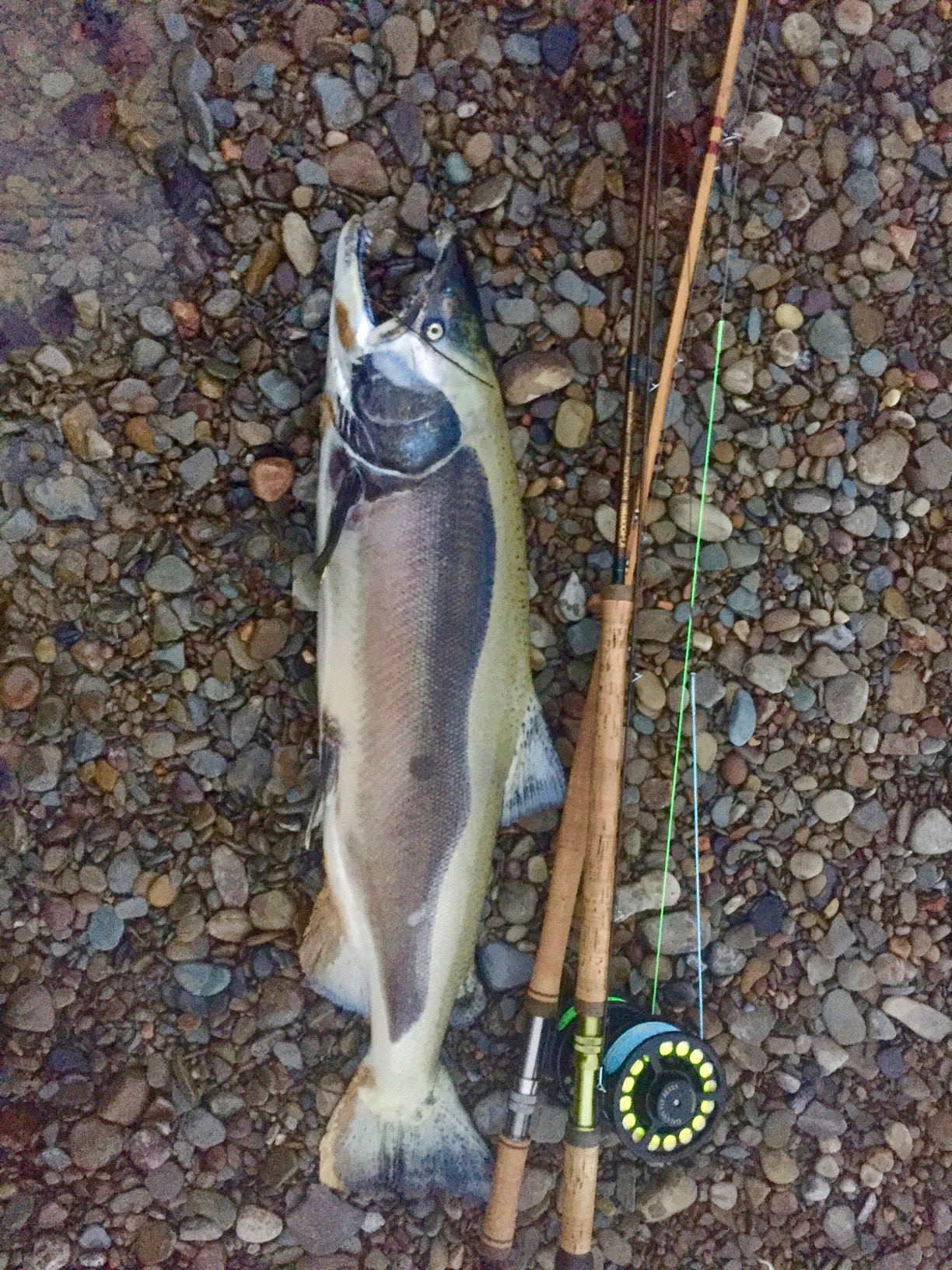 Wild Lake Erie King Salmon
Well after getting over a bit of a stomach bug, I made it out to scope some spots for the upcoming season. First spot was a mid river run on the Catt. As I was walking in, I noticed a familiar shape in the riffles. There in the shallow water was a dead 36" king salmon. I stopped and took a photo and a couple quick measurements before starting towards the run I was planning on fishing. Then a bit later, I saw a few live kings blow through a riffle. There are usually a couple kings that find their way into the Catt every year, with most years getting somewhere between 0 and 50 fish by my estimation. But I expect this to be a "better" run for a couple reasons: 1) last "good" run (comparatively speaking) of kings into the Catt was in 2013, where I found a run with about 30 fish in it and since kings usually run on a 4 year cycle this will be the year when any wild progeny should return, and 2) the overall good numbers of kings in all the other lakes will likely mean more strays. Judging by the size of the adipose fin of the dead one, he was a wild fish.
Remember, a good run of kings on the Catt likely stays well below 100 fish, so even in the best years it's not really a run that you can target. You just have to be in the right place at the right time to find them. But I do expect there to be a few more sightings/perhaps if I'm lucky even a king landed for myself or a client this season on the Catt. 
Anyways, when I got to the first run I wanted to fish shortly after the sun hit the water a fish rolled. For fishing this high up this early it was a really encourgaging sign. After making a couple passes I got a nice little smallmouth on the bamboo spey. But no steelhead. Next run I fished on a tight swing with little more than the sink tip out and got absolutely lit up. The small, fiesty 20" fish put up a spirited battle but was beached shortly thereafter. 
Swithched it up to a light polyleader and began working my way through a riffle with a scandi line. As I worked through the chop I blew a set on a fish. At first I thought it was a rock because the water was super shallow so I didnt really set but slowly pulled with the swing to try to free it. But then a headshake. And because I had already pulled the rod over to the side I was out of position for a set. And the fish was off. As I stood there all I could think was that I'd really like to have that one back.
So I took a break for a bit. Sat on a log and observed. Then I started the riffle at the head again. As I was swinging the small white bunny zonker into the kill zone, I got bumped again. The player was still there. Next cast he lit me the fuck up, rolling on the surface and tossing the hook before I could even get my shit together. It was the nicest fish of the trip so far, somewhere around 6 or 7 pounds. God I've forgotten just how hard those shallow water takes in the riffles are. When a fish is in a riffle, it is juiced with oxygen and supercharged. And don't be afraid to fish riffles that at first glance look a bit on the shallow side. Fish them with a light polyleader and unweighted fly or a long tapered leader and a lightly weighted fly. Those knee deep riffles and runs will have little potholes and tiny depressions spread throughout where even just a couple inches of extra depth can provide a quick resting spot.
Was off the Catt by about noon when the sun came out and it started to get a little hot. All in all one landed and another couple hooked and lost, along with a few short strikes that hit pretty hard but didn't turn on the fly. After the Catt, I checked out a few other area creeks. The smaller creeks usually will stay cooler due to the more complete canopy over the the creek bed. All have fish. At one creek I strung up a switch rod. Because of the low clear water I skated a fly and for the first time in two years got an eat on the. But the fish didnt get the point.
So, to sum things up there are good numbers of fish with some larger fish in the mix well up into the middle section of the Catt despite the recent heat. This means that it's not just the first push of small fish that have made it that far upriver. Also keep your eyes open for some kings this season. They wont be around every turn, but if your lucky you might see a few. Finally for how low and clear the water in the smaller creeks is, I have been pleasantly surprised by how many fish have pushed in and even a ways up the little creeks too. This should be a fun fall. Check out the rest of the pics.
Tight Lines,
 - D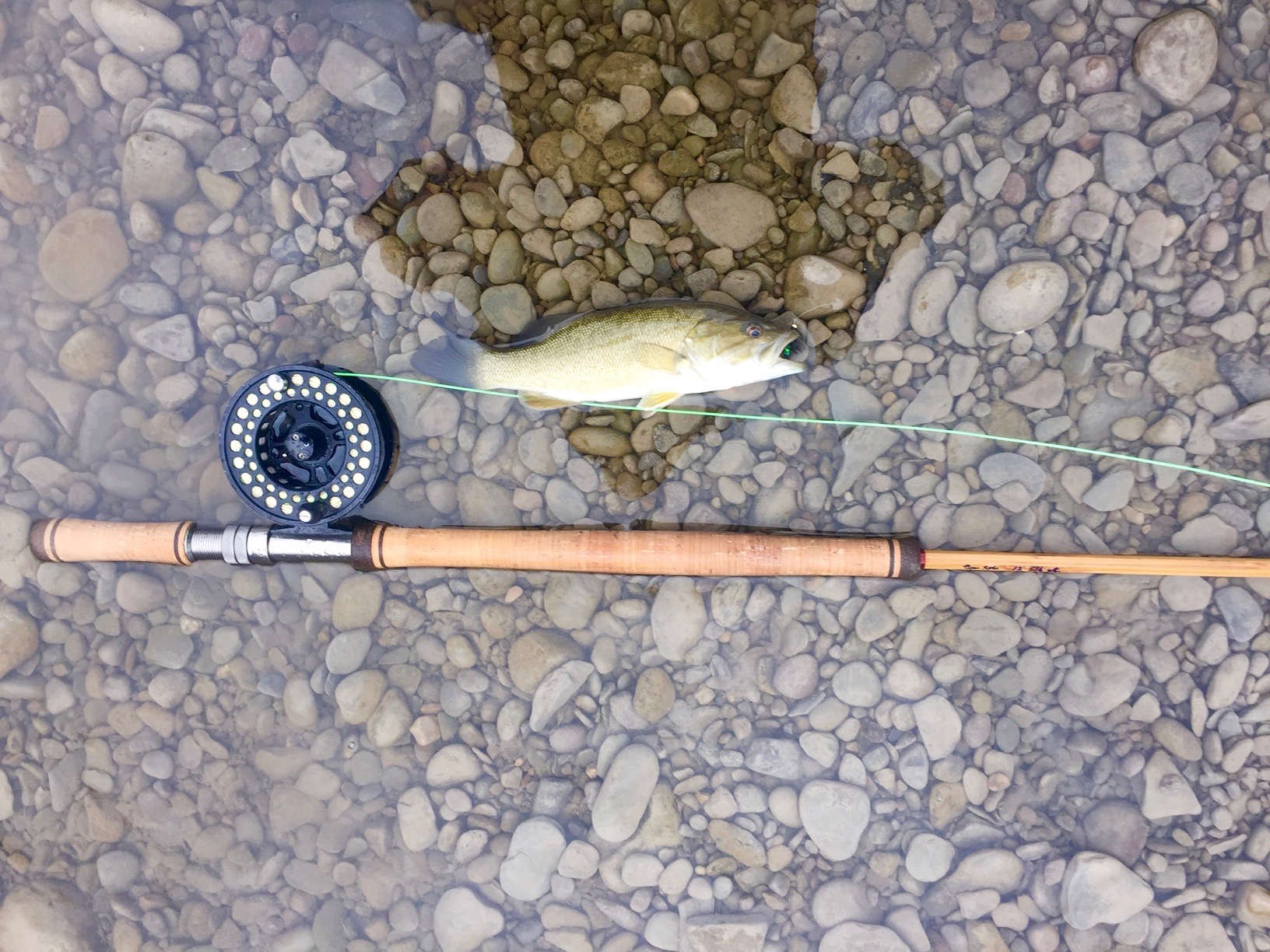 Little smallie on the bamboo spey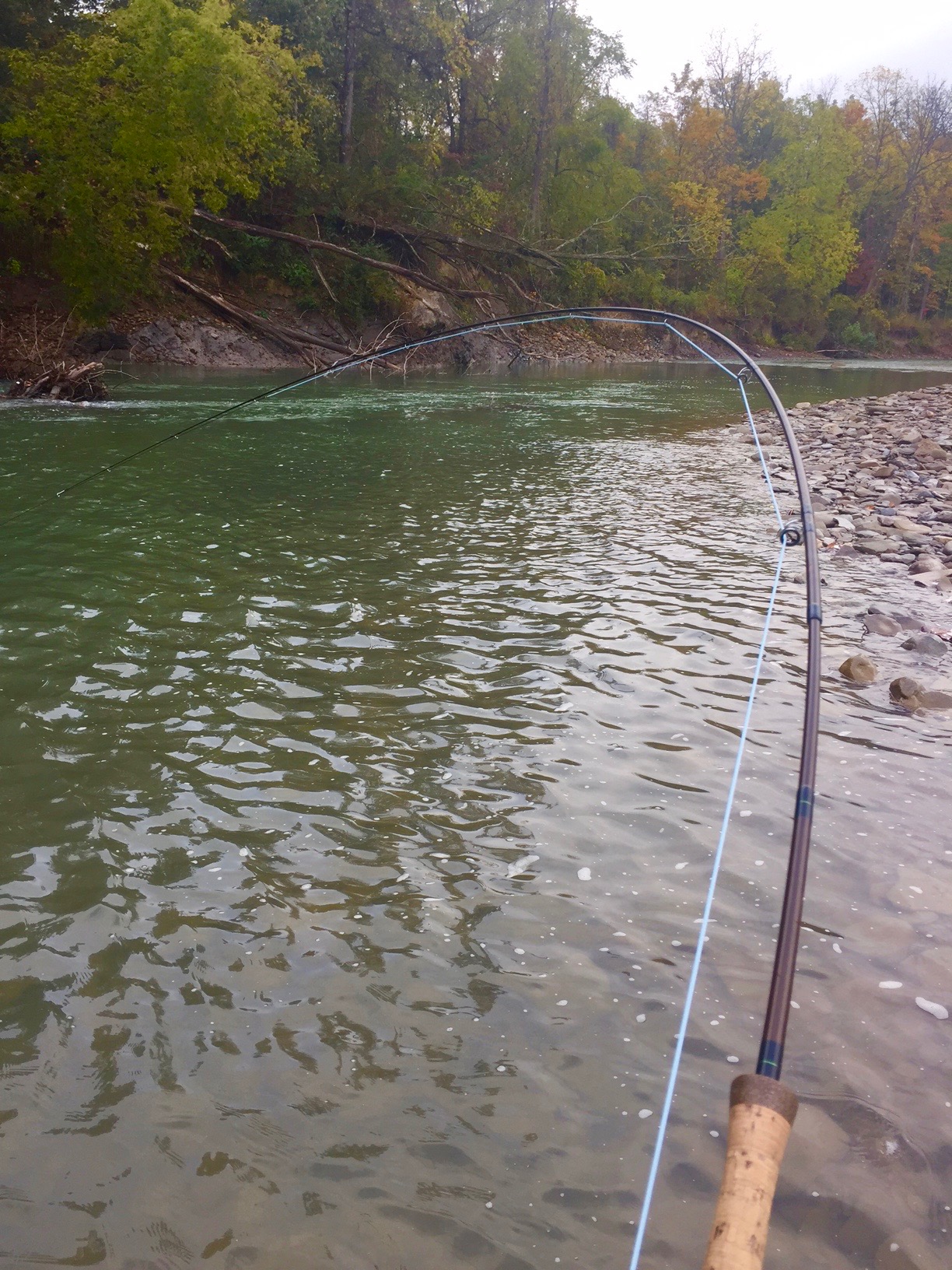 Hooked up!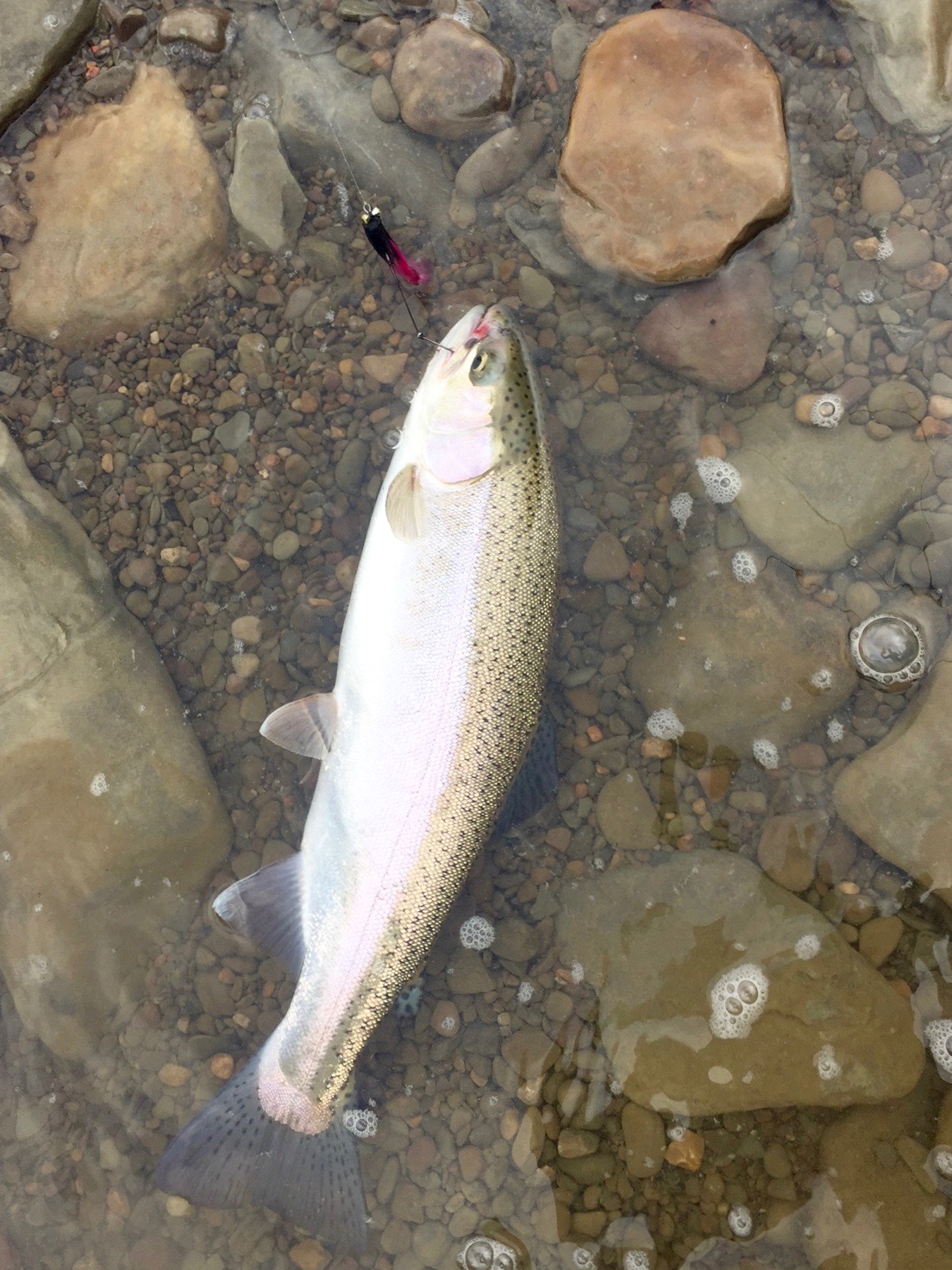 Not a biggie, but a fun little fighter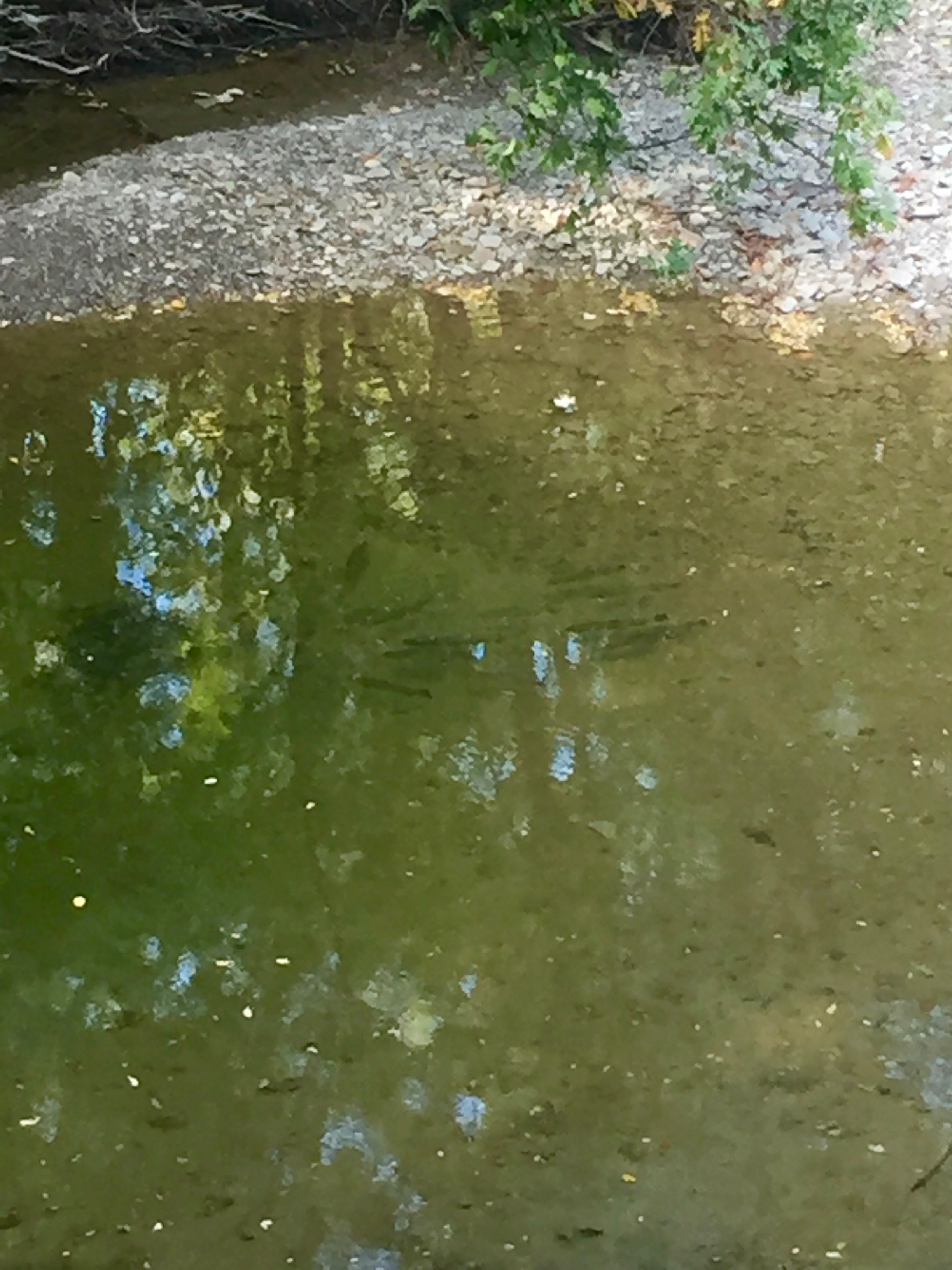 Pod of fresh steel
Categories: Spey fishing, Steelhead, Cattaraugus Creek fishing
/