Shopping Cart
Your Cart is Empty
There was an error with PayPal
Click here to try again
Thank you for your business!
You should be receiving an order confirmation from Paypal shortly.
Exit Shopping Cart
Guided Fly and Spey Fishing Trips for Steelhead and Brown Trout with
| | |
| --- | --- |
| Posted on October 16, 2017 at 1:05 PM | |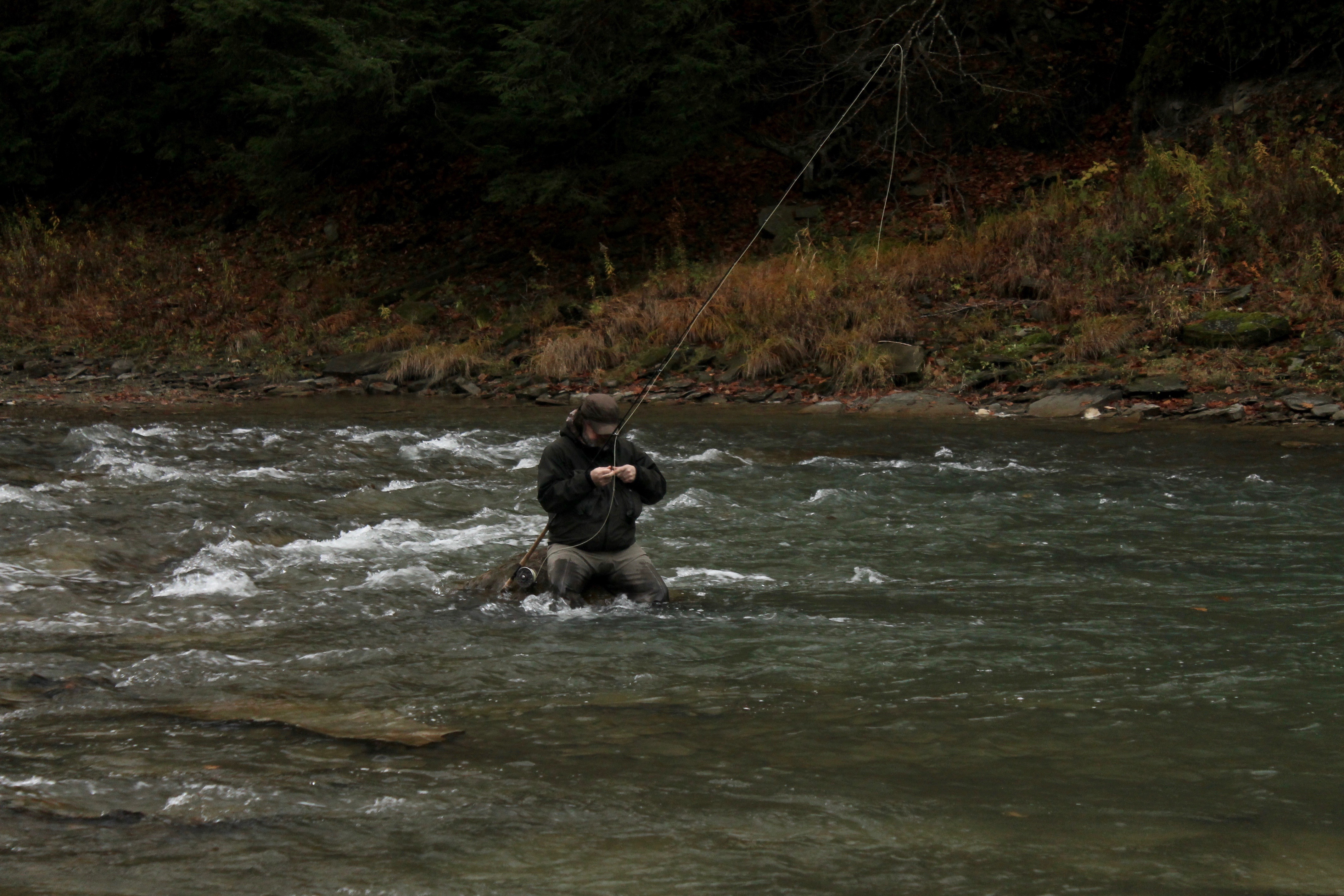 Noel taking a break in productive floating line water
There is nothing more challenging in the sport of steelhead fly fishing than setting out to take a fish on the surface, even more so in the GL region. The reasons the challenges against success with this type of fly fishing mount so high I believe are twofold: 1) water temperatures; and 2) time between fish entry and spawning. On the west coast, a majority of fishing effort with floating line and surface techniques is aimed at summer run fish. The watersheds that support summer runs have cool enough temperatures year round for coldwater game fish, and summer run fish enter watersheds months before sexual maturity and therefore exhibit more curiosity towards their surroundings and even as they become accustomed to natal rivers may act more like large stream trout than true migratory salmonids.
Jumping ship to the Great Lakes fisheries, while we do have some very significant summer run fisheries, the vast majority of steelhead that run our rivers enter between October and April. And the vast majority of the vast majority across the region enter between November and March. This means a few things. Most importantly our timeframe to engage in fishing a floating line with a likelihood of fishing to conditions supportive of success is much more limited, and spring fishing with a floating line is almost entirely focused on dropback fish.
With these parameters understood, an angler eager to fish a floating line should focus his or her efforts in the most conducive timeframes for success. This happens to be the first tip to finding success on a floating line. Focus your efforts when the mercury reads 50° F or higher. The warmer the water, the more aggressive fish can be. My best success has come when the water temps are in the upper 50's or low 60's. Again be mindful of the other end of the spectrum, and call it quits if you see temps above 65° F.
When the second factor that complicates success, time between entry and spawning is taken into account, it almost always means that fall surface season lasts only a few short weeks in October, when the first good run of fresh fish push in and before the water temps start consistently staying below 50° F. These first run fish of the fall season for all intensive purposes act like summer runs out west. They are months away from spawning and sexually mature in the rivers verses spring run fish in April for example that fully mature or near fully mature in the lake and may only be in the river a couple weeks before finishing the spawn and dropping back out.
To a spring run fish urgency of spawning is very high and, though water temps might be near to or at 50° F or above, there will be very little interest in chasing surface disturbances as a result until spawning is completed. Once spawning is complete, steelhead will feed in the rivers and will rise to hatches if the river they are in has good spring hatches, or take streamers such as muddlers fished on top or just under the surface. But again we are limited in time to target them in this fashion to a few weeks between late April or early May. So anglers looking to target fish with floating lines with dries or wets fished on the surface or just under should focus their efforts accordingly.
The second tip is to be very, very picky in the water you fish. Early run fall steelhead run a river quick, and as a result they literally can be anywhere- knee deep riffles, pools over your head, whitewater chutes, nice smooth waist deep runs, or rocky pocket water. The fish have almost a mythical feeling about them. At the best of times steelhead are elusive, but with those early run fish they are even more predictably unpredictable. The reason being that during those first weeks of the fall season, the time to target fish with a floating line, there just aren't as many in the river as there would be say the middle or end of November, and they usually spread out pretty quickly.
Because the fish that have entered spread out and feel like they can be anywhere in the river, along with the fact that the water is usually on the lower side this time of year, we usually want to cover all the water available to try and get the fly in front of as many fish as possible. But now is not the time to put your fly in front of every fish that has run the river. Now is the time to show your fly to the right fish, not the most fish. If my experience over the years that I have been fishing dries on a floating line has taught me anything, it is that I'm looking for a moving fish in a riffle or choppy run between 1 and 3 feet deep.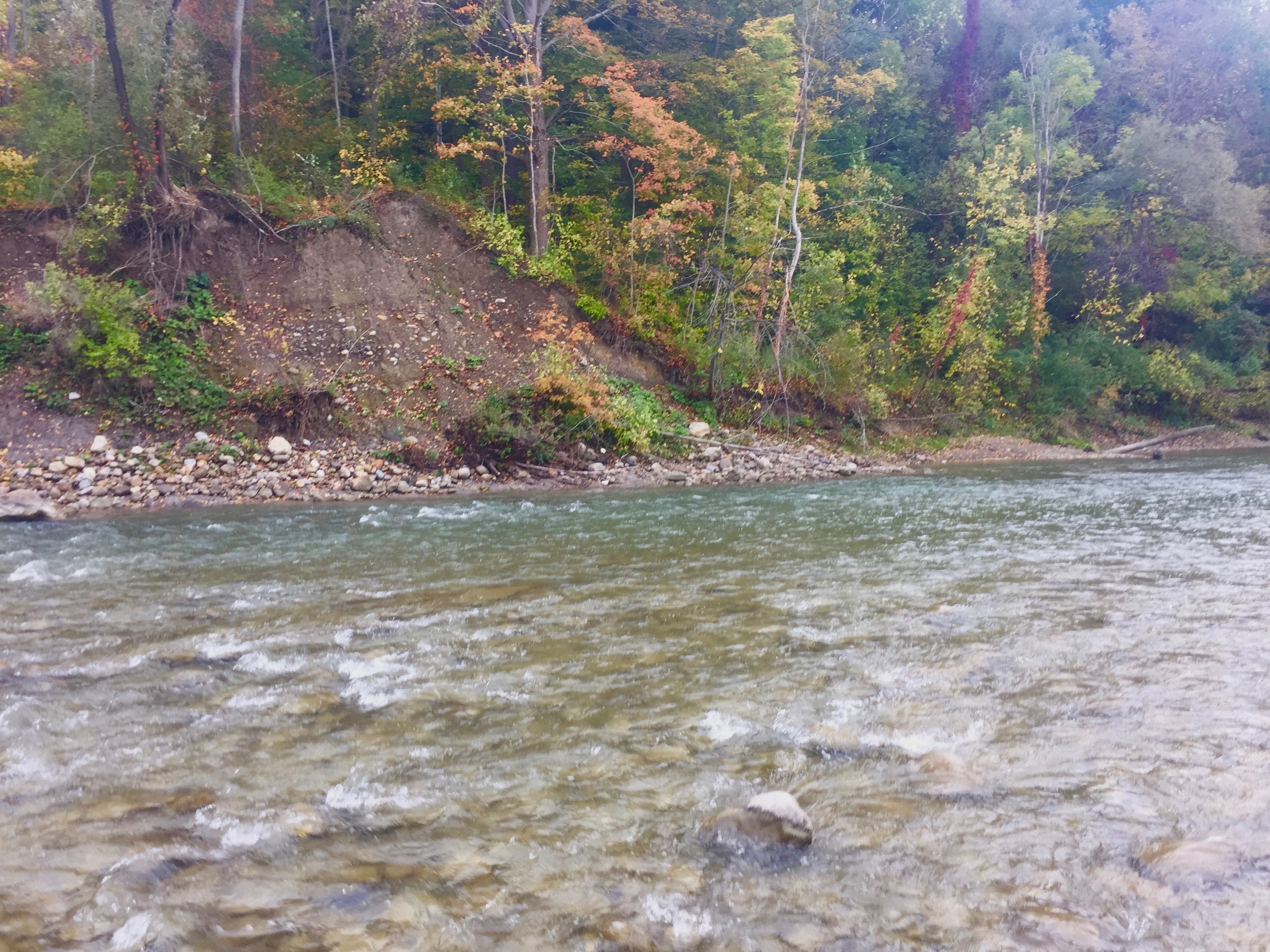 Typical water I look for to fish a floating line
Though I have had success in pools, most of this has been pools on smaller creeks where fish stack up. In this scenario the pools usually have very little surface current and you use the rod to actually drag the fly across the top. Though it is an effective way to fish, it's not my favorite. I enjoy swinging a line and not crouching and crawling into position in a more of spot/stalk fishing. And that's just my personal preference, which means I usually fish the larger rivers as a result.
So back on the larger rivers, I'm looking for those riffles and shallower runs. To be more specific, I'm looking for riffles and shallow runs with cobble or larger sized bottom. Boulders are a bonus. This type of water, though on the surface may look to shallow and uninviting to fish, has tons of things going for it. It has a high oxygen content, a broken surface for cover, and with larger substrate even a moderately sized rock or piece of broken slate can provide just enough current break for a moving fish to sit for a while. And that's exactly the fish I want to find- a moving fish that has paused for a while in a choppy riffle or run. So in the fall, this is the type of water I focus on. And you'll find that once you start fishing this type of water, you'll notice the lack of other anglers that really pay any attention to it, especially if it is more on the shallow side.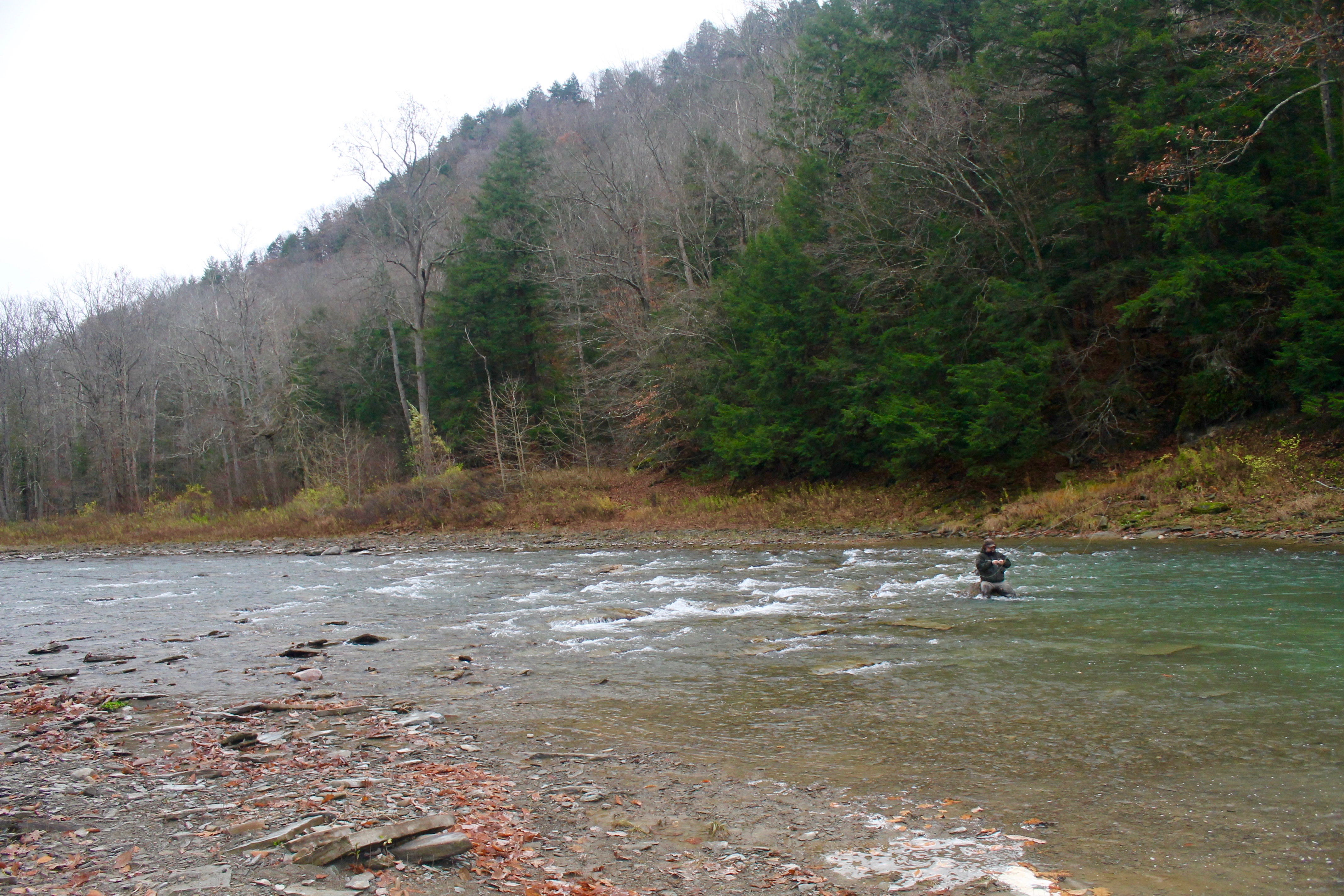 Another shot of good water
The next tip would be not to worry too much about fly pattern. Worry more about presentation. Though this may seem like a regurgitated statement in fly fishing, it is especially true when fishing a floating line for steelhead. There are some fundamental truths that you need to be able to accept when fishing this way for steelhead. You will catch far fewer fish. Most days you will not have a fish rise to the surface. But most importantly if you keep at it you will find a fish willing to come up. Despite all the failure you have witnessed trying to rise a steelhead on a legit skated fly fished on the surface of a larger river where you aren't sight fishing or dragging a fly over pooled up fish in the only pool large enough to hold fish, you need to believe deep down that it works. And even when you go out in the morning with the belief that it will work for you sometime, you need to be able to come home in the evening just as fired up over the day you just spent not rising a fish. That's the starting point.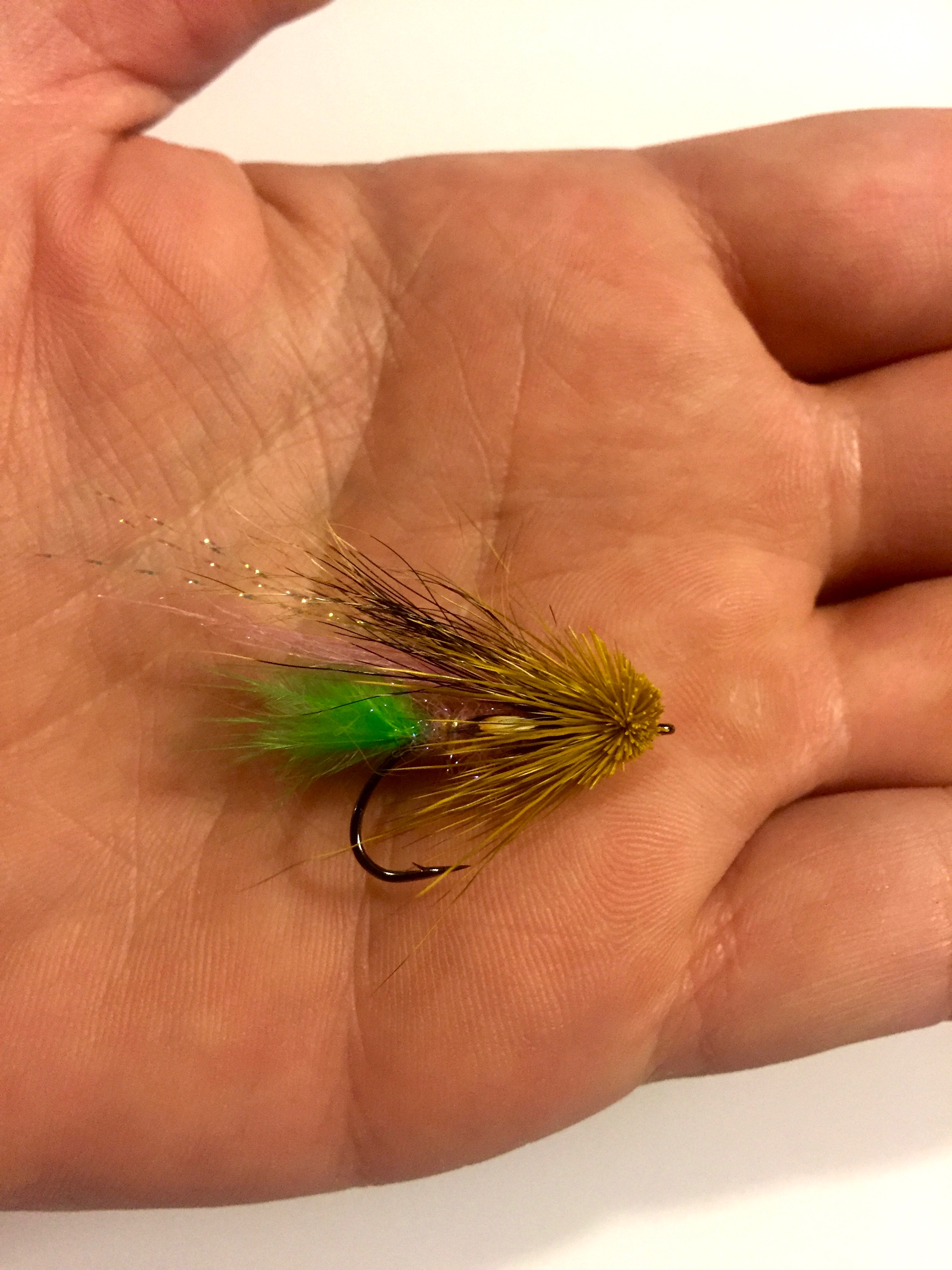 Rainbow Muddler- good fly to fish dry, riffled, or soaked
So once you start fishing with the notion that you probably wont have a fish come up, you don't really need to worry about what you are throwing- within reason. So far this season I've had 6 fish come up- 5 to a riffle hitched wet fished on the surface and 1 to a size 10 yellow humpy. All the flies were store bought. The wet was a baby rainbow trout streamer pattern that likely would have been a pattern included in the very first fly fishing kit you ever bought but you haven't fished it since. There was nothing particularly special about them other than the fact that I fished them. The longer I fish for steelhead, the more I believe that there is a fish out there somewhere that will literally eat any fly I could tie on the end of my line, again within reason. So fly choice should not cause anxiety. Pick a fishy looking fly and fish it.
The presentation should be more of the focus. Worry about getting good casts and swings through the water you have chosen to fish. Worry about keeping your dry on the surface even in the chop, and making sure a riffle hitch you tie results in the wet fly pointing in towards shore as it swings otherwise it will corkscrew in the water during the swing and twist the shit out of your line. These are the important things to think about.
Finally make multiple passes through the same piece of water but using different techniques. I usually employ 3 techniques for each piece of water. I skate a dry over it first, then fish a riffle hitched wet, then finally fish a floating line/wet fly subsurface last. If I'm really focusing on top, I'll stick to the dry then riffle hitched wet, and make several passes with those techniques. I always start up top and work my way down for the simple reason that if there is a fish in a run that would take a dry off top then it would likely take a subsurface fly as well, but not every fish willing to take a wet subsurface will take a dry off top. This way I can put the dry out first with the hopes that the most aggressive fish would be willing to take it and work my way down from there.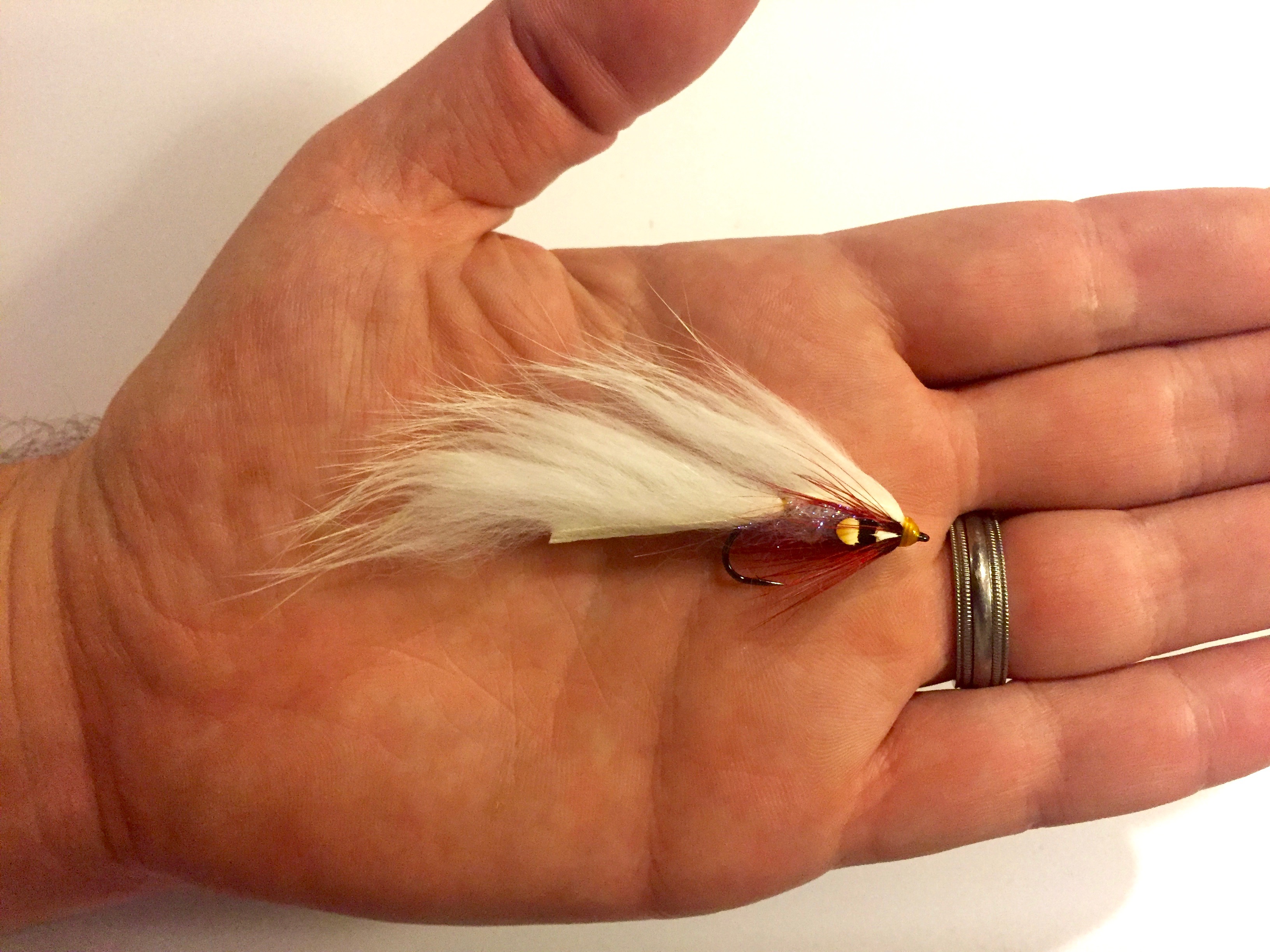 White rabbit- swing it on a floating line below the surface
Pay attention while fishing this way. A fish that will boil on a dry or riffle hitched wet but doesn't commit can usually be talked into taking the subsurface wet. Try to match the color and size of the dry with the wet you tie on next, or clip off the riffle hitch and fish the fly below the surface. And even if you haven't had any fish come up, don't be afraid to upsize the size of a wet or small, unweighted streamer that you fish below the surface. Catching a fish on a floating line and an unweighted streamer in the upper part of the water column is an accomplishment to be proud of too. Plus they just hit it so, so hard. Often the take on a streamer fished just under the surface is an explosion of head thrashing, water-spraying, unholy ferocity that will leave you speechless. So it really is pretty cool too. But you should save that for your last pass through.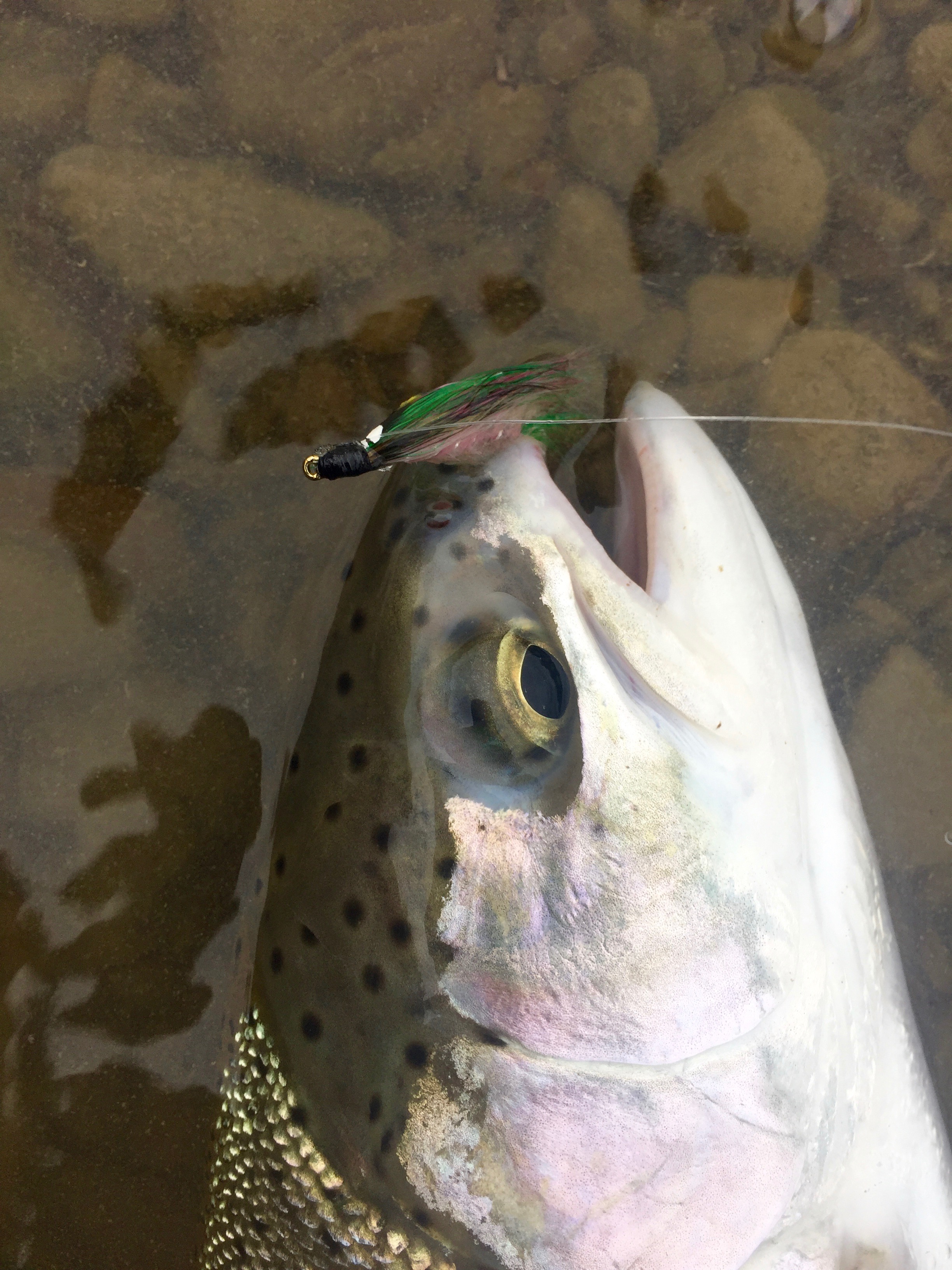 Hopefully the end result!
So if you are really gonna give a floating line a try, keep in mind the tips above. Though you probably wont catch every fish in the river this way, or maybe even any at all, it is just too much fun. So find your spot, and try to stay away from the fishing pressure. A few days spent swinging a floating line before the cold starts to set in is a reward all to itself. But if you're lucky you might just get surprised by an explosive surface take. 
Tight Lines and Good Luck!
 - D
Categories: Steelhead, Tips and tricks, Dry fly fishing
/