Shopping Cart
Your Cart is Empty
There was an error with PayPal
Click here to try again
Thank you for your business!
You should be receiving an order confirmation from Paypal shortly.
Exit Shopping Cart
Guided Fly and Spey Fishing Trips for Steelhead and Brown Trout with
| | |
| --- | --- |
| Posted on October 23, 2017 at 9:35 AM | |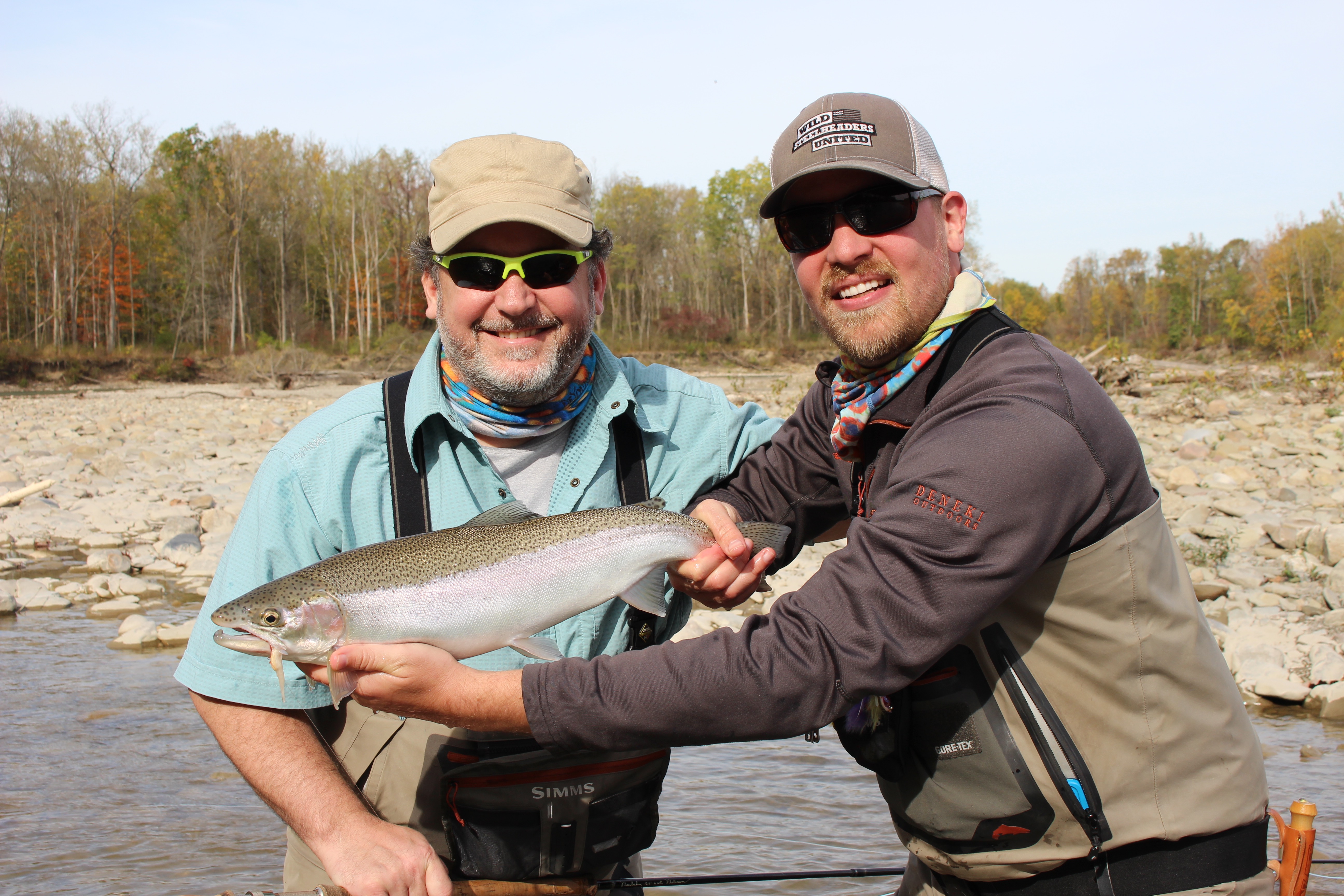 Noel and I with his first fish that took a streamer fished just under the surface on a floating line-long leader
Just finished a few days up on the Catt, and like usual it was spectacular. While the fishing can vary, any day on the Catt is special. But these last few days were especially so. There were good numbers of fish pushing through, and we are definitely seeing the meat of the second push of fish. All fish hooked except for one were better than 5 pounds, and we hooked fish well into the double digits. It was a large push of two and three lake year fish for sure. Saturday I spent fishing with Noel and his wife Lisa, and we hooked fish from surface to substrate. 
Lisa fished an indicator rig and Noel fished a combination of indicator rigs and the swung fly, while I stuck to spey fishing. In all we hooked 7 fish indicator fishing and 10 fish swinging. Most of the fish swinging were taken on a floating line, floating poly leader fishing smaller streamers high up in the column within a foot of the surface. The fish were very aggressive due to how fresh they were, but were spooky with the clearer water. Therefore stealth was the key when swinging and trusting that in the warmer water (55 degrees) the fish would move very well. And they did. While we did hook a couple on a sinktip, including me landing a fish in the 30-31" and 11 pound ballpark, once the sun got out, the fish would spook from the sink tip. The cool thing about hooking them so high in the column is that the water usually boils with the take, and they just blow it up. We ended up breaking fish off on the take alone.
Noel hooked 4 fish swinging the floating line, landing his first ever swinging without a sink tip. The fight was insane as the first run the fish peeled out about 100' of his running line and the backing was visible on the spool. Luckily we were able to turn the fish in towards shore where the shallower water kept it from going through a narrow chute and getting into a bunch of wood. Lisa landed a nice one right off the bat and lost a couple others. It was her first steelhead in like two years.
Towards the end of a very good day already, I couldn't resist fishing a bomber skated with a riffle hitch. The first pass a fish rolled on it but didn't commit. Then while I worked my way through the gut of a broad bouldery run about three feet deep, I put the fly on the opposite bank near a log jam and as I skated and skittered it away, I watched a fish charge out of the jam, literally torpedoing just under the surface for some 8 feet or so, crush the fly in the most vicious take I've ever seen and turn back towards the logs. I didn't need to do anything because of how fast it happened. It's funny because when we swing subsurface, we usually only feel the end result of a fish taking. The visual aspect of watching such a predator chasing down the fly in kill mode is almost frightening. I mean if that fish for whatever reason decided to charge at me in the water and latch on to my hand or something, it would be a genuinely terrifying event.
Anyways, I came tight and fought the fish. The first thing it did was cartwheel. And this was the largest fish I have ever hooked up top, easily in the  9-10 pound class. The fight was furious but briefer than I'd have liked when my line became wrapped around the knob of my fly reel. I don't often dwell on a lost fish. It is a fundamental part of the game. But that is a fish I would have really, really liked to land. To see it up close with the bomber in it's mouth, and the hateful glare in it's eye. Even now, a few days afterwards, it haunts me. But I still got to see it chase down a bomber from so far away. There is no doubt in my mind that he was commited to take the fly the moment he left his lie. And that is a treasured sight.
On Sunday, I fished with Paul and his wife Jen, who had never fly fished before. We started on the Catt in the same run as the day before, and not long into it Jen hooked a really good fish. In the excitement, she forgot to let the line go and the fish pulled free. A little while later she hooked another big fish that jumped, ran upstream, then doubled back down and wrapped us around a snag. Then Paul hooked a nice fish that broke us off.
After a little while longer, it was clear that most of the run had pushed by us. So we jumped over to a couple smaller creeks, and spent the rest of the afternoon twitching nymphs and ended up each landing a nice fish. While we had to work for them yesterday, it was still a great day.
Looking ahead, the weather is turning. It looks like today or tomorrow will be the last day of surface season. The high temp tomorrow is only 62 or so, and from there it falls quickly into low 50's and high 40's. That means, for the foreseeable future, I expect the daily high water temps to be around 50 or less. That's not to say there won't be another day or two that will warm up enough to get the water up there in the mid-50's, there certainly might. But it won't be consistent if it does.
So looking back, this October has been the best floating line season by far. The total tally for roughly 10 hours fishing the surface proper this season is 2 fish that ate dries off top, 1 fish that gave a hard look to a dry off top but refused last minute with a roll, and 5 fish that ate a riffle hitched streamer skimming the surface. Of all those, I hooked one on the dry but lost it and I landed 3 of the riffle hitched eaters. Then in addition to those, we hooked 8 more in the top foot or so of the column.
If this surface season has taught me anything it is just how willing these fish are in certain conditions to come up near or all the way to the surface to take an offering. Though I'm still relatively new to surface fishing, only about 5 years of so of real concerted effort, this season has been one of constant surprise. Again, Saturday was an exceptional day. But those conditions definitely exist each year, where a good push of fish is happening in waterflow that is just right for this type of fishing. And with Octobers starting to get warmer and a bit drier over the past few years, a trend I think is probably gonna become more prevalent in the future, we may see these conditions more frequently.
So all I can say is that as anglers, we better be willing to adjust to the point of at least considering the floating line and dry fly options as a serious alternative to the sunk line tactics we are so heavily dependent on. The floating line fished either on or near the surface is quickly becoming my go to and most productive early season technique. Enjoy the rest of the pics. 
Tight Lines,
 - D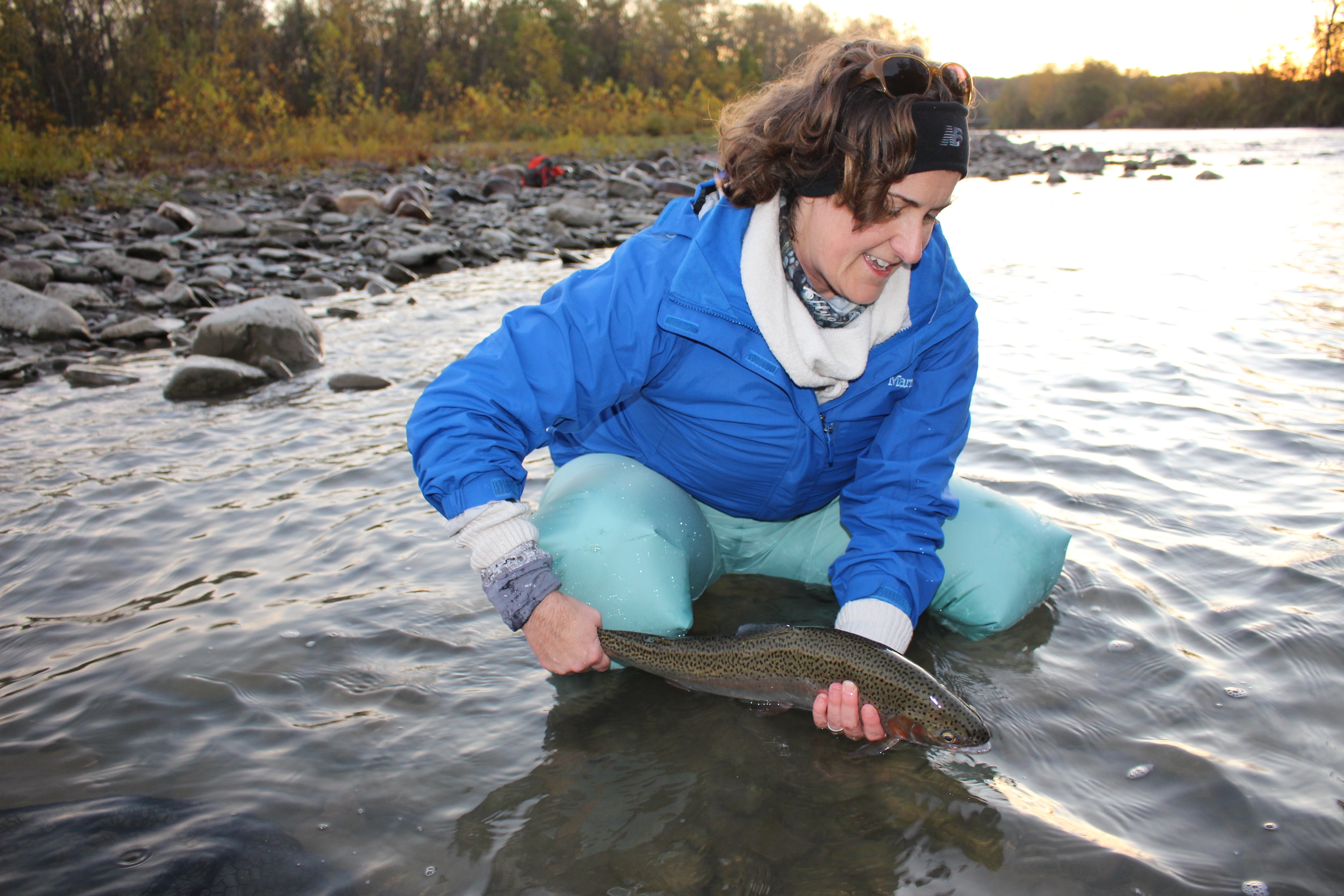 Lisa with a nice steelhead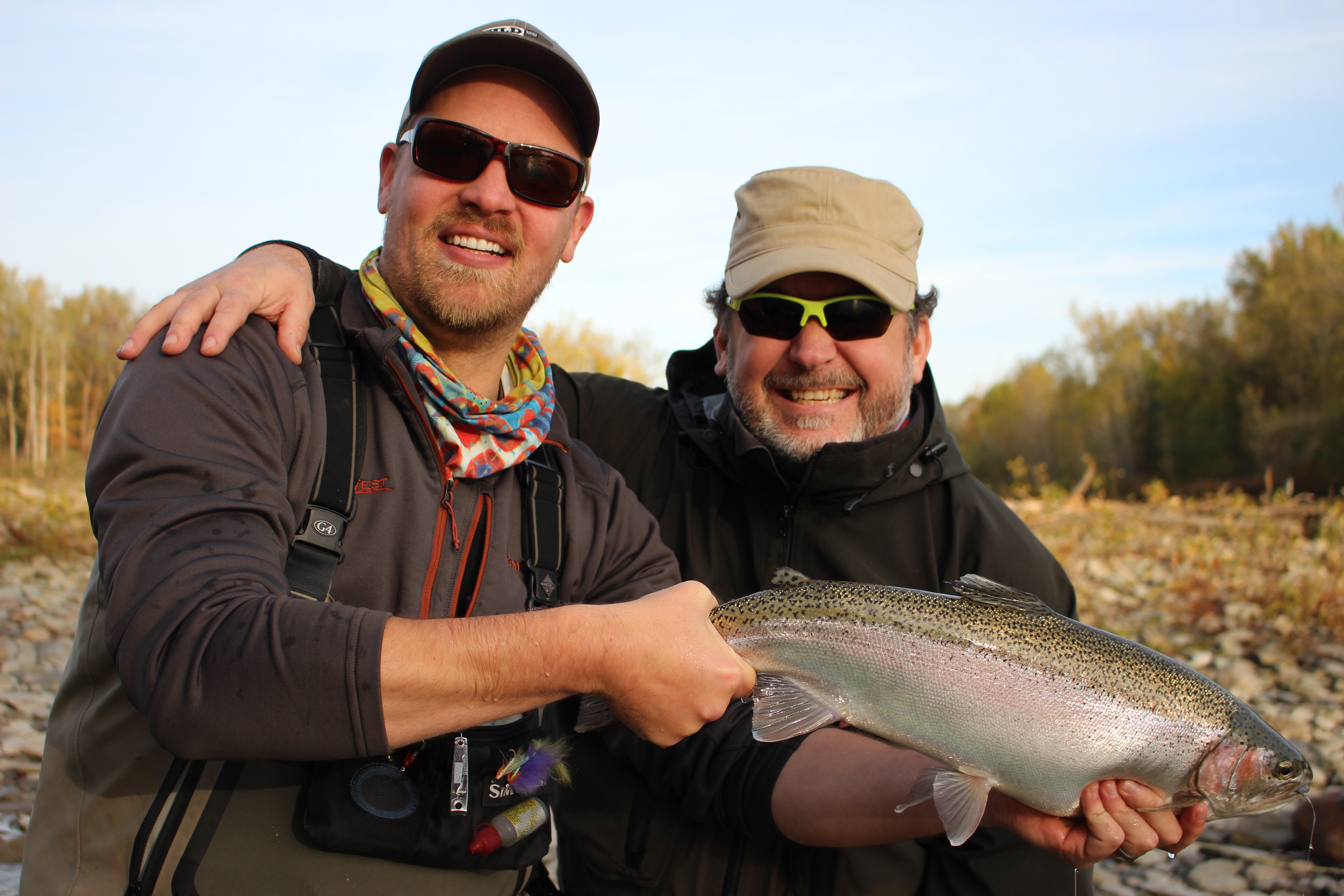 Noel with his first of the day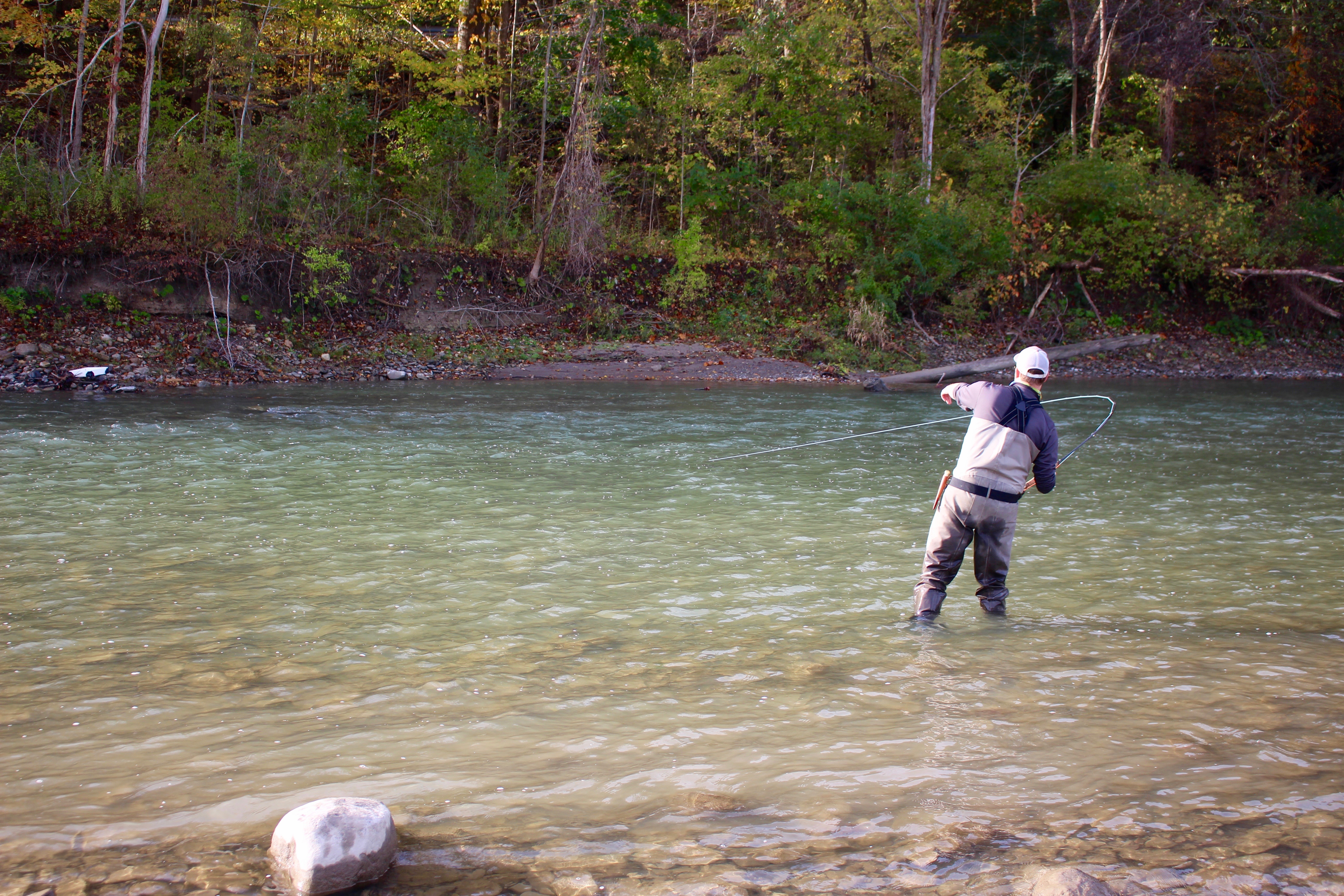 Me calling my fish out haha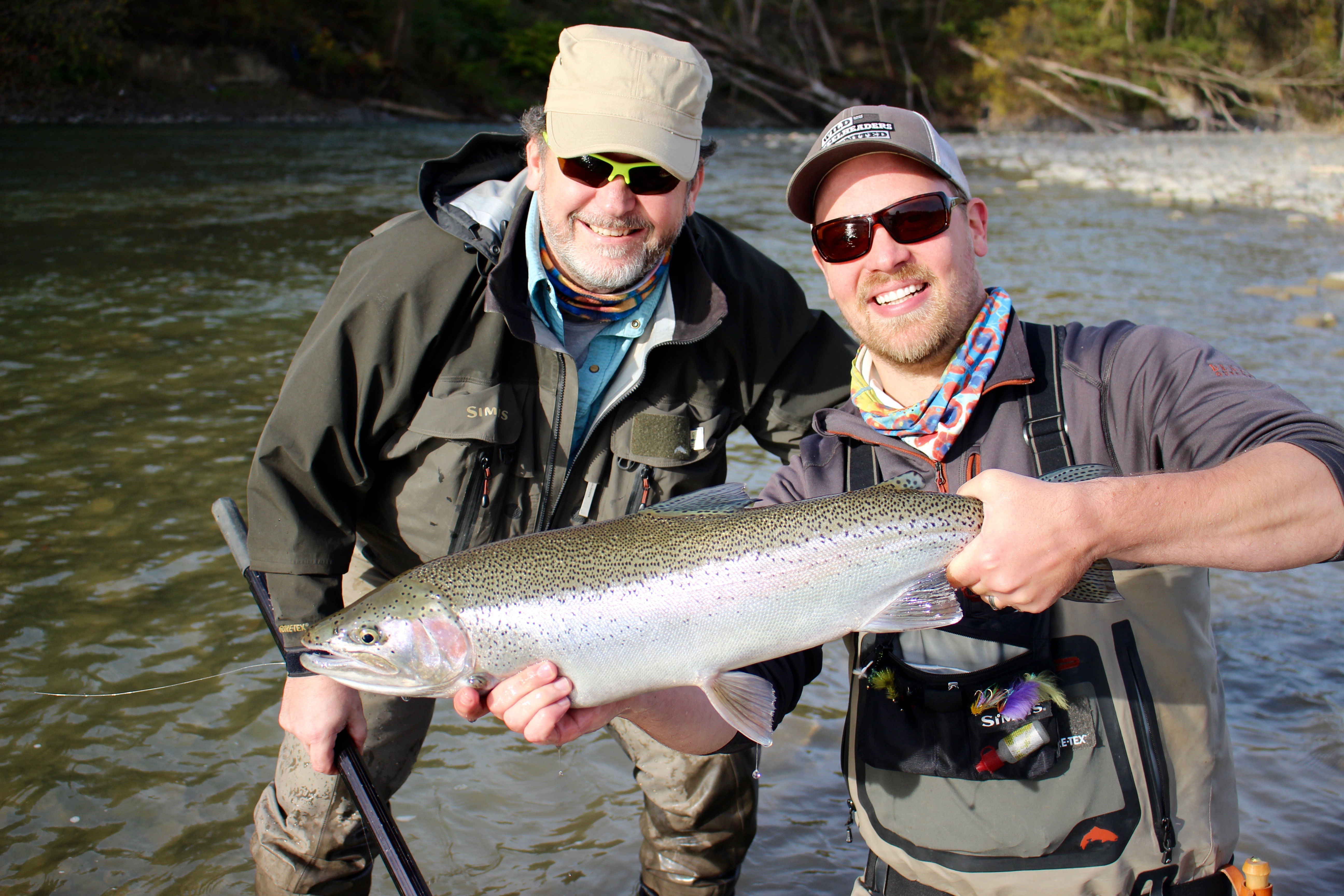 Beast mode Catt fish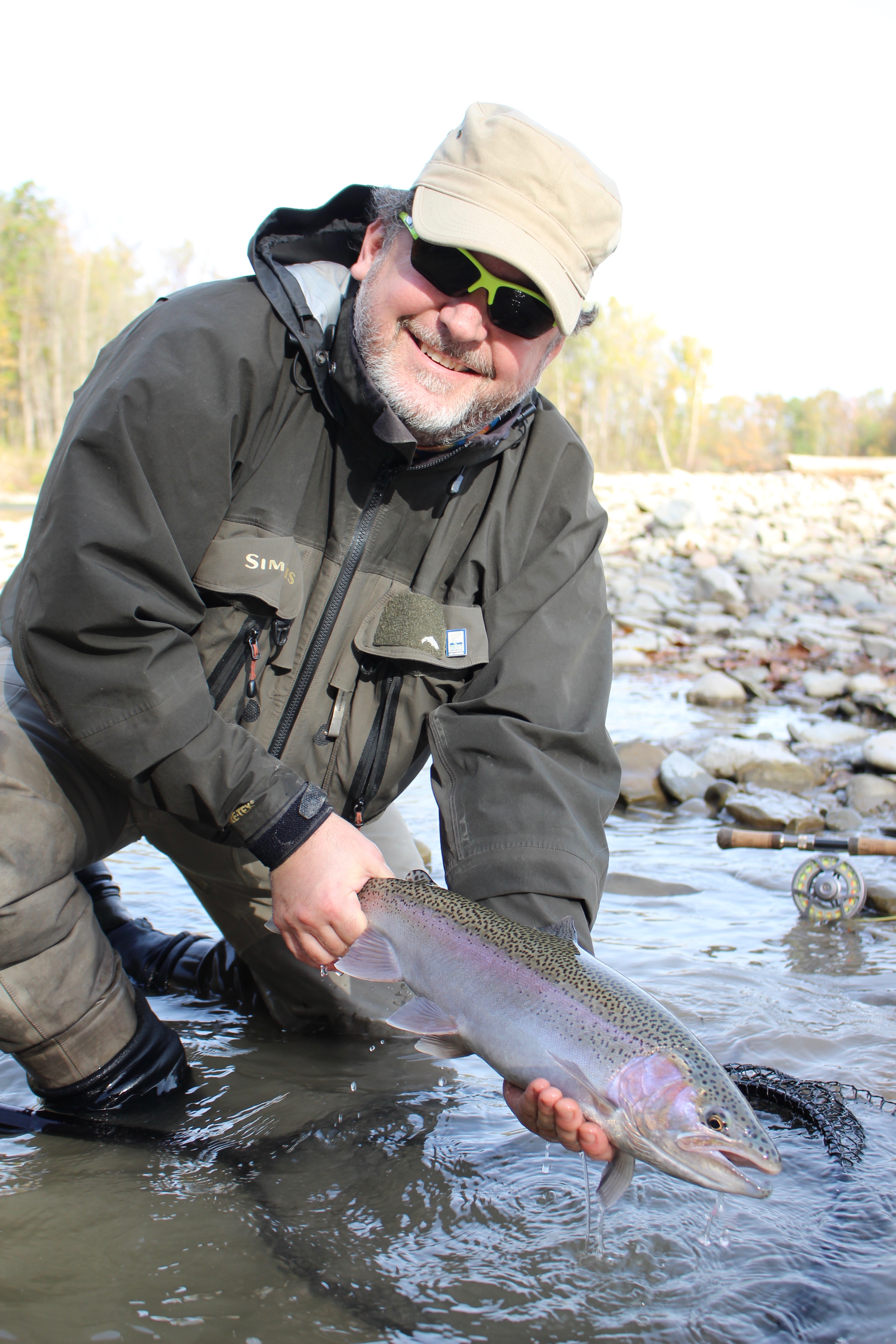 Noel with a stunner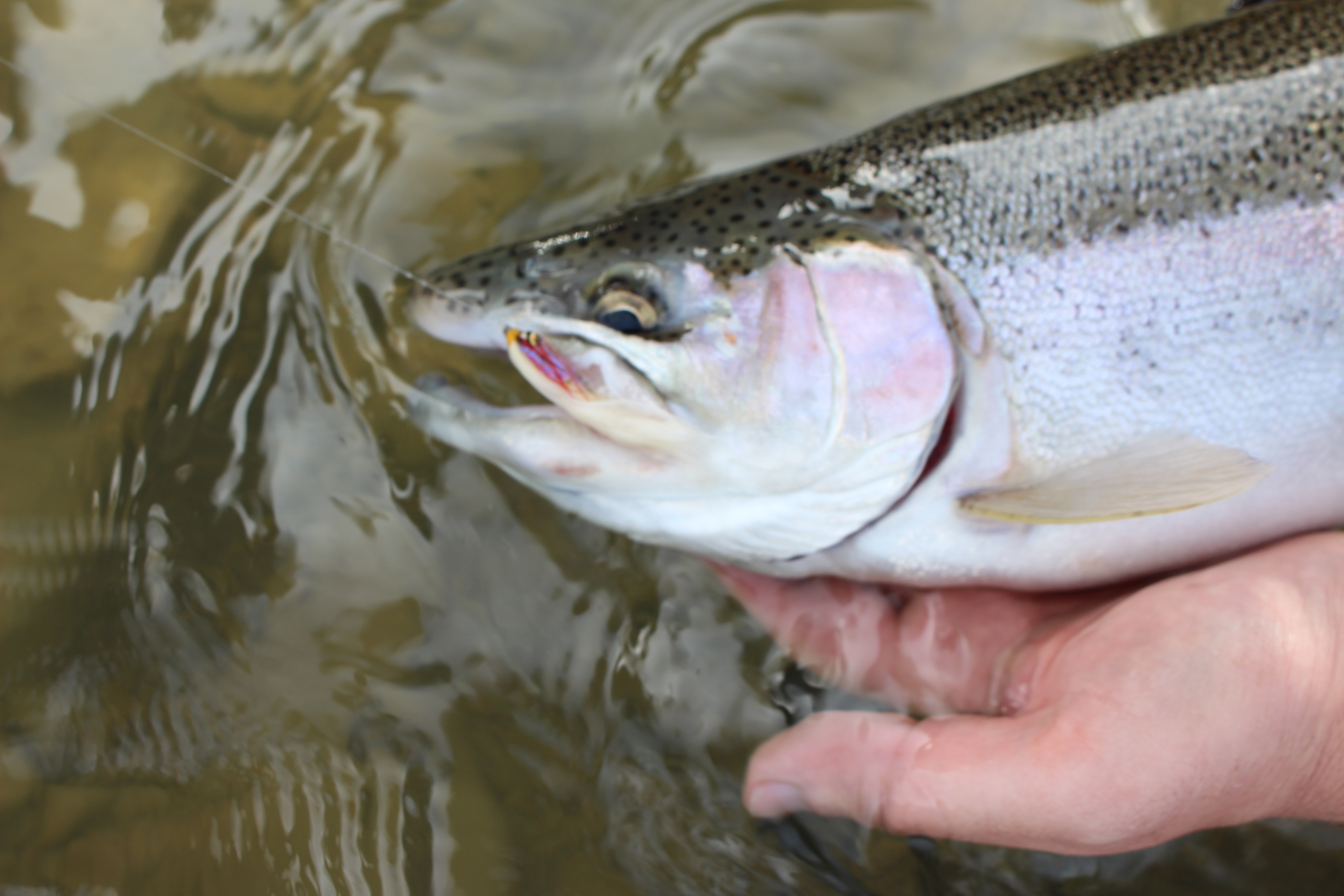 Small white streamers fished up high = vicious takes
Categories: Cattaraugus Creek fishing , Spey fishing, Dry fly fishing
/