Shopping Cart
Your Cart is Empty
There was an error with PayPal
Click here to try again
Thank you for your business!
You should be receiving an order confirmation from Paypal shortly.
Exit Shopping Cart
Guided Fly and Spey Fishing Trips for Steelhead and Brown Trout with
| | |
| --- | --- |
| Posted on November 29, 2018 at 9:40 AM | |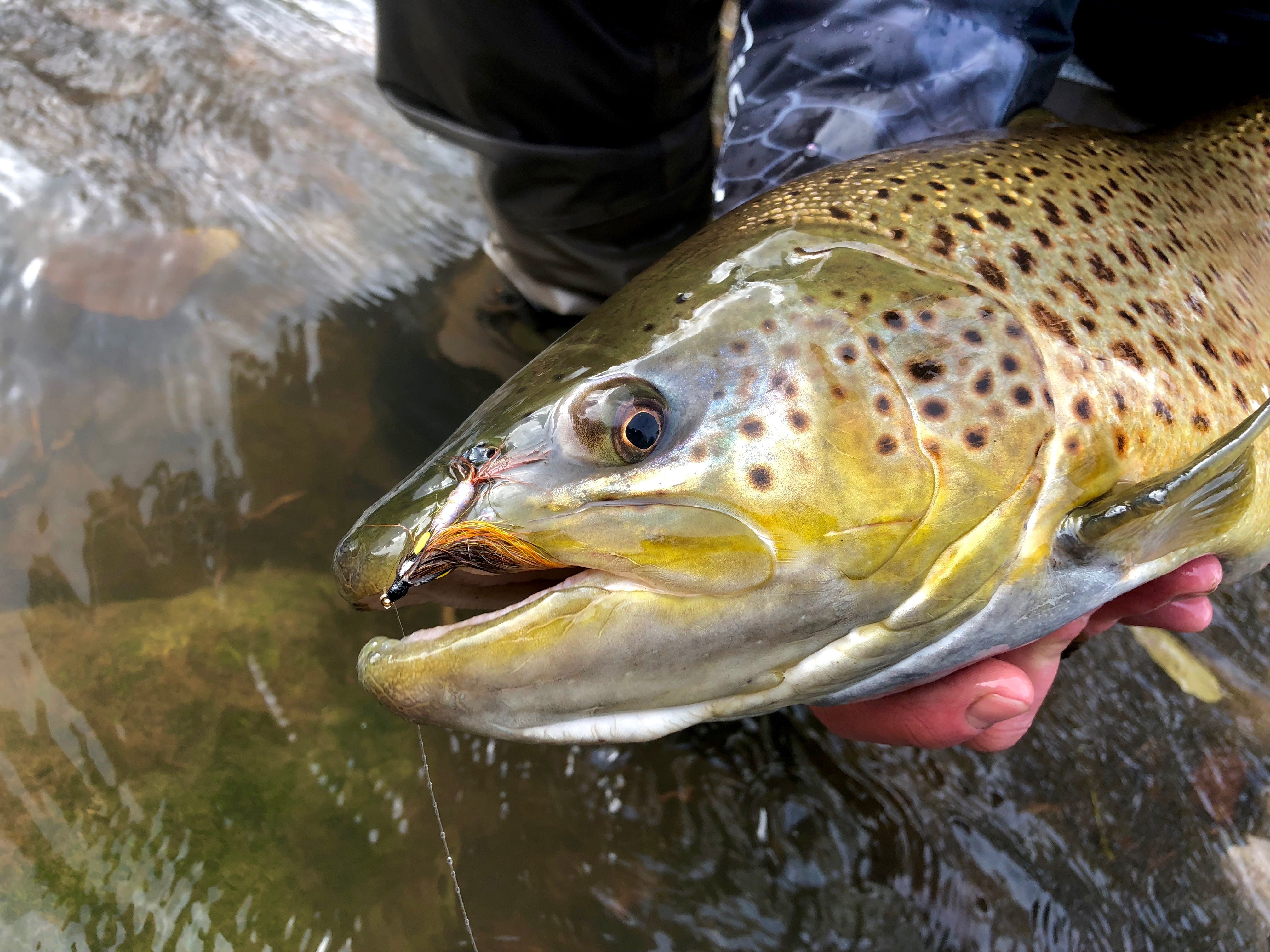 Catching a brown such as this on the swing is a reward many anglers desire
Catching a brown trout over 30 inches. That is many fly anglers' answer to the question of "if they had one wish to be granted during their fly fishing career, what would it be?" Catching a brown trout over 30 inches. And to a select few of the anglers that answered that question that way, it may even be qualifed to "catching a brown trout over 30 inches on the swing." Swinging for browns approaching or easily exceeding the double-digit pound mark is truly an experience that leaves us weak in the knees. It is at times incredibly frustrating, outright overwhelming, and just every once in a while so god damn good that it both haunts your memories and completely and totally ensares you into lifelong obsession.
This year we've been spending a lot of time chasing lake run browns. The steelhead run has been less consistent as it has in years past. But fishing for lake runs has been very good. Though many consider lake runs caught on the swung fly as by-catches for anglers targeting steelhead- and indeed many are- lake run browns can be specifically targeted with spey rods and the swung fly by knowing a few habits of the fish and making small adjustments to technique. We are not talking about complete overhall of the system here. We are talking about tweeks. 
First thing to know is a bit about the brown cycle. For steelhead in general, and fall steelhead especially, spawning can be months away. The fish adjust to their river habitats. Many have not fully sexually matured to the point that spawning is an urgent matter, and in the tiime between arriving to natal rivers and actually spawning, steelhead maintain curiosity towards their surroundings, including things such as flies swimming around in the currents. For this reason, steelhead are the usual targets of anglers wielding two-handers looking to swing.
Browns on the other hand are fall spawners. Many fish are sexually mature enough to spawn the very day they enter the river, should they arrive at suitable habitat. For this reason, the predator instict in even fresh run browns is often diminished. As a result, most of my success for fresh arrivals has been with smaller, drabber flies such as olive, brown, or black woolly buggers or brown hairwings such as brown trout fry.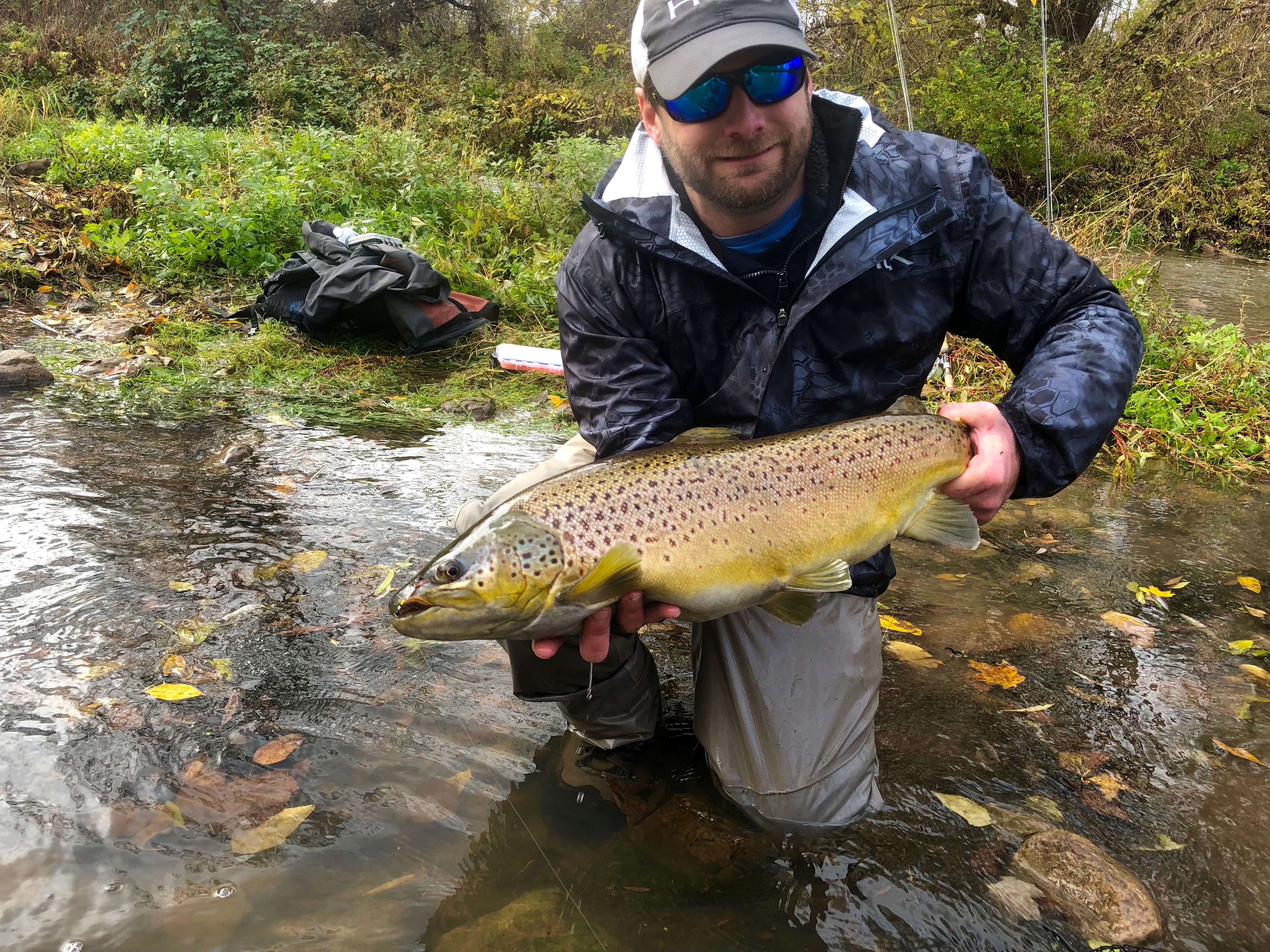 A fresh 27" hen taken on a brown trout fry hairwing  
To browns actively spawning, males especially can remain responsive to those same small flies, though the ethics of fishing to spawning fish must be determined by each individual angler. Locating spawning fish in the riffles, and fishing below in gravel drop-offs or in the first main pool downstream is usually the better option anyways. Both pre-spawn and newly finished post-spawn fish will usually hang out around the spawners in the first available holding water, and are better targets in terms of receptiveness and in the fight of the fish.
In these deeper pools and runs where pre or post-spawn browns congregate below spawning fish, concentrate specifically hard in the slowest water available. Browns generally hold in slower water than steelhead. When swinging for steelhead, even in colder temperatures, many fish are found "falling into the bucket"- meaning as you transition from the head of the run into what would be considered the gut. Brown trout are usually found "falling out of the bucket"- meaning as you transition from the slowest part of the gut of a run into the tailout. On small creeks, this might only be a matter of a few feet difference, but on larger rivers this can be a difference of fifty feet or more. Though it is obviously a good idea to swing the entire run, as trout are first and foremost unpredictable, pay specific attention to the point where the current slows dramatically in the gut before dispersing over the tailout.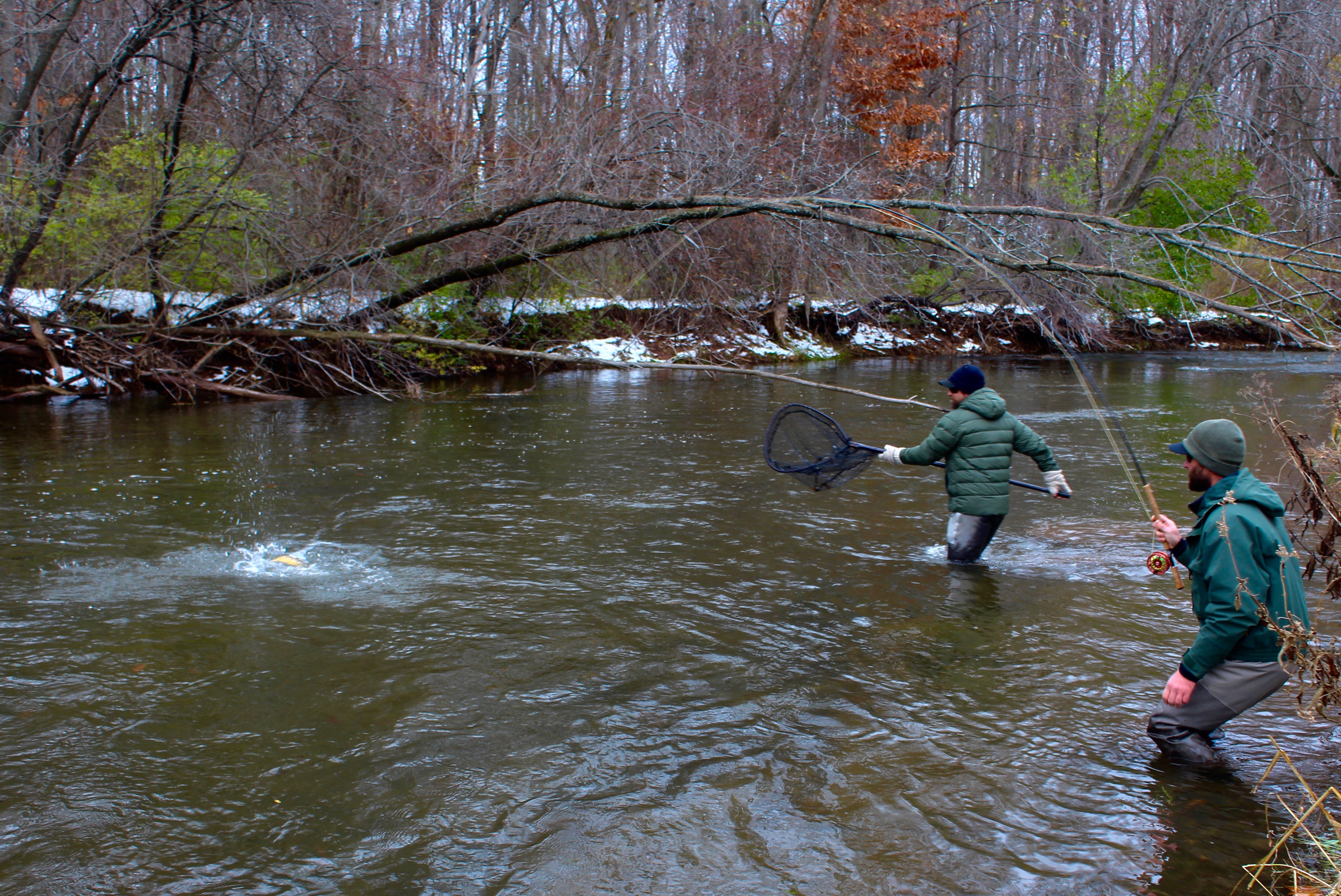 Jeff fighting a good lake run brown taken on the swing from the slow gut of a run
As more fish finish the spawning process, and the numbers of spawned out browns grows, baitfish and attractor streamers become the most effective flies to swing. Spawned out browns are eating machines. Lying in the slower pools and runs, they await to ambush anything small enough to fish in their large mouths. When I'm swinging to high numbers of spawned out fish, again in the slower water, I like to fish a floating line, leader down to 8 or 10 pound fluoro and a weighted fly. The cast isn't usually as pretty as fishing a weighted fly on that lighter tippet doesn't turn over great, but the swing is nice. In the slow water, any sink tip will usually ground out. Fishing without a tip and using a weighted fly usually does not. And at times, even in very cold water, browns can just go on a tear and be willing to eat anywhere from just below the surface to substrate of the pool. Most times, however, browns will be caught fishing a streamer weighted heavily enough to keep it near the bottom.
Pump the rod. I'll say it again. Pump the rod the entire time during the swing. Use the kind of pump that most steelhead anglers do on the hangdown and pump it throughout the swing. This will cause a jigging action, and the fly to drop back towards the bottom before it starts to swing again. Browns absolutely love to eat a streamer on the drop. And the take will be noticeably different. It will happen after one pump and as you pump again. There will just be weight there. That is a brown eat. It is not a turn on the fly the way a steelhead normally does. It is a brown that followed the jigging streamer, caught up to it, and, as the streamer drops toward the river bottom from a pump, inhaled it without turning. That is the way that most browns eat during the swing. They swim up and inhale it without turning back. If you were not pumping the rod, the fish might still take it. But that is a fish that can easily be missed in the slow water because the swing is slow, therefore the bite transfer to the rod is slow. By the time you notice something has happened, that fish could have spit you already. So I will say it one more time. Pump the rod the entire time from the start of the swing until the hangdown. If you feel any resistance, set low and to the downstream bank.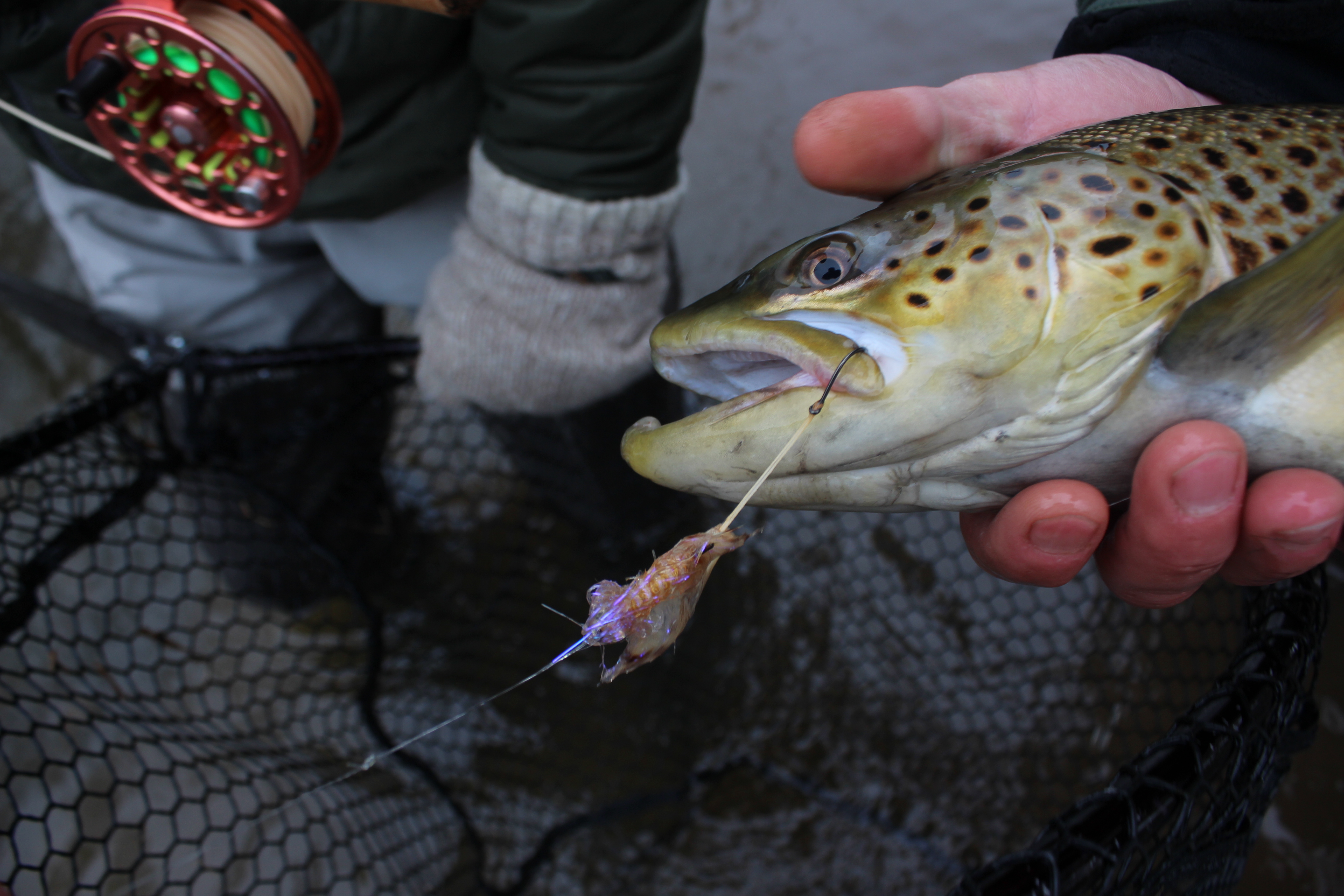 Smaller lake run taken on a bait fish streamer pumped through the slow water
So if you guys and gals have your eyes set on a trophy lake run brown trout on the swing, using these tips can be the difference between a successful day and spending an afternoon flogging the water. Browns are a beautiful species to target with spey rods and the swung streamer. Many remain in the rivers and creeks all winter long, and swinging or stripping streamers in the slower "estuary" sections in the cattails can help fire up even the coldest winter day. Browns put up determined battles when hooked, full of headshaking fury and sometimes acrobatics that will cause you to question whether the fish mistakenly thinks it's a steelhead. In short, lake runs are a ton of fun. And they readily eat a swung fly.
Tight Lines,
 - D
Categories: Brown Trout, Spey fishing, Tips and tricks
/