Shopping Cart
Your Cart is Empty
There was an error with PayPal
Click here to try again
Thank you for your business!
You should be receiving an order confirmation from Paypal shortly.
Exit Shopping Cart
Guided Fly and Spey Fishing Trips for Steelhead and Brown Trout with
| | |
| --- | --- |
| Posted on May 14, 2019 at 9:20 AM | |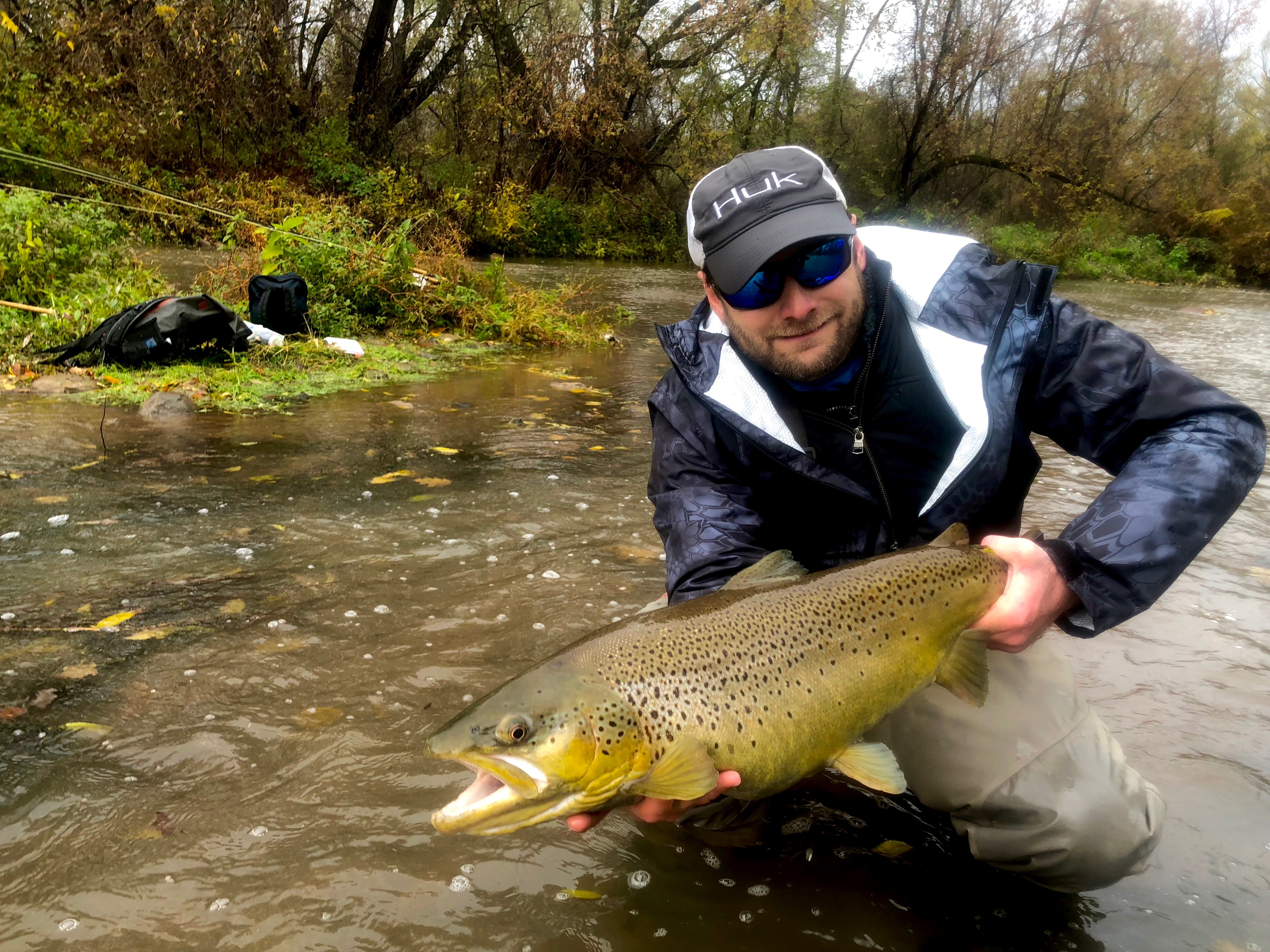 Our big trout of the season!
Well it's getting to be that time of year again. Though there are still decent numbers of steelhead around, particularly in the Grand River, and that we still have decent temperatures due to the cool rainy beginning of May that we've had, steelhead season is coming to an end. So it's time to look back at what the '18-'19 season had to offer.
Starting with last fall, the end of September was very hot, something that we are starting to see frequently. When I first started fly fishing for steelhead twenty some years ago, we used to really see decent numbers of fish in our New York rivers by mid-September, sometimes even earlier. My earliest steelhead I can remember catching was August 27. This was due to the fact that twenty years ago, mid-September was what early October is now weather-wise. Going forward, it looks like the season shift that has been noticably occurring over the past decade or so with warmer early fall temperatures will become the new normal, and that's a shame because early fall before the main run gets in is my favorite time.
Then by the first or second day of October the rains came. And it didn't stop for two months. There was a stretch of 45 days or so right in the middle of peak fall season where it rained 39 days. Despite the flows the overall numbers of steelhead throughout the New York Erie creeks was lower than normal, with most fish running between 20 and 24 inches. It was as though a year class was missing. In recent years, New York has struggled with smolt size due to cold flows at the hatchery. This combined with the very high populations of walleye and cormorants likely has had an effect on adult steelhead numbers. 
Whereas Lake Erie creeks and rivers were inconsistent, the Lake Ontario brown trout run was unreal. Beginning in earnest the first week of November and continuining all through the winter into the spring, the lake run brown fishing was the best I've seen it in years. Average days were double digit hookups, with many, many brown trout between 28 and 32" taken. Swinging streamers for the browns was just too much fun. This year our biggest trout of the entire season was a 32" lake run brown with about a 20" girth. The big hen went 15 maybe 16 pounds!
As for spring in Ohio, we had very good and consistent fishing. I'd say the run was right about average numbers and size wise. It was good fishing with the average day spey fishing being 2 or 3 hookups per rod. We did have some banner days, particularly in mid-April when spey fishing hookups approached or exceeded double digits, though the Grand started to get less consistent flows due to significant amounts of rain the last two weeks of April which is the timeframe we usually see the best spey fishing.
As is normal for the first week of May, the smallmouth have started making a strong showing. Those guys should stick around for the next month or so, providing good fishing. If this cool wet weather keeps up, there may even be a steelhead or two still in the Grand or the Catt in June, but it wont take them long to drop out to the lake if there is a prolonged heat spell.
If there was one factor that determined success all season long, I'd say it would have to be adaptability. Being able to recognize and react to changing and inconsistent conditions was key to consistently finding success, whether it be finding new spots that were holding fish, fishing different rivers more frequently, or even targeting different species such as lake run browns. We found success by keeping an open mind and not falling into the rhythm of complacency. I guess in steelhead fishing, that's about as good as you can strive for- the ability to meet the challenges that present themselves and hopefully find a fish or two along the way.
We're already excited for next fall.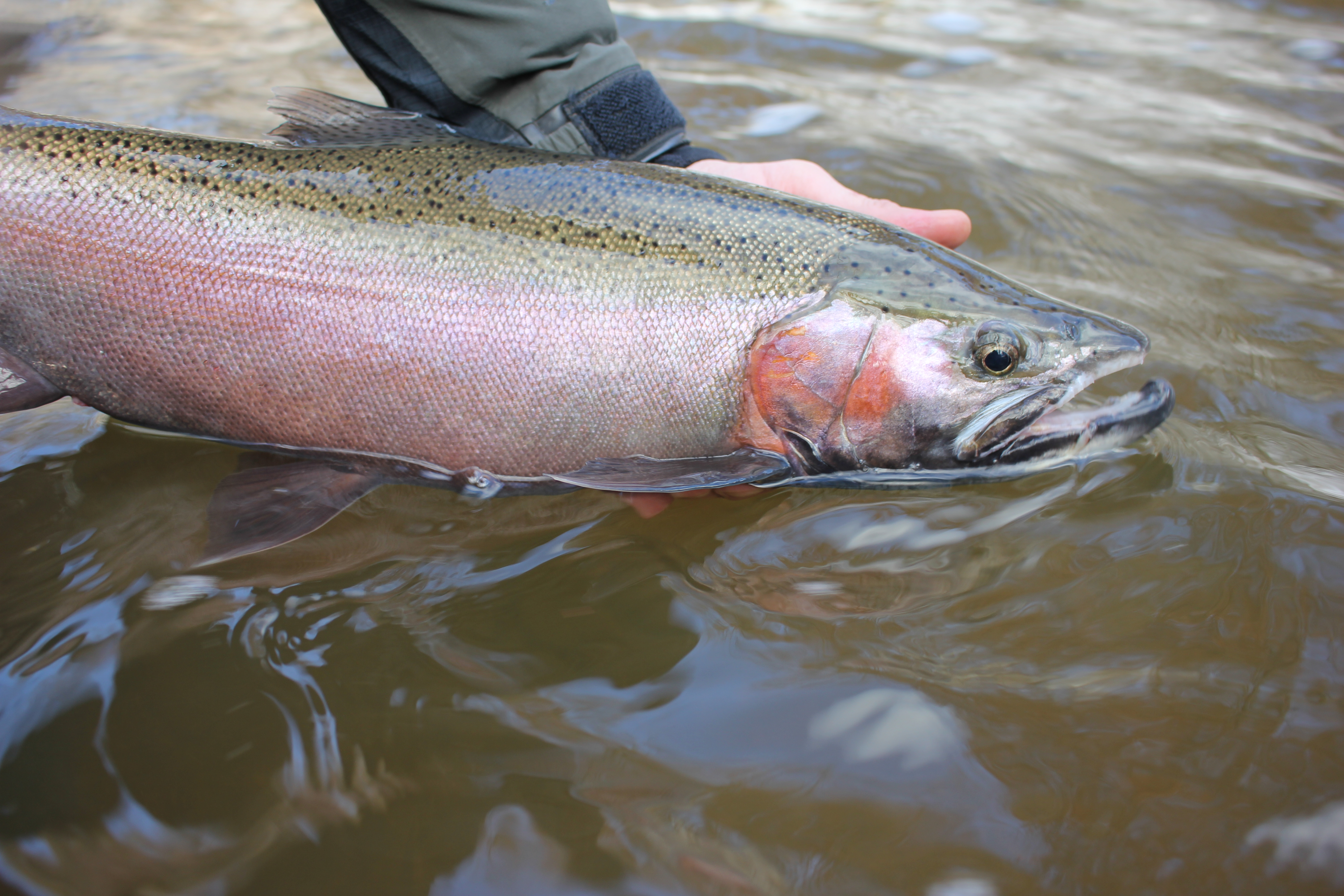 Until we meet again, tight lines.
 - D 
Categories: Great Lakes Fishing, Review
/