Shopping Cart
Your Cart is Empty
There was an error with PayPal
Click here to try again
Thank you for your business!
You should be receiving an order confirmation from Paypal shortly.
Exit Shopping Cart
Guided Fly and Spey Fishing Trips for Steelhead and Brown Trout with
| | |
| --- | --- |
| Posted on February 24, 2020 at 7:35 PM | |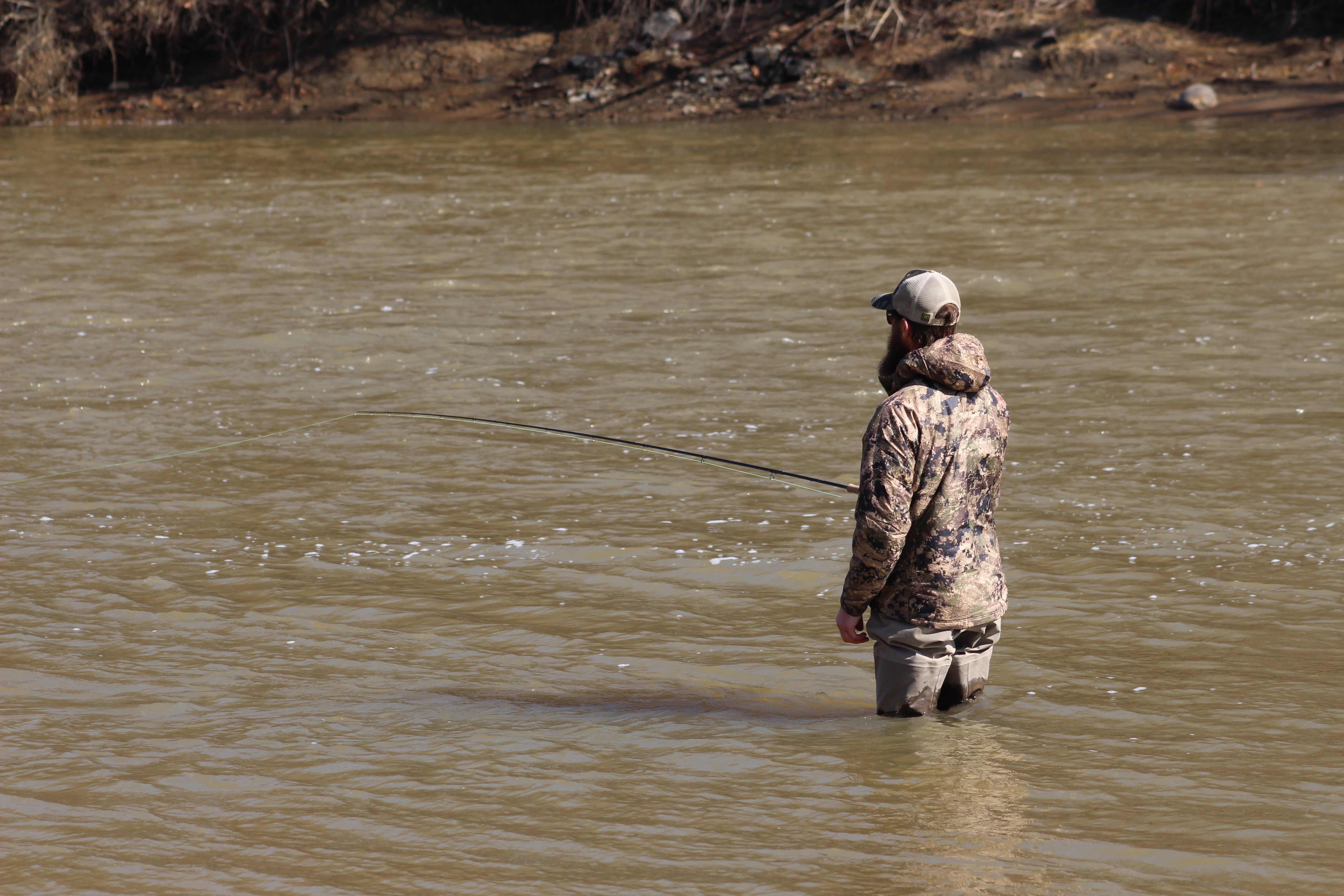 Jeff swings to highly stained water
Everybody has "those days." You walk to a river that glistens that perfect color, and flowing with ideal temperature. Your passes through the runs are rewarded, sometimes heavily. It seems that you can do no wrong, and you catch fish seemingly at will. Those are the days you talk about, the ones you tell your buddies about over beers or glasses of whiskey. If you haven't yet experienced a day like that swinging, you just haven't been at the game long enough. It will happen. But most of the time the fish gods aren't quite so generous, and just as often as not you walk down to a river with the simple goal of determining whether or not the color falls within your own range of fishability.
The steelhead in our rivers here are present through the seasons that also coincide with some of the worst weather of the year, and rain, sleet and snow can all spike and stain the flows. For the lucky few of us, a day or two of dirty water is just that- something to wait out and hit as it's dropping and clearing. But for most of us, time is a valuable resource, so the game becomes making the best of the time you have. So before you walk back up from a muddy river, dejected at the sight of chocolate stained and cold water, here are some things that can help you overcome the obstacles and maybe even put a fish on the board.
FIND YOUR OWN CUT OFF. My cut-off for fishability might be different from yours. Determining your bottomline should be the first thing you do, and it can even be done for specific rivers. What I like to do is try to remember what the approximate visibility for the fish I caught out of the system at the dirtiest flows and then subtract an inch or two. This usually leads me to making a cut-off of between 8 and 10 inches. Why I like to fish water dirtier than what I've ever caught a fish in? Two reasons. It keeps me learning, and I have the genuine belief that fish really do see much better, even in highly stained water, than we give them credit for.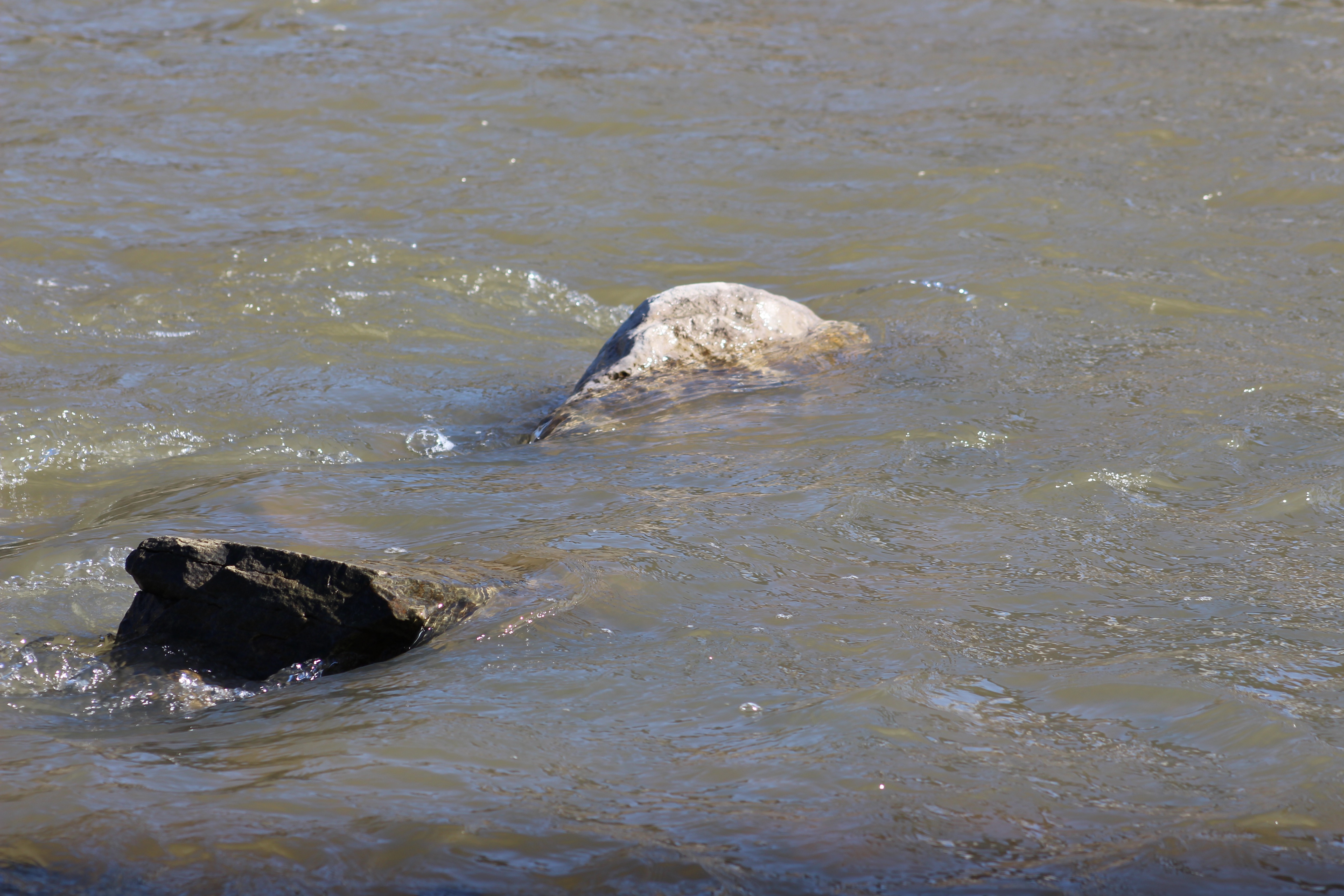 THESE BOULDERS DEMONSTRATE WHAT AN ACTUAL 10 INCHES OF VISIBILITY IS (I MEASURED)
Remember, steelhead will be near the bottom looking up through the water towards a light background. This means that our perspective of standing looking down into the river is obviously not the perspective the fish get. Water with 10-12 inches of visibility can fish surprisingly well when fish are present.
CONTRASTING COLORS. Everybody has their own thoughts on color schemes to match the day's conditions- bright colors for bright days, dark colors for dark water, natural colors for clear water, the list goes on. I don't know of a single rule in steelhead fishing that never fails, fly schemes included. But there are certainly some trends that have proven productive over the long term. In cold and heavily stained water, I like big profile with contrasting colors. For anyone who has ever pulled plugs for salmon, a fire-tiger in heavy sediment is a producer. Translate that to steelhead on the swung fly. Color schemes of black, chartreuse, and orange are some of my most productive flies in heavily stained water.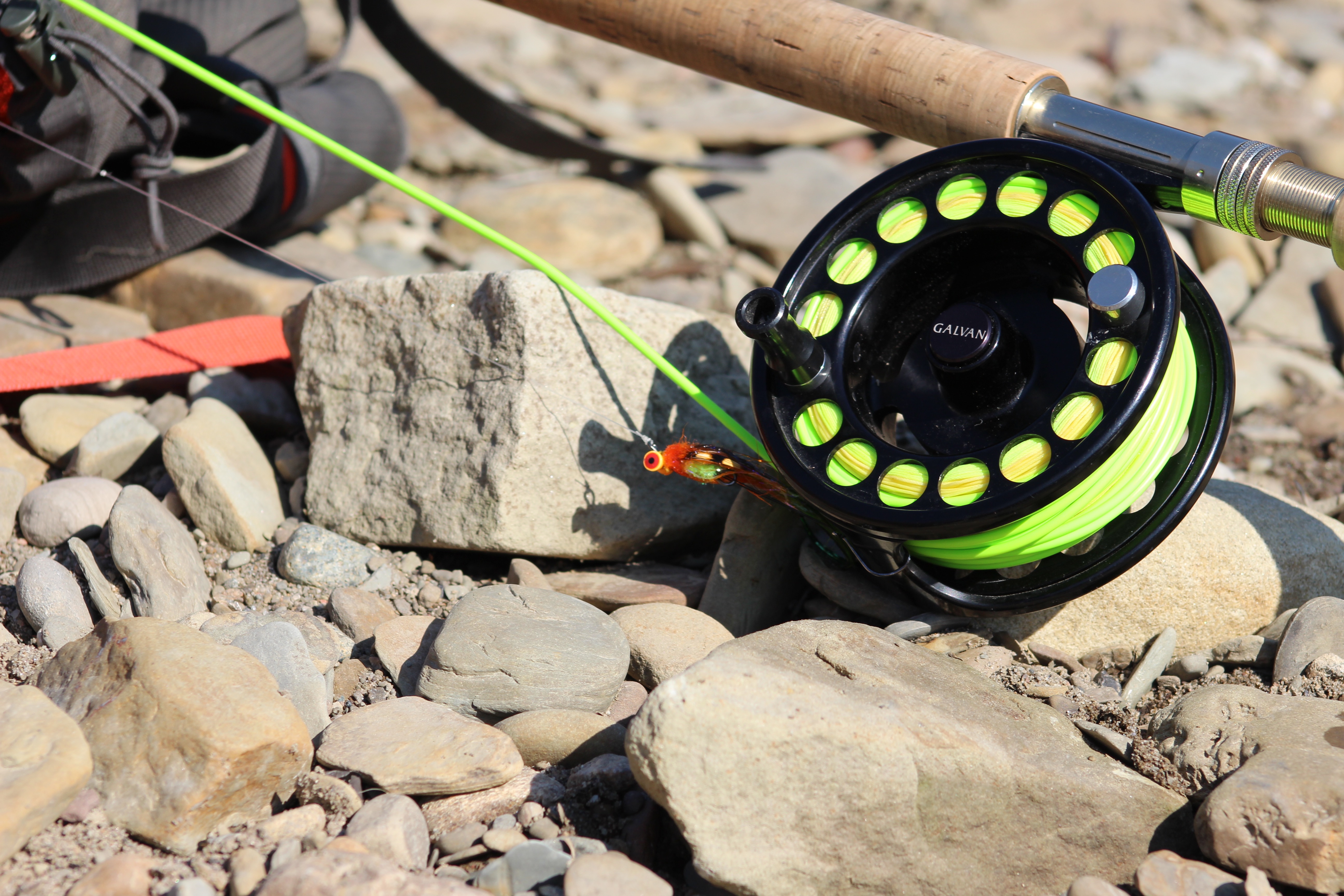 MY DIRTY WATER RIG
A good indication that a fly is a hunter is when you drop it in the water near your feet and it just glows. I don't know how else to put it other than that, but when you see it you'll know. Start messing around with heavily contrasting colors with brights and darks, keep the profiles big but the fly sparse enough that it sinks well. I like reverse tied craft fur with the under fibers stripped out. It cuts through the water but the reverse tie puffs it out and makes it pulsate in the water.
FISH WHERE THE FISH ARE. It's cool as hell to send bombs across the river and touch a fish way out there. As spey anglers, the casting is very much a large part of the process. But casts don't catch fish. Proper presentation matched to the right water does. K.I.S.S. Keep it simple stupid? Well kind of. Keep inside and short. Don't overthink it. If there's ten inches of visibility, then any depth more than that is adequate to cover and conceal a fish, plus shallower water offers better light penetration. Fish see better.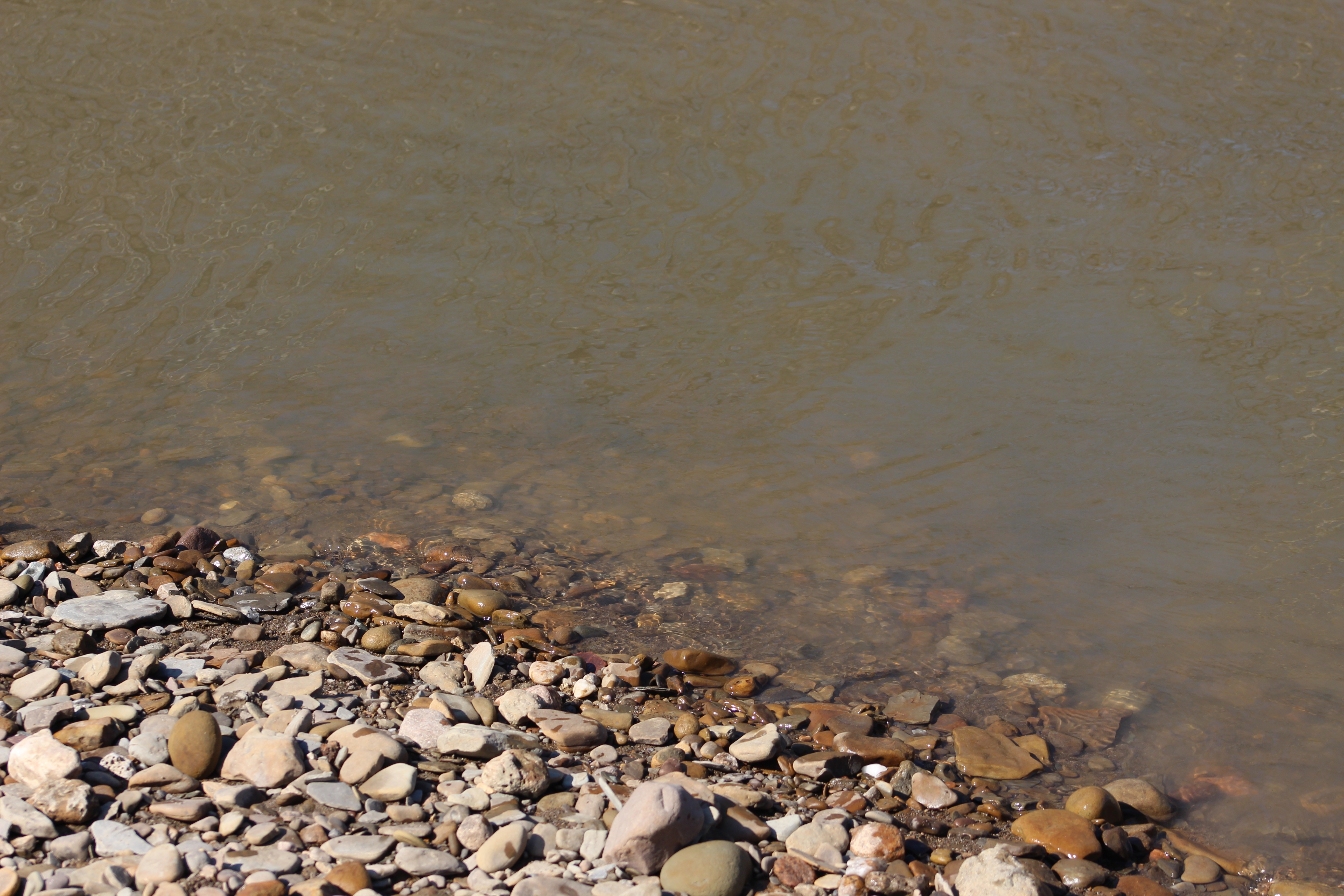 WE LITERALLY HOOKED FISH WITHIN FIVE FEET OF WHERE THE GRAVEL BECOMES UN-VISIBLE IN THIS SPOT
If there's one piece of information that I think is key, it is concentrate hard on the inside. When I fish dirty water like over the weekend, I find the casts I make are roughly half the distance as those I'd make if I were fishing the same water in clearer conditions, and we hook good numbers in water between 1.5 and 2.5 feet of depth.The inside of runs, the soft water shoulders, the casts that might only put you out the distance of the shooting head or less are the money spots. Fish them well.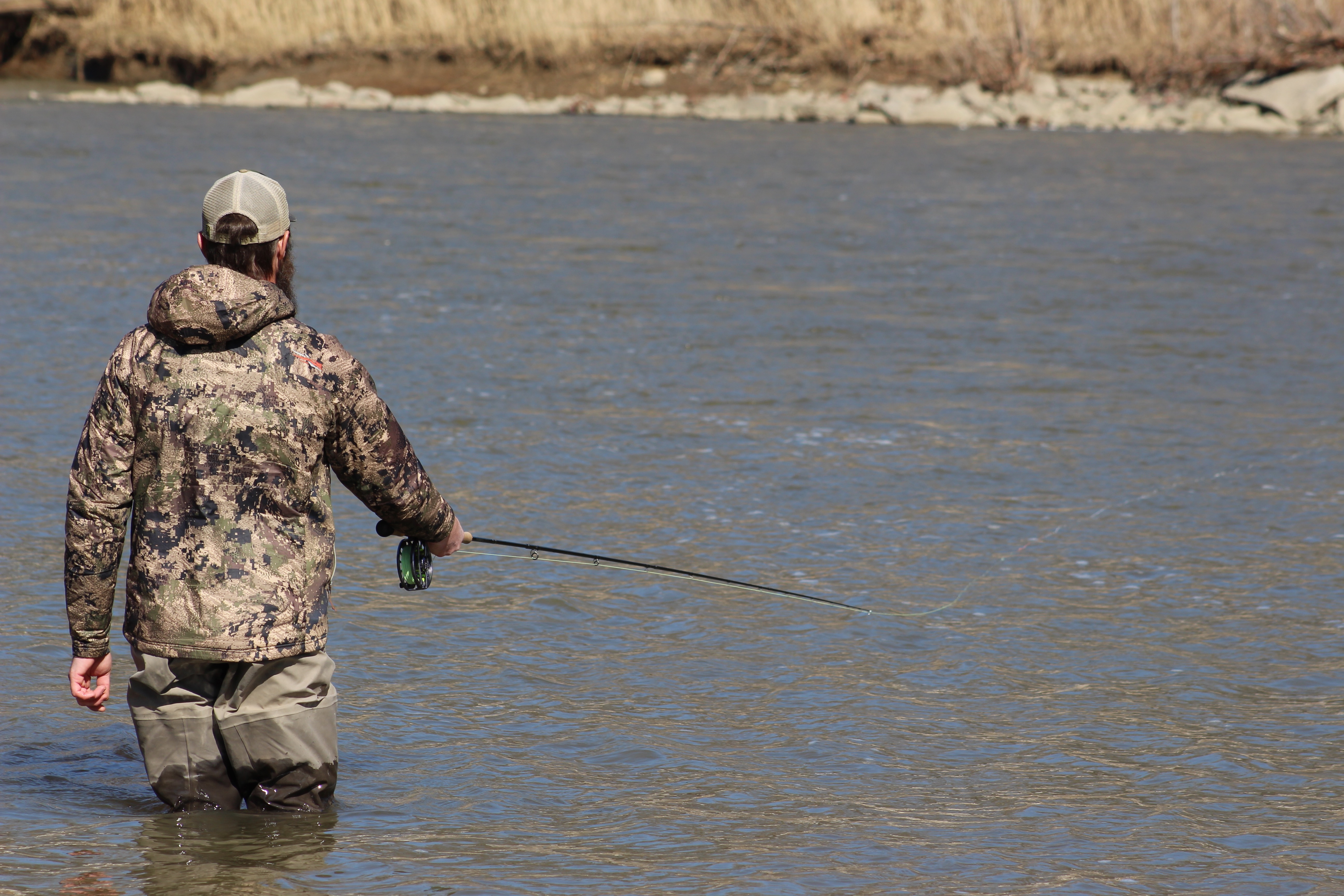 JEFF SWINGING SHORT ON THE INSIDE
Fish use these softer water places. In dirty water, they pull off to the side, plus these are the running lanes. If someone forced me to swim up a river, particularly in cold and dirty flows you can bet your boots I'm going to be swimming up it as close to shore as I possibly can. It saves energy. Fish do the same thing, and stained water is migrating water. If you're casting to those mid-river buckets that fish well in ideal conditions then you probably are casting, and fishing, beyond the fish.
DREDGE THE SHIT OUT OF IT. Steelhead hug near the bottom under most conditions, and in clearer high water fishing a light tip on the inside is effective. But in cold, dirty water, the fish might as well be in contact with it and you should be bumping it a little more frequently too. How do I know this? The grabs we get when swinging in those conditions. Over the past couple days, most of our takes came after we found somewhat regular contact with the bottom. And this is normal for high, dirty and cold flows. If you aren't hanging up on the bottom with more regularity than when you're fishing that inside seam in better clarity, you might not be fishing right.
Why does it matter if you know that your tip gets the fly to just above the rocks? It is not that the flies are necessarily fishing different depths. It's that they're fishing at vastly different speeds during the swing. Having your sink tip roll along the bottom during that second half of the swing in cold, dirty water gives you the slowest presentation through the best water. The ticks and taps on the bottom will grind your swing to almost a hault. Throw those big, inside mends and even pull it along with the rod tip if you have to to get it moving again, but just know that your dog's out there hunting. Control your swing. Find the bottom, then get it moving again. Lift the rod tip slowly after an inside mend. Fish it well.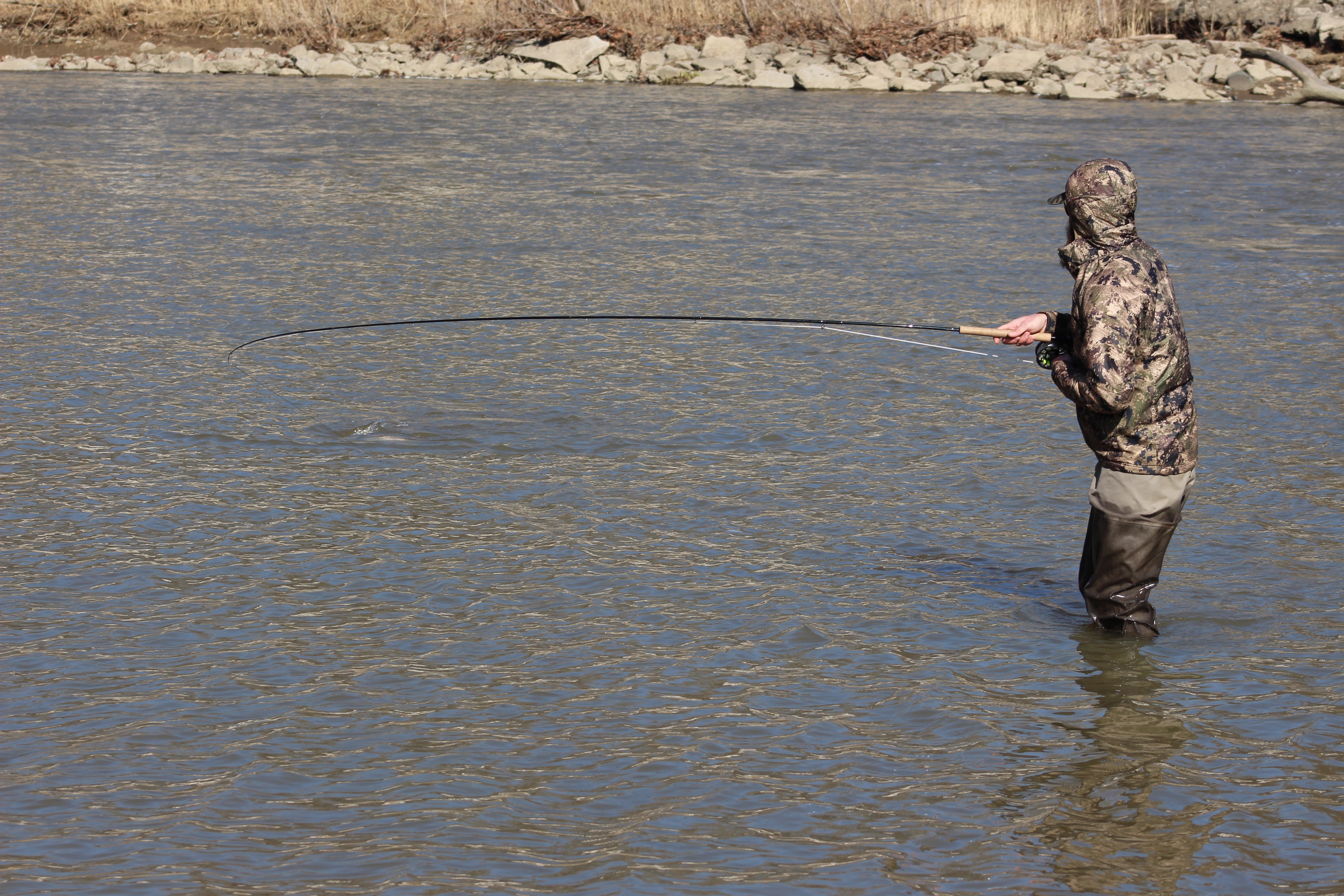 SUCCESS
So get out there. Don't be afraid to swing, even when you think the water's a bit dirty. Remember, the worst you can do is not catch a fish. And even that's not so bad, especially if you're spending the day with a good buddy or two. But keep these pointers in mind, and hopefully you can put a fish or two on the board on a tougher day.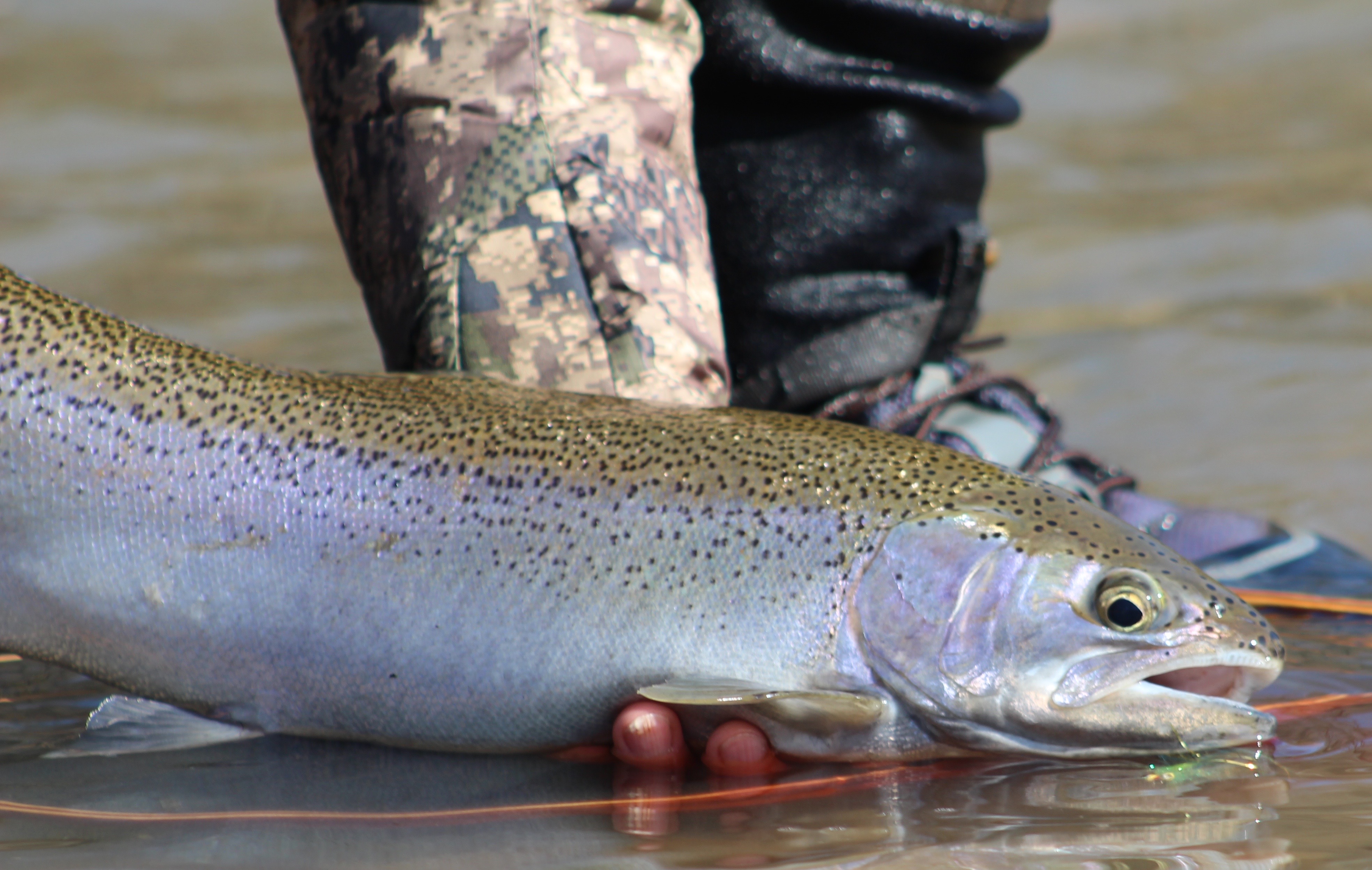 THESE GUYS ARE STILL OUT THERE
Tight Lines,
 - D  
Categories: Spey fishing, Tips and tricks, Steelhead
/