Shopping Cart
Your Cart is Empty
There was an error with PayPal
Click here to try again
Thank you for your business!
You should be receiving an order confirmation from Paypal shortly.
Exit Shopping Cart
Guided Fly and Spey Fishing Trips for Steelhead and Brown Trout with
| | |
| --- | --- |
| Posted on May 13, 2020 at 10:40 AM | |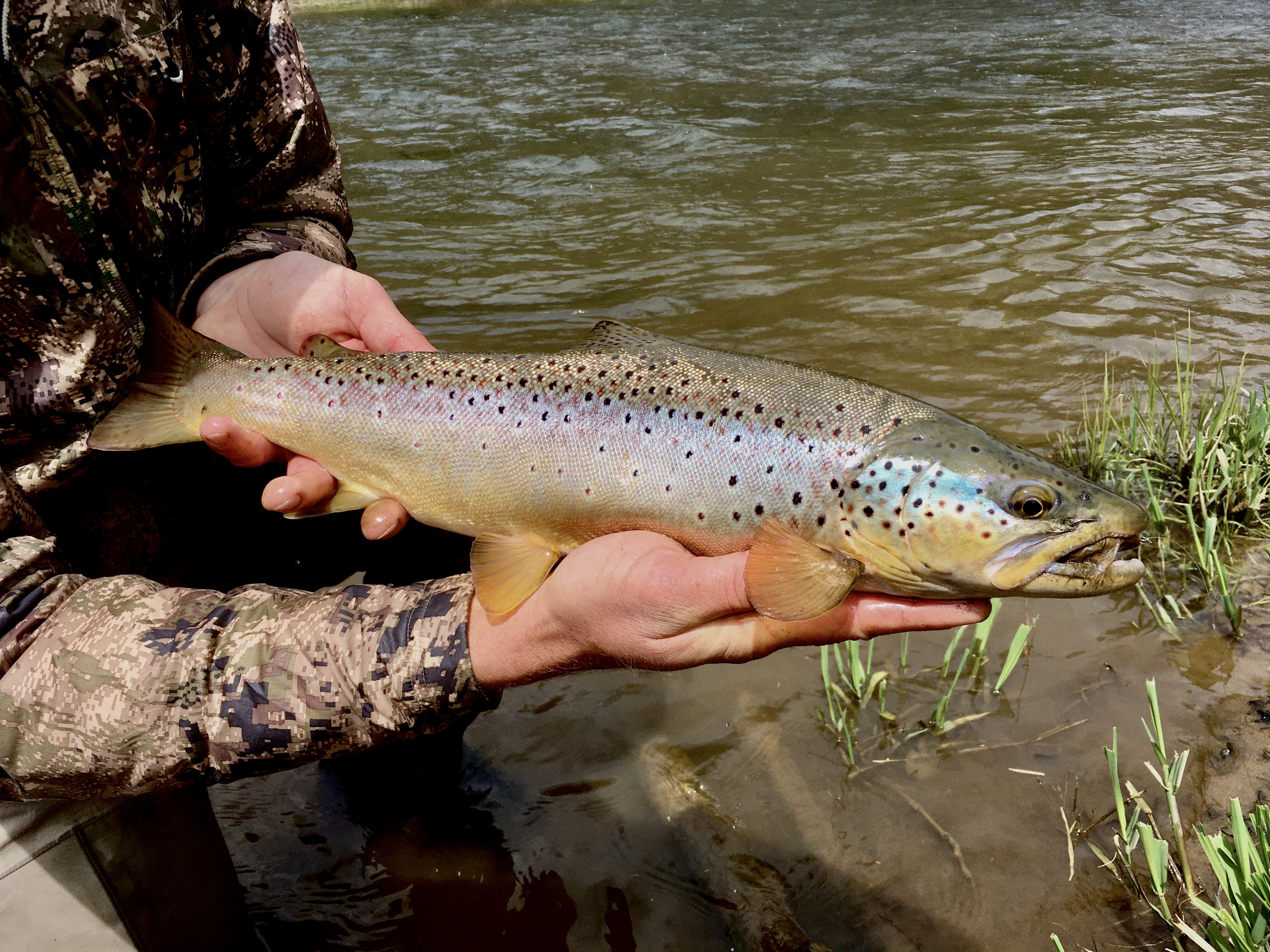 An obviously stream-born fish
I've been asked before on numerous occassions whether or not wild trout are truly different than stocked fish, and my answer has always been resondingly yes. In nature and appearance, wild fish are different and should be held to a different standard. I've seen anglers post pictures of giant trout with worn fins from a creek that, if left to its own devices, would struggle to produce even an upper teens fish. I've heard anglers brag of fifty fish days from single pools that without man's hand should hold in total perhaps ten fish scattered throughout. I've driven past lines of cars parked next to a stream because the hatchery truck was just there a day or two ago. These are the obvious answers to the question. But it might not be the only perspective to use.
Fishing wise, I find that streams that offer wild trout fish better throughout the year, season in season out. There's a reason to it. Stocked trout, particulary stocked catchable adults, are a put and take fishery. The hatchery truck puts them in. Anglers, including feathered ones and other predators, take them. And the stream is once again largely barren. When the state stocks even high numbers of catchable fish in a stream that isn't protected by catch and release regulations or gear restrictions, it doesn't take long for the stocked fish to vanish.
While it is true that long term holdover trout can take up residence in a stream, even a system that experiences heavy pressure, and offer some fishing opportunities once the bulk of the fish are removed, there are fewer of these fish than the wild trout densities in even moderately productive wild streams. All you need to do to confirm this is fish a stretch of stocked trout water in late June or early July, water that looks on the surface very productive to trout. Rocky bottomed, in-river structure, feeding lanes, perhaps even bugs coming off in the evenings. The only thing that's missing is the trout.
Wild stream trout, however, need to maintain resident populations sufficient enough to populate a watershed, meaning that in systems where wild trout are, wild trout are present somewhere in the system every day throughout the year. They offer fishing opportunities long after the the local stocked systems peter out from catch and kill. This is what truly makes these systems special, and worth protecting- the wild fish in these systems are worth more swimming in the river than frying in a pan. Though it is true that without the stocking efforts, opportunities for fishing trout in our general region would be more limited, places where trout are thriving without stocking efforts adds to overall angling opportunity. This is what truly makes wild trout different than a stocked fish- they live in the watersheds that are healthy enough to provide productive, though perhaps challenging, angling year round, not simply in the days or weeks after the hatchery truck drove by.   
Categories: Brown Trout, Pennsylvania, Personal thoughts
/