Shopping Cart
Your Cart is Empty
There was an error with PayPal
Click here to try again
Thank you for your business!
You should be receiving an order confirmation from Paypal shortly.
Exit Shopping Cart
Guided Fly and Spey Fishing Trips for Steelhead and Brown Trout with
| | |
| --- | --- |
| Posted on July 2, 2020 at 9:45 AM | |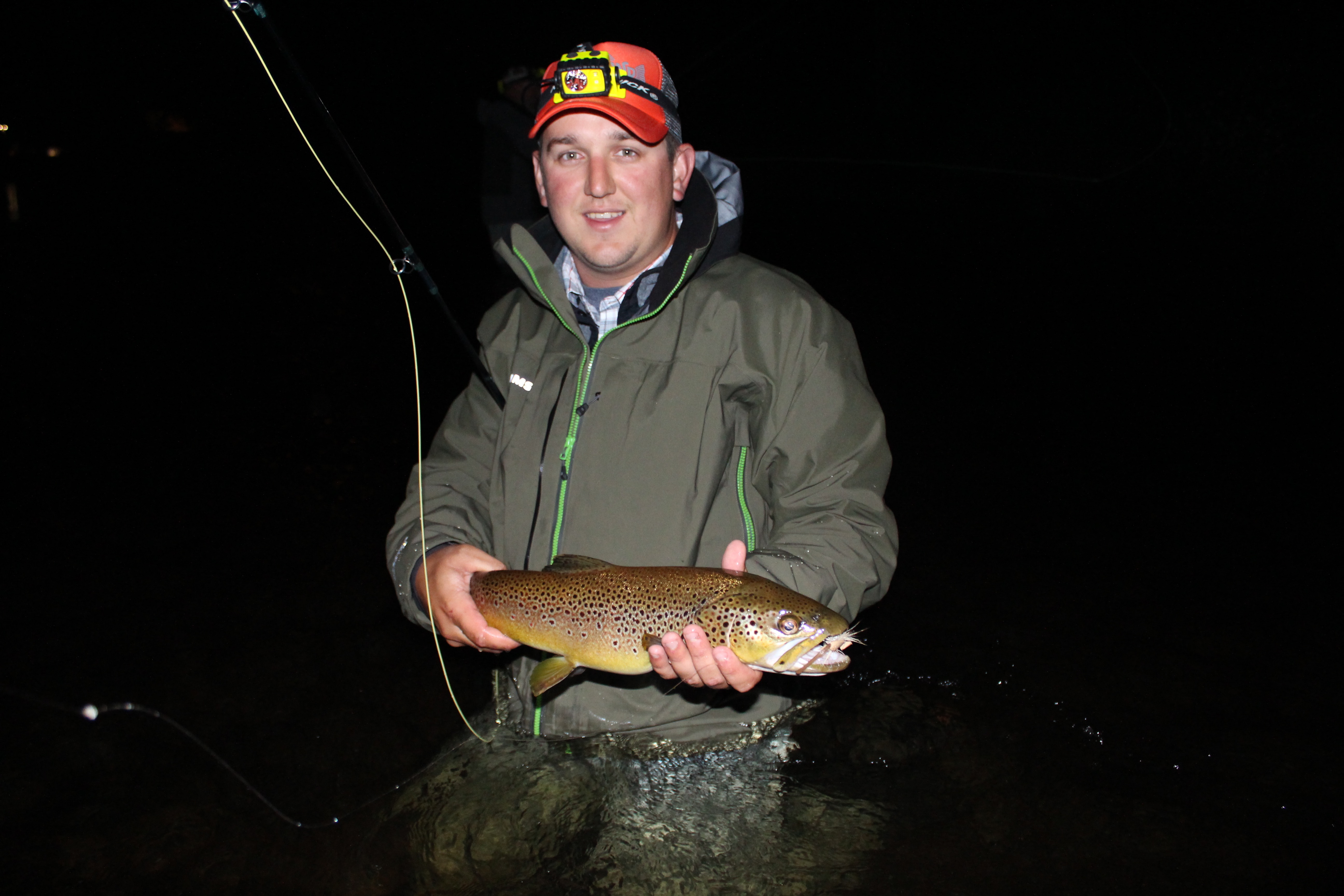 Kyle with a recent moused up brown 
Fishing your favorite trout stream at night is a totally different experience. It's dark. There are strange noises around. You get that eerie feeling where the hair on the back of your neck stands up like all the time. The bushes are awfully close. Frustration can run higher than normal when fishing in the daylight. But the trade off is that the biggest fish in the stream will feed under the cover of darkness most of the time. And if finding out what exactly your trout stream has as far as big fish in it is your goal, then fishing at night is the best way. And there is no way more exciting and straight up awesome as tossing a mouse around. Here are some tips to get you started.
Fish the small streams
While big rivers certainly hold big trout that feed at night, they tend to spread out over large distances under the cover of darkness. This means that you may fish an entire stretch of big water and shown your fly to exactly zero big, feeding trout. Small streams concentrate fish near adequate daytime cover. Find a good short stretch with a few deep pools and fish the water around them. Plus smaller streams with better canopy will have better water temps than the big drainages over the summer when night feeding occurs. Finally it is safer. Wading at night is challenging and big water can get you into trouble if you aren't intimately familiar with every stone on the bottom. So if your goal is to find big trout at night, target small water (10-30 feet wide) and you will be surprised to see the size of the trout that come out of it.
Tailor your fly to fish present
Browns eat differently than rainbows. Rainbows chase, nip, and turn on the fly making mouse flies with trailing stinger hooks very effective for hooking up. Browns broadside center mass of a mouse. It is a T-Bone attack. Mouse flies with a standard mid-body hook result in more hookups.
Wait to feel weight
Just like swinging for steelhead on a spey rod, you can't set too soon. There must be weight on the line. Many times a fish will miss on the first attack only to come back a second or two later. If you set on the first attack (and trust me you will hear it) you pull the fly from the fish (best case scenario) or sting him and put him down (worst case). Wait until the line is tight and set firmly upwards.
Use heavy leaders
I use twenty pound maxima. You want to be able to pull that fly out of the bushes when you send a shitty cast sailing into them. Plus you want it to hold up to a violent attack and then be able to muscle in a two foot trout that isn't too pleased about having a hook in its mouth. Twenty pound maxima.
Take no chances
Fishing at night is not the time to be stupid. There's never really a good time to be stupid on a river or creek, but of all the times night is the worst. Know the water you are fishing, your entry route, exit routes and any emergency pull offs if you do get into trouble. Browns like log jams and the water around them. You do not want to end up underneath one at night.
So if you're really looking for trophy trout, check out your local stream at night. Looking at the weather, the next few weeks isn't gonna be the time to do it. But when the heat passes and the creeks cool off again, the trout will be hungry. Get out there and fire some mouse patterns to the bank. This time of year, with the colder water they possess, the little streams throughout the region will give up some surprisingly big trout if you ask them the right way.
Tight Lines,
 - D 
Categories: Brown Trout, Tips and tricks
/