Shopping Cart
Your Cart is Empty
There was an error with PayPal
Click here to try again
Thank you for your business!
You should be receiving an order confirmation from Paypal shortly.
Exit Shopping Cart
Guided Fly and Spey Fishing Trips for Steelhead and Brown Trout with
| | |
| --- | --- |
| Posted on October 5, 2015 at 2:15 PM | |
Well after a few swings and misses, got one that stuck this morning. She was a beautiful chrome 6 pound hen that took an experimental new pattern I'm calling the witch king. I left before sunrise with the intention of fishing just upstream of cabbage patch. But when I got there, there was so much work being done that I didnt even want to park. Passed the clear creek parking area and there were already half a dozen cars, so I kept on going up. Figured I spend the day trying to find out just how far up the system the fish have made it. Fish are already up to or above Gowanda, though not in huge numbers. The biggest numbers are still on the lower reservation from clear creek down. If you are looking for numbers then there's where you want to fish, but remember with the work being done muddying up the water, there's only good fishable water for around two miles from the mouth of clear creek down. And now everyone knows it. So dont expect to be alone.
I fished pools over the five mile stretch below Gowanda. In town saw a fish roll but didnt have any luck. Worked down a ways fishing larger runs and pools. There's just something about stepping in and sending bombs to the other side. Often times I plan to try new techniques with sink tips and streamers, such as high sticking current seams, only to walk up to the first big pool and start casting for the other bank. Today that was not productive. What was productive was fishing a heavy streamer and 7 1/2 foot of T-11 in the fast water at the heads of pools and down the current breaks, not the gentle swing in the tailouts with a light polyleader that often works this time of year. It just goes to show that even when you find productive methods, you can't stop trying new ways or revisiting old ones. Each year I tell myself to fish down and dirty in the fast water more. Cast upstream. High stick till the line starts to tighten, then swing out below. And each year I never do as much as I should. I make my clients fish that way. I see them catch fish that way. In fact early season, it's one of the most productive methods of taking fish on large streamers. But I get transfixed on the long casts, slide on an intermediate polyleader, tie on a soft hackle natural spey and forget. Before I know it, I'm only covering slower guts and tailouts with long casts and slow swings. It just goes to show why my clients catch more fish than me in an average day of fishing.
Anyways, found a nice pool with a whitewater head split in two major currents that ran down each side of the pool. Positioned myself on the shelf above and directly in the middle and alternated casting to both seams. On the river-left seam, my swing got lit up. Just as I was dropping my rod from high to low to let the line swing out, a fish exploded on it. She tore around the pool, giving me a fun fight on my sage 12'6" 6wt and a clicker-pawl. Landed her on the river right side. Took some pics and let her go. Fished a few more pools but nothing more. It was already a great day and I didnt need anything else.
Flow:  235 CFS
Temp: 57 degrees
Turb:  10
Here are some pics.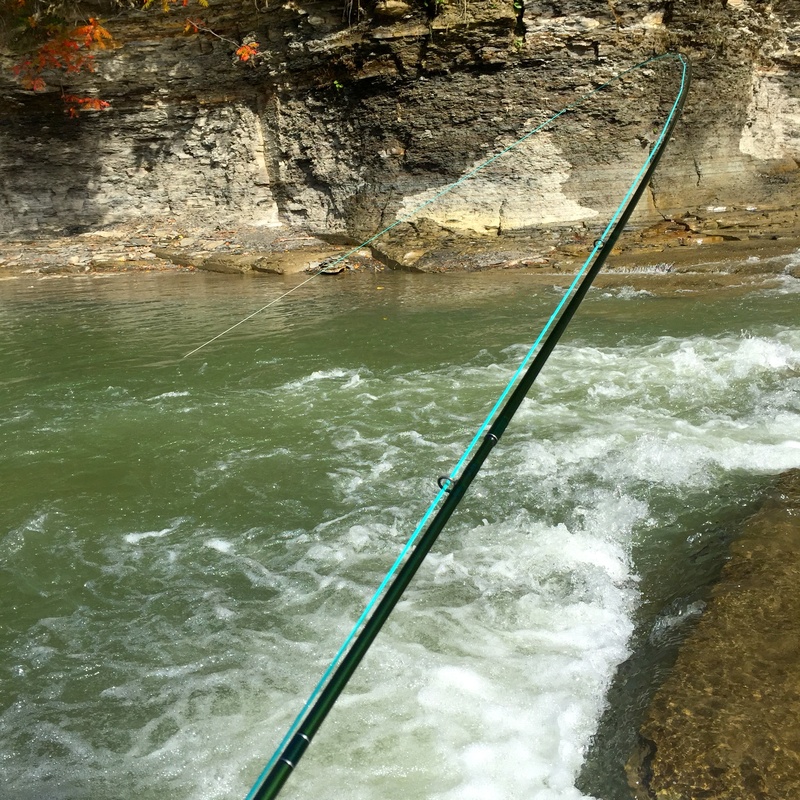 Fights on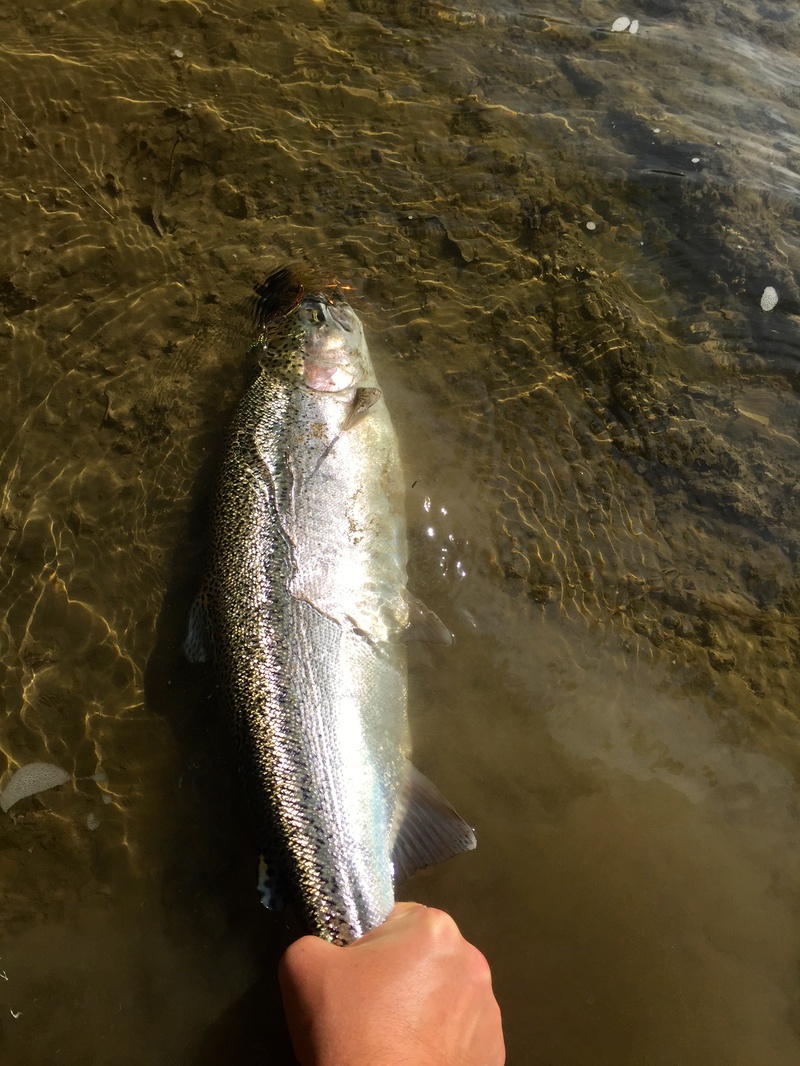 Slab of chrome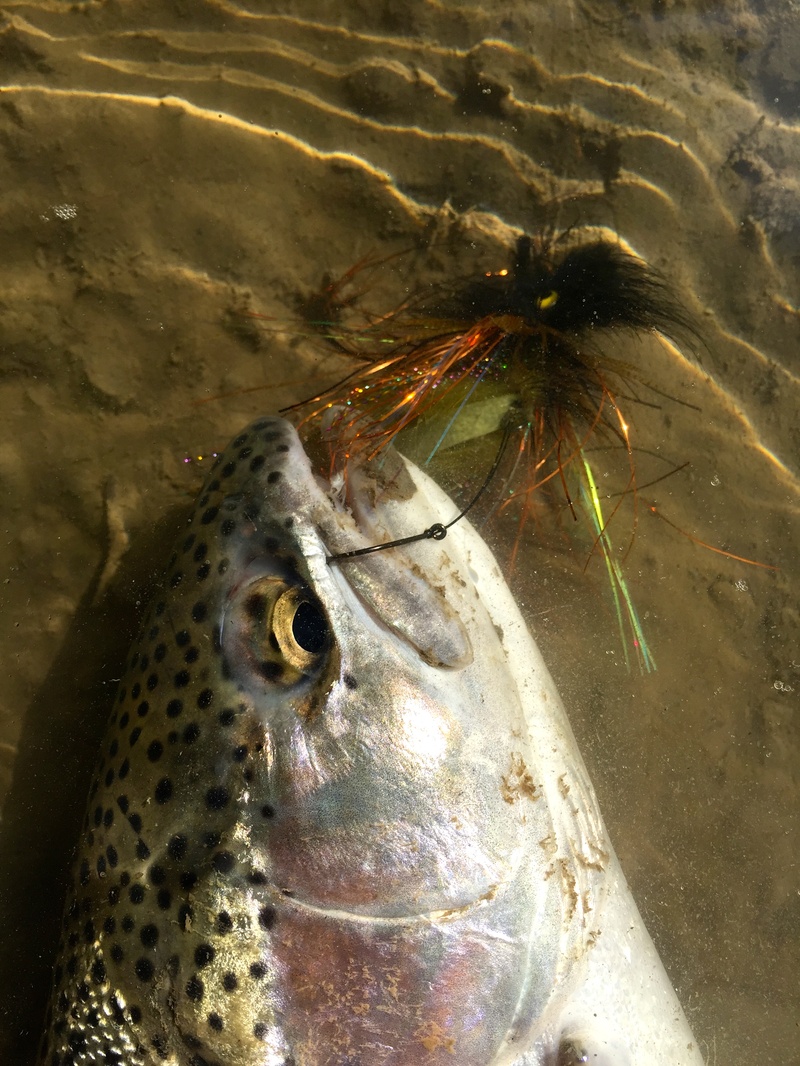 Meat eater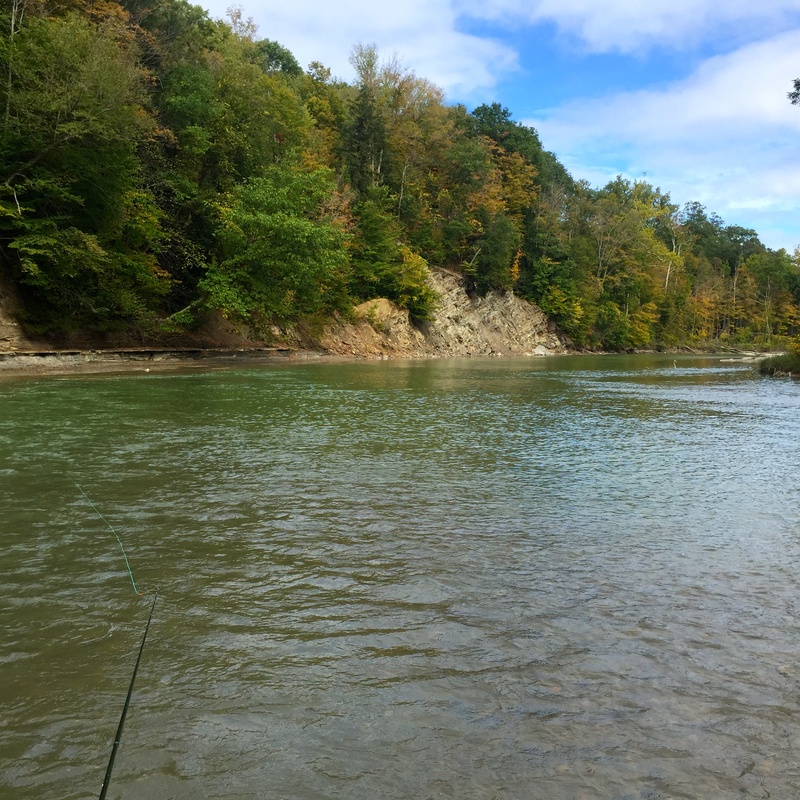 Pure heaven 
Categories: Cattaraugus Creek fishing , Spey fishing, Steelhead
/