Shopping Cart
Your Cart is Empty
There was an error with PayPal
Click here to try again
Thank you for your business!
You should be receiving an order confirmation from Paypal shortly.
Exit Shopping Cart
Guided Fly and Spey Fishing Trips for Steelhead and Brown Trout with
| | |
| --- | --- |
| Posted on October 21, 2015 at 4:20 PM | |
Well today was interesting to say the least. Fishing was kinda all over the place. At the first place we fished, we found a decent pod of large 3 lake year fish. Most of the fish we hooked were at least 8 or 9 pounds with some waaayyy bigger. In the clear water, there were steelhead that were dwarfing the average 8 pounder. I'm gonna guess that the largest we saw were around the 15 pound ballpark. And we hooked fish. But our first half dozen or so hookups either broke off or pulled free. Some of the large fish we were hooking would run upstream to a deep plunge pool where they could wrap the leader around a rock, or simply sit in the heavy current. It was frustrating for the first hour or two to hook some of these monsters, but because the water was so clear we could use nothing heavier than 6 pound floro, and when the fish would run all we could do was watch them bury themselves in the heat. We simply couldn't put enough pressure on to keep them from getting there. Finally we got one of the smaller fish in the net. Though I said small, it was still 7-8 pounds.
Meanwhile, Art and I had walked downstream a bit to a slooowwww tailout and it was stacked. We twitched nymphs, pulled woolly buggers near the surface, tried smaller streamers, but only had one hit right of the bat on a white streamer and it didn't stick. Seeing how many fish were stacked in there, and how often fish would slap the surface, I opted for a dry fly with a small nymph dropper. Art would cast up, dead drift down, then skate out. Fish immediately showed interest in the dry fly, chasing but nothing was committing. Finally as Art's drift was ending and he was skating the fly, a fish turned and lit him up. The fish crushed the dry, and the fight was INSANE! The fish crashed up and down the river with room to run, but after a long and spirited fight we netted the 6 or 7 pound chrome fish, dry fly in the corner of her mouth. What an achievement.
Once the fishing slowed there, we checked out another spot and found a decent pod of fish. We hooked another five or six, landing two or three more beautiful chrome steelhead. At 12:45 we called it a day. It was an epic trip with some of the hardest fighting steelhead I've ever seen. Landing one on the dry was the icing on the cake.
The pics speak for themselves.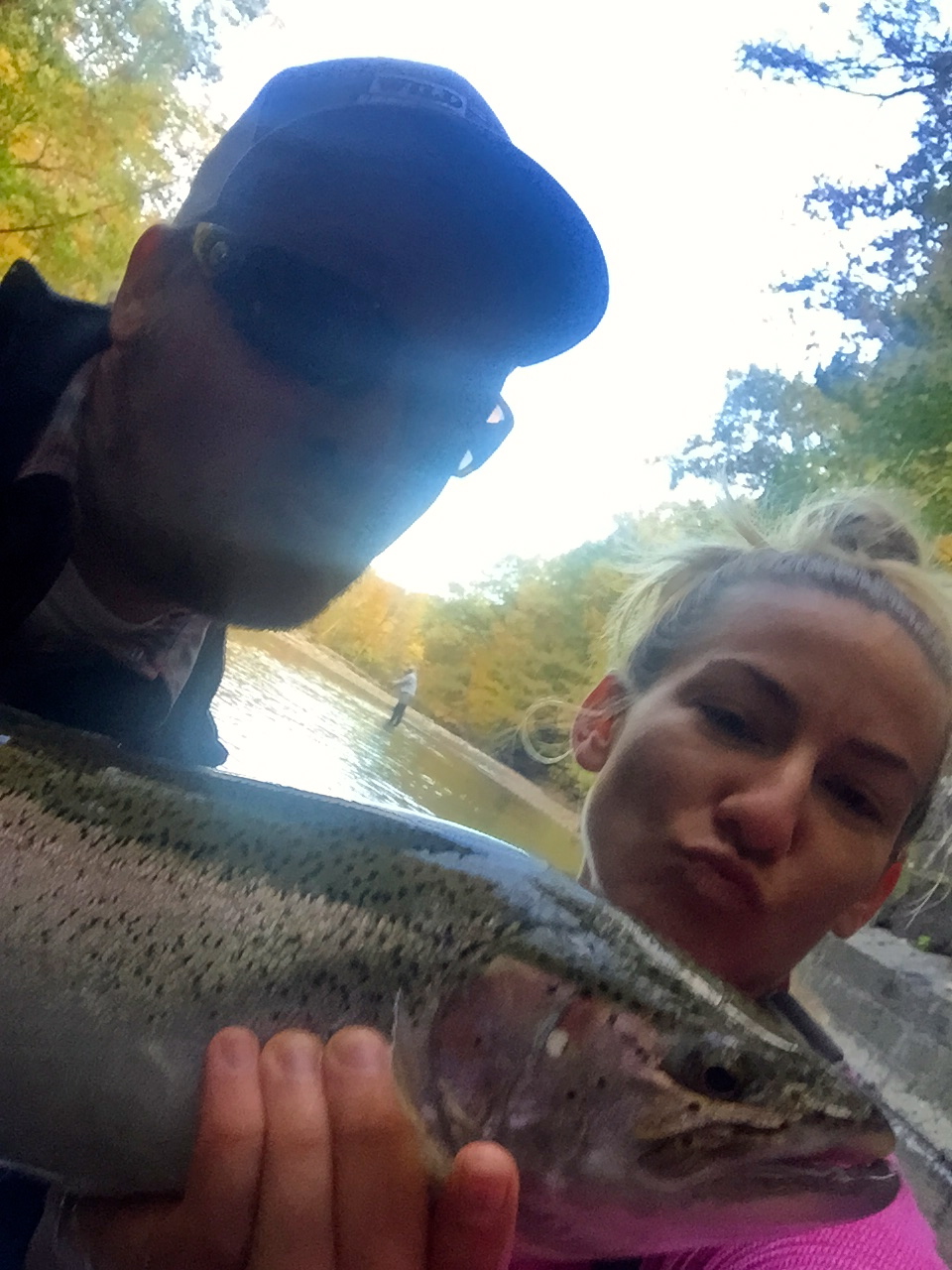 Fish selfie.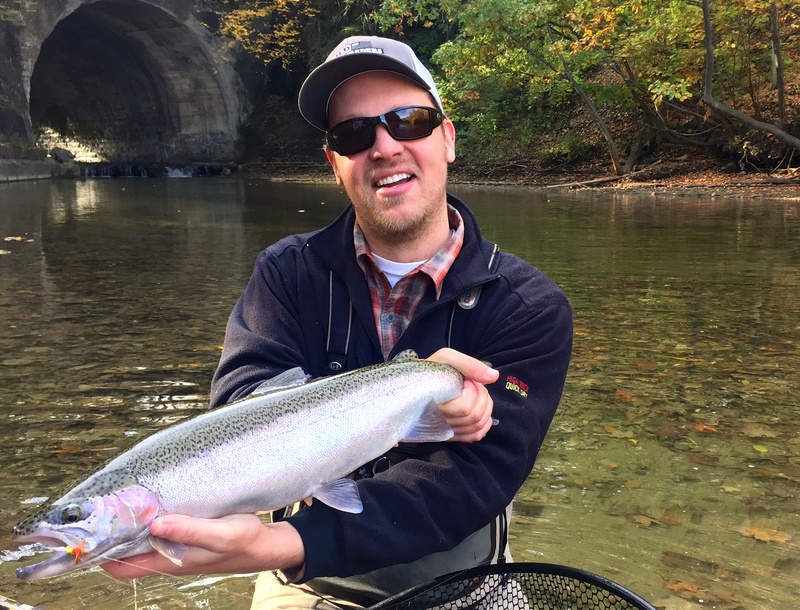 Why yes that is a dry in the corner of it's mouth.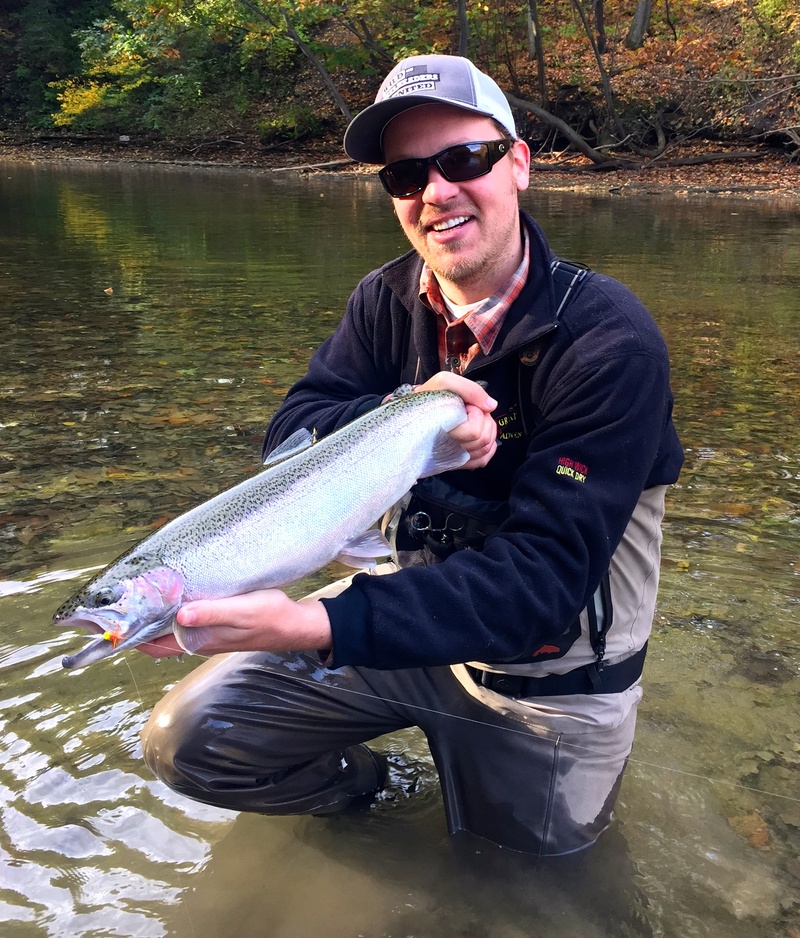 Another shot of Art's steelhead on the dry.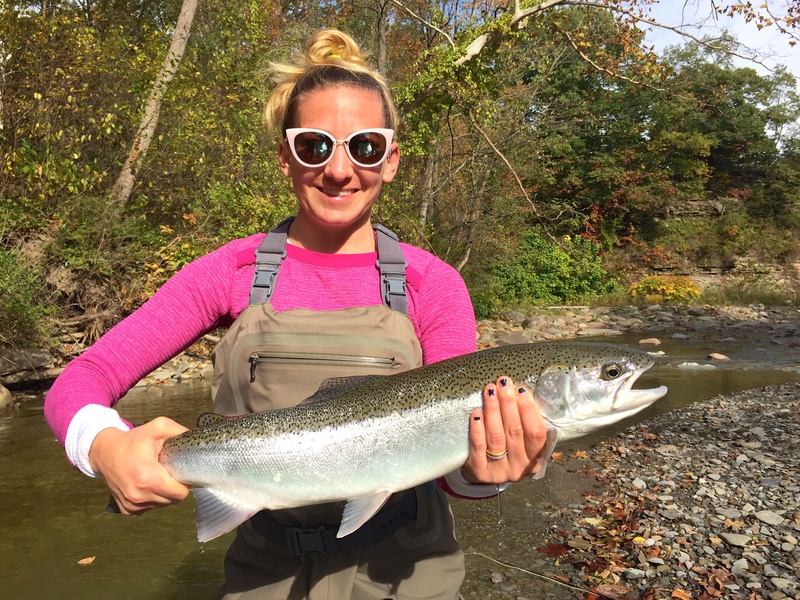 Jess with a chrome fighter.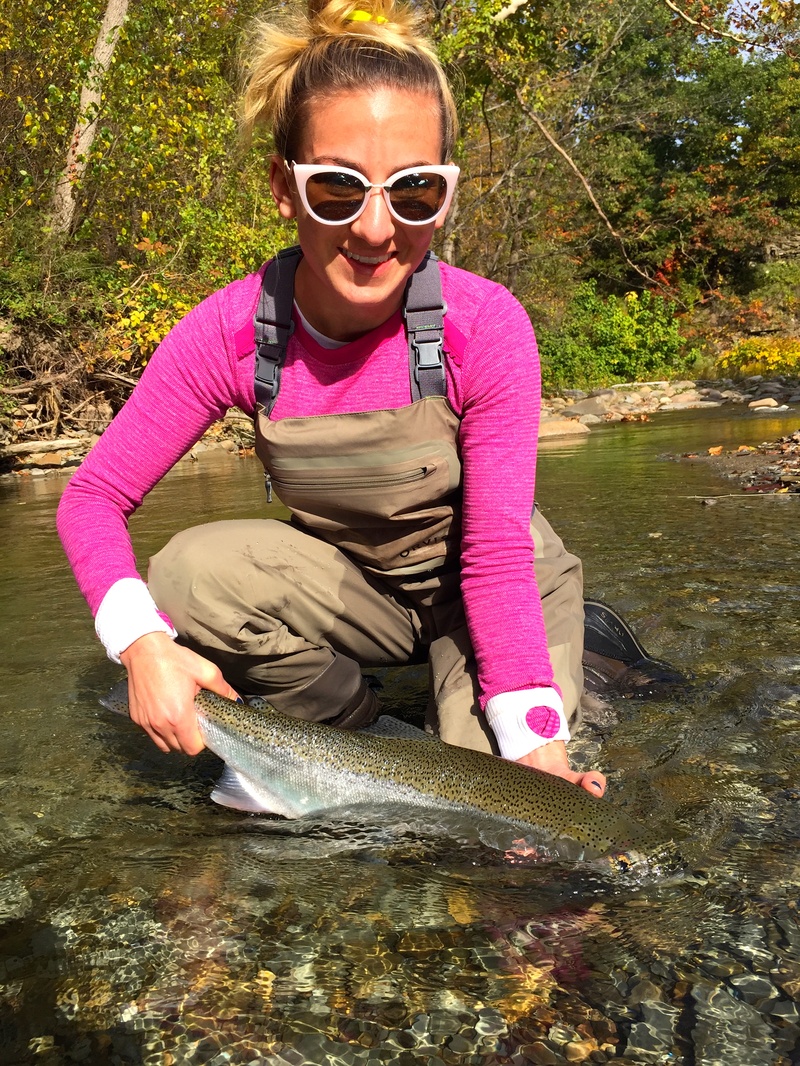 Catch and release.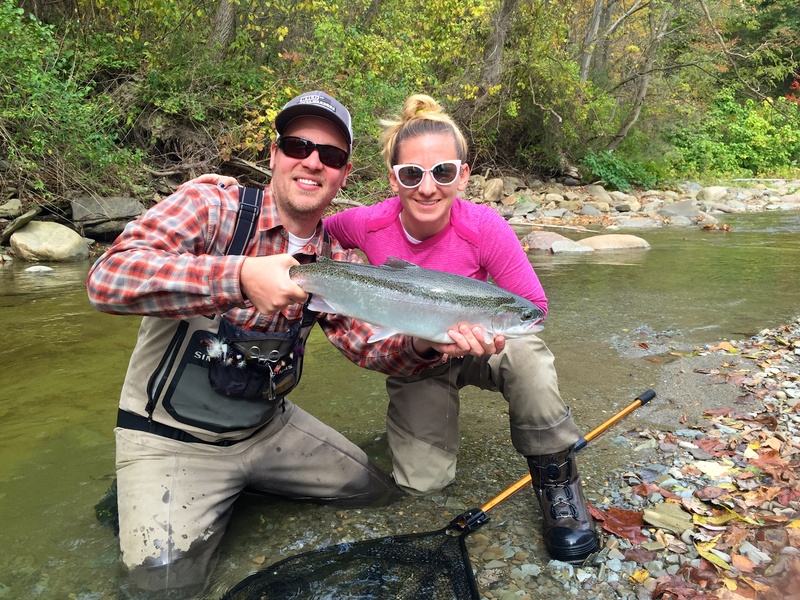 Me and Jess.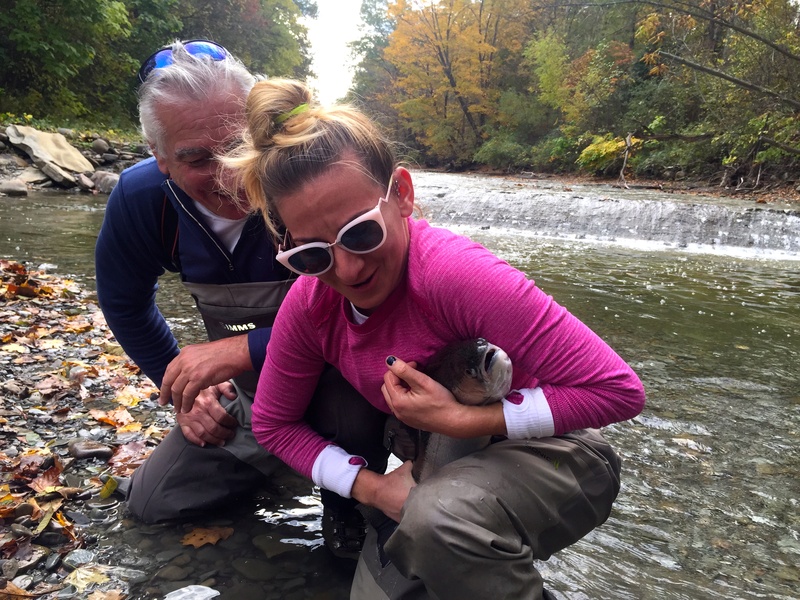 Fumble!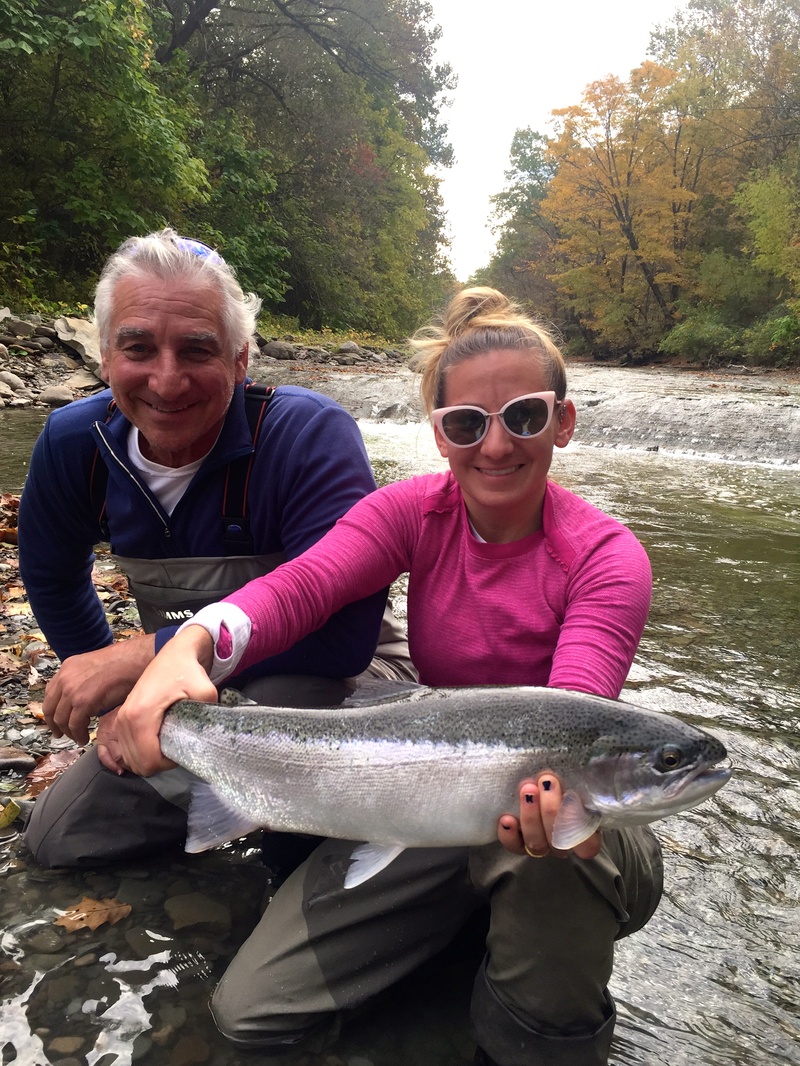 Father and daughter.
Categories: Steelhead, Fishing reports, Dry fly fishing
/