Shopping Cart
Your Cart is Empty
There was an error with PayPal
Click here to try again
Thank you for your business!
You should be receiving an order confirmation from Paypal shortly.
Exit Shopping Cart
Guided Fly and Spey Fishing Trips for Steelhead and Brown Trout with
| | |
| --- | --- |
| Posted on November 12, 2015 at 7:30 PM | |
Noel and I had the pleasure of fishing with two long-time friends, Matt and Brian, yesterday and the day before. On Tuesday, the Catt was flowing at under 300 cfs and with what has to be the clearest visibility I have ever seen her. She was glowing green and blue, but you could see the bottom of pools four feet deep. The Catt reminded me more of a clean New Zealand trout river or Pacific river than a New York steelhead river. It has been no secret this year that all over the Great Lakes, steelhead and salmon runs have been down. And the key to overcome that is to cover lots of water well. With the above average temperatures this fall, fish are still up in fast water runs typical of early season fish, as well as spread out through to the tailouts of large pools. Long story short, they can be anywhere in the river.
Matt and Brian covered water well, and were rewarded for their efforts. Brian was the first to hook a fish, and Noel did a great job with the net. Not to be outdone, Matt jumped into the bucket where Brian caught his, and not more than ten minutes later, Matt had his first fish on. Where as Brian's fish was chrome with a light pink stripe, Matt's had darked with time in the river. A little further upstream, Matt hooked up again but the hook pulled shortly into the fight. Matt had one final hookup in the last pool we fished, but couldn't come tight to the fish. Two for four on the Catt is not bad.
Yesterday was another story. The rains from the day and night before blew all but the smallest creeks out. And even they only had about 8-10 inches of visibility. Barely fishable. I offered to cancel the trip due to the conditions, but we compromised on only fishing until around noon unless we started hitting them hard. We didn't. So around noon we pulled into a little diner where Matt, Brian, Noel, and I ate lunch and talked fishing. Not a bad day of tough fishing conditions.
Here are some pics.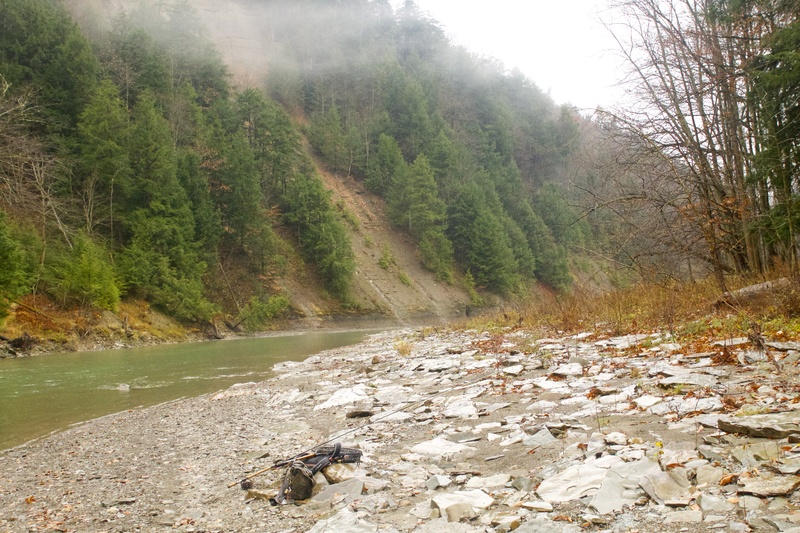 Almost like a western steelhead river.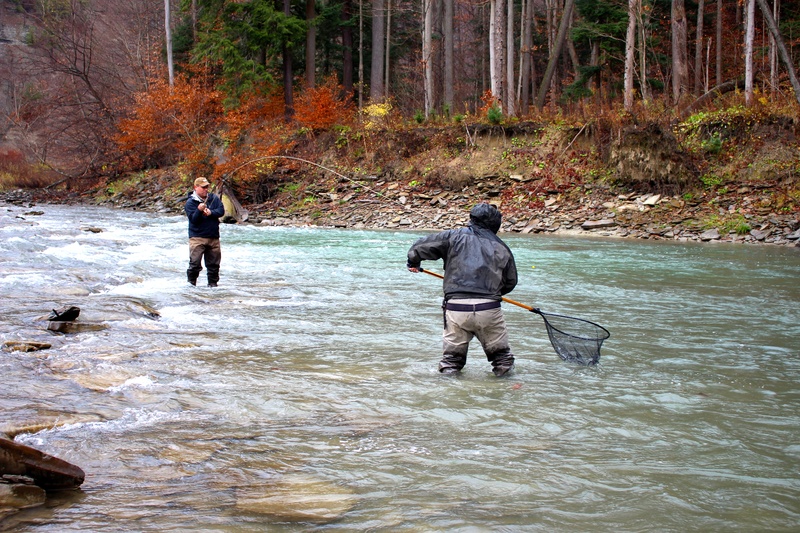 Noel manning the net.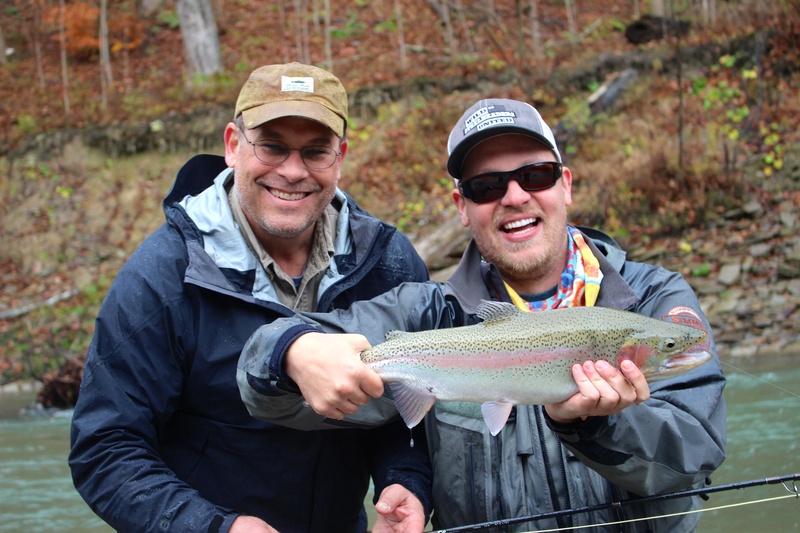 Brian and I.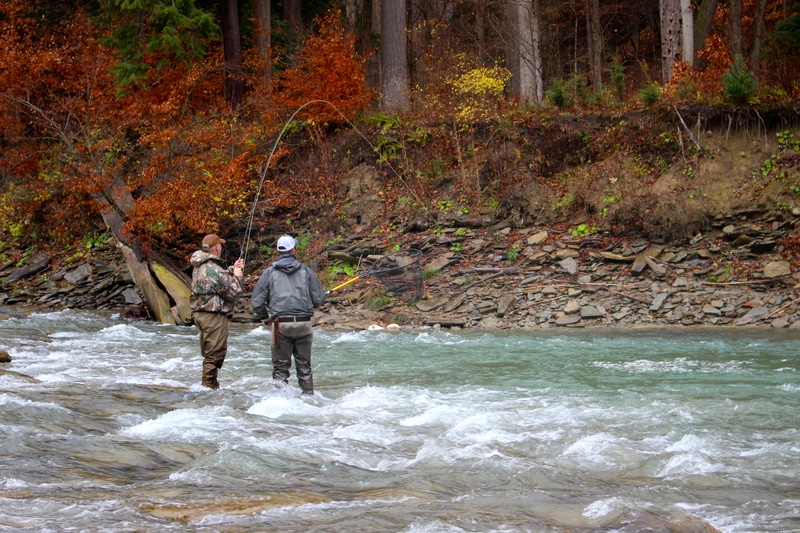 Matt locked on.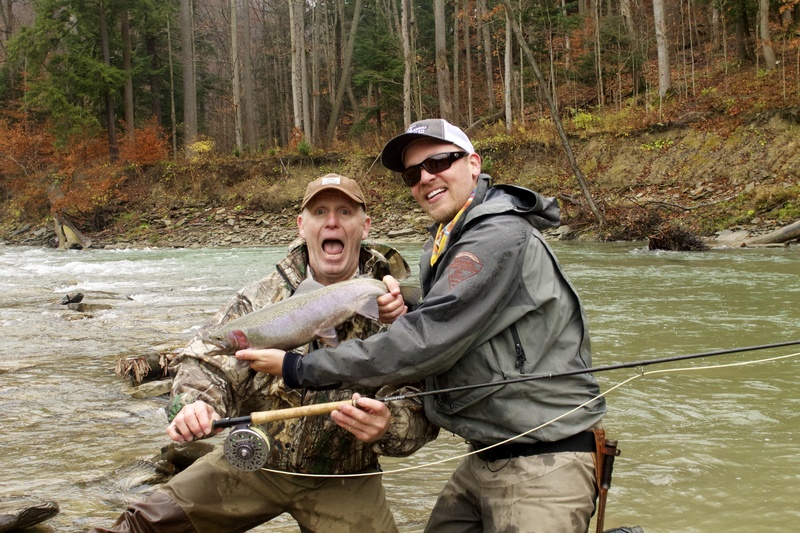 Matt and I.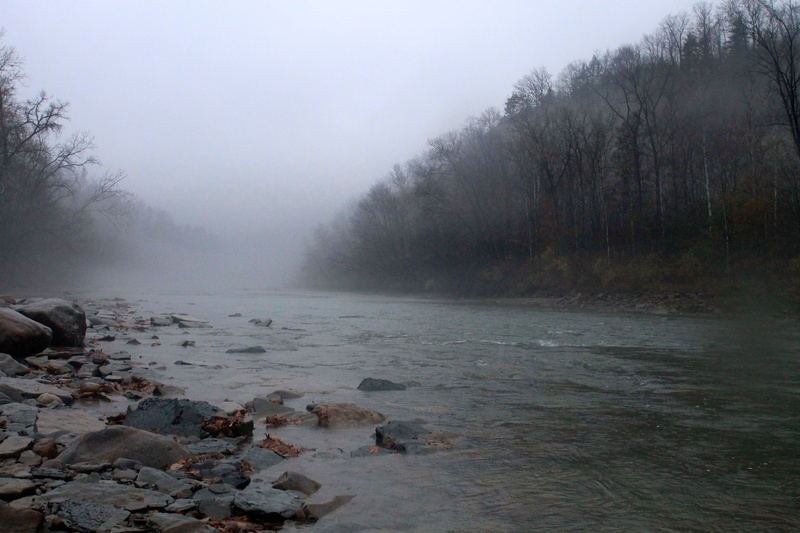 A steelhead run.
Categories: Cattaraugus Creek fishing , Steelhead, Fishing reports
/