Shopping Cart
Your Cart is Empty
There was an error with PayPal
Click here to try again
Thank you for your business!
You should be receiving an order confirmation from Paypal shortly.
Exit Shopping Cart
Guided Fly and Spey Fishing Trips for Steelhead and Brown Trout with
| | |
| --- | --- |
| Posted on September 23, 2017 at 6:55 PM | |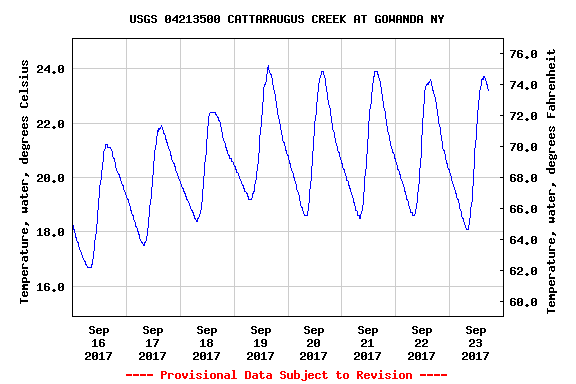 Cattaraugus Creek Temperatures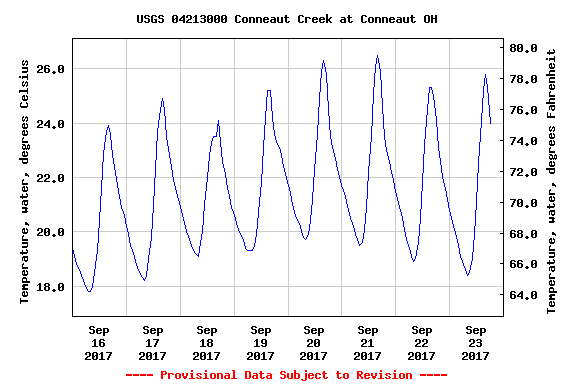 Conneaut Creek Temperatures
Guys it's really hot out there right now. And Monday it looks like the high is gonna hit 90. This is the warmest we've seen like all summer long, and it isn't even summer anymore. But there is hope. By this coming Wednesday the highs are only in the mid 70's then after that it drops back to seasonable temperatures in the 60's with rain.
The last half of August and the first week and a half of September were really cool and pretty wet. This caused more than a few early run steelhead to start nosing their way into the creeks. On the 2nd of September I saw fish rolling in pool downstream of Gowanda. Just remember that these are cold water fish. The high temperature threshold for even short term exposure is around 78-80 degrees, and that's without excess exertion. Once the struggle of being caught on fishing gear is thrown into the mix, anything above the upper 60's has significant risk of fish dying due to lactic acidosis. If you look at the two temperature charts from Cattaraugus Creek and Conneaut creek, the daily low temperature are in the mid-sixties and the high temperatures are between 75 and 80. 
Despite this, over the past few days I've seen more than a couple guys posting pictures of recently caught chrome fish on facebook just this last week, and today while out driving around I saw quite a few cars in some of the lower river parking spots. Now is not the time to fish guys, it's just too hot. We were blessed with some early run fish pushing in on the cold wet weather in late August and the first week of September, and fishing them then was more than alright. The water temps were in the 50's. But give them till next week when the weather changes to get after it. We are so close and it looks like the end of the hot weather is in sight. Nobody wants to release a dead steelhead. But those fish caught over the past few days have the deck stacked against them. Give them a break. We are so close now.
Tight Lines,
 - D
Categories: Steelhead, Fishing reports
/