Shopping Cart
Your Cart is Empty
There was an error with PayPal
Click here to try again
Thank you for your business!
You should be receiving an order confirmation from Paypal shortly.
Exit Shopping Cart
Guided Fly and Spey Fishing Trips for Steelhead and Brown Trout with
| | |
| --- | --- |
| Posted on August 29, 2019 at 9:15 AM | |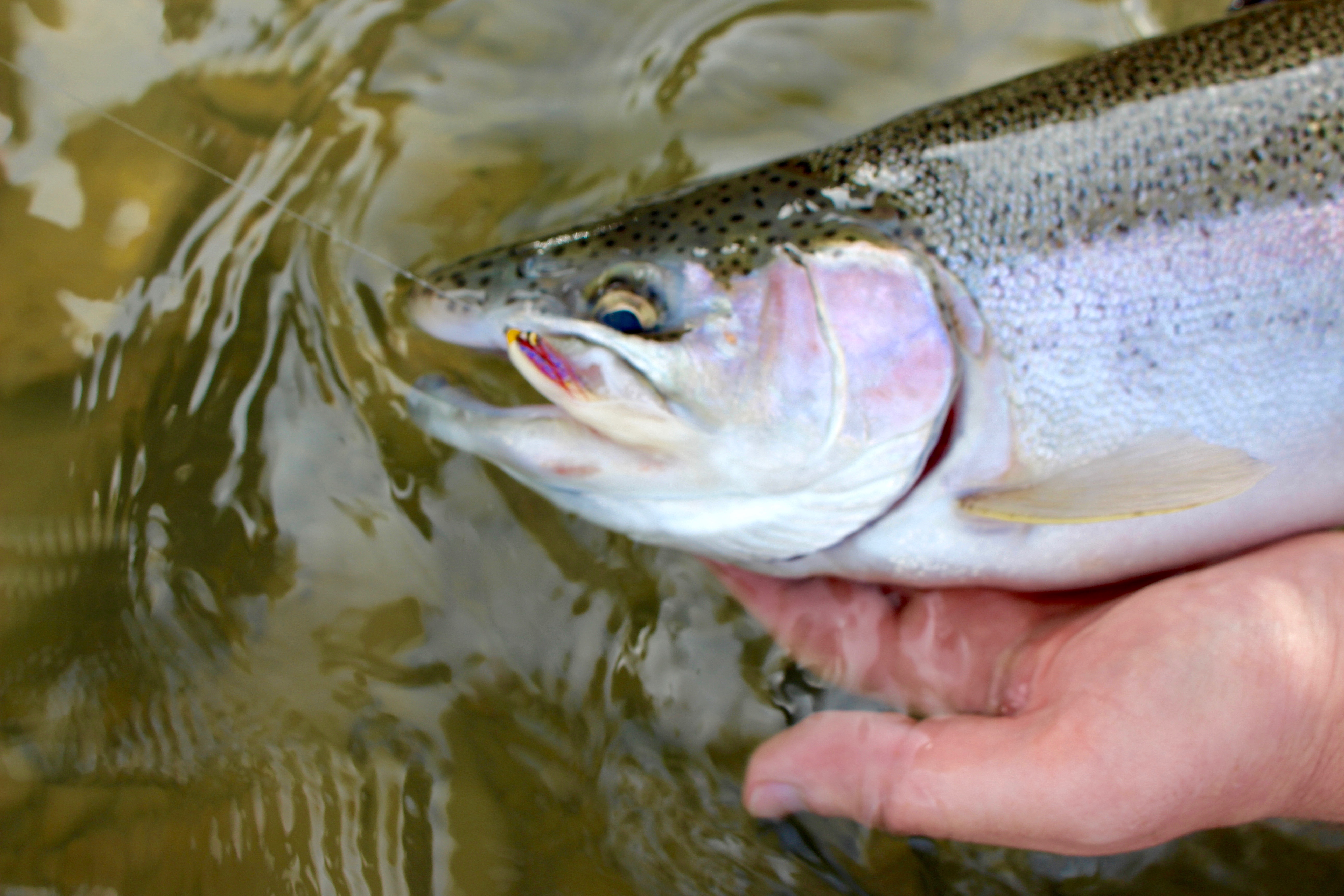 Won't be long until we start seeing some of these around!
It's quickly approaching my favorite time of year! You can just feel it in the cool air in the mornings, and the reasonably temperate days we've been seeing recently. Fall is definitely on the way. And with fall comes fall steelheading! With how things have been going over the past week (cooler with periodic spurts of rain) I wouldn't be surprised if a fish or two is hanging around the river mouths, perhaps even nosing their way in. But we are still likely some three or four weeks away from the first real push of the fall, again weather conditions dependent.
For those just getting into the sport of steelhead fishing, the early runners of fall are a totally different animal than spring run fish or even fish returning to the rivers later in the fall in colder water temperatures. To successfully target them over the course of first weeks of the run and not simply luck into a fish or two here and there, you must be willing to adjust your techniques, focus on different water conditions and river structures, and be willing to adapt and overcome the obstacles of fishing to a run that has just started presents. Having the ability to do so by recognizing trends and habits will make you a better steelheader in general, and will increase your early fall success rate. This post is really focused on the larger watersheds, as usually in early fall they have better numbers of fish running, and in the smaller watersheds you can likely spot and stalk steelhead which is a completely different game and success is usually determined by the stealth of the approach and not reading water, recognizing habits, and overall knowledge of the quarry.
First and foremost, as I've said numerous times in the past, if there is enough water (like there is most years on the Catt) early run fall fish can migrate up a river quickly. A key to finding success early in the fall may not be to necessarily fish low in the river. Most people assume that the lower river holds the most fish early on, and this can be true in times of lower and clearer water, where fish may be more hesitant to push upward. However even in lower conditions on rivers like the Catt or Conneaut, fish can and do push upward. The first arrivals of fall are generally smaller fish of one or two summers in the lake and run between 15 and 25 inches or so. These sized fish can easily run through shallow riffles, and frequently hold in water as shallow as a foot, at least temporarily, if certain conditions are met- mostly if there is a broken surface to distort their appearance to predators above and a current seam to make holding easier. If you come to the river early in the season with the expectation that the lower river holds the most fish, it may be true on any given day, but know that because everyone else thinks so you will be fishing to pressured fish. Targeting the portion that has passed this pressure and is now scattered throughout the middle of the river can be more rewarding, and offer an angler better success as unpressured steelhead are a joy to fish to and can be taken on any given method of fly fishing.
So now that you've taken my first piece of advice and find yourself wandering around the middle section of a river, you may think what next? My best answer is to find the shade. In September and the first part of October, days are generally still mild and sunny, and the water this time of year is usually lower and clearer. Finding the shade can mean finding the fish. In the lake, steelhead can and will occupy every zone of water from the surface to the substrate, however steelhead can prefer deeper water in bright sun. As these fish are pushing into the river, they are adjusting to a completely new environment where even the deepest pools have significant light penetration, and warmer river temperatures force a need for greater dissolved oxygen content. The oxygen is frequently found in a riffle. My go to location for finding early fall steelhead is a shallow riffle and run with a broken bottom and canopy that keeps shade on the water most of the day. This may not mean that there are any greater numbers of fish present in this type of run than any other section of good, riffly habitat, but in high sun shaded fish will feel more comfortable and therefore more likely to bite than those exposed diretly to the light. This can even hold true if decent deeper holding pools are located nearby. 
The final tip I'd offer is go small and stealthy when swinging. Over the past few years I've written a fair amount about fishing floating lines and dry flies, and fishing from the surface down. Those are very exciting ways to target fall steelhead, and in my opinion taking a decent early fall fish on a floating line and riffle hitched wet fly or true dry fly is about as good as it gets. But that requires quite a bit of confidence that can only come with a significant amount of trial and error. The more productive method is fishing lightly weighted small streamers on a long leader, things like beadhead woolly buggers, small zonkers with light dumbell or bead chain eyes, or traditional steelhead patterns with wire ribbing. All of those will get somewhere around a foot below the surface even in faster water, and if you're fishing the right water a foot below the surface is right in the strike zone. And the neat thing is that fishing this way is the transition from swinging streamers on a sink tip to skating or waking dry flies on the surface. You use the long leader and weighed small streamer approach to form confidence in fishing to certain types of water that eventually will show you how and where to fish those dries. Then when you make the transition to dries, if that is something you want to do, you can do so with a bit of earned confidence built up along the way.
So hopefully you all are getting as fired up as I am, and that this little bit helps in finding success with those early run fall fish. As always be mindful of water temperature so as not to increase the risk of harm. But good luck, and perhaps you will see me wandering around the middle of the river sometime this fall enjoying a day of fall steelheading.
Tight Lines,
 - D 
Categories: Spey fishing, Steelhead, Tips and tricks
/