Shopping Cart
Your Cart is Empty
There was an error with PayPal
Click here to try again
Thank you for your business!
You should be receiving an order confirmation from Paypal shortly.
Exit Shopping Cart
Guided Fly and Spey Fishing Trips for Steelhead and Brown Trout with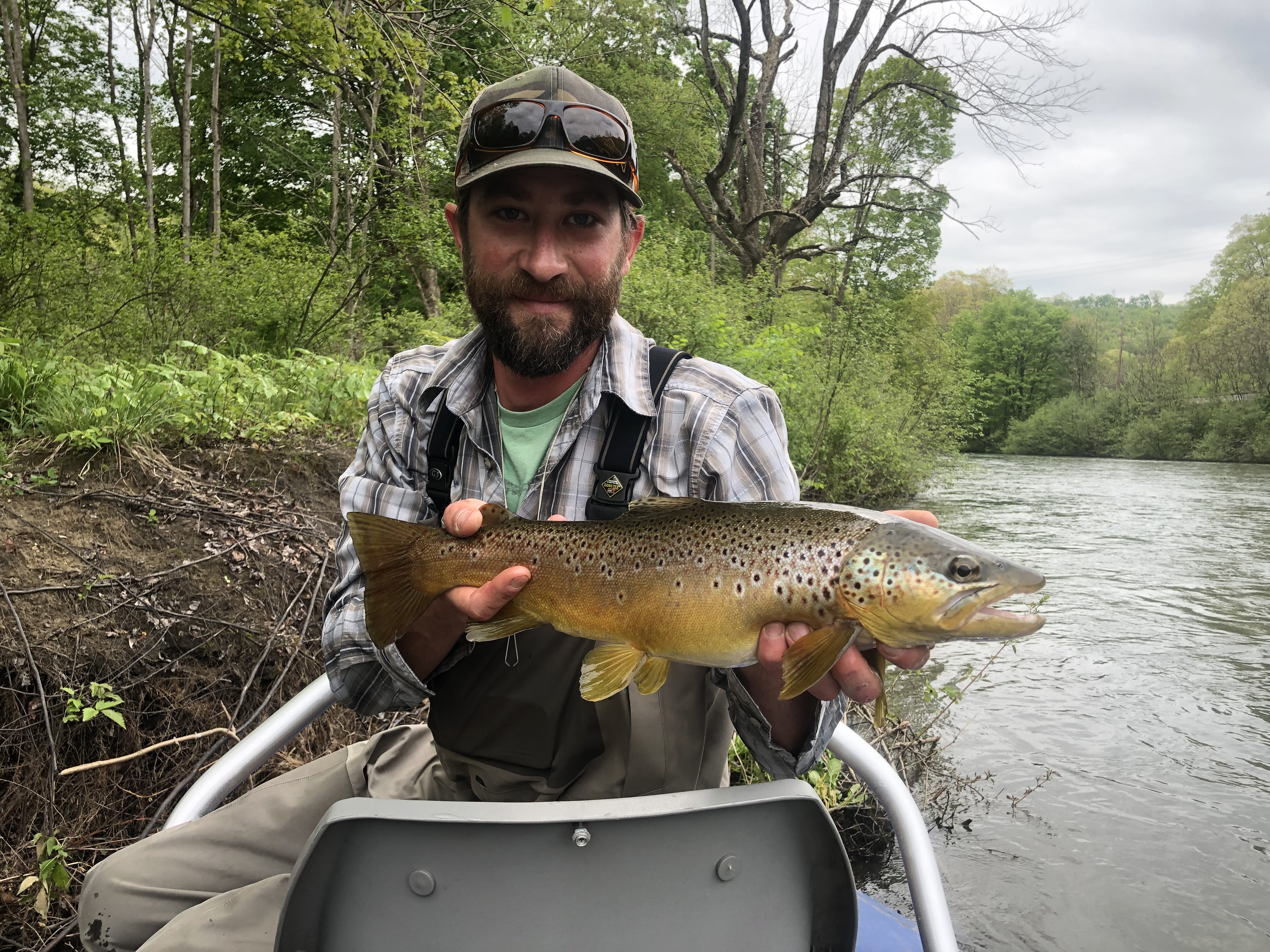 Jeff with a nice wild streamer eating brown
Spent the last few days hitting the wild browns in Pennsylvania and man it was too much fun! A good day streamer fishing is moving ten quality fish and hooking maybe three or four. On our float we moved somewhere around thirty up to around 25", hooked nine or ten and landed six- unreal! Jeff's fish above took a double white streamer literally as it hit the water looking exactly like a take on a mouse pattern- DID YOU SEE THAT!!!! Too much fun!
With steelhead in the rearview mirror, were hoping to get another few trout trips with the streamers before the water drops low for summer. When that happens big trout tend to stay deep, though terrestrials can tempt some up. 
Tight Lines,
 - D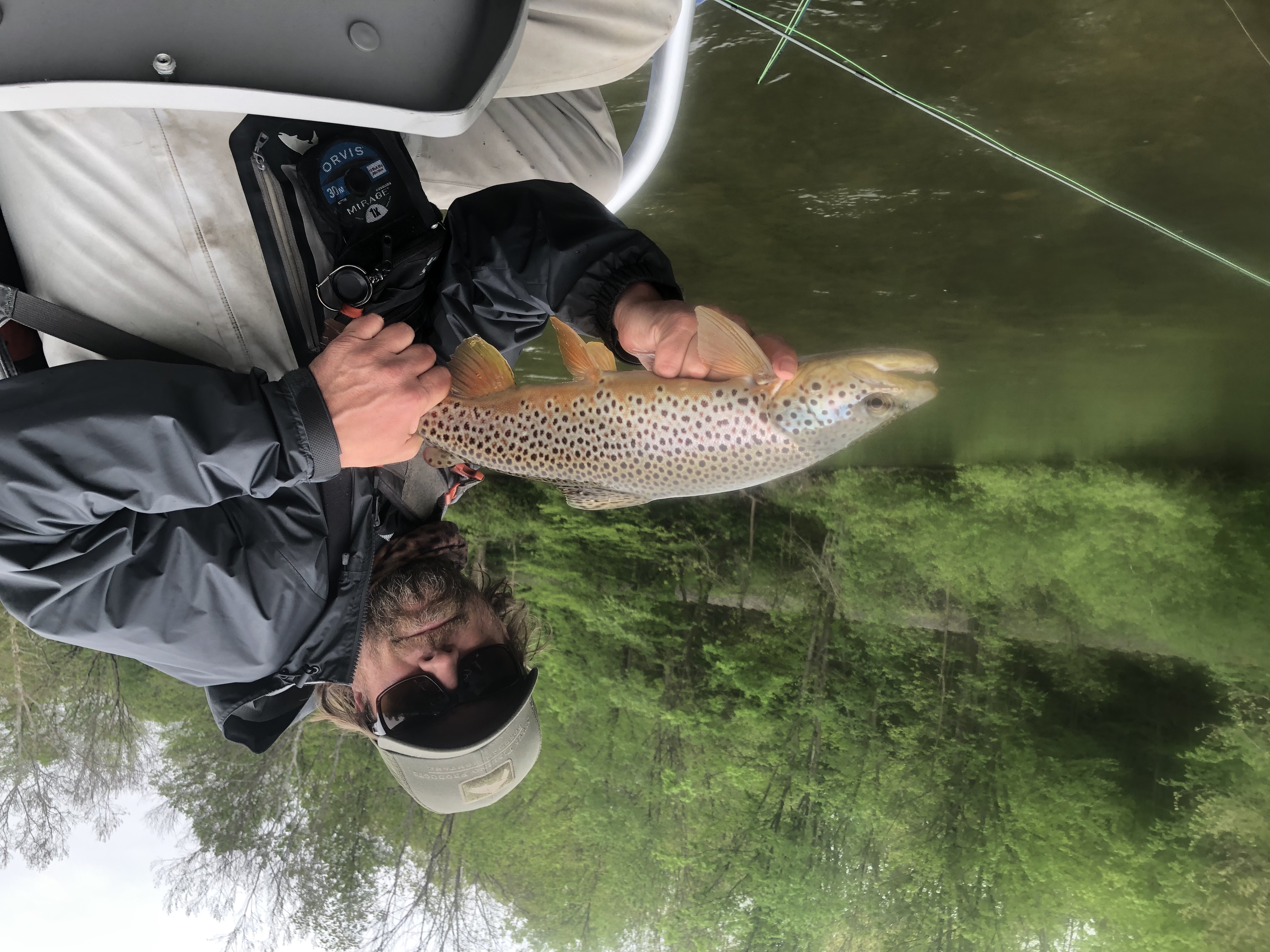 Matt with the prettiest fish of the trip ( I don't know why this pic will only load upside down)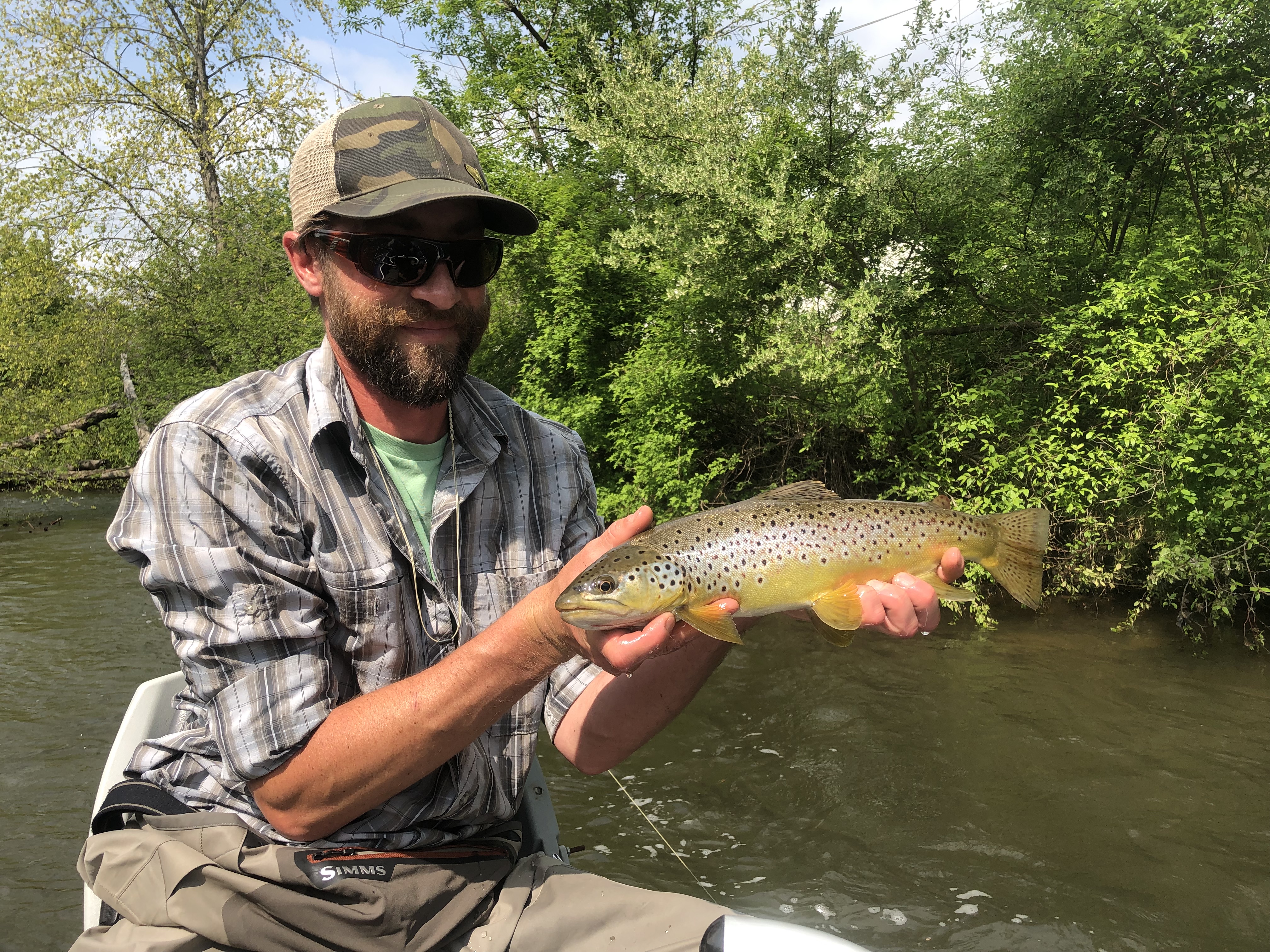 Jeff with another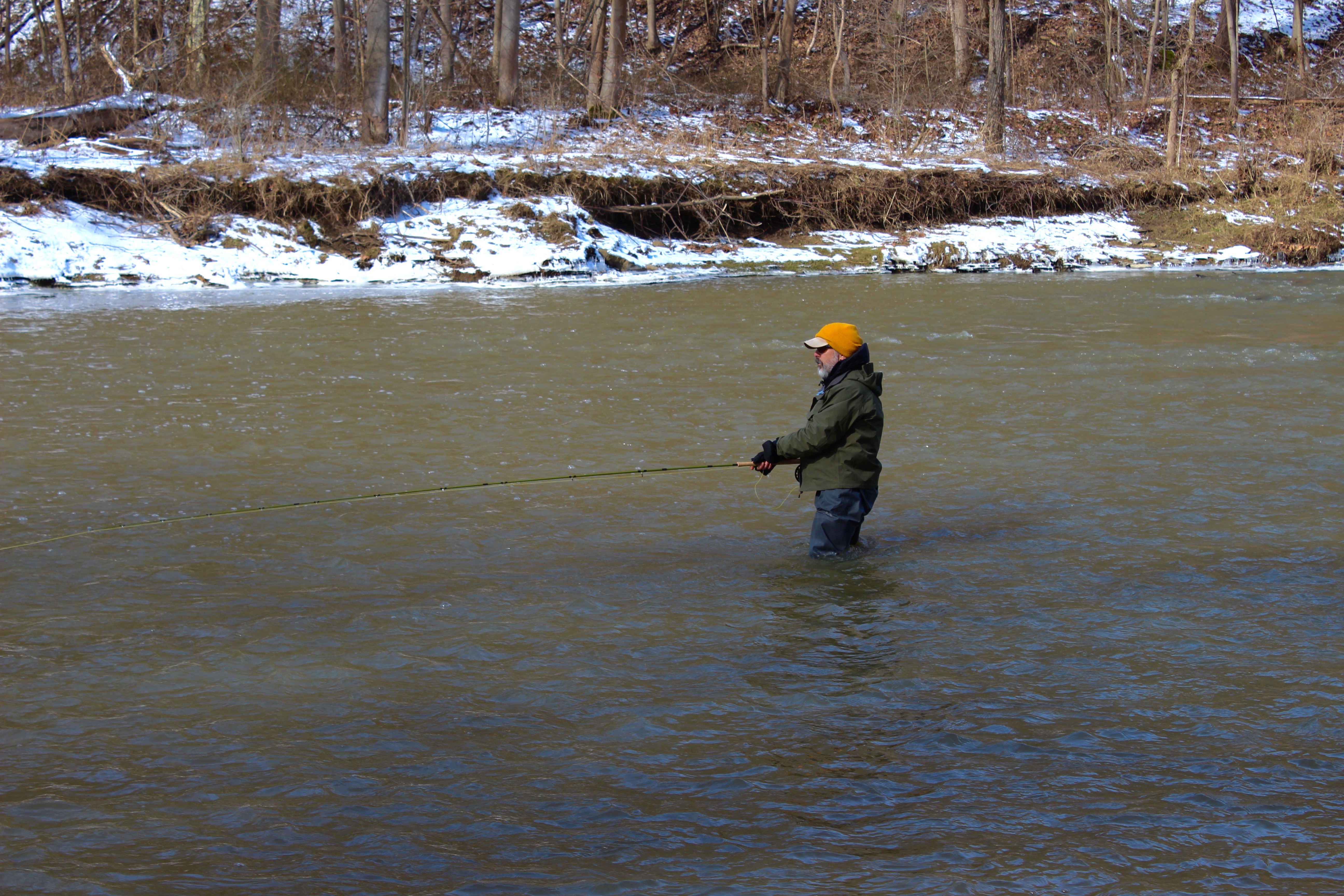 Swinging a good run on the Grand!
Got out with John for some spey fishing a few days ago on the Grand. John drove in from PA to get his feet wet in the spey game, and he picked it up really quickly. Our first stop of the morning was over on the Chagrin, but it was slush central. I figured there would be some, but it was coming through pretty heavy and there was just no way to get a line in until it burned off. So we jetted over to the Grand to fish the big water, and the upper river was slush free!
Spent the rest of the morning working some really good runs. About an hour into it we had a great grab but the fish simply didnt connect, then about an hour later we hooked a nice fish but lost it during the fight. I didn't take a water temperature, but I can tell you it would have been around 33 degrees or so. The two fish that grabbed were both in the slow winter water, though the fish we lost looked like a fresher fish when it came up. Nice to see the spring fish getting up that high.
After that we went to a mid river run that has changed quite a bit recently. The wind picked up and the sun went away making it really cold and blustery. Iced guides became a problem again. Kept at it until about 5 in the afternoon but didn't get a third chance. All in all though for winter swinging on the Grand two grabs and one hookup is a good day! Won't be long now until we start really seeing numbers!  
Tight Lines,
 - D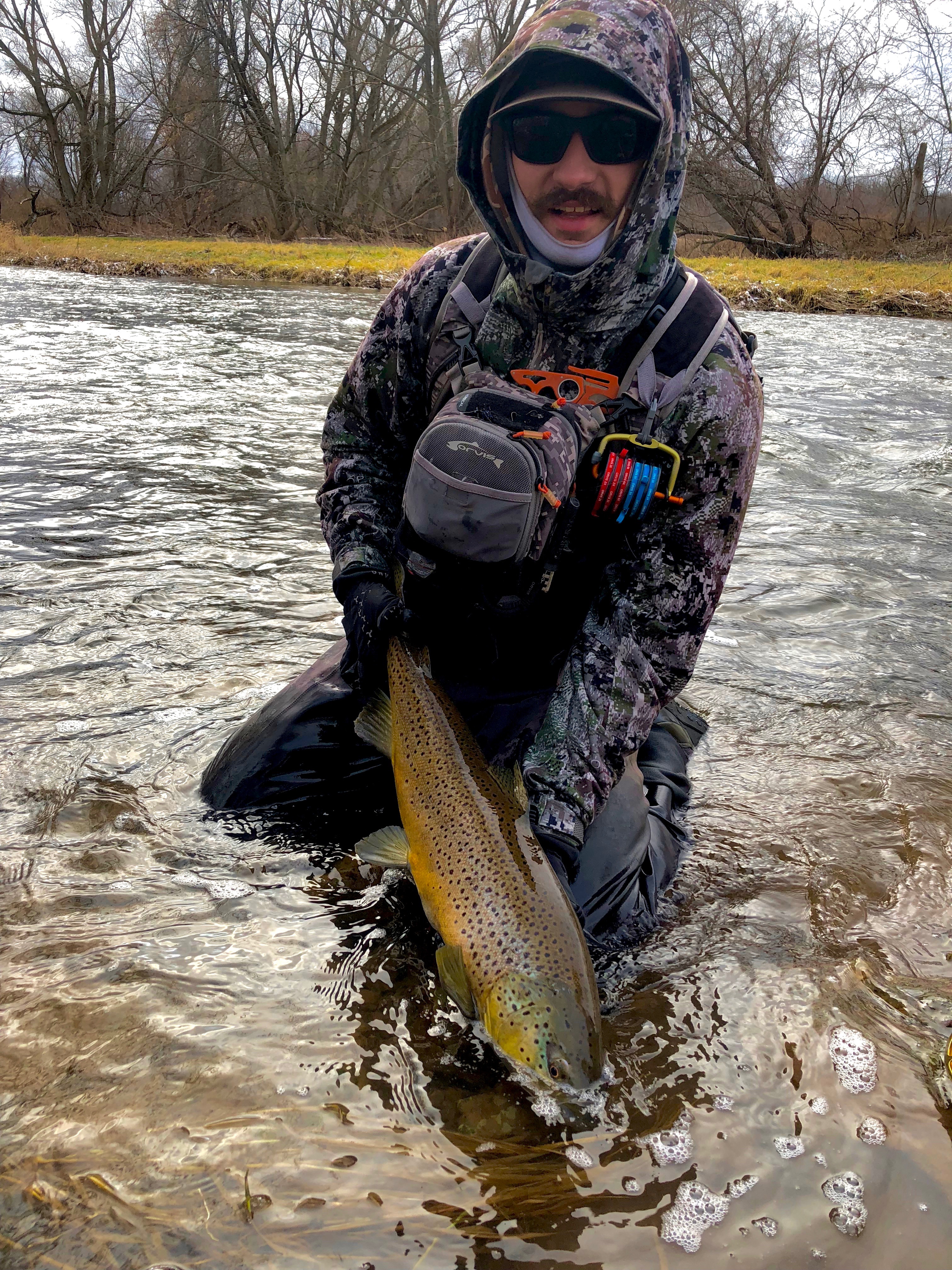 Asa with a toad!
Well here's to a new year! Looking back over 2018, the fishing was all over the place. Ohio fished really well all spring, with consistent fishing as early as February and lasting until early May. As for fall, trying to find a single day to get out on the Catt was nearly impossible. There was a stretch for about a month an a half between October 1 and November 15 where it rained 38 days in that period. So naturally the Catt was offline for pretty much the entire fall season.The Erie creeks fished inconsistently during October and November, with some seeing decent but sporadic pushes of fish while others saw less dependable numbers. The really high point was the heavy numbers of lake run browns we found starting in November and lasting all the way to the present.
Over the past couple weeks we have still been finding high numbers of large brown trout, some of which were fresh run fish. I expect the fishing for lake run browns to remain very good so long as we don't see ice up. Looking ahead to the weather, I don't see ice being a real problem for the immediate future, as most days have highs above freezing. But we will likely see a cold spell at least at some point throughout the winter that will cause slush and ice.
As of now we are gearing up for the Ohio spring season. Ohio fishing has been picking up since we are seeing great temps and good water conditions. If you are looking to get out during the winter, the next couple weeks should offer very good fishing with the flows being right for a drift trip.
Also if you haven't already check out the new Eastern Fly Fishing Magazine for our article on the Chagrin River that we put together with Rick McNary!
Tight Lines,
 - D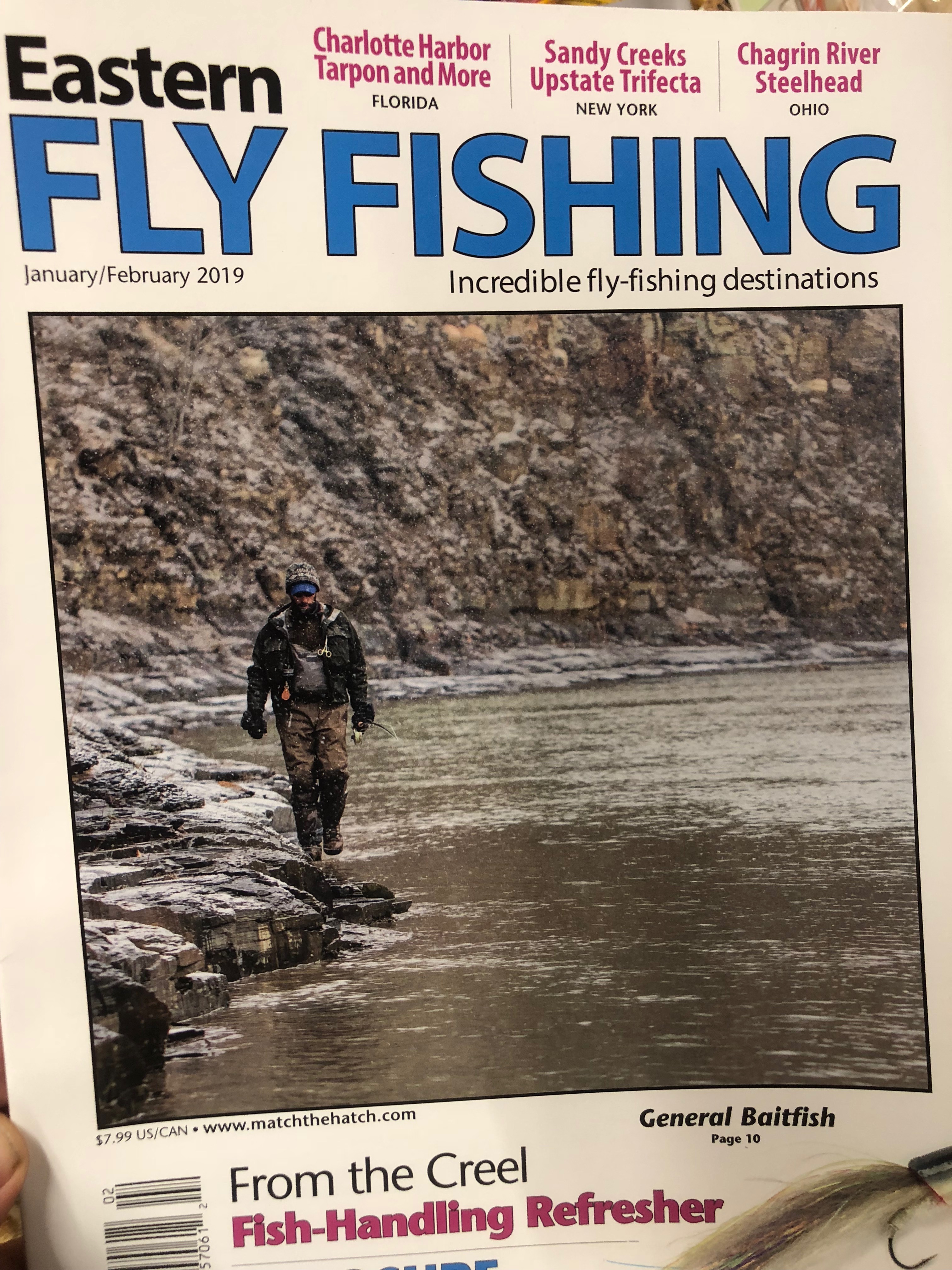 New Eastern Fly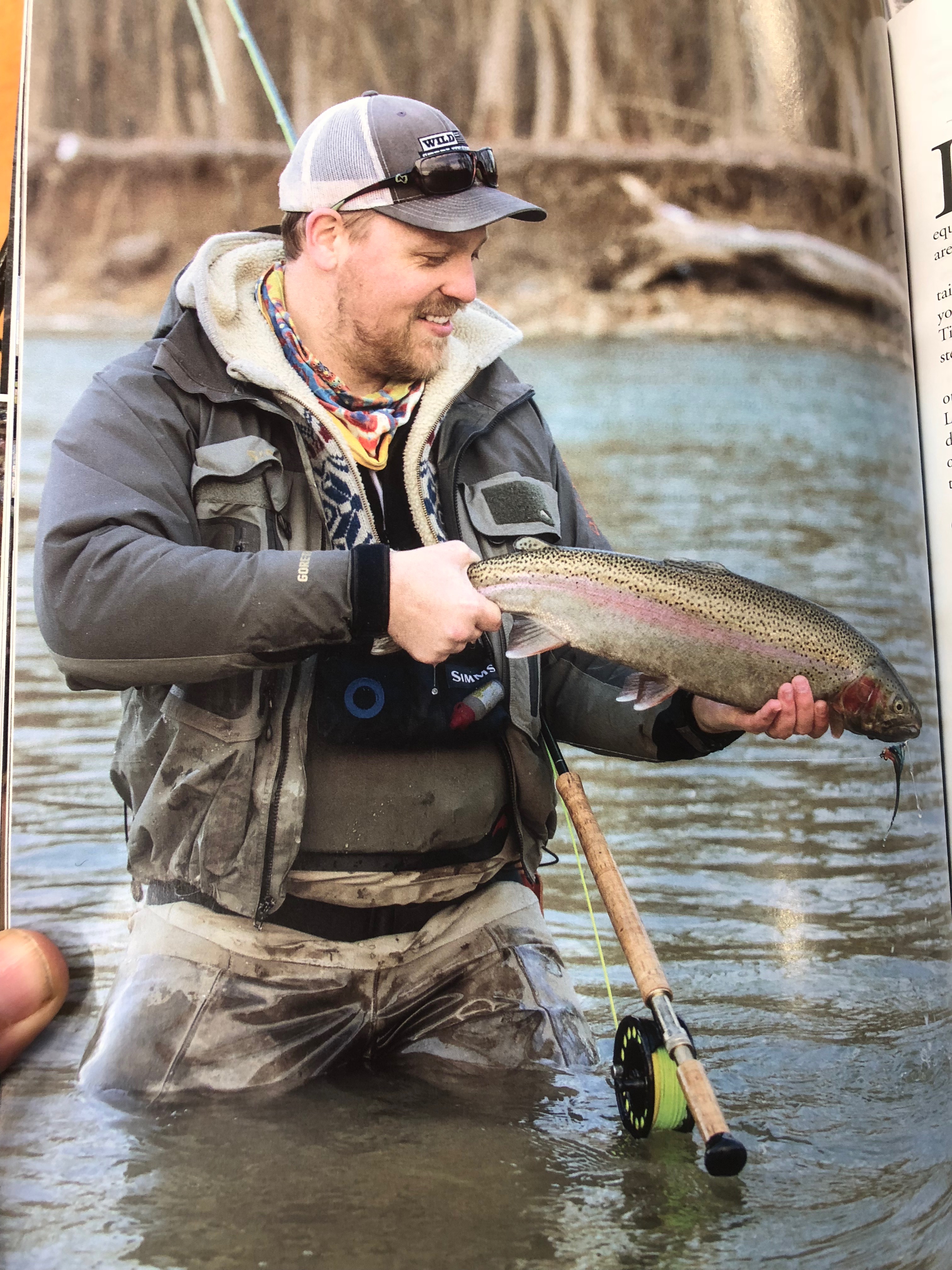 Full Page!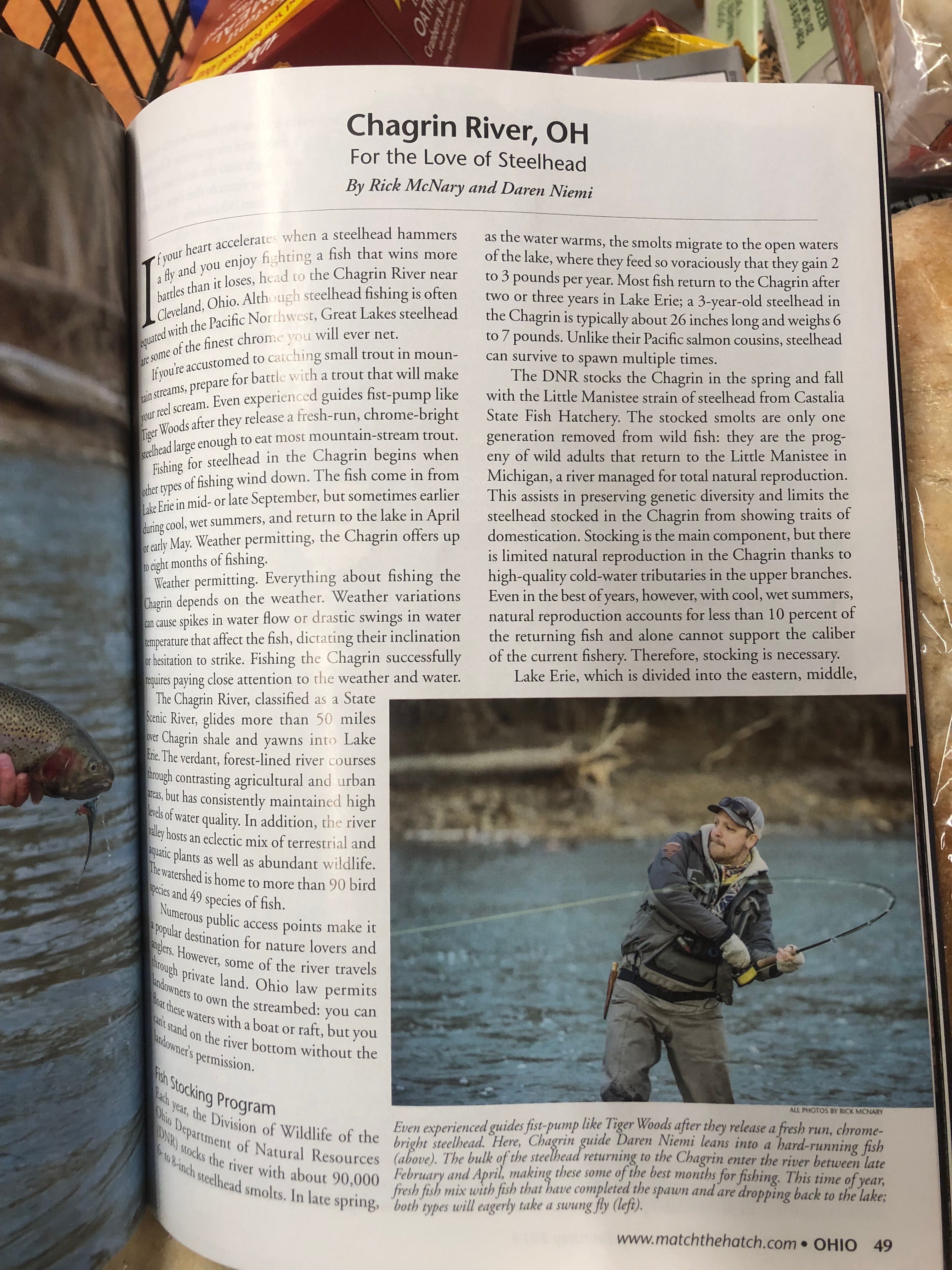 Chagrin Article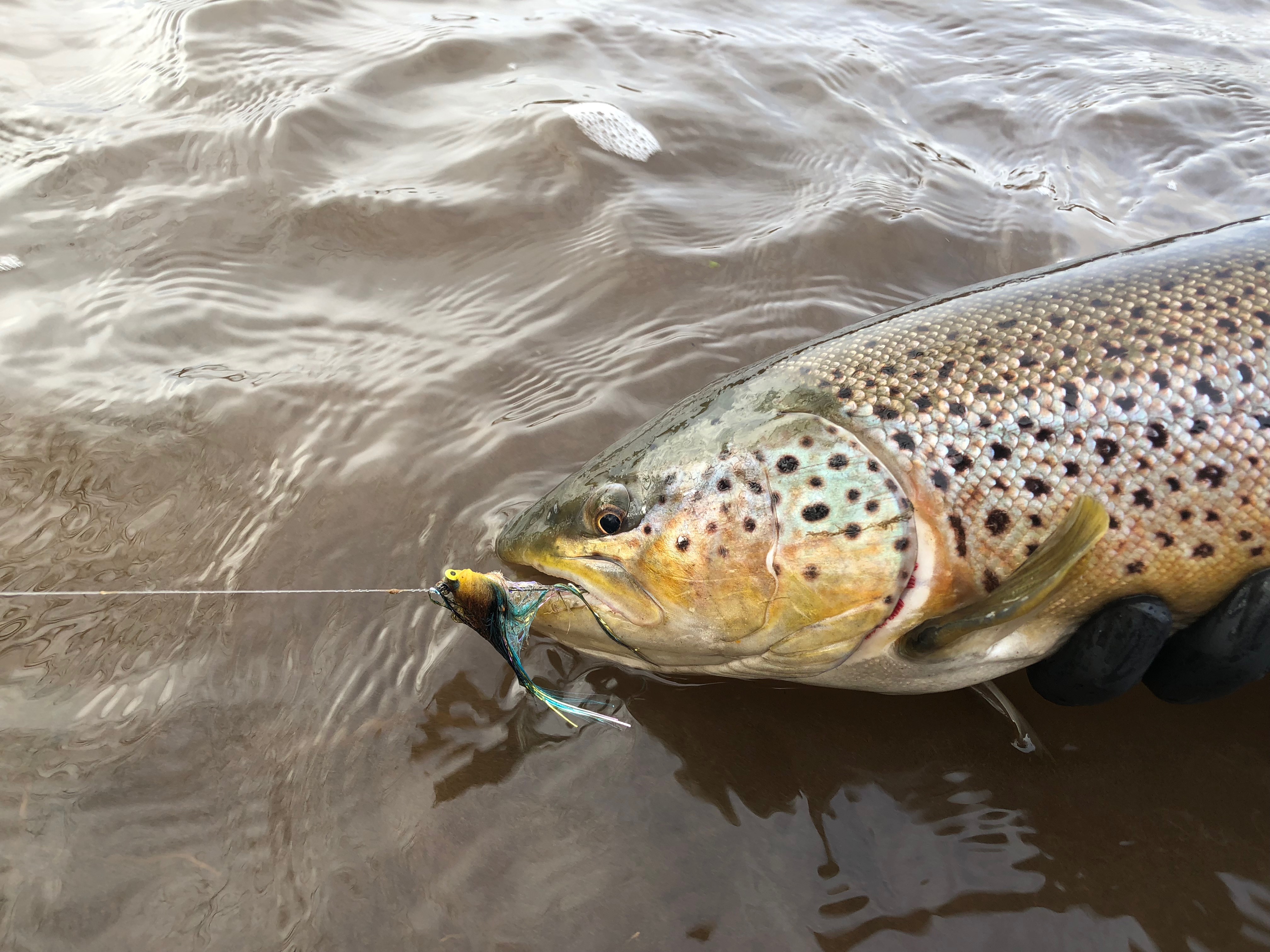 28" Brown on the swing!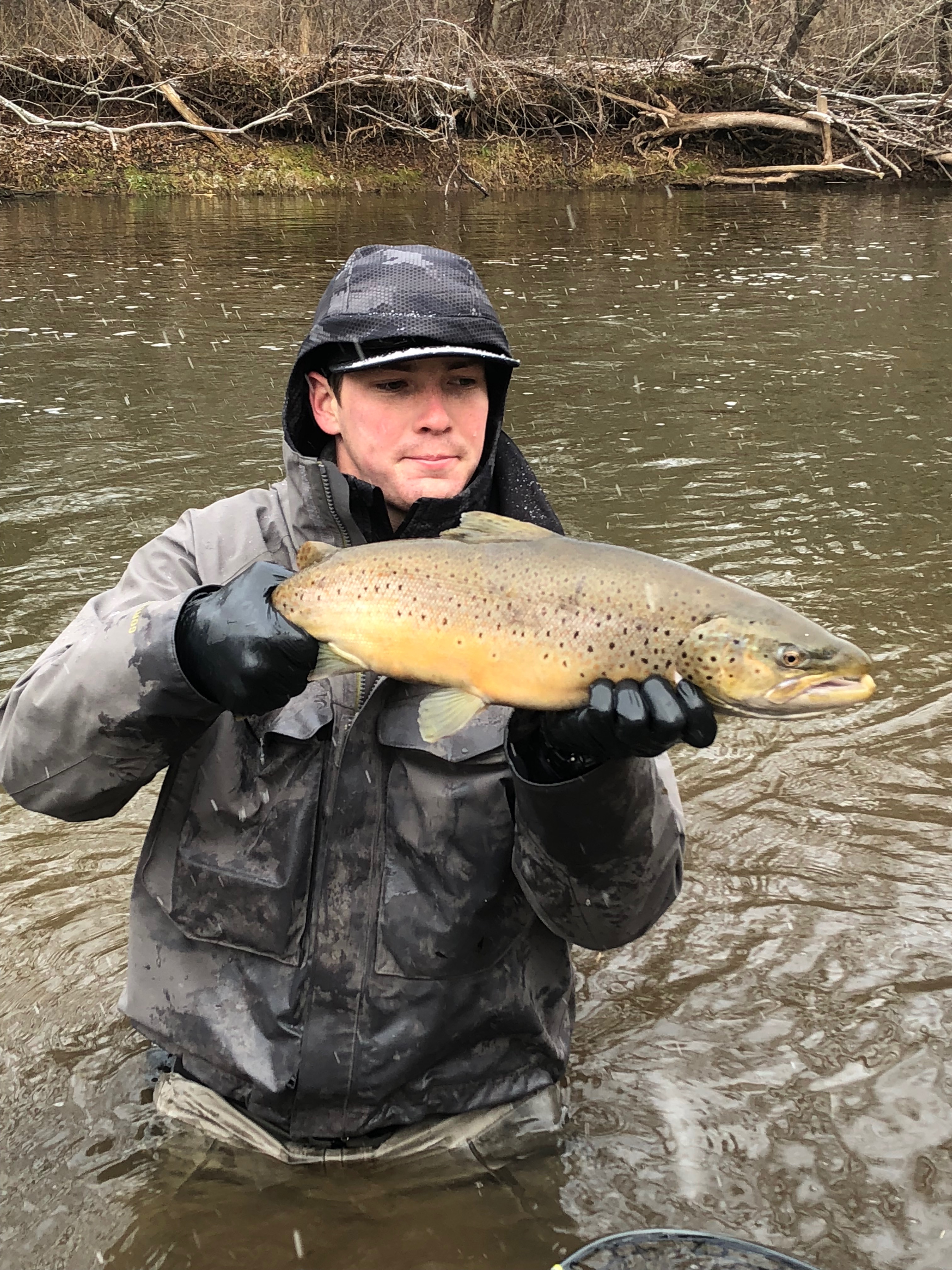 Craig with a nice brown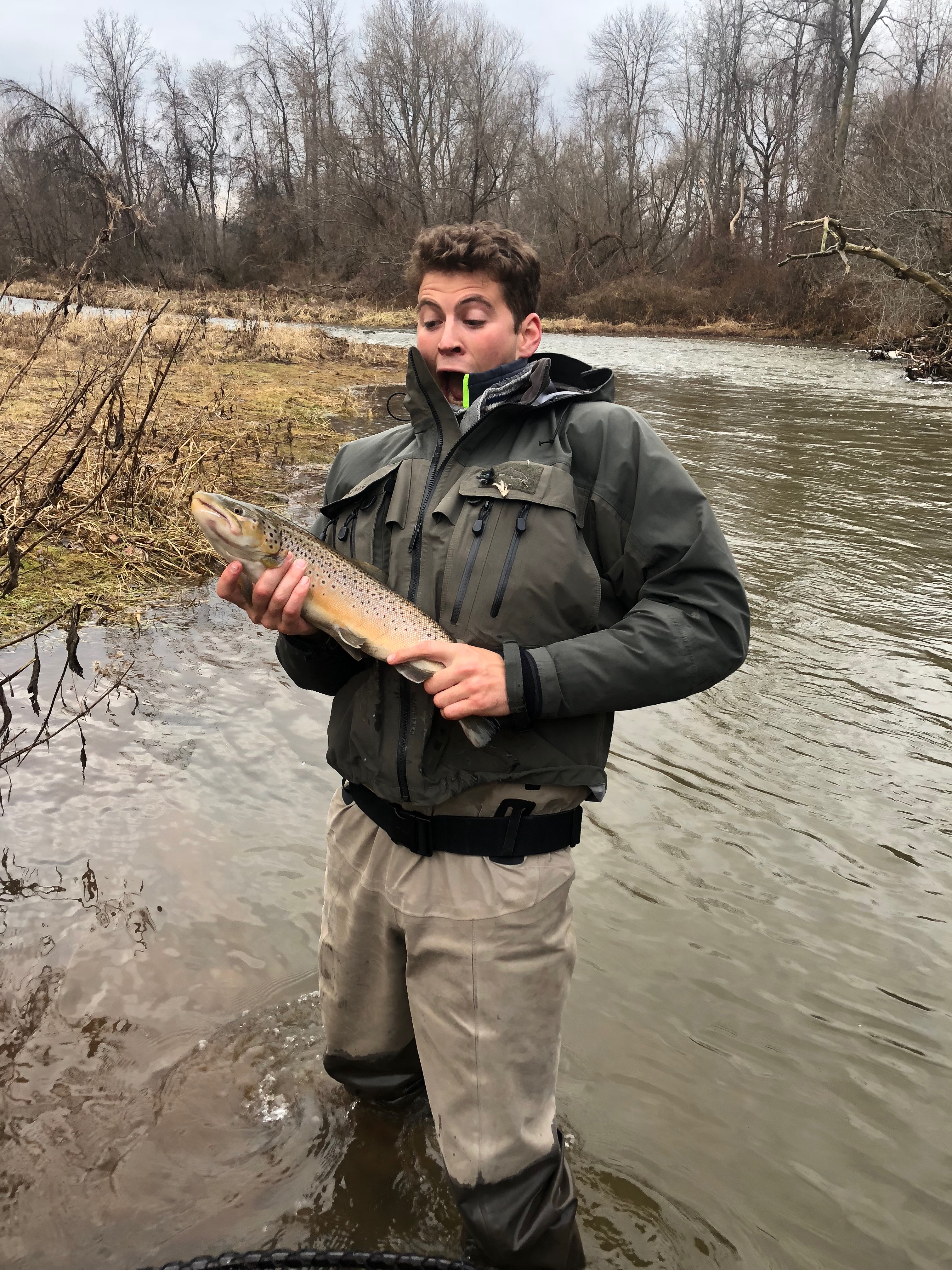 Eliot with his first brown trout!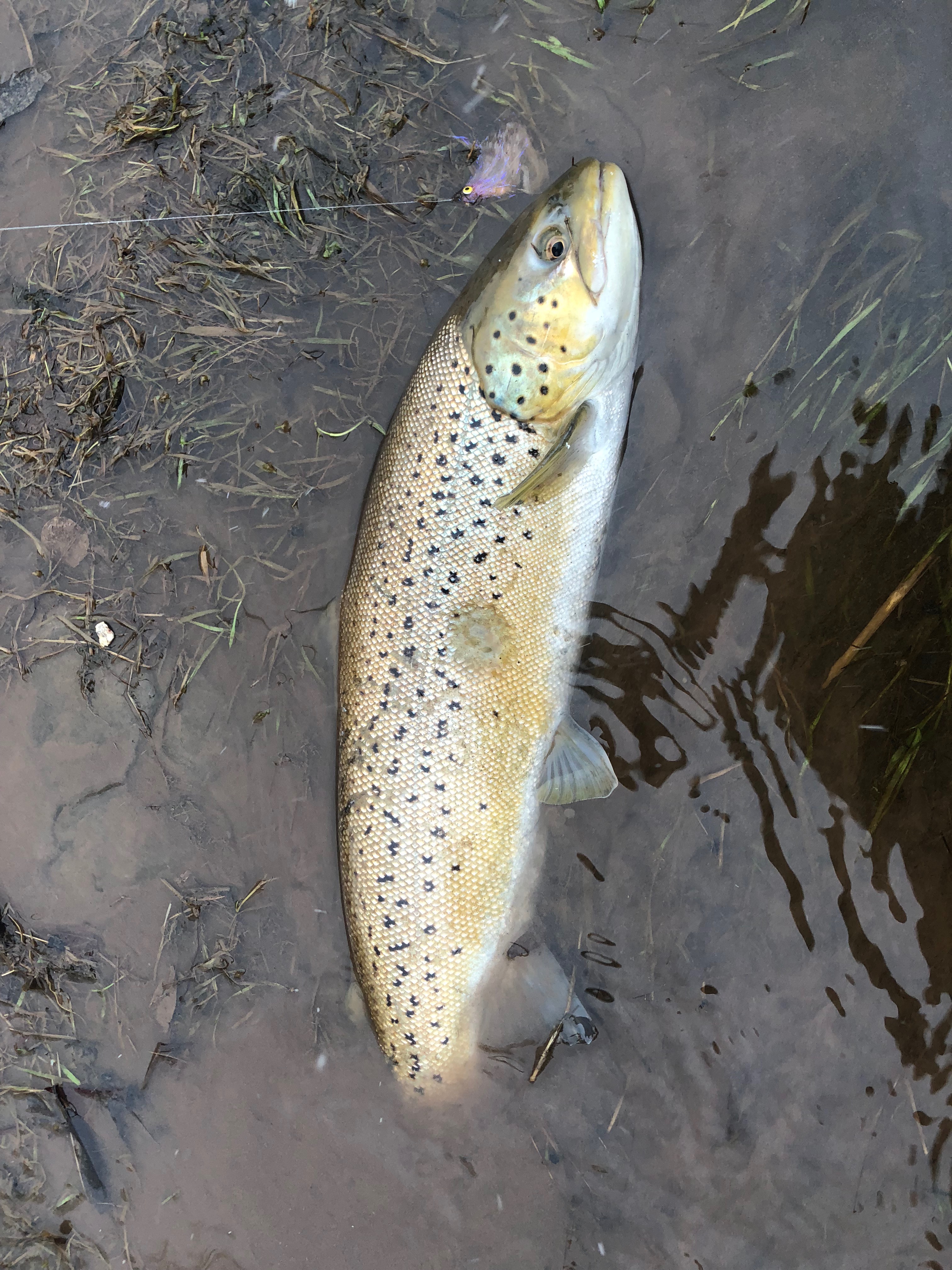 Average brown swung up!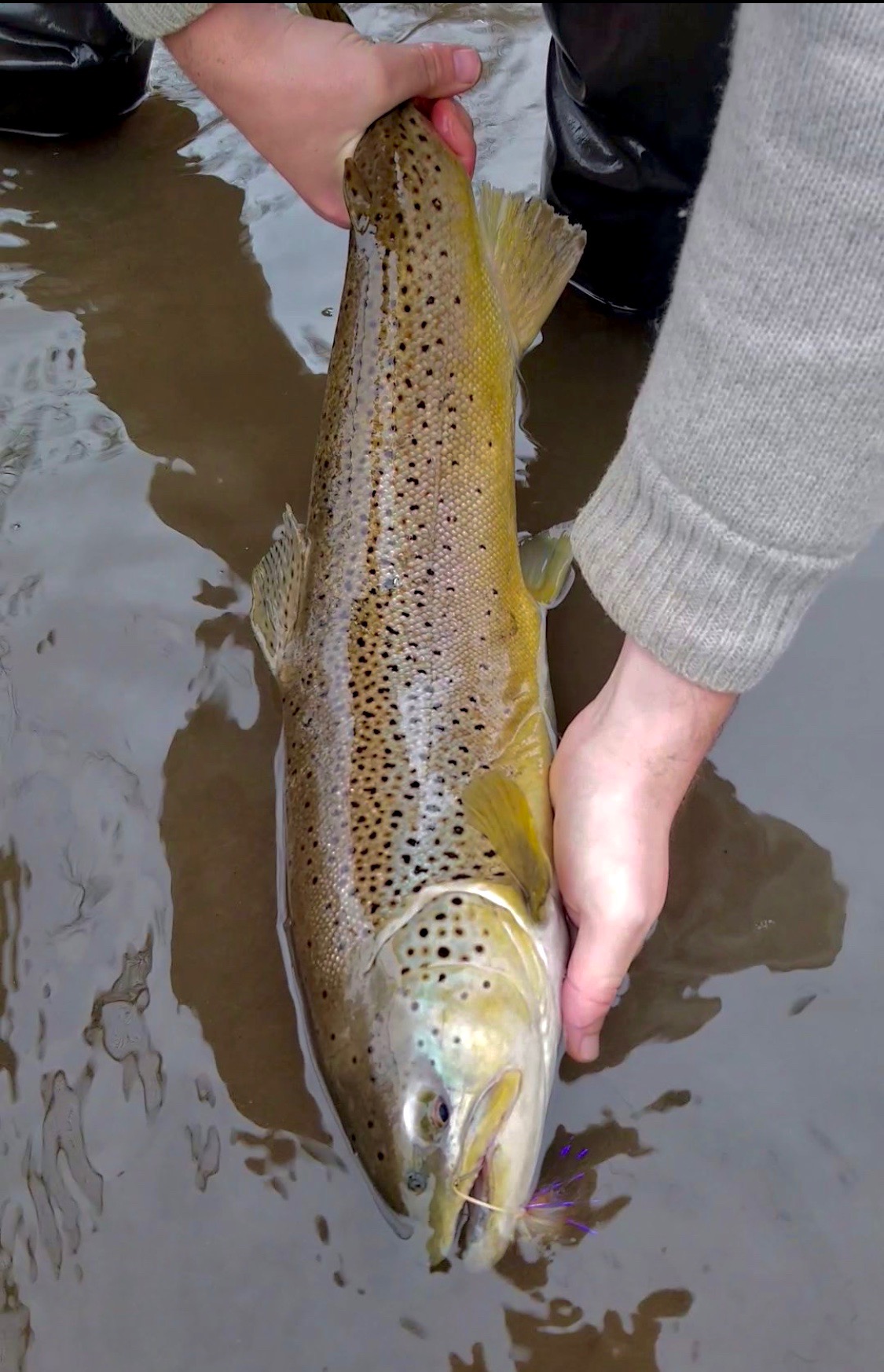 Great brown on the swing!
The fishing is still great! There are lots of browns still in the rivers and creeks and steelhead are in the mix too! Look for browns to slowly work their way back out over the next couple weeks, though many will remain in the systems over winter. As most of the spawning has finished, watch for a transition from egg patterns to nymphs or streamers. Baitfish patterns will be very effective.
Tight Lines,
 - D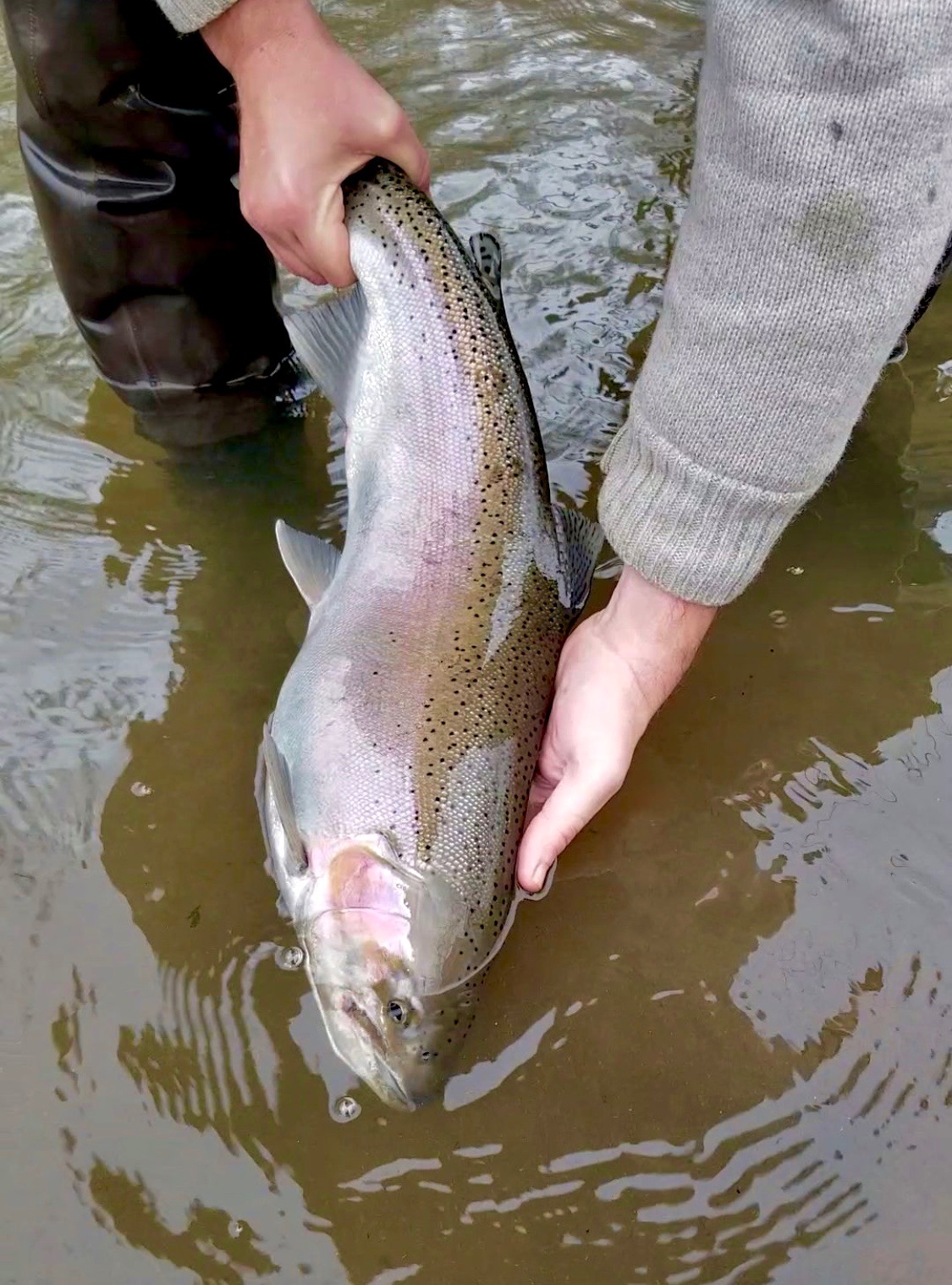 Awesome steelhead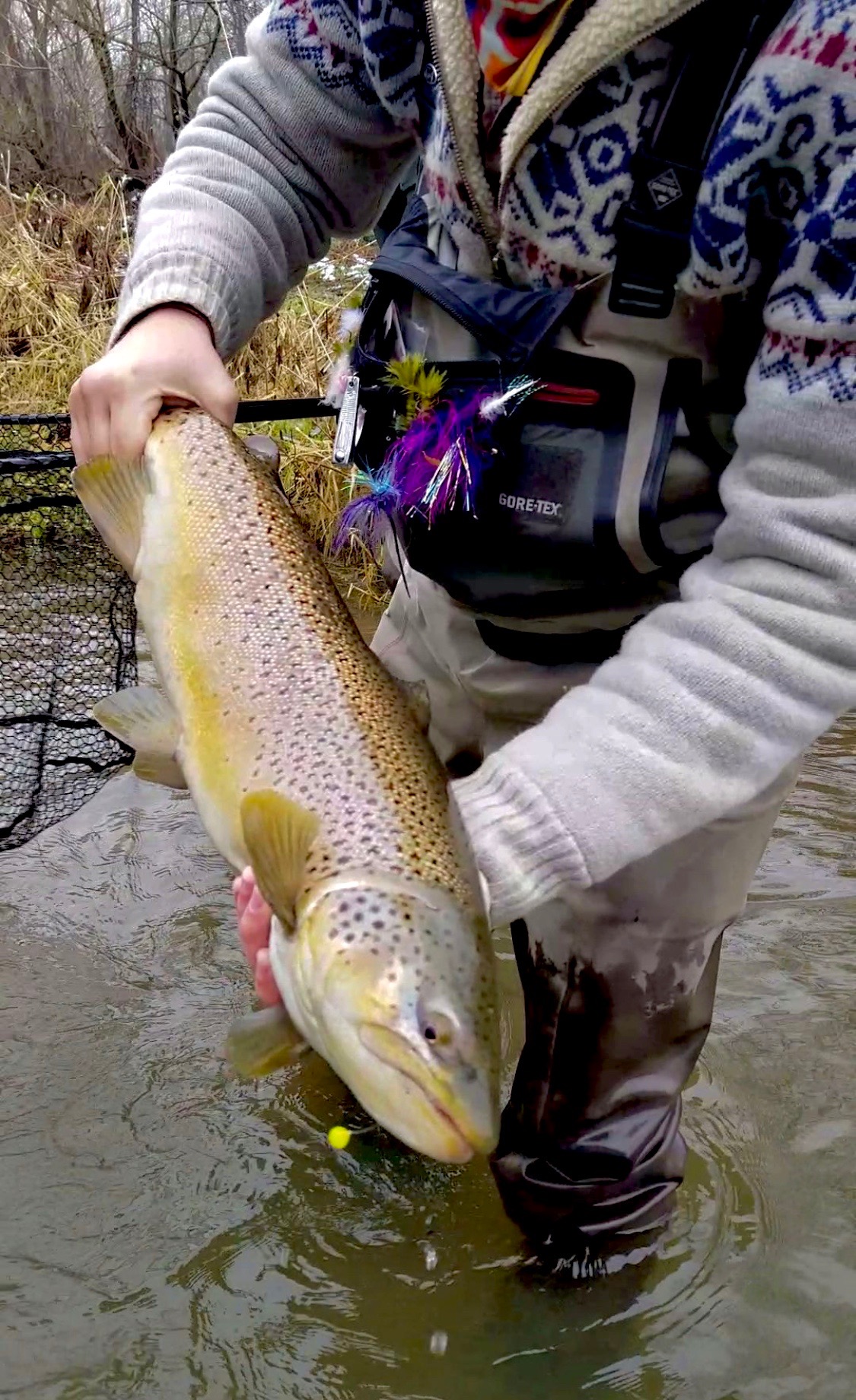 Plenty of these guys still around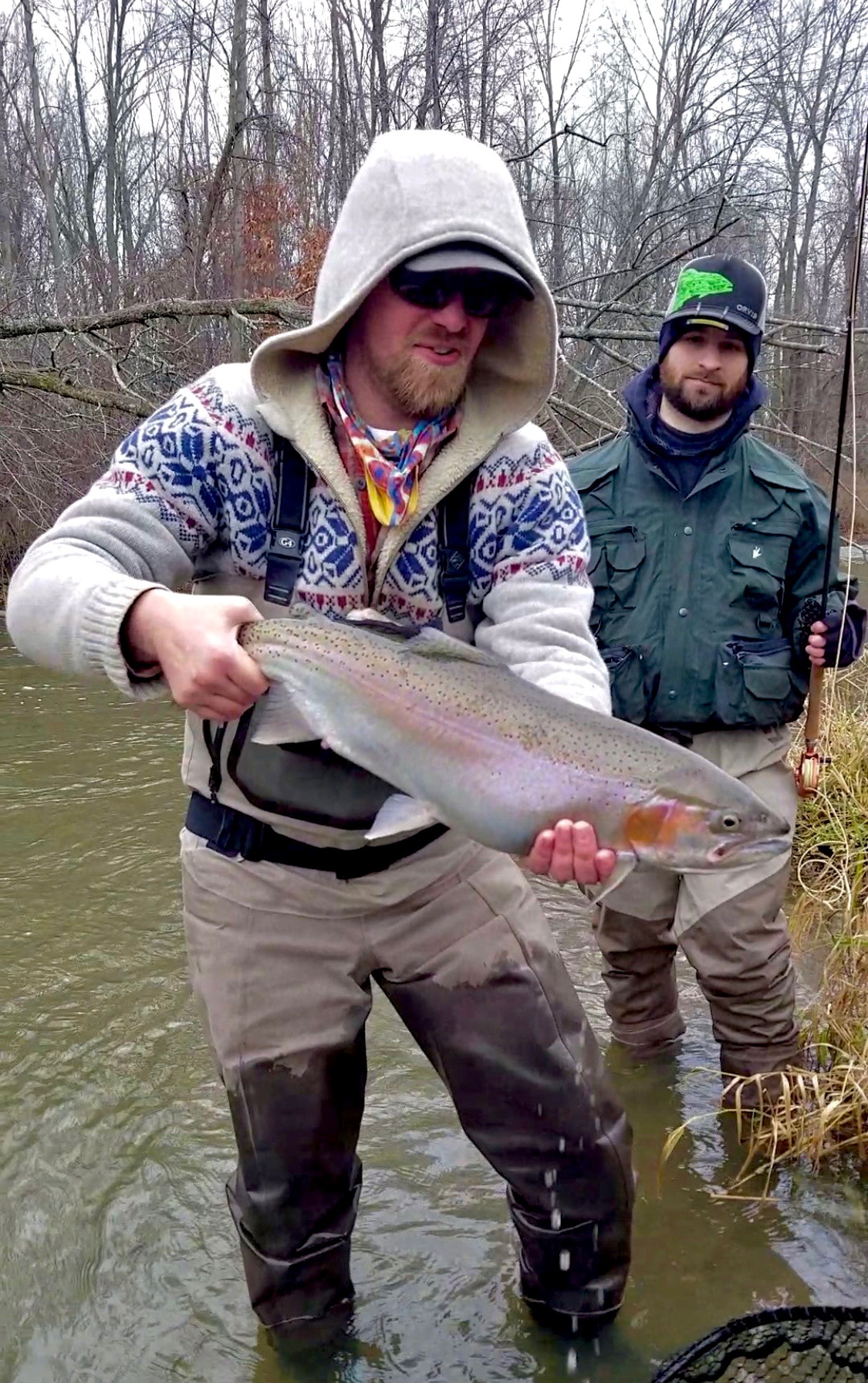 Chunker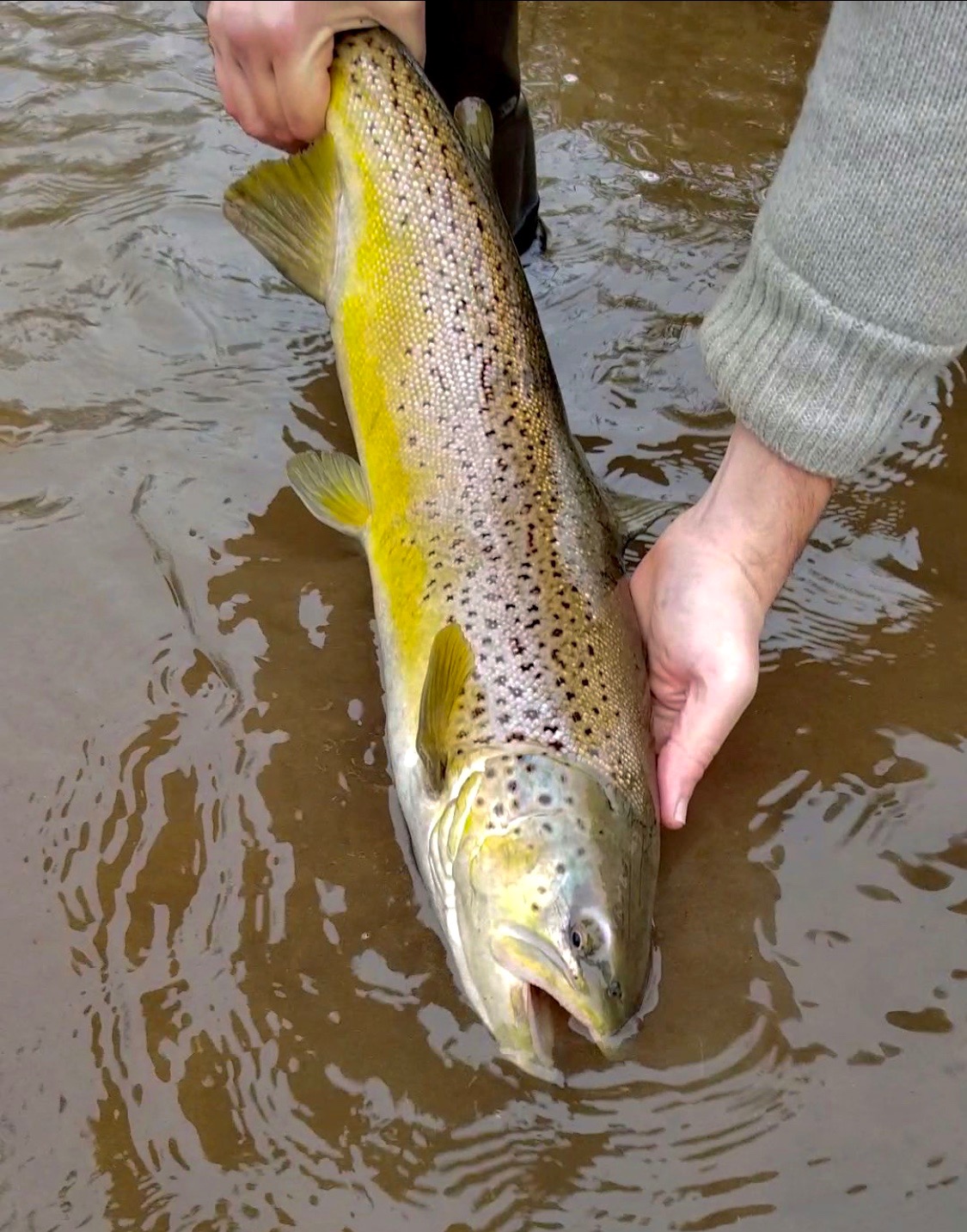 Those colors though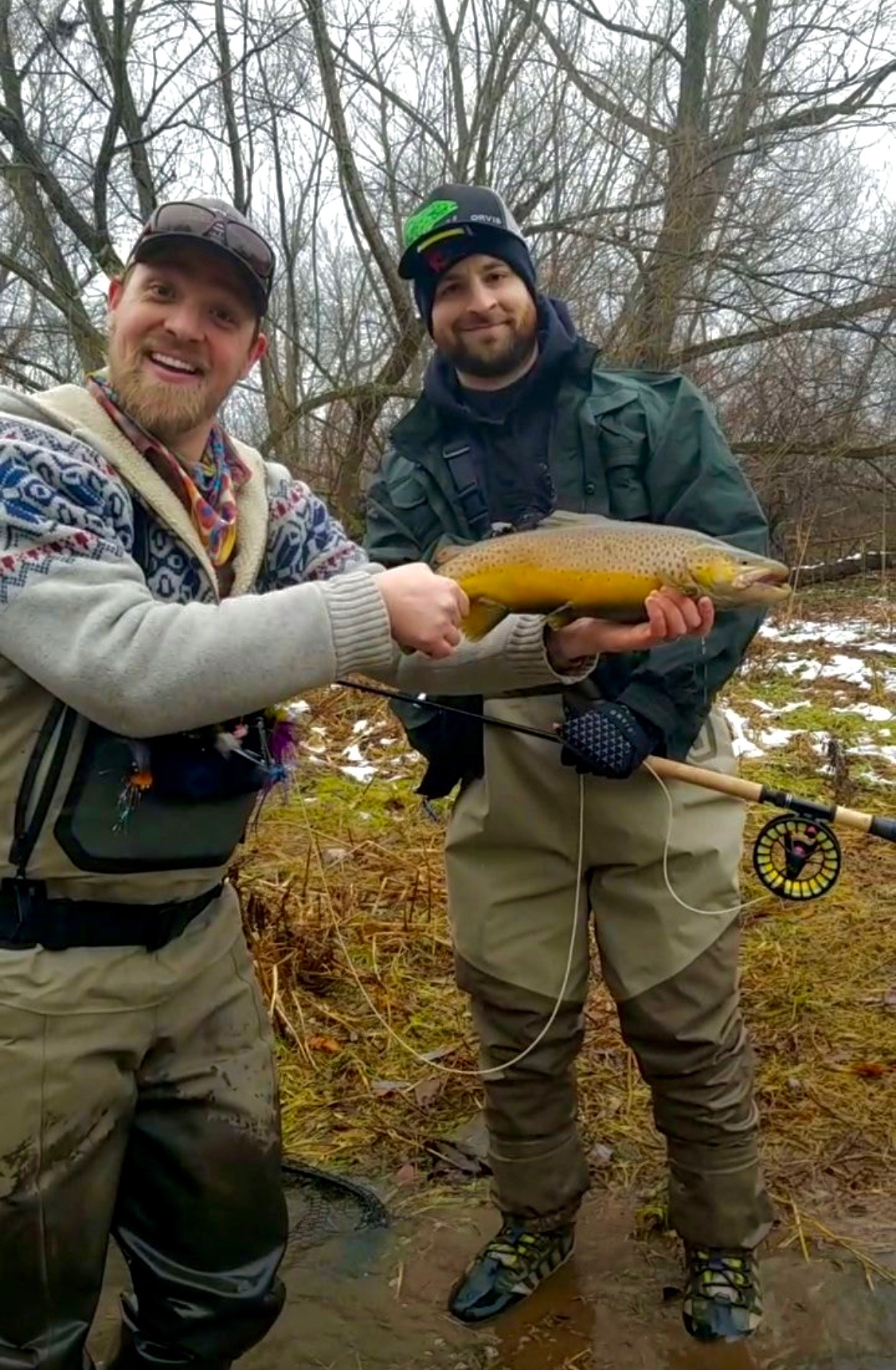 Stout little trout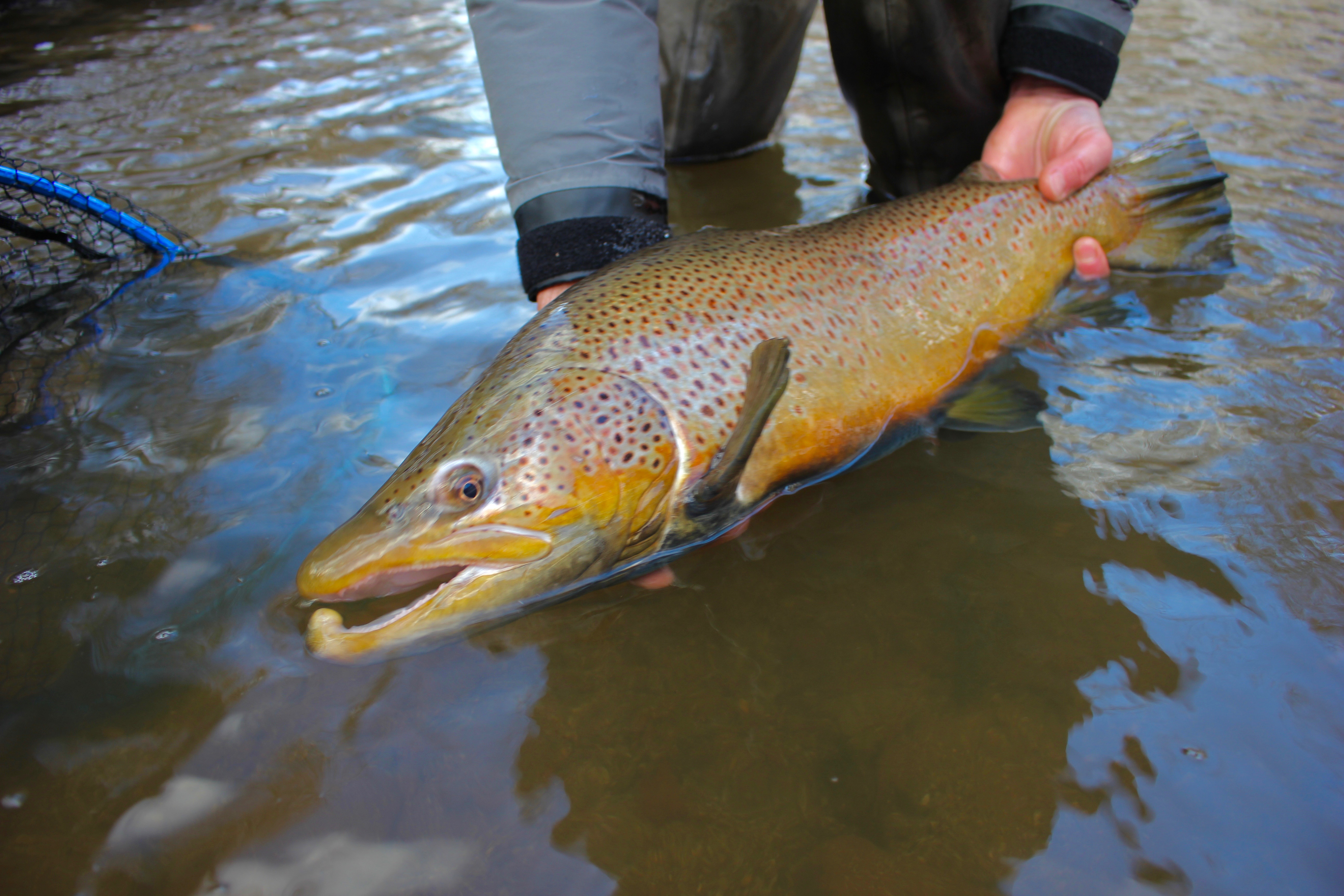 An absolute stunner brown
Just got the photos from the past few weeks from Matt and wanted to get some of them up on the site! The fishing remains good, though conditions can be challenging at times. The Erie creeks are more hit or miss and continue to see some pretty wild fluctuations in flows. The Ontario creeks are fishing very well, with good numbers and size of the lake run brown trout. This week we have snow and rain in the forecast. Will probably muddy some things up a bit. Next week it looks like the bottom drops out of the temperature, with nightly lows into the low 20's. This will likely start the ice up process on the smaller creeks over the next week and a half.
Tight Lines
 - D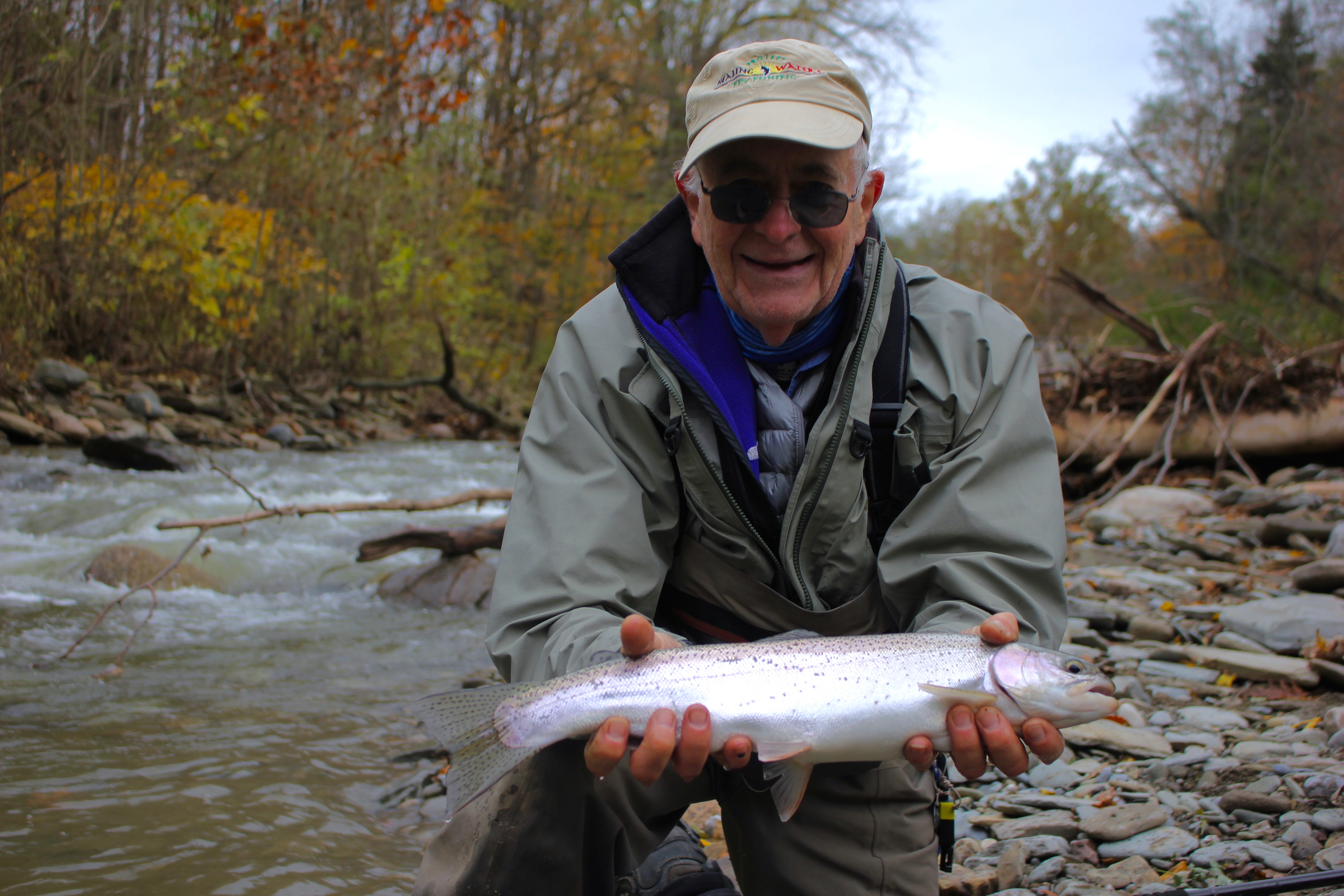 Sleek steelhead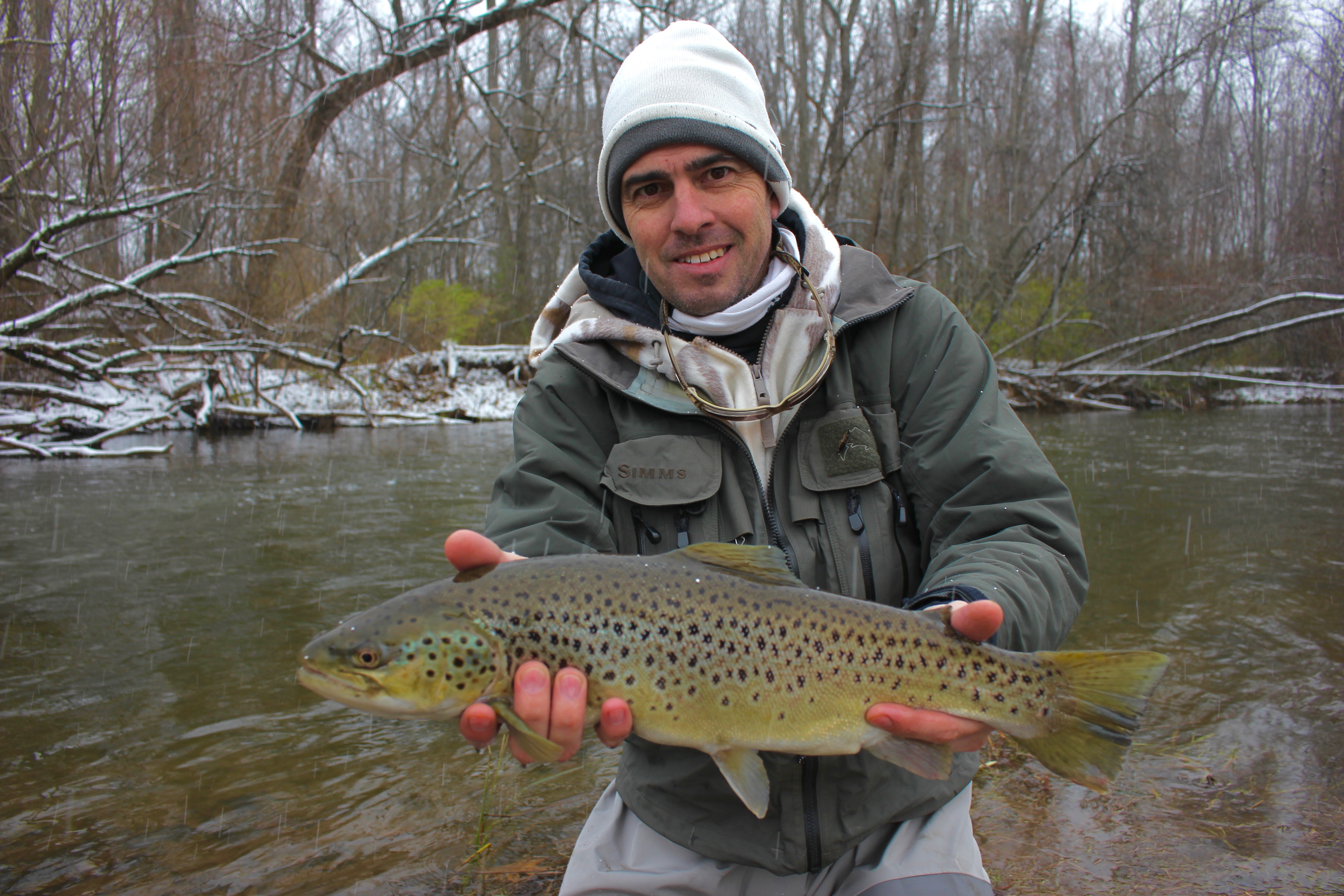 Nice brown on the swing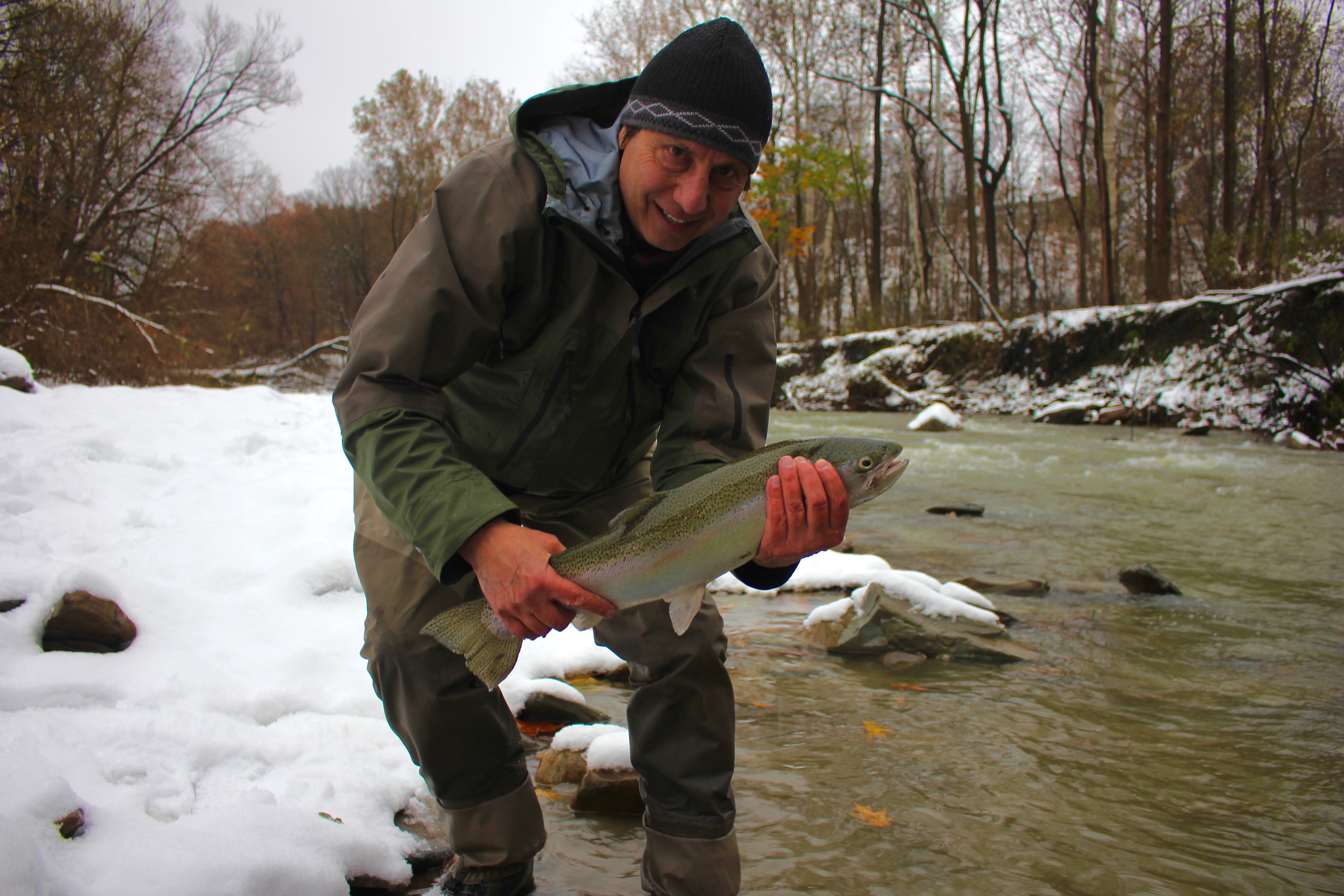 We've been seeing a lot in this size range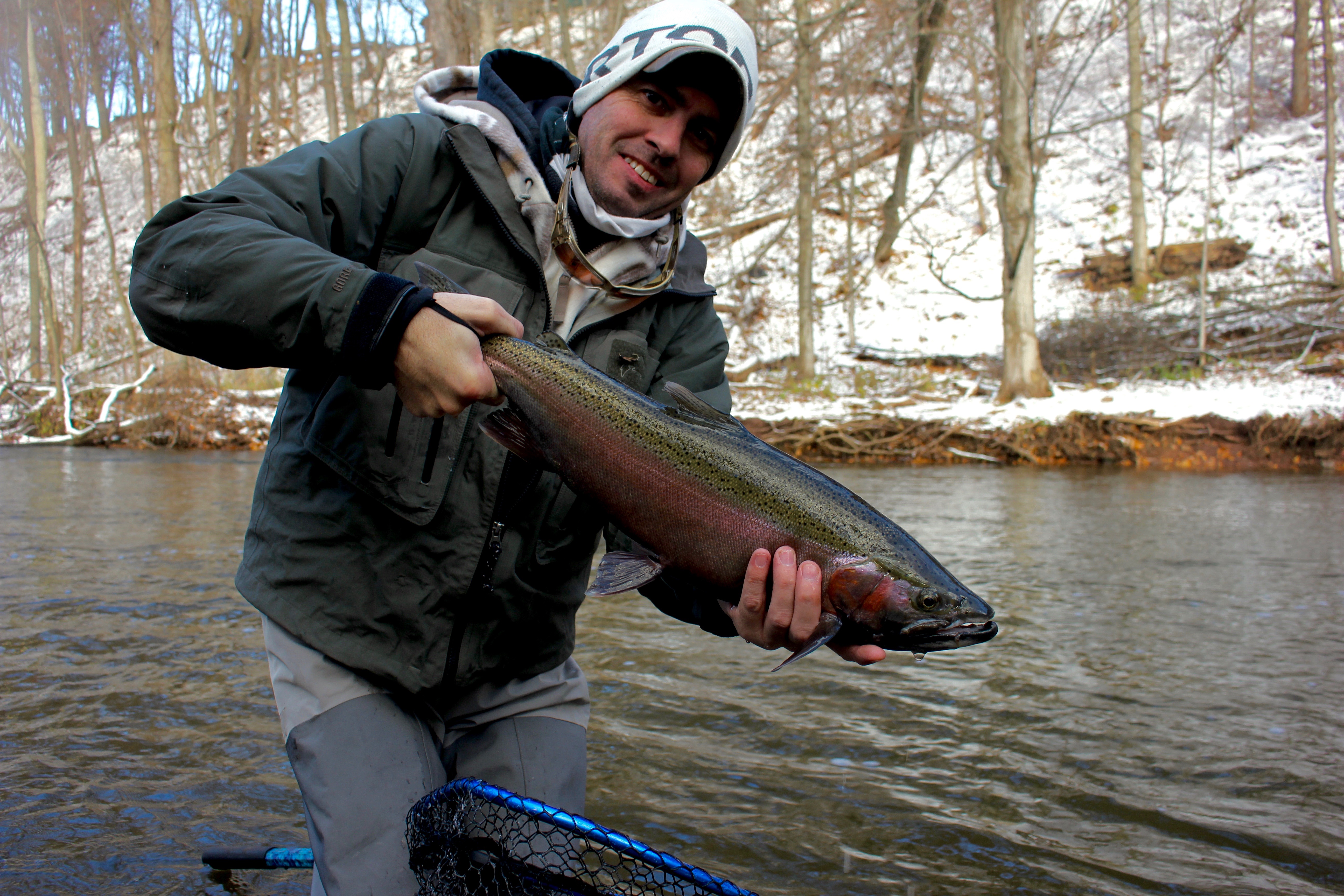 First trip out our way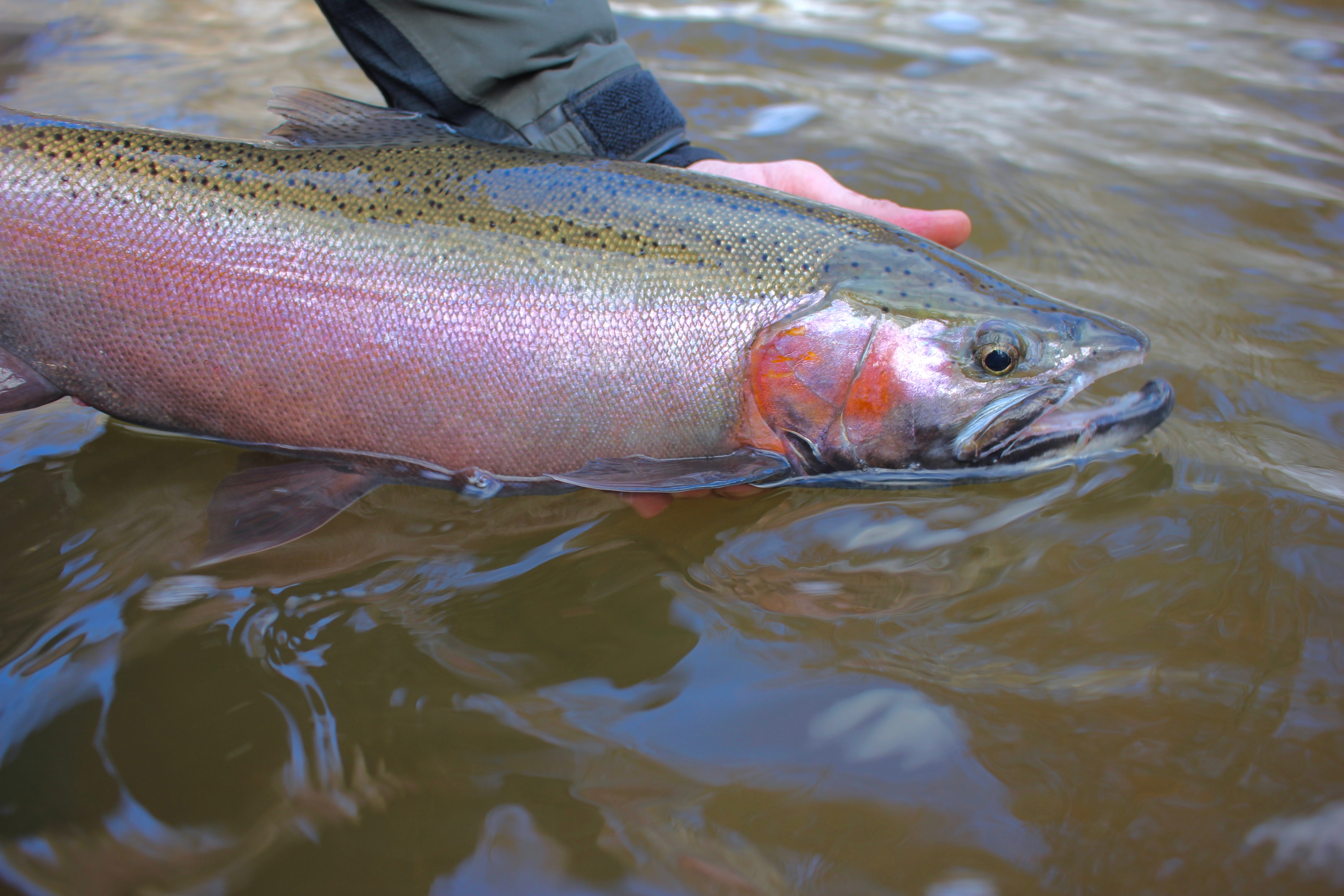 Close up
Jeff with a good fish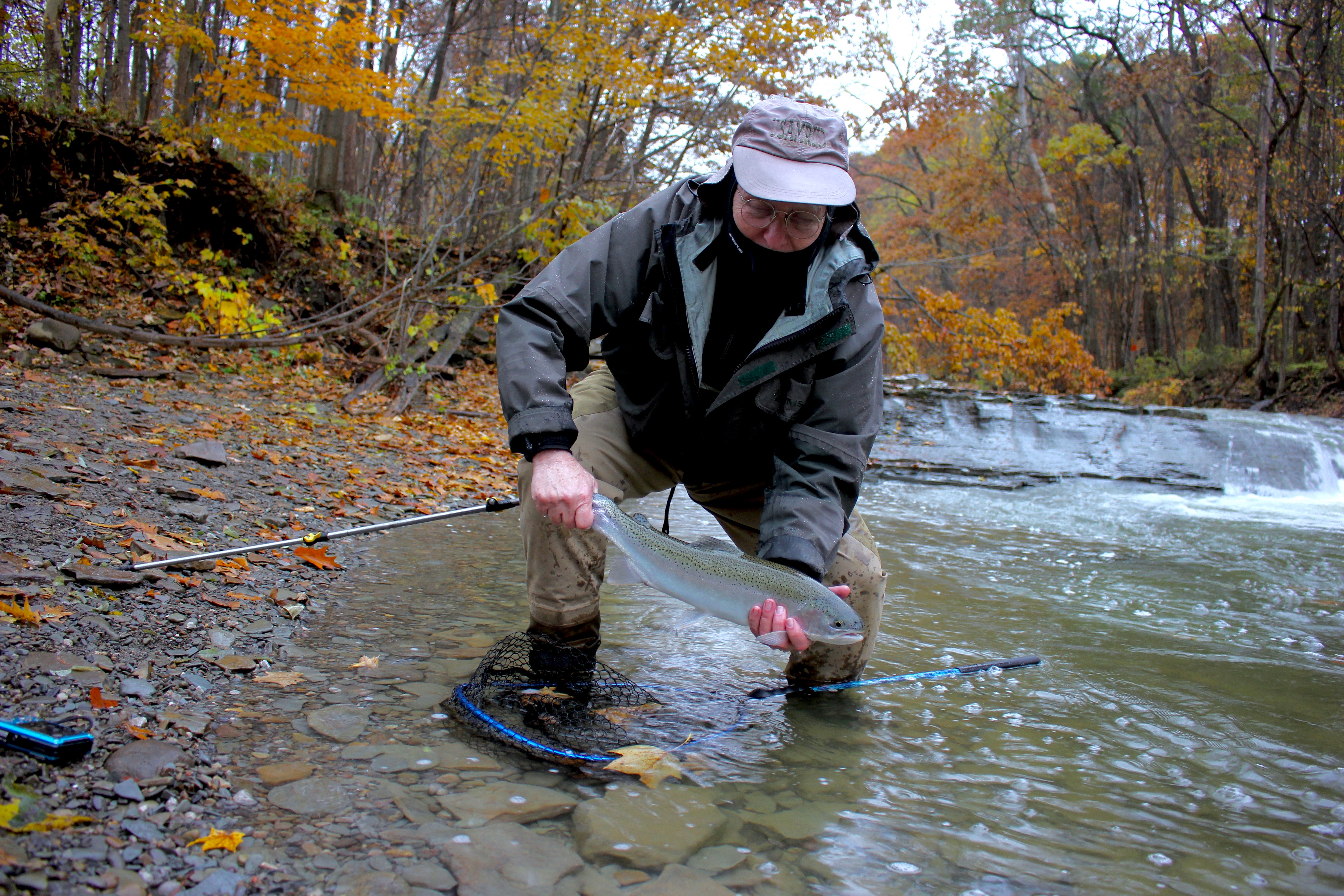 Nice steelhead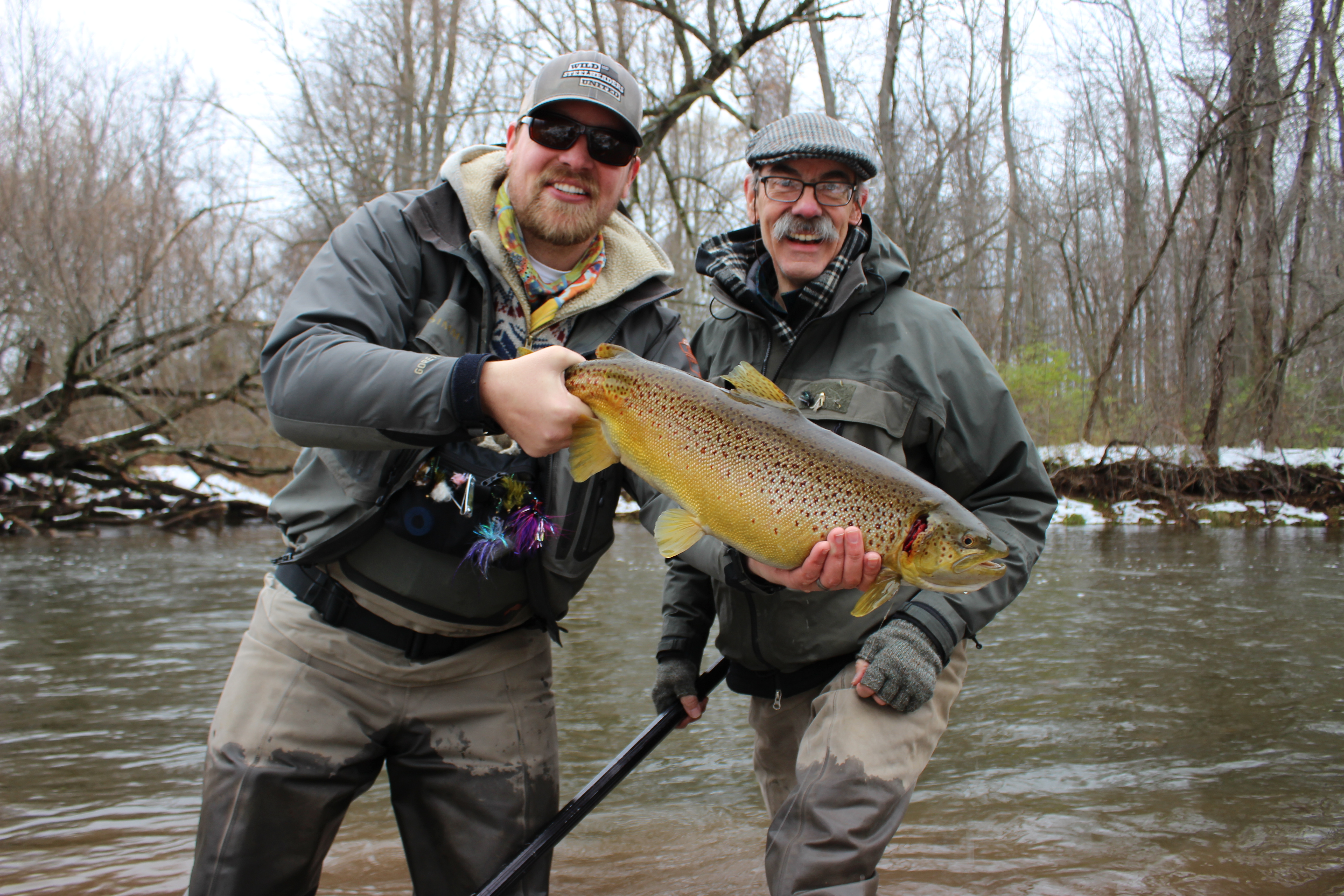 Me and Dad with a good one
Well, I had a couple cancellations, but it all ended up working out alright. I got to take my Dad up to chase lake run browns! Matt came with and his buddy Jeff, and between the four of us we lit them up. In a half day fishing, we netted 12, including a double with an 8 pounder and a 10 pounder in the net at the same time! Of the fish we landed, we even swung 4 up on the big stuff (the hangover strikes again!), with the rest coming under indicators. And I got to break in my 3 wt. trout spey on a couple of really nice fish (they were small- only about 6 pounds each, which was a good thing as they were all I could handle on a 3 haha). 
Tight Lines,
 - D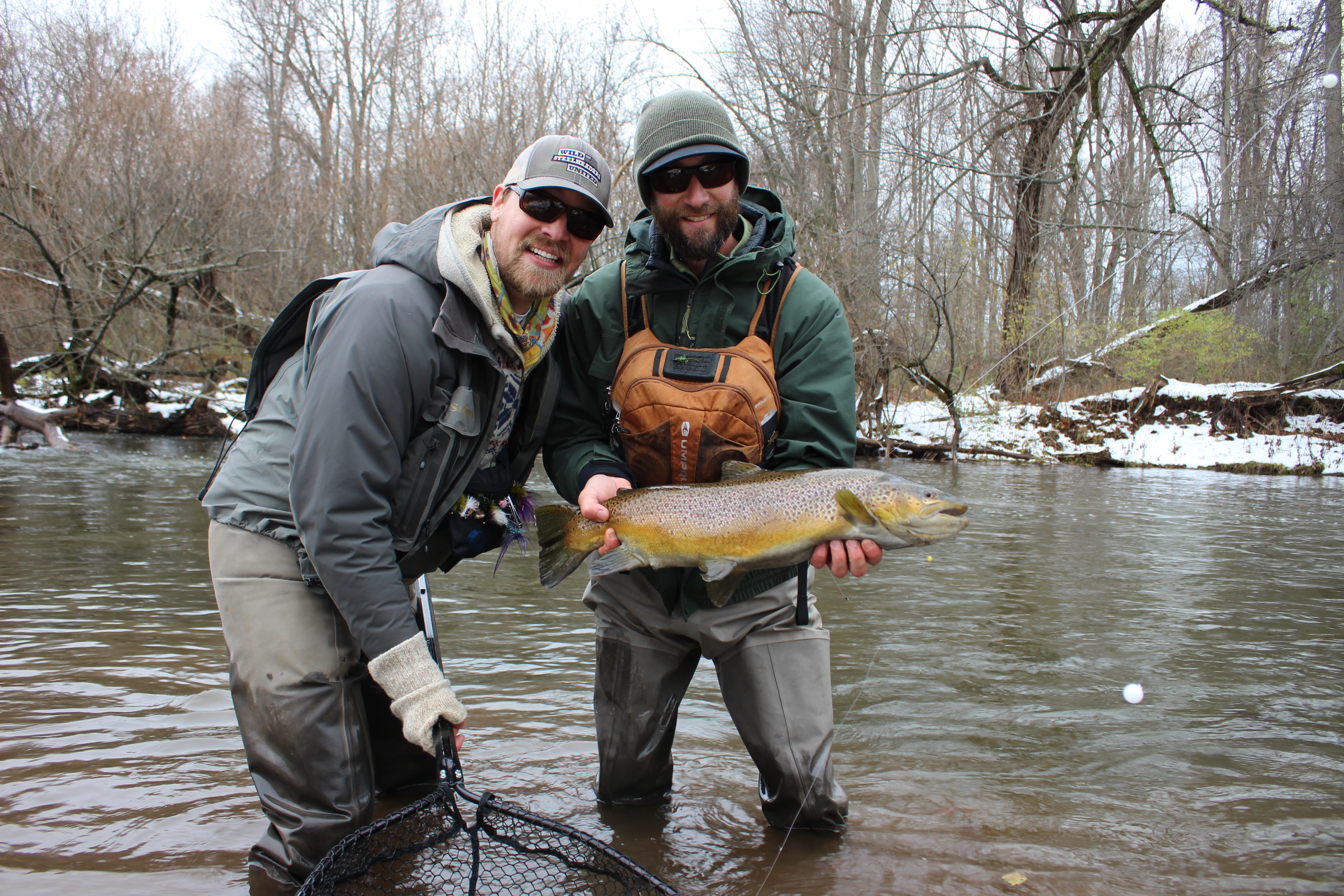 Jeff with a toad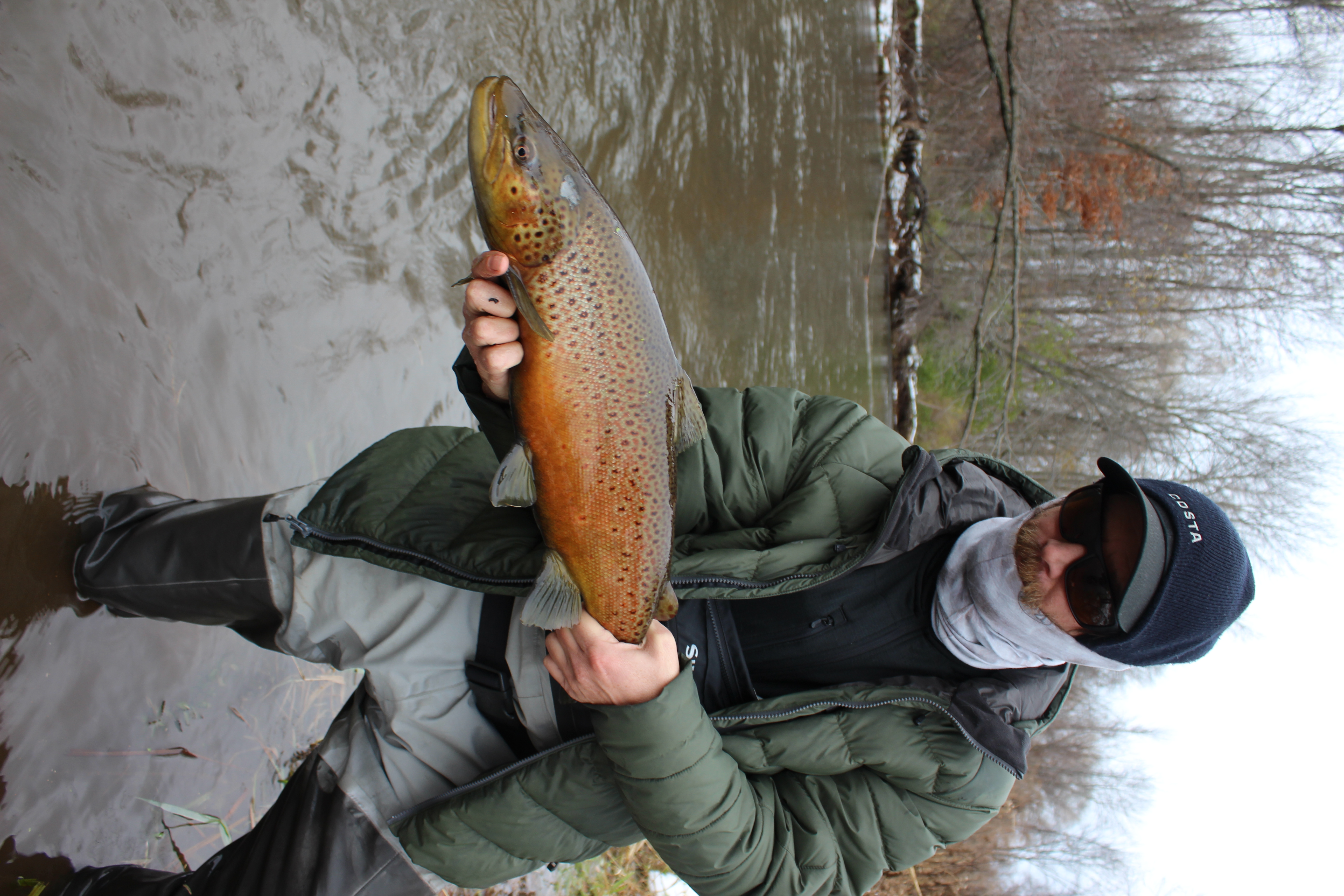 Matt with a really beautiful buck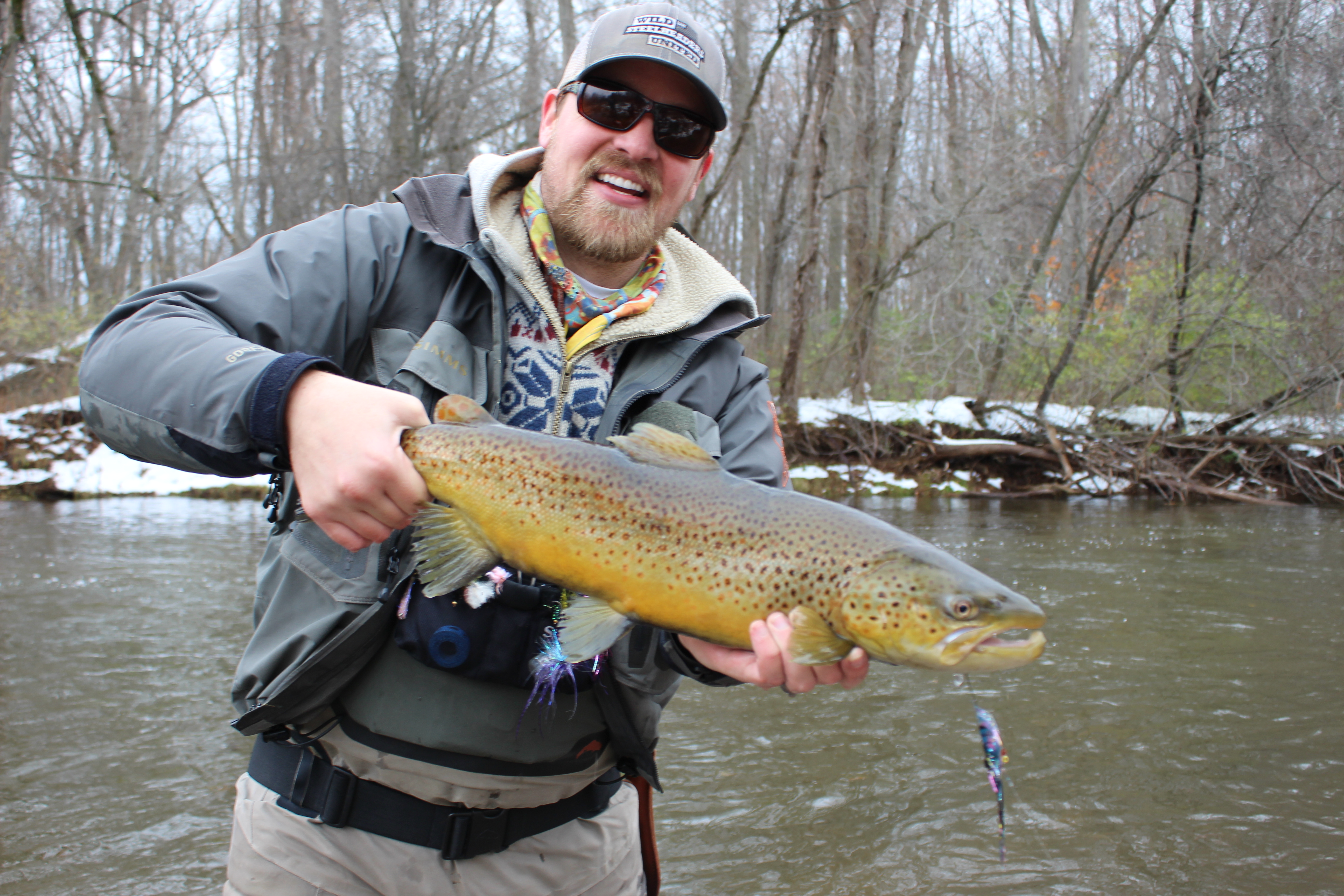 Hangover victim!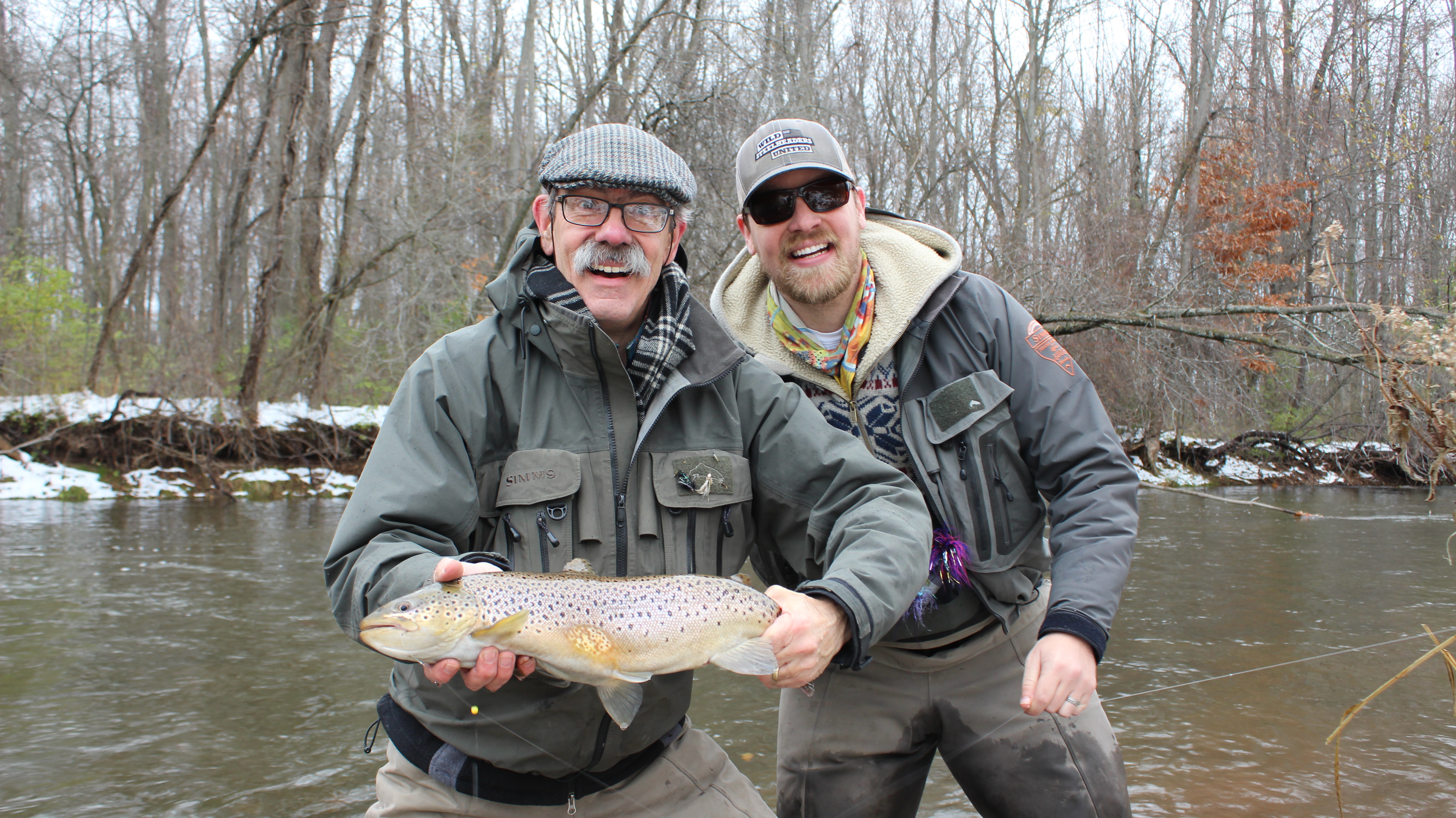 Another nice fish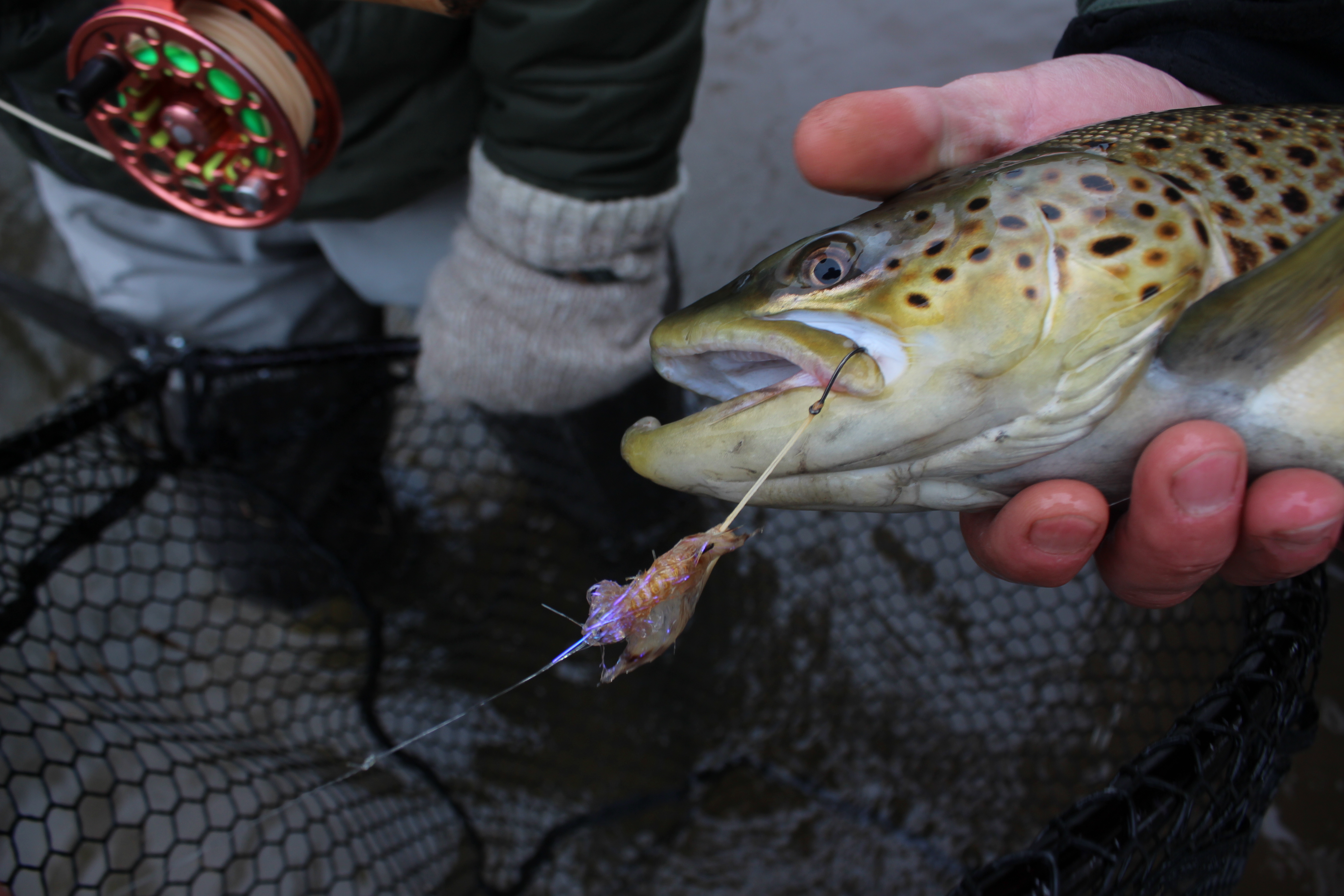 Another on the swing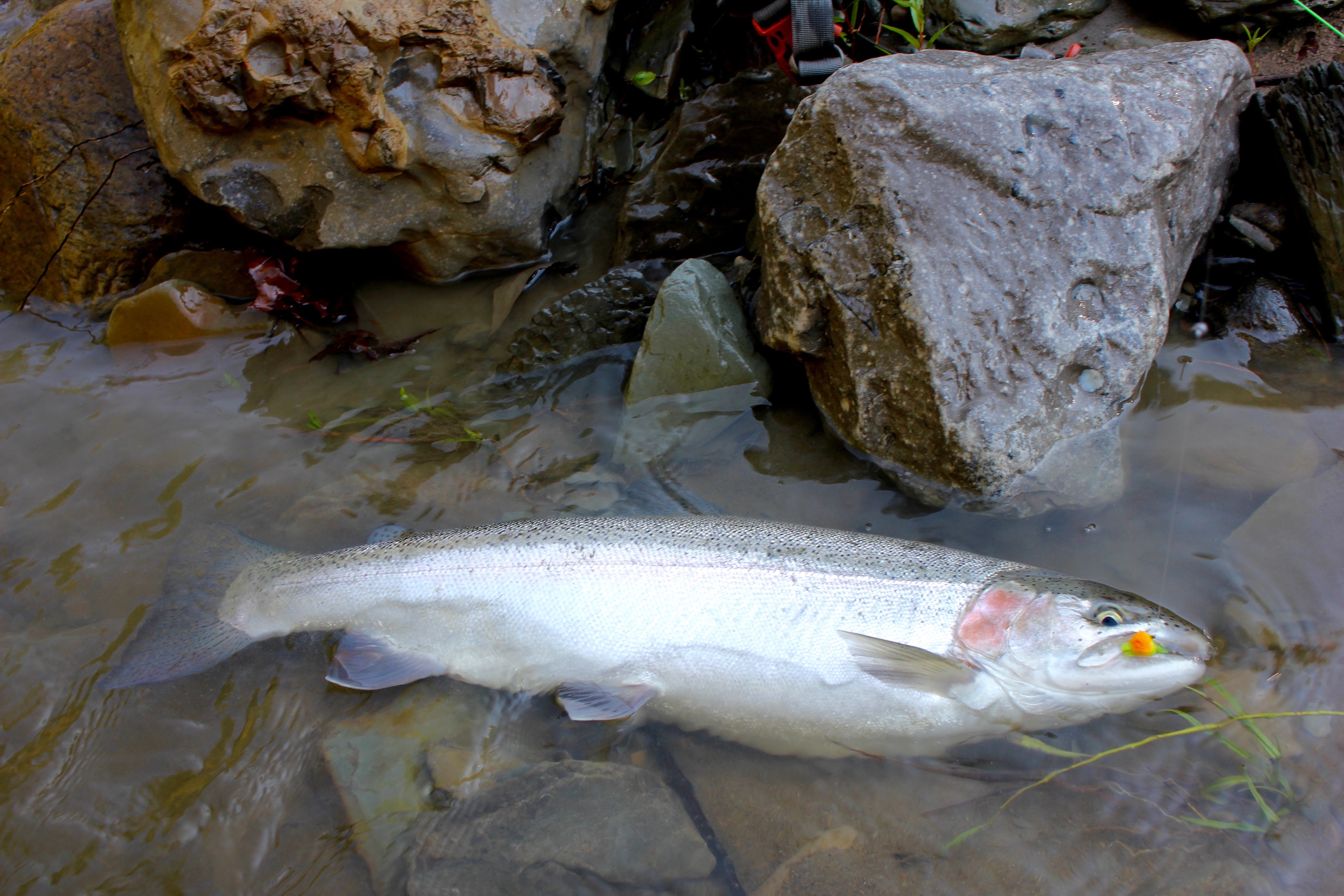 Nice chromer!
Both Matt and I have been out hitting the water over recently. Matt has been hitting the Erie creeks well I spent the last couple days fishing salmon. And we've even got a couple floats done as well. There are fish in all the creeks and rivers now, but last night we got hit pretty hard by another weather system. The smaller creeks have been on the lower side all fall so far, with most fish predominantly found in the lower reaches. The Catt has been pretty much flooded since October 1, with the exception of a couple windows where fishable conditions existed though none for longer than a few hours. Pretty bummed about that because it means we're probably not gonna get a floating line season this year on the Catt. But I wouldn't be surprised if we have a lot of fish to play with swinging tips when she drops down.
Hopefully things will start to dry out now as even the small creeks are high and muddy now. This should bring in a lot of fish into the rivers and creeks! Look for good fishing as the water drops!
Tight Lines and enjoy the pics!
 - D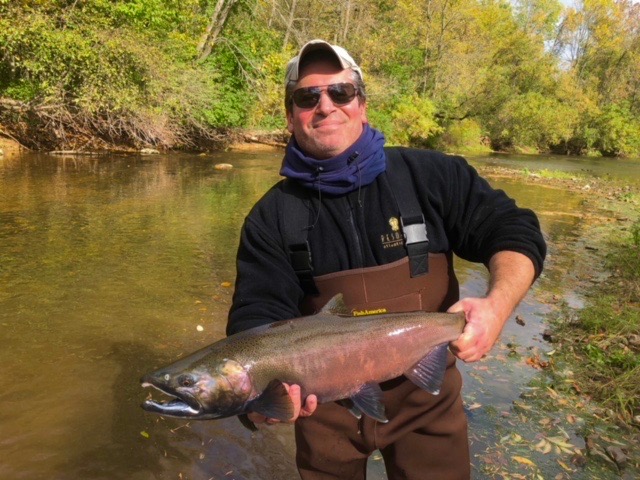 Pretty little coho buck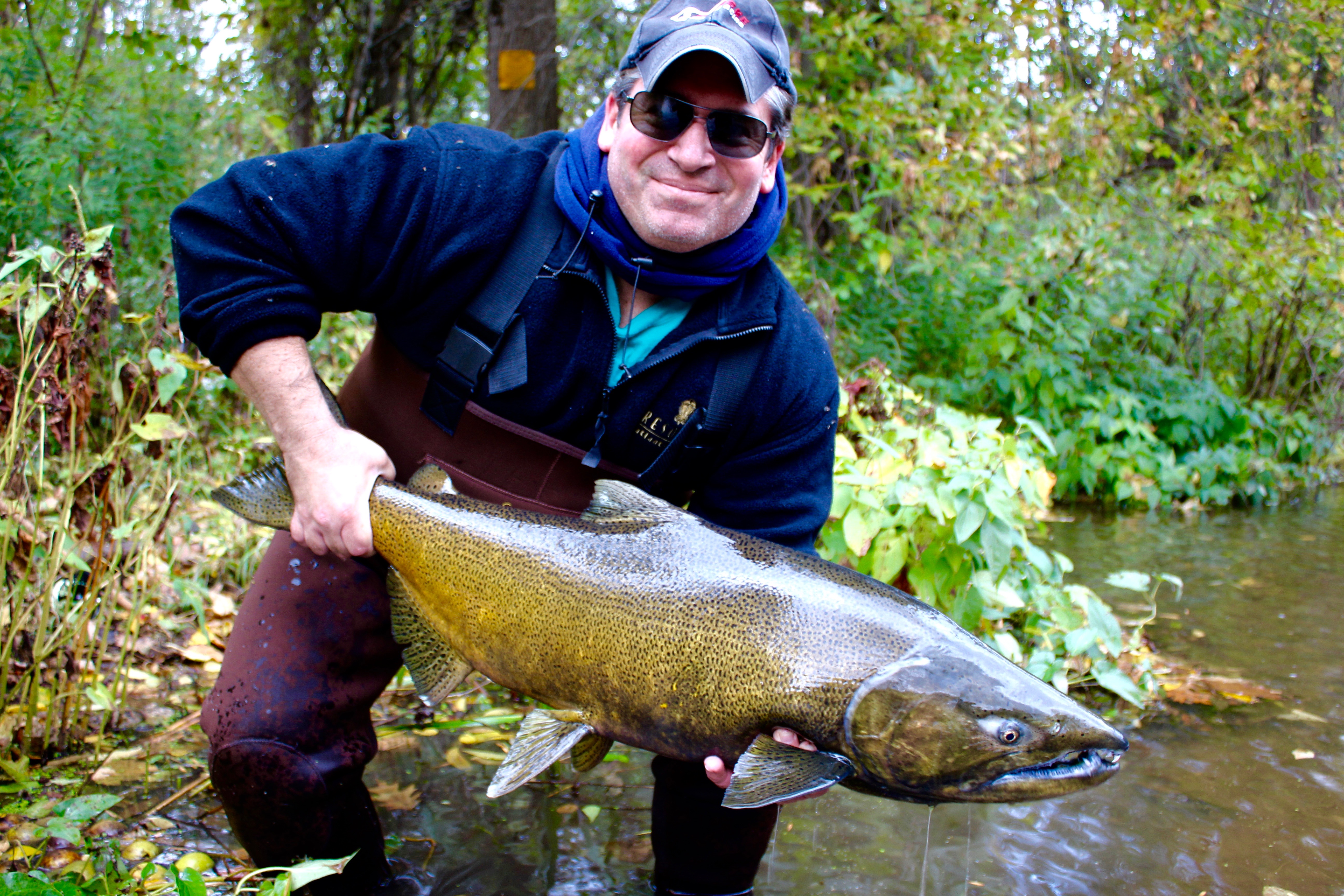 There are some good sized kings around!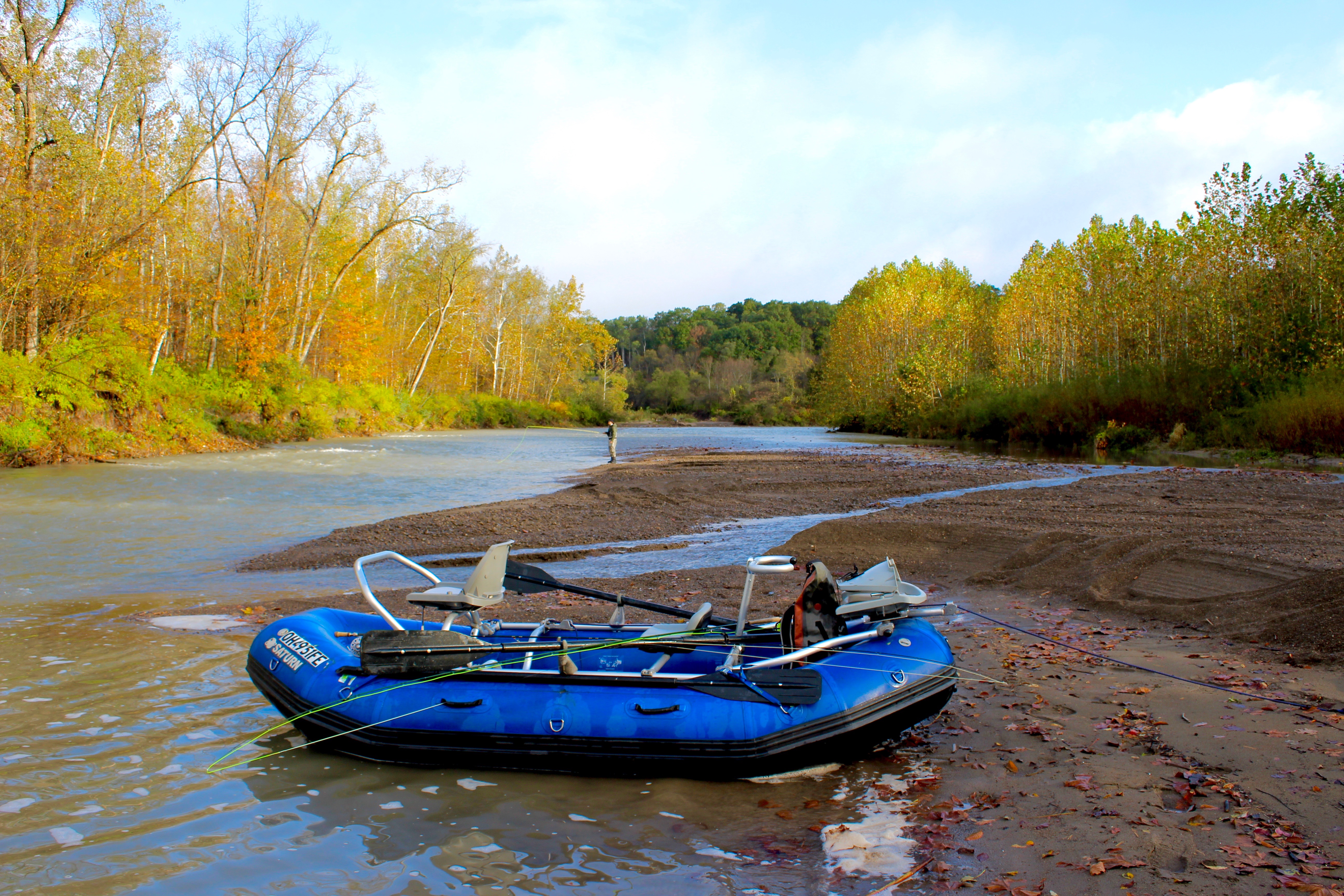 Fun with the raft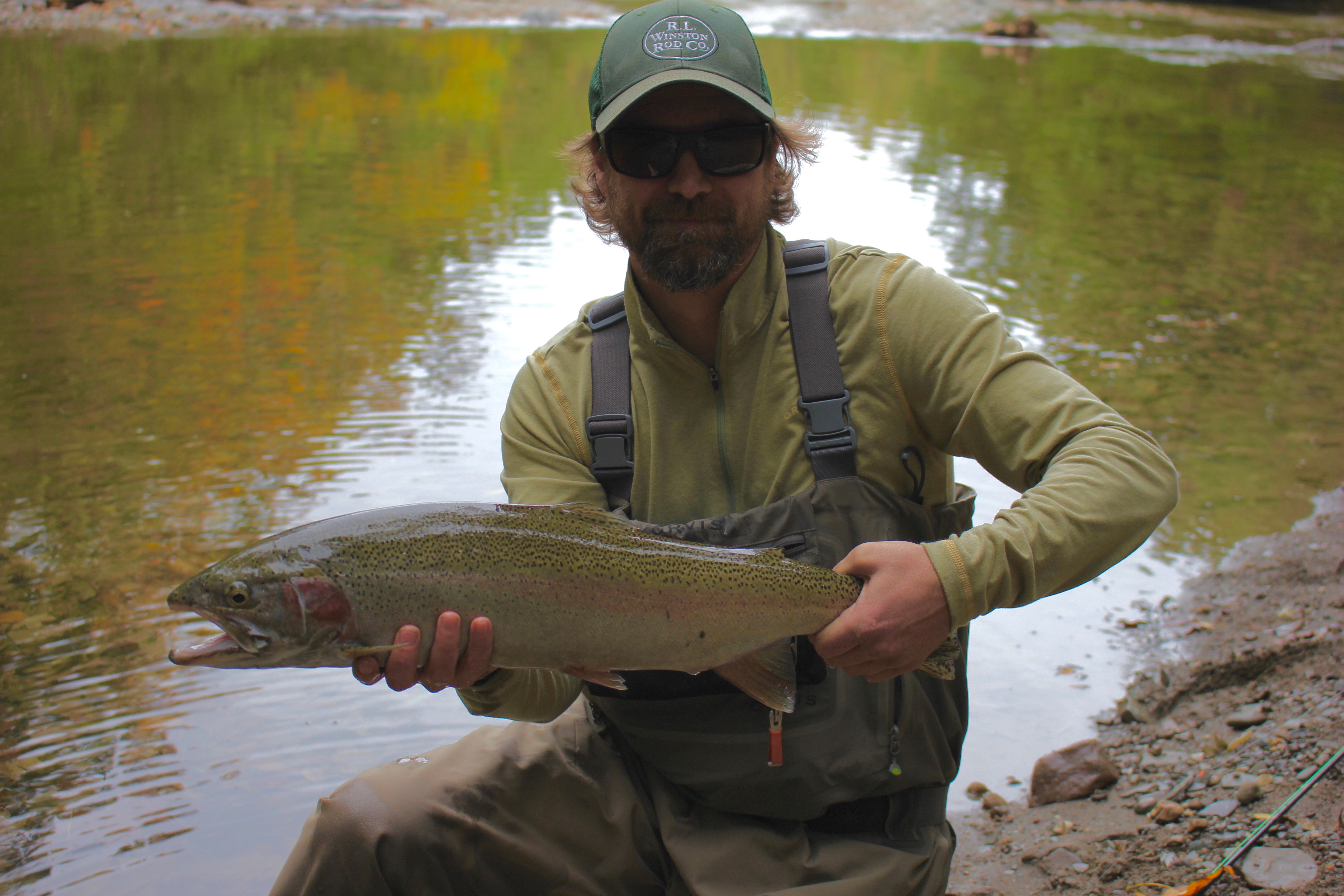 Matt with a fresh fish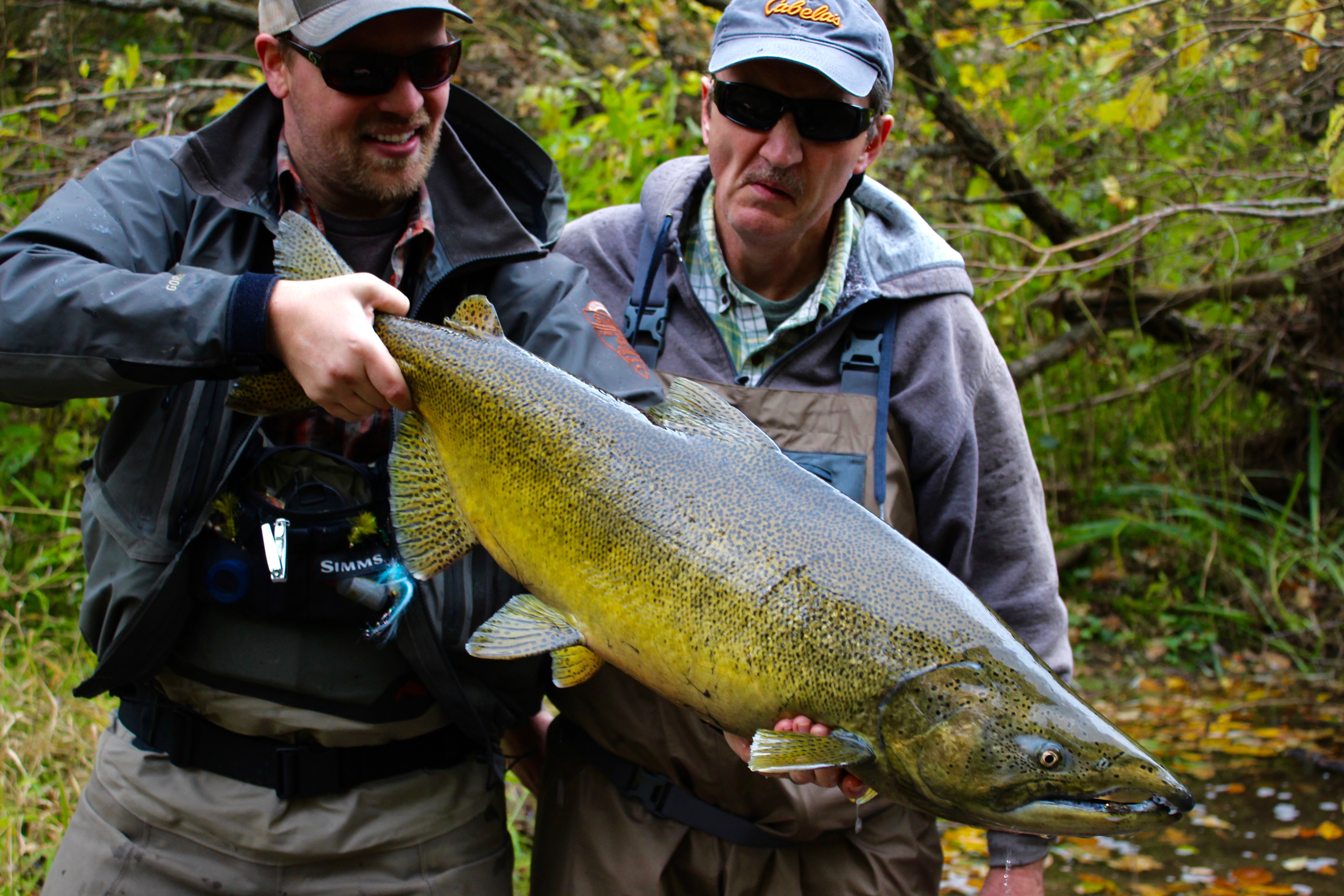 Another big king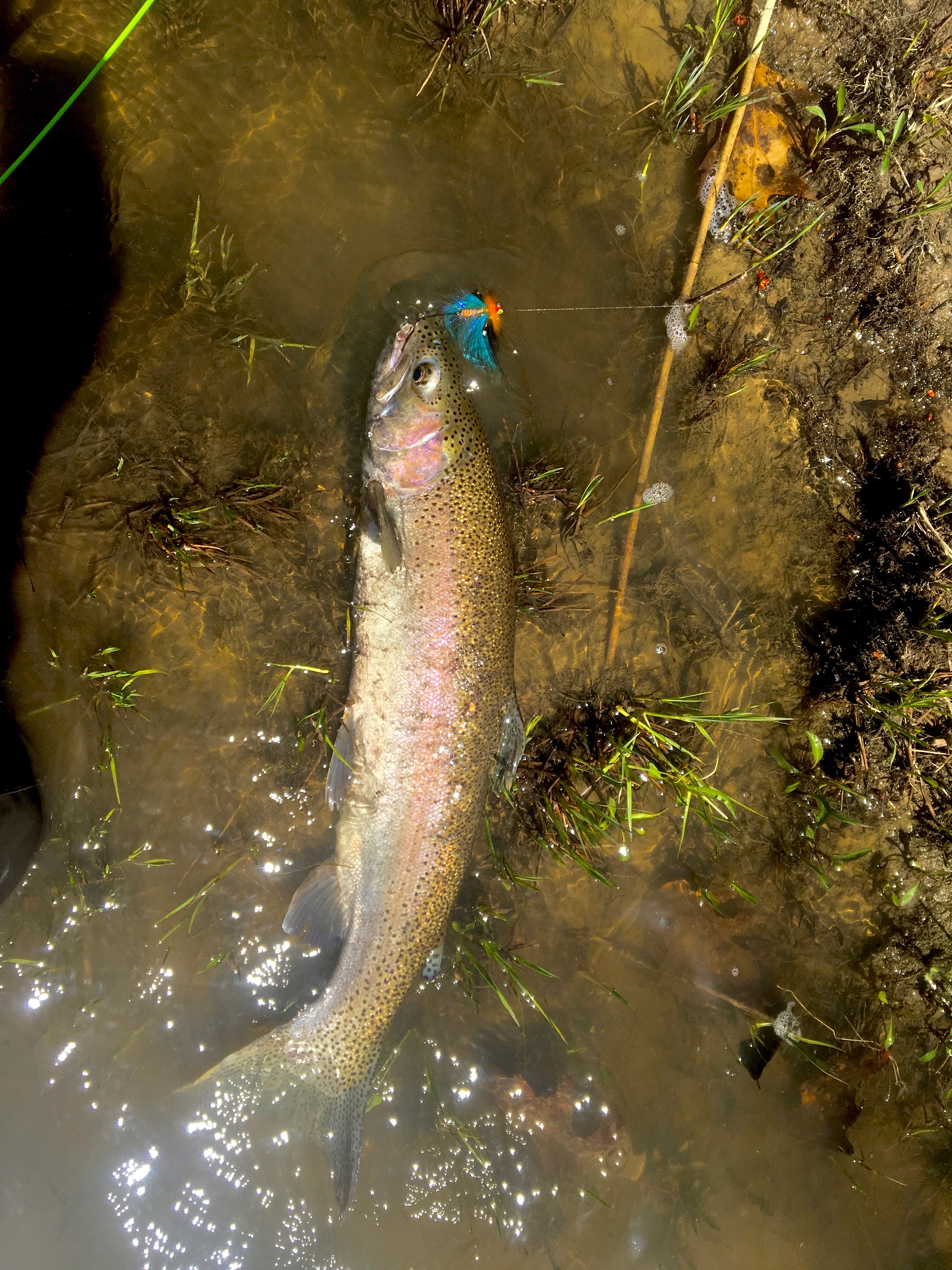 A nice 28" buck from the Grand
Well, better late than never... unless we're talking steelhead haha. The cool temps that have persisted in the area mean we still have high numbers of steelhead in the rivers, though each day now numbers are dropping. The grand is really shining right now in terms of steelhead fishing. Good, higher flows that have decent visibility means great spey fishing. Most fish we are catching now are colored up or dropping back, though there are still more than a few fresh run, chrome fish. Looking ahead, we are getting to the point that water temp is going to start being an issue for steelhead. Today is forecasted in the upper 70's, while tomorrow should be above 80. Water temps right now are pretty consistent in 50's, but with a few warm days in the mix, that will rise.
But we do have rain and some cooler temps on the way the end of this week and sporadically next week. So this should mean steelhead will stick around at least through next week. Again, just be mindful if it's a warm day. This weather will move in a lot of smallmouth though, so fishing to slow water log jams can be an exciting way of weaning off steelhead haha.
Pennsylvania trout fishing is starting to pick up in earnest. Matt has been hitting the central PA trout rivers like Spring Creek, and is gearing up for a hosted trip to Penns in two weeks. Good grannom hatches are occuring almost daily and the wild browns are starting to take notice. We should have great trout fishing for the next two months or so!
All in all, nows a great time to get outside and explore!
Tight Lines,
 - D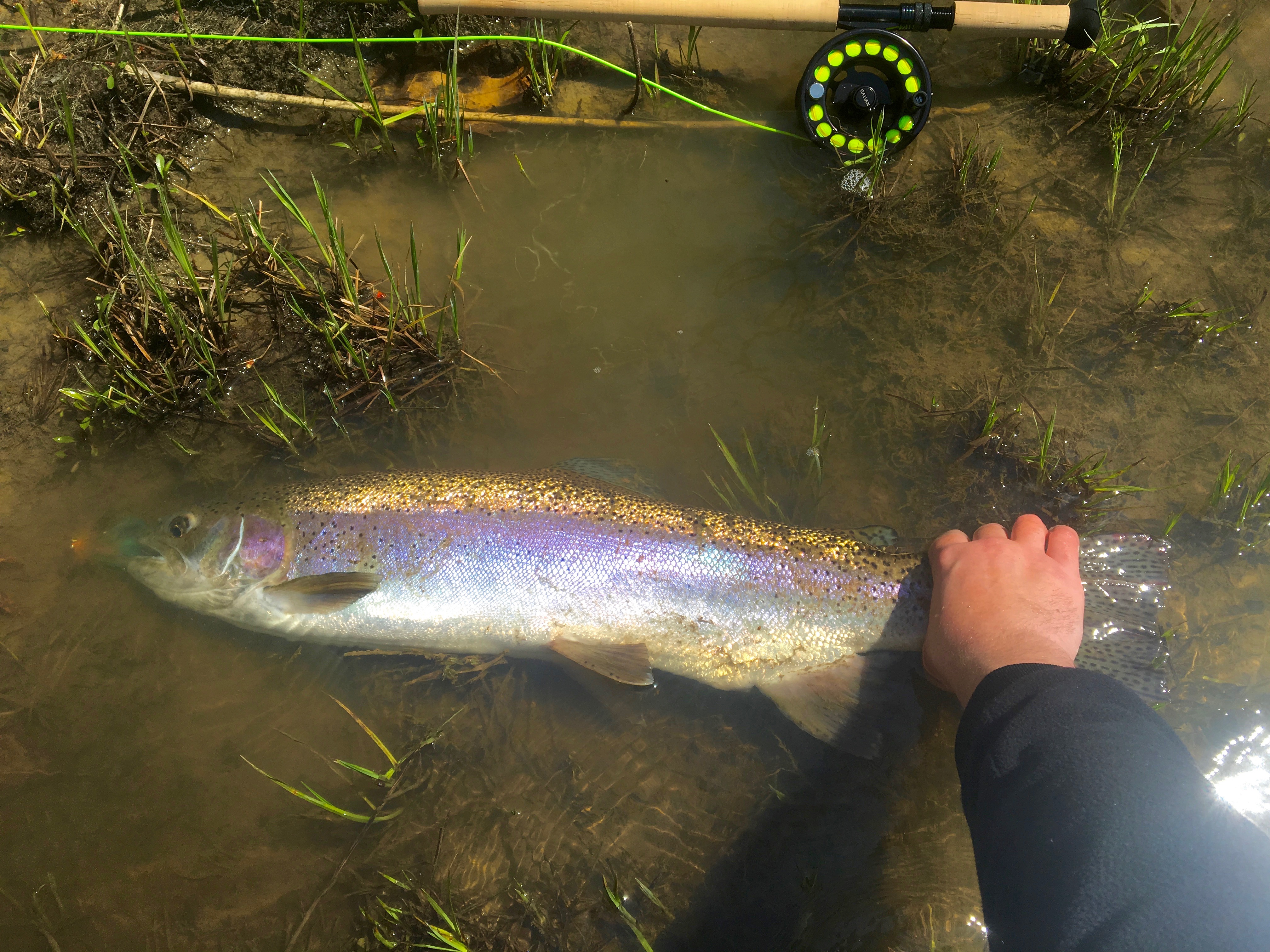 30" Grand River hen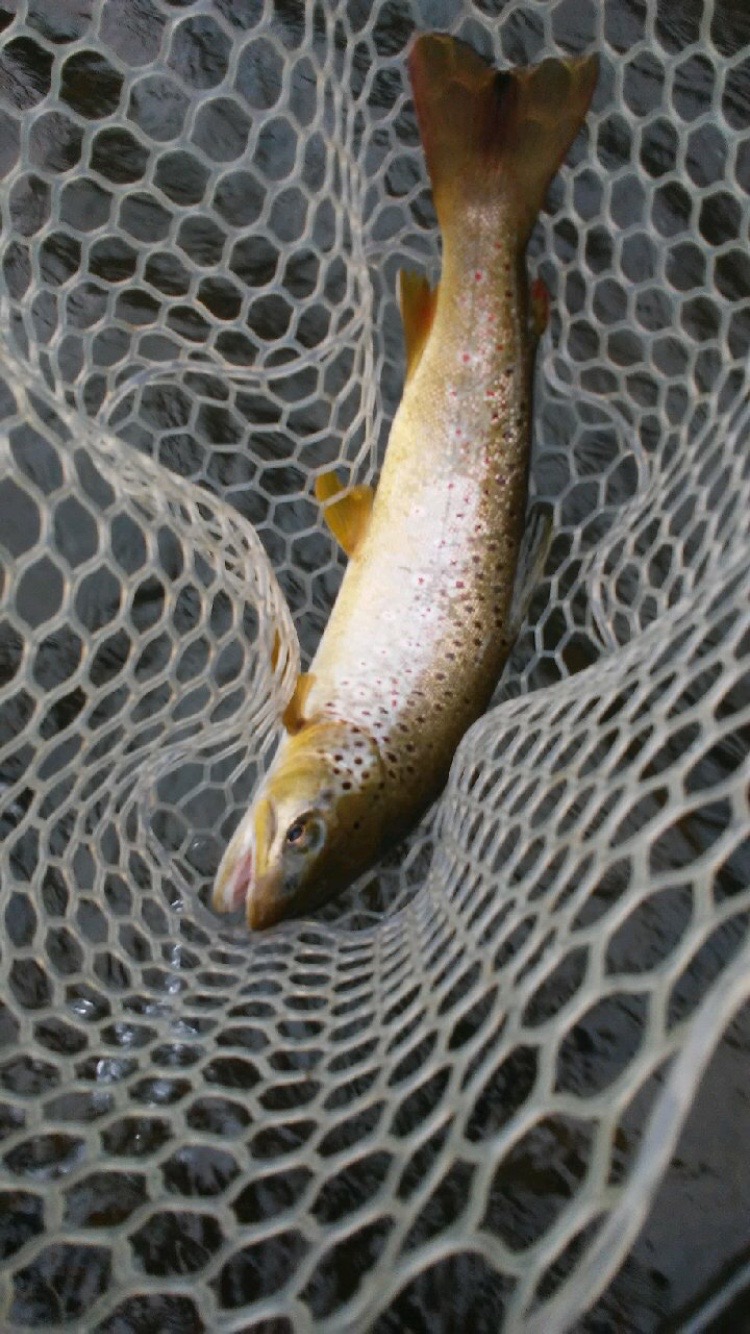 Spring Creek brown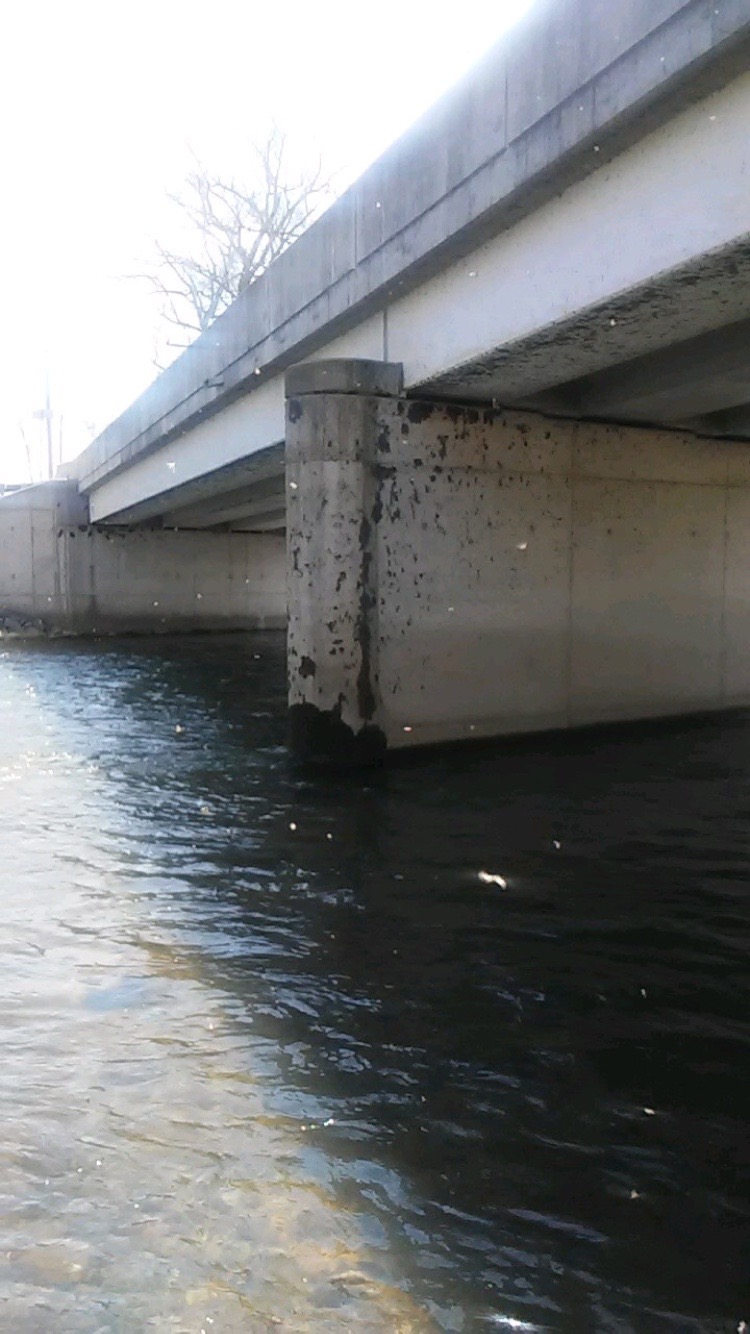 Heavy grannom hatch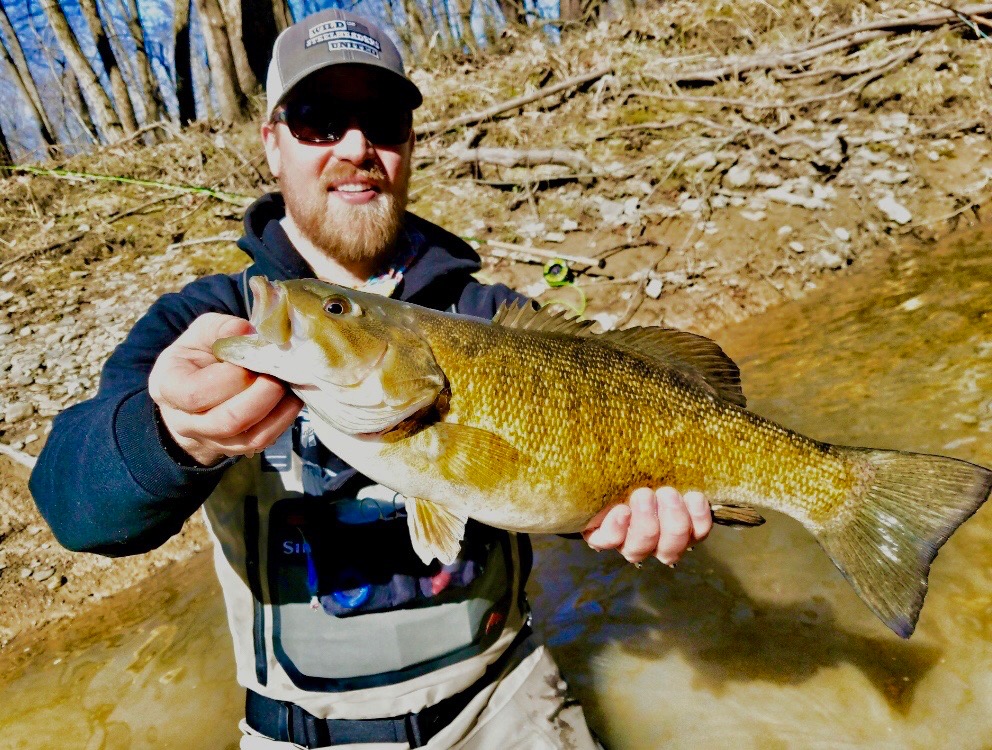 That time for giant smallmouth!
Well we found the first smallmouth of the season. That means one thing: the end of steelhead season is in sight. Though looking at the forecast and how things are progressing, I think we still have a few weeks left, and the rain and cool temps should bring in at least one more push of fresh fish, days are numbered. But don't get too down on yourselves just yet. Smallmouth are super fun targets to swing for, and will take pretty much the same patterns with the same techniques. These lake run smallies usually run 3-5 pounds, but can tip the scales even bigger than that! And they put up a great fight! So if you haven't started targeting these awesome fish, May and June is a great time!
Tight Lines,
 - D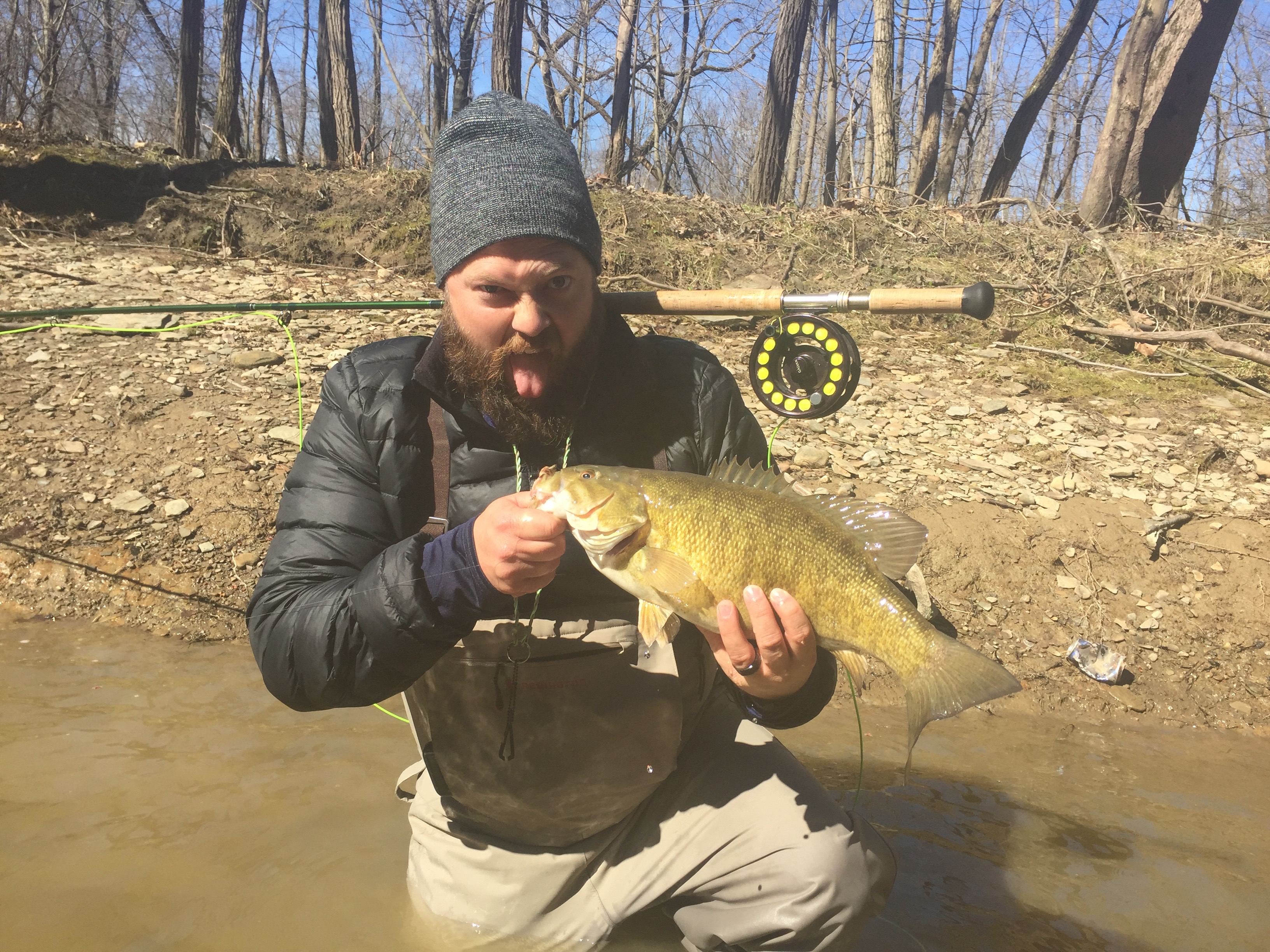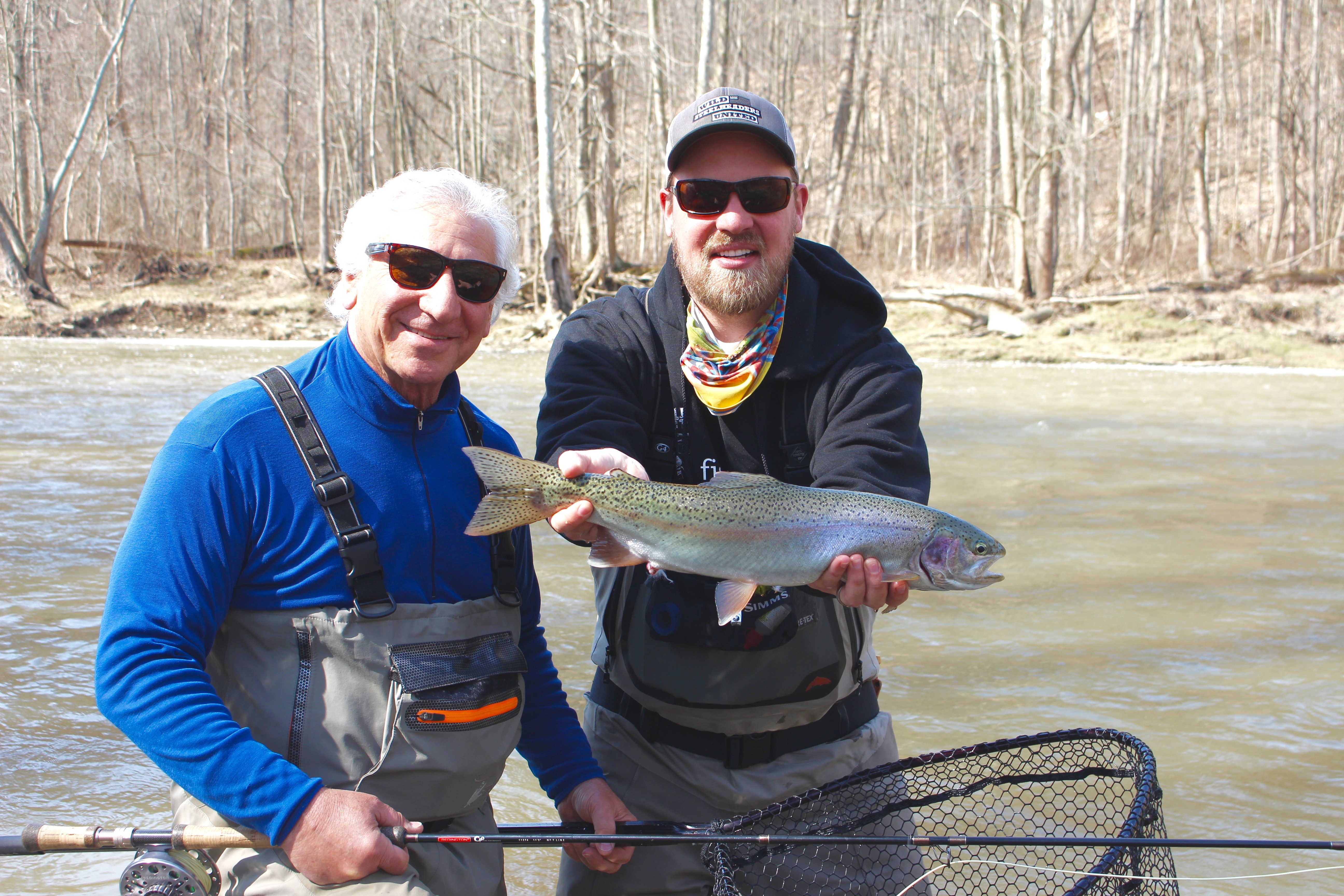 Art with a nice one on the Grand river
The Ohio Steelheading has been very good this week.With fish caught on the swing and egg paterns.The weather has been all over the place but the fish are still bitting! This last week was a really nice tour of the all the east side drainages and we caught fish in every single main watershed east of Cleveland- including on the mainstem Grand despite the lower visibility. We should still have three, maybe four good weeks left of steelheading!
Good Fishing,
Matt-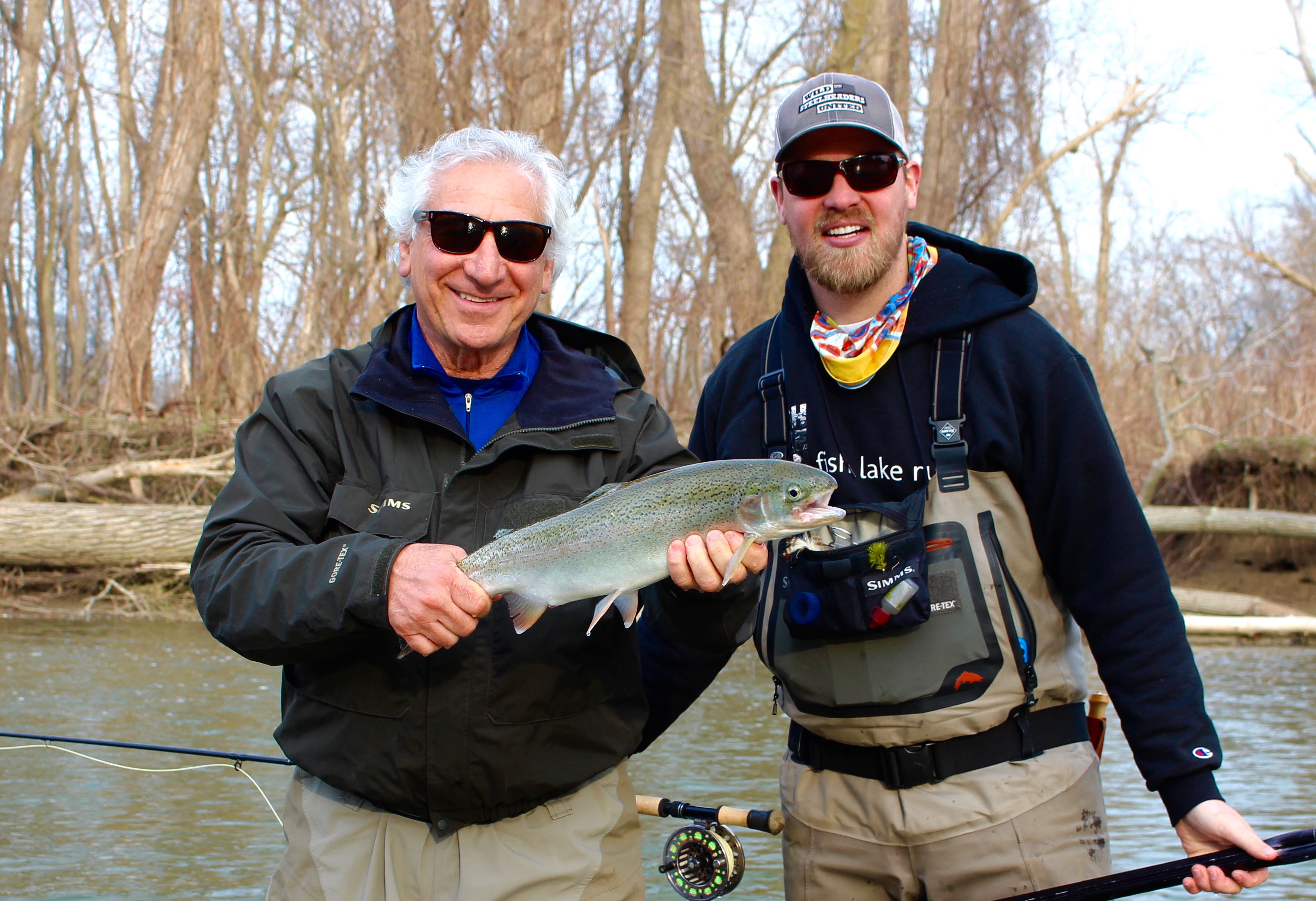 Art with one from the Chagrin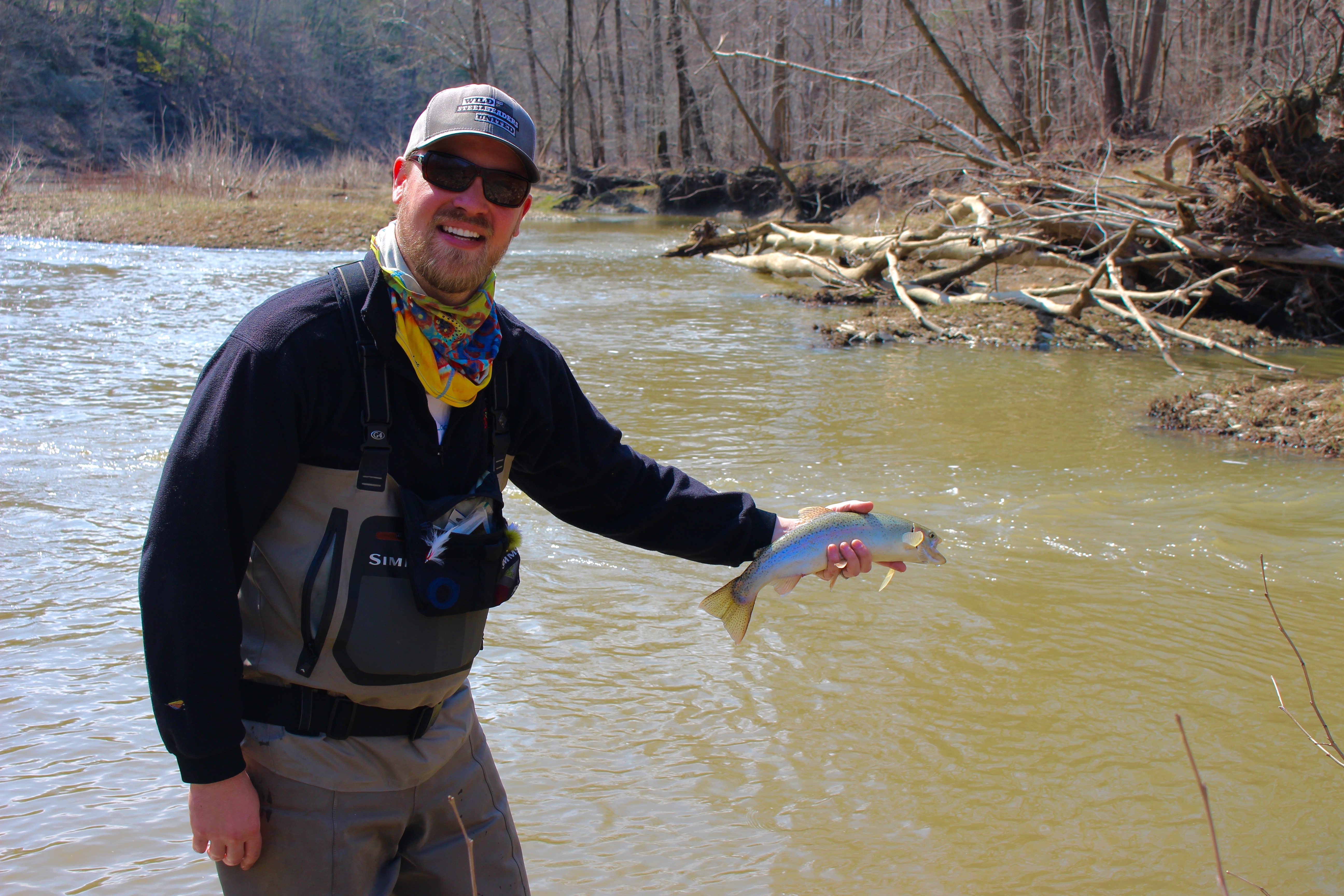 Daren with one from the Grand
/