Shopping Cart
Your Cart is Empty
There was an error with PayPal
Click here to try again
Thank you for your business!
You should be receiving an order confirmation from Paypal shortly.
Exit Shopping Cart
Guided Fly and Spey Fishing Trips for Steelhead and Brown Trout with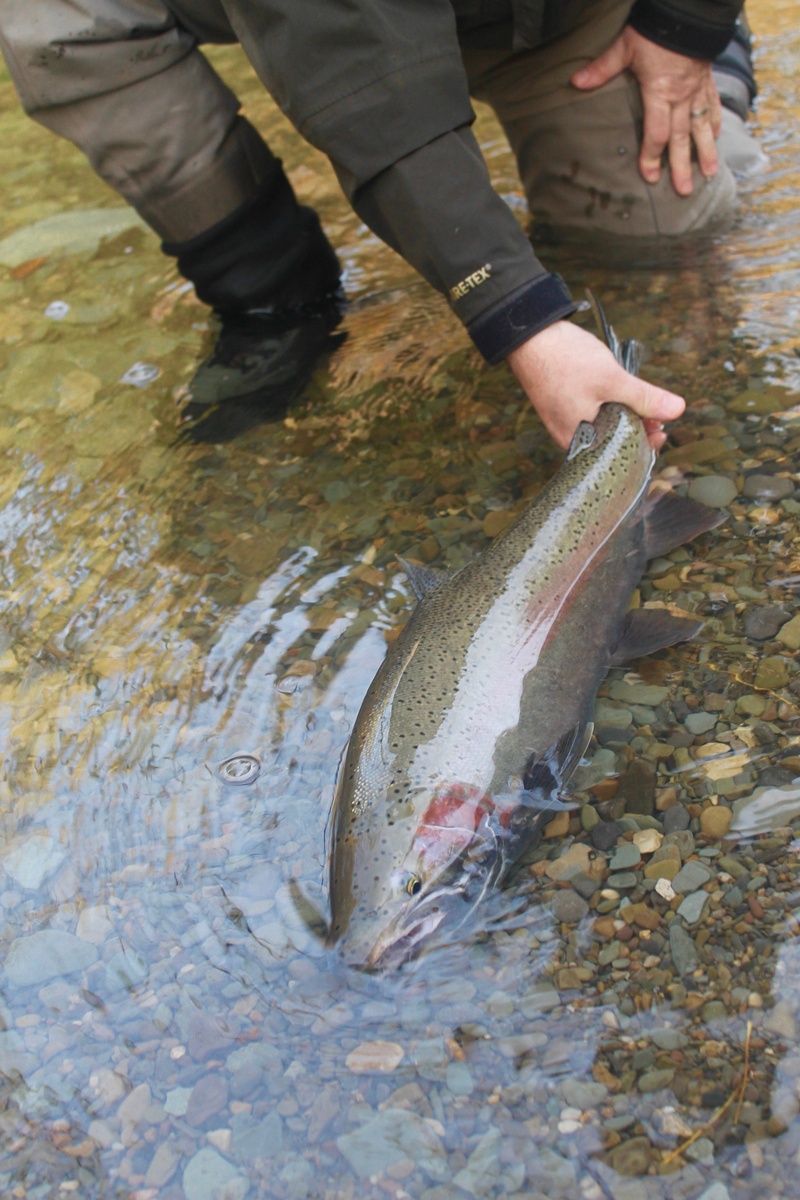 Good fish handling: keeping a fish wet and slightly upright for a nice pic. If the fish kicks, it'll swim away unharmed.
Everyone talks about this topic. But it seems like every time I go out, I see people mishandling fish. So gonna beat a dead horse anyways. It is really important that we handle our fish in as safe and careful a manner as possible. Especially when fishing smaller systems, where a fish can be caught several times over the season. While catch and release mortality remains low, mortality from catch and release can almost always be attributed to improper fish handling tactics. So here are a few tips:
1. Use a landing net or tail a fish in knee deep water when possible. Beaching a fish can result in the fish flopping around and injuring itself, especially hitting its head. A study on steelhead in BC found that almost all mortality from catch and release when fly fishing occurs when the fish thrashes in the shallows and hits its head. The fish would swim away strongly, but the radio trackers would find it washed up dead later. So be careful. If you do need to beach a fish, look for a spot with a sandy or pea-gravel substrate and no large rocks if possible.

2. It's okay to take pictures. Everyone loves a good fish pic. But make sure you minimize the amount of time the fish spends out of the water. Remember, they are gassed. They just struggled as if their life depended on it and exerted a ton of energy. They need to be sucking down some water to recharge. Having the fish out of water for long periods of time increases the risk of mortality. If you want a nice pic holding the fish up, have your buddy get ready for the shot, then just quickly lift the fish. Shoot to have the fish back in the water in a couple seconds. Keeping the fish in the water is another option, that really adds a nice aspect to the shot.
3. Spend the time the fish needs to be revived. It's actually nice to cradle such a beautiful fish and spend time with it in the water. That's what the whole experience is supposed to be about. It's not just for the pic or the fight. You caught the fish, now you need to spend however much time the fish needs to be properly revived. They'll let you know when they're ready, and will kick away strong.
4. And for the love of God, keep your hands out of the gillplate. Lately, I've seen this a lot more than I can remember: FLY ANGLERS lifting a fish by the gillplate. And judging by their technique, gear, and general appearance, these are anglers who should know better. There have been some pics going around the web showing off BIG fish this year, and one way anglers are holding them is with the gillplate-tail grip. This may look good in a photo, but it hurts the fish. The oils and salt on your hands harms the gills and the angle of lift causes the head of the fish to arch upward, straining the neck and back. None of these things are good things. Is it going to kill every fish? Probably not. Can it hurt them? It sure can.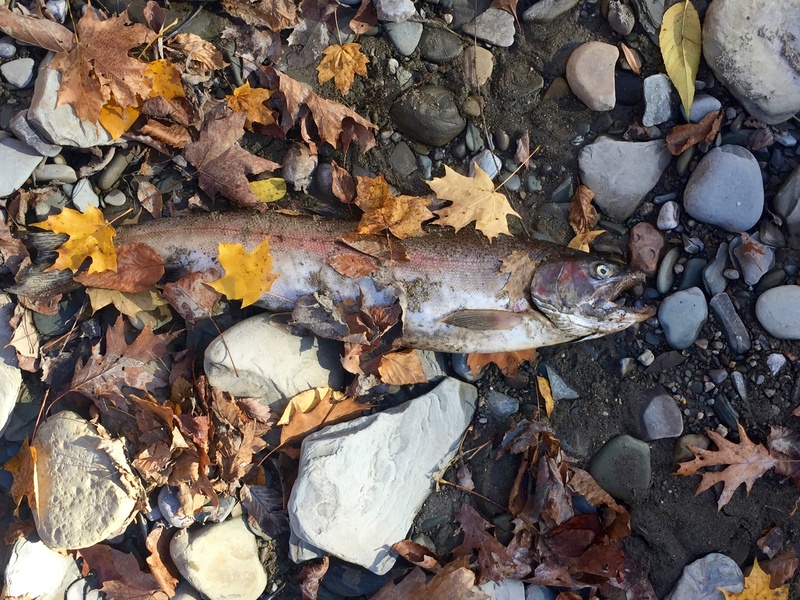 Poor fish handling can cause death after release. We found this guy in a catch and release stretch where bait can't be used. Careless fish handling is likely to blame for mortality.
Final thoughs- have fun out there and be nice to our finned friends. They really are super cool animals, and it's a privilege to fish for them. If you see someone carelessly handling a fish, it's always a good thing to give them a few pointers for the future. We were all noobs once. But it shouldn't be anything to start an argument about. Some people just don't give a shit, and that's sad. But the people that do are generally greatly acceptive and appreciative of pointers.
Tight lines
 - D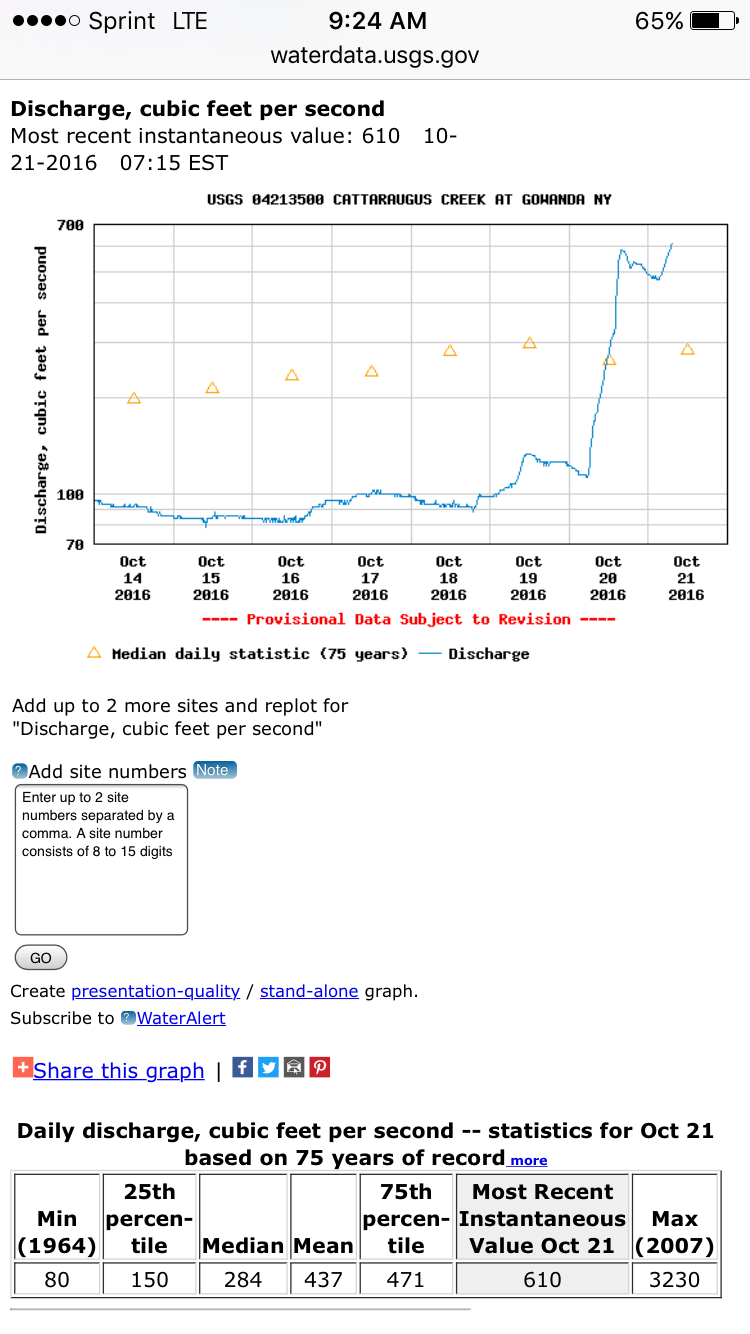 The Catt at Gowanda!
The Grand in Ohio!
Ladies and Gentlemen, after one of the driest late summers and early falls in the last decade, finally our rain dances have been answered. We have a major weather system moving through the area right now, dropping significant percipitation and plunging temperatures as it goes. Looking forward, we have rain on and off for the next two weeks. Expect this system to trigger a big push of fish, a push bigger than any seen to date. Though the Catt has been holding fair numbers of fish, a significant run has yet to present itself, and all the smaller creeks in the area have only handfuls of fish spread over the lower reaches.
With this rain, the Catt in New York and the Grand in Ohio will likely spike up well into the thousands CFS flow, and will be offline for some time. To counter this, look to the smaller creeks, especially Pennsylvania creeks or western Lake Ontario creeks. Visibility of more than 10 inches, which though far from perfect is what I consider baseline fishability, can often be found on some of the smallest creeks hours after a significant rain event, and mid-sized creeks are generally fishable the next day. Look for dropping water, a good sign is piles of leaves on the bank well above the current water level. Fish larger patterns. If you still use want to indicator fish, hot orange, red, chartreuse, or a mix of those colors in patterns tied around the size of a nickle have been solid choices for me in low visibility. And fish in tight in back eddies near the bank- where the water swirls and flows upriver. In murkier water, fish will stay out of the main flow waiting for the visibility to increase before moving on.
Judging by the spike on the Catt right now, look for her to drop back into prime shape if there is only sporadic showers over the next few days by Monday or Tuesday. Currently she is still spiking up, but due to the low water tables and dry conditions, this may run off quickly. If we do continue to see moderate to heavy rain on and off over the next few days, it may take until Wednesday or later for her to drop down to good fishing levels. But when she does, expect high numbers of fish up to Gowanda.
So get out and enjoy the beautiful weather while targeting some other creeks in the area. Fishing in high water conditions can mean solitude, and a chance to hook a toad, like this 32" 12-13 pound buck Noel caught.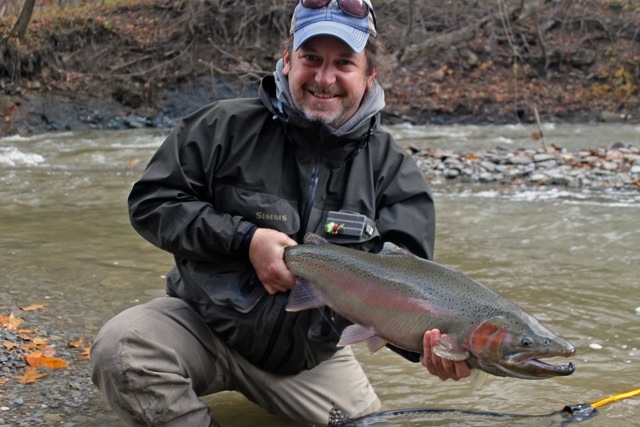 Tight Lines
 - D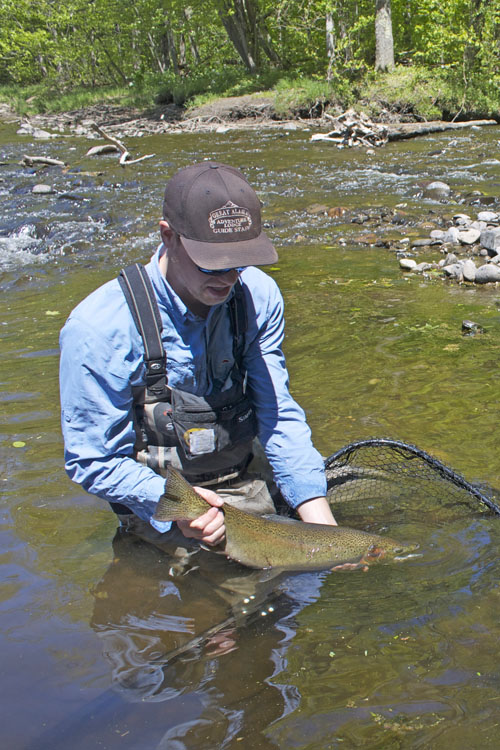 This steelhead crushed a muddler fished on top through a heavy riffle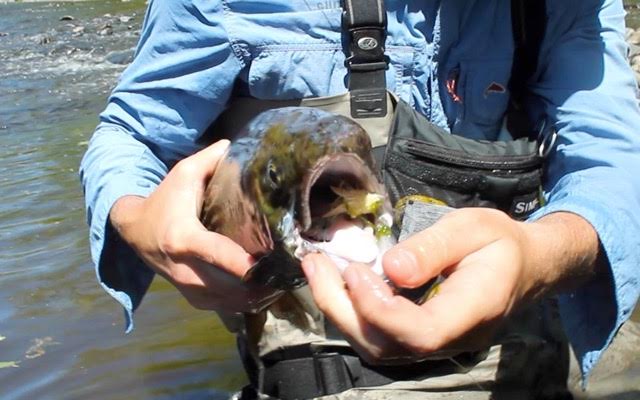 Down the hatch! (Not to worry, the point was on the roof of the mouth away from the gills :))
In western New York, we are blessed with some of the best fall fishing for steelhead in the country. Each year while the weather is still pleasant, and water temps are good for active fish, fly anglers hit the creeks and rivers. Most are armed with indicators and egg patterns or nymphs, and some with sink tips and streamers. But one technique I don't often encounter is someone fishing a floating line and long leader.
It occurred to me that I've been writing a lot lately of chasing steelhead on the Catt with a floating line. But I haven't really posted any tips or tactics for anglers looking to get out there and fish without slinging shot or heavy sink tips. So sit back, enjoy the ride, and learn all that you need to know to properly fish the surface. But be forewarned. Fishing a floating line is not a numbers game. It is a quality game. You have to be dedicated enough to forego changing to a much more productive method after a few hours without action. If you think you can, keep reading!
First and foremost, there are three main methods I use for fishing a floating line on the surface. They are:
2.)
Dead Drifting or Indicator Fishing with Dries
3.)
Fishing Muddlers through the riffles
To be successful on a floating line, you need to know where, when, and how to use each technique. But even before you begin to select technique, you must know water temperature. When I fish a floating line, I am looking for water temperatures at least in the low 50's. Though it is not impossible to rise a fish in colder water- and I've seen fish come up in water as cold as the low to mid 40'-  the colder the water, the less metabolic activity the fish will have. Therefore the fish will be less inclined to move for a fly. But also be mindful of the other end of the temperature spectrum. Water temps of 65 and over are getting close to the maximum temperature threshold of an adult steelhead, and with sustained energy exertion (such as fighting a fish), mortality rates drastically increases. So just be mindful. Now onto the techniques.
Skating a dry fly is one of the coolest ways to fish for steelhead. Like all surface methods, you must be very specific in the locations you apply this techniqe. Our steelhead in the Great Lakes are generally less likely to move a great distance for a fly. So a good rule of thumb is take the dry fly to the fish by fishing in a location that places the fly as close to a holding fish as possible. I look for three main locations: choppy runs between 1 and 3 feet deep; the extreme heads of pools well above the bucket; and the extreme tailouts of pools just above the lip. These locations are generally shallow enough that even fishing a dry puts the fly within a foot or two of a holding fish. Start out by fishing from a position well above the area you want to cover. Use short casts at first, keeping the rod tip high. The goal is to fish the fly first like a skittering caddis across the chop. Then after each cast, lengthen up and drop your tip a little. By the end you should be getting a smooth and even wake as the surface chop calms. The pattern you fish will determine just how heavy of water you can fish- the bushier the pattern or patterns tied with foam the heavier the surface chop they can be fished in. I tend to fish leaders between 12 and 15 feet tapered down to 8 pound, but sometimes 6 pound fluoro. If you are lucky enough to rise a fish, the most important thing is to wait for the fish to turn on the fly before you set, or you'll likely pull the fly out of the fishes mouth. After a second or two, the line will begin to tighten up, signalling that the fish has turned away. Now is the time to set hard and downstream at a low angle. Good patterns are large october caddis flies with orange abdomens, yellow or orange stimulators, humpys, bombers, and ska-oppers. I look for flies from size 6-12, depending on the size of the creek I'm fishing and the water clarity.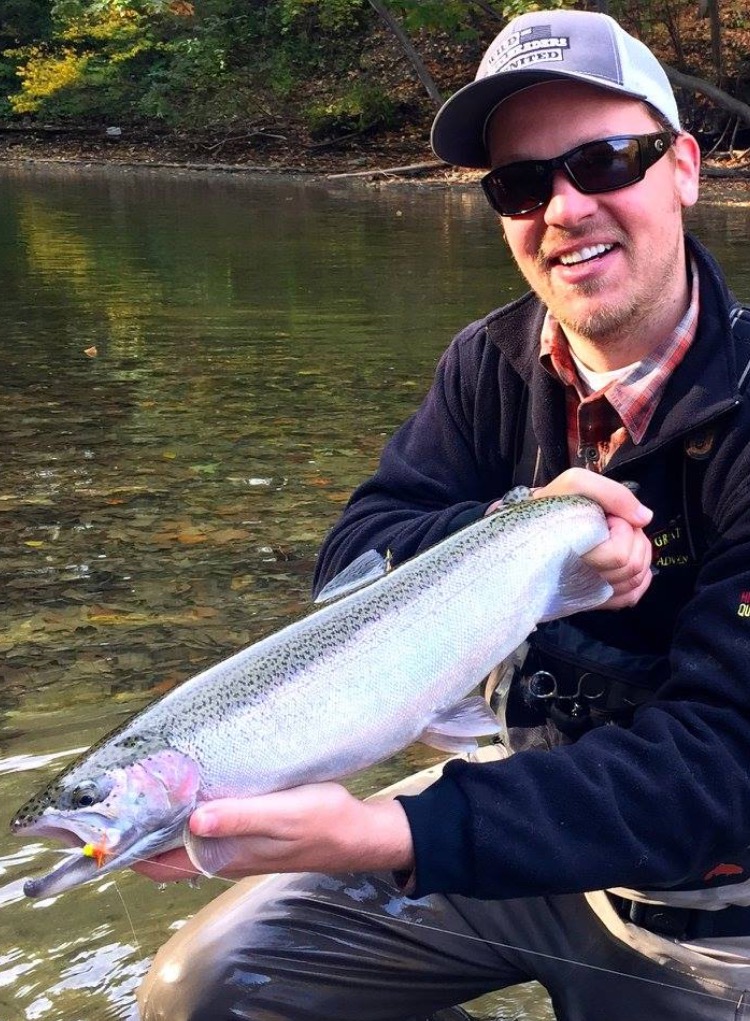 Last year, good friend and longtime client Art Sandler took this beautiful fall steelhead on the dry fly indicator


Next is indicator fishing or dead drifting dries. This is pretty straight forward. Look for glassy pools with water between two and four feet. Often fish will be visible in this situation. A good indicator that the pool is a good candidate is fish suspending off the bottom. The higher off the bottom, the better your chances. Fish your fly like you would dry fly fishing for trout, or indicator fishing for steelhead. Approach from the extreme downstream of the pool, keep a low profile and cast up to the fish you want to fish. Cast so your fly will drift over the fish, but your line won't, as fish are going to be very spooky in these conditions. One thing you can do is to add a clear floating polyleader between your leader and the fly line. This will add an additional 10 feet or so of clear line that is less likely to spook the fish. As you work your way upstream, begin letting the fly drift down below you and swing out. Often a fish will show interest in the fly by following it. If this happens, target that fish specifically and downsize your pattern after each drift. I use leaders between 10 and 12 feet, and good fly patterns are caddis flies, stimulators, humpys, and the indicator fly (a chartreuse and orange deer hair bodied dry fly).
Finally, one of my favorite methods is to swing muddlers on a floating line through heavy riffles. The fish at the beginning of this article took a 3 inch long white deer hair muddler fished on the surface and I can tell you it was the hardest take I've ever felt. Good muddlers to use are white, olive, black, or purple, and between 2 and 3 inches long. When fishing heavy riffles, start well above the area you want to target and fish at an extreme downstream angle, well below quartered down. You will feel the muddler pop across the surface in the riffle, diving down and rising back up. That's exactly the way it should fish, and you can even add a little extra action by twitching your rod tip on the swing or the hangdown. The good thing about fishing heavier riffles is that fish are well oxygenated and likely to be active. Plus most anglers focus on pools so a steelhead in a riffle has likely seen minimal pressure. And don't worry if you lose sight of your fly during the presentation. A steelhead take on a muddler in the riffles is not a light take by any means. It will feel as if the rod is exploding in your hand.
So if you are looking for a challenge this fall, with lower water and warmer temps, get out and explore the riffles and choppy runs with a floating line. Though it may not be the most productive way to fish for steelhead, fishing a floating line is just too much fun. They are a joy to cast, and just when you least expect it, the nose of an 8 pound fish might poke through the surface. Not many anglers in this part of the country give any serious thought to fishing a floating line on the surface, and if you are lucky enough to see that beautiful sight, count youself amoung the select few. Bragging rights bestowed.
Tight lines
- D 
Unfishable. It's a term that we anglers apply to conditions that are so adverse the likelihood of success has dropped to near zero. It means different things at different times to different people. It can mean the stretch is unfishable, the river is unfishable, or it might be better to stay home and tie flies. But the likelihood of success cutoff between heading out and staying home is different for anglers. Most people consider the very top end of fishability on the grand to be somewhere around 700cfs. At those flows and above, you will likely have most the river to yourself if you do decide to swing the big water, especially if the other area creeks are prime.
This morning the grand was flowing at 1170 cfs and between 8 and 10 inches of visibility. Far frome prime, but I got a long head scandi line for my bamboo spey rod and wanted to try her out on the big water. She cast slow and beautifully, but the line couldn't turn over a tip heavier than 7 1/2' of t-11. And the grand needed more like 10' of t-14. So I strung up a 12'6" 6wt graphite rod and started chucking the heavy tip.  There are places on the grand where even flowing at over 1000 cfs and limited visibility, I would say that I have a legitimate shot at getting bit. The first place I fished, I got smashed in a slow water seam below an island, but didnt hook up. It was a tough long cast to the far bank while standing in waist deep water, but I made the cast and as the line tightened to swing the fish grabbed it. I have to say, I was surprised at the fury of the take, considering the water temp must have been in the upper 30's.
After fishing out the stretch without another grab, I jumped in the car and drove lower down to a wide, long run. When fishing high and dirty, many people kill their swing the moment they start to feel bottom. NEVER DO THIS. Fish will sit in water that is a foot deep. To drive this point home, the second grab I got was while stripping in to cast again. The fish took on the strip less than ten feet from the bank in water that at most was a foot and a half deep. Unfortunately I didnt get a great set and the fish threw the hook shortly after coming up to the surface.
When the water conditions are less than prime, stack the deck in your favor. Fish a stretch you know well with a large dark pattern that you have confidence in. Today, both fish took the whiskey hangover. And always, always fish well. Don't get down on your luck of fishing when the conditions aren't great. Remember that looking down into the cloudy water against a dark background does not give a good perspective of what a fish actually sees. They are looking through cloudy water up into a light backrground. To illustrate this better, next time you are drinking a dark beer or a red wine, set it on the table and try to look down through it. Probably cant see the bottom of the glass. But if you hold it up to a light and look through it that way, you can see the top of the glass. It  just goes to show that fish in murky water see better than we give them credit for.Finally, we as anglers learn more on tough days than perfect conditions where we walk in, use the same techniques and fish the same lies.
One last thought: most of my biggest steelhead have come on days when conditions are tough. Think about every big fish story you've ever heard. They all start with "it was pouring rain..." or "the river was flowing over the banks..." or "I went out not thinking I'd hook anything...". There's a reason for that. Big fish like big water and cover.
All in all, two grabs in unfishable conditions isn't bad.
Check out the flex of bamboo-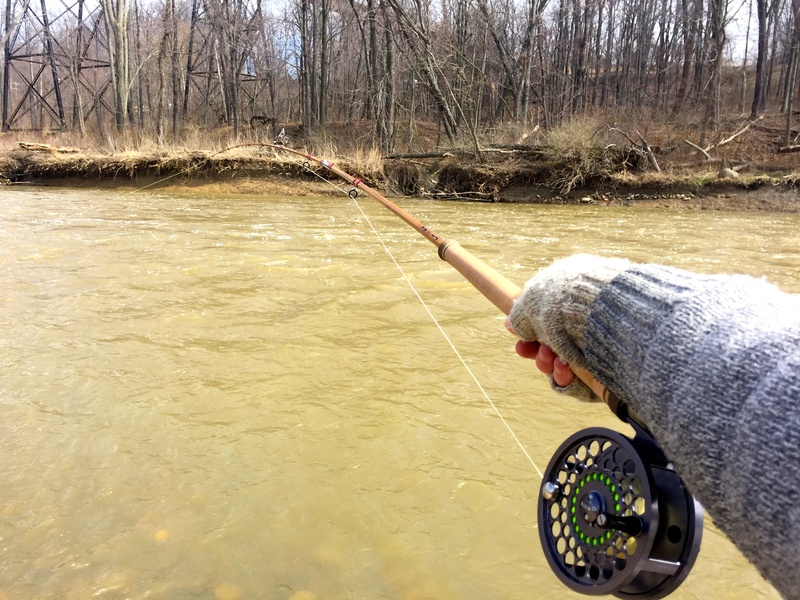 Welcome back to Fish Lake Run! After what was a mild winter, it looks like spring is just around the corner! January was quiet, and we typically don't fish much if at all. Because we really focus heavily on the swung fly, side ice and anchor ice means cold, cold water and lethargic fish, though most rivers in the area didn't completely freeze over. But things are starting to warm up already, and with how long the last two winters lasted, it is a welcomed relief. In fact yesterday broke 60 degrees! Though we will still have a few weeks of cold temps, it's time to start thinking about spring steel. From the way the winter has been, things are probably going to run a couple weeks early this season. Last year peak spring fishing occurred from mid april through the first week of may. This spring, our Ohio rivers will probably hit their peak sometime around the beginning of april, but with plenty of fish around in march and probably quite a few hanging in the rivers until the first or second week of may. To say the least, we are pretty excited about this spring, and a new drift boat might have something to do with it...
To pass the few cold weeks, I have been working on a bamboo spey rod build! I just finished the last touches on her this past weekend, and I couldn't be more proud! Can't wait to swing up some steel this spring on bamboo!
Check out some pics of the rod build.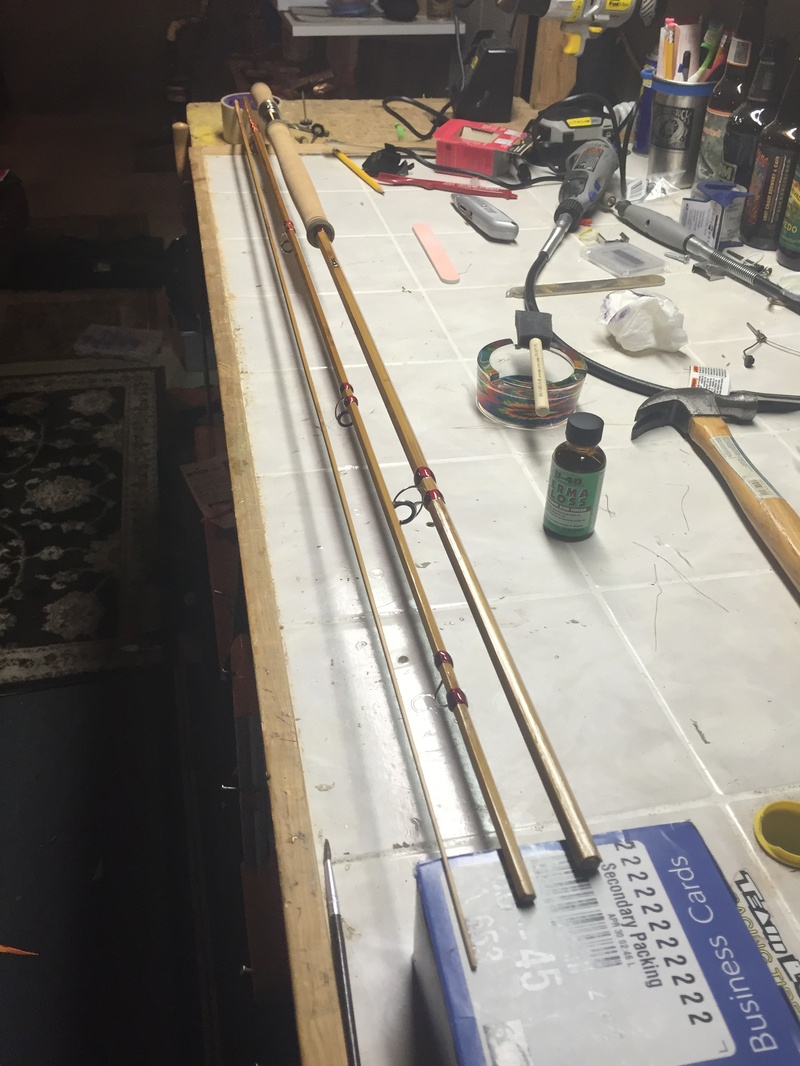 At the workbench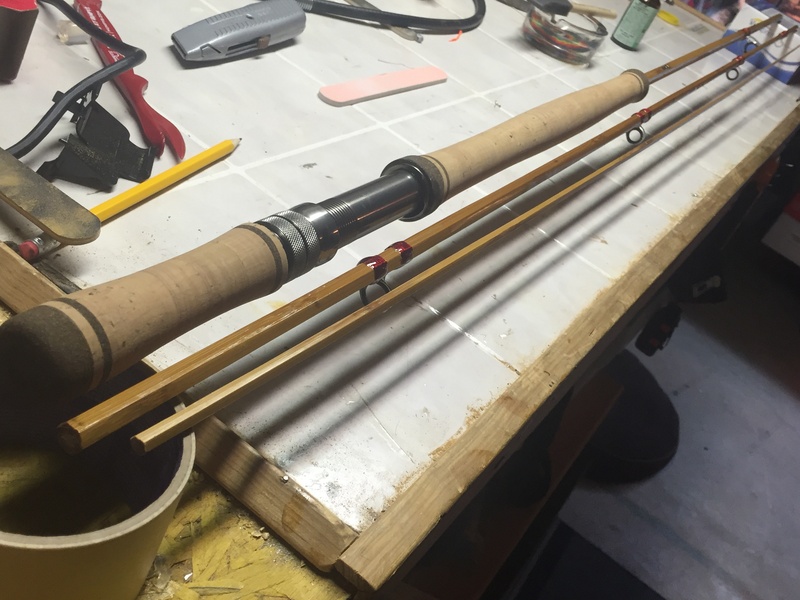 Shaping and fixing the cork.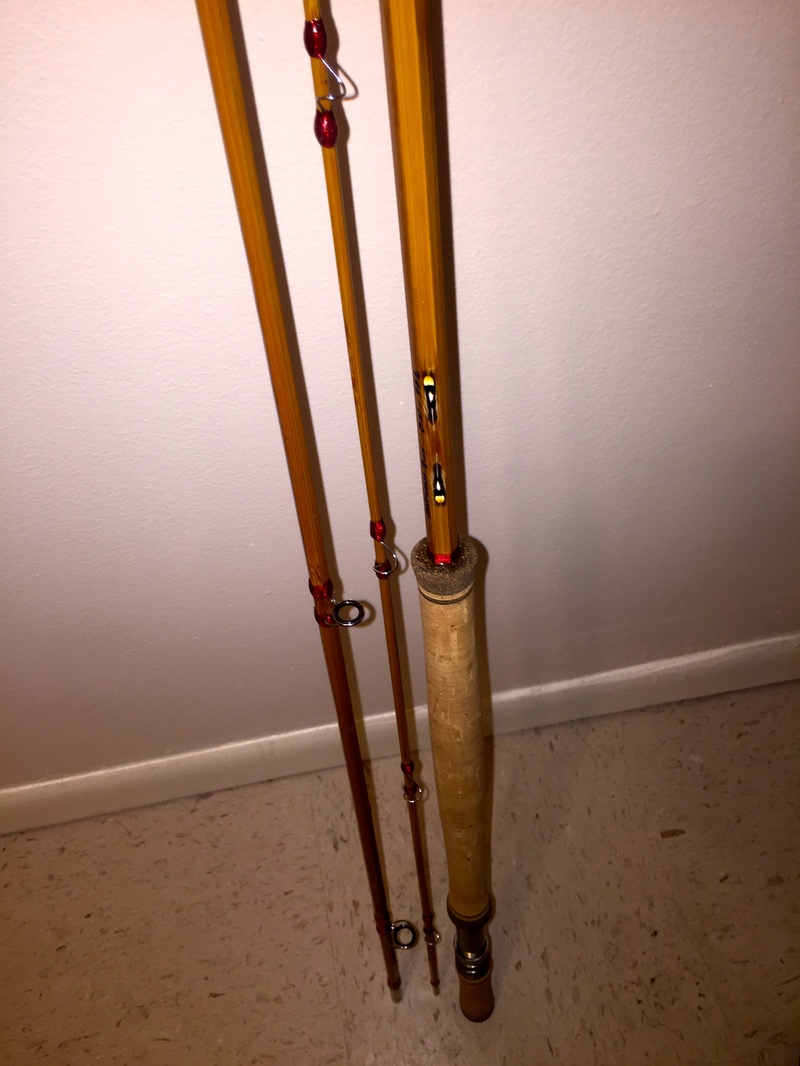 Finished product.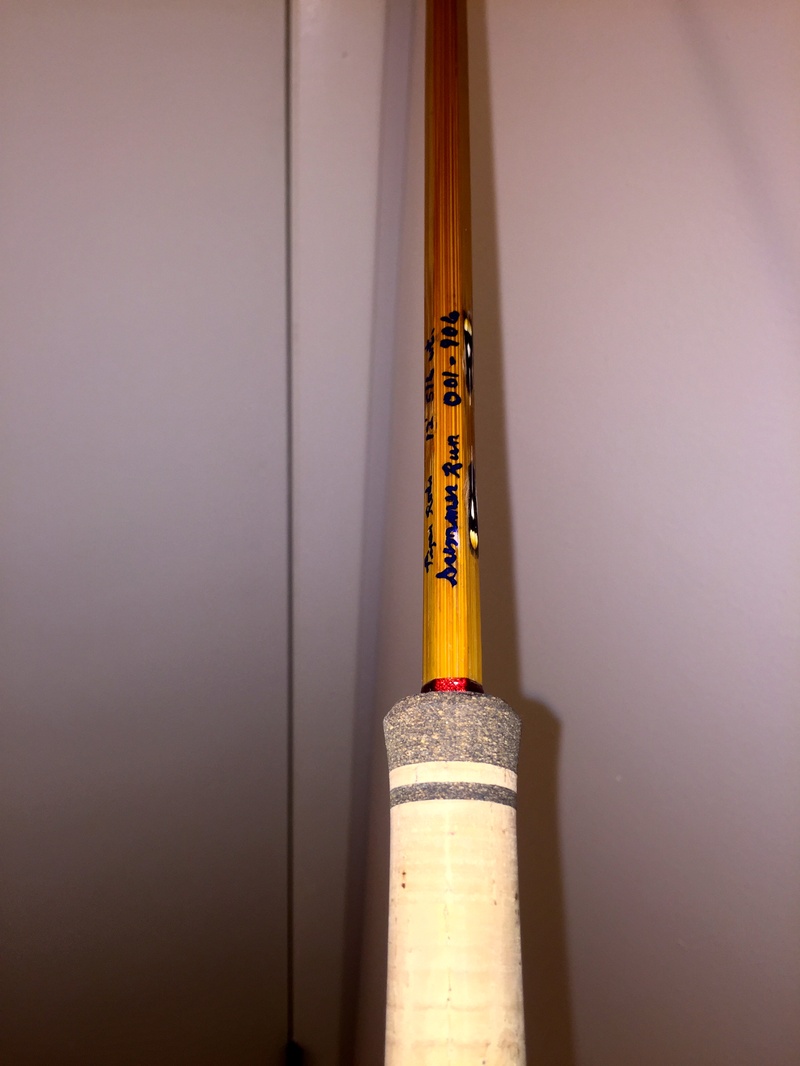 First time painting words...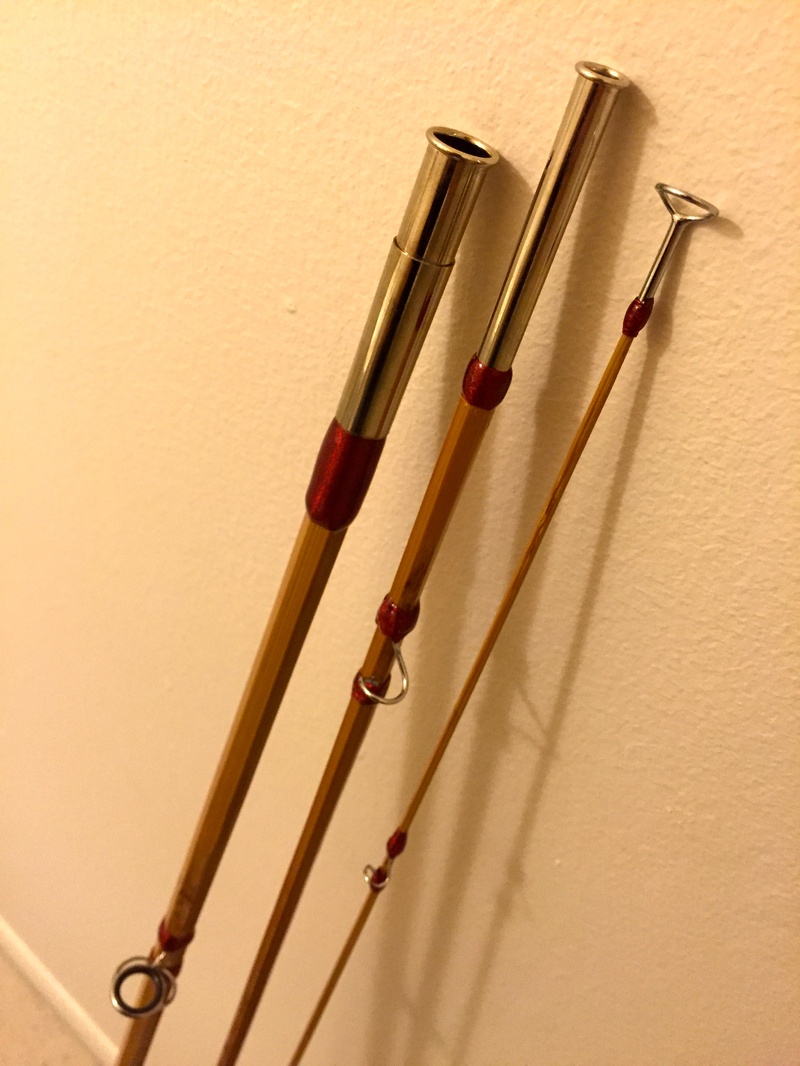 The ferrules.
Check back soon for spring reports and fish porn! Wont be long now!
-Daren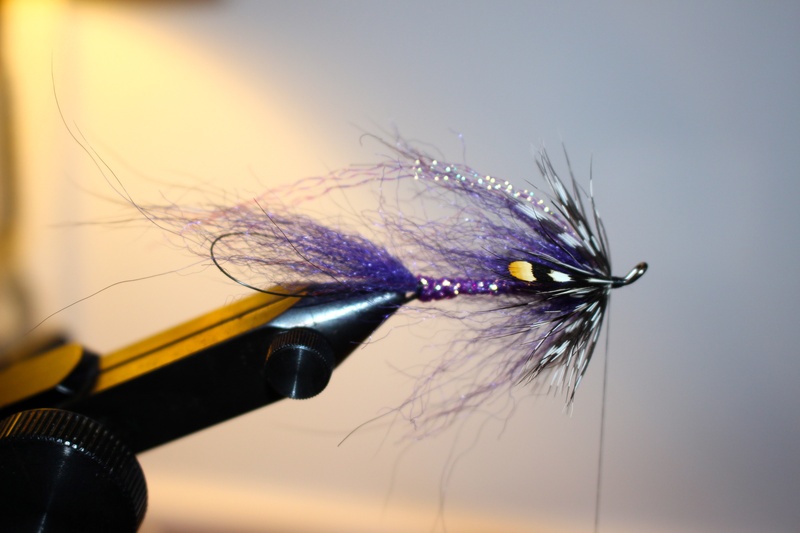 Starry Night is tied in a classic hairwing style on an intruder hookshank. It is a solid clear to light murky water fly that takes steelhead where ever they swim. It's a fun fly to swing in the upper half of the water column, plus it's a quick tie on the vice!
Materials needed:
- Medium sized hookshank and intruder wire
- Purple anadromous brush
- Purple diamond braid
- Purple krinkle flash
- Natural Guinea Fowl
- Jungle cock swords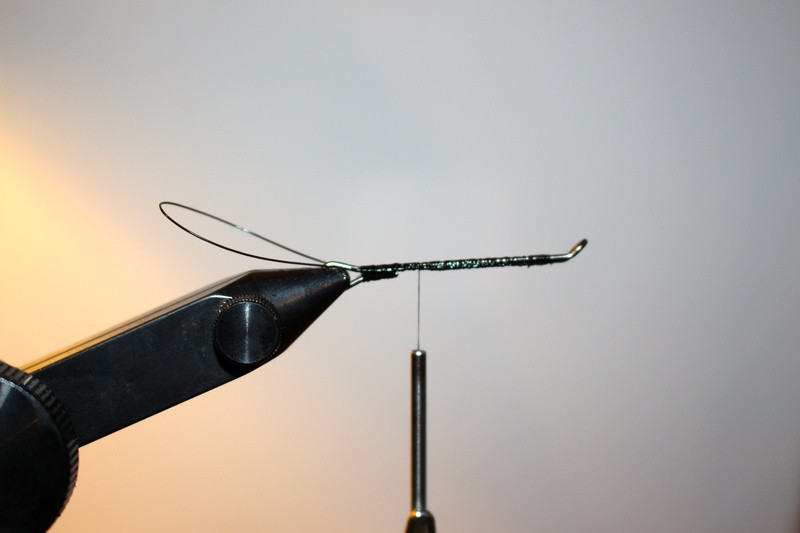 Step 1. Tie and glue in intruder wire.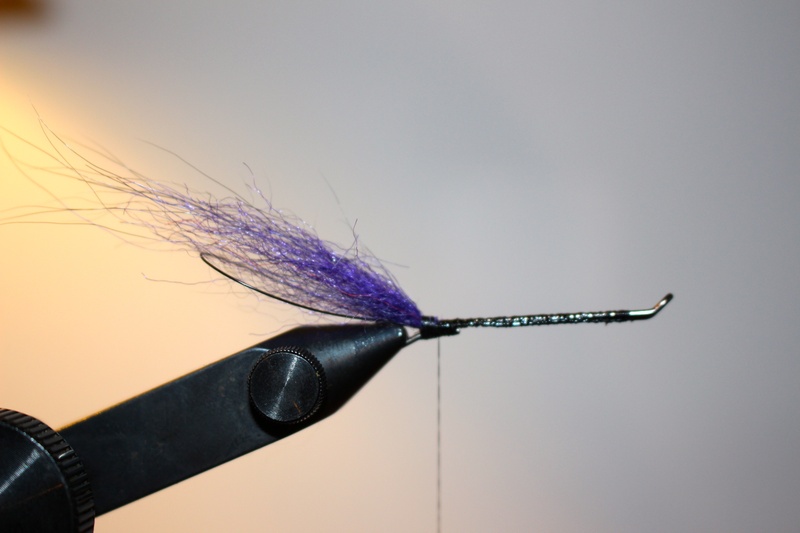 Step 2. Cut off a small clump of the purple anadromous brush fibers and tie in as a tail.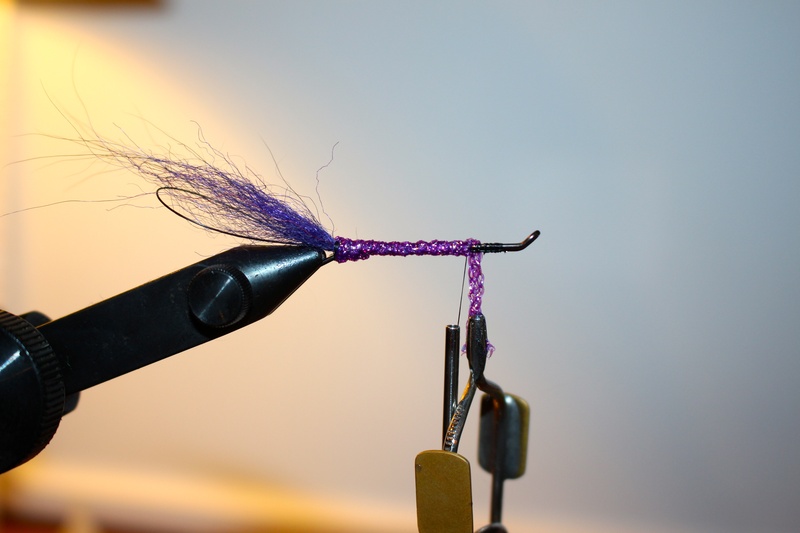 Step 3. Tie in and wrap the purple diamond braid up the hookshank up to just behind the eye.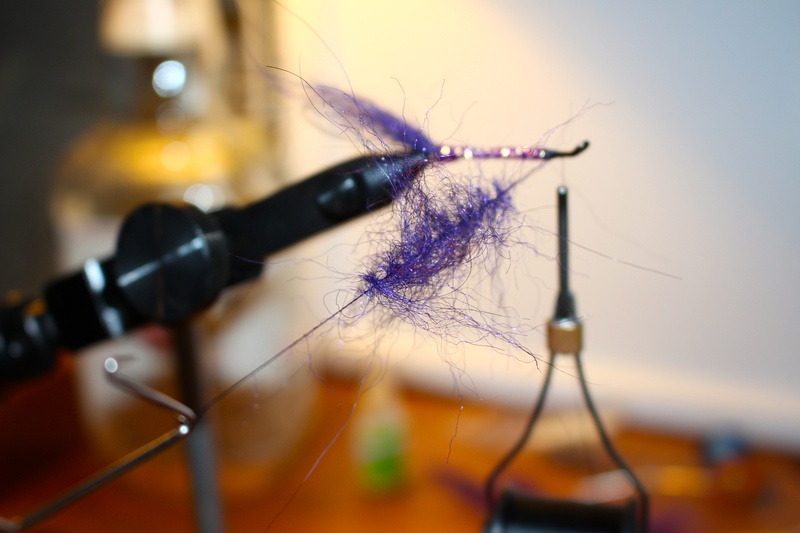 Step 4. Cut off a larger clump of the anadromous brush spin it in a dubbing loop, and wrap around the shank.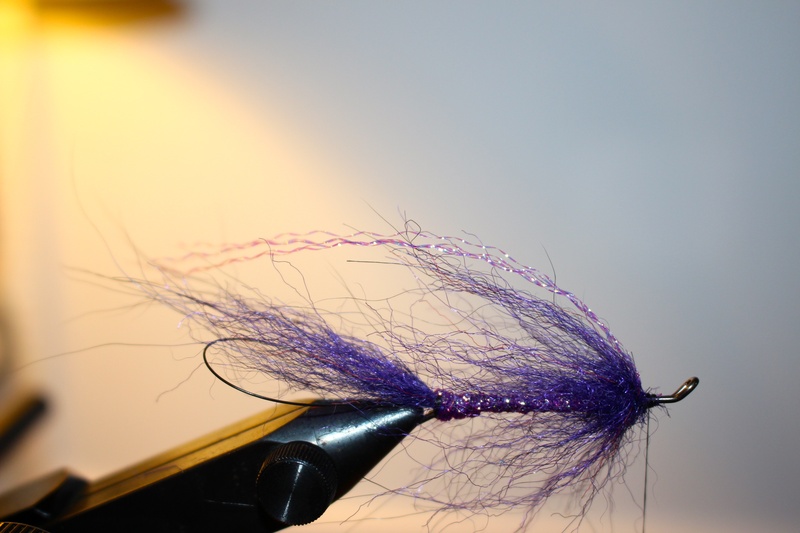 Step 5. Tie in 4-6 strands of purple krinkle flash over the wing.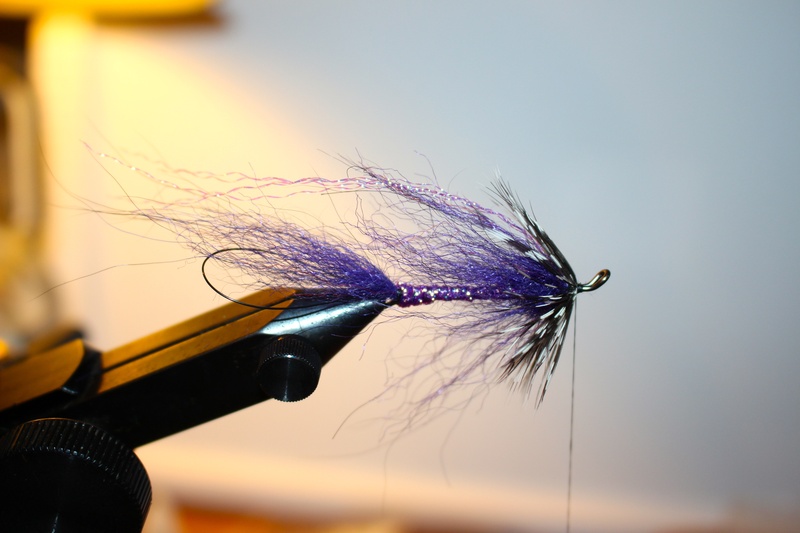 Step 6. Tie in natural guinea fowl as a collar.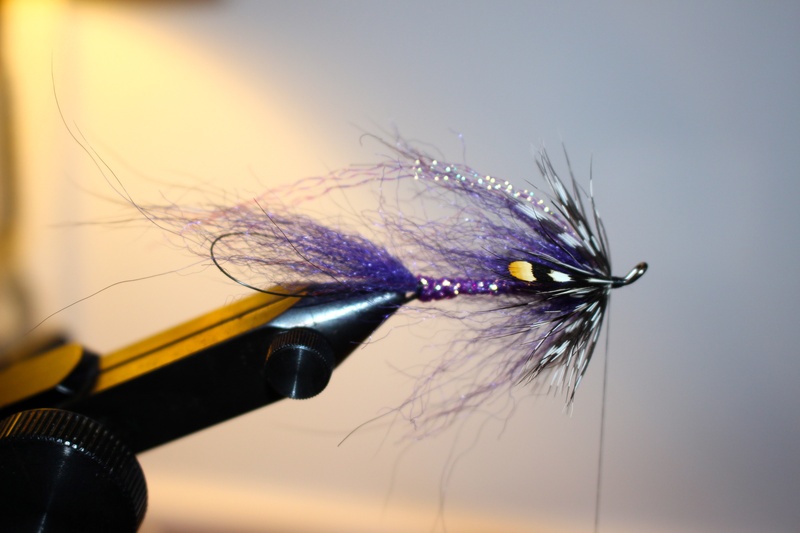 Step 7. Tie in the jungle cock swords, tie off, and glue.
Over the past few weeks, we have experienced very good steelhead and to a lesser extent lake run brown fishing. There are solid numbers of fish in every river as we speak, and with mild temperatures and rain in the forecast, the next few weeks should be fantastic fishing!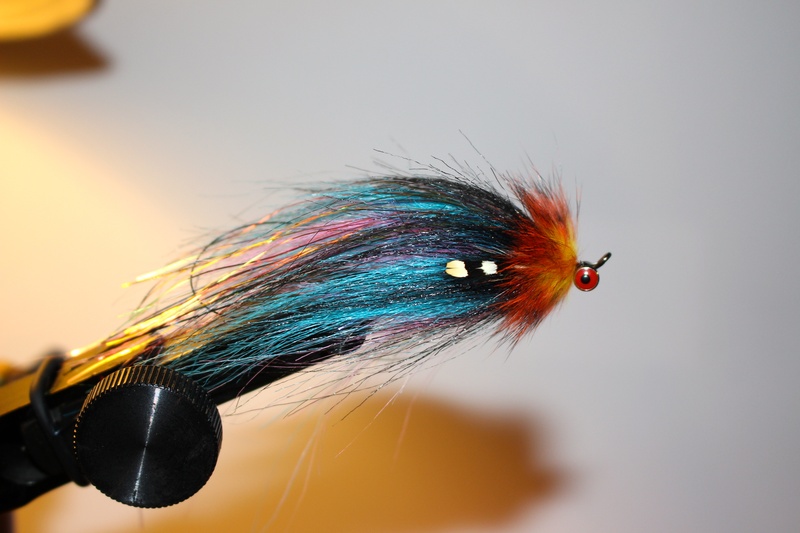 Tying Demo- Whiskey Hangover (AKA Black & Blue Steel). This is one of the best big river steelhead flies in my arsenal. 
Materials:
- Medium hookshank and intruder wire
- Weighted Eyes
- UV Polar Chenille
- Peach or orange chenille
- Pink, Blue, and Black Craft Fur
- Rainbow Flashabou
- Jungle Cock Swords
- Yellow and Orange Barred Rabbit Strip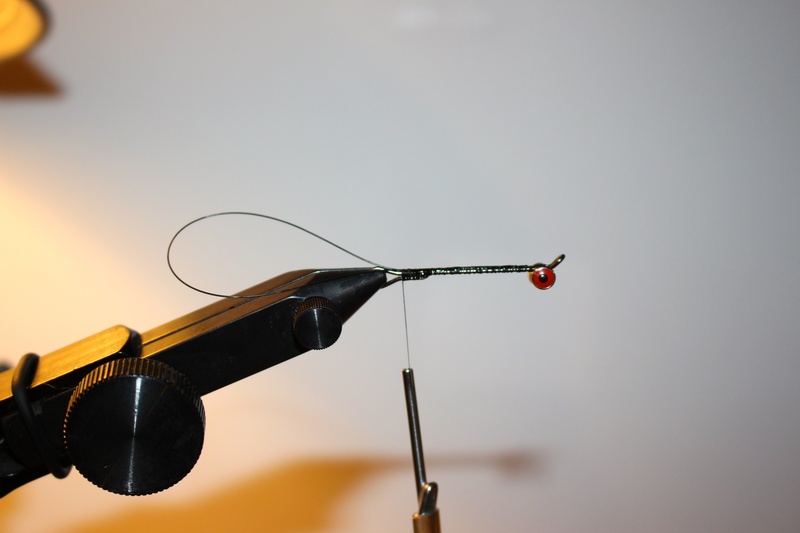 Step 1. Tie in the intruder wire and weighted eyes. A lot of people like to fold over the wire and tie it back down, but I tie it in with loose wraps and then glue it to the shank so I don't waste the wire.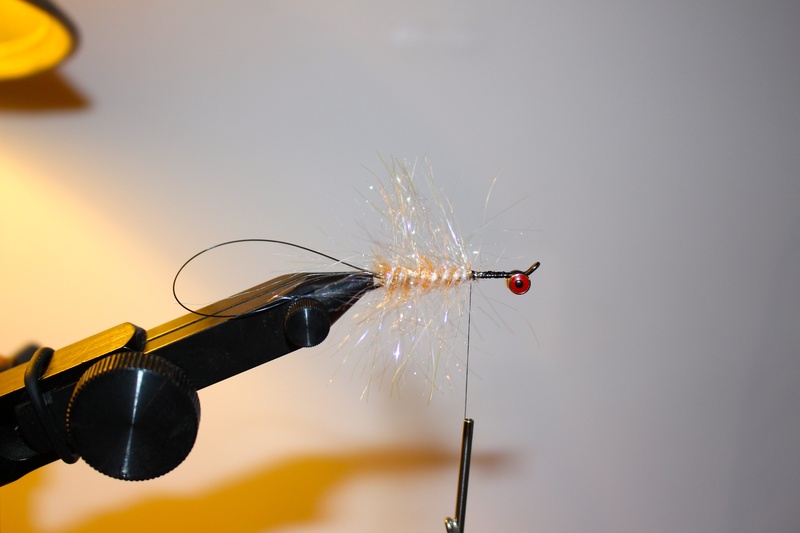 Step 2. Tie in the polar chenille first, then the peach chenille. Wrap the peach chenille about two thirds the way up the hookshank, then use the polar chenille as hackle through the peach chenille.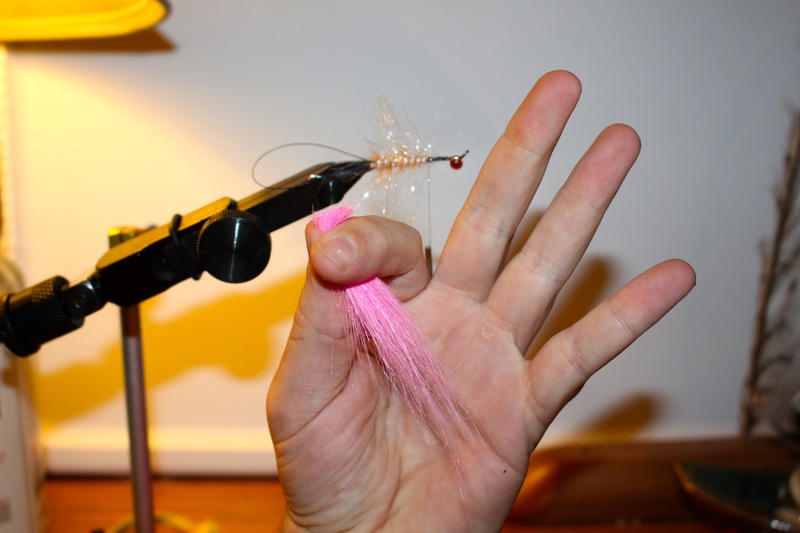 Step 3. Cut off a chunk of pink craft fur.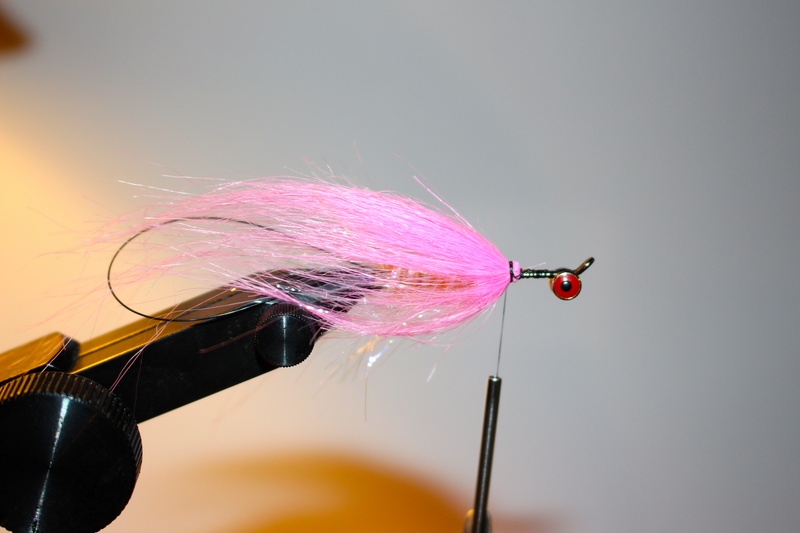 Step 4. TIe the pink craft fur in backwards (so it hangs over the eyes) then fold it back over the shank and tie it down.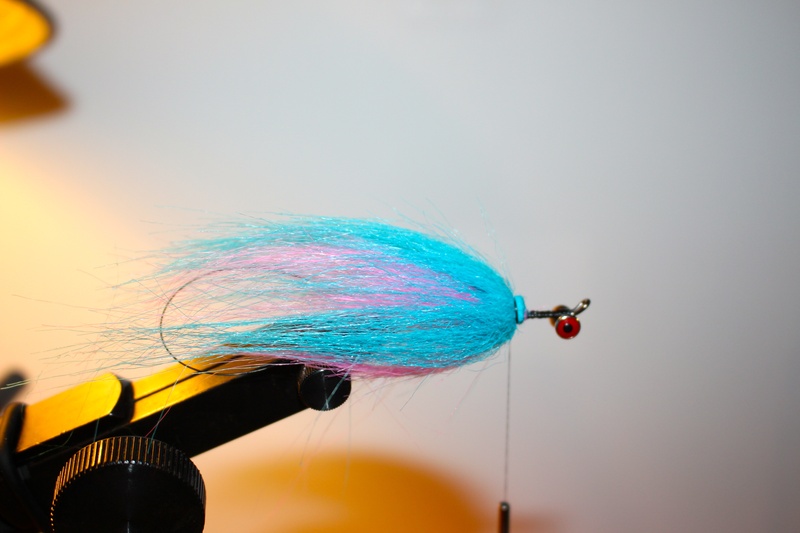 Step 5. Cut off a larger chunk of blue craft fur and repeat the process.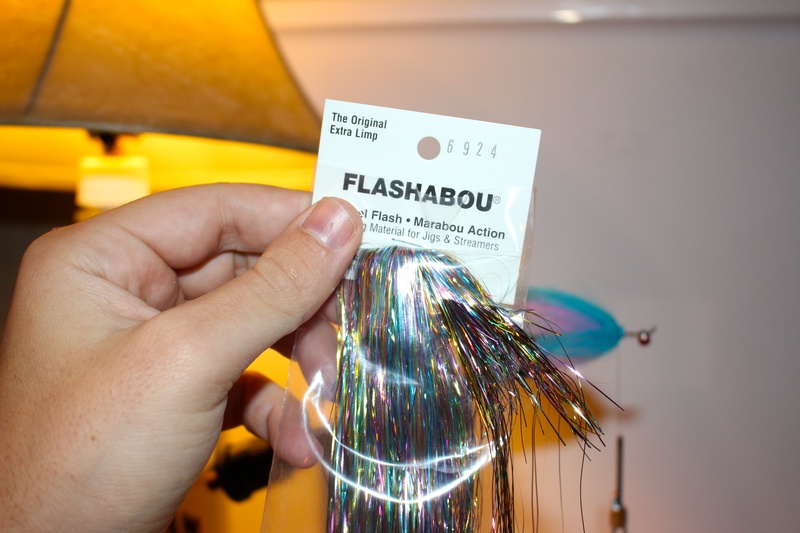 Step 6. Cut off a chunk of rainbow flashabou (around 8-10 long strands).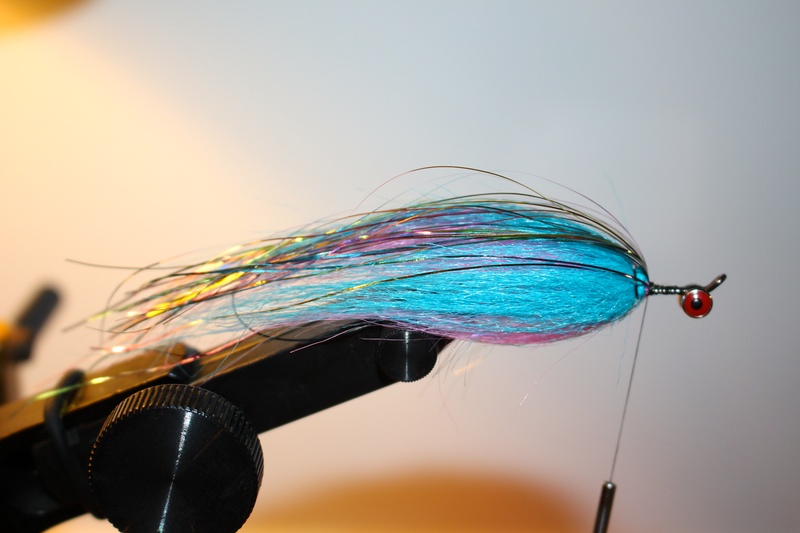 Step 7. Tie the flashabou in half, then fold the forward section over the hookshank.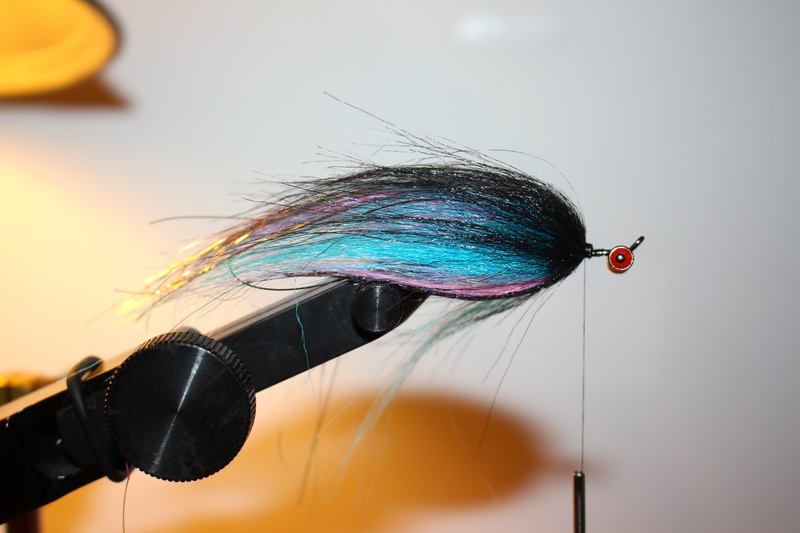 Step 8. Tie in the black craft fur the same way as the pink and blue craft fur.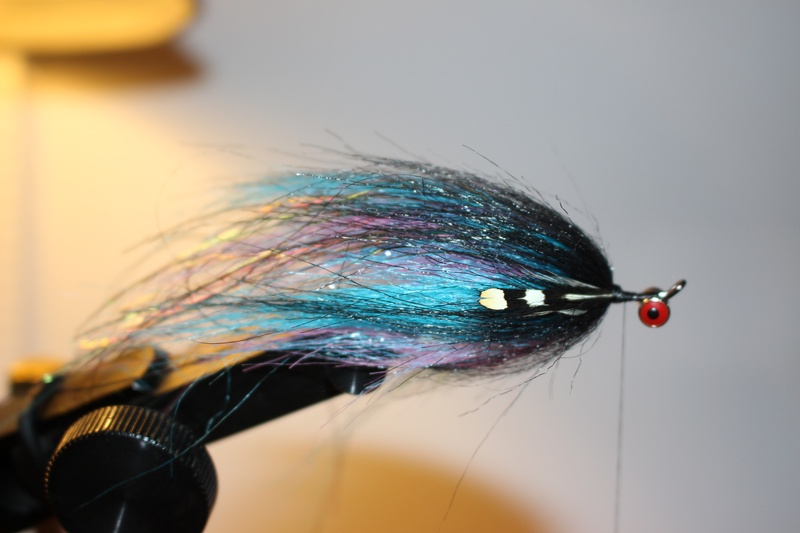 Step 9. Tie in a pair of jungle cock swords. I like to strip the fibers off the quill so then I can fold the quill back and lock it down tightly.
Step 10. Cut off a chunk of yellow and orange barred rabbit fur from the pelt (or strip), and spin it in a dubbing loop. (The photo is before the fur has been spun).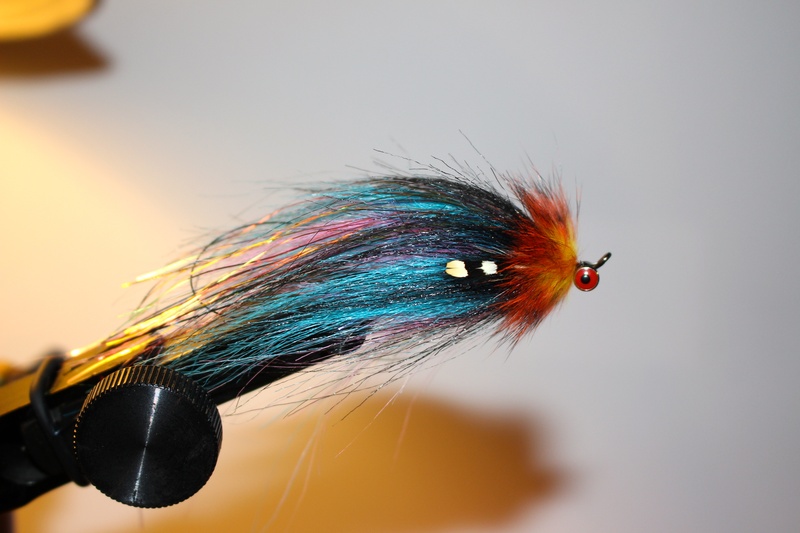 Step 11. Wrap the spun fur behind the eyes and tie it in. Glue when done. (Finished product shown).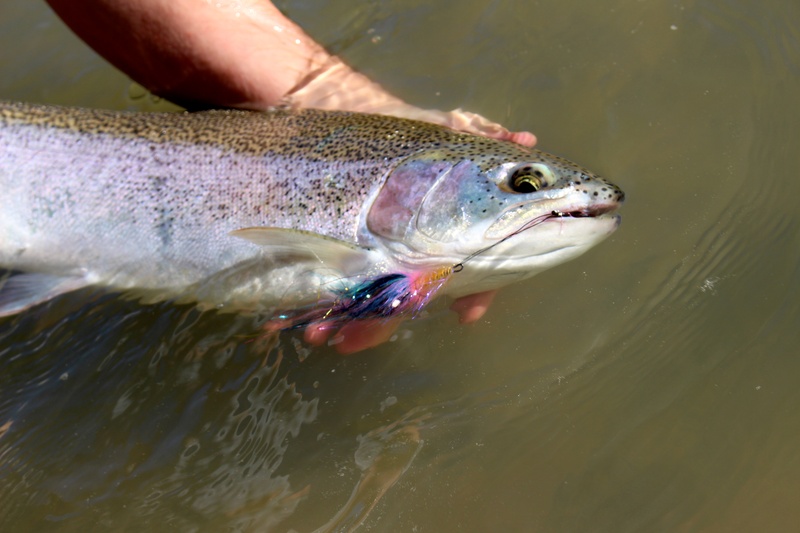 Step 12. Swing up steelhead.
With so many technological advances in the fly fishing industry it's so easy to get caught up by the next new thing and forget last years gear all together. While I am just as guilty of this as others, I do try to go through older gear to find a use for it. Maybe it's as simple as picking up a ten or fifteen year old rod, admiring the cracks in the finish and pits in the cork- the marks of a well fished rod. A rod with many stories to tell. Or maybe it's going through a box of old old fly lines, chopping sections up to use as light shooting heads on stream trout rods.
Recently while visiting my grandfather, we walked into his basement rod collection, my eyes fell to a two peice orange 8 1/2 foot fiberglass 8 weight fly rod, and the white mate rod next to it. My dad had told me over and over again throughout the years how my grandfather bought those rods for himself and my dad. The white one was Opa's and the orange one was dad's. Those rods used to be in our house. In fact the first steelhead I ever caught was on the Grand River in Ohio. The fish took a white jig-fly under an indicator. I was fishing witout any weight, and probably three or four feet off the bottom, so that fish had to move pretty far to take the fly. As I picked up the rod, I noticed the finish was peeling, the wraps were fraying, the ferules were corroded and stained. The rod bore the testiment of age from cork to tip. So I took it. And I messed around. Peeled all the wraps, removing the rusty eyelets. The more I stripped the rod down, the more the blank breathed. I took a dremmel and cut the dry and cracked cork and the stained and corroded reel seat. Finally with a fine plast wire brush, I dremmeled off the yellowing and peeling finish. The rod was stripped down to the blank.
I've built a few rods from blanks and kits before, so I knew what needed to be done. As I wrapped new thread on chrome guides and eyelets, and polished the metal ferules back to a shine, the rod was alive again. With a new perma-gloss finish, the blank shined in the light of my workbench. All I needed was a good reel seat. And today it came. With five minute epoxy, I fixed the reel seat to the blank. All that I need now is a matching clicker-pawl and I have a throwback steelhead setup. Digging through my boxes I found a gold Pflueger clicker-pawl. The pairing is beautiful.
My grandfather bought that rod from K-Mart in the 70's for what I'm guessing was less than twenty-five bucks back then. It's was a no-name rod company. Some fleeting sports supplier that faded into obscurity. The Pflueger I remember picking up when I got into steelheading in the early to mid 90's. I spent less than fifty bucks. The total setup expenditure, including the replacement parts for the refurbished rod, is less than $125. In an era of rods that cost upwards of a thousand dollars, and reels to match costing hundreds, it's refreshing to find something and work with it. With a little love, hard work and elbow grease, you can make a one of a kind. An original. The rod and reel are great. For anyone who has never tried, casting glass is slow and full of melody. And clicker-pawls have matched steelhead as long as the fish have been chased with the fly. So maybe this year, instead of scouring the websites for the newest and hottest gear, we explore our man caves, sports closets, and garages. You just may find something exciting. I found a great rod and reel for a dry line.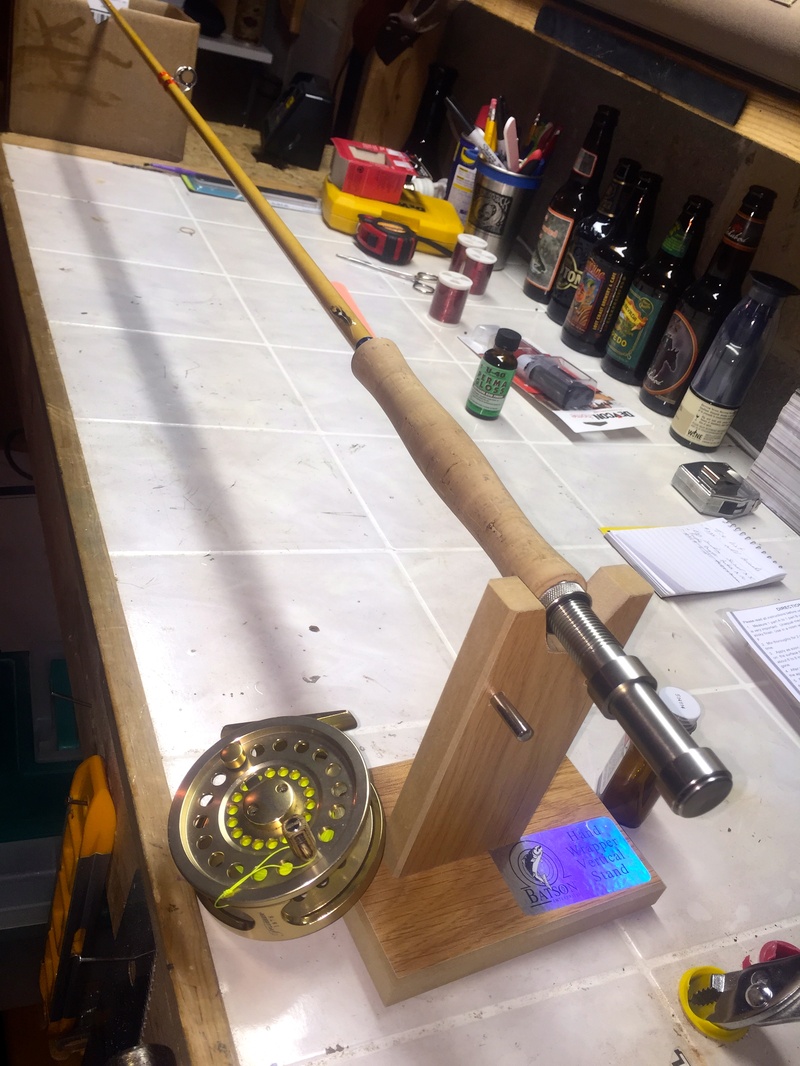 Setting the epoxied reel seat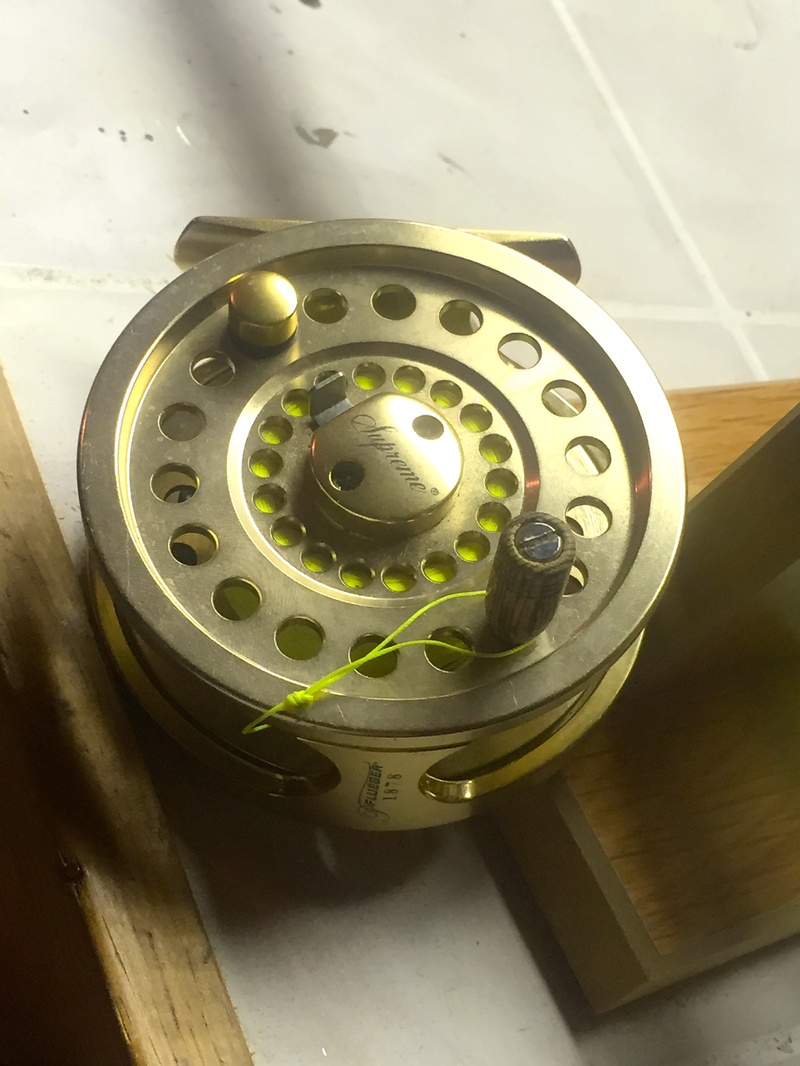 It'll catch a fish or two more...
Its about that time of year to start thinking of chrome. The beginning of September this year has been one of the hottest I can remember, with a week straight of upper 80s low 90s. Yuck. But the worst seems to be past, and the coming week's forecast reads nights in the lower 50s with rain showers over the weekend. Better yet, the high temperatures on some of those days are in the 60s. Finally its starting to feel like fall. And that means steelhead. While the creeks will probably be low and clear for some time to come, steelhead will start to nose their way in.
This is the time of year to explore the rivers. With lower water, you can see what has changed over the past year. Plus with fewer people on the water its a time to find solitude. The crowds of peak season are still weeks away. Finally lower water is a great time to fish a floating line. There is no more exciting way to take a steelhead than on a floating line with a long leader. Swinging a fly on or just under the surface through a riffle only to have a steelhead explode on it will stop your heart. And the next few weeks are the time to try it. So if you do try the floating line, fish with an open mind because success is not measured in numbers of fish but quality of the total experience. And you just may be surprised by a willing taker.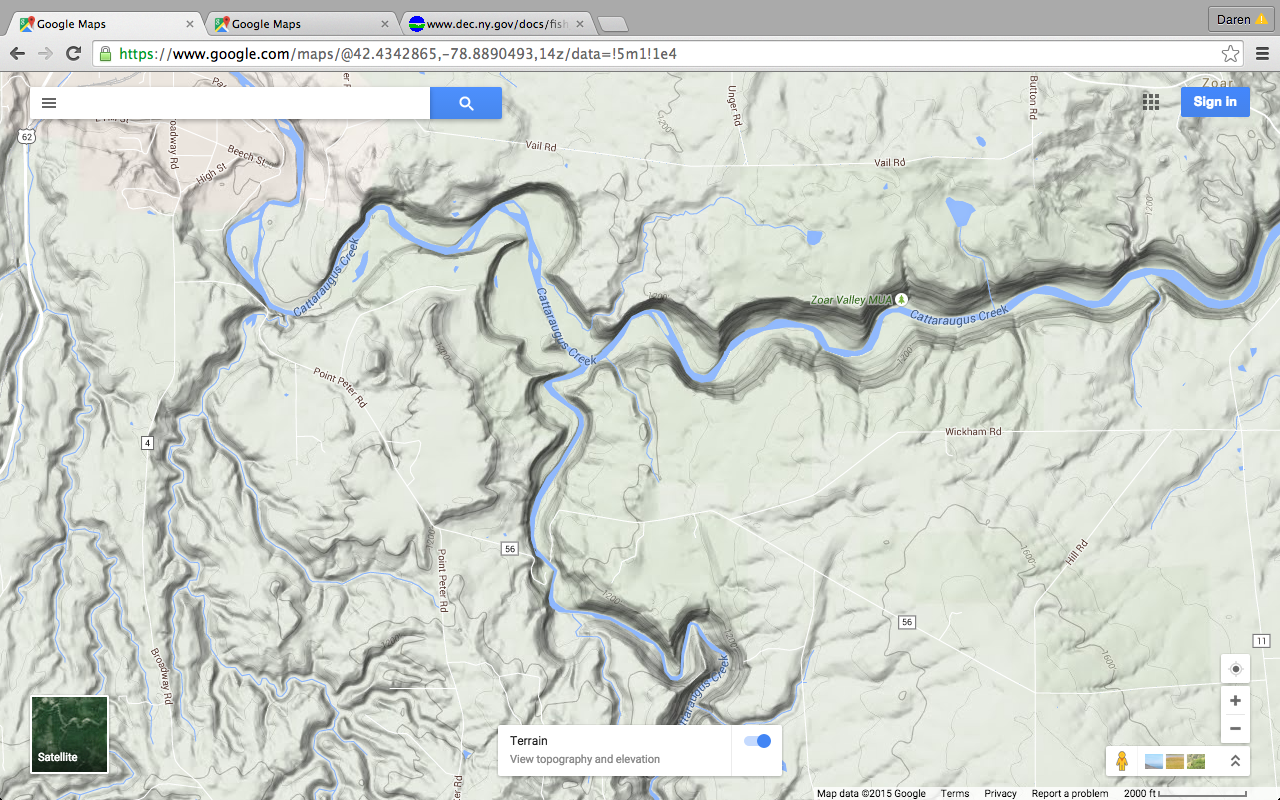 Topographic Map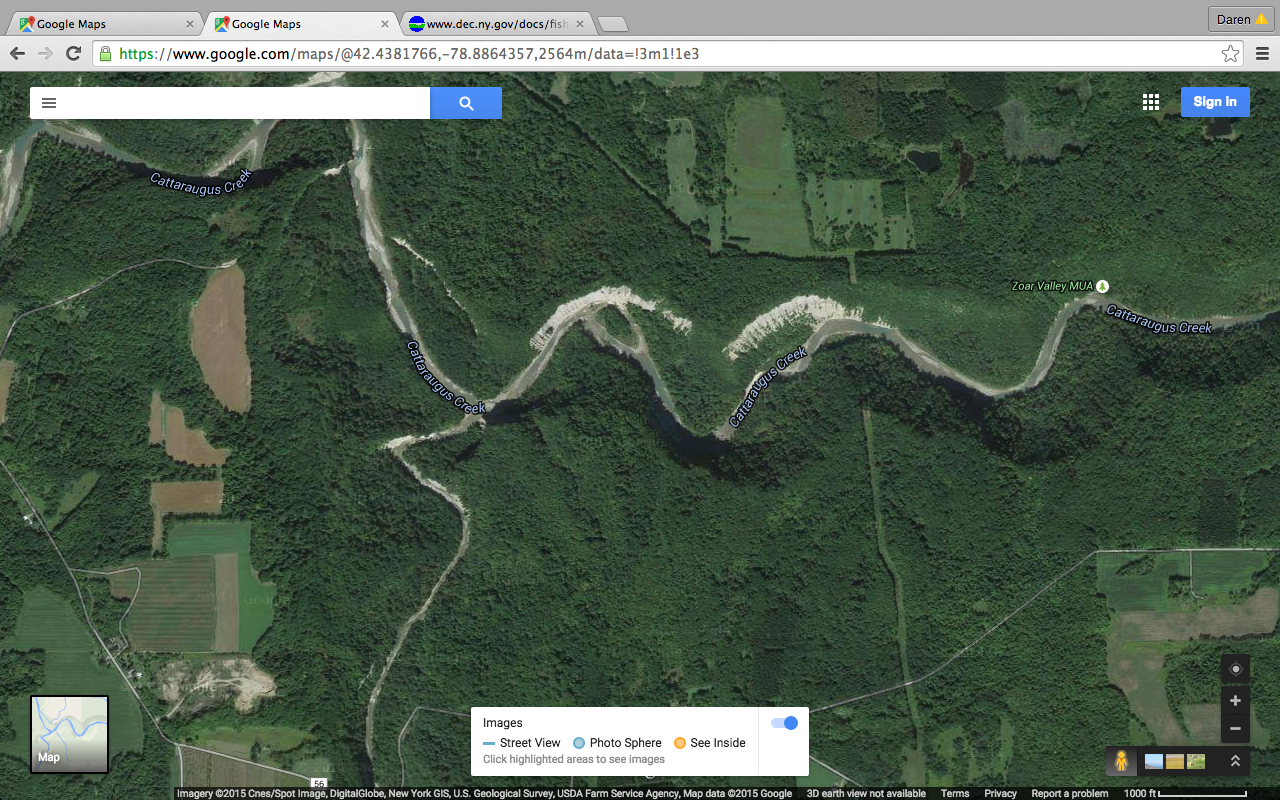 Satellite View
With so many great inventions and improvements driving the sport of fly fishing, perhaps the most important and yet underutilized are technological advancements. For anyone who has really devoted time to learn a river system, it comes as no surprise that the learning curve takes years. Boots on the ground walking and fishing the river is the most effective and accurate way to learn where fish hold in the river. However this may not be available for everyone. For people with limited amount of time to fish their home waters, those who are traveling to new areas, or anyone wanting to explore without devoting heaps of fishless outings technology can cut the curve from years to days.
Enter google maps. Like other mapping technology, google maps offers more than driving directions. Above I posted a copy of a topographic map and a satellite view. You can start looking at either the topographic map or the satellite view of the river you want to fish. Zoom in close enough on either so you can see the river structure. On topographic maps look for places where the elevation lines come close together as it will mean a sudden change in elevation. Sharp changes in elevation means waterfalls and rapids. Fish will hold below and rest above. The satellite view can offer even more in depth views of river structure, showing gravel bars, large boulders-boulder fields, downed trees, and other good looking water. Satellite view is great but should not be fully relied on as river channels, gravel bars, and current breaks may change year to year. Combining both topographic maps with satellite views can produce an good understanding of holding water before you even set foot on the river banks, thereby narrowing your search.
So while we wait out the last couple of weeks until the first steelhead and browns begin to show, check out your favorite rivers or any new ones you're thinking of exploring with a mapping software or website. It may just lead you to the glory hole.
-Daren
/