Shopping Cart
Your Cart is Empty
There was an error with PayPal
Click here to try again
Thank you for your business!
You should be receiving an order confirmation from Paypal shortly.
Exit Shopping Cart
Guided Fly and Spey Fishing Trips for Steelhead and Brown Trout with
| | |
| --- | --- |
| Posted on July 23, 2016 at 11:05 AM | |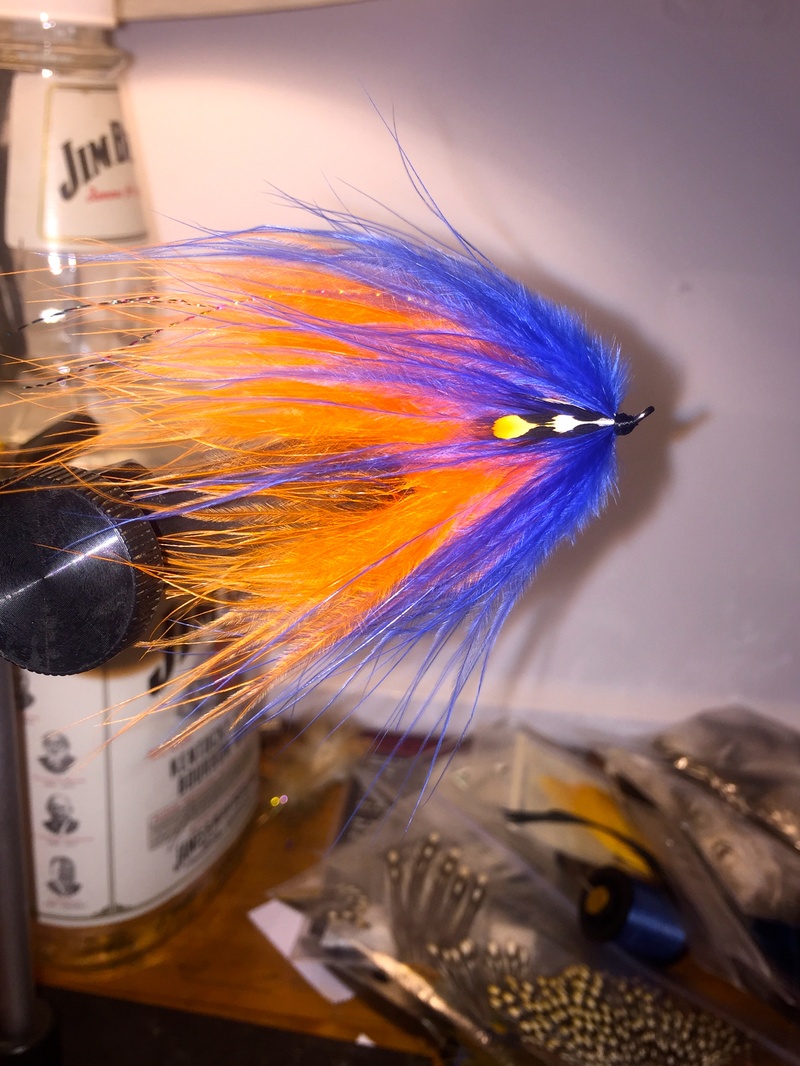 Well we are in the dead of summer now. Still a little more than two months out, and with daily highs in the 90's, theres not a lot of steelhead fishing to be had! To pass the time, why not focus on filling your boxes for fall? When I sit at the bench, many times the fly that I create or the pattern I tie uses difficult materials or techniques. The more I fish, the more I like to experiment and use rhea, lady amhearst, and other materials that can be troublesome. But again, the more I fish, the more I have come to realize that these flies are tied more for my enjoyment than the fish's. A steelhead is not a particulary picky fish. Find a well rested and unharrassed fish and it will more than likely eat whatever you put in front of it, whether it is a traditional salmon fly, a marabou spey, or a simple woolly bugger.
Recently the flies I've been cranking out have been old reliables that I've fished for years. Enter the marabou spey. The fly above is known as a hobo spey. They are relatively quick on the vise, can be tied in many colors and weighted or unweighted, and they catch fish. Pretty much all you do is spin a couple marabou feathers in different colors onto a hook and tie it off. Recently I've been using more Scandinavian style overwing flies such as the whiskey hangover- to good success, and haven't really fished a hobo spey in a while. But as I've been tying them lately, I remember some of my first takes I ever had swinging streamers. A marabou pattern caught my first Cattaraugus Steelhead, swung on a light sinktip. Sometimes in slower tailouts, they can even be fished on floating line and long leader as sparser tied marabou sinks well when waterlogged if given a quick strip to get it under the surface. It also has a ton of movement, and puts fish on the board. With each fly I tie, I can feel my excitement grow.
So while you sit at the vise this summer and fill your box. Tie up some old patterns that you used to fish years ago. We go through cycles. We push the envelope with the newest and most up to date techniques and materials. It leads to progression and personal growth as an angler. But growth without remembering our roots is meaningless. One of the best ways to see just how far you've come is to revisit some of those old fly patterns. Along with the nostalgia it will bring, I guaranteed you fished those flies for a reason. 
Me, I'm pretty fired up about getting another tug on a hobo spey.
Categories: Fly tying, Personal thoughts, Steelhead
/